Quail eggs are adorably small, speckled eggs that come from quail. If you're dying to cook with them, these quail egg recipes are a great place to start!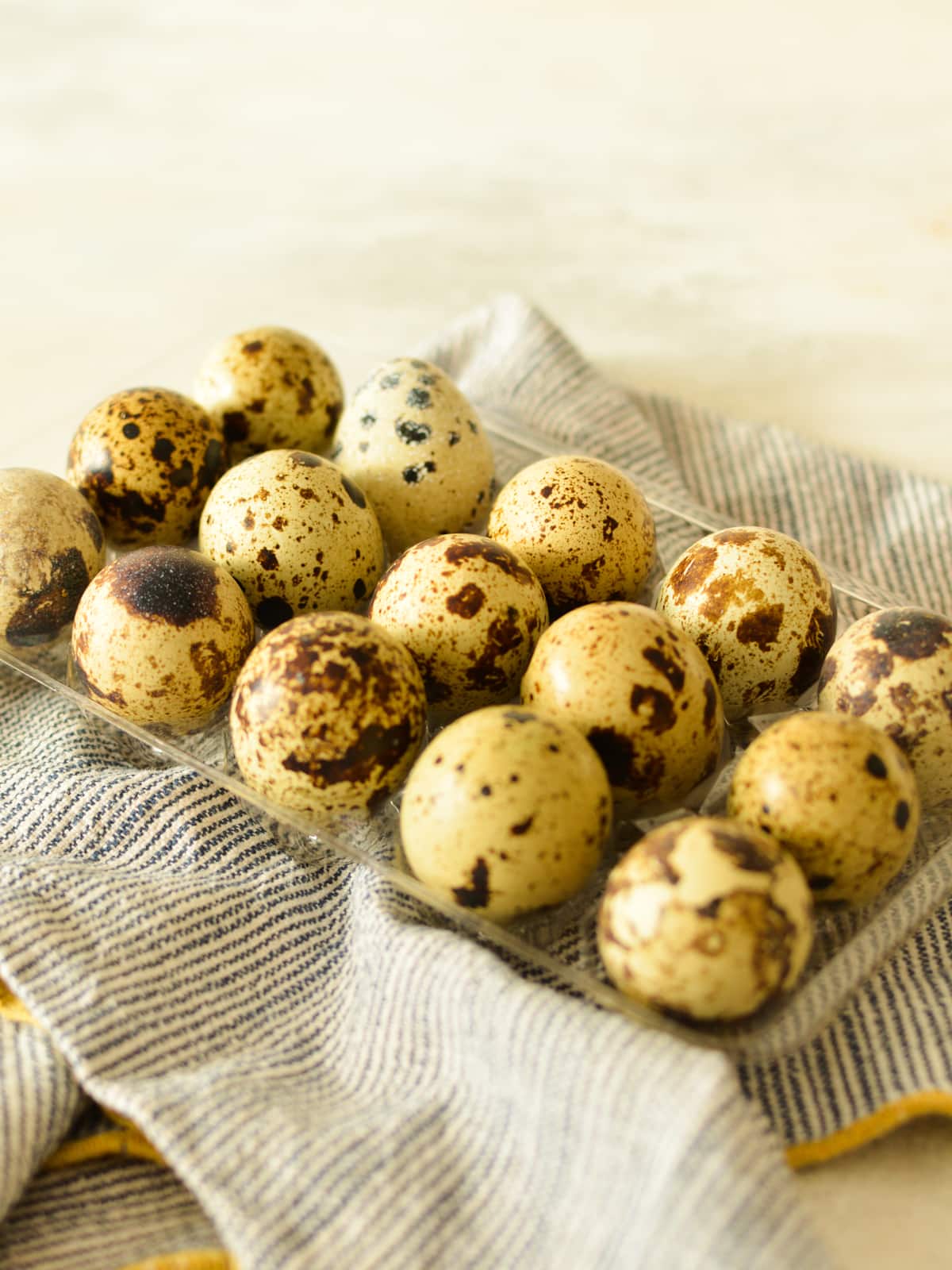 Cooking with Quail Eggs
There's no downside to these speckled beauties! Quail eggs are adorably small, about ¼ the size of a chicken egg. But that just means they fit nicely into mini phyllo cups, salads, and more.
Ounce for ounce, quail eggs are slightly more nutrient-dense than chicken eggs!
They have more protein, riboflavin, vitamin B12, and iron. And because of their size, they cook super quickly. It takes just 2 ½ minutes to soft boil a quail egg! Cooking with quail eggs is surprisingly easy too.
Most well-stocked grocery stores carry quail eggs right next to chicken eggs, in a plastic container about half the size. They're a bit pricier but it feels worth it on special occasions!
If you're not sure what to do with quail eggs, you're in the right place! Here's 21 quail egg recipes to get you started.
1. Soft Boiled Quail Eggs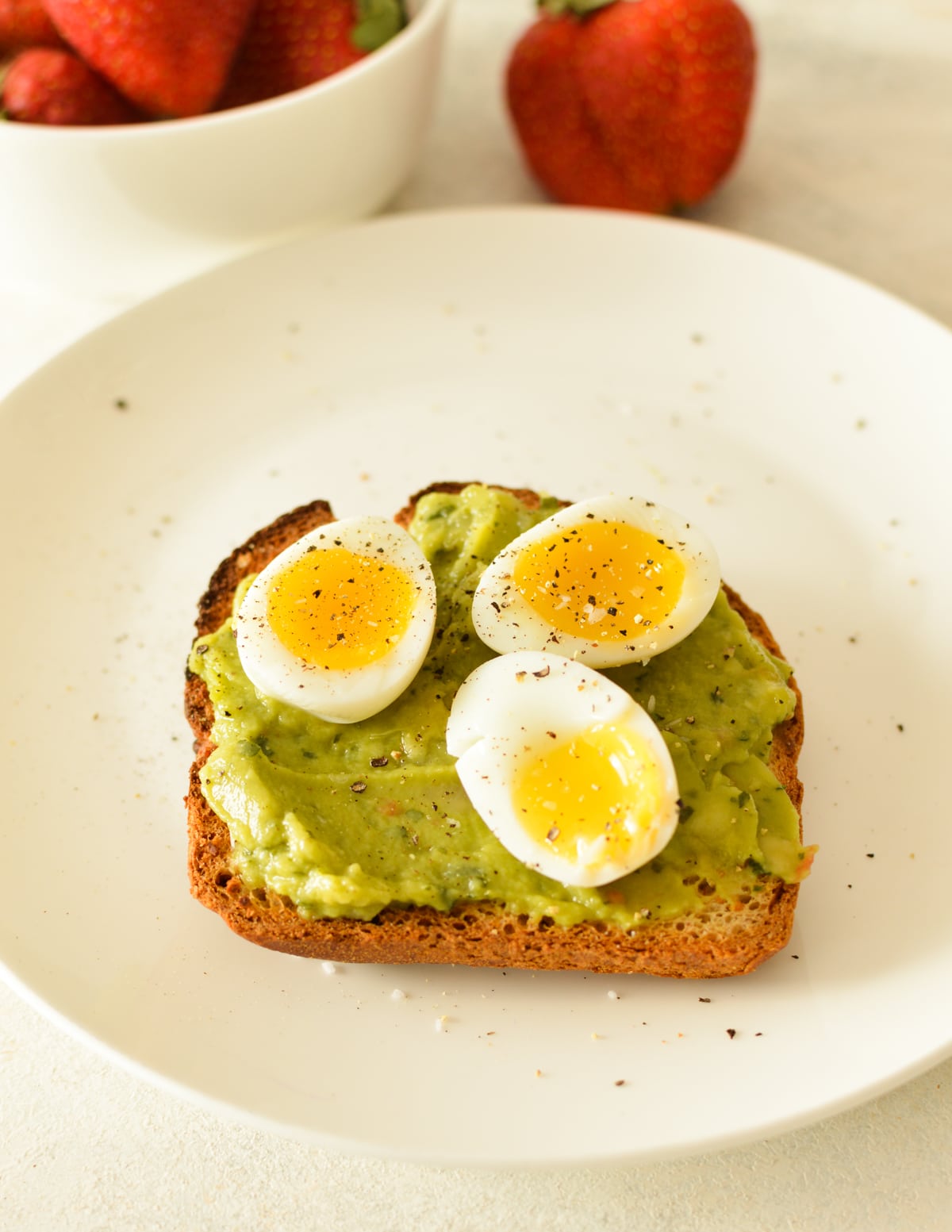 Perfectly set whites and soft jammy yolks are a thing of heaven! Soft boiled quail eggs fit snugly onto avocado toast, without the need for a massive bite.
They're a great addition to salads, soups, or canapes. And so simple too!
2. Korean Braised Quail Eggs
Quail eggs are simmered, peeled, and then cooked in a soy sauce based marinade. They're the perfect combo of sweet and savory.
These brown quail eggs are truly addicting! And super EASY to make!
3. Sausage, Mushroom, & Quail Egg Bake
Who doesn't love a good potato and egg bake? These miniature quail egg bakes are creamy and delicious with a layer of potatoes, mushrooms, and sausage!
They're topped with cheesy crème fraiche and quail eggs, then baked until set.
4. Bacon Wrapped Quail Eggs
Always looking for new ways to incorporate bacon? These bacon wrapped quail eggs make a perfect appetizer for parties and get togethers.
They put a whole new meaning to the word "bite-sized" and everyone loves them!
5. Idaho Hash Brown Baskets with Baked Quail Eggs
Potatoes and eggs are a match made in culinary heaven. Homemade hash brown baskets are baked until golden brown, then topped with pesto and quail eggs.
These crispy little potato bites are BIG on flavor! They're perfect for breakfast, brunch, or a satisfying snack.
6. Deviled Quail Eggs
I can't think of anything more adorable than teeny tiny deviled eggs! While they taste delicious as-is, they make a beautiful addition to salads, appetizers, and platters.
This recipe is super easy and it comes together in less than 40 minutes. You can make the quail eggs up to two days ahead of time, then assemble right before you plan to serve.
7. Sesame Quail Eggs with Broccolini
This dish is simple, but packed with flavor from the soy sauce, chili peppers, and sesame oil. The quail eggs are cooked in the marinade until it reduces into a savory sauce.
The broccolini is cooked in the sauce, then topped with the quail eggs. It's a perfect dish to serve with rice, to soak up all that flavorful sauce!
8. Mini Bell Peppers with Quail Eggs
Quail eggs are the perfect size for mini sweet peppers! Just halve a sweet pepper, crack a quail egg into it, sprinkle it with parmesan, and your in business!
I recommend cooking them until the whites are set, but the yolks are still jammy! Ah, heaven! They make a great appetizer or snack for parties.
9. Avocado and Quail Egg Crostini
These cute little "toasts" are perfect for breakfast or brunch. They're basically mini avocado toasts! It's a great option if you want to serve avocado toast at a party, but don't want to make the full-size version.
These two-bite crostini are topped with mashed avocado and a perfectly fried quail egg. Yum!
10. Deviled Avocado Quail Eggs
These deviled avocado quail eggs are just as beautiful as they are delicious! The yolks are mixed with mayo, avocado, and honey mustard for a silky smooth filling with a lovely green hue.
These handheld appetizers are a perfect way to impress your guests! Nobody can resist deviled eggs, much less teeny tiny ones.
11. Shakshuka with Quail Eggs
I love love LOVE shakshuka! Shakshuka is a tomato and egg dish where the eggs are cracked directly into the saucy tomatoes and simmered until the whites are set.
There are a billion different versions! Some have feta, some are spicy, but ALL of them are delicious. In this version, quail eggs are used instead of chicken eggs, which gives it an eye-catching end result.
12. Pickled Quail Eggs
If you love vinegary treats like pickles, you will love these pickled quail eggs! These one-bite boiled eggs are a great protein-rich snack. And they last a while in the fridge, like up to three months.
If I don't plan to cook my quail eggs, I will pickle them so they don't go to waste!
13. Avocado Toast with Quail Eggs & Prosciutto
Creamy avocado, salty prosciutto, and fried quail eggs make one delicious version of avocado toast! Top with capers for a bright and briny tang.
These impressive little toasts are perfect for a fancy breakfast or brunch!
14. Caesar Salad with Grilled Asparagus and Quail Eggs
If you're looking for a delicious and gorgeous spin on the classic Caesar salad, look no further. This stunning salad has crunchy romaine lettuce topped with crispy croutons, charred asparagus, and adorable hard boiled quail eggs!
And it's all tossed in a homemade Caesar dressing. Yes, please!
15. Baked Quail Egg Bites
These little breakfast bites come together in a snap! You can buy the mini phyllo cups, then all you have to do is fill with quail eggs, bacon, cheese and bake!
The quail eggs are the perfect size for the little phyllo cups and they look beautiful too. This is an easy recipe that's absolutely delicious!
16. Quail's Nest Muffins
These healthy little muffins are perfect for busy mornings! They're naturally gluten-free and packed full of veggies, then topped with a quail egg.
It's a great way to sneak in veggies like zucchini, corn, and bell pepper, plus you get some protein from the egg. These would be great with a fruit smoothie.
17. Brightly Colored Pickled Quail Eggs
These stunning pickled quail eggs are naturally dyed with beets and curry powder, which gives them a bright and vibrant hue!
They look beautiful and taste delicious on salads, canapes, and roasted vegetables. They are perfect for Easter brunch when everyone expects to see come colored eggs.
18. Korean Soy Sauce Quail Eggs
These addictive little guys are so easy to make! Quail eggs are boiled, then marinaded overnight in a soy sauce mixture, which gives them a rich, umami salty-sweet flavor.
For a simple dish, serve with a bowl of white rice and drizzle the remaining sauce over top. SO good!
19. Scotch Quail Eggs
These adorable little scotch quail eggs are just like the original, except cute and small! I highly recommend enjoying them warm and crisp right out of the fryer. But they make delicious leftovers too.
You can boil the quail eggs until soft or hard boiled. The choice is up to you. But I think these taste amazing with soft boiled quail eggs and a jammy yolk!
20. Chopped Salad with Quail Eggs
This vibrant chopped salad is perfect for summer! It brings the flavor with fresh veggies, emmenthaler cheese, herbs, boiled quail eggs, cherry tomatoes, and a tangy crème fraiche dressing.
Emmenthaler cheese is an unpasteurized hard cheese with little holes that has a buttery, earthy flavor! It takes this salad up two notches.
21. Quail Egg Curry Recipe
I adore curry, so this is one of my favorite quail egg recipes! Onion, curry leaves, ginger garlic paste, green chilies, and spices pack in the flavor in this Kaadai Muttai curry recipe.
But instead of regular eggs, she uses boiled quail eggs! Which makes it easier to eat since quail eggs are perfectly bite size.
FAQs
What do I do with quail eggs?
Quail eggs taste just like chicken eggs and can be cooked in all the same ways! You can soft boil, hard boil, fry, or scramble them. Since they're smaller though, they cook much quicker AND they fit into smaller cavities. This means they fit nicely into things like phyllo cups, mini peppers, or on small toasts or canapes.
What is the best way to cook quail eggs?
This is a preference question! My personal recommendation is soft boiling them. This gives you a perfectly set white, but a jammy yolk with a bright sunny color. They're delicious with a sprinkle of salt and they look gorgeous on salads and mini appetizers.
Do quail eggs taste different?
No, quail eggs taste just like chicken eggs with a slightly richer yolk. You can use them in all the same ways you use chicken eggs.
Are quail eggs healthier than regular eggs?
Ounce for ounce, quail eggs are slightly more nutrient-dense than chicken eggs, but not by much. They have a bit more protein, riboflavin, vitamin B12, and iron, but have slightly less choline.