Disclosure: This post contains affiliate links. In other words, if you click a link and purchase something I will receive a commission at no cost to you. I only recommend products I use and enjoy myself.
Because let's be honest - not all gluten free products taste good. Some taste meh while others taste downright disgusting. 
I was diagnosed with Celiac five years ago. Finally, after telling someone I barely knew that lifting my arms felt burdensome she suggested I see a doctor. I laughed when my doctor informed me she would perform a blood test for Celiac. Me? No, no, no. That can't be it, can it? 
I'd rather lose my pinky finger to a table saw than give up gluten for the REST of my life. After an EGD proved my positive blood test was indeed correct. I had a choice to make. I could be miserable and tired the moment I woke up to the moment I went to bed or I could say goodbye to my beloved gluten. 
And I chose to say goodbye. I still whisper I miss you to Panera bagels. (I'm not perfect. Crazy, maybe.) 
21 Gluten Free Foods and Snacks I stand by 
This list is an extensive gluten free products list, not a list of naturally gluten free foods. There are plenty of those (apples, lettuce, steak, quinoa etc.) My goal is not to give you a look at all the things you can eat, but the things that aren't naturally gluten free and therefore taste chalky if you buy the wrong one.
No worries though, I've done the hard work for you. I've been on the hunt for gluten free products five years now. However, if you're looking for a gluten free diet plan I would avoid gluten free products and just stick with foods that are naturally gluten free. 
This article also does not answer questions like: is rice gluten free? (Btw, it is.) This list is for those of you who want to eat a store-bought cookie again without grimacing. All of these gluten free products, in my opinion, are a tiny bit dangerous, oh so delightfully addictive.
And I can say this with one hundred percent confidence because I've had ALL of them. And most of them are staples (when I can afford them). Gluten free products cost mucho dinero $$$. I would recommend buying these products at a grocery store and not online so you don't have to pay shipping or risk breakage. 
But first, what is gluten? If you're an old timer - skip ahead.
In layman's terms gluten is a protein found in wheat, rye, spelt and barley. For people with an intolerance or Celiac it messes with our intestines and creates a whole slew of undesirable symptoms. It can cause everything from diarrhea, muscle aches and nausea to headaches and anemia. Its a sneaky ingredient found in surprising items like sour candy and soy sauce (Goodbye Chinese takeout). Oftentimes, those who are unfamiliar with gluten think its just found in breaded chicken or items that obviously include flour as an ingredient. 
How do you know if you have Celiac or gluten intolerance? The most accurate celiac diagnosis is a blood test and then an EGD to take a look at your intestines to see if your villi have been damaged. The villi help your body absorb nutrients and they can't effectively do so when a Celiac eats a gluten containing diet. You could also eliminate gluten from your diet for a month and see if your symptoms go away. 
If you are celiac or very sensitive to gluten be careful of products that don't have the certified gluten free symbol on them. While a product doesn't have to have this label to be gluten free - it means the product is reliably tested and meets strict standards. 
Well let's get to it:
1. Kinnikinnick Vanilla Wafers
Hello banana pudding! These are also good if you are dairy, soy or nut free as well.  I can't say I've had all of Kinnikinnick's products but the ones I've had taste really good. They are also dairy free, nut free and soy free. 
2. Bob's Red Mill Gluten Free Chocolate Cake Mix 
I've used this cake mix many times and usually the question I get is "Are these gluten free?" It's definitely a good one if you'd rather not make one from scratch. If you would rather make your own gluten free chocolate cake this one is amazing! This is my go to chocolate cake now. My brother who for the longest time turned his nose up to anything gluten free requests this cake ALL the time! It's that good.
3. Goodie Girl Mint Slims
I first found these beauties at Starbucks back when they sold them in the impulse buy section. I must've been feeling nostalgic at the thought of selling thin mints in the mall - troop 458. So glad I did because these babies are delightful. 
4. Joy Gluten Free Sugar Cones
My husband brought these for me and I used all but one on the kids. I decided to give the last one a try and now they are a staple. If you have little shame (like myself) bring one when you go out for ice cream and you can actually have an ice cream cone again. They taste really good. 
5. Bob's Red Mill Gluten Free 1:1 Baking Flour
If you get one thing from this article, let it be this one. Not to be confused with the one in the red bag. That one doesn't have xantham gum and is made of garbanzo beans. No thankey! I use this flour for everything. It truly is the best and I have tried a LOT of them. No bad aftertaste or weird texture with this flour. I also use this in gluten free meals that call for flour like homemade macaroni. You don't have to buy it online like some GF flours. In fact, last time I checked you could buy a big bag at Sam's Club for super affordable. I do like to buy it on Amazon because they don't carry it at Publix. I can get it for less than 4.50 per bag when purchasing four bags at a time which I prefer to do since I go through two bags a week. 

6. Katz Gluten Free Glazed Donuts
Although I wouldn't say these donuts taste just like a Krispy Kreme, they are the closet thing I've tasted to a real yeast donut. Donuts baked in the oven in a donut pan aren't donuts! They are just mini cakes. Most people don't know that cake donuts are indeed fried even though they don't contain yeast. 
7. Canyon Bakehouse Mountain White Bread
I've pretty much found that every gluten free bread tastes way better toasted. I use this anytime I make peanut butter toast and a local cafe uses it here to serve up some killer sandwiches. It can be a little dry if you use it without toasting it first, but still really good. 
8. Snyder's Of Hanover Gluten Free Mini Pretzels
Not all gluten free pretzels are created equal. These to me are the best brand out there for gluten free pretzels. Some of the other brands have a strange aftertaste. 
9. Lotus Foods Millet and Brown Rice Ramen
You know a gluten free product is good when someone who usually scoffs at anything allergen friendly buys it. This ramen is excellent. The only thing though - don't overcook it. Overcooked gluten free noodles in general just turn into unsightly mush. Yuck. 
10. Back To Nature Gluten Free Vanilla Almond Agave Granola
All of Back to Nature's Granola tastes amazing. Oats are not considered gluten free. They are often produced and packaged in the same facilities as wheat. Therefore if you are celiac or highly sensitive to gluten only buy oat products that are certified gluten free. 
11. Krusteaz Gluten Free Wild Blueberry Muffin Mix
If you grew up loving jiffy blueberry muffins these are for you! 
12. Way Better Spicy Siracha Whole Grain Corn Tortilla Chips 
These are awesome. They're a bit thicker than your average tortilla chip with a spicy sriracha kick. Most tortilla chips are gluten free so we have that on our side at least. Be sure to check labels though as it can sneak into bbq flavored chips and other seasoned chips. 
13. Betty Crocker Gluten Free Brownie Mix
This is my favorite gluten free brownie mix. Chewy, fudgy and the batter tastes really good. 
14. Bob's Red Mill Quick Cooking Rolled Oats 
These are a pantry staple for us. We use them for oatmeal but also for smoothies. Since they are rolled oats they thicken up a smoothie really nicely without changing the texture much. Oats have a risk of contamination so be sure to buy oats that are certified gluten free.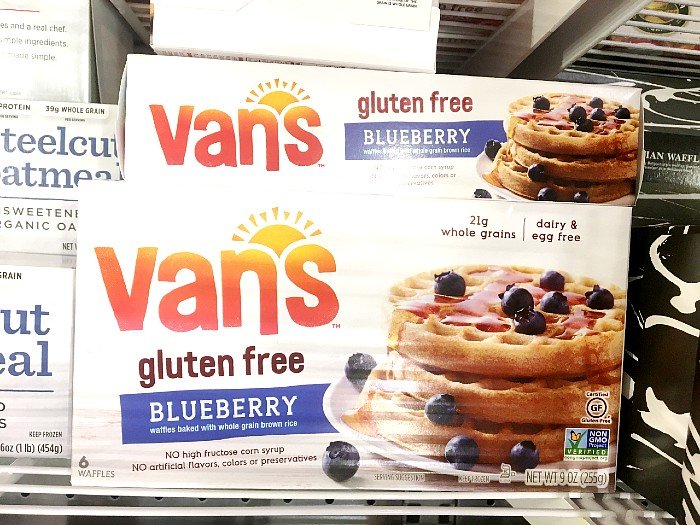 15. Van's Gluten Free Blueberry Waffles
I always have these in my freezer. I make one every morning with peanut butter and maple syrup. They are great. I will say that the Original don't have the same texture which is part of the reason I always buy Blueberry. I also toast them one and a half times. They don't really toast all the way the first time.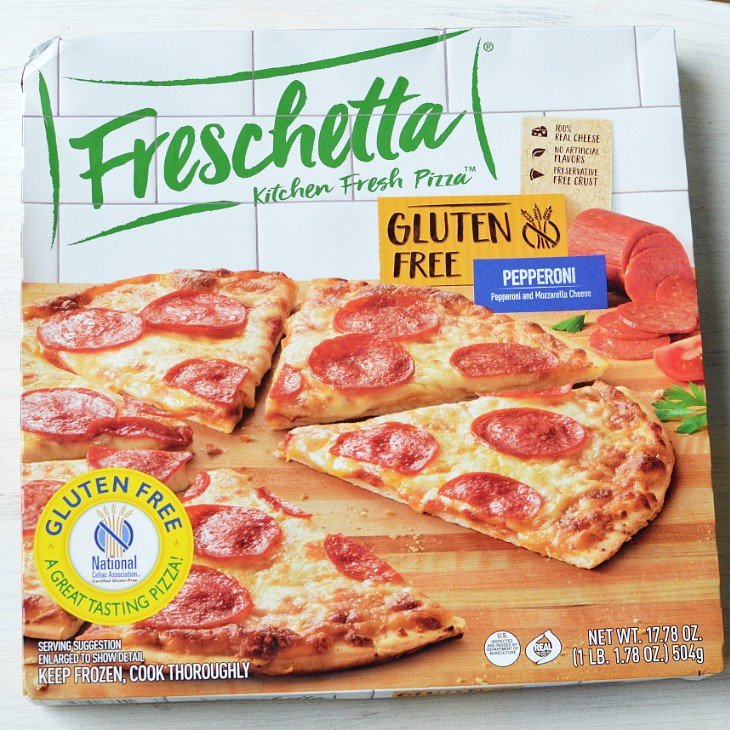 16. Freschetta Gluten Free Pepperoni Pizza
Love this pizza! We will buy this one over the local pizza joint's gluten free pizza every time.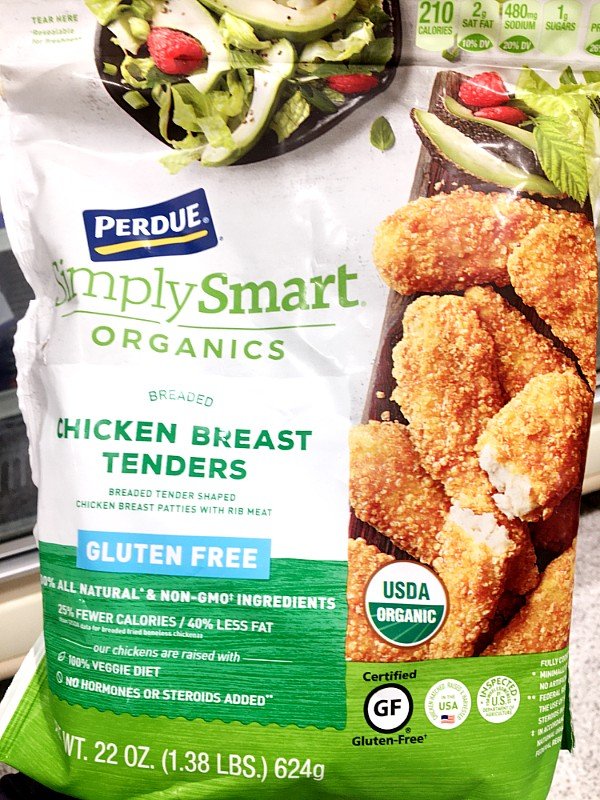 17. Perdue Simply Smart Organics Breaded Chicken Breast Tenders Gluten Free
These aren't going to compete with Zaxby's or Chick Fil A but if you liked frozen tenders pre gluten free these ones are good. 
18. Kettle Brand Potato Chips
Thank goodness for potato chips. Kettle brand has the best crunch, and even there bbq flavor is certified gluten free. I'm also in love with Buffalo Bleu flavor. 
19. Bear Naked Granola CACAO and Cashew Butter 
Not all of Bear Naked Granola is Gluten Free so keep this in mind. Look for the gluten free label on the top left corner. Keep in mind this is not a certified gluten free product so proceed with caution if you are highly sensitive or celiac like myself. This is a soft and sweet granola which is why I like it so much. Its different than any other granola I've tried. If you prefer less sweet though I'd stick to Back To Nature. 
20. Skinny Pop White Cheddar Popcorn
I eat this popcorn and a soda water every night of the week after the wee people go to bed.
21. Emerald Siracha Cashews
For the spicy lovin' folk! The first half of the bag tastes subtle and the last half of the bag is so good. If you're not into Siracha they also have Dill pickle or Jalapeno Flavor. Look for the gluten free certification on the back of the bag. 
23. Purely Elizabeth Granola
I love Purely Elizabeth products. It's certified Vegan and Gluten Free which means the testing is done by a third party and therefore stricter than the FDA. The brand uses whole food ingredients and has less sugar per serving than most other granolas I've had. I love to eat it with unsweetened almond milk or put in on cut up strawberries with whipped cream. 
If you have a favorite gluten free brand or item not in this list, let me know in the comments. I love to know about delicious gluten free products. 
If you're a baker itching to try out Bob's Red Mill 1:1 Gluten Free Flour check out these delicious recipes. 
Joanna Gaines Best buttermilk pancake recipe (These pancakes tastes amazing gluten free!)