Learn everything you need to know about Domino's gluten-free pizza crust in this ultimate guide! I dig into the nitty gritty to get all your questions answered.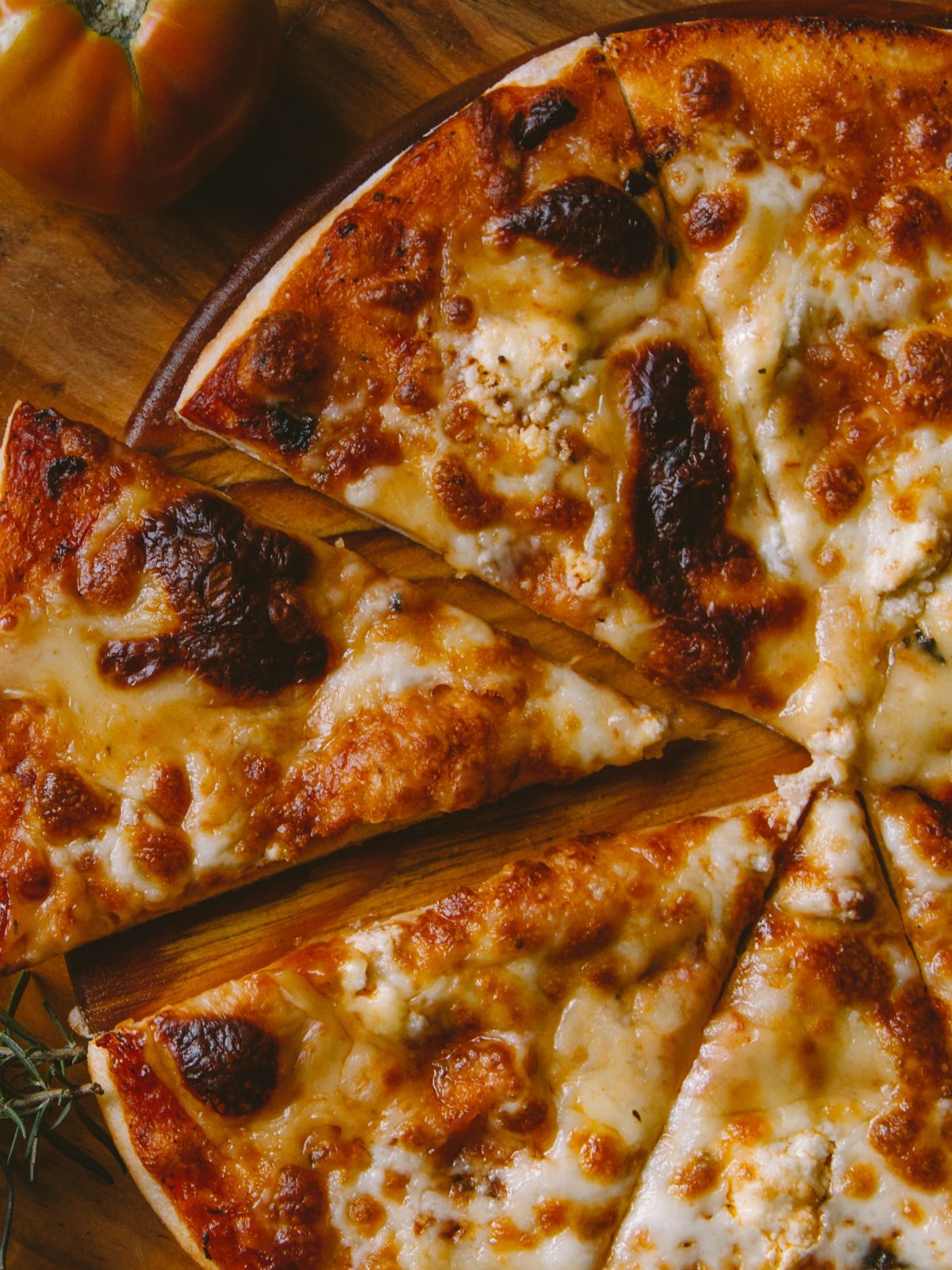 Jump to:
Does Domino's have gluten-free pizza?
Yes, Domino's has a gluten free pizza crust on it's menu. This means it does not contain wheat, rye, or barley and has less than 20 parts per million of gluten in it.
In order for an establishment or brand to claim something is gluten-free, according to the FDA, it must have less than 20ppm. You can read more about it on the FDA's website.
Ingredients in Domino's Gluten-Free Crust
The gluten-free pizza crust is a thin crust made of:
Water
Modified rice starch
Rice & brown rice flour
Potato starch
Olive oil
Potato flour
Evaporated cane sugar
Fresh yeast
Honey
Avicel
Salt
Calcium Propionate
Is Domino's gluten-free pizza good?
Technically, this is a subjective question, since everyone's idea of a "dream pizza" is different. I'd say yes it's delicious! Here's the breakdown:
It's defenitely a thin crust pizza that's on the crispier side! The times I've had it, it almost tasted a bit overcooked. But frankly I prefer that to a doughy undercooked gluten-free pizza, which is surprisingly common.
It has that same takeout-style flavor you can't get from a frozen pizza, with the perfect ratio of sauce and cheese. So you're not shocked when you open the box, I will tell you, it's tiny. Unfortunately, most gluten-free pizzas are.
Overall, I'd say it's a tasty option if you can't tolerate gluten in large quantities. To me it's worth the expensive price tag for a gluten-free pizza that actually tastes good. Which brings me to my next topic.
Is Domino's gluten-free pizza safe for Celiacs?
Nope! It's a bummer, but it's true. Back when I knew nothing of cross contamination, I used to order it and wonder why I felt sick afterwards.
Cross contamination is when a gluten-free food comes in contact with gluten, thus making it NOT gluten-free. Cross contamination isn't an issue for some people, but for those with celiac disease it's important to be careful and NOT cross contaminate food. Even a tiny bit of gluten can make us very sick.
While the gluten-free crust is made in a separate gluten-free facility, it's topped and cooked at your local Domino's. And frankly, Domino's is covered in gluten!
Regular pizza dough is being stretched, shaped, topped, and cut. Which means gloves, surfaces, utensils, ingredients, and the oven are all coated in gluten! Even if the employees do their best to take precautions, it likely won't be enough. And for me, it's just not worth the risk.
Even Domino's website says it's not recommended for those with celiac disease, but for those with mild gluten sensitivities.
Domino's Gluten-Free Menu 2023
If you do plan to enjoy Domino's and their gluten-free options, here's a complete list of all their products without wheat, according to their allergen menu.
Keep in mind that just because something doesn't contain wheat, doesn't mean it is completely gluten-free. It could also contain gluten in the form of rye or barley, like barley flour or malt syrup.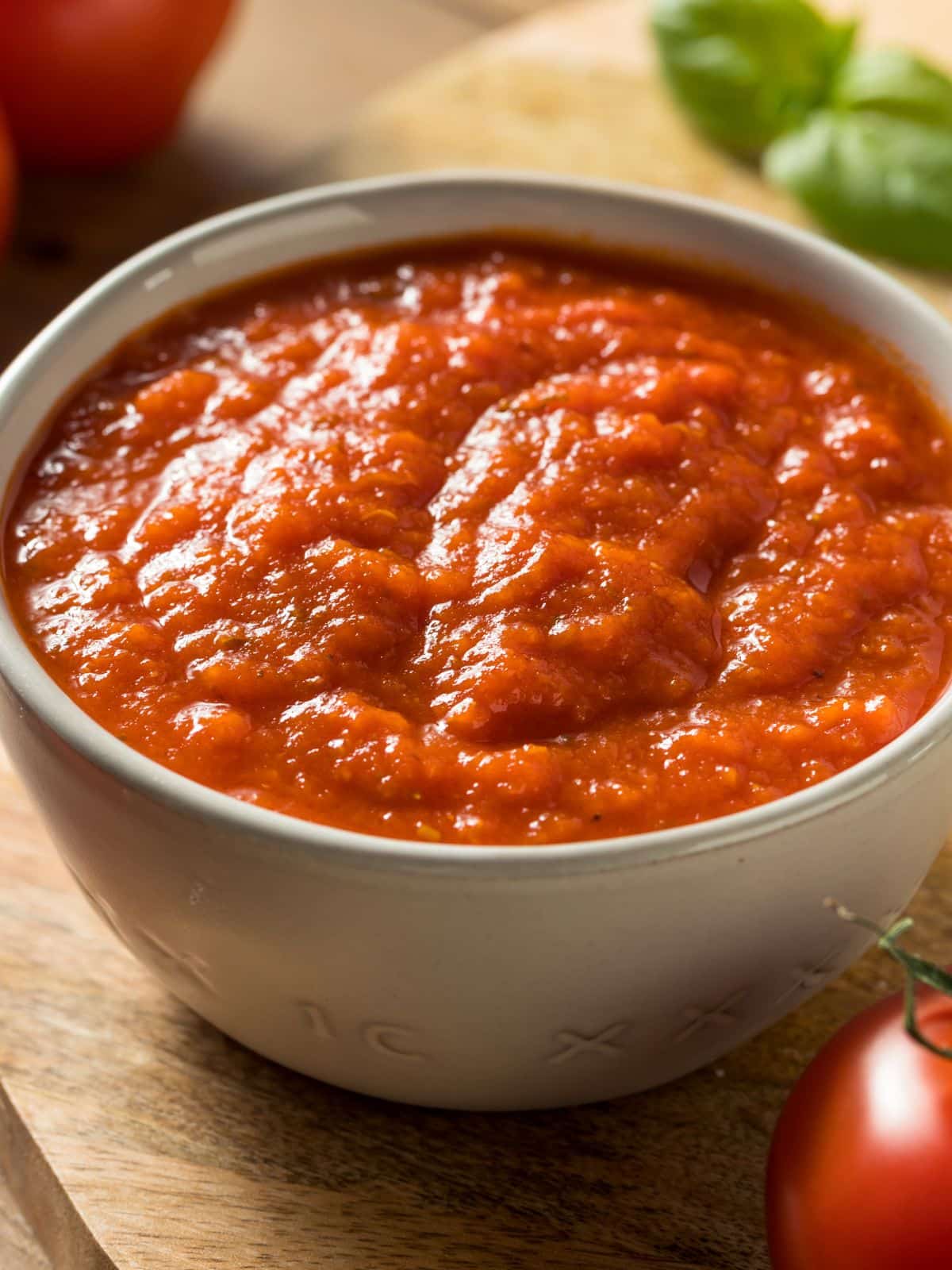 Crust
Pizza Sauces
BBQ sauce
Hearty marinara sauce
Garlic parmesan white sauce
Pizza sauce
Robust inspired tomato sauce
Pizza Toppings
Anchovies
American cheese
Bacon
Banana peppers
BBQ chicken with sauce
Beef
Black olives
Cheddar cheese
Chorizo
Feta cheese
Garlic Green chile peppers
Green peppers
Green olives
Ham
Hot sauce
Italian sausage
Jalapeno peppers
Mushrooms
Onions
Parmesan asiago cheese
Pepperoni
Pepperoncini
Philly steak
Pineapple
Premium grilled chicken (not all of there chicken is wheat-free!)
Provolone cheese
Roasted red peppers
Salami
Spinach
Sweet mango habanero
Tomatoes
Sides
Barbecue chicken wings
Hot chicken wings
Plain chicken wings
Sweet mango habanero chicken wings
Sauces & Dressings
Balsamic dressing
BBQ sauce (brown)
BBQ sauce (red)
BBQ sauce dipping cup
Blue cheese sauce
Blue cheese dipping cup
Buttermilk ranch sauce
Caesar dressing
Crushed red pepper packets
Fat-free raspberry dressing
Garlic dipping sauce
Garlic and herb shake-on
Garlic oil blend
Honey BBQ sauce
Hot buffalo dipping cup
Italian dressing
Kraft Catalina salad dressing
Marinara dipping sauce
Oregano blend shake-on
Phase oil (butter flavored oil)
Ranch dressing
Ranch dipping cups
Sweet icing dipping cups
Sweet mango habanero sauce dipping cups
Wing sauce (mild, hot, & fire)
Gluten Free Pizza Options
If you are looking for a gluten-free pizza that's safe for those with celiac, here are a few of my favorite frozen pizzas:
Freschetta Gluten Free Pizza - Honestly, once I tried this gluten-free pizza, I stopped searching. It rivals even the gluten filled frozen pizzas IMHO. My kiddos love it and now when I buy them regular frozen pizzas, they won't eat them.
That being said, it's still a frozen pizza and shouldn't be compared with takeout. It simply won't measure up.
Kirkland Supreme Cauliflower Crust Pizza - This one I picked up at Costco after another shopper convinced me to do so. I'm so grateful she did, because it's straight up DELISH. Defenitely a contender! And since it's from Costco, you get two in a pack.
Against the Grain Gluten-Free Pizzas - It's been a long time since I've had this brand, but I do remember liking it. It's a bit bigger than other brands which is nice.
Whatever you do, don't buy Real Good Pizza Co. pizza. It may be "real good" for ya, but it's nasty! The crust is made of chicken which is a swing and a hard miss.
If you have a gluten-free pizza you love, let us know in the comments! We're all in this together!
FAQs
Does Domino's have a cauliflower crust pizza?
No, Domino's does not offer a cauliflower crust pizza at this time.
More Gluten-Free Articles