If you want to make a meal with mashed potatoes, we've got you covered! From chicken and steak to Tuscan beans, there's something for everyone on this list.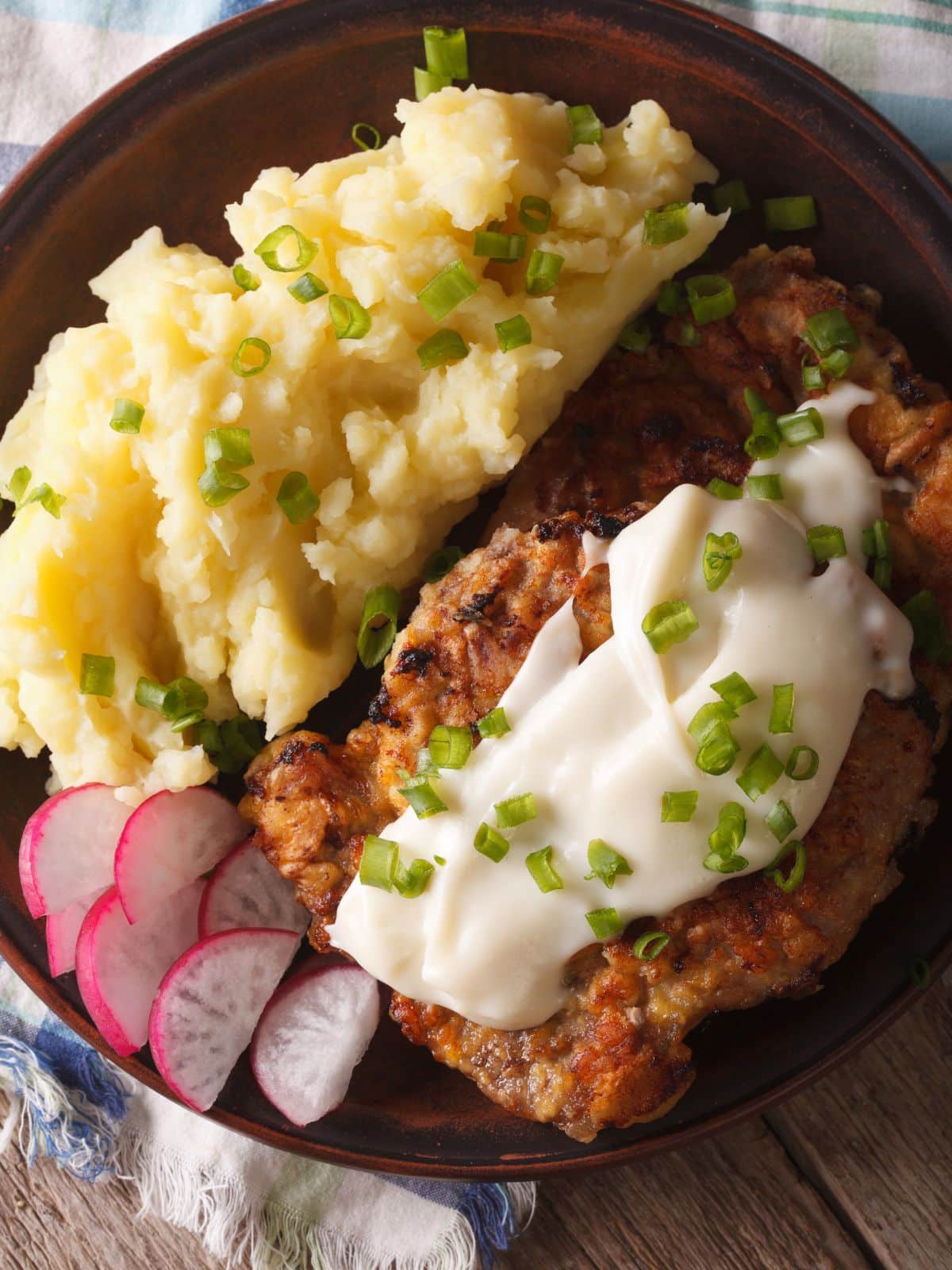 Dinner Ideas with Mashed Potatoes
Sometimes I want to center a meal around a side dish. It gives me a starting point for dinner, or I just need to use up leftovers. Here's a few easy no-cook options I like to serve with mashed potatoes!
Rotisserie chicken - Costco sells huge rotisserie chickens for less than 6 bucks! Serve with mashed potatoes and steam-in-bag veggies.
Baked nuggets - Grab a bag of frozen nuggets/tenders and throw them in the oven or air fryer. Technically you have to cook these, but with little effort.
Chicken tenders - Our local Publix sells the best fried chicken! Check out your local grocery store's hot foods section.
Ribs - Costco sells prepared baby back ribs! Perfect with mashed potatoes and a salad.
What to Serve with Mashed Potatoes
If you do want to cook dinner with mashed potatoes, here's 25 main dishes even the pickiest eaters love!
1. One Pound Meatloaf
Most meatloaf recipes call for two pounds of ground beef, but what if you only have one? This one pound meatloaf is the perfect size for 4 people!
It's moist and tender with a sweet and tangy glaze made of ketchup and brown sugar. Meatloaf and mashed potatoes were made for one another!
2. Cajun Honey Butter Salmon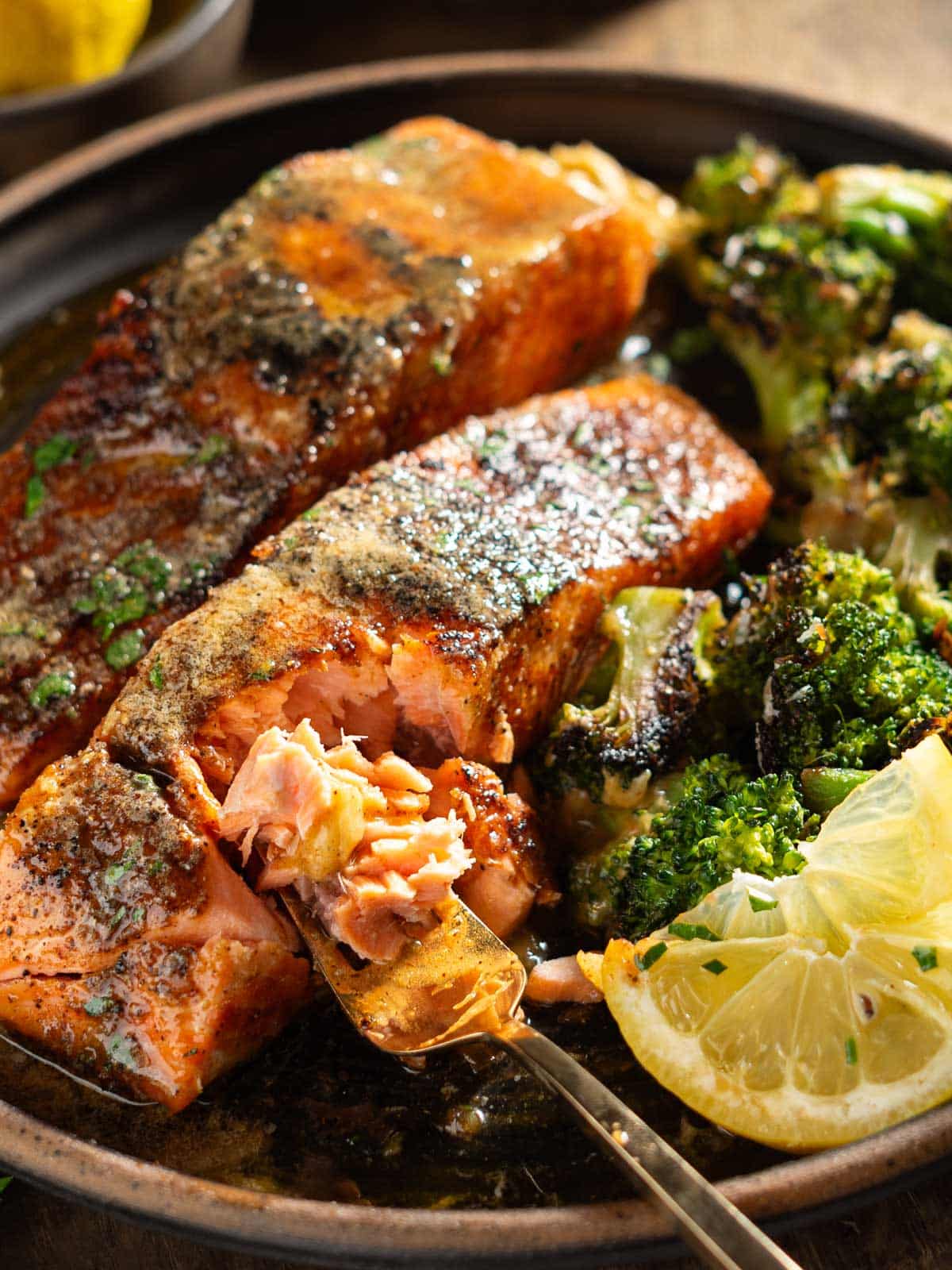 Tender flaky salmon fillets with crispy edges and sweet heat! This Cajun honey butter salmon is ready in under 15 minutes and it's absolutely crave-worthy.
It's liable to become a part of your weekly dinner rotation! Serve with garlic butter mashed potatoes and roasted broccoli.
3. Blackened Chicken Breasts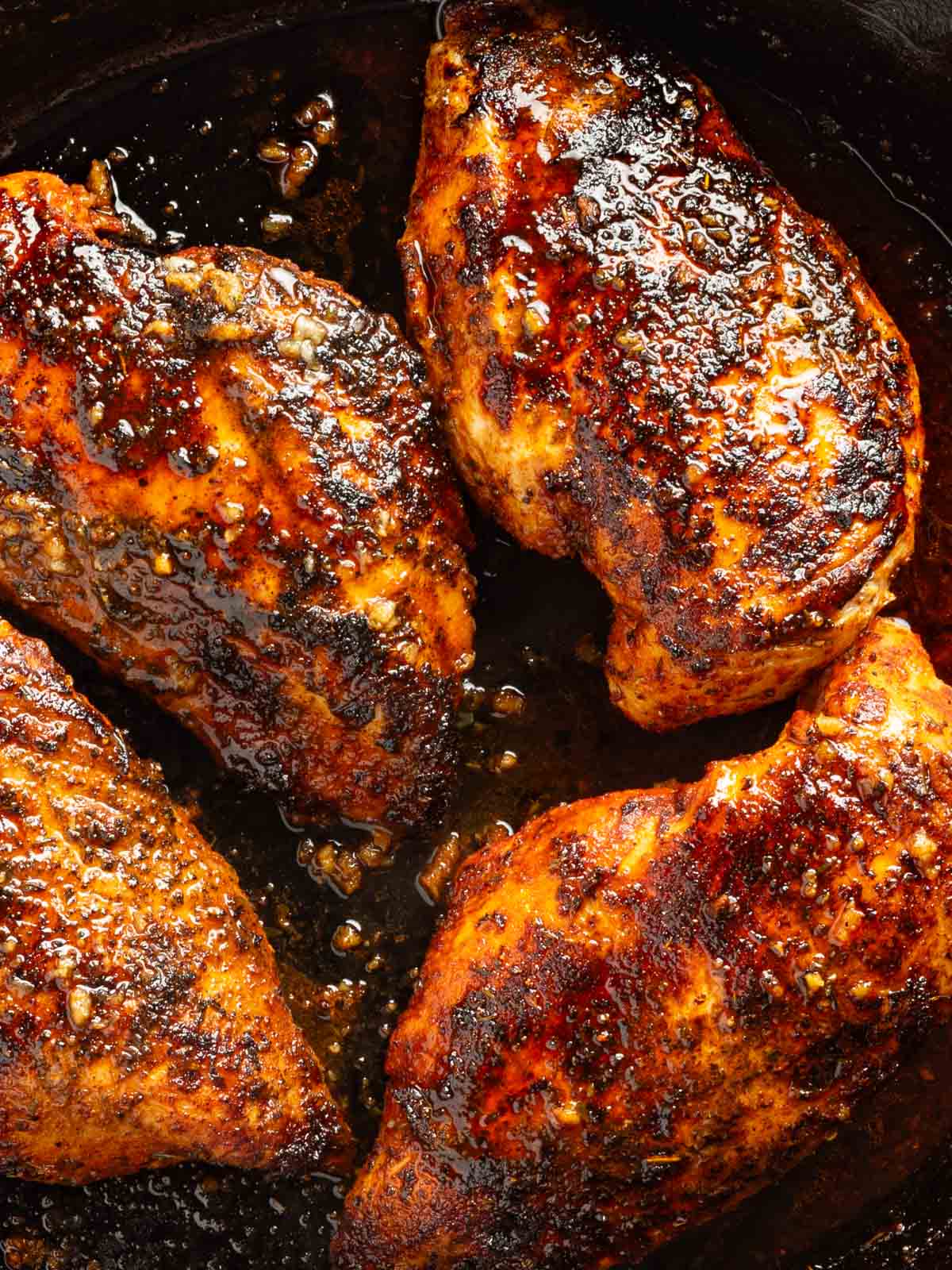 Seasoned chicken breasts caramelize in a hot iron skillet before getting spooned with garlic butter. It's simple yet effectively delicious!
This main dish only takes 20 minutes to make and tastes great over a heaping plate of leftover mashed potatoes. Kick dry chicken to the curb, these chicken breasts are extra juicy!
4. Steak Diane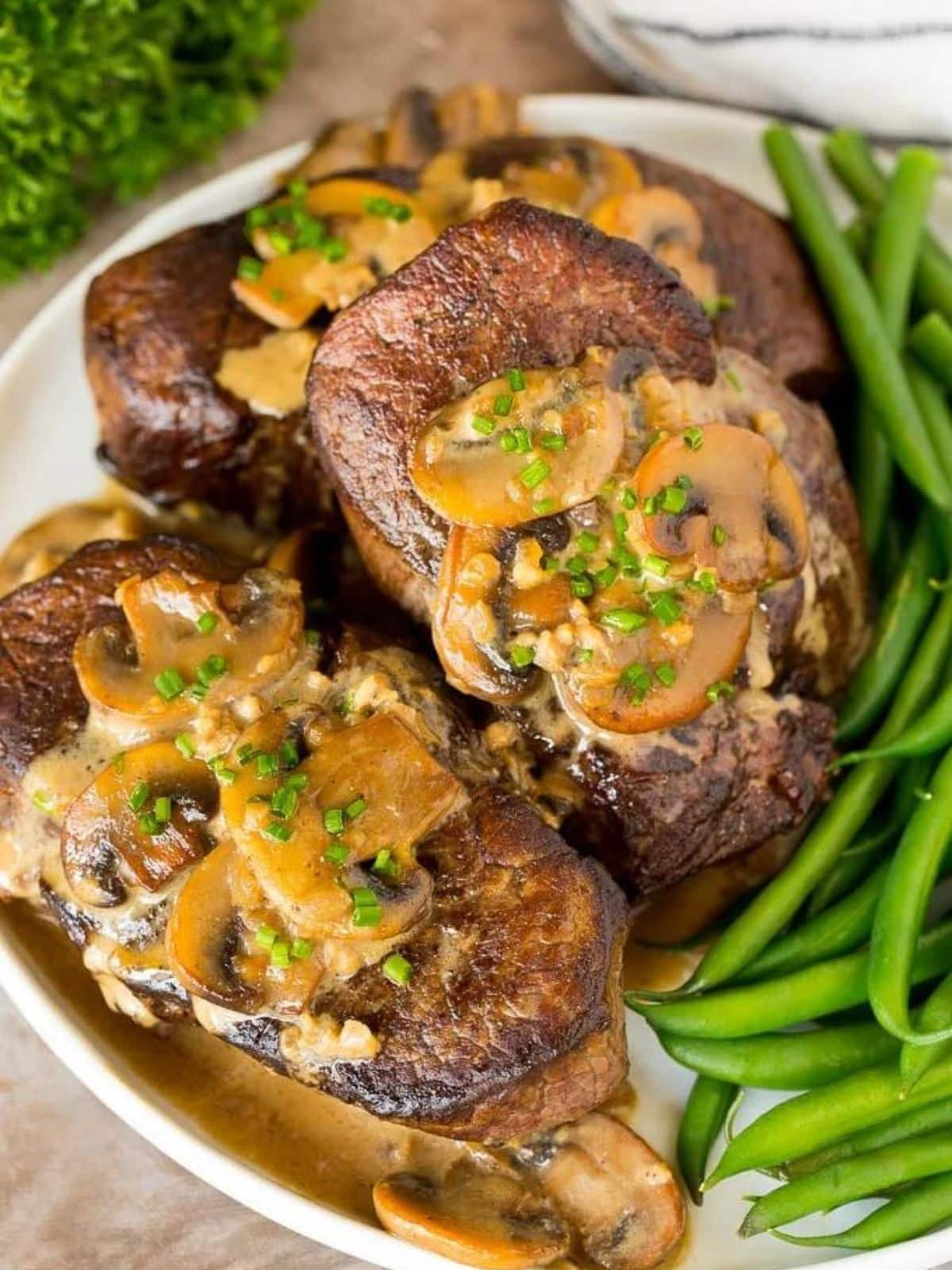 A classic for a reason! Steak Diane features seared filet mignon with a creamy and savory mushroom sauce. While filet is a solid choice, feel free to use whatever cut of steak you have in the fridge.
This main dish is ideal to serve with mashed potatoes, because it soaks up the incredible sauce with all it's garlicky, beefy goodness.
5. Pork Schnitzel & Mushroom Gravy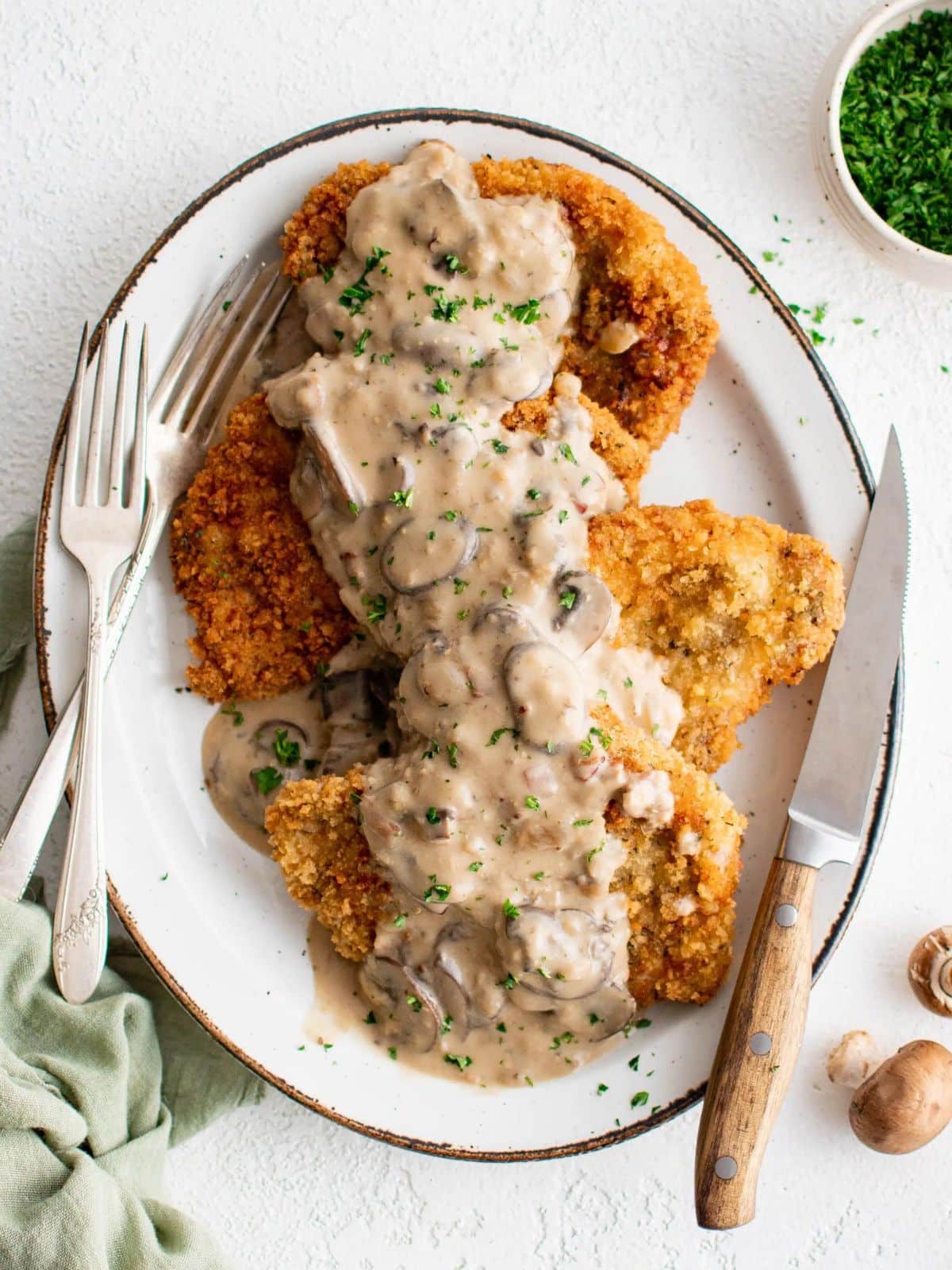 I grew up on this popular German dish! Golden, crispy fried pork cutlets are smothered in a heavenly bacon and mushroom gravy. It's what dreams are made of.
While it's traditionally served with spaetzle, I prefer to serve it with mashed potatoes! The creamy-crunchy contrast is otherworldly.
6. Marry Me Chicken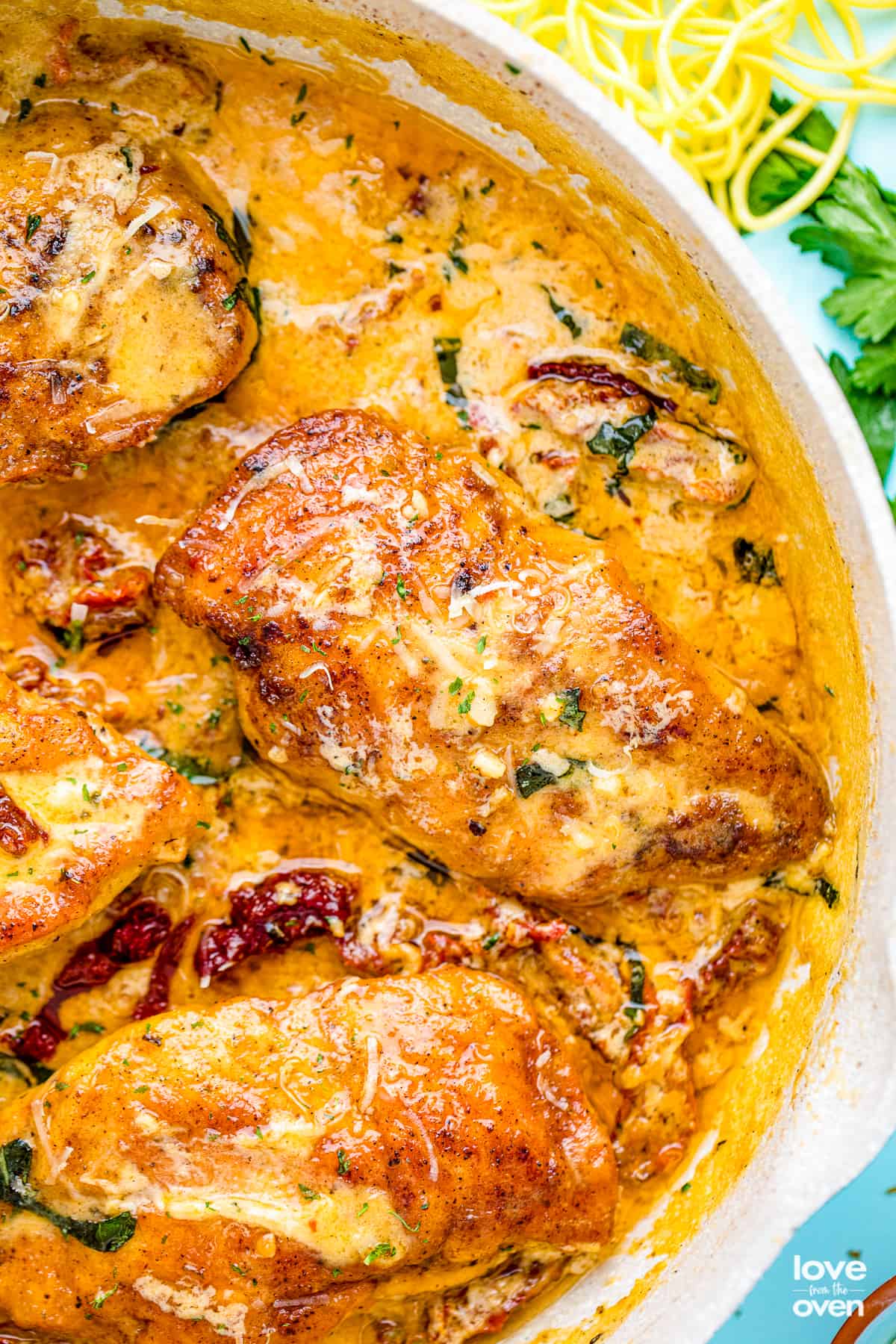 This viral TikTok recipe is called "Marry me chicken" because it tastes so dang good you'll want to marry the person who made it.
Chicken is pan-seared until golden brown before the skillet is deglazed and transformed into a parmesan cream sauce with sundried tomatoes!
It's ready to eat in 35 minutes! Just serve with leftover mashed potatoes.
7. Easy Sausage Casserole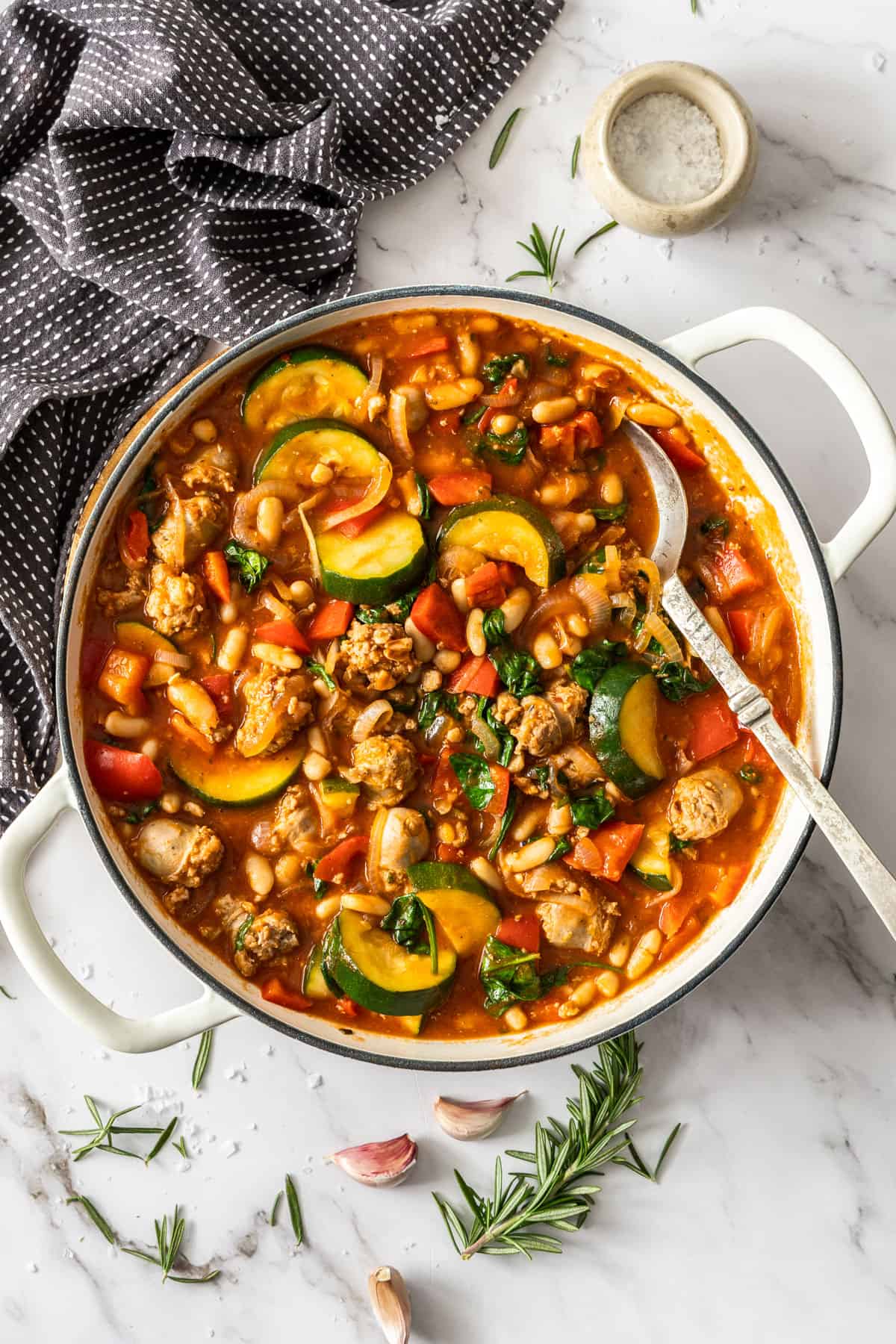 This flavorful sausage casserole is a family-friendly, one-pot meal! Sliced sausage, veggies, and beans are simmered in a savory tomato sauce!
It's cozy, hearty, and versatile! Use whatever veggies you have on hand and switch up the sausage too.
8. Pork Meatballs in Mushroom Sauce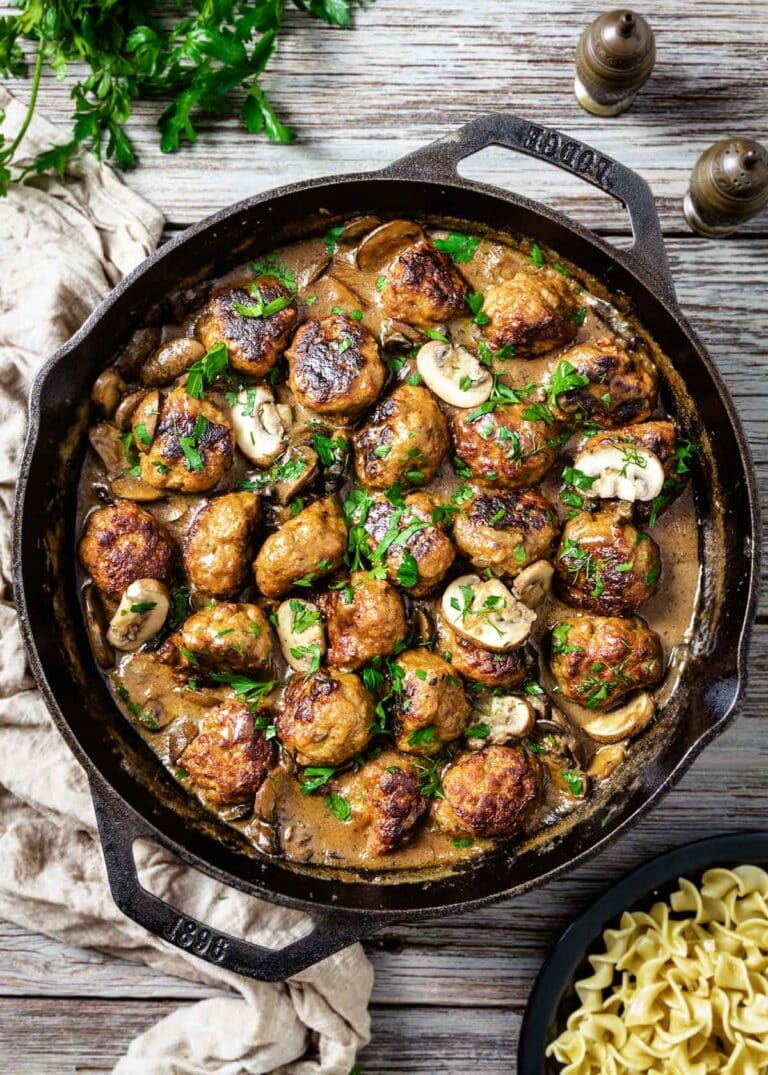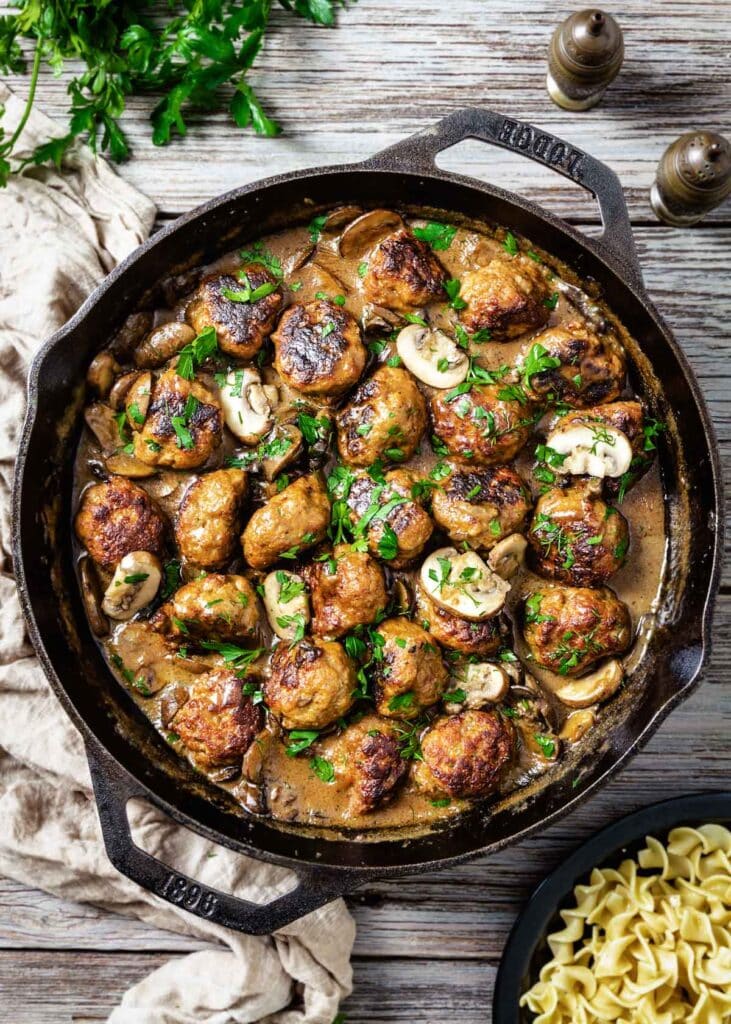 Say goodbye to dry meatballs! These juicy meatballs are seasoned with onions, garlic, dill, buttermilk, and hot sauce. They're smothered in a mushroom cream sauce with a splash of white wine.
These meatballs remind me of pork stroganoff, but in a poppable meatball shape!
9. Parmesan Crusted Salmon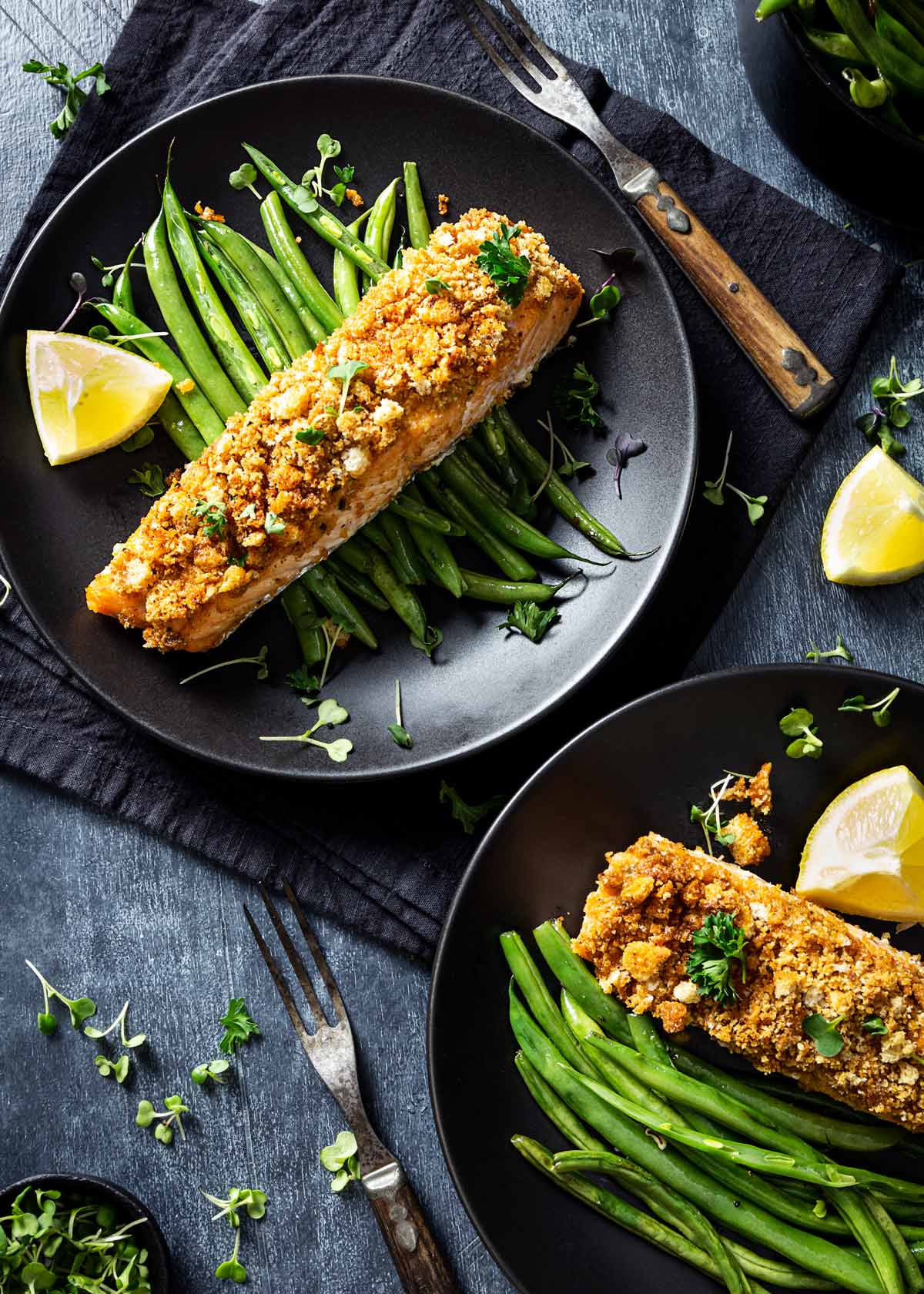 Tender, flaky salmon with a parmesan crouton crust! It's as good as it sounds. Each bite is the perfect combination of smoky, crunchy, and cheesy.
It takes 30 minutes to whip this one up and you won't regret it! It's a versatile main dish that goes with any side.
10. Creamy Crock Pot Tuscan Chicken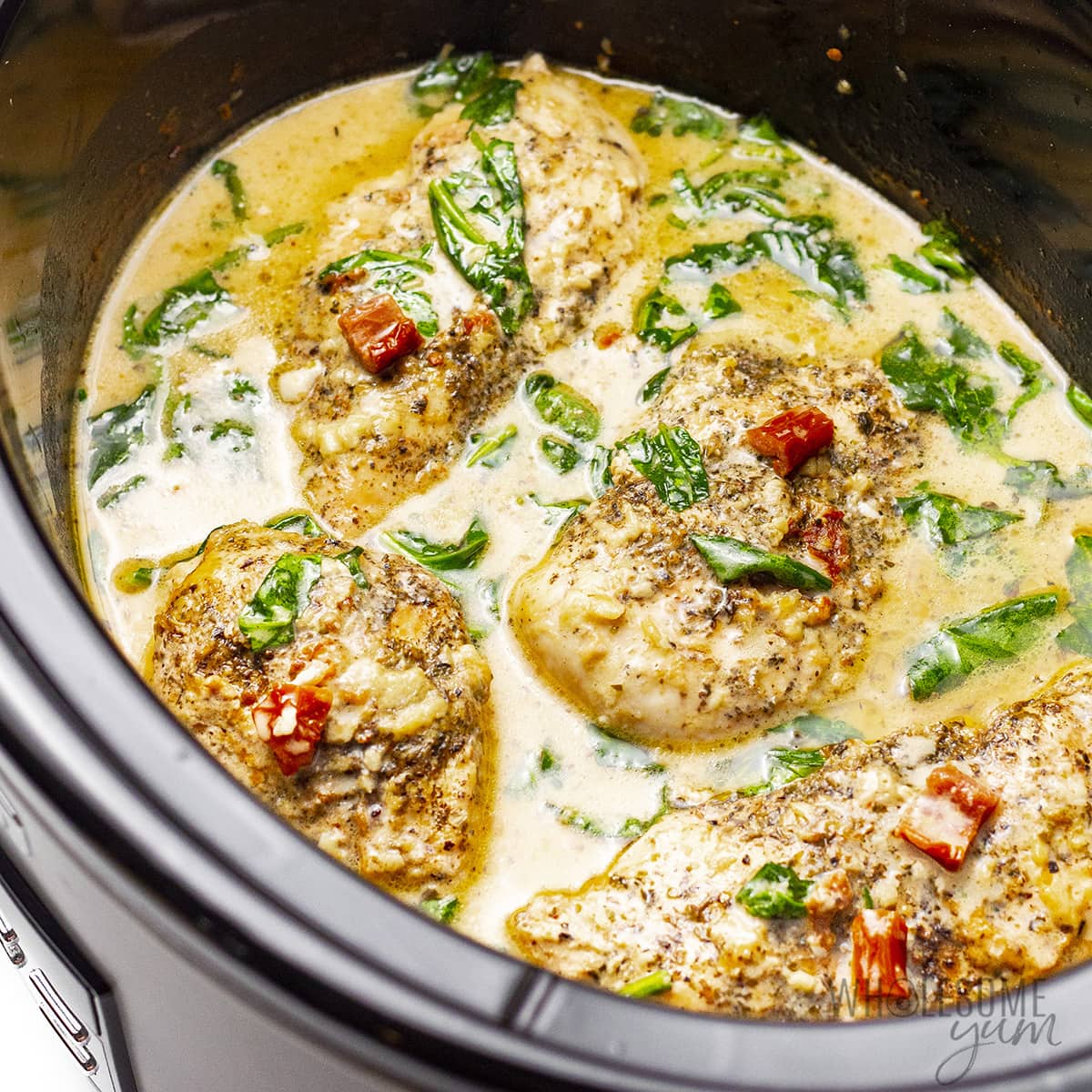 Another version of marry me chicken, only this one is made in your slow cooker! The result? Tender, fall-apart chicken in a luscious parmesan cream sauce.
It only takes 15 minutes to prep and the entire family will devour it and promptly ask for more.
11. Roasted Chicken Quarters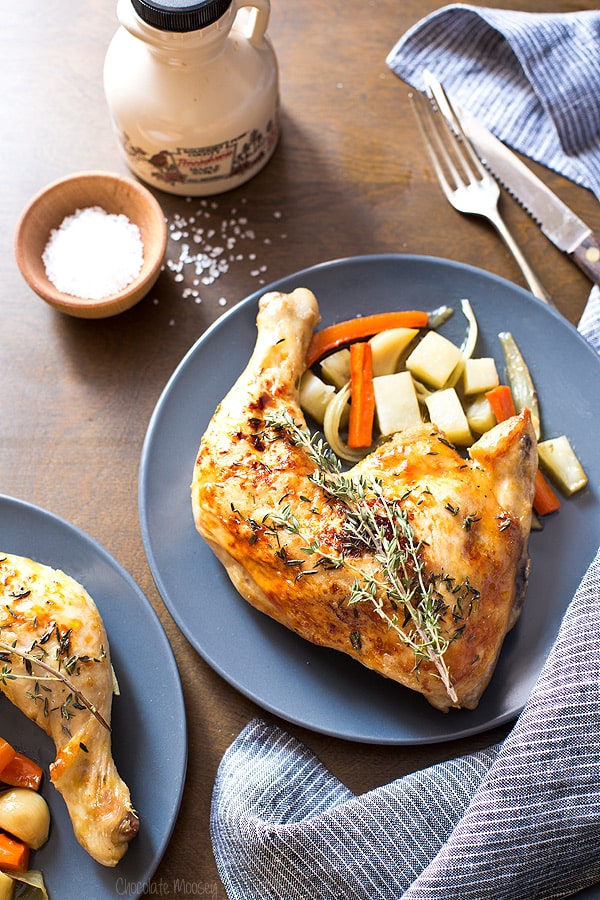 A simple recipe for roasted chicken quarters with veggies. They're all baked in the same pan and the chicken is brushed with maple syrup for a sweet caramelization.
This is the perfect meal for those who love white and dark meat. How about both?!
12. Baby Back Ribs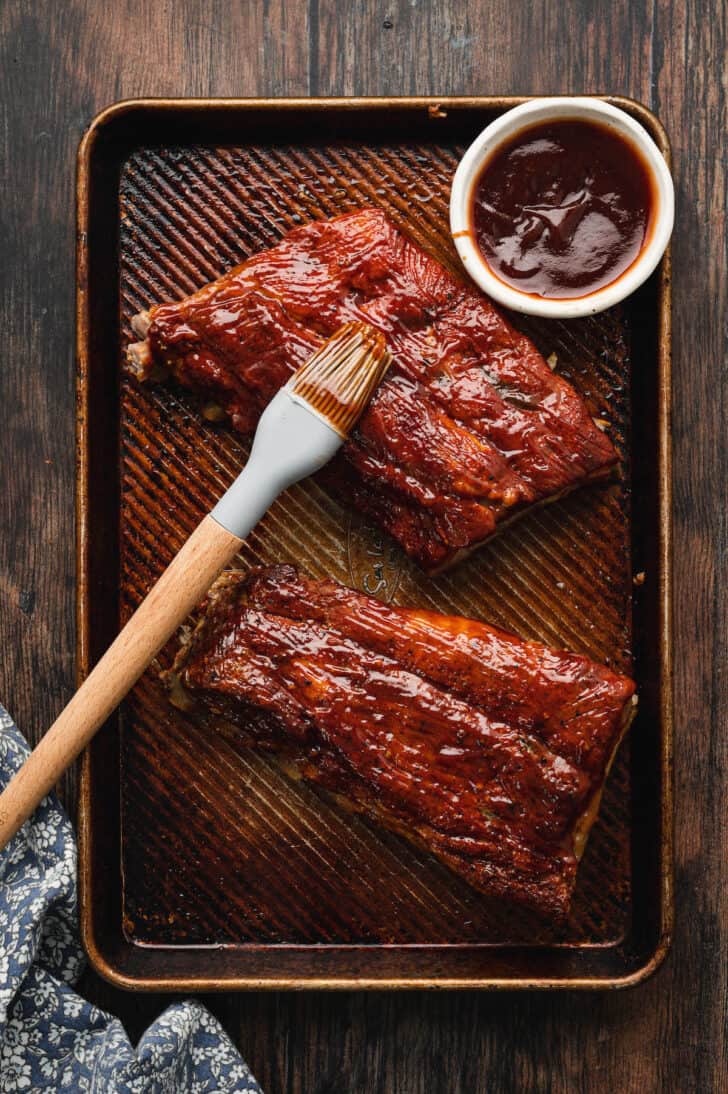 Ribs may seem complicated, but this recipe is anything but! No babysitting required. Just rub them in seasoning, bake for 2 hours, then brush them with barbecue sauce.
You get maximum flavor with minimal effort. That's my favorite kind of recipe. While these ribs are stand-alone delicious, I like to serve them with leftover mashed potatoes.
13. Million Dollar Chicken Casserole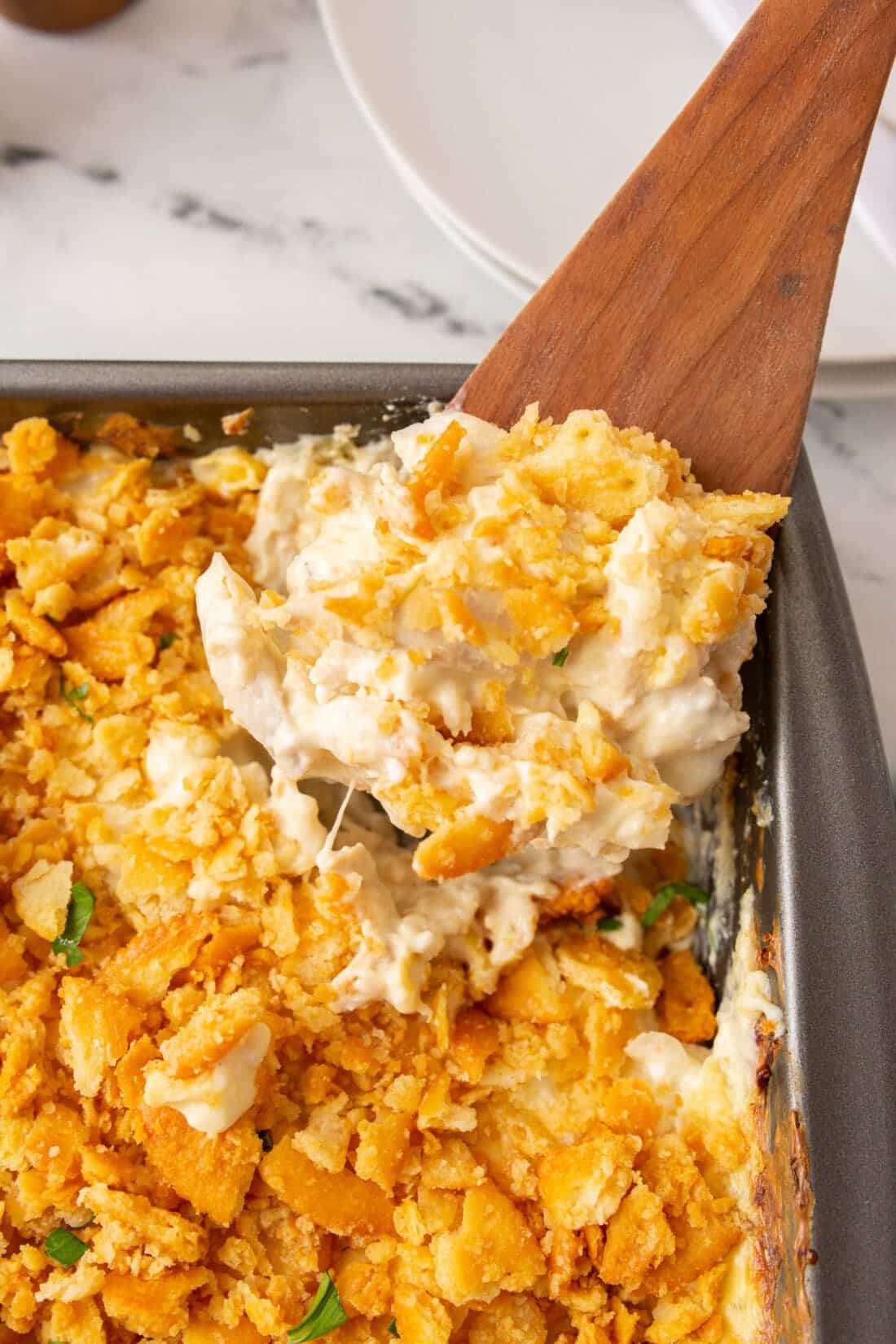 A rich and creamy chicken base with crisp and buttery ritz crackers on top! This chicken casserole requires less than 10 minutes of hands-on time, then into the oven it goes.
Just grab a rotisserie chicken beforehand, so you don't have to cook any chicken first!
14. Portobello Mushroom Steaks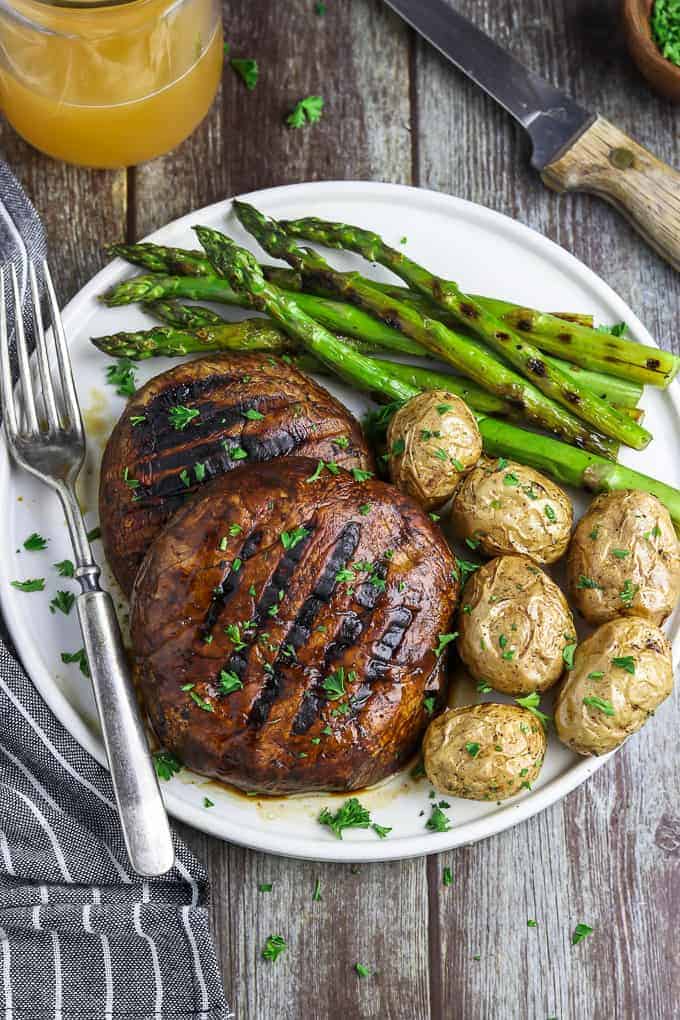 Even meat-eaters will love these grilled portobello mushroom steaks! The 20-minute marinade adds a ton of umami flavor and the mushrooms have a nice meaty texture.
They make a great vegan option for a dinner party or get-together. Light yet satisfying!
15. Creamy Skillet Chicken Al Limone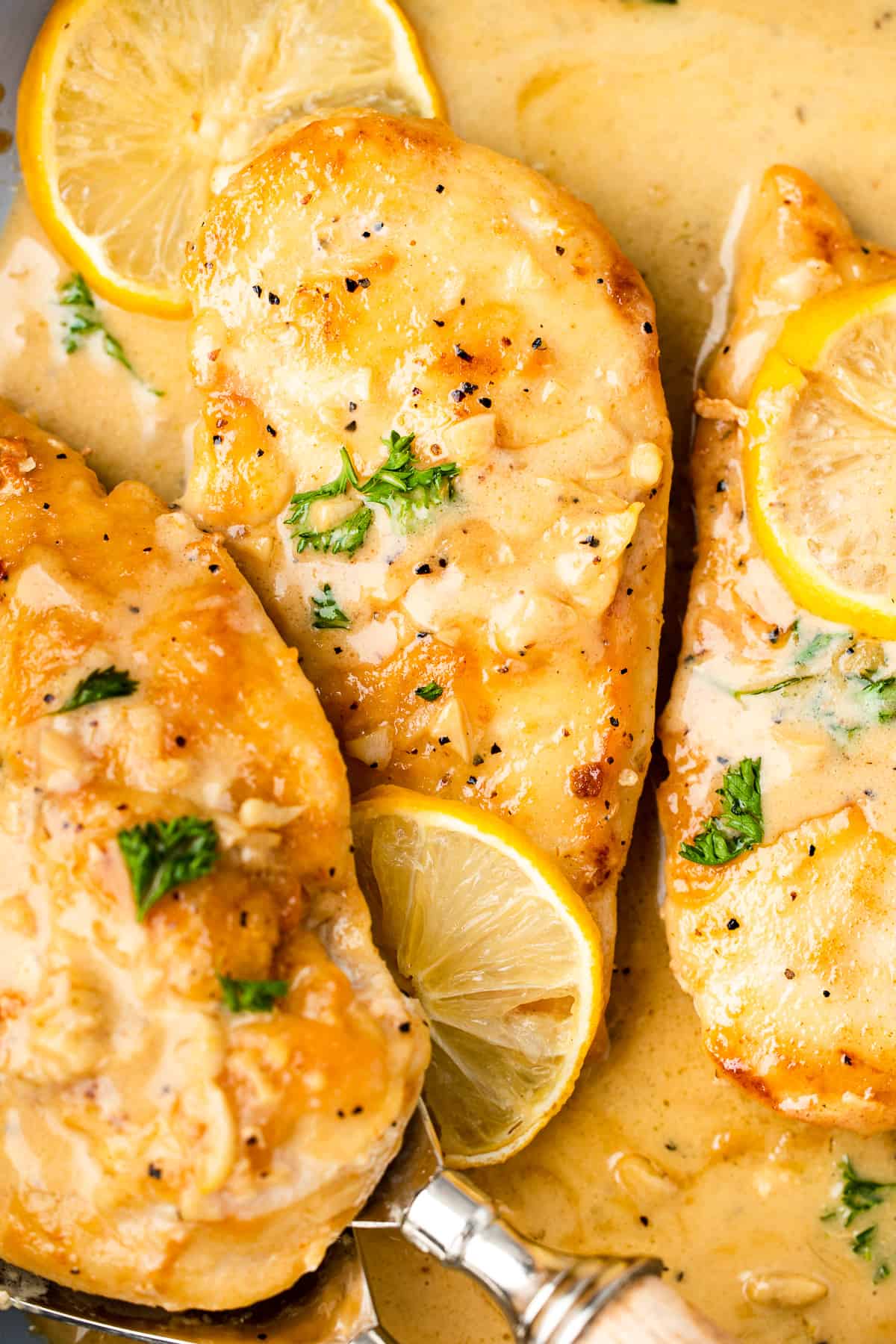 Golden crispy chicken cutlets swim in a lemon garlic cream sauce! This easy recipe has it all. It's rich, creamy, bright, and zippy. It's a one-pan dish made with 8 simple ingredients.
It's perfect for middle-of-the-week craziness because it only takes 30 minutes to make. A must-try!
16. Dutch Oven Pulled Pork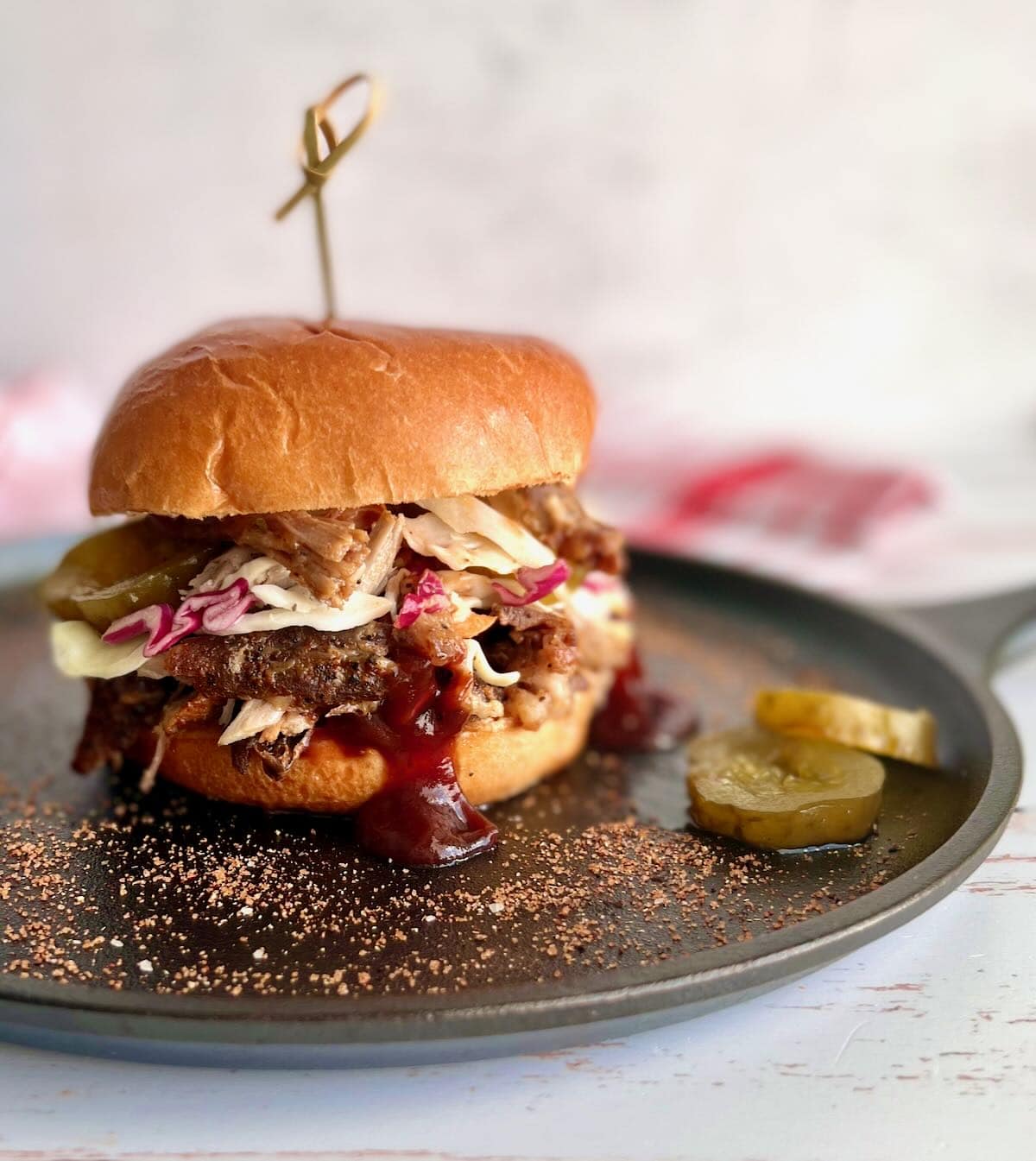 Make juicy, tender pulled pork without a smoker! The dutch oven method boasts juicy fork-tender meat that melts in your mouth.
Make it into sandwiches or slather it in your favorite BBQ sauce and serve with traditional sides like green beans, baked beans, macaroni and cheese, or mashed potatoes.
17. Grilled Chicken Strips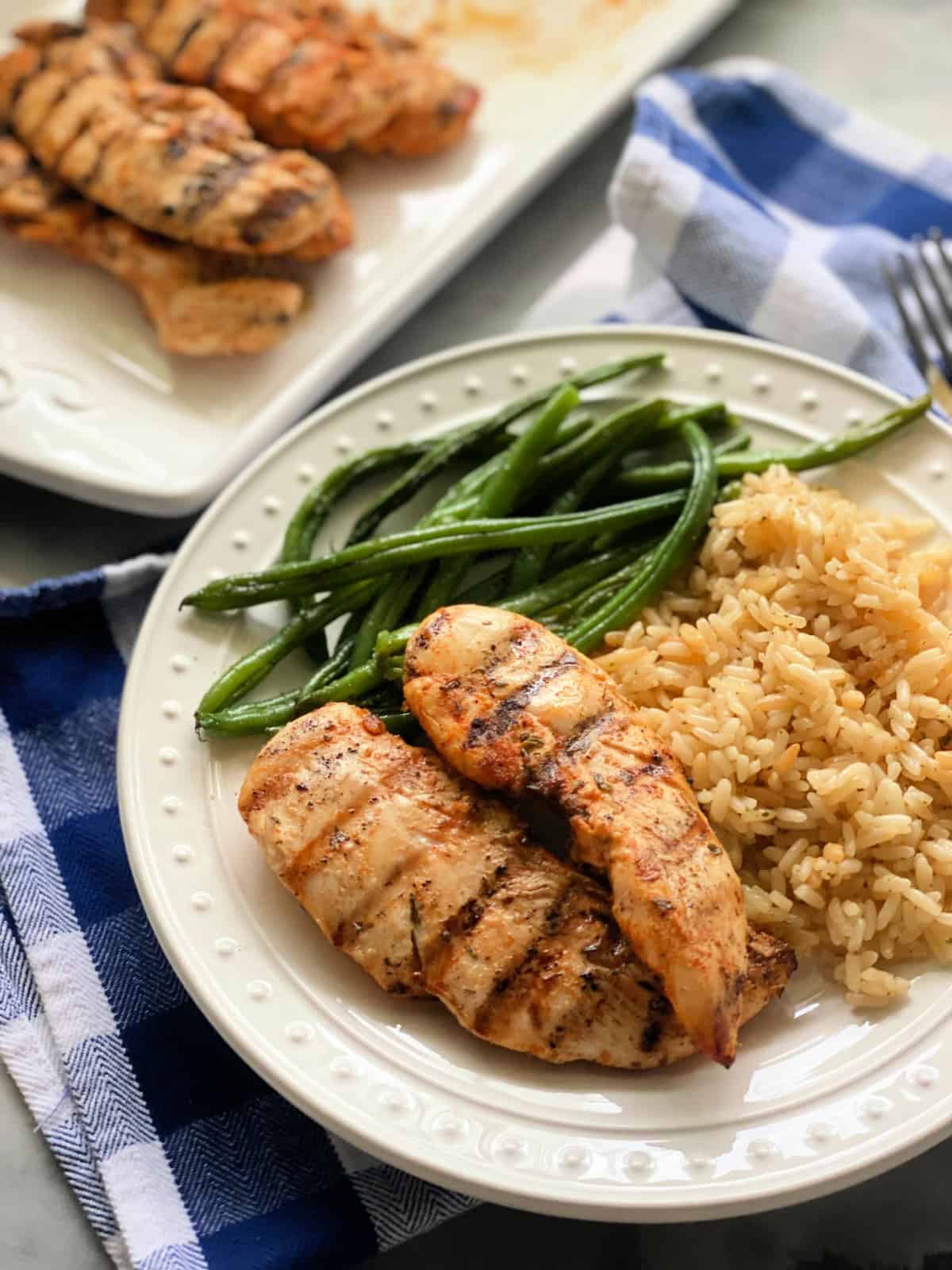 If all you've got in the fridge is chicken, you're in luck! These grilled chicken tenders are super simple and juicy.
All you need are pantry spices, lemon, olive oil, and chicken. It doesn't get much simpler than that.
18. Vegan Tuscan Chickpeas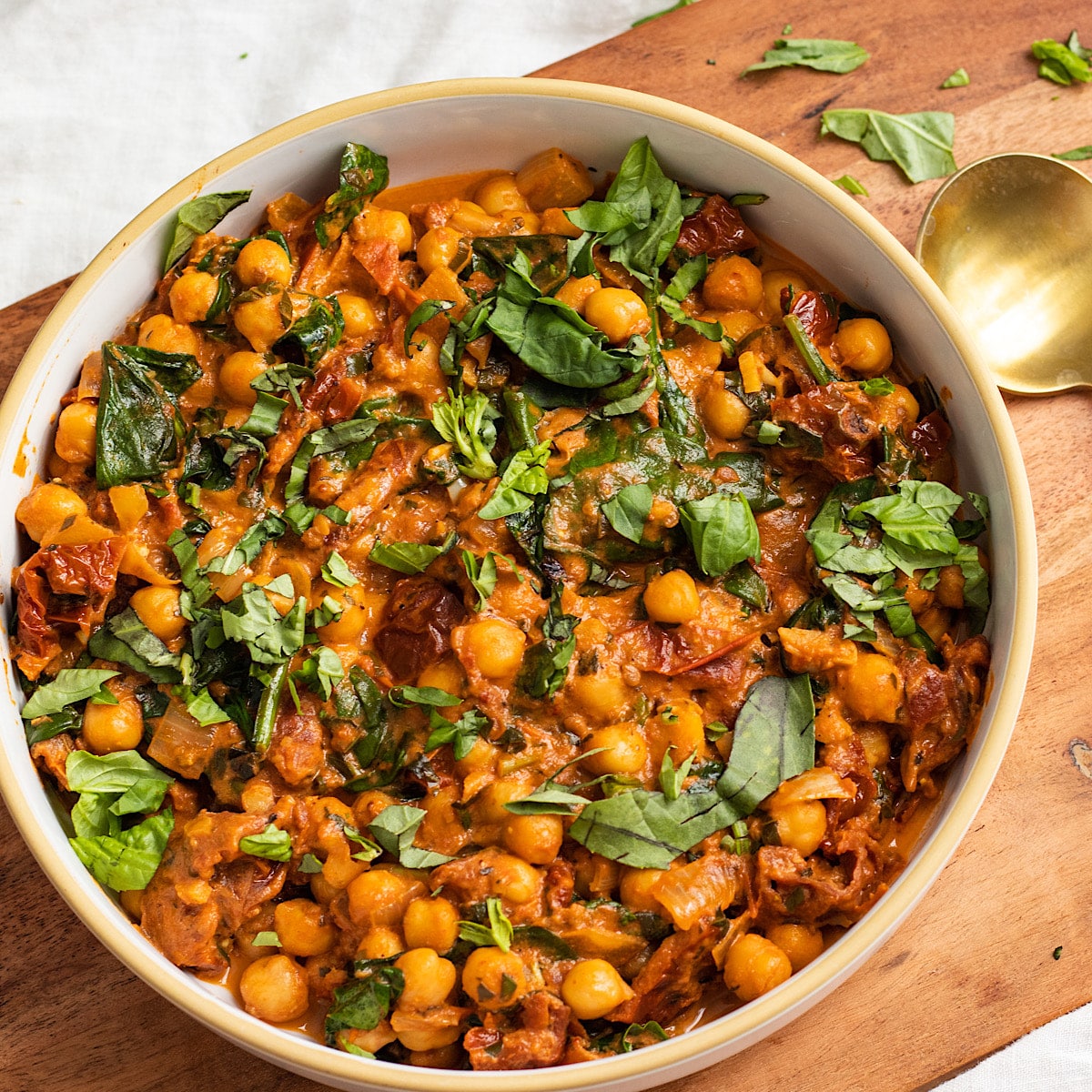 Another amazing vegan option! This high-protein plant-based dinner is anything but plain. Chickpeas simmer in a creamy tomato-based sauce with sundried tomatoes and spinach!
This meal is comforting and hearty, plus it's dairy-free, vegan, and gluten-free!
19. Garlic Butter Steak Bites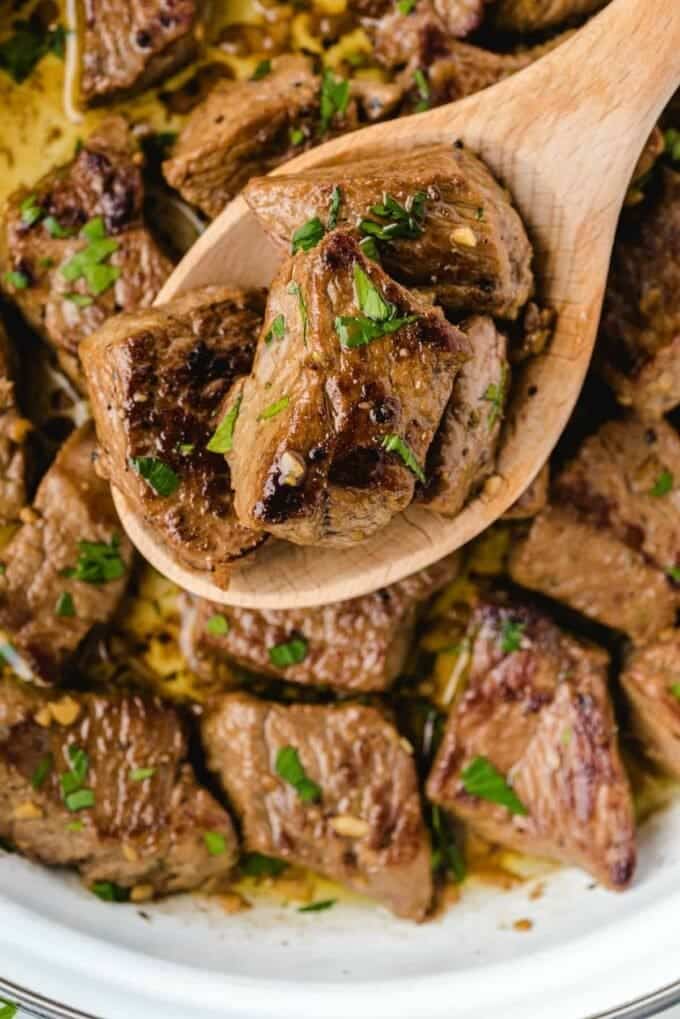 Steak bites are ready in just 15 minutes! Sirloin steak is cut into chunks, then seared and doused with garlic butter. It's an ideal way to jazz up a budget-friendly cut of steak.
My kids love these and gobble them up before I can get them to the dinner table.
20. Chicken Parmesan Meatballs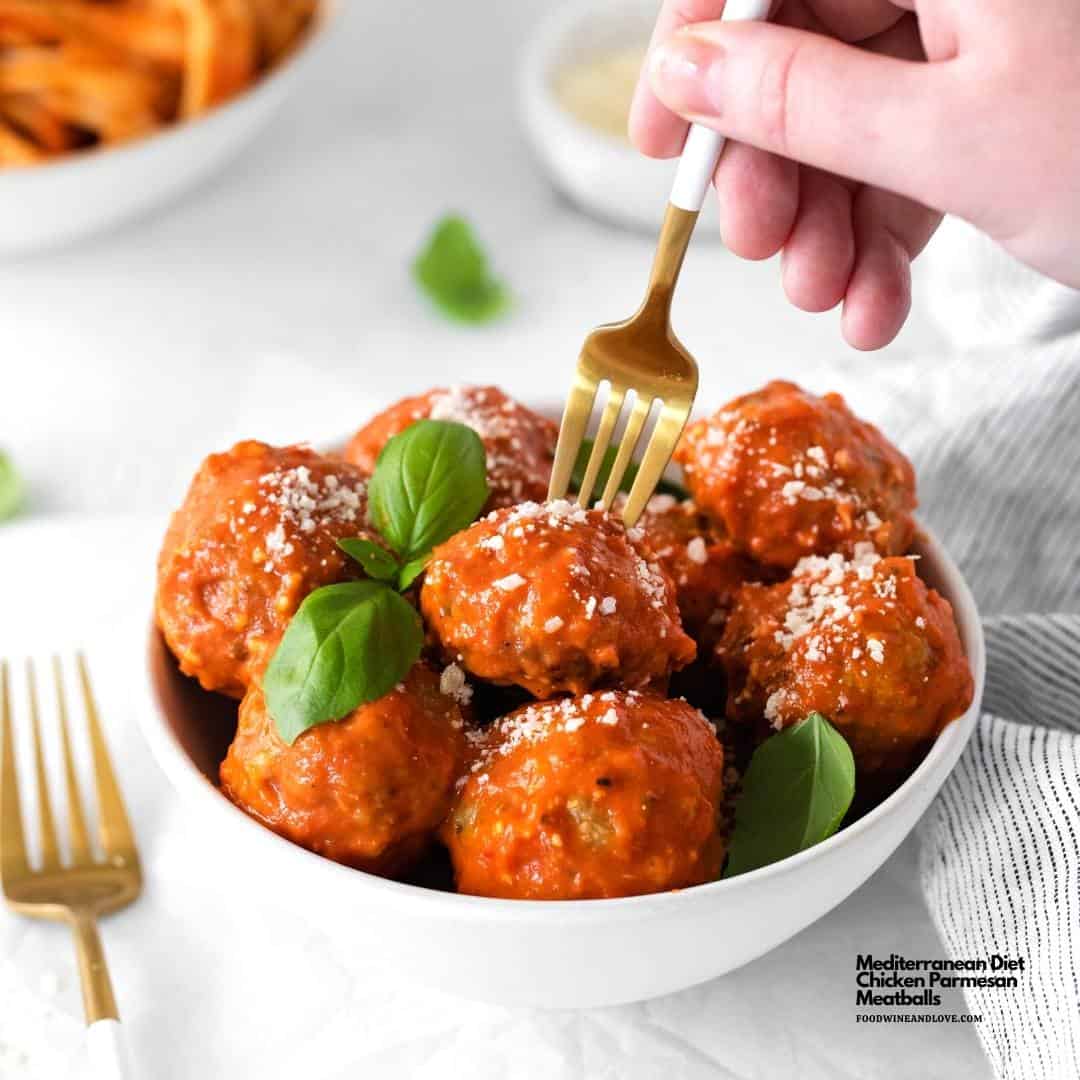 A healthier take on the classic meatball - chicken parmesan meatballs are full of flavor. Parmesan and mozzarella add moisture while Italian seasoning boosts their flavor.
Toss them in some store-bought marinara and you're in business!
21. Whole Smoked Chicken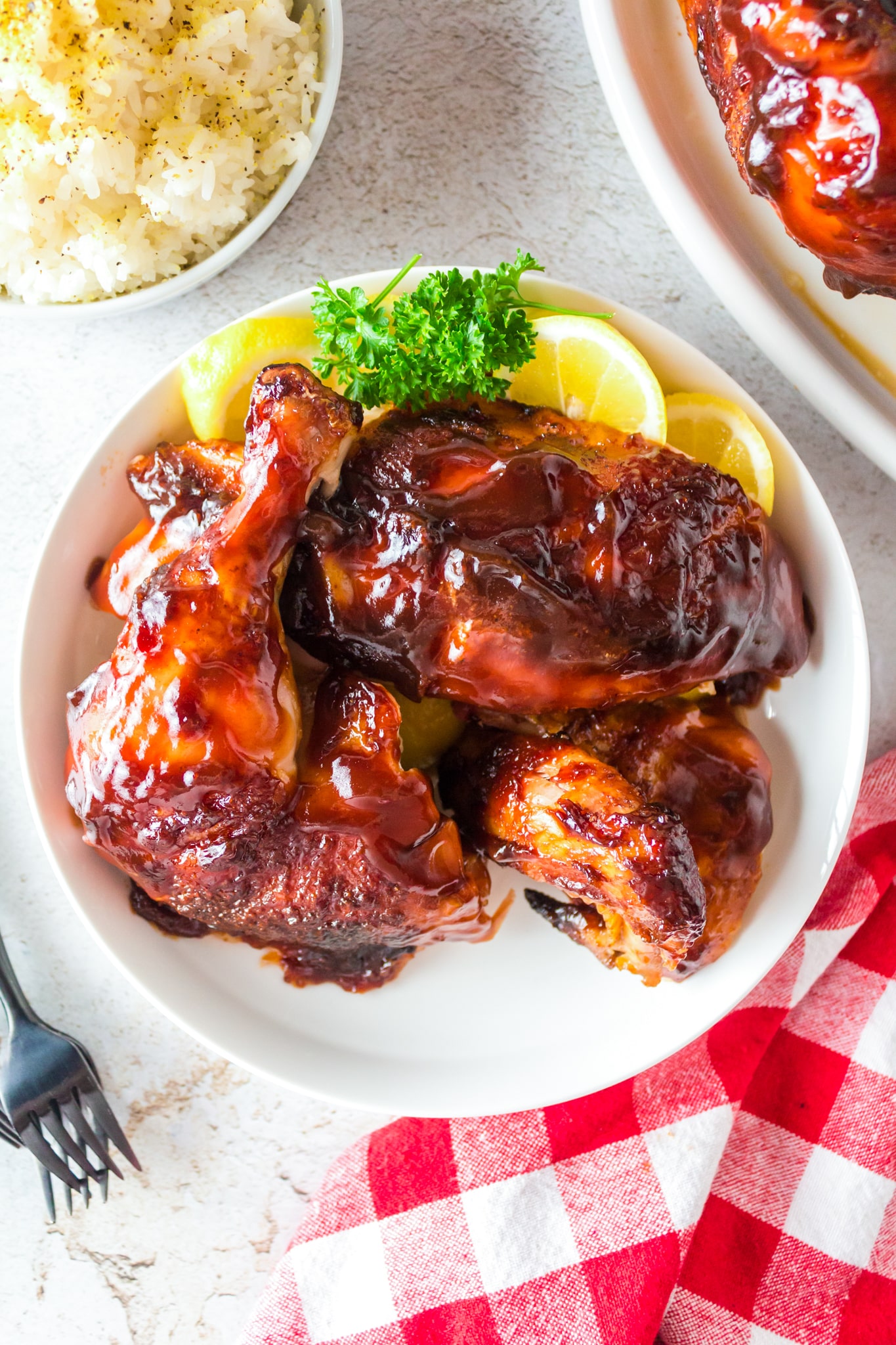 To say my family enjoys smoked meat is an understatement. We live and breathe by it. This whole smoked chicken is super juicy with a homemade spice rub and tangy barbecue sauce.
A dry salt brine keeps the meat extra tender with minimal effort.
22. Grilled Ribeye Steak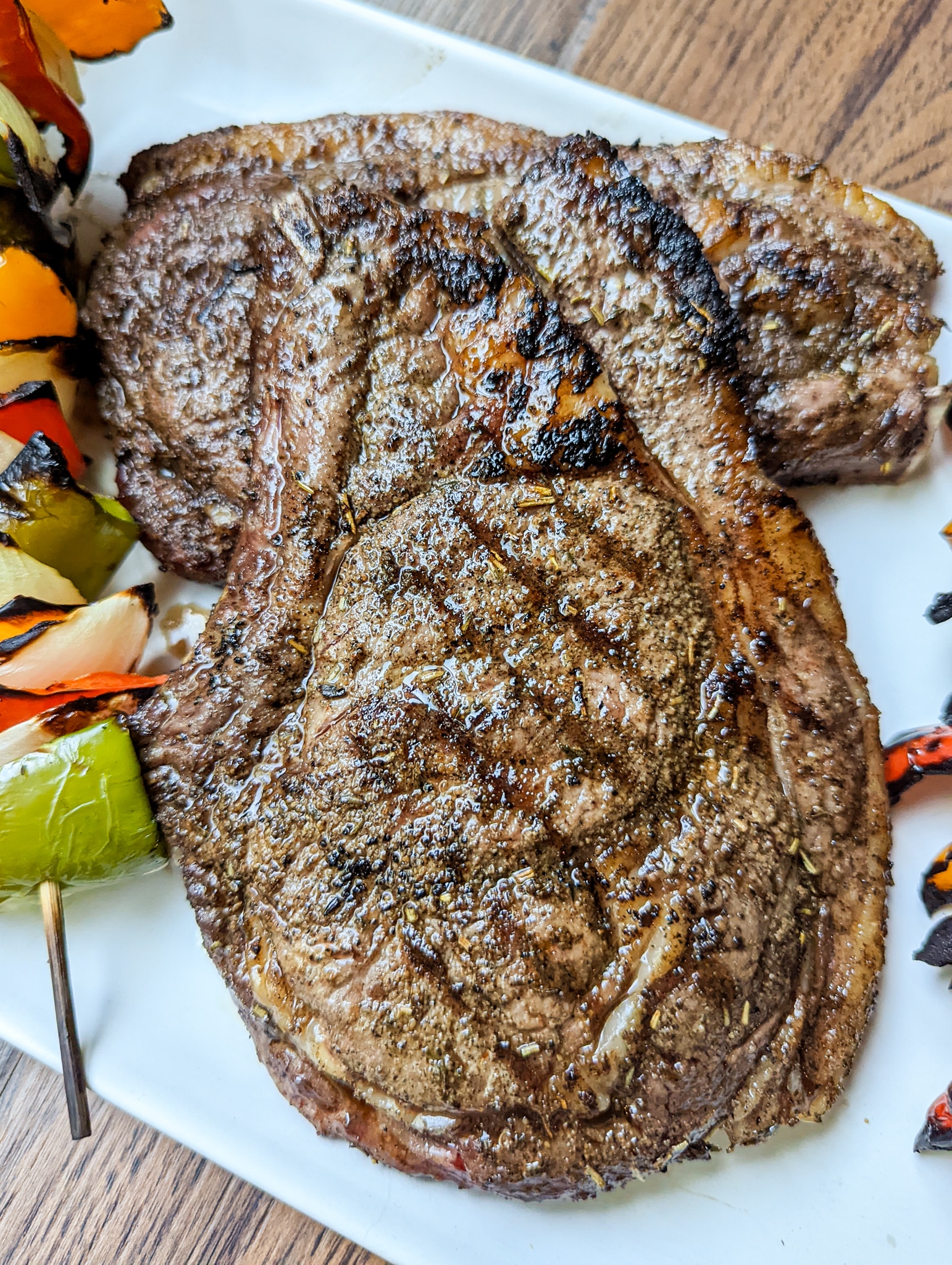 There's nothing like a perfectly grilled steak alongside some garlic mashed potatoes! Learn how to do a ribeye justice with this simple recipe.
This well marbled cut doesn't need a marinade, just a few simple seasonings. Top it with garlic basil compound butter for steak nirvana.
23. Honey Mustard Pork Chops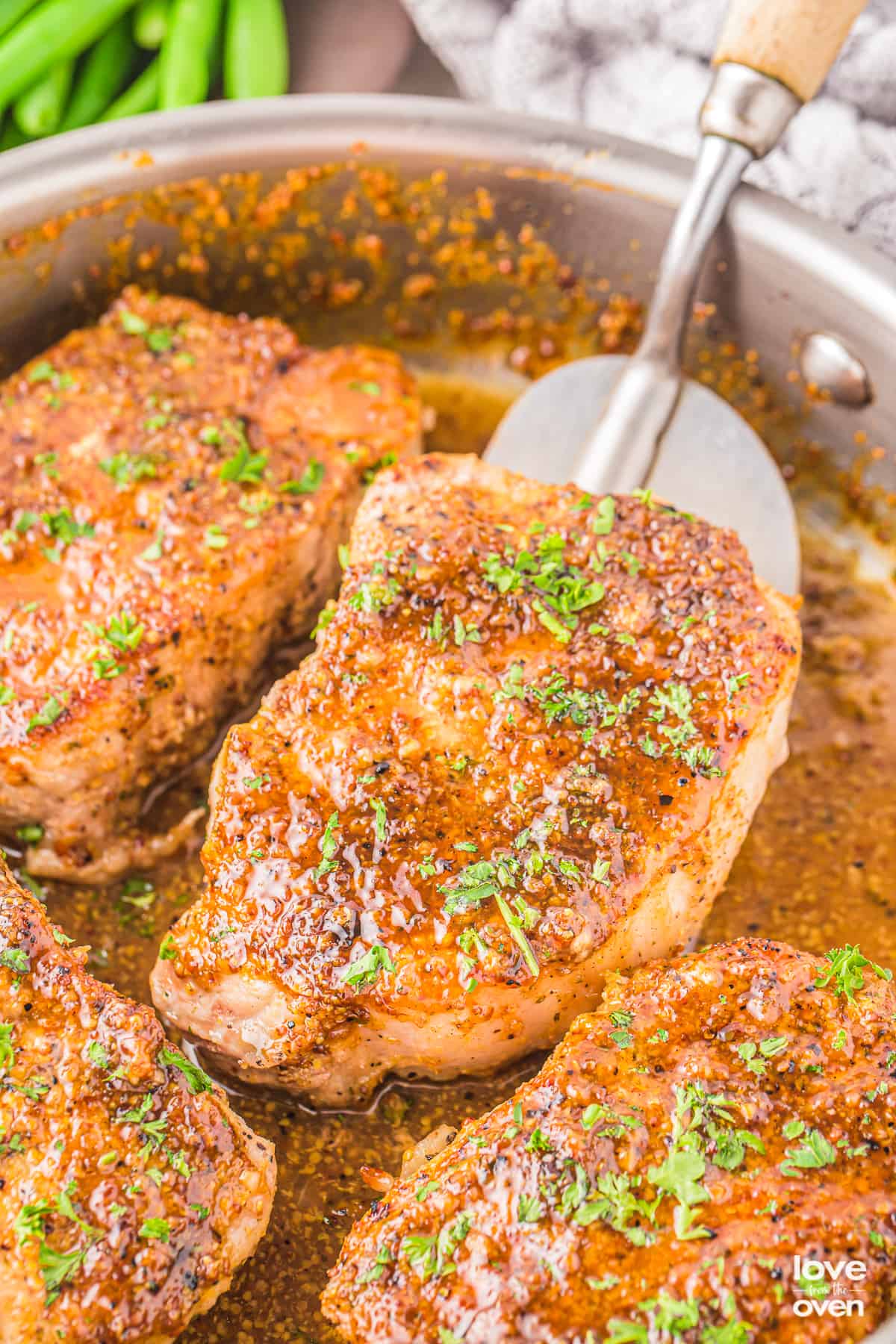 Jazz up pork chops with a tangy homemade honey mustard sauce! The easiest, budget-friendly weeknight meal that takes 20 minutes.
The pork chops are pan-seared then baked to keep them juicy and not dry!
24. Chicken Florentine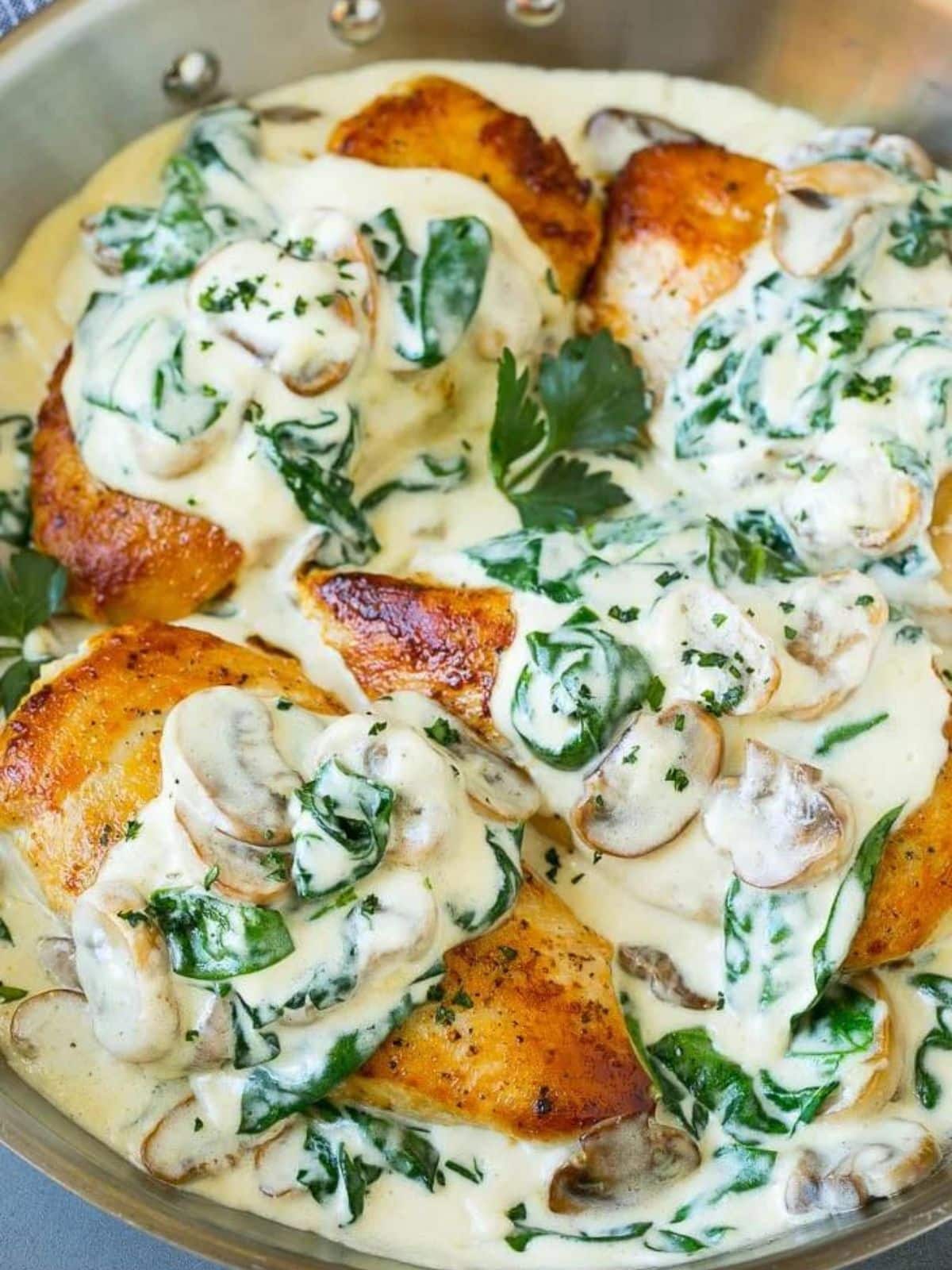 Chicken Florentine is a family-friendly dish made with golden brown crispy chicken smothered in a spinach and parmesan cream sauce.
It's decadent yet simple. Fancy enough for a dinner party, but easy enough for a weeknight.
25. BBQ Bacon Cheddar Chicken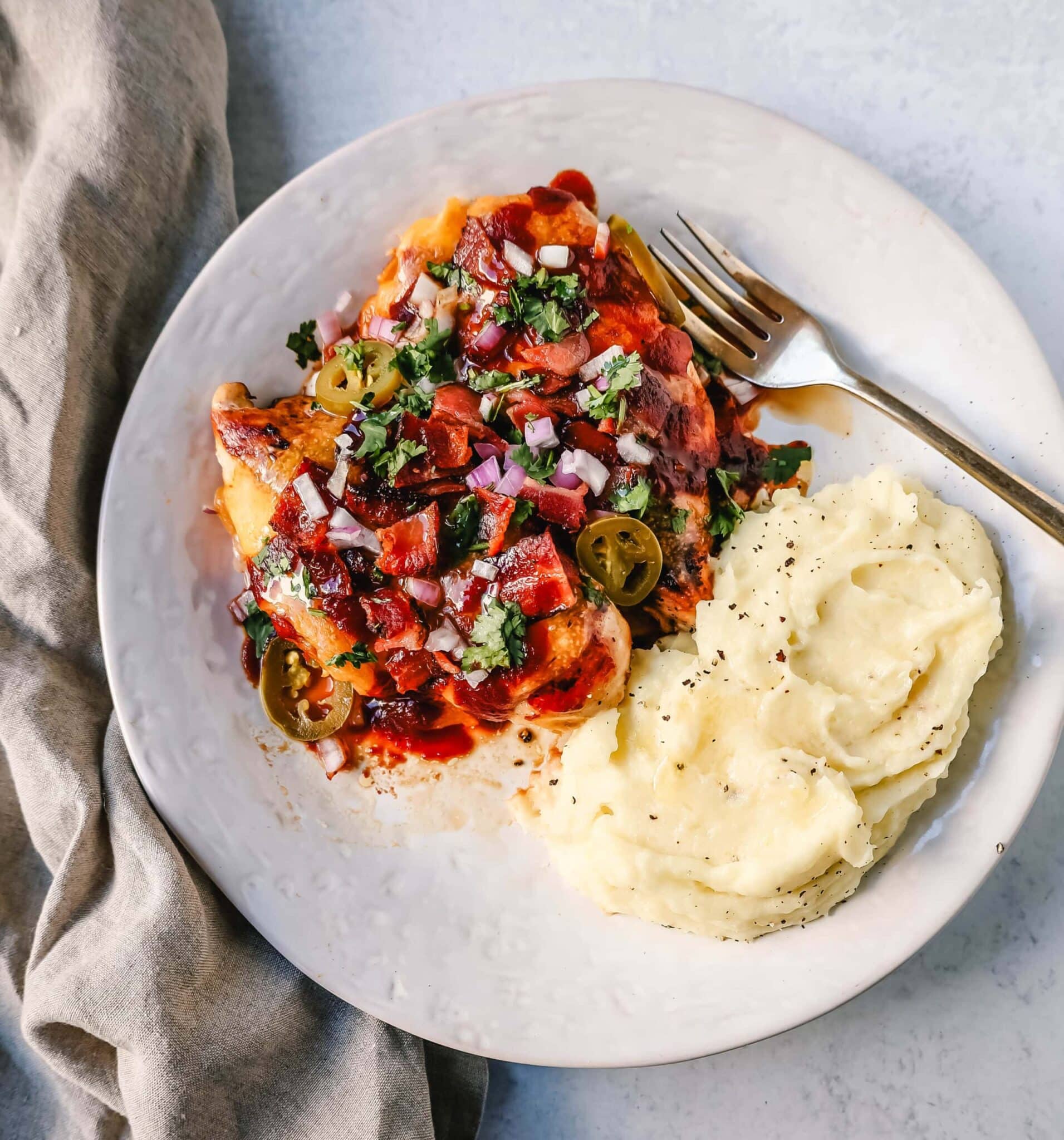 This is essentially a delicious version of Monterey Chicken! Marinated grilled chicken is slathered with barbecue sauce, then topped with crispy bacon and cheddar cheese.
You can grill it or cook it in a saucepan. Top it with fresh cilantro and pickled jalapenos for a boost of flavor!
FAQs:
Can you eat just mashed potatoes as a meal?
Absolutely! For a filling, complete meal, add some protein or extra toppings. Try adding leftover ground beef, pulled pork, or crumbled sausage. Or you could add caramelized veggies for a vegetarian option. The easiest route is to check what you have in the fridge and go from there.
What protein should I eat with mashed potatoes?
Mashed potatoes are a versatile side dish. They pair well with all protein choices, but go exceptionally well with steak, roasted chicken, pulled pork, pork chops, and fried chicken!
More Potato Recipes: