This oven roasted potatoes recipe and herb sour cream is a cinch to make. Basil, lemon and cilantro liven up the sour cream for something a little bit different.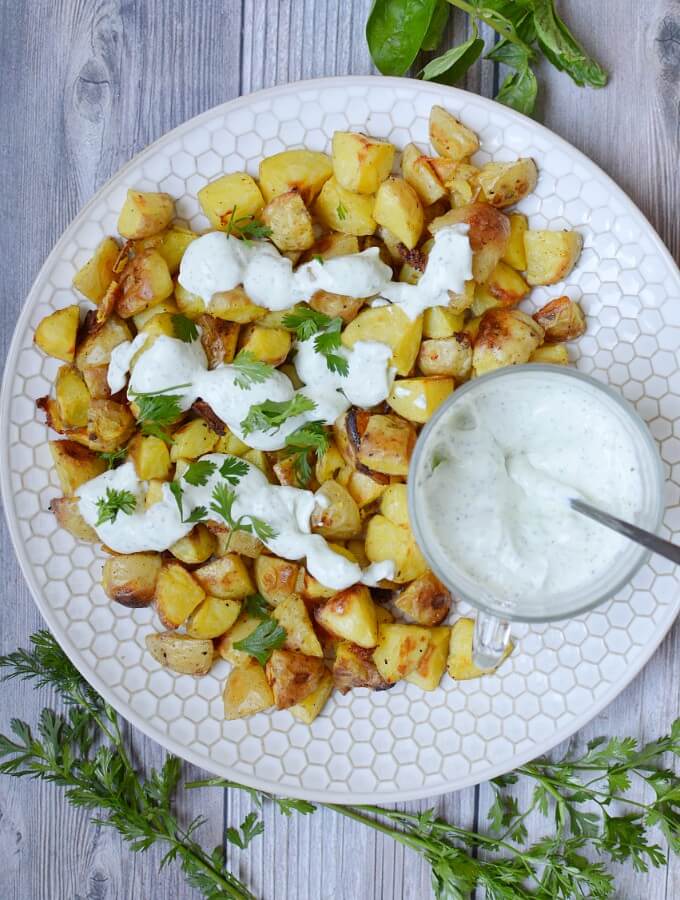 I love sour cream on oven roasted potatoes so it only seemed natural to give it a little moxie and add some herbs.
Oven roasted potatoes are such a simple, filling addition to dinner.
What kind of potatoes should I use?
For this oven roasted potatoes recipe I used Honey Gold Potatoes because they have a buttery flavor but you can use what's available and on sale. You will need to brush up on your tater knowledge first.
All potatoes can be roasted but will have a slightly different flavor and texture. Potatoes fit in to one of three categories: waxy, starchy or all purpose.
Starchy potatoes have a low moisture and high starch content. What does this actually mean? Starchy potatoes are fluffy but break down faster and don't hold their shape well. They also absorb ingredients better like milk and butter. This is why russet potatoes make such great mashed potatoes and subpar roasted potatoes.
Waxy potatoes have a high moisture and low starch content. Waxy potatoes hold their shape well and have a firm flesh. Waxy potatoes are great for roasting, gratins, salads or soup. Oven roasted red potatoes are a delicious choice.
All purpose land somewhere in the middle. All purpose potatoes like Yukon Gold have a medium moisture and medium starch content. They can be used in any recipe with good success which makes them a foolproof and popular choice.
If you are unsure which category a potato falls under a quick google search should do the trick. After a while your favorites should be easy to remember.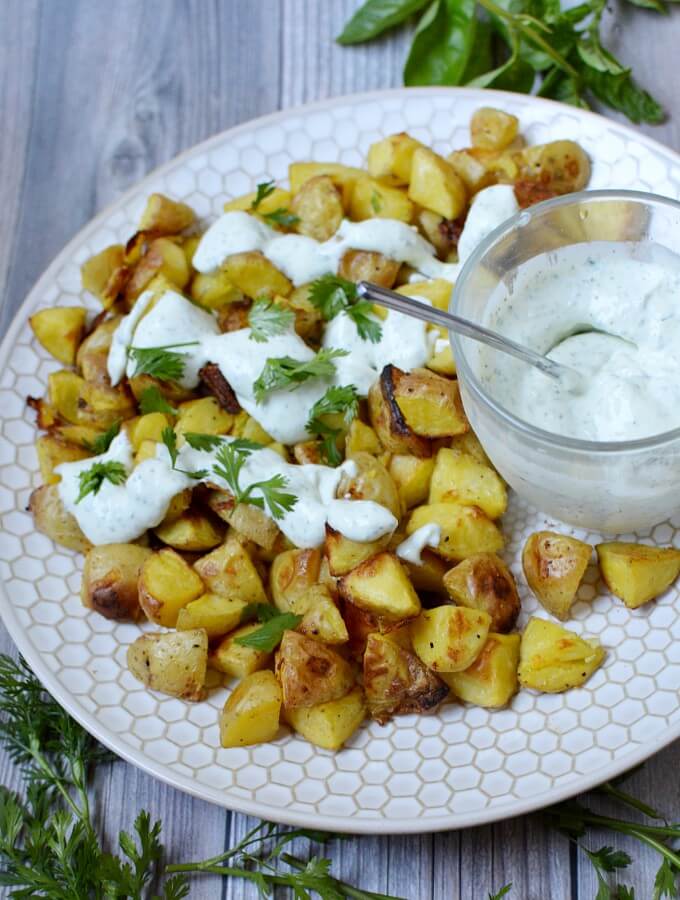 Easy Oven Roasted Potatoes
Oven roasted potatoes are super simple. I like to roast them at 425 degrees and then broil them for 3 minutes toward the end of baking for crispy roasted potatoes.
Simply dice them into 1 inch chunks. I cut mine in half lengthwise and then cut each side into fourths.
Toss them in a bowl with olive oil, herbs or spices. I didn't make these herb roasted potatoes because I wanted the basil and cilantro to shine in this recipe but you can add herbs if you like. I like to toss them in a bowl before adding them to a sheet pan so all the potatoes are evenly coated.
Dump potatoes onto the sheet pan and evenly distribute then roast for 25 minutes, turning with a spatula halfway through cooking. This keeps them from sticking to the pan and also browns more than one side.
How to make the herb sour cream:
I am a sucker for fresh herbs. I love how they elevate something as simple as sour cream.
This sour cream is super simple.
Simply add the sour cream, lemon zest, lemon juice, herbs, salt and honey to a food processor. Buzz it up until smooth and combined. Refrigerate until the roasted potatoes are finished and serve alongside them. Either spoon it on top or dip the potatoes into it, whichever you prefer. If you have green goddess dressing on hand you could substitute it for the herb sour cream.
Oven Roasted Potatoes Recipe with Herb Sour Cream
Ingredients
1 1/2

lb

Honey Gold Potatoes

2

tbsp

Extra Virgin Olive Oil

3/4

t.

Kosher Salt

1/2

t.

Onion Powder

1/4

t.

Garlic Powder

Freshly Ground Pepper
Herb Sour Cream
3/4

cup

Sour Cream

1

t.

lemon zest

1

t.

lemon juice

2

tbsp

Cilantro, loosely packed (or a small handful)

2

tbsp

Basil, loosely packed (or a small handful)

1/4

t.

Kosher Salt

1/2

t.

Honey
Instructions
Preheat oven to 425 degrees Fahrenheit. Cut potatoes into 1 inch chunks. For Honey Gold Potatoes cut in half lengthwise and then cut each side into fourths.

Put potatoes in a bowl. Toss with olive oil, spices and salt until evenly coated.

Dump potatoes onto a sheet pan and evenly distribute across the pan.

Roast until outsides are crisp and insides are creamy around 25 minutes. Broil on high for 2 to 3 more minutes until crispy. Watch the potatoes as you do this. The broiler is very hot and can easily burn your potatoes if you forget about them.

While the potatoes are roasting make your herb sour cream. Put all your ingredients into a food processor and blend until all herbs are well processed. Serve alongside crispy roasted potatoes.