A gluten free coffee cake recipe that pairs perfectly with an afternoon cup of coffee. (Or iced coffee!)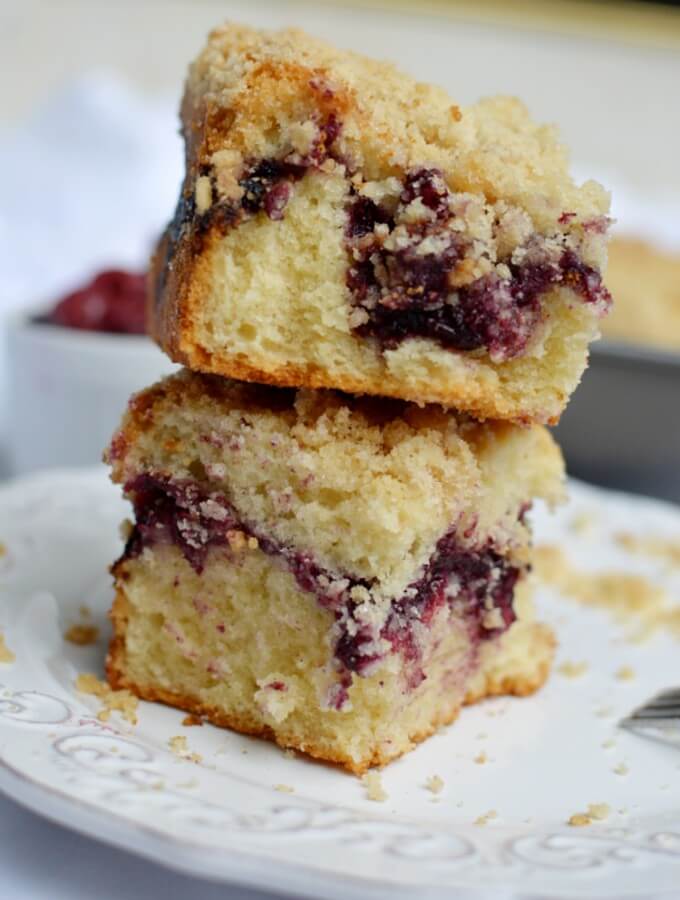 Disclosure: This post may contain affiliate links. In other words, if you click a link and purchase something I will receive a commission at no cost to you. I only recommend products I use and enjoy myself.
Anyone else drink iced coffee when its 20 degrees outside? My insides feel iced too, but it feels so worth it.
This gluten free sour cream coffee cake is truly delightful
I wanted to put a little spin on a gluten free coffee cake so I added a tart triple berry swirl to the center. I love the combo of sweet crumb topping and tart berries.
Frozen berries can be a bit tricky for cakes and muffins because they release a substantial amount of water when cooking which weighs down the cake. This can result in a dense, mushy or underdone cake. This is why I always use fresh berries when I'm simply folding them in the batter. This time I chose to do a swirl instead.
This is great for two reasons:
You don't need fresh berries. I used a frozen bag of raspberries, blueberries and blackberries. I would stay away from strawberries for this one.
Swirls taste amazing!
How to make this coffee cake:
In order to up my baking mojo I like to do things in the best order possible so I'm not scrambling. First make your crumble, this way you can focus on your berry swirl and making your cake batter next.
 Combine your sugar, brown sugar and flour in a food processor and add 4 T. cold cut up butter to it until it resembles course crumbs. You can also do it with your hands. In a bowl simply work the butter into the flour mixture with your fingers until it resembles course crumbs.
Set the crumb mixture aside. Next combine your berries, lime juice, water and sugar in a medium saucepan over medium high heat. You want to stir occasionally until it comes to a boil. Once it is boiling reduce heat to medium and let boil for 10 minutes. The mixture should have thickened some at this point, now turn down the heat to medium low and let cook 7 more minutes stirring occasionally. Pull off heat and let cool.
While the berries cook you can work on your cake batter. Beat butter, salt and both sugars in a stand mixer on medium speed for 4 minutes until light and fluffy.
Measure out your whole milk and yogurt together. In a medium bowl combine baking powder and flour - stirring with a fork to combine.
Next add your eggs to the sugar mixture one at a time, beating after each addition and scraping the bowl.
Alternately add ⅓ of the flour mixture to the stand mixer and ⅓ of the milk mixture until both are gone and the mixture is smooth and thickened.
Scoop half of the batter into a greased (I used Pam) 8 by 8 square pan. Spread the cooled berry mixture evenly over top of the batter. Add the rest of your batter and using a spatula evenly cover the berry mixture.
Top evenly with the crumb mixture.
Bake in a 350 Fahrenheit oven for approximately 55 minutes or until a sharp knife or toothpick comes out clean.
This coffee cake could also be made into gluten free coffee cake muffins or a gluten free coffee cake loaf. If you love love love muffins (like myself) check out these gluten free pumpkin muffins and gluten free chocolate muffins.
Other important tips for this gluten free cake:
I almost exclusively use Bob's Red Mill 1:1 All Purpose Flour for my gluten free baked goods. The texture is perfect with no chalkiness. And there is no strange gluten free after taste.
The great thing about this gluten free all purpose flour is it already includes xanthan gum so you don't have to add it.
This recipe makes a big thing of coffee cake since it is rather tall. I love to gift baked goods to my neighbors but if that's not your style it will also freeze well too.
Simply cut up your coffee cake into squares, place them on a sheet pan and put it into the freezer. Once they are frozen, place them into a gallon sized freezer bag and pull one out anytime you need an afternoon pick me up or a sweet breakfast treat.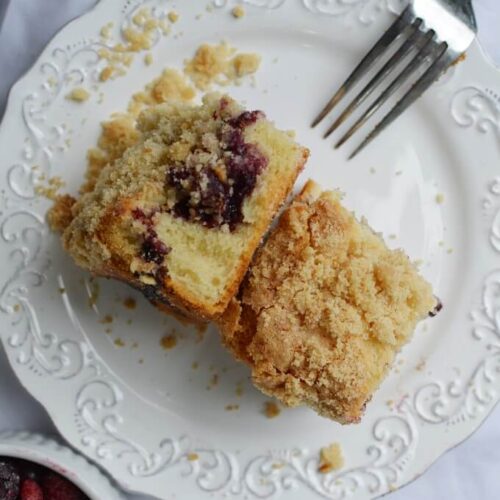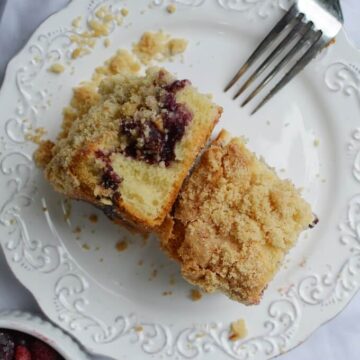 Gluten Free Coffee Cake with Triple Berry Swirl
A moist gluten free coffee cake with sweet crumb topping and a tart berry swirl throughout the center.
Ingredients
For the Cake:
½

Cup

butter, unsalted and room temp

¾

t.

kosher salt

¾

Cup

sugar

¼

Cup

brown sugar

2

t.

baking powder

2

eggs

½

Cup

greek yogurt, plain

¾

Cup

whole milk
For the filling:
3

Cup

frozen raspberries, blackberries and blueberries

1

T.

lime juice, fresh

¼

Cup

water

1

T.

sugar
For the crumb topping:
½

Cup

sugar

⅓

Cup

brown sugar

4

T.

butter, unsalted cold
Instructions
Preheat oven to 350 degrees Fahrenheit. Spray an 8 by 8 square pan with nonstick cooking spray.

First make your crumb topping. Using your hands, a food processor or a pastry cutter mix the cold butter into the flour until it is crumbly and butter is completely combined into the flour. Set aside.

In a medium saucepan add frozen berries, lime juice, water and sugar on medium high heat. Stir and bring to a boil. Once boiling turn down to medium heat and let simmer for 10 minutes. At this point the mixture should have thickened. Turn heat to medium low and cook for 7 more minutes, stirring occasionally. Take off the heat and let cool.

Meanwhile, In a stand mixer beat butter, salt and both sugars for 4 minutes on medium high until light and fluffy.

Measure flour ingredients in a small bowl and stir together with a small spatula or fork. Measure milk and yogurt together then set aside.

Add each egg to the butter mixture one at a time, scraping the bowl with a spatula after each is incorporated.

Add one third of the flour mixture to the mixer and beat until incorporated. Do the same with one third of the milk mixture. Continue to do so until all the milk and flour is incorporated and the batter looks thick and smooth.

Add half of the batter to the greased 8 by 8 pan then spread the berry mixture evenly over the top. Cover evenly with the rest of the batter. Add your crumb mixture evenly over the top.

Bake for around 55 minutes until a sharp knife or toothpick comes out clean.