Learn how to pick a good cantaloupe and how to tell if it's ripe in this ultimate guide to cantaloupes! This article includes a handy chart and 6 tips, along with cantaloupe recipes & facts.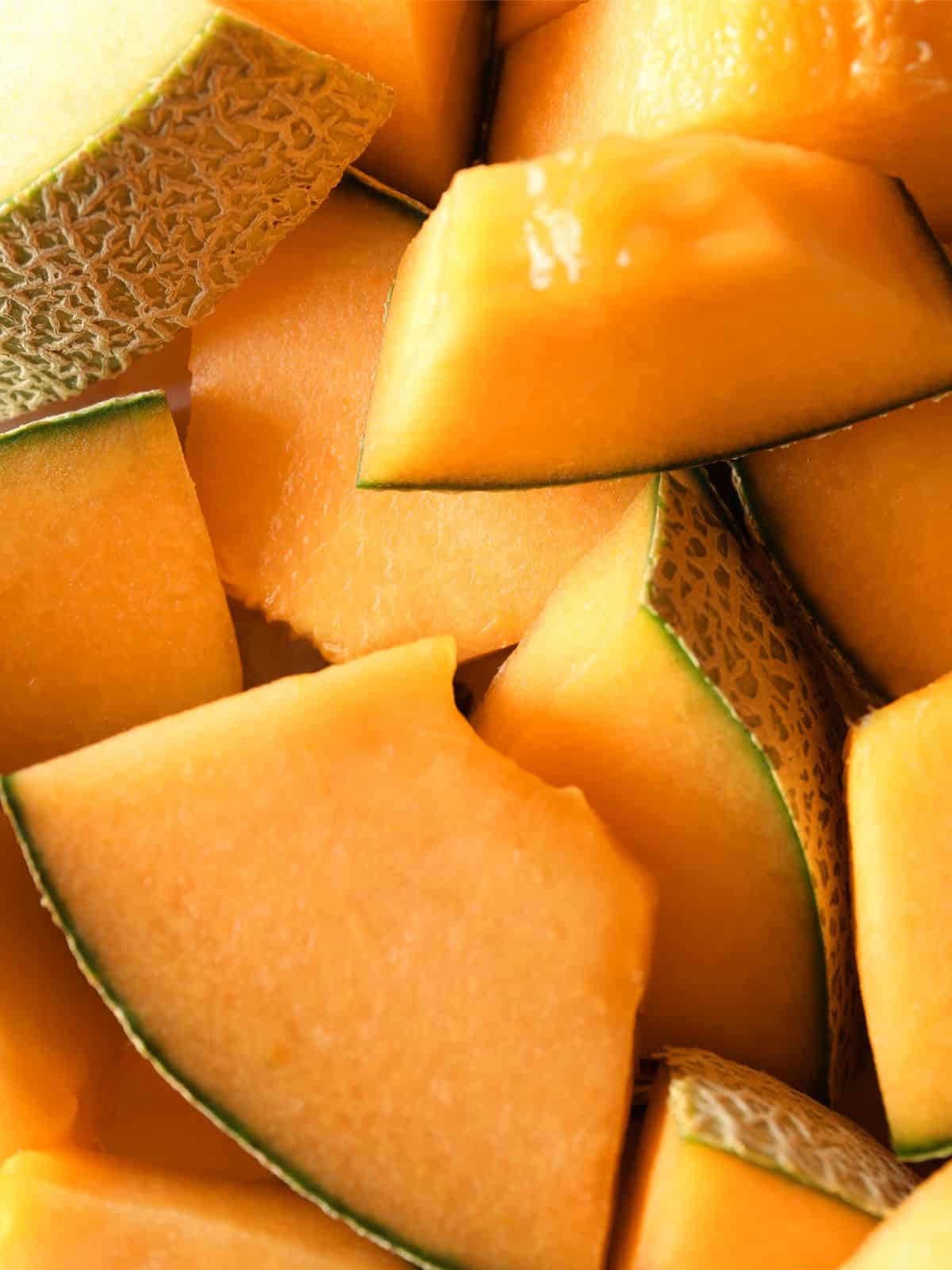 What is a cantaloupe?
The cantaloupe is a type of muskmelon with a sweet orange flesh, beige webbed rind, and a heavy round figure. This fruit is grown all year round but June through August is cantaloupe season, which means cantaloupes are at their best in the summer.
They have a large hole in the center filled with seeds. The seeds are edible, but often discarded. Cantaloupe is typically enjoyed fresh, cut into slices as a sweet, healthy snack, or cut into chunks for fruit salad.
How to Tell if a Cantaloupe is Ripe
Before you head to the market for a cantaloupe, check out these 6 helpful tips on how to tell if a cantaloupe is ripe!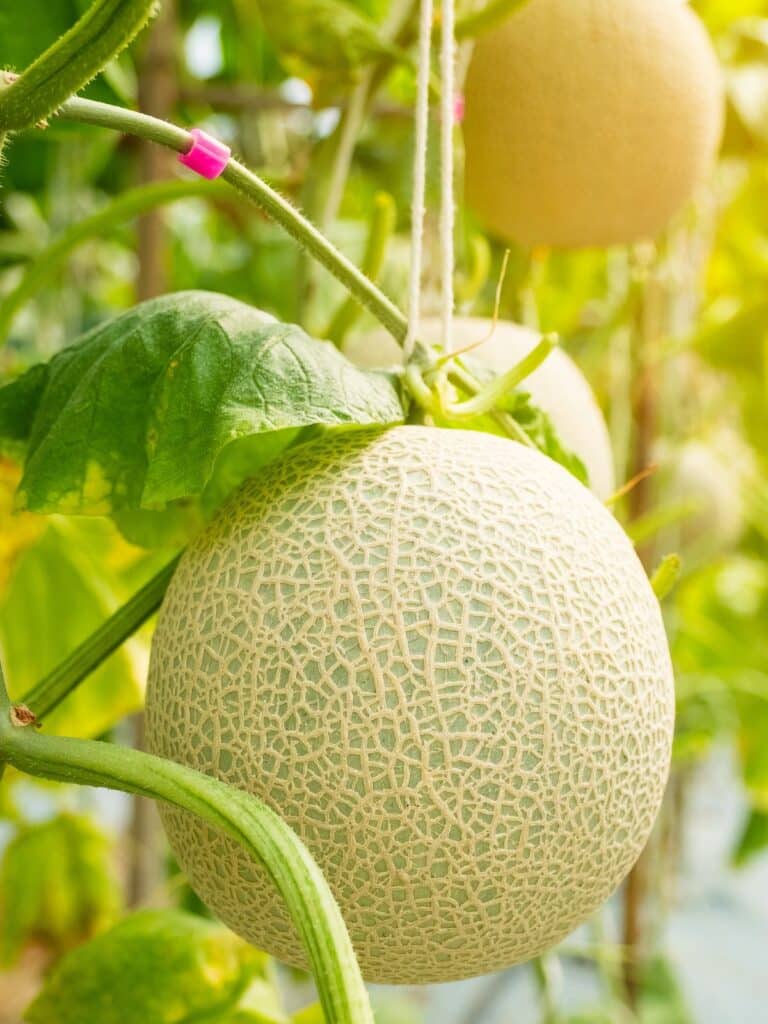 This cantaloupe is still growing and not yet ripe. Notice it's still quite green! Here's what to look for:
Rind color - The rind shouldn't look primarily green. Instead, it should be primarily beige, creamy yellow, or sandy gold between the webbing. If the whole cantaloupe has a green tinge to it, it's not yet ripe.
Smell - It should have a musky, sweet aroma! If it doesn't smell like anything, it's probably not ripe.
Feel - The rind should feel firm but not rock hard.
Heavy - The melon should feel heavy for its size. This is a good rule of thumb for all melons. It shouldn't feel hollow or surprisingly light.
No soft spots - The entire rind should feel firm with no obvious mushy spots! Avoid cantaloupes with brown or black discoloration.
Juicy flesh - If all else fails, cut the cantaloupe open! A ripe cantaloupe has a sweet, juicy orange-colored flesh. It shouldn't taste bland, bitter, or hard. An overripe melon will still taste sweet, but lose it's crisp, firm texture. Instead of tasting fresh, it will taste mushy.
If you already bought an underripe cantaloupe, don't worry! They ripen off the vine, so take heart. In a day or two, it will be perfectly ripe, sweet, and juicy.
How to Pick a Good Cantaloupe Chart
I've included this simple chart you can pull up in the grocery store so you don't forget what to look for. After a few times, it becomes muscle memory and you'll be a master at choosing melons!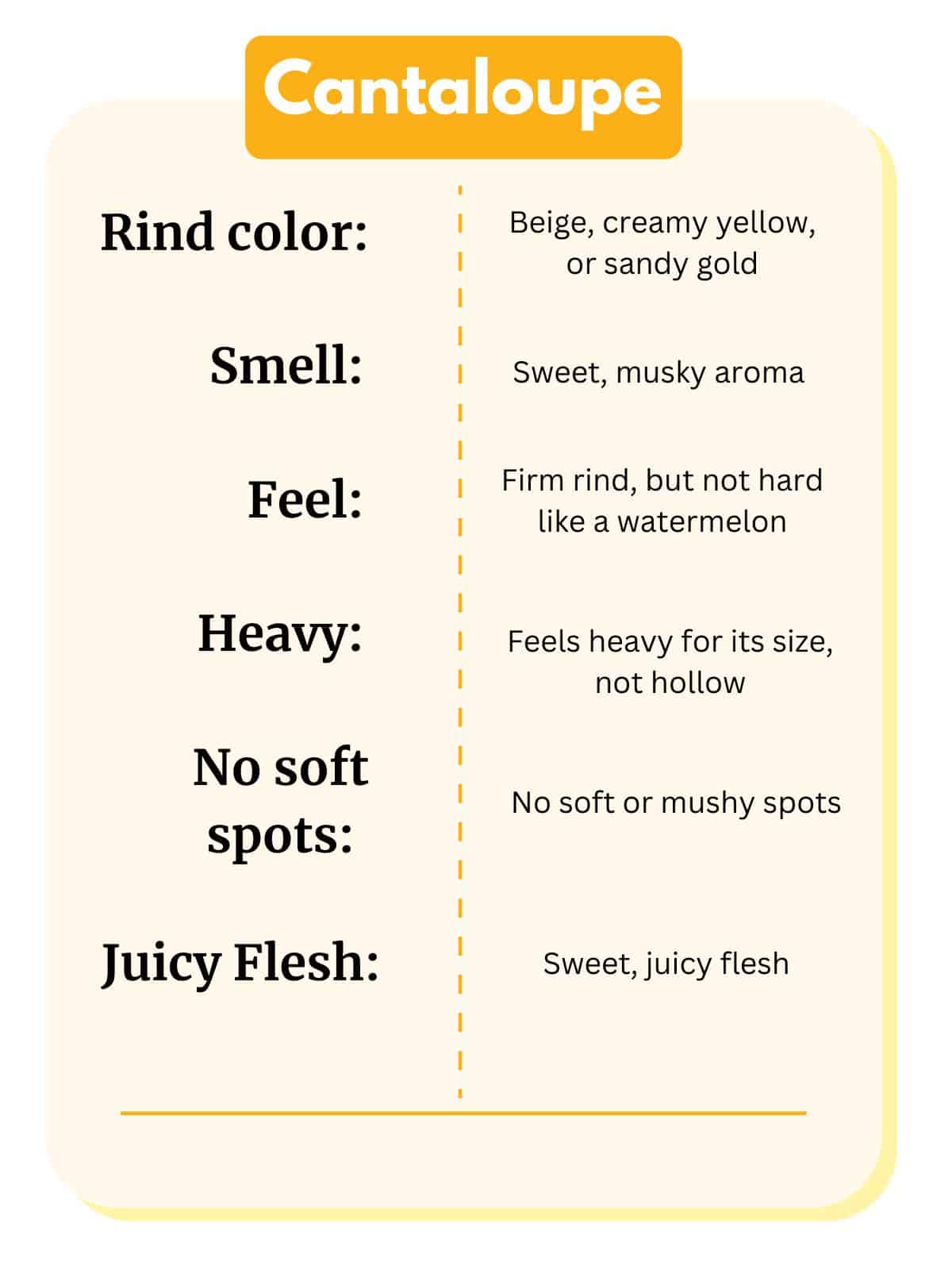 Storage Tips
Unripe melon: If you already bought a cantaloupe that's not quite ripe, let it sit on the counter for a couple days until it looks ripe.
Ripe whole melon: If you're melon is ripe but you're not ready to dive in, you can store the entire melon in the refrigerator for up to 5 days. This will slow the ripening process, making it less likely to overripen.
Before you cut your melon, remember to wash it under running water to remove any harmful bacteria.
Cut melon: Once the cantaloupe is cut into chunks or wedges, it should be stored in the refrigerator. Cover or store in an airtight container to keep it fresh. It will last for up to four days.
Store-bought precut melon: If you purchased your cantaloupe already cut, it will perish faster since it's already been cut for a day or two. For best results, enjoy within two days of purchasing it.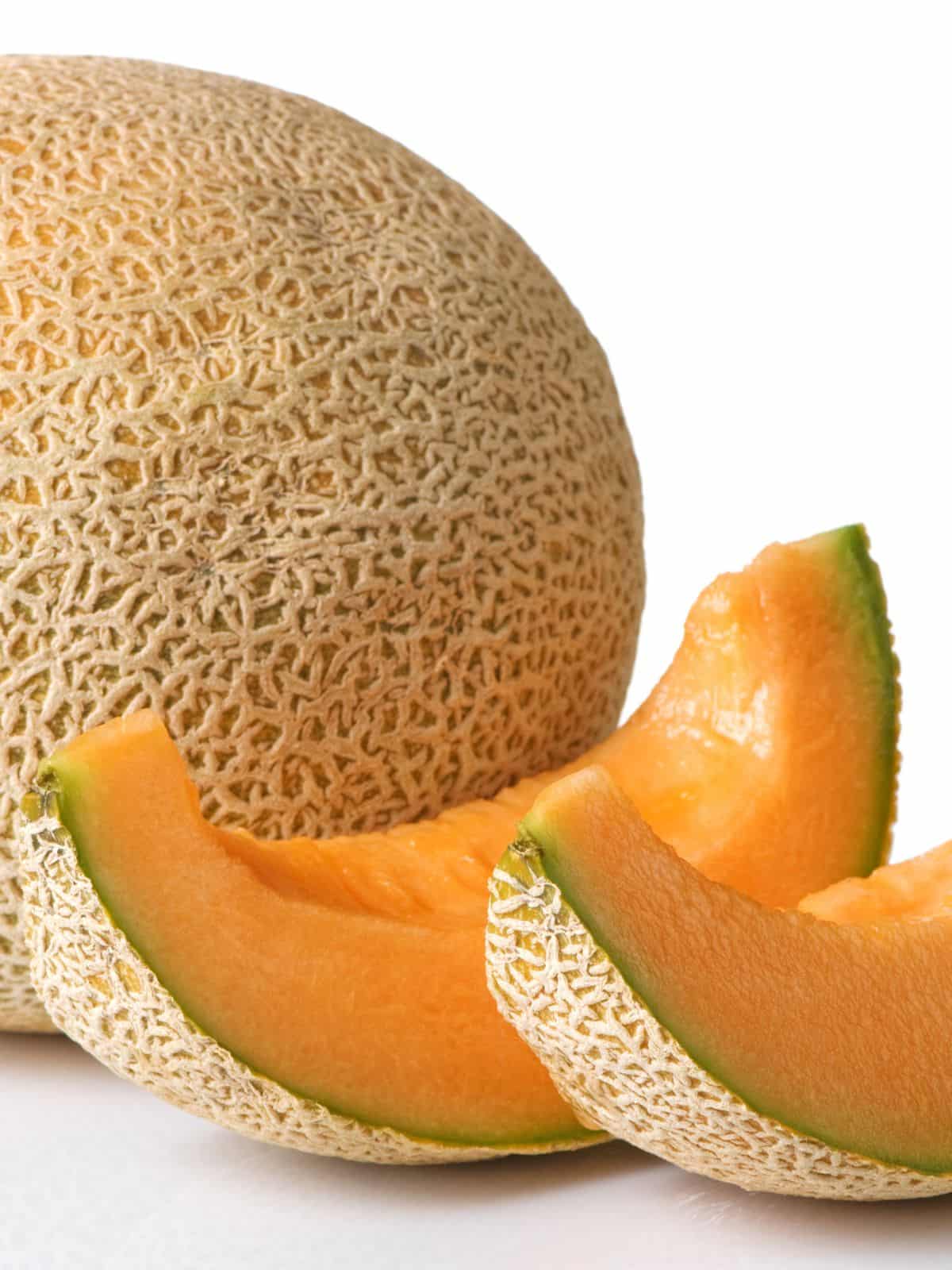 Health Benefits of Cantaloupe
Cantaloupes are jam-packed with health benefits! Here are a few of my faves:
High in beta-carotene - Move over carrots, cantaloupe has tons of beta carotene too! This pigment gives cantaloupe it's vibrant orange hue and is great for your health. Your body converts it into Vitamin A, which is vital for healthy eyes and skin.
Loaded with Vitamin C - One cup of cut cantaloupe gives you over a hundred percent of the recommended daily value of Vitamin C. This immune boosting vitamin has shown to reduce the length of the common cold.
Hydrating - A cantaloupe is almost ninety percent water! Since most of us don't drink enough water, this is a huge bonus. When your body stays hydrated, your organs work more efficiently.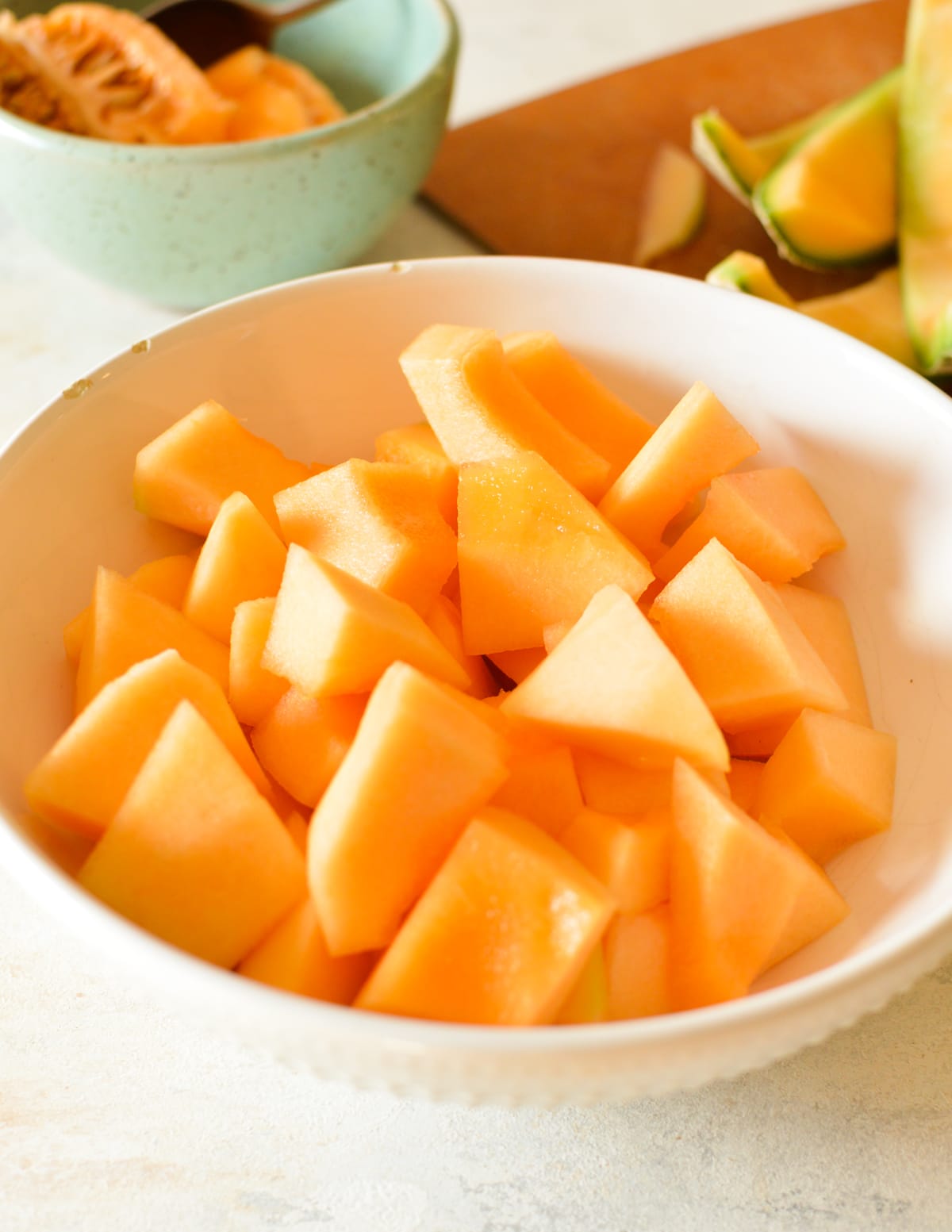 FAQs
Will cantaloupe ripen on the counter?
Yes! If you've already purchased an underripe cantaloupe, let it sit at room temperature until it's ripe. This usually takes a day or two. Just be sure to catch if before it overripens.
What can I do with an unripe cantaloupe?
If you've picked an unripe cantaloupe, let it sit on the counter for a few days. Unripe cantaloupes ripen off the vine. This means if you wait patiently, it will ripen in a day or two! If you don't want to wait, you can use it in smoothies with sweeter fruits to offset its flavor. You can also try grilling it to bring out its natural sweetness, since it will be firmer than a ripe melon.
How can you tell if a cantaloupe is ripe?
A ripe cantaloupe should have a creamy yellow, beige, or sandy gold rind. If the rind is predominantly green, its not quite ready. It should also smell sweet, especially at the blossom end. If it doesn't smell at all, it's likely not ripe yet. It should feel heavy for its size, not hollow or light.
How do I know if my cantaloupe is overripe?
If the cantaloupe has soft, mushy spots, large discolored spots, or an off smell, it's overripe and no longer good. The flesh should be firm, not mushy.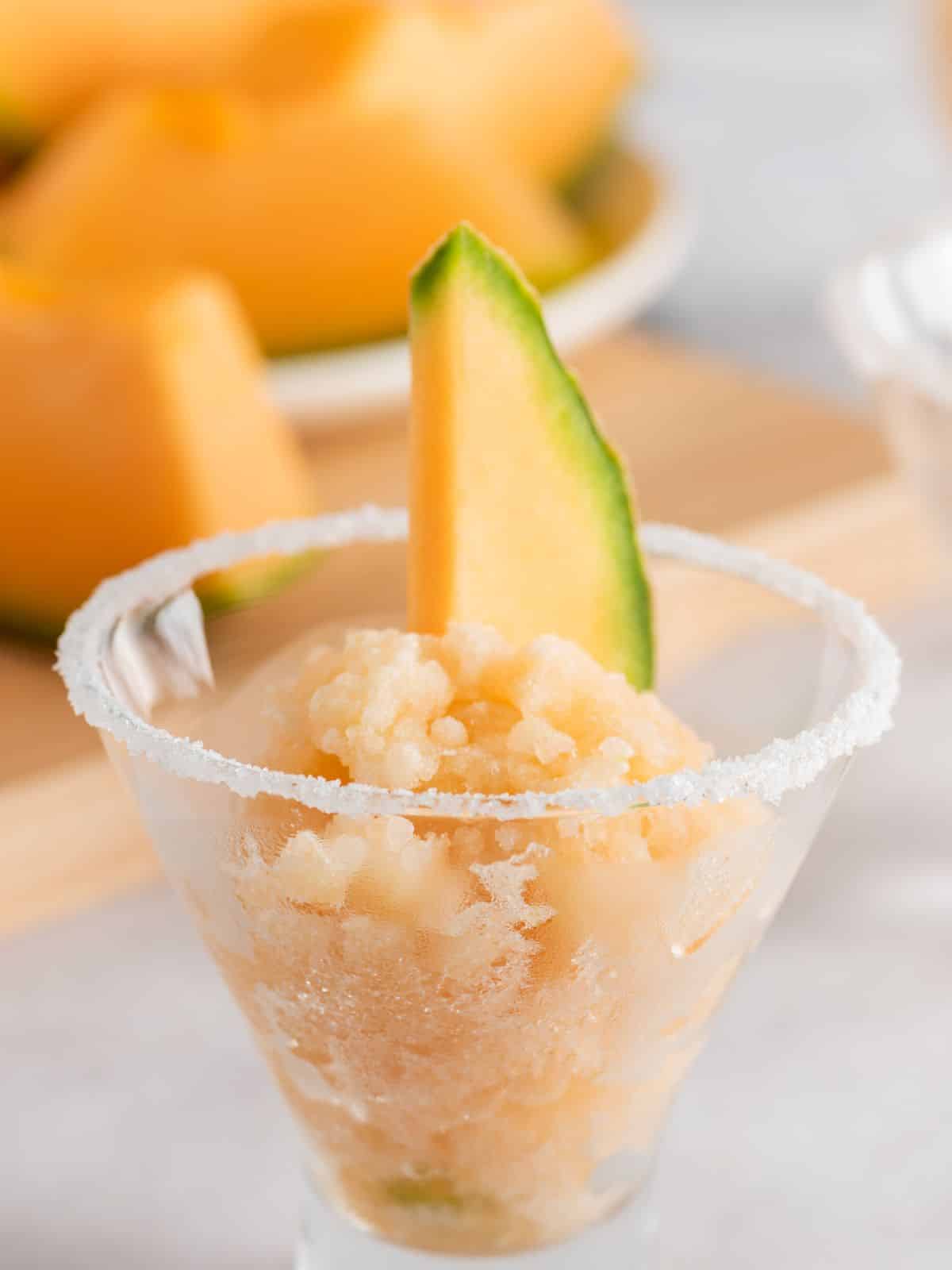 Cantaloupe Recipes
Cantaloupe juice - Such a sweet and simple drink! You don't even need to add sugar since cantaloupe is already so sweet.
Cantaloupe salad - Toss cantaloupe chunks with diced cucumber, feta, olive oil, lime juice, and salt for a quick but refreshing summer salad! Add fresh herbs if desired.
Cantaloupe smoothie - Throw frozen cantaloupe chunks into your favorite smoothies! It goes exceptionally well with tropical fruits like banana, orange, mango, and pineapple.
Interesting Facts about Cantaloupe
The cantaloupe gets its name from a town in Italy known as Cantalupo.
Historians aren't sure where cantaloupes first originated.
An entire medium-sized melon contains around 180 calories!
Cantaloupes are related to honeydew, watermelon, cucumbers, squash, and pumpkins!