Fresh cantaloupe juice is refreshing, naturally sweet, and easy to make! This immune boosting drink is ready in just 10 minutes and it's packed full of vitamins and antioxidants.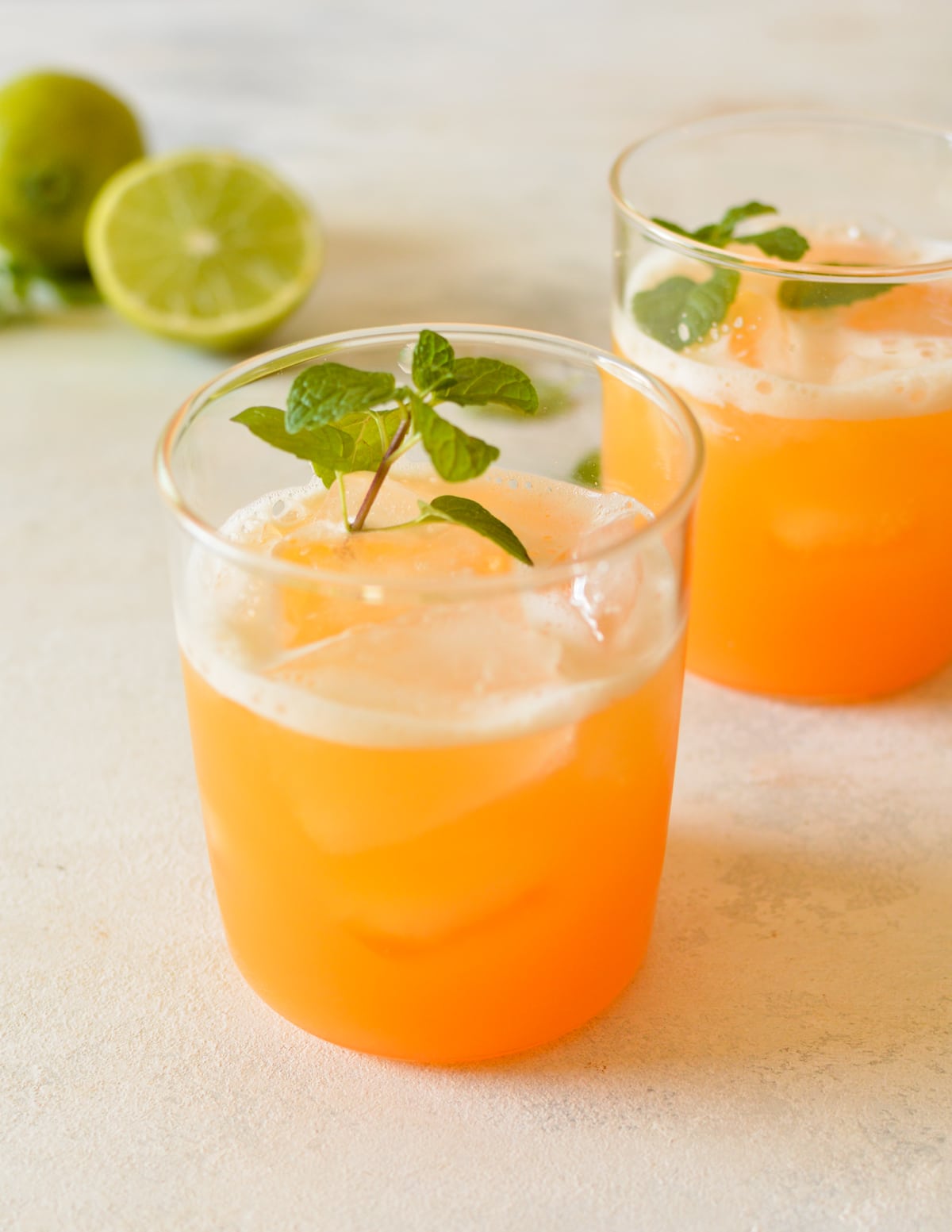 Try fresh cantaloupe juice this summer! It's quick and easy to make.
Why you'll love it
A ripe, peak-season cantaloupe is naturally sweet and 89 percent water! This makes it the perfect fruit to juice for a refreshing, summer drink. It tastes delicious, has a vibrant orange hue, and is jam-packed with health benefits.
If that bright orange color doesn't put you in a sunny mood, all the vitamin C will. It's also a breeze to make, with just 3 ingredients and a blender! You don't even need a juicer. Just cut the melon into chunks, throw it into the blender, and strain. Easy-peasy lemon squeezy.
Health Benefits of Cantaloupe
This refreshing fruit is chock full of health benefits!
It's rich in antioxidants! Cantaloupes are rich in beta-carotene, the same carotenoid found in carrots. Antioxidants fight inflammation in your body, ultimately reducing your risk of developing certain health problems, like diabetes, heart disease, and arthritis.
Good for your skin & eyes. Cantaloupe contains 100% of your daily intake of Vitamin C and A. Both of these vitamins protect your skin from sun damage. Vitamin A slows the progression of eye-related diseases.
Cantaloupe is hydrating! Due to it's high water content (almost 90%) it helps you stay hydrated during the day. Yes, please!
Key Ingredients
You only need one ingredient for cantaloupe juice, and that's cantaloupe! But I added a fresh squeeze of lime to enhance it's natural sweetness. It really makes the cantaloupe flavor pop.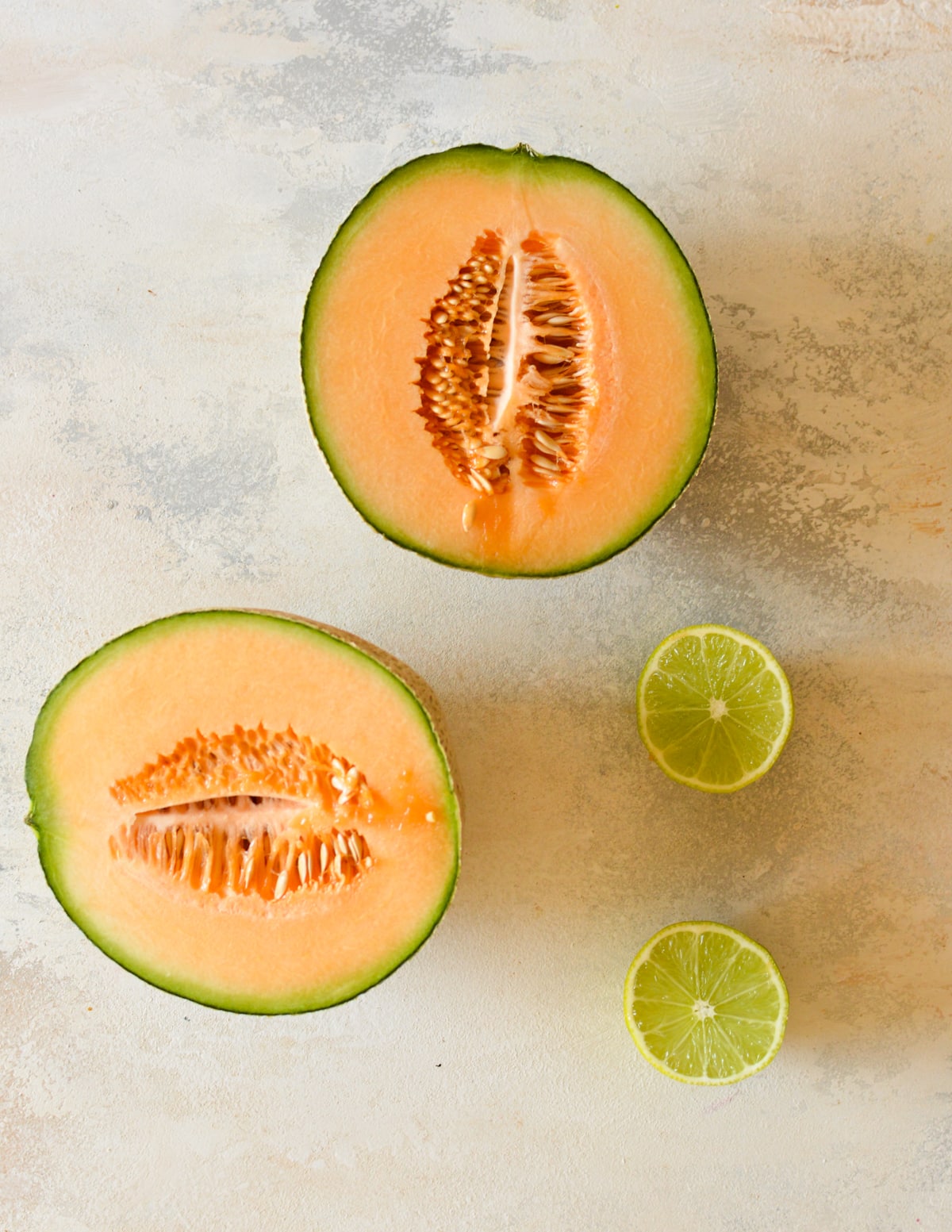 Cantaloupe - This recipe is delicious all year round, but is especially sweet in the summer when cantaloupes are in season. The rind should be creamy yellow or beige, not overly green, and the end should smell sweet. It shouldn't have any soft or mushy spots.
Lime - I squeeze half of a lime into the blender with the cantaloupe. It rounds out the sweetness and makes the flavor pop! Use a fresh lime, not juice from the bottle.
Water - You may not need any, but if your cantaloupe isn't as juicy a tablespoon of water gets the fruit moving in the blender.
How to cut a cantaloupe into cubes
Cutting a cantaloup is super simple! You just need a sharp knife and a cutting board. I use a santoku, but a chef's knife works great too.
First cut the bottom off the cantaloupe so you can stand it up. Then cut the cantaloupe in half vertically. Use a large spoon to scoop out the seeds and goop.
Next, cut the deseeded half of cantaloupe in half again, lengthwise. Cut each portion in half again, into cantaloupe slices.
Once you have cantaloupe slices, carefully slide your knife under the flesh but above the rind and cut the flesh away from the rind. Use your knife to cut the cantaloup slice into chunks.
Repeat until all the cantaloupe is cut into chunks.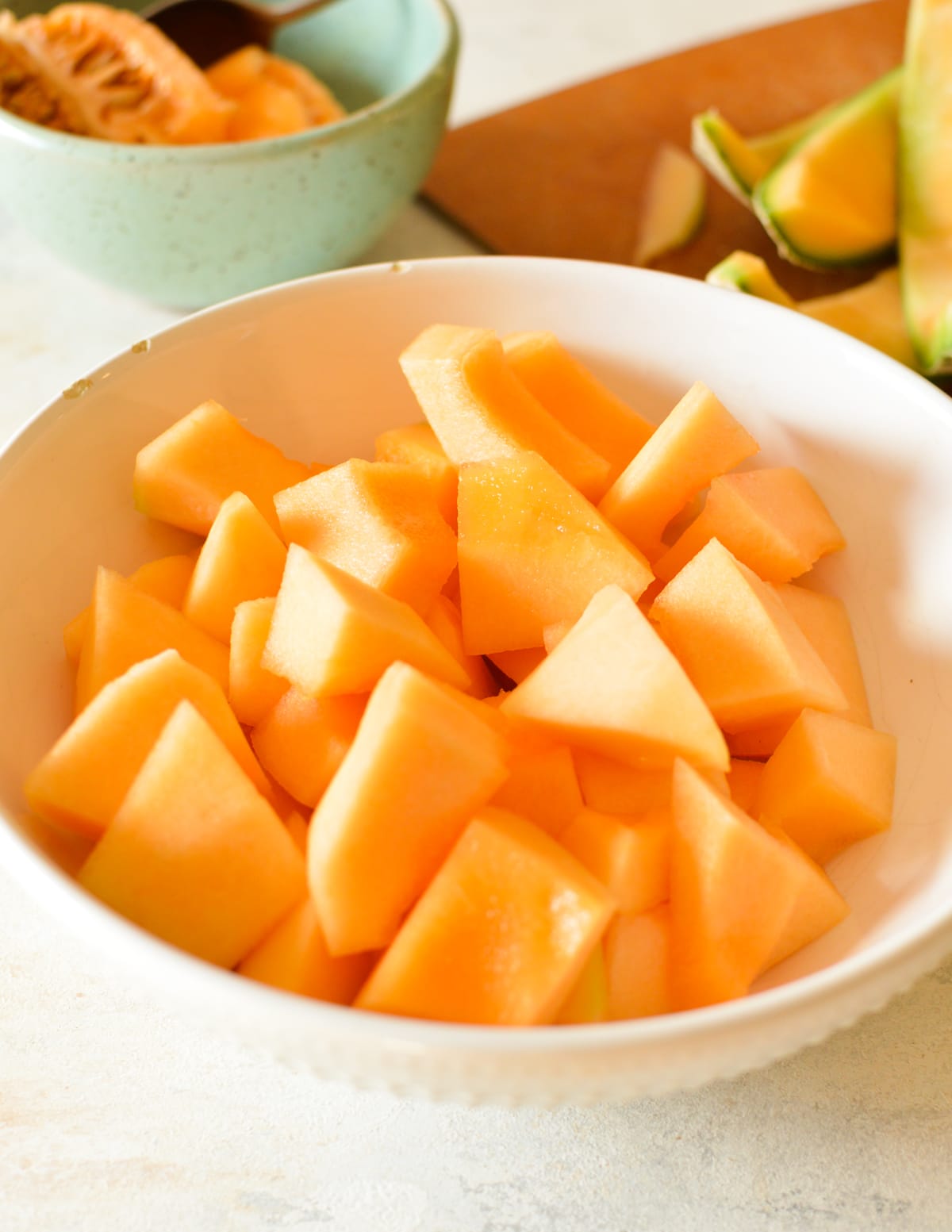 How to make cantaloupe juice
Now that you have your cantaloupe chunks, all you have to do is throw them into a blender with the lime juice and water. Blend until the cantaloupe chunks break up and get liquidy, almost like a smoothie.
Now we have cantaloupe puree, but we want juice, so let's keep going. Pour the puree into a fine mesh sieve placed over a large bowl, like in the picture below.
Let the juice drip through the sieve into the bowl below it. This only takes a minute since the puree is mainly water. Then use a spatula or spoon to push the puree against the sieve, extracting as much juice as possible from it.
Pour the juice into a glass (or two) and top with ice! Serve immediately.
Recipe Tips
Add sweetener if desired. I find fresh cantaloupe juice plenty sweet, but if your cantaloupe isn't sweet enough you can add simple syrup, honey, or maple syrup to make it sweeter. Just keep in mind that honey won't dissolve as well as the others.
You can buy precut cantaloupe in the refrigerated aisle of the produce section. If you'd rather not cut a whole cantaloupe, this is a good option. It's defenitely more expensive though.
If at first the cantaloupe doesn't move when you blend it, just keep blending. Mine took a second to catch, but once it did it immediately turned to a liquid. If it's still not moving, add a splash of water.
The cantaloupe pulp can be used for compost or thrown into other recipes for moisture. Don't expect it to add much flavor though, since that's been extracted from it with the juice.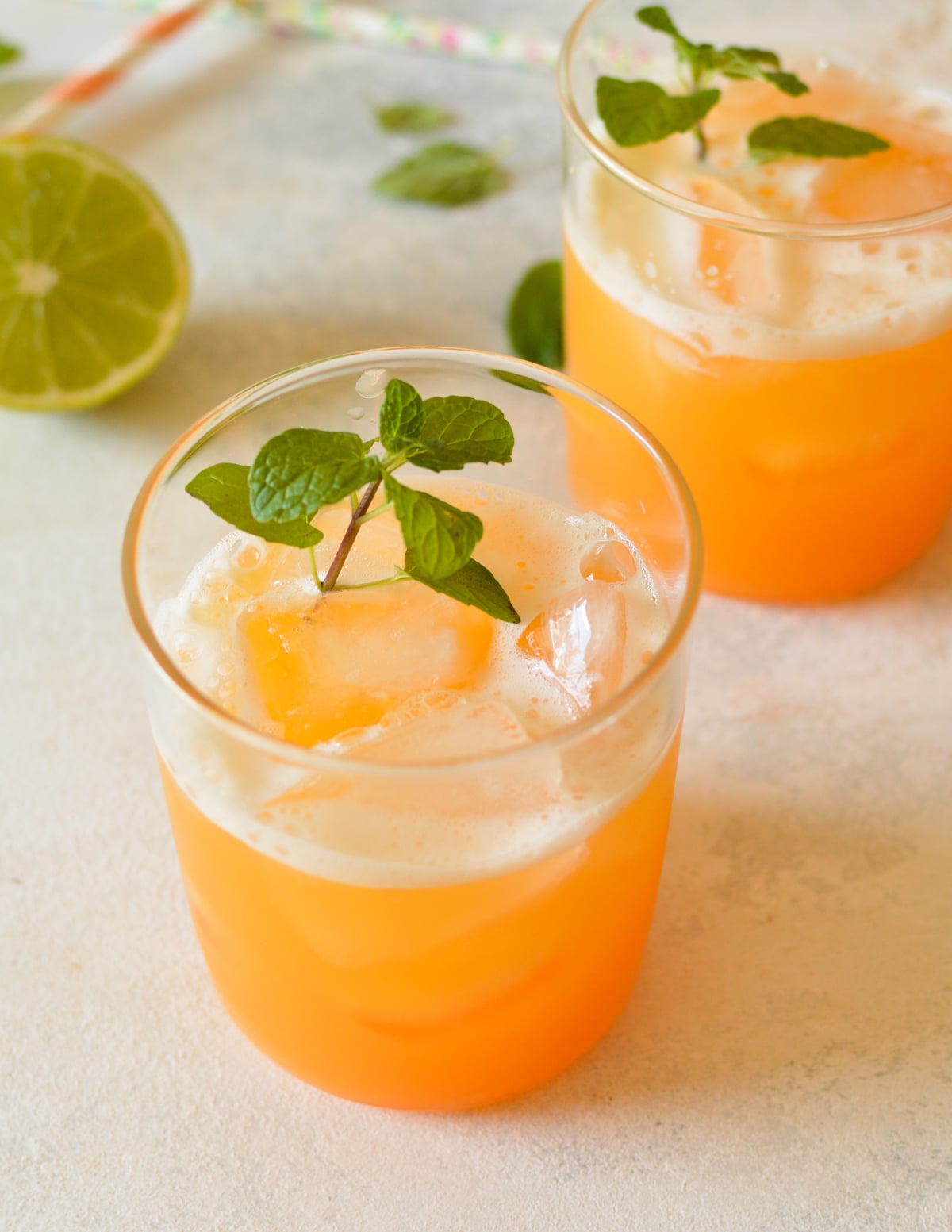 Storage & Freezing
Store fresh cantaloupe juice in the refrigerator in an airtight container for up to 4 days.
For longer storage, pour the juice into an ice cube tray and freeze. Transfer the juice cubes to a ziplock bag and use within 6 months. These cubes are delicious in lemonade, mixed drinks, or even water!
Serving Ideas
Top with lemonade! Top each juice with lemonade or limeade.
Add fizz. Top each cantaloupe drink with soda water.
Make it into a cocktail. Make it into a margarita or daquiri.
Refreshing Smoothie Recipes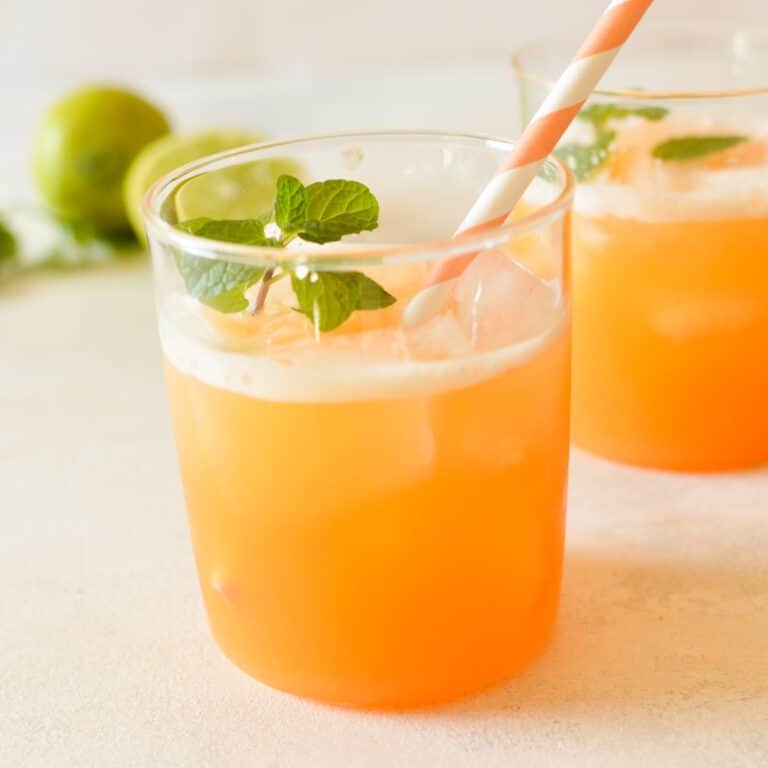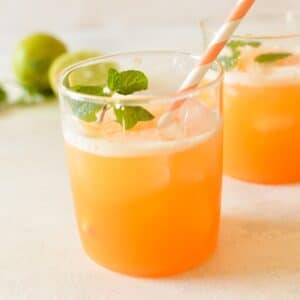 Cantaloupe Juice
Fresh cantaloupe juice is refreshing, naturally sweet, and easy to make! This immune boosting drink is ready in just 10 minutes and it's packed full of vitamins and antioxidants.
Equipment
blender

Cutting board

sharp knife

fine mesh sieve

Bowl
Ingredients
1

ripe cantaloupe, cut into cubes

½

lime, juiced

1

tablespoon

water
Instructions
In a high-speed blender, combine the cantaloupe chunks, lime juice, and water.

Blend until the mixture turns to a liquid. Keep blending until mostly smooth. It won't be completely smooth.

Pour the puree into a fine mesh sieve set over a bowl. Let the juice drip into the bowl.

Use a spoon or spatula to press against the sieve to extract the juice from the pulp.

Remove the sieve from the bowl, then pour the freshly squeezed cantaloupe juice into glasses with ice. Enjoy!
Nutrition
Calories:
99
kcal
Carbohydrates:
24
g
Protein:
2
g
Fat:
1
g
Saturated Fat:
0.1
g
Polyunsaturated Fat:
0.2
g
Monounsaturated Fat:
0.01
g
Sodium:
84
mg
Potassium:
450
mg
Fiber:
3
g
Sugar:
22
g
Vitamin A:
9343
IU
Vitamin C:
35
mg
Calcium:
31
mg
Iron:
1
mg