Skip the tricky pie dough! This pumpkin pie with a graham cracker crust is super simple and irresistibly delicious. Perfect for Thanksgiving & the holidays!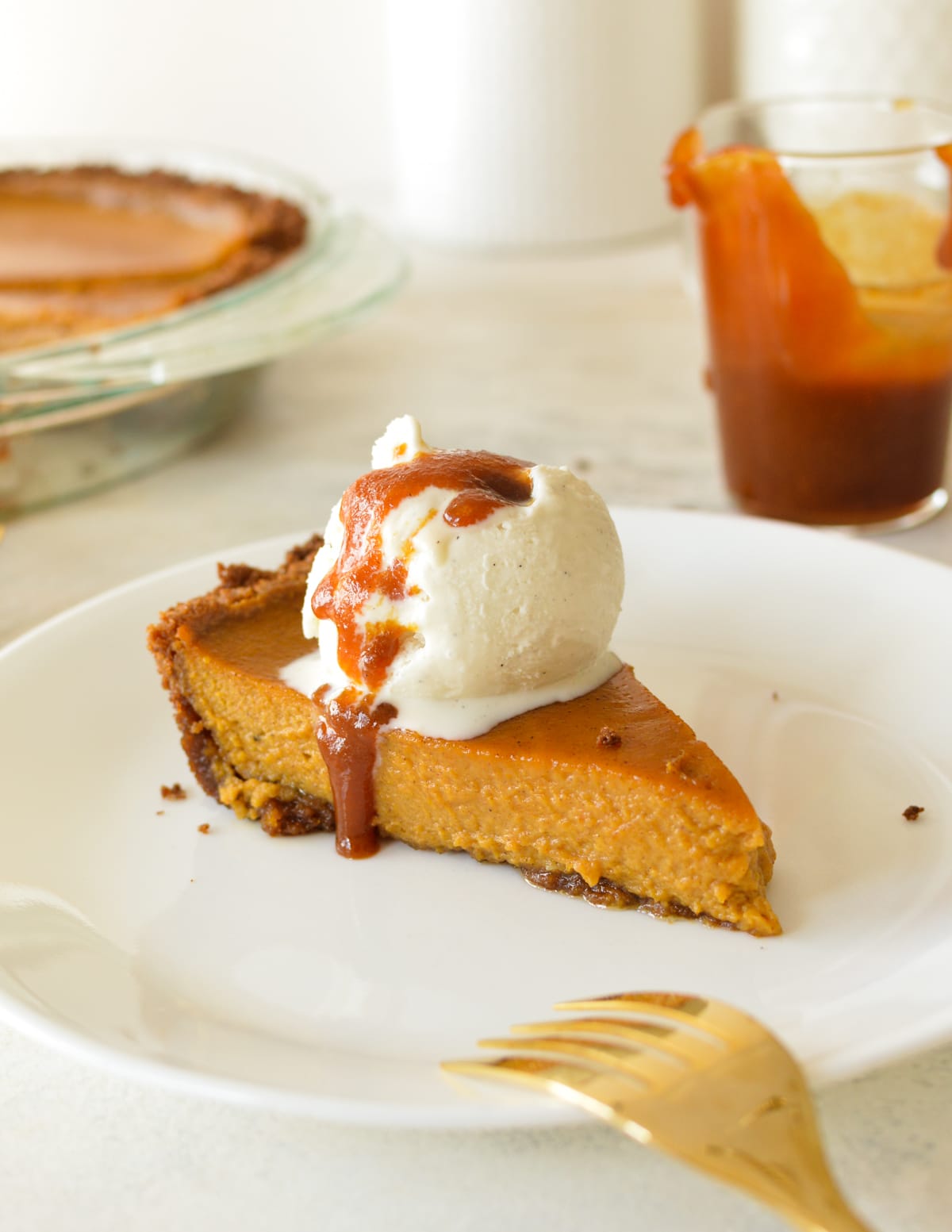 Why you'll love it
I adore pumpkin pie, but sometimes I don't have the time or energy to make my own pie dough. It's a time consuming process that takes a bit of finesse.
If you feel the same way, you're in the right place! This pumpkin pie in a graham cracker crust is super easy & crave-worthy. The pumpkin filling is creamy yet sliceable, and all you have to do is pour it into a store-bought graham cracker crust and bake!
I like to serve it with vanilla ice cream and caramel sauce!
Ingredients
This pumpkin pie recipe with a graham cracker crust requires simple ingredients! Here's what you need: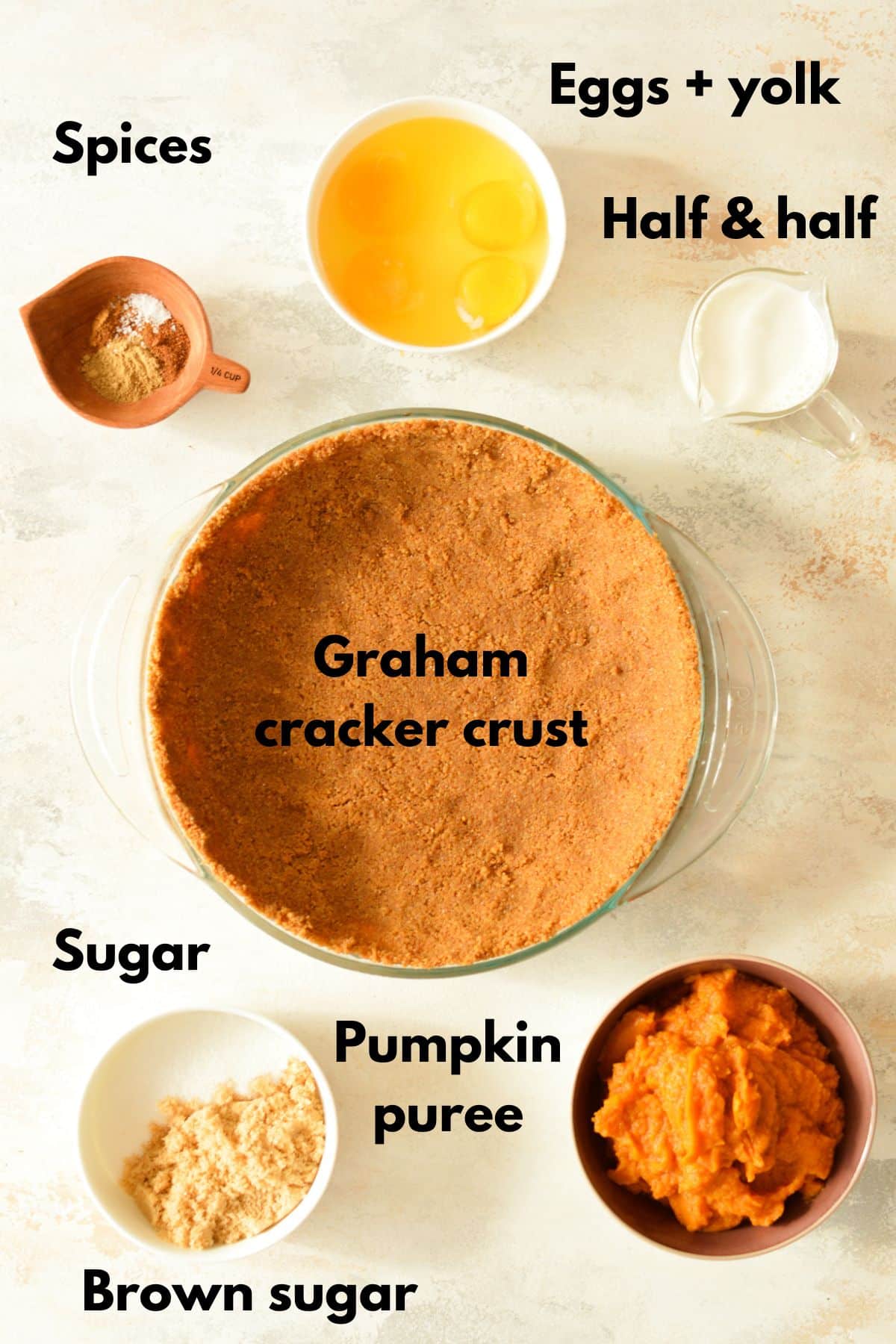 Graham cracker crust - You can use a homemade or store-bought graham cracker crust for this recipe. Make sure to buy a 10-inch crust or you'll have too much filling. If you prefer a regular pie crust, that works too! Or if you're gluten-free, you can use Pamela's gluten-free graham crackers to make your own.
Pumpkin puree - One 15 ounce is all you need for a 10-inch pie. If you can't find a small can, you can buy a 29 ounce can and weigh out 15 ounces. Any brand works, but I find the brand names like Libby's to be thicker and an overall better consistency.
Sugar & brown sugar - To sweeten the pie! I like a combination of white and brown sugar for that quintessential caramel-like sweetness.
Eggs + yolk - Pumpkin pie is a type of baked custard, which means its thickened with eggs! Eggs (and an extra yolk) give the pie its sliceable texture and richness.
Half & half - Half and half is equal parts heavy cream and whole milk. It's richer than milk, but lighter than heavy cream, which makes it the perfect go-between.
Spices - Cinnamon, nutmeg, and ginger for that spiced fall flavor! If you have pumpkin pie spice, simply swap all the spices for 2 teaspoons of pumpkin pie spice.
How to make pumpkin pie
Since we don't have to make a crust, it takes all of 5 minutes to prep this pie! First preheat your oven to 350 degrees Fahrenheit.
Combine pumpkin & sugars - In a large mixing bowl, combine the pumpkin puree, sugar, brown sugar, and spices. Stir well.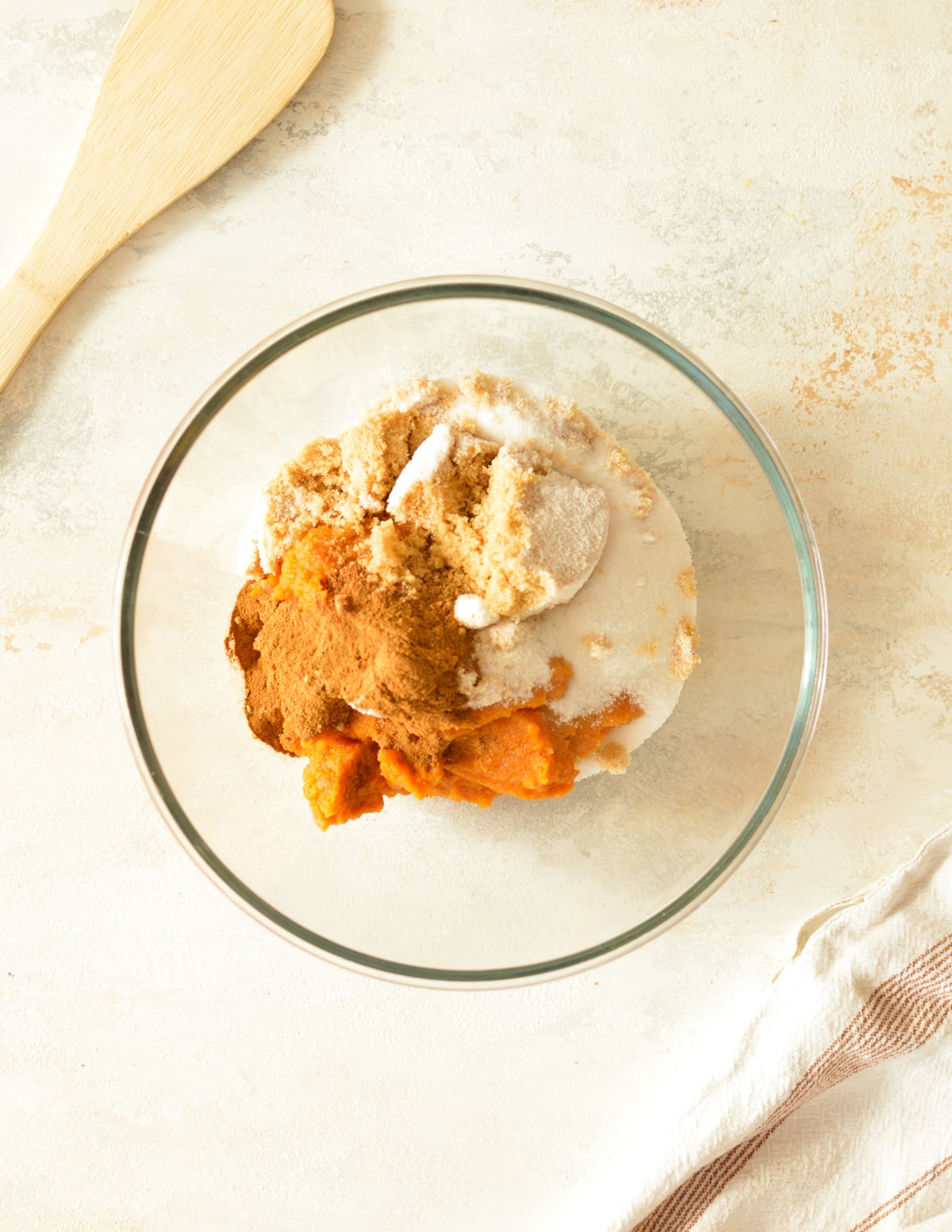 Add eggs - Add the eggs and the yolk to the spiced pumpkin. Whisk until the eggs are incorporated into the mixture.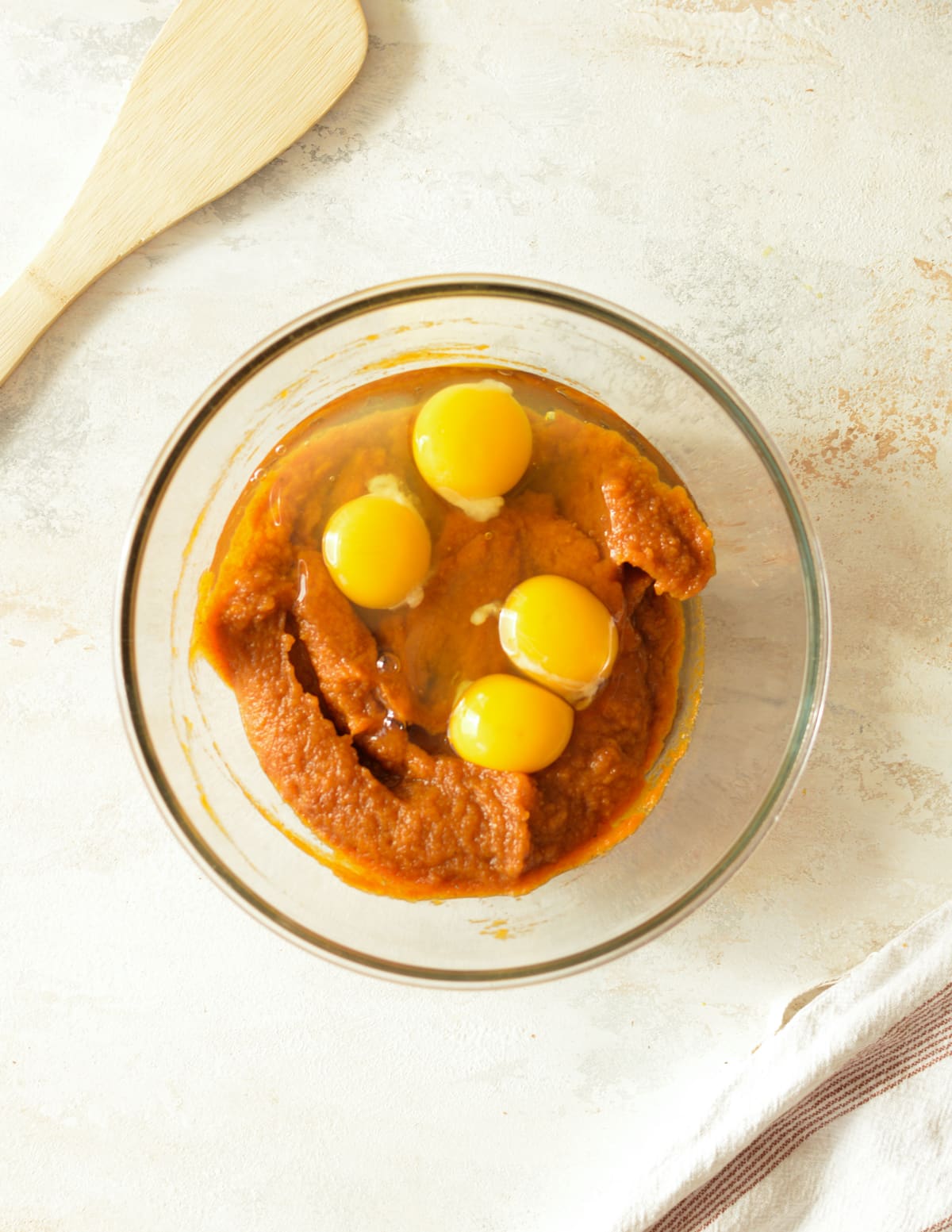 Add the half & half - Pour the half and half into the pumpkin mixture. Carefully whisk until it's mixed in. The batter is supposed to be thin. It will thicken as it bakes in the oven.
Pour batter into graham crust - Carefully pour the batter into the prepared graham cracker crust.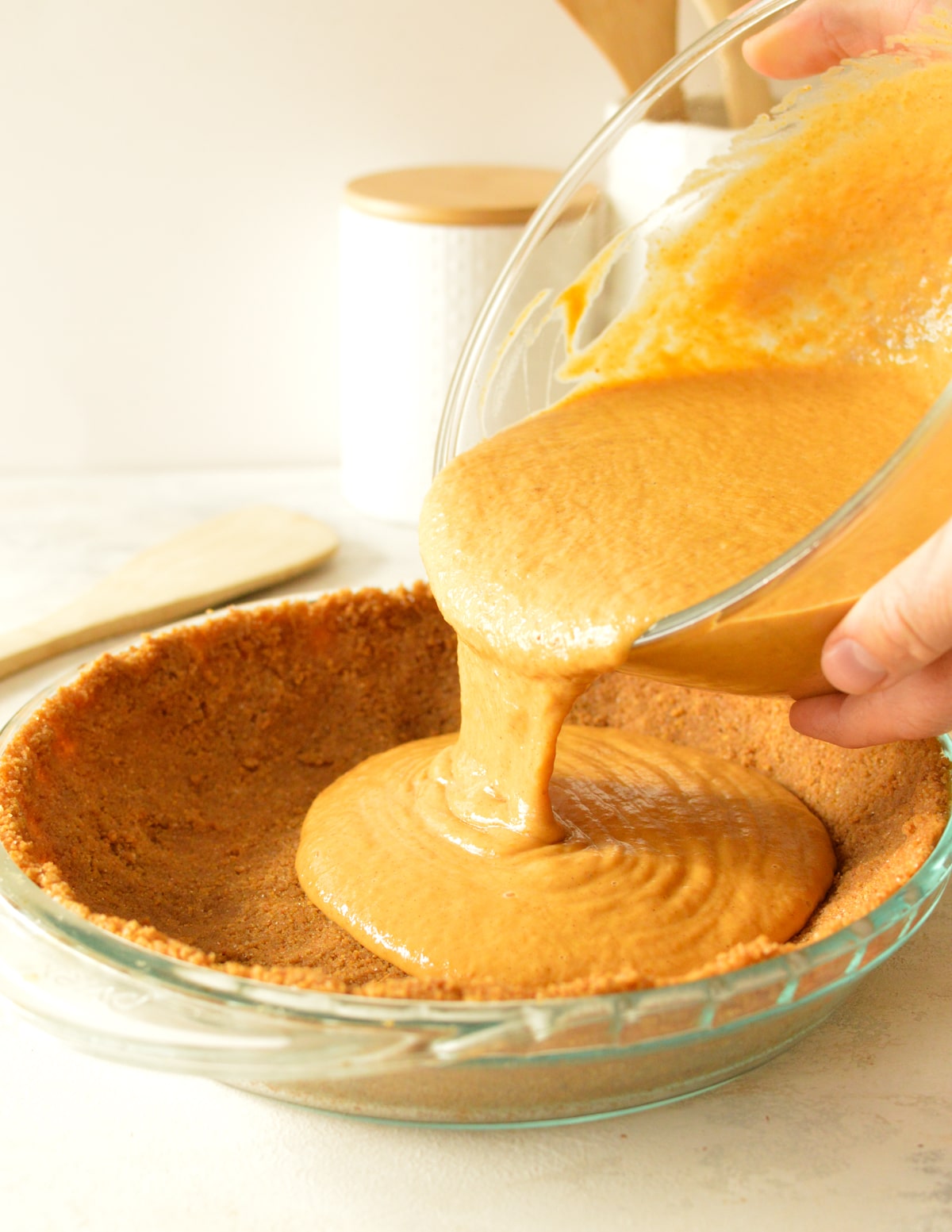 Bake the graham cracker pumpkin pie - Carefully place the pumpkin pie in the oven and bake until the custard is set. The middle will look jiggle only slightly when its done - about 45 to 50 minutes.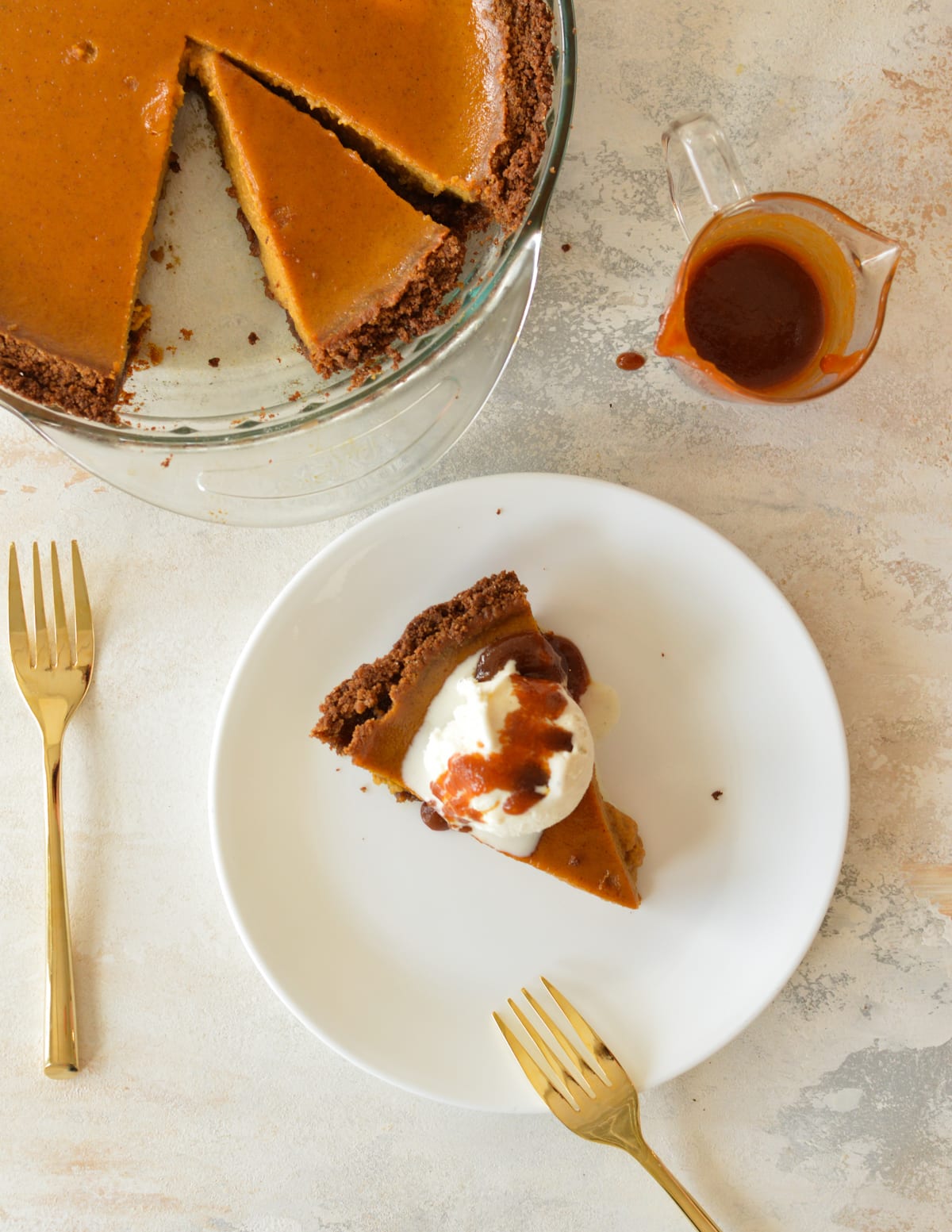 Recipe Tips
Don't overbake the pie! It will still have a little jiggle in the center when you pull it out. That's okay! It will set up as it cools.
Don't slice the pie while it's hot. It will make a mess! Pumpkin pie needs to cool before it sets up and becomes sliceable. It's best to wait at least 2 hours before you slice it, if not more. If you want to speed up the process, pop it in the freezer until the bottom cools.
Place the pie in the middle rack for even cooking. If possible, use the middle rack so the top of the pie doesn't brown too quickly.
If you use a homemade graham crust it's best to blind bake it first so the bottom doesn't get soggy. Bake at 350 degrees for 10 minutes.
If you chill the pie first, it will be easier to slice! A cold pie will be firmer and give you cleaner slices than a warm or room temperature one.
Variations
Crust - While this recipe calls for a graham cracker crust, this pie filling tastes delicious in any kind of crust! Feel free to use store-bought pie dough or use your favorite pie dough recipe. Blind bake if the pie crust recipe calls for it.
Toppings - I love vanilla ice cream and homemade caramel on pumpkin pie, but whipped cream is a good option too!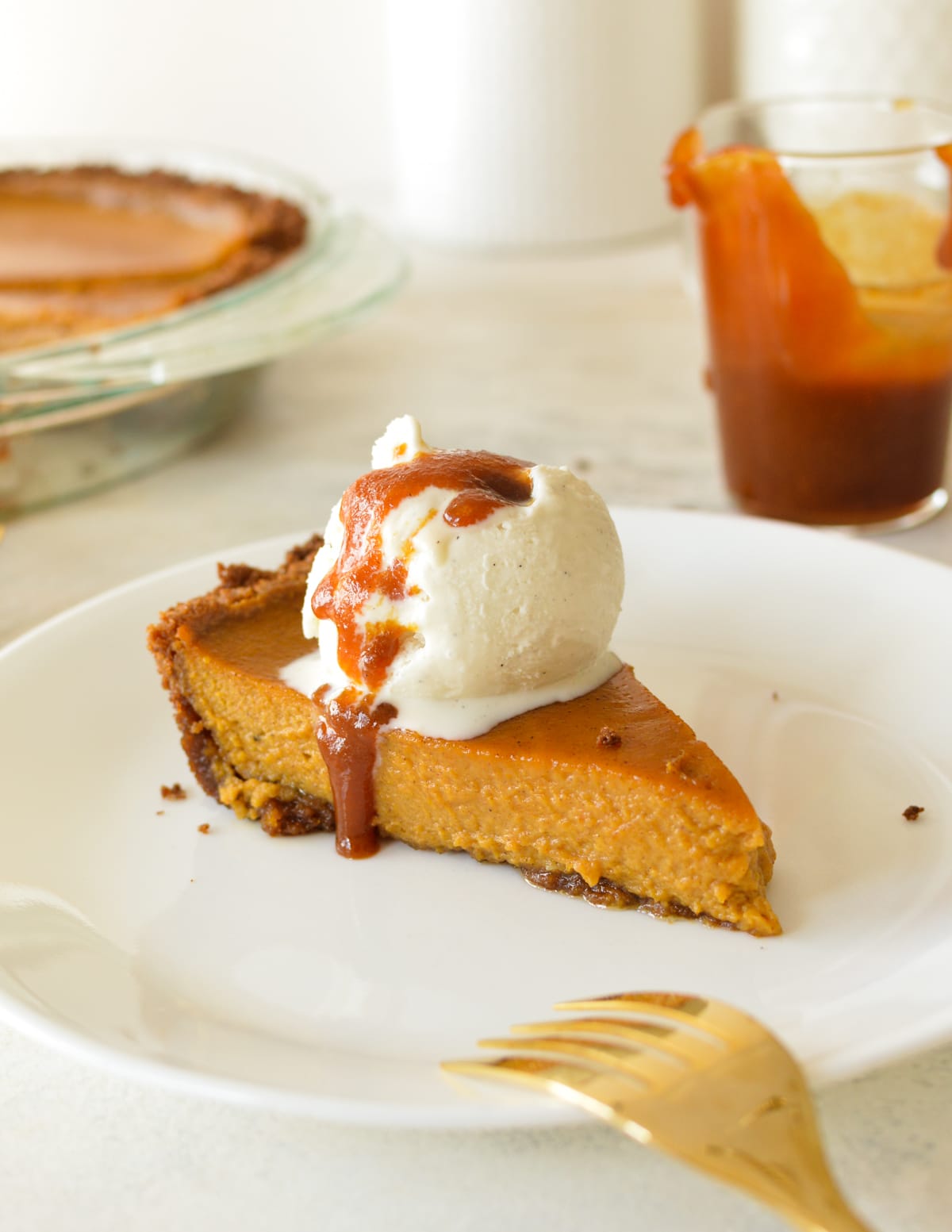 Storage & Freezing
Store the pumpkin pie in the refrigerator for up to 4 days. Loosely cover it or slice it up and store the pumpkin slices in an airtight container.
Pumpkin pie is freezer-friendly! I like to cut the pie into slices and place the slices on a half sheet pan, then pop it into the freezer. Once the slices are frozen, I transfer them to a ziplock bag and freeze for up to 3 months.
Thaw the pie in the refrigerator or you can microwave an individual slice to defrost it in 10-second increments. Just don't overheat it or it will melt and lose its texture.
FAQs
More Crave-Worthy Pie Recipes