This creamy gluten free bechamel sauce is a breeze to make. You only need three ingredients and it takes less than 10 minutes.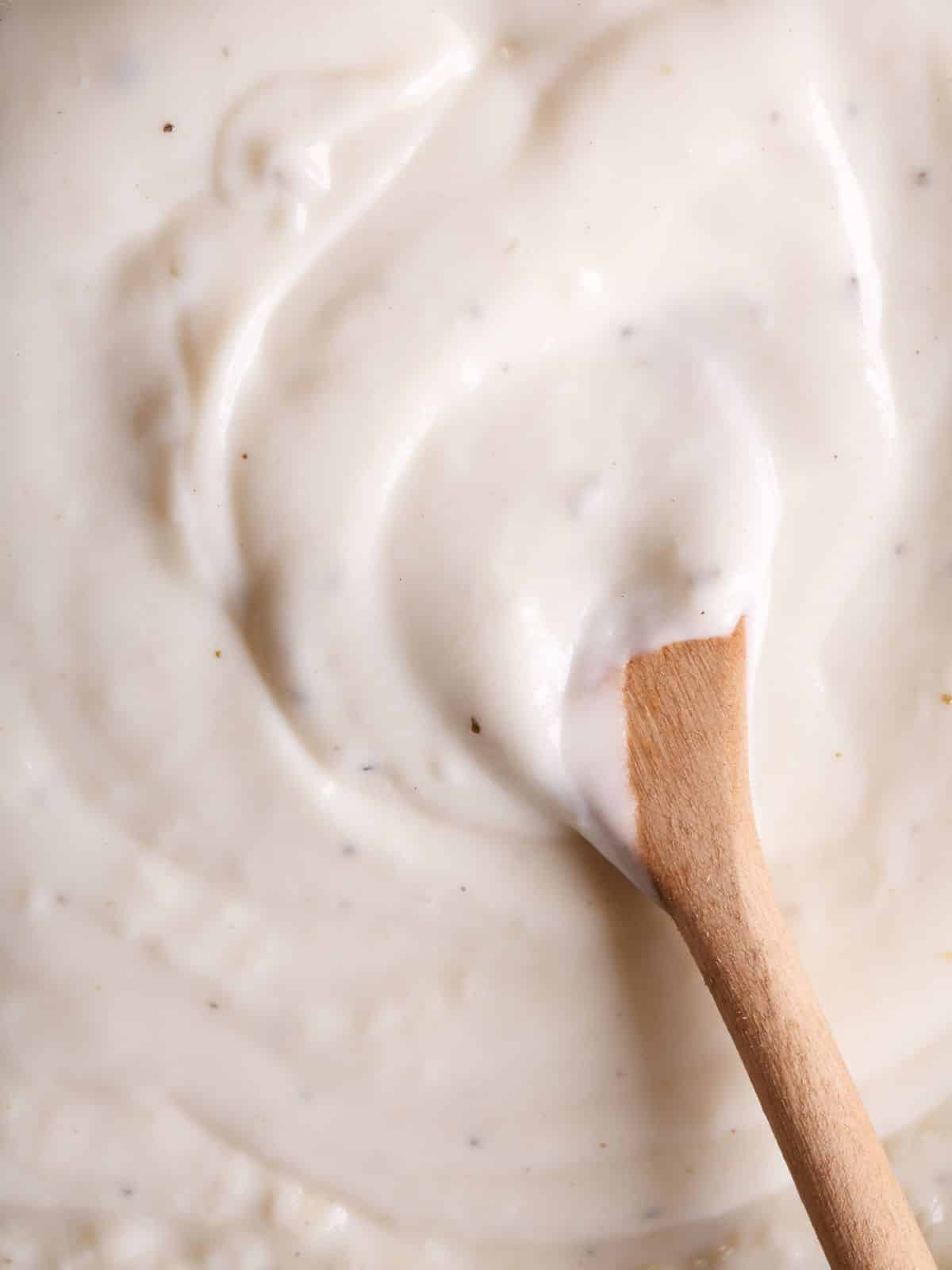 This gluten free bechamel sauce recipe is simple and delicious! It's creamy and smooth like a traditional bechamel, plus it's super forgiving to make. Too thick? Whisk in a little milk. Too thin? Cook it longer.
What is bechamel sauce?
Bechamel sauce is one of the five mother sauces of French cuisine. What is a mother sauce, you ask? A mother sauce is like a building block, when you add more ingredients it becomes a new sauce. It acts as a base for secondary sauces. For example, if you add cheese to bechamel, it becomes a cheese sauce!
Bechamel is made from a roux (equal parts flour and butter) that's cooked with milk to make a creamy and smooth white sauce! The roux effectively thickens the milk until it's thick enough to coat the back of a spoon. It's then used to make mornay sauce, macaroni and cheese, gratins, and moussaka.
Ingredients
Since one of the main ingredients of bechamel is flour, it's not naturally gluten-free. It's easy to make bechamel gluten free though! Here's what you need: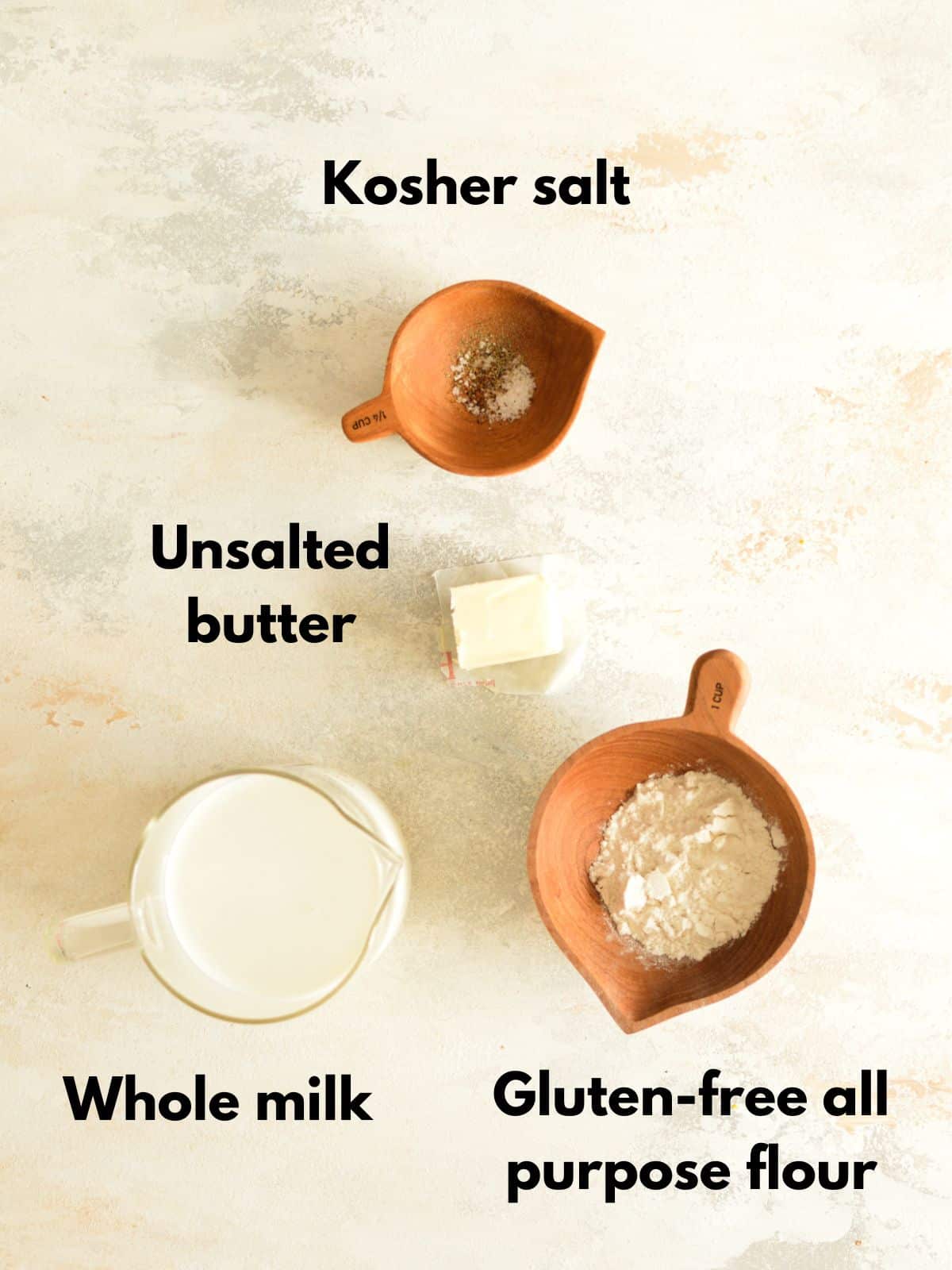 Unsalted butter - Fat keeps the sauce silky smooth, without any lumps. Butter has the best flavor, but if you can't have butter or dairy, olive oil is a good swap. I use unsalted butter so I can control the quality and amount of salt in the sauce.
Gluten-Free All-Purpose Flour - I recommend Bob's Red Mill's 1:1 Gluten-Free Baking Flour because it's what I used to test this recipe. All gluten-free flour blends have different ratios and ingredients to them, so results may vary if you use a different brand.
Whole milk - It wouldn't really be a sauce without the milk! I use whole milk, but 2 percent milk works fine too. If you're dairy-free, use your favorite non-dairy milk in its place.
Kosher salt - Don't forget to season the white sauce with salt or it will taste bland! Fat needs salt to taste flavorful.
Black pepper & nutmeg - Both of these spices give the sauce some extra oomph and depth. Optional, but recommended!
How to make gluten free bechamel
Gluten free white sauce is a forgiving sauce to make, which just means it's easy to fix! Here's how to do it:
Melt the butter - In a small saucepan over medium-low heat, completely melt the butter. If you double the recipe, use a medium saucepan instead.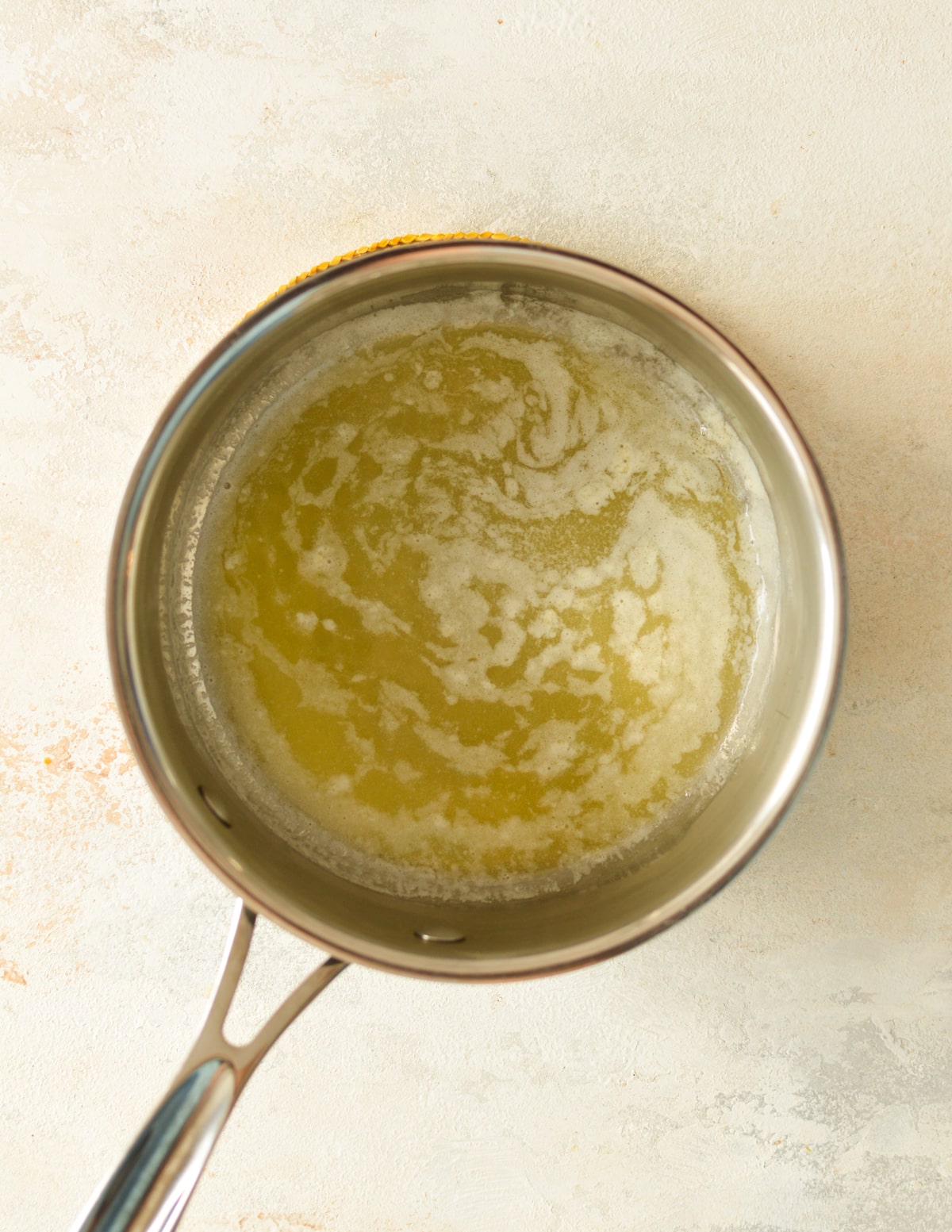 Add the gluten-free flour - Add the gluten free flour to the melted butter and stir with a whisk.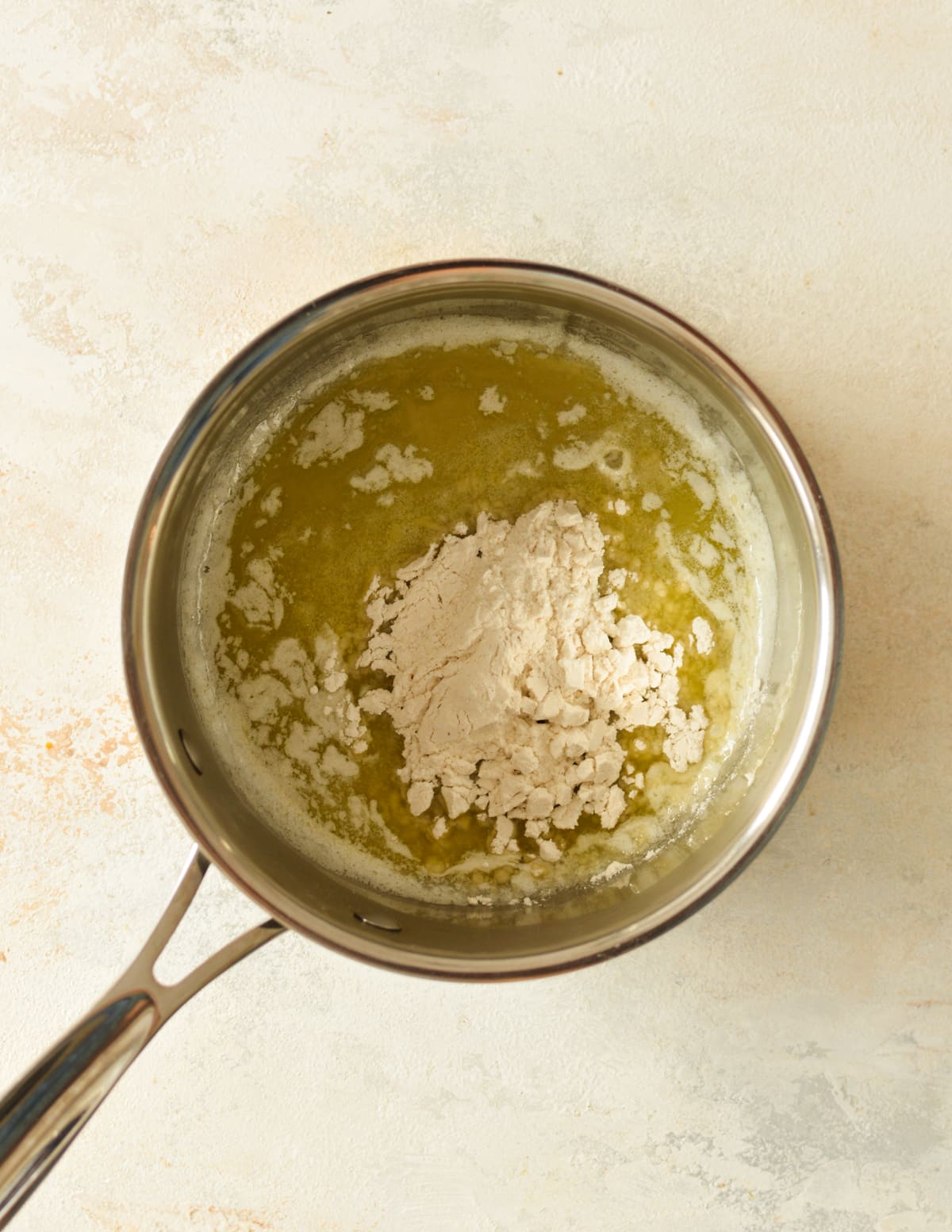 Cook the roux - Cook the butter mixture, continuously whisking, for 2 minutes. It cooks the raw taste out of the flour, so it won't have a mealy texture in the end.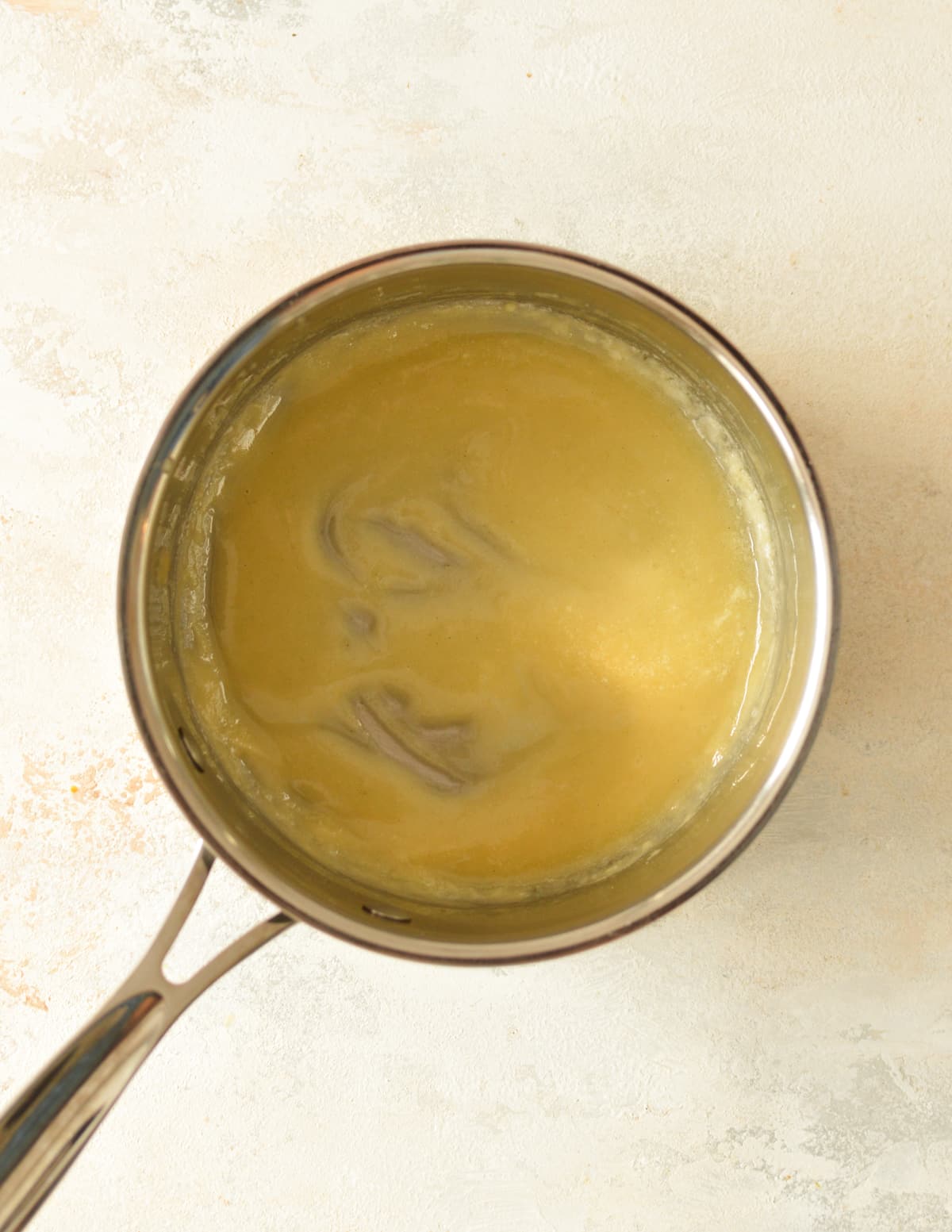 Gradually add the milk - Add ½ cup of the milk while you whisk. Adding the milk in stages prevents the mixture from getting lumpy.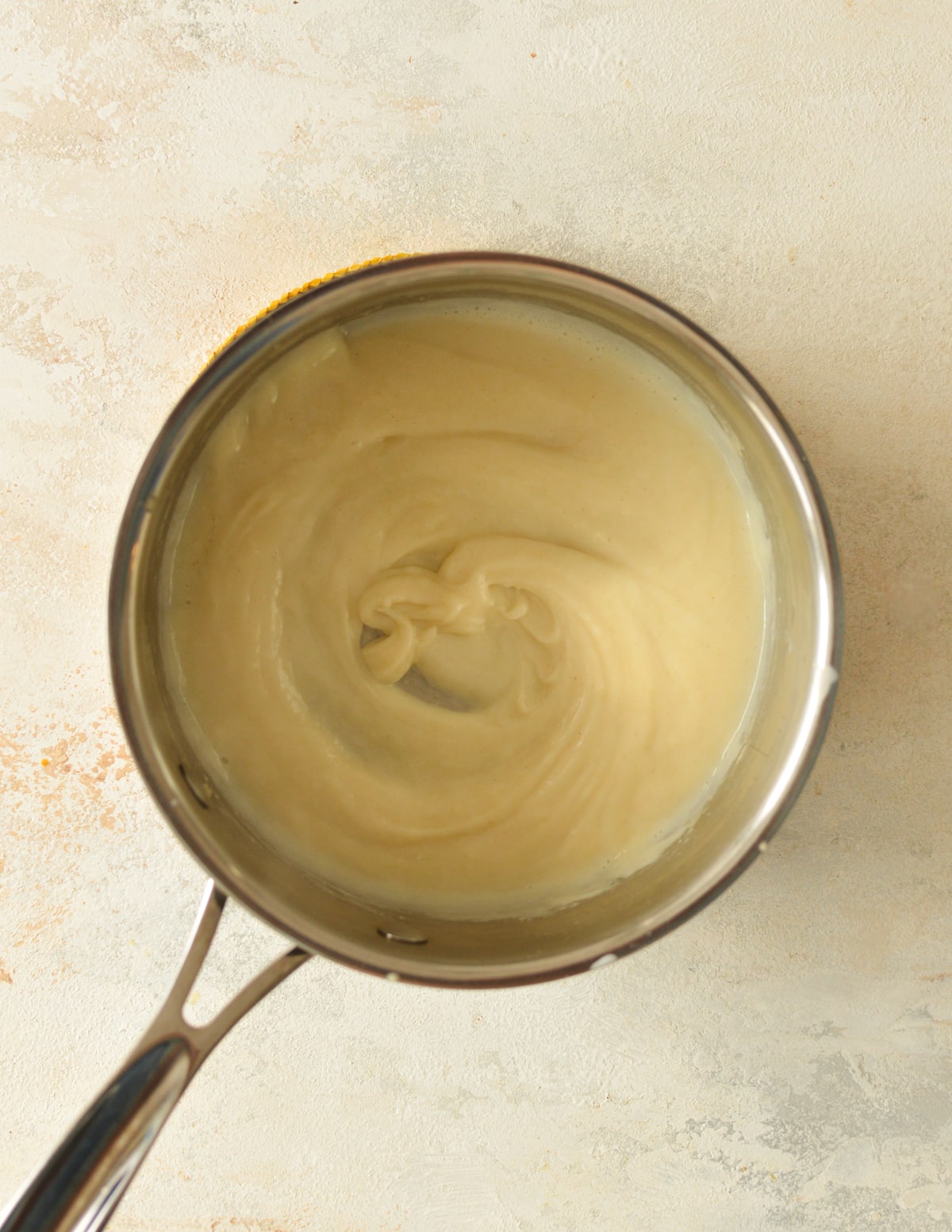 Add more milk - Repeat with the remaining milk until it's all gone, ½ cup at a time. Whisk continuously until the mixture thickens enough to coat the back of a spoon. Stir in the kosher salt, black pepper, and nutmeg.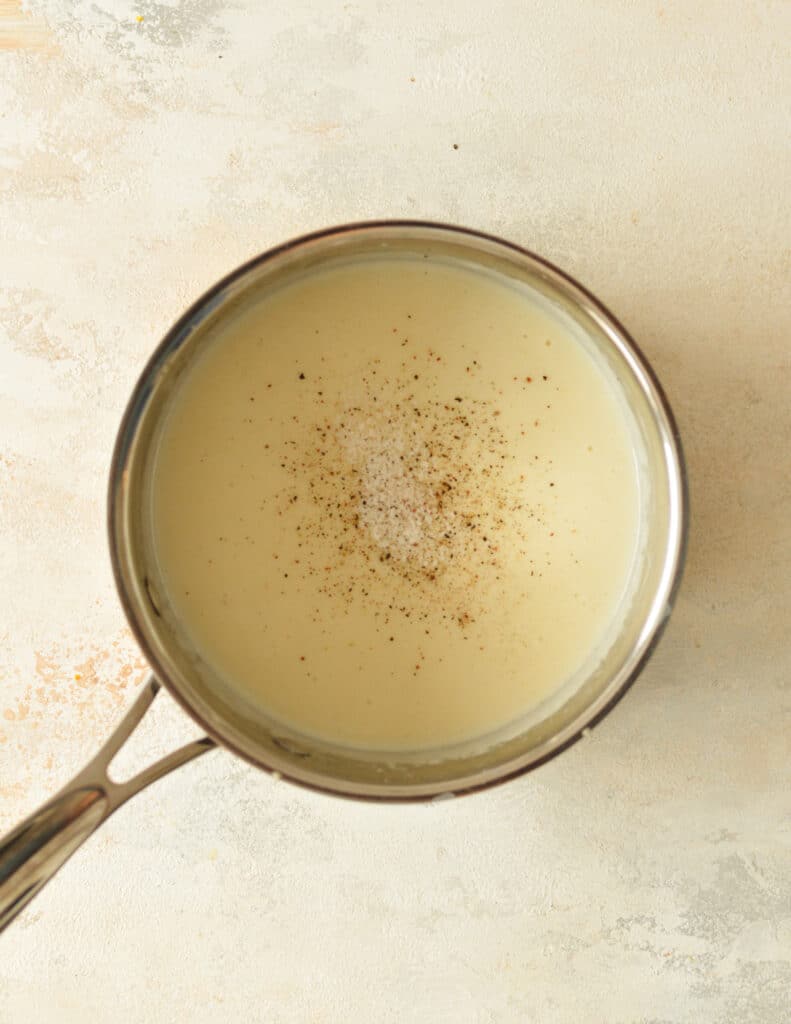 Use in all your favorite gluten-free recipes - Pour the sauce onto veggies or potatoes and bake, or make it into a cheese sauce! The opportunities are endless for this gluten free white sauce.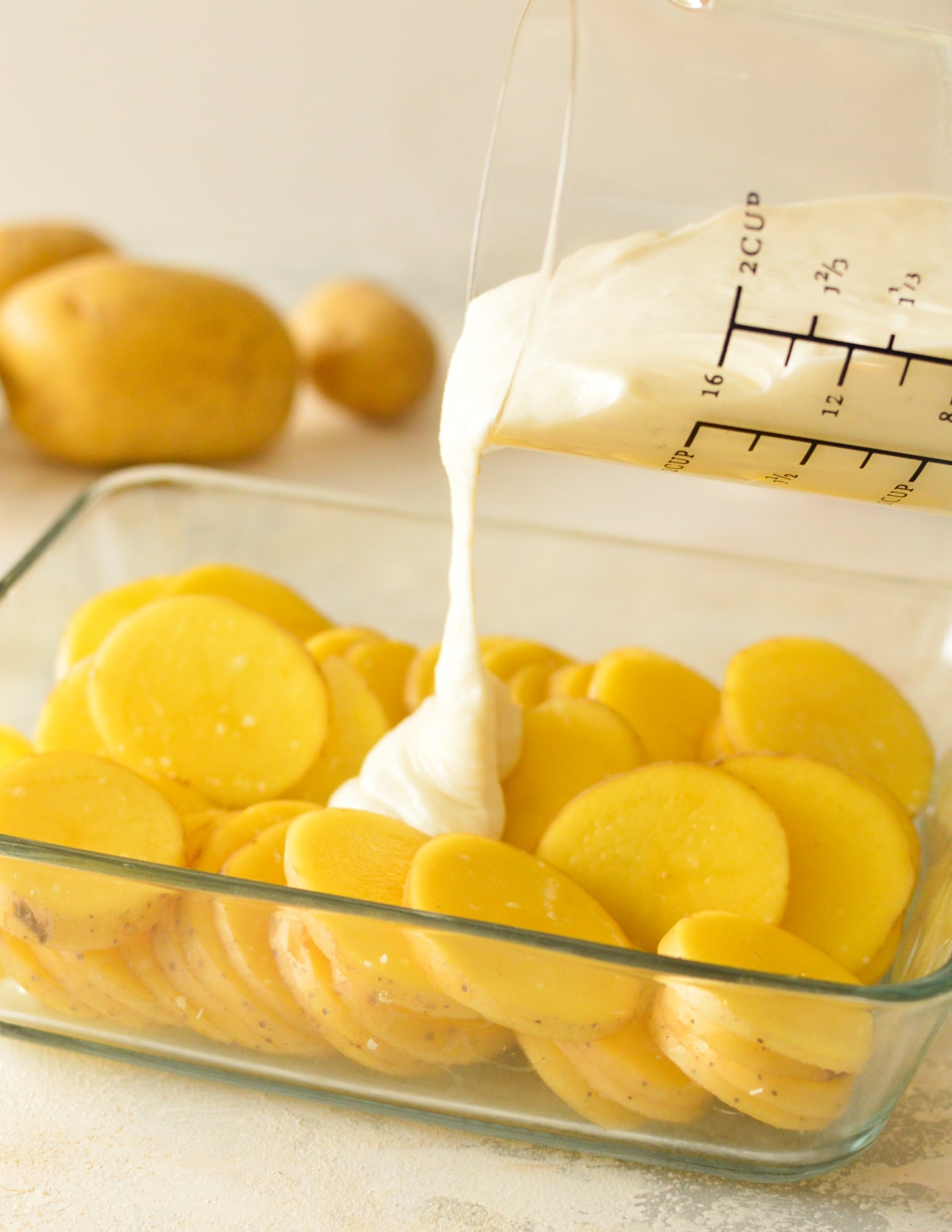 Recipe Tips
Bechamel thickens as it cools. If it seems a little thin, just remember it thickens as it cools down. If it's thick when it's hot, it will be even thicker when it's warm.
Don't dump the milk in all at once. If you dump all the milk in at once, you may end up with a lumpy sauce! Gradually whisk it into the roux, making sure its smooth before you add more.
Consistency is a more of a preference thing. If you want the bechamel thick or spreadable, cook it longer. If you want it thin with a drizzle consistency, cook it less time.
It's forgiving and easy to fix! If you made it too thick, whisk in a splash of milk. If it's too thin, continue cooking and whisking. It will thicken up.
Variations
Cheese sauce - You can use it as the base of a gluten-free cheese sauce. Cook the sauce until it just coats the back of a spoon, then add 1 ½ cups of shredded cheese. Try gruyere, cheddar, Monterey jack or a combination!
Classic lasagna - Use the bechamel to make a classic lasagna with gluten-free lasagna noodles!
Herbs - Add fresh herbs! Try chives, parsley, or rosemary.
Gluten-free mornay sauce - Add an ounce each of shredded parmesan and gruyere! Drizzle over fish or roasted vegetables.
Storage Tips
Store leftover gluten free bechamel in an airtight container in the refrigerator for up to 5 days. Reheat on the stovetop in a saucepan over medium-low heat, whisking continuously.
FAQs
Does bechamel sauce contain gluten?
Yes, traditionally bechamel sauce contains three ingredients: flour, butter, and milk. The flour and butter are cooked to make a roux to thicken the milk and make a sauce. Any sauce or soup made with a roux contains flour.
Can you use cornstarch for instead of flour for bechamel?
I don't recommend it. I've found better success making a smooth sauce with gluten-free all-purpose flour.
More Gluten Free Recipes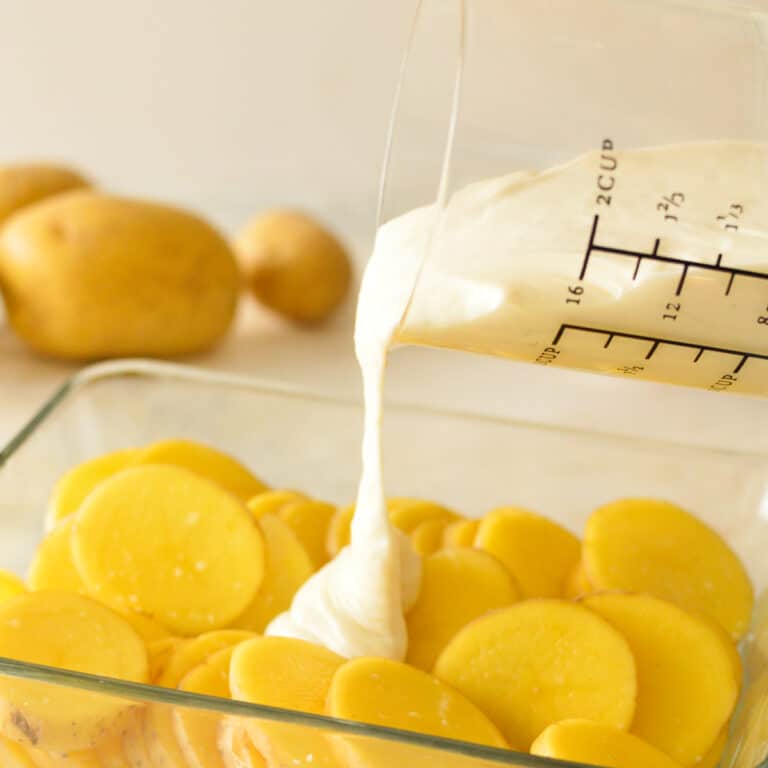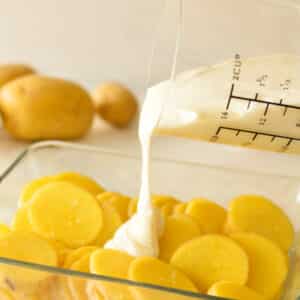 Gluten Free Bechamel Sauce
This creamy gluten free bechamel sauce is a breeze to make. You only need three ingredients and it takes less than 10 minutes.
Ingredients
2½

tablespoons

unsalted butter

2

tablespoons

gluten-free all-purpose flour

I recommend Bob's Red Mill's 1:1 Gluten Free Baking Flour

1½

cups

whole milk

¾

teaspoon

kosher salt

freshly ground pepper

to taste

freshly grated nutmeg

to taste
Instructions
In a small saucepan, melt the butter over medium-low heat until completely melted.

Add the gluten free flour and whisk until smooth. Stir and cook the mixture for 2 minutes.

Heat the milk in the microwave or in another saucepan until hot, but not boiling. Carefully pour ½ cup of the milk into the butter mixture, whisking to avoid lumps.

Pour another ½ cup of the milk into the pan, stirring continuously. Add the last ½ cup of milk, and stir until the mixture thickens and coats the back of a spoon.

If the bechamel is too thin, cook it a little longer. Bechamel thickens as it cools. It should be smooth and velvety. If you could it too long and it becomes too thick, stir in a splash of milk to thin it out.
Nutrition
Calories:
86
kcal
Carbohydrates:
5
g
Protein:
2
g
Fat:
7
g
Saturated Fat:
4
g
Polyunsaturated Fat:
0.3
g
Monounsaturated Fat:
2
g
Trans Fat:
0.2
g
Cholesterol:
20
mg
Sodium:
315
mg
Potassium:
93
mg
Fiber:
0.2
g
Sugar:
3
g
Vitamin A:
245
IU
Calcium:
78
mg
Iron:
0.1
mg