Not sure what to do with golden, buttery chanterelle mushrooms? Here's 13 chanterelle recipes to get you started!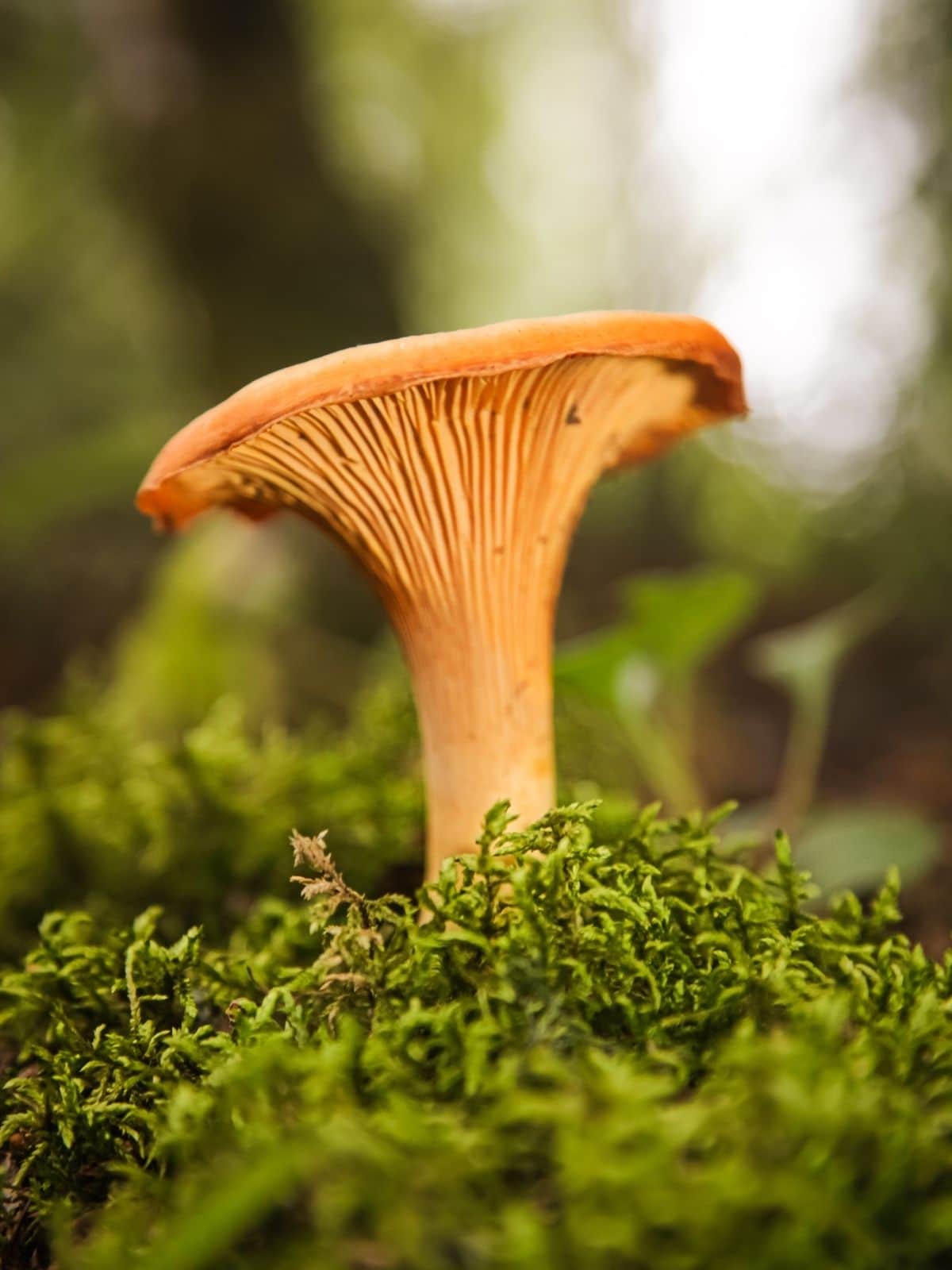 Chanterelle mushrooms are a variety of wild mushrooms with an orange or yellow top and a funnel shape. They have a subtle peppery flavor with a buttery texture that tastes great in comforting recipes like cream sauce and risotto.
When purchasing chanterelle mushrooms, look for mushrooms that are fragrant and firm without slimy or soft spots. They're in season between August and December which is why they are found in so many cozy dishes!
If you're not sure what to do with chanterelles, I got you covered! These chanterelle recipes are incredibly delicious and worth the effort.
Jump to:
This easy creamy chanterelle soup takes just 15 minutes to make. So simple, but so delicious and packed with wild mushroom flavor! Chanterelles, coconut milk, garlic, and fresh herbs simmer and blend into a comforting soup!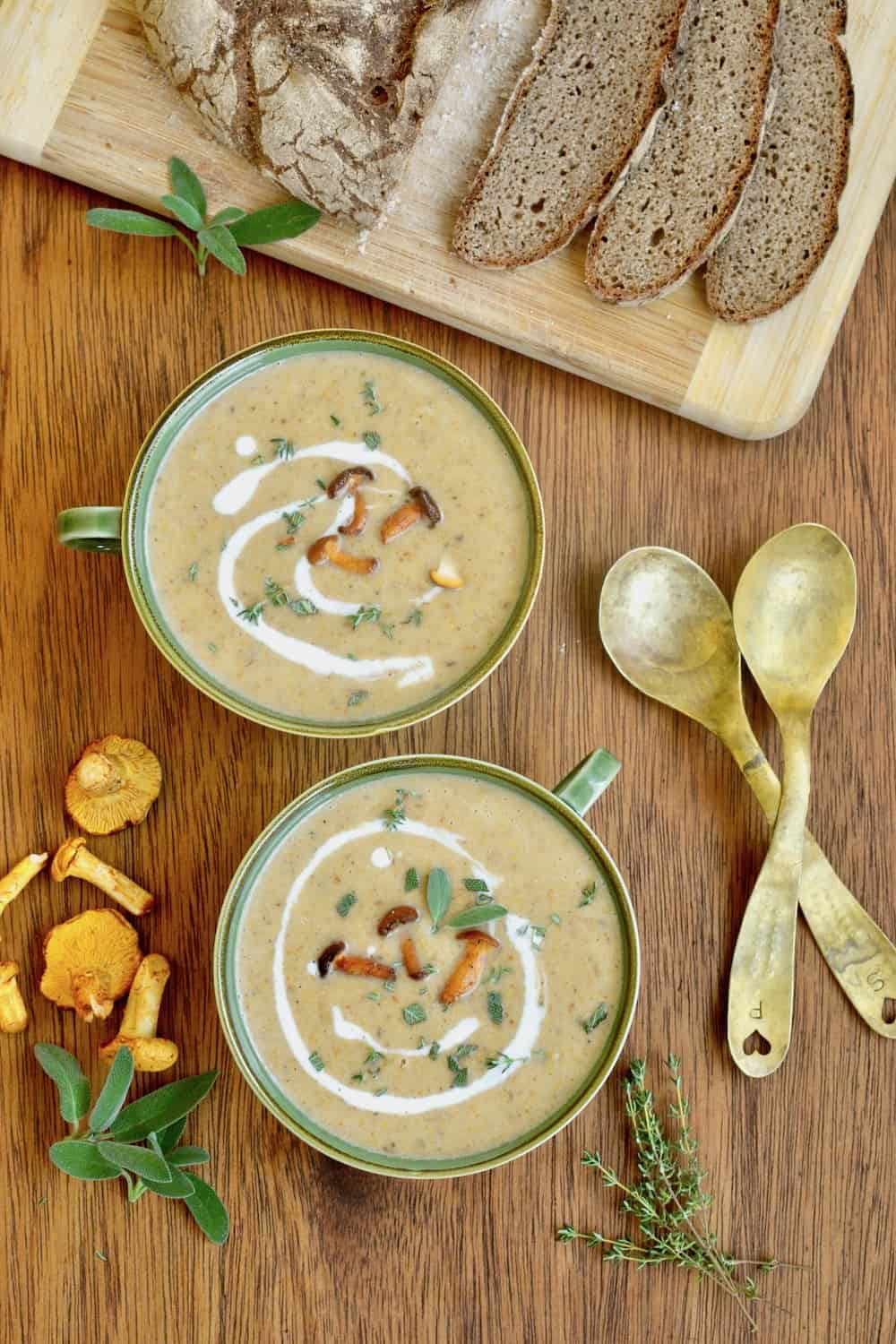 Homemade ravioli stuffed with meaty and buttery chanterelles? Yes, please! Topped with sage and rosemary oil, this fresh pasta filled with fried chanterelle mushrooms is simply divine!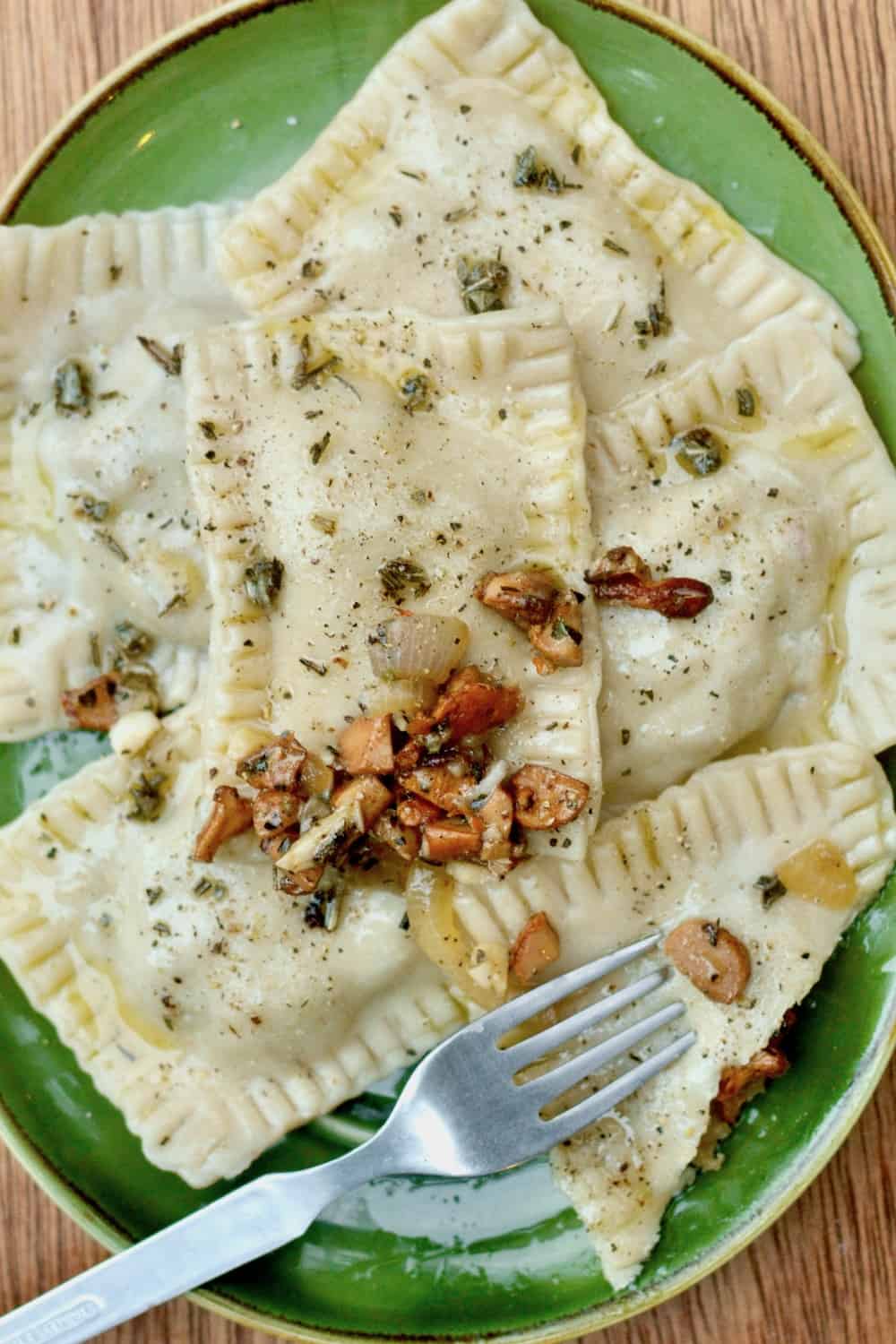 If you're looking for a simple, no-fuss way to use chanterelle mushrooms, this is it! This sauteed mushroom recipe makes chanterelles the star of the show with butter, onion, thyme, and parsley. Quick, easy, and delicious, this side dish goes with just about everything.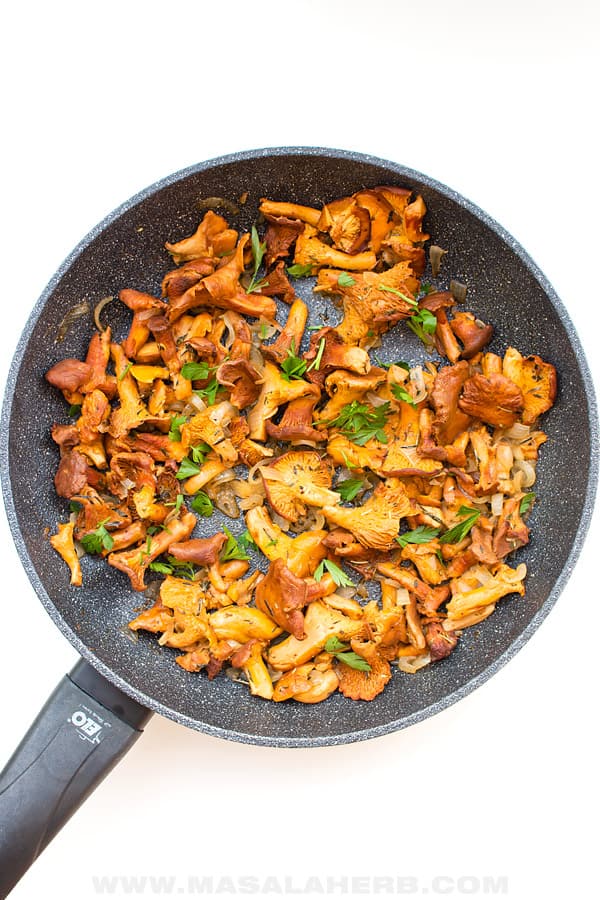 The Jägerschnitzel is a classic Austrian dish prepared with nonbreaded meat cutlets and buttery chanterelle mushrooms. The sauce is made with white wine, cream, and tomato sauce. Serve this rich and cozy dish with cooked rice, noodles, or spaetzle!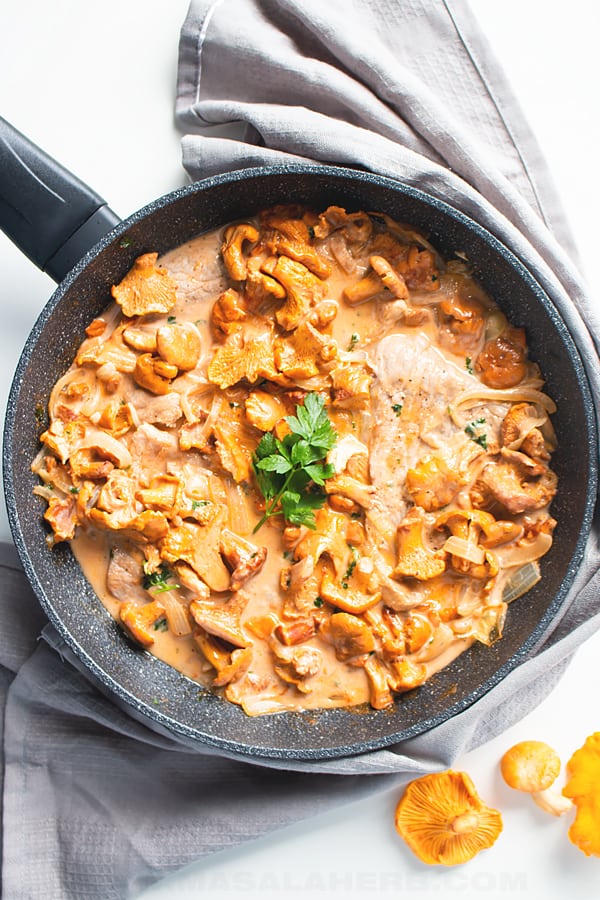 Canned chanterelle mushrooms is a French tradition to prolong the life of your mushrooms. Chanterelles are seasonal and hard to find so it can be handy to preserve them until you're ready for them. Homemade canned chanterelles are much better than store-bought canned mushrooms!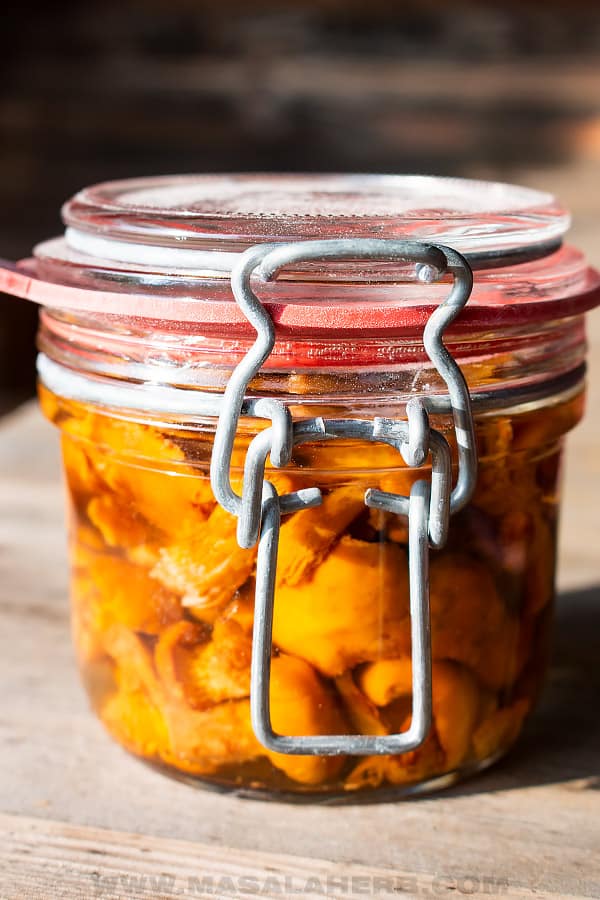 This Sweet Corn Chowder features sweet corn, potatoes, farmer's sausage and chanterelle mushrooms in a rich cream based chowder. It is the perfect late summer/autumn comfort food.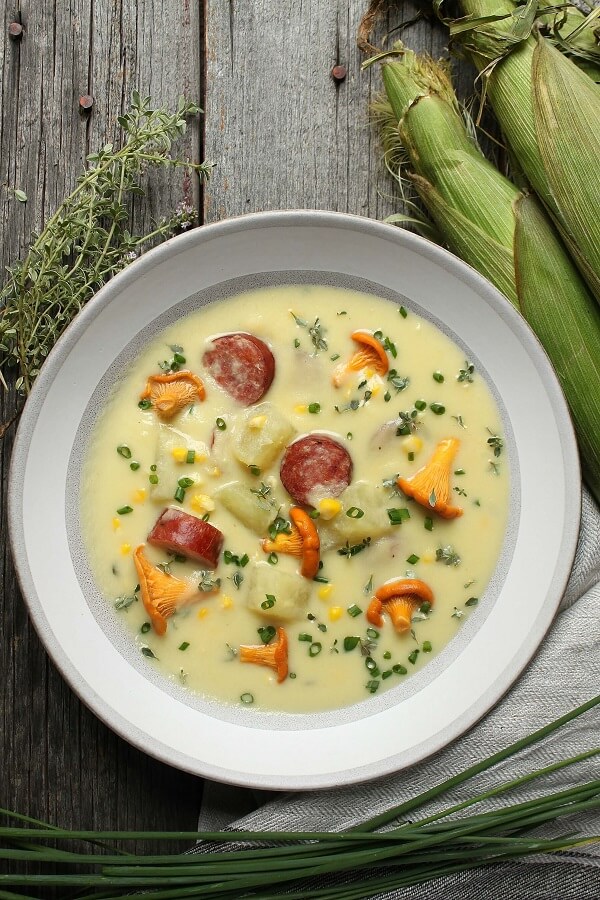 Wild mushroom soup is perfect for a variety of mushrooms. This rich and creamy soup is ready in under 30 minutes. Naturally gluten-free and easily adapted to be vegan, you will love this rich and creamy mushroom soup.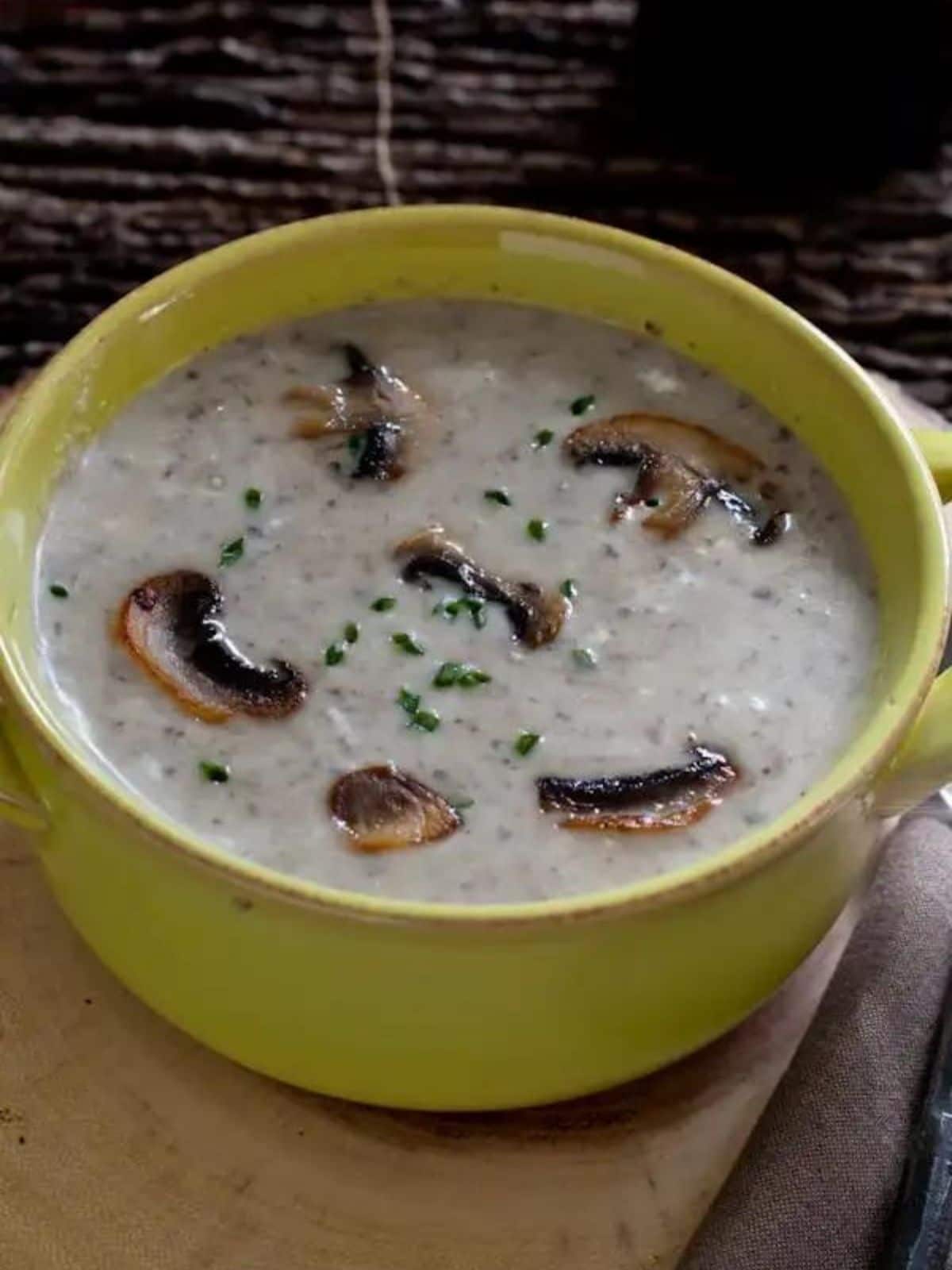 This creamy barley risotto with mushrooms, goat cheese, and sage feels gourmet but is actually easy to make! It's the perfect comfort food for a cozy night in.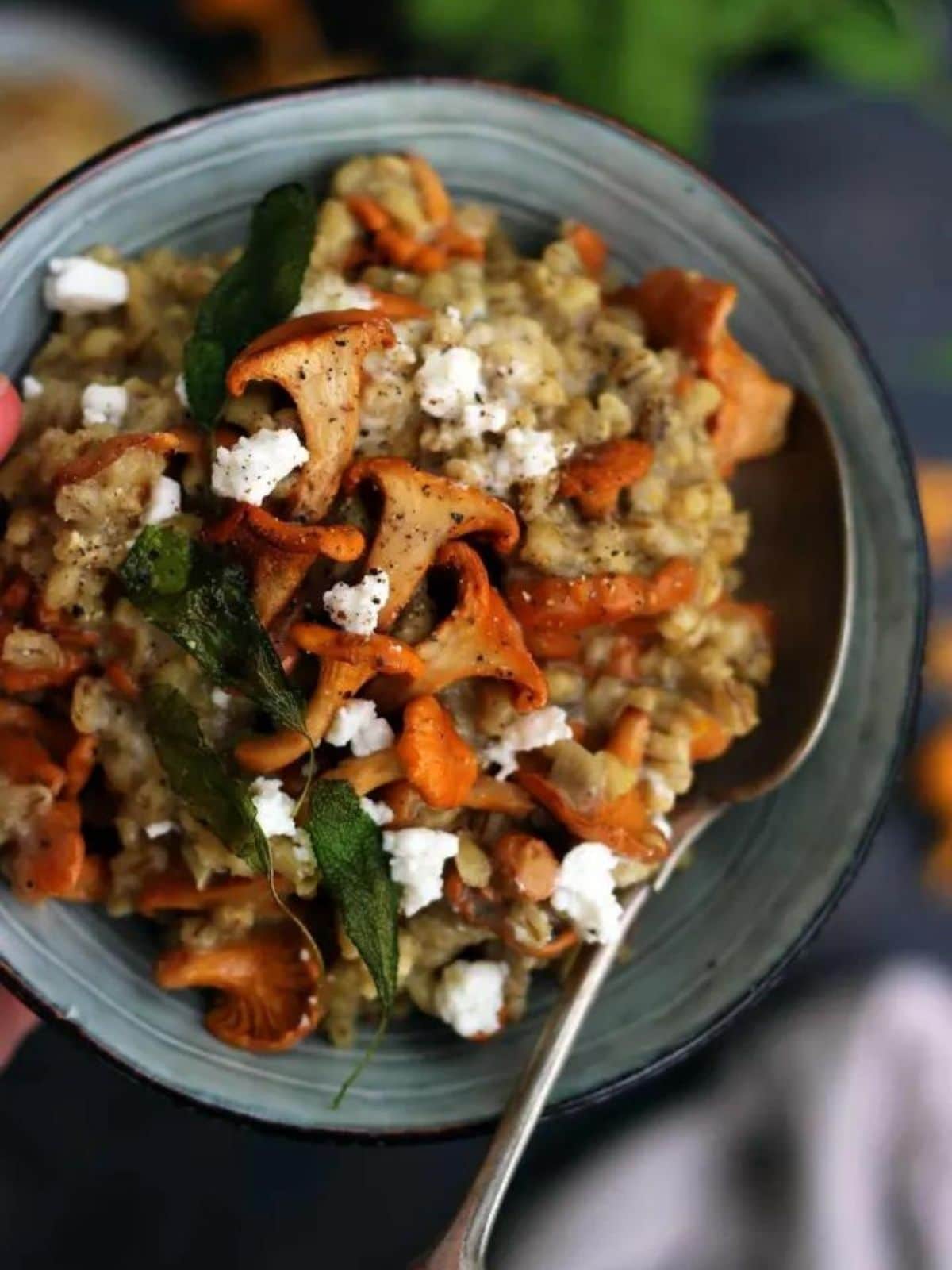 This quick and easy Vegan Mushroom Stroganoff recipe is a one-pan dish that goes with rice, pasta, or potatoes. This creamy dinner is a hearty, satisfying dinner easy enough for a weeknight but fancy enough for the holidays. Dairy-free and gluten-free, too.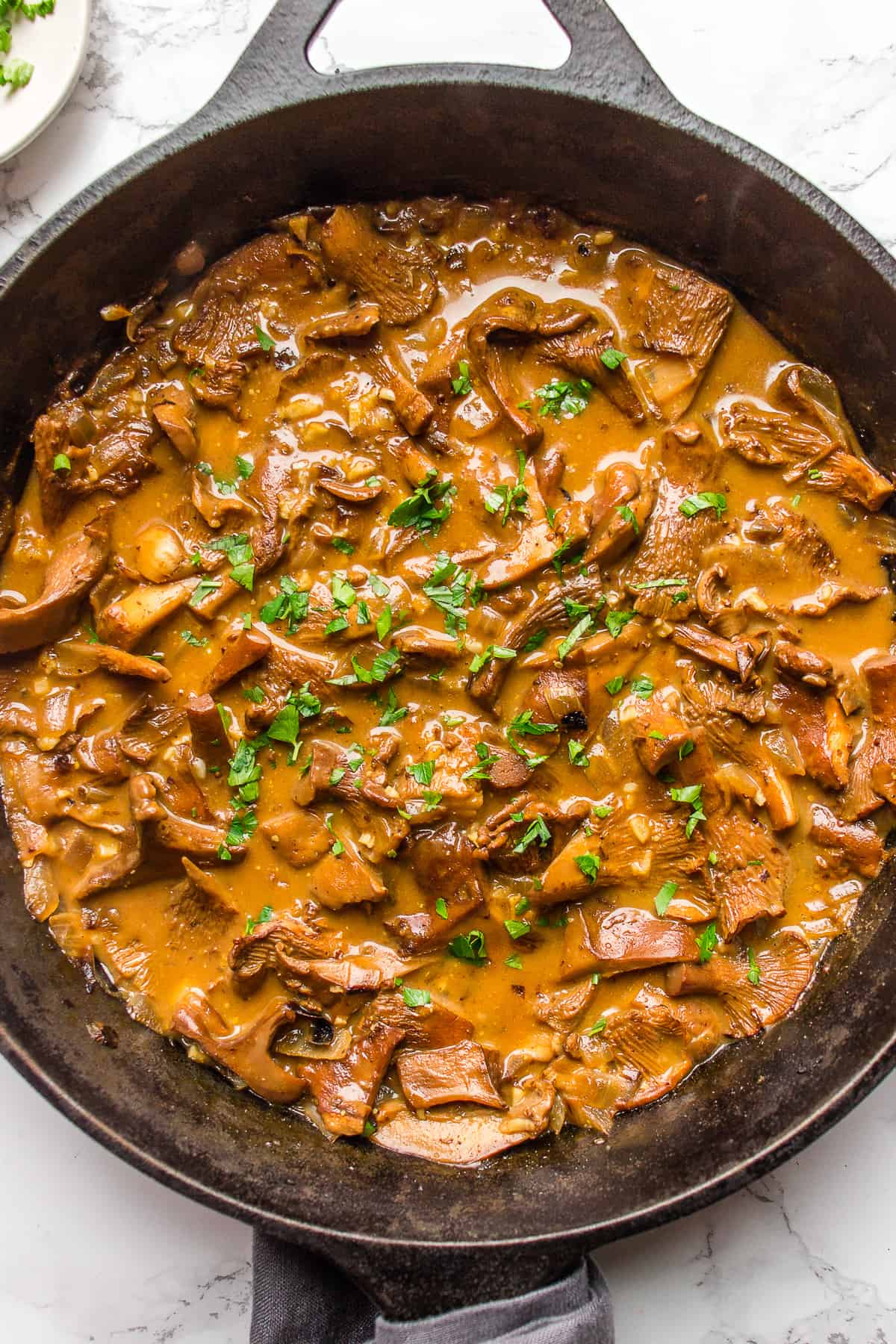 Fried chanterelle mushrooms and potatoes is a simple, delicious, and hearty dish that's packed with flavor! Made in one pan, with just 5 ingredients, this cozy and flavorful dish is sure to become a favorite.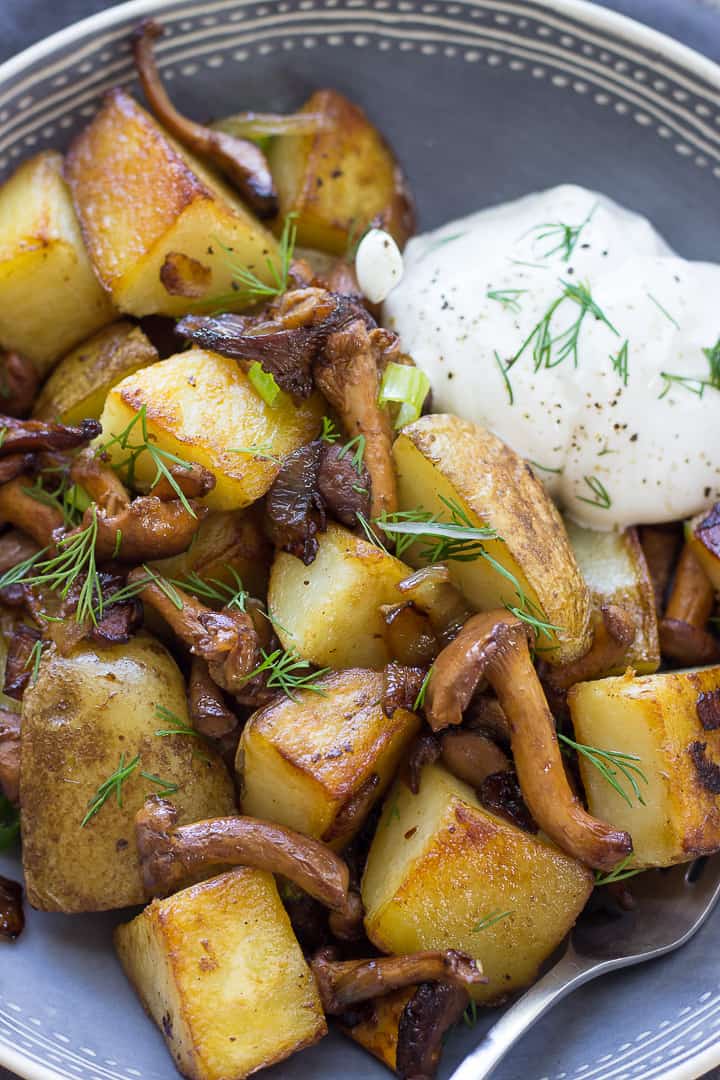 This creamy pasta with chanterelle mushrooms and crispy prosciutto is Italian comfort food at its best. This cozy and meaty mushroom pasta is perfect for a chilly weeknight. Perfectly cooked bucatini is coated in a delicious mushroom sauce then topped with salty prosciutto!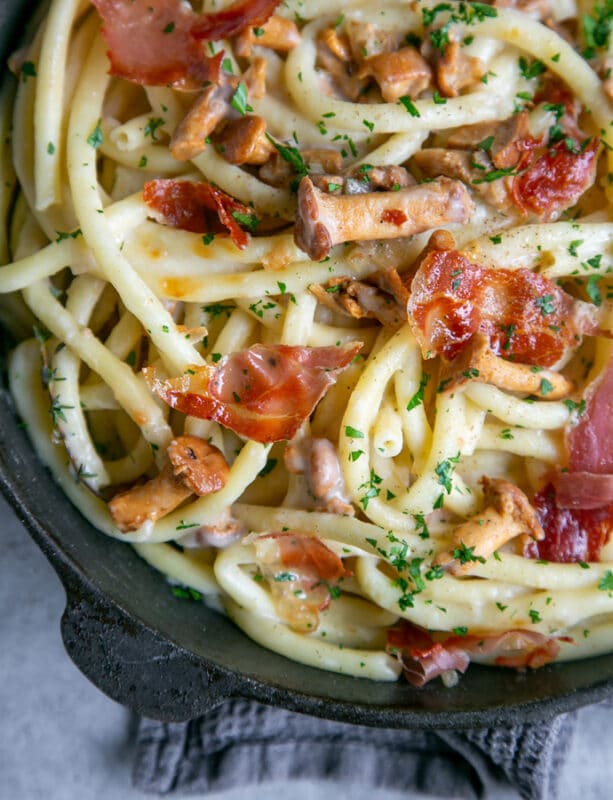 This creamy and delicious pasta with chanterelle mushrooms and speck is a traditional Northern Italian recipe! It's easy to make and you can swap out the mushrooms with other varieties and the speck with crispy pancetta.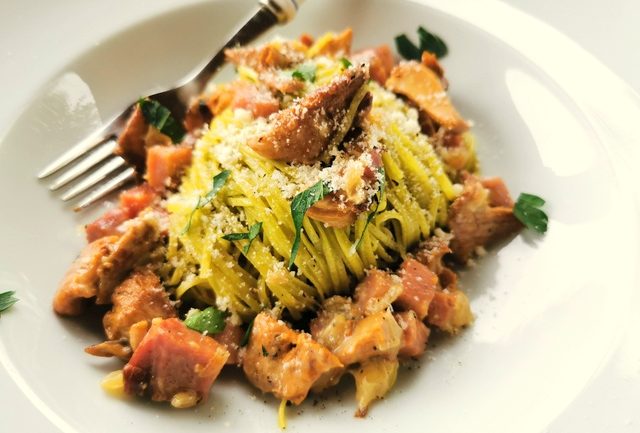 This one-pot creamy mushroom risotto is easy to make and oh-so-delicious! Buttery mushrooms, rosemary, sage, and parmesan cheese pack in plenty of flavor to this hearty dish!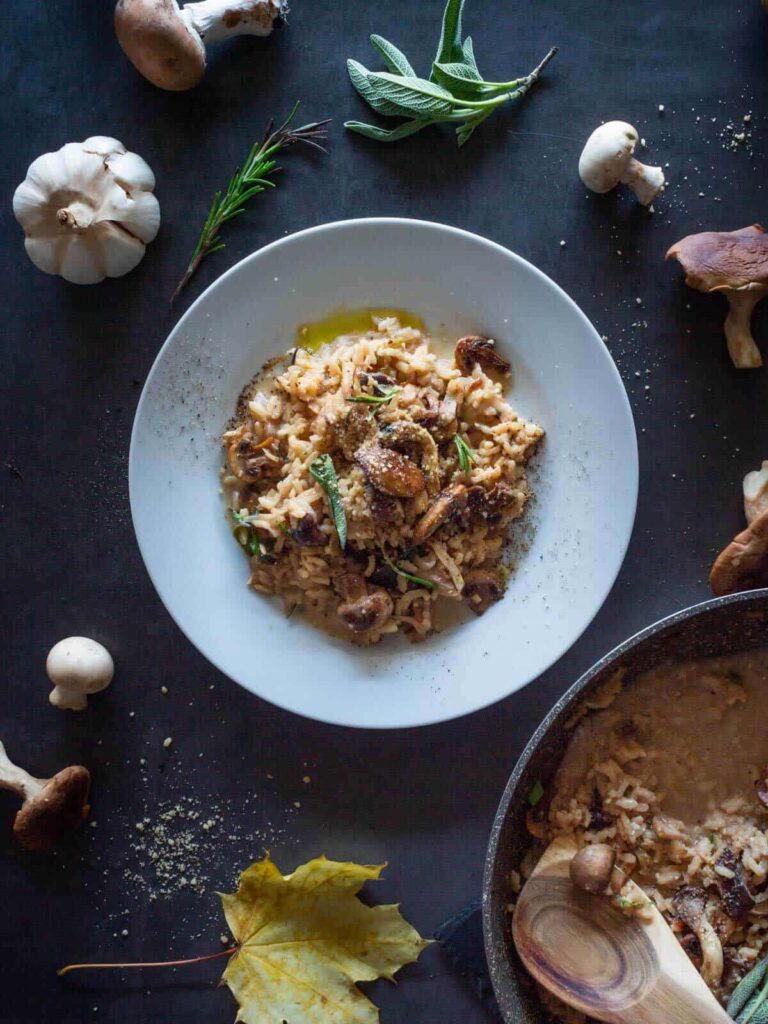 Whether you forage for chanterelle mushrooms or buy them at your local Farmers Market, these delicious recipes are the perfect way to use them!
Enjoy these simple yet hearty chanterelle mushroom recipes!