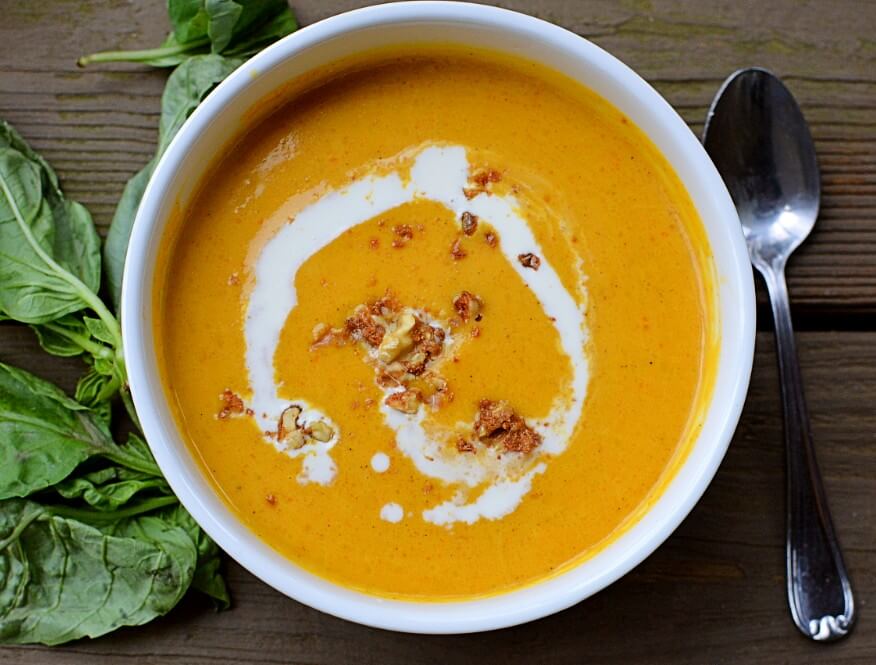 Disclosure: This post may contain affiliate links. In other words, if you click a link and purchase something I will receive a commission at no cost to you. I only recommend products I use and enjoy myself.
This butternut squash soup recipe is inspired by Panera's Autumn Squash soup. I'm in love with it. The addition of ginger really kicks it up a notch.  There's something incredibly satisfying about soup when its frigid outside.
We get around one snow a year here, maybe two if we're lucky. It didn't take me long into marriage to realize Matt and I enjoy snow differently. Matt turns into a giddy ten year old, waking me at a blasphemous hour to go play in it. 
For me the snow amplifies the joy of being warm, sitting by the fire in a ginormo robe, shoveling down banana bread in between sips of hot coffee. Matt has many embarrassing pictures of me, mouth wide open, about to cram something amazing into my pie hole.
Eight years later I still enjoy the snow most for the warmth of it.
It turns out this warm butternut squash, carrot and ginger soup tastes that much better when your fingers are frozen solid from creating a killer snowman
If you're like me and you enjoy the frigid weather best for the things that warm you up, this soup is for you. Bonus: the house smells like fall while the vegetables are roasting.
Let's do this. A couple helpful tips when making this roasted butternut squash soup recipe:
This recipe is a little involved. If involved recipes make you cringe (trust me, I feel you) and easy recipes make you sing, a couple ways to make it simpler would be to:
Buy precut squash. No peeling, no dicing, no problem! 
Buy baby carrots. No need to peel, and super easy to cut up.
I plan to make this butternut squash soup recipe into a crockpot recipe soon. The great thing about soup is its super easy to heat up and tastes better the second day when all the flavors have really married. So don't be scared to make it ahead and throw it in the fridge for later. 
If dicing a butternut squash intimidates you, check out this video first. Its helpful to see it before doing it yourself.
I lay the squash on its side and cut the neck off and then peel it. I then put it to the side and peel the base of the squash. When I am done peeling I cut the base in half and scoop out the goop/seeds. I then dice the whole thing up. 
When dicing up all your vegetables, perfection isn't the goal. They're all going to be whizzed up into soup anyhow.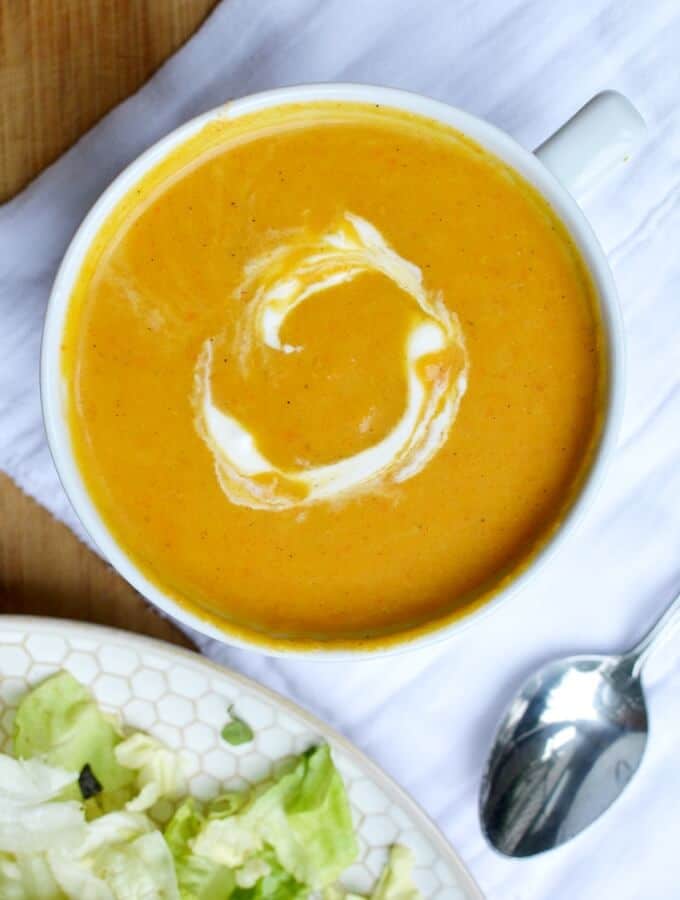 A note on soup variations: 
Depending on how close you are to eight cups of butternut squash, you may need to add additional vegetable stock. The hubs and I like are soup a bit thick. If you like your soup on the soupier side, you can also add more liquid. Just do it gradually, because just like an impulsive angry rant - you can't take it back. 
You could easily add coconut milk instead of heavy cream and just use oil instead of butter to make this recipe vegan. 
If you don't want to write ginger root a love letter like myself, just omit it. This soup is still the best. 
If you are constantly on the lookout for soup recipes once jacket weather comes, check out this Spicy Turkey Chili Recipe.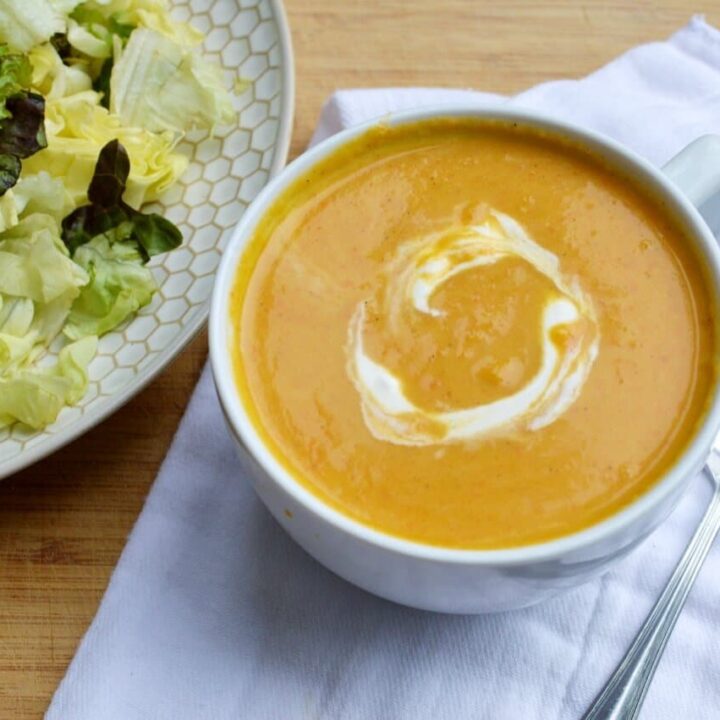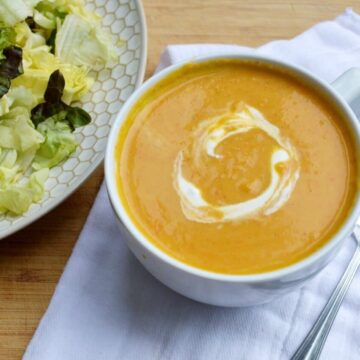 Butternut Squash Soup
Ingredients
1

large butternut squash

approx. 8 cups

1

yellow onion

2

large carrots

2

garlic cloves

2

T.

fresh ginger pulp

3

T.

butter

melted

1

T.

Olive Oil

1

T.

honey

1

T.

brown sugar

½

t

cinnamon

1

t.

curry powder

¾

t.

kosher salt

1

t.

lemon juice

½

cup

apple juice

2

cups

vegetable stock

½

cup

water

6

oz

cream

½

cup

pumpkin puree
Instructions
Place butternut squash laying down on cutting board. Cut both ends off and discard. Cut the "neck" off and put aside. Using a chef's knife or a peeler peel both ends of squash. With the round portion of the squash, place on the cutting board and cut down the center. Scoop out the seeds and goop. Dice squash into 1 inch dice. It needn't be pretty or exact. If you prefer it, you can use the precut chunks from the grocery store, just make sure its fresh not frozen.

Peel and cut onion into medium dice. Next peel carrots and large dice them. The goal in size is similarity, not perfection. Peel two garlic cloves. Place butternut squash, onion, carrots, and garlic on a sheet pan.

Combine melted butter, olive oil, honey, brown sugar, cinnamon, curry powder, kosher salt and lemon juice in a small bowl. Drizzle over butternut squash mixture and toss until everything is coated. Roast at 425 degrees for 25 minutes.

Meanwhile peel large piece of ginger, using a microplane grate ginger into a pulp.

Once cooked and cooled, spoon vegetables into blender and blend with ½ cup apple juice and 1 cup of the vegetable stock.

Pour into large saucepan on medium heat. Add ½ cup pumpkin puree, 1 cup vegetable stock, ½ cup water, 2 T. ginger pulp and 6 oz. cream. Stir until well combined and bring to a simmer. Remove from heat. Serve and enjoy.