Recapture your inner 7-year old with these fun and irresistibly sweet mini marshmallow recipes! From dip to cookies and casseroles, we got you covered with all things gooey and delicious.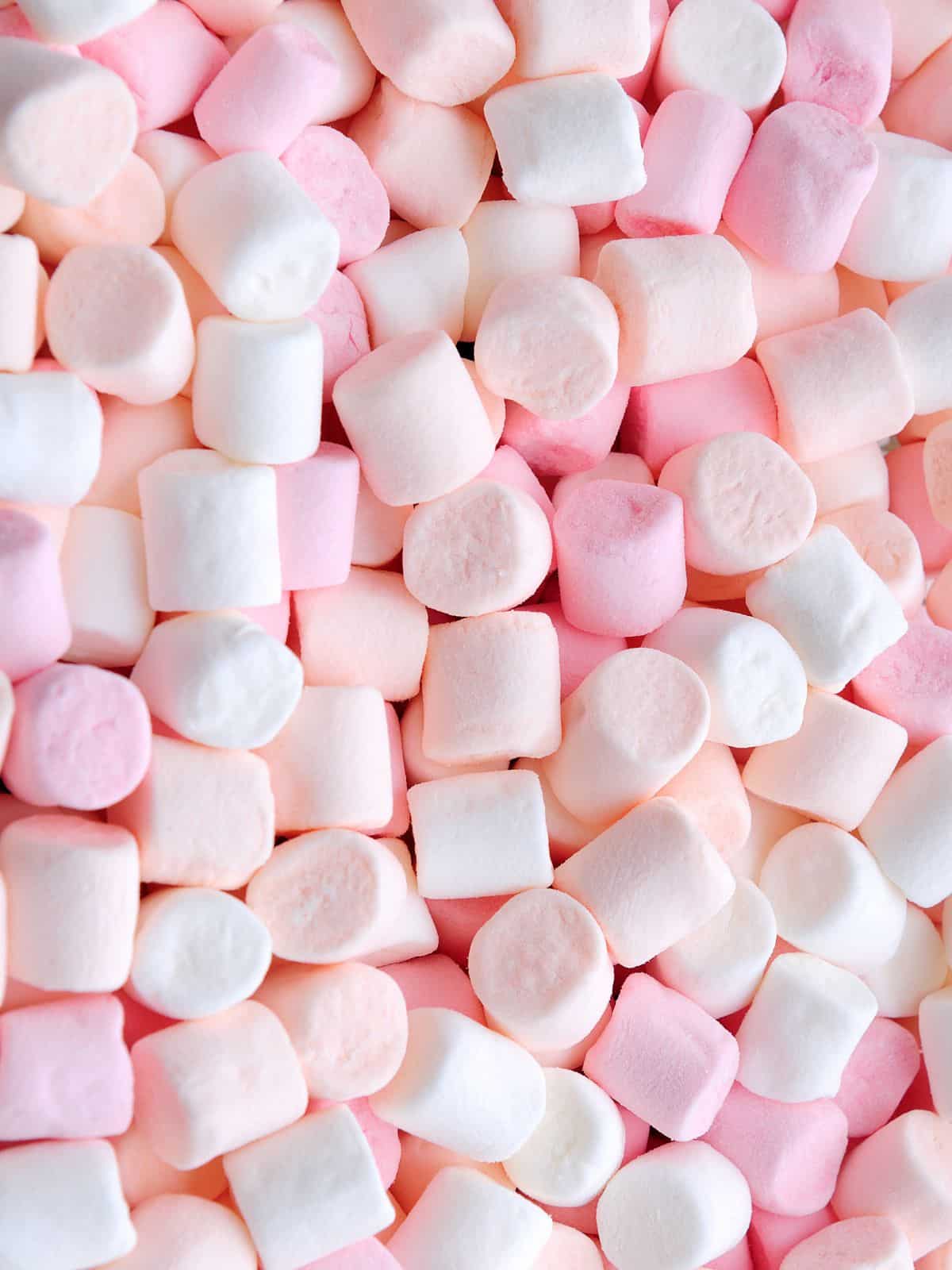 Am I the only one obsessed with these soft, pillowy tiny bites of marshmallow-y goodness?
Mini marshmallows make my inner-child's heart soar. They're sweet, light as air, and the perfect topping for cookies, bars and more!
Mini, jumbo, stuffed, campfire, crème, unicorn, the list goes on and on! But for the sake of time, we're going to focus solely on recipes with mini marshmallows.
I always keep mini marshmallows in my pantry, but once the bag is opened, they go from fresh to stale in the blink of an eye. That's why I keep this running list of addictively tasty mini marshmallow recipes.
So if you're wondering what to do with mini marshmallows, look no further.
1. Chocolate Chip Rice Krispie Treats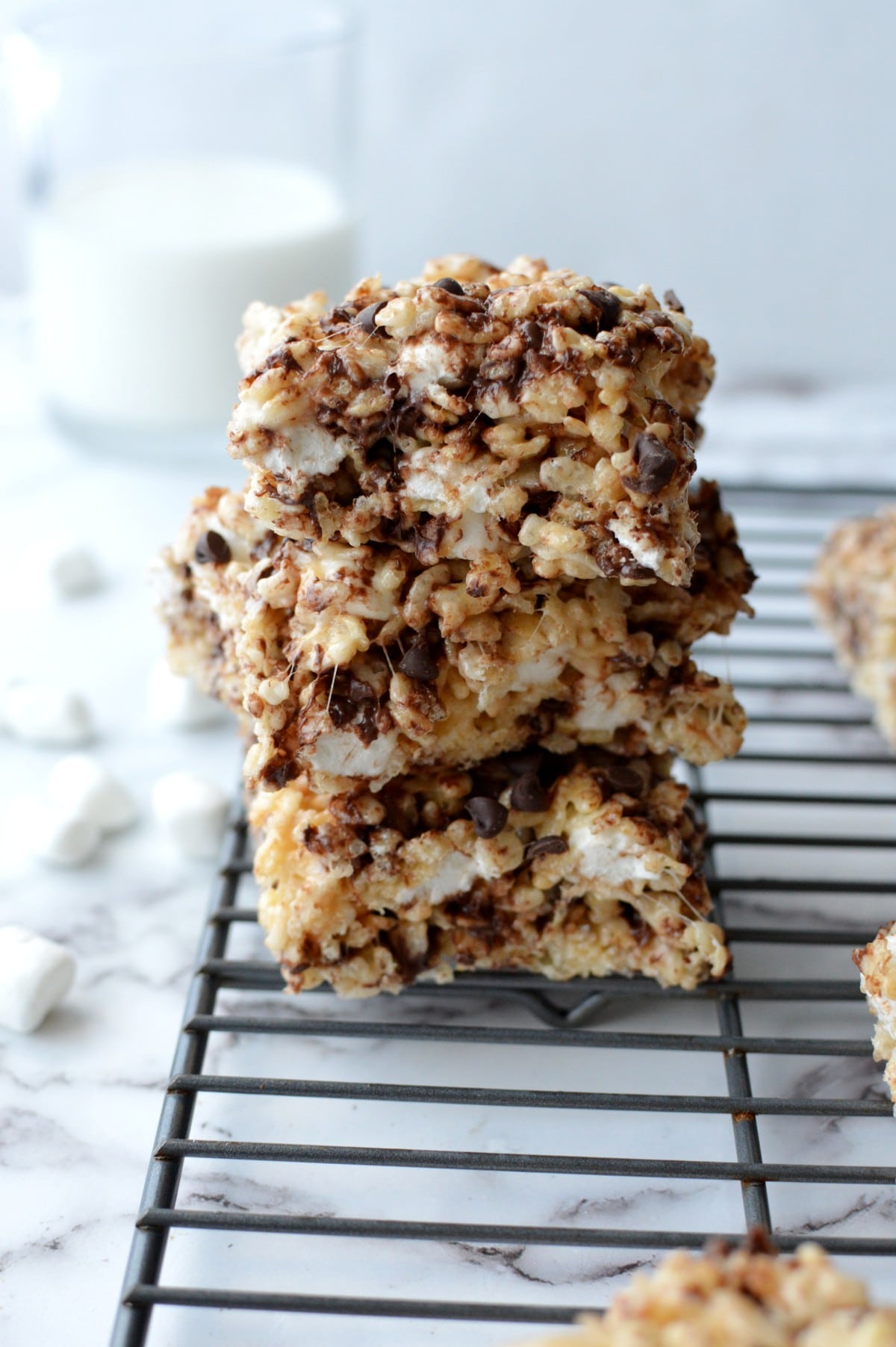 Homemade rice krispie treats are undeniably better than the store-bought version, plus they're super simple to make!
This chocolate chip version has mini chocolate chips AND mini marshmallows studded throughout to make the gooiest, crave-worthy treat for kids and adults alike.
2. Chocolate Marshmallow Cookies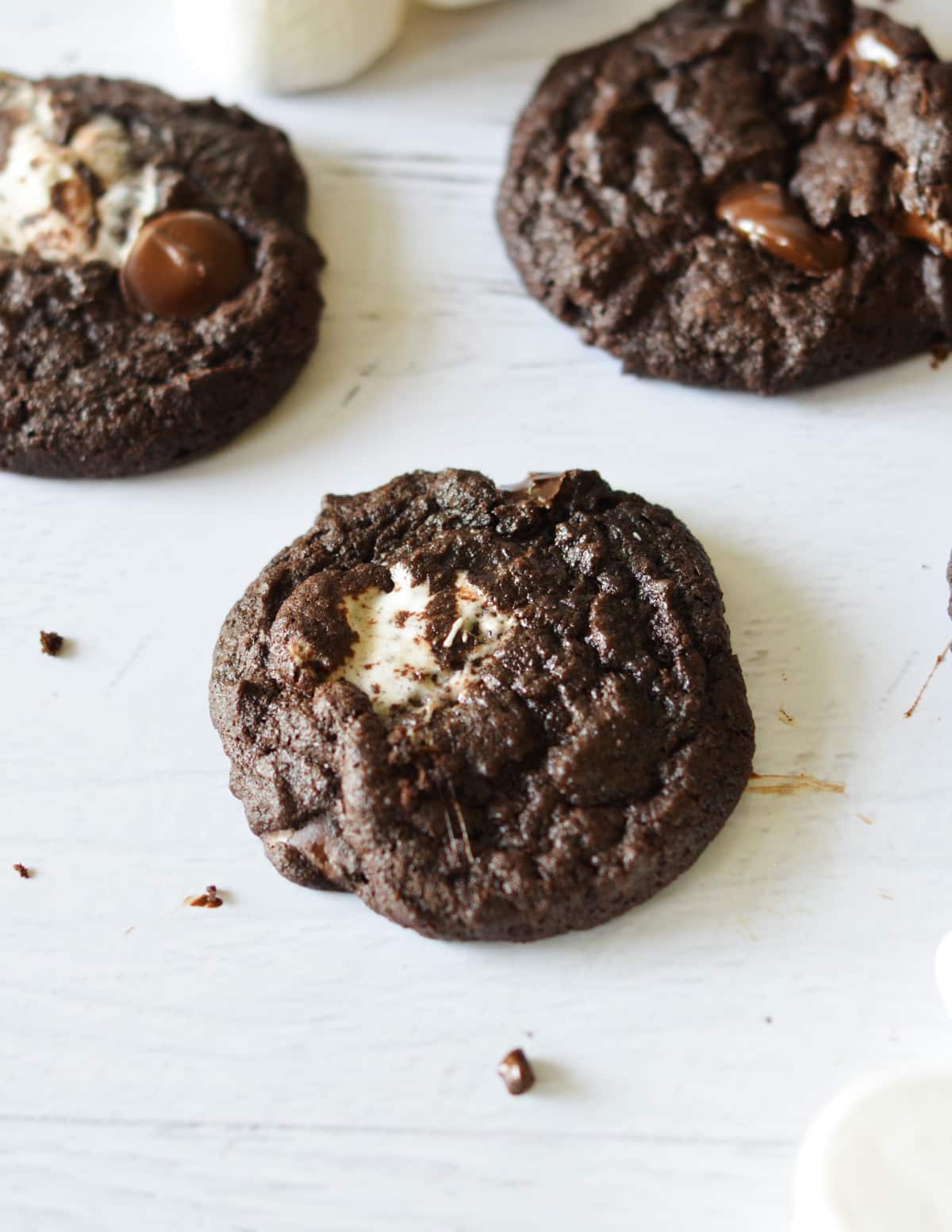 Chocolate and marshmallow are a decadent combo! These chocolate cookies taste like a cookie and a brownie had a love child. And to make it even better, they're studded with melted mini marshmallows.
All three of my kiddos loved these cookies and quickly begged for more. Which isn't an easy feat since they're all VERY picky.
3. Chocolate Chip Marshmallow Cookie Bars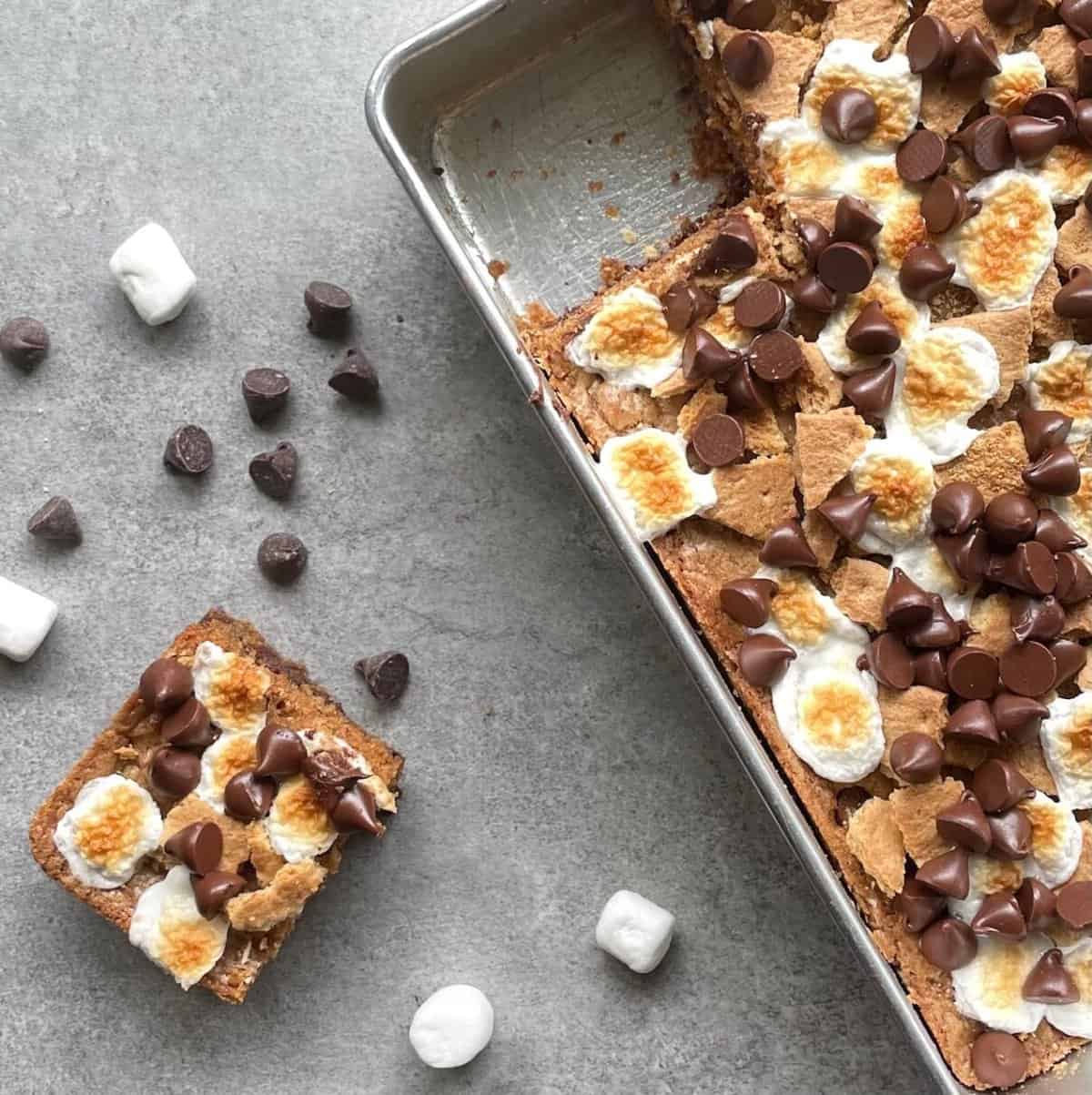 For S'mores lovers everywhere, these cookie bars are extremely decadent and dangerously good.
A chocolate chip cookie base is topped with graham crackers, roasted marshmallows, and you guessed it, even more chocolate chips!
Desserts with mini marshmallows make me so happy! These cookie bars are perfect for summer grill-outs when you don't have a firepit handy.
4. Marshmallow Swirl Brownies
Whoa mama, these brownies are as good as they look! Decadent fudge brownies are topped with mini marshmallows, another layer of brownie, and plenty of chocolate chips.
These marshmallow brownies are moist, fudgy, and undeniably good. They're easy to make and customize too! You can make them with or without dairy with amazing results.
5. Fruity Pebbles Cereal Bars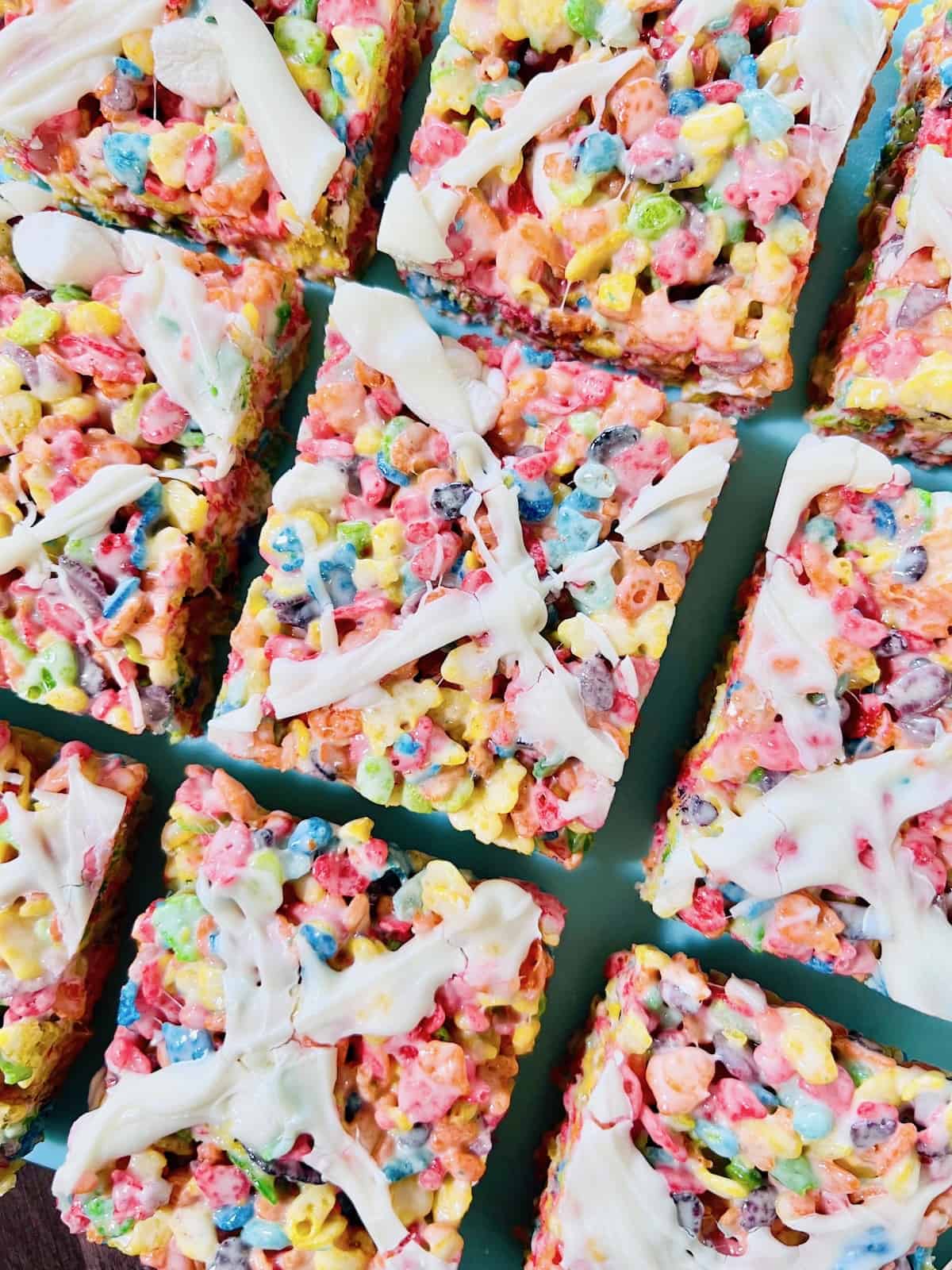 These brightly colored treats are the best combo of gooey mini marshmallows and crispy-crunchy puffed rice cereal.
If fruity pebbles is your sugar cereal of choice, this recipe is for you! These cereal bars are ideal for kid's birthday parties, holidays, and bake sales.
You only need four ingredients - butter, mini marshmallows, fruity pebbles, and vanilla melting wafers.
6. Instant Pot Candied Yams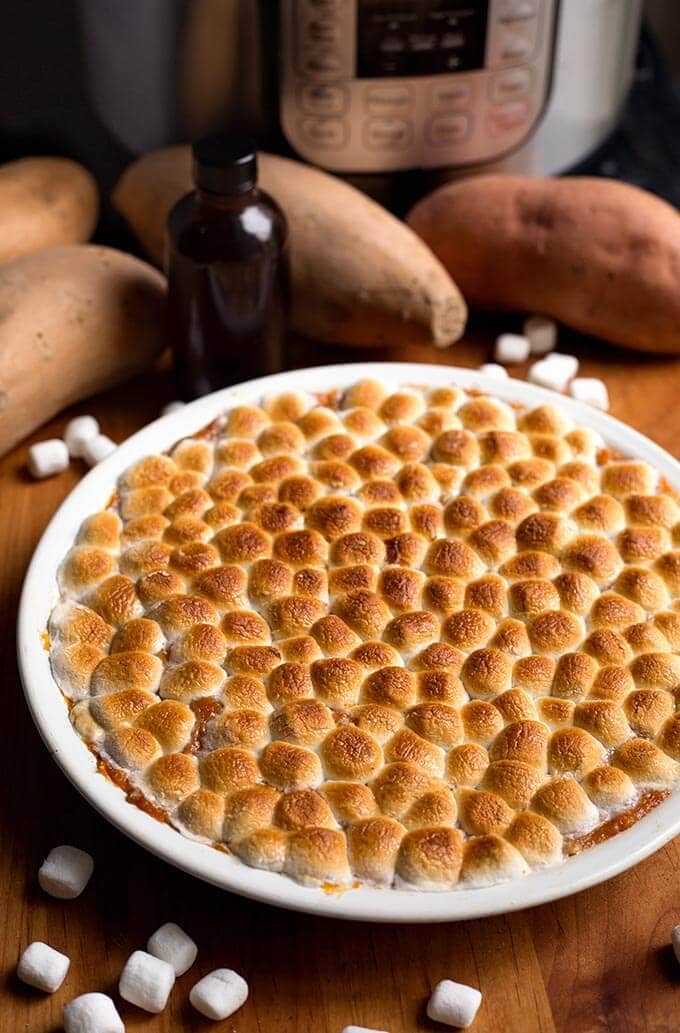 This marshmallow recipe doubles as a dessert AND a side-dish.
Candied yams are a thanksgiving classic, and this version saves precious oven space. It cooks the yams in an instant pot instead of the oven.
The sweet, buttery mashed yams are then topped with mini marshmallows and broiled until golden brown and toasty. This casserole vanishes quickly so don't expect any leftovers!
7. Hot Chocolate Fudge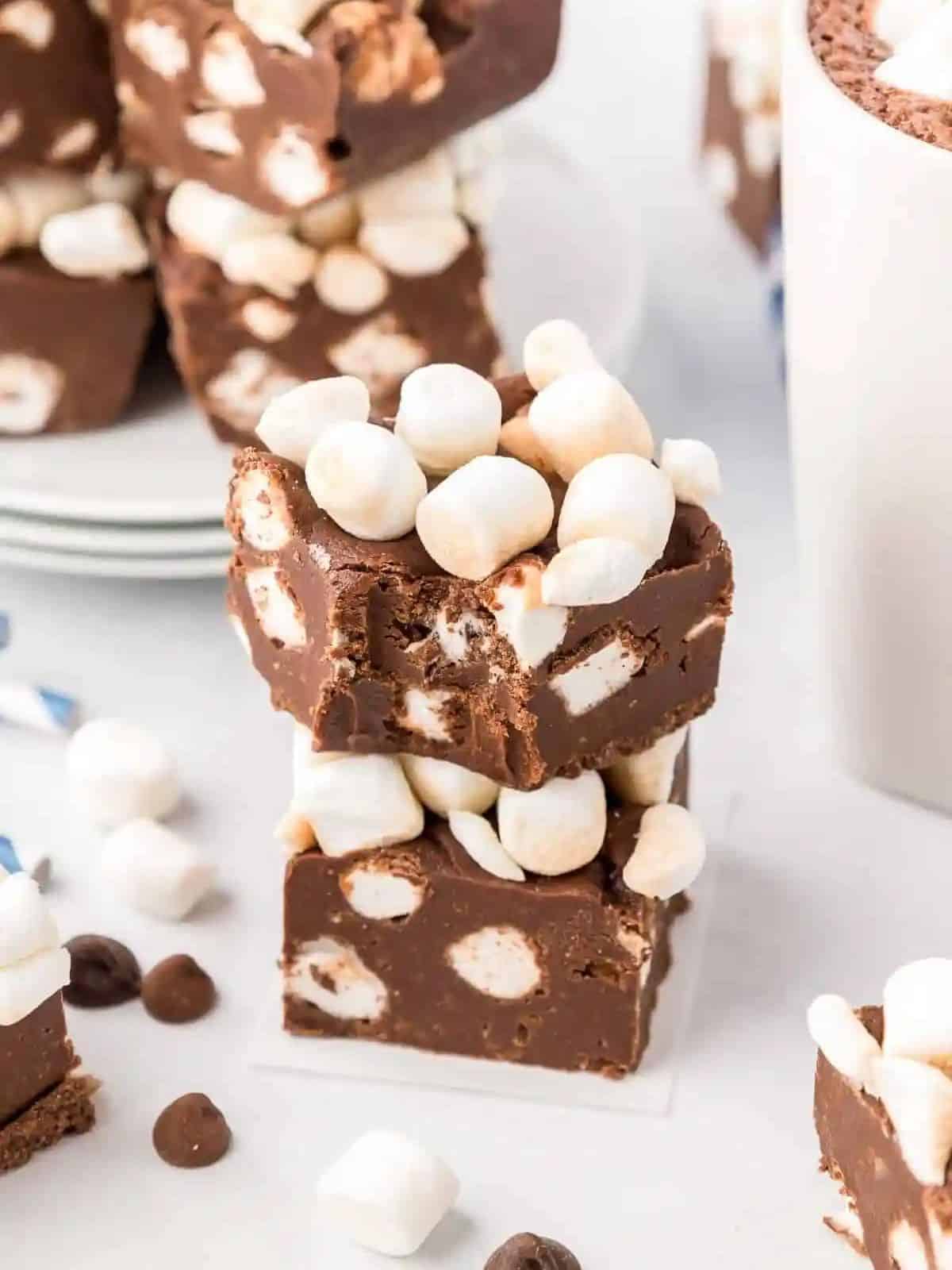 Hot chocolate fudge is perfect for holiday cookie trays!
I love to make treats with my kiddos during Christmas and this fudge recipe is ideal. There's no temping involved and the kiddos can help add the hot cocoa mix, stir, and spread it into the pan.
You can cut it into squares and gift it to your neighbors and friends!
8. Classic Sweet Potato Casserole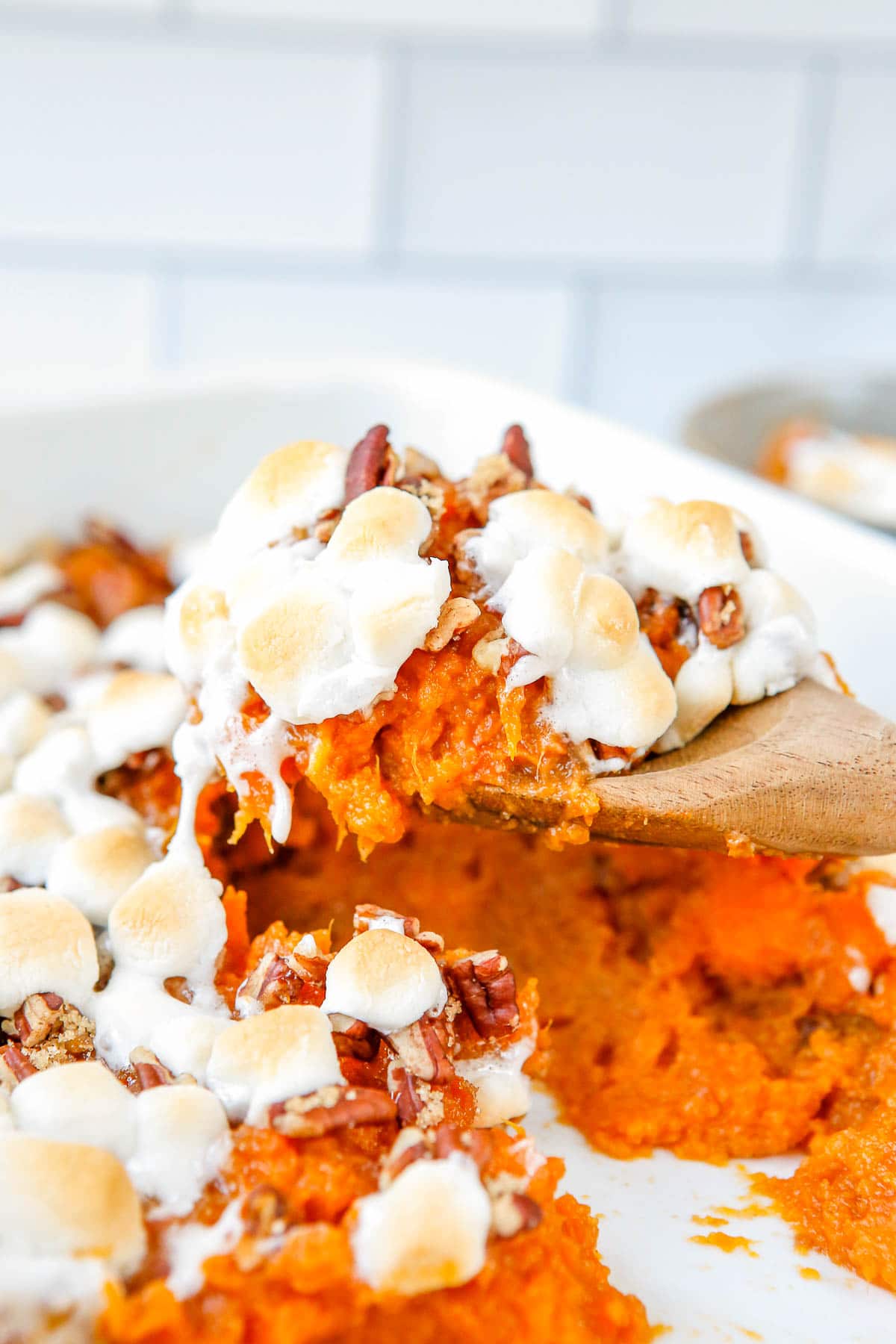 Thanksgiving isn't complete without sweet potato casserole. Mashed sweet potatoes are silky smooth and creamy, plus the crunchy pecans and sweet marshmallows take it over the top.
I'll confess, I make sweet potato casserole in July too. There's no way I'm waiting a year to dig in to this amazing dish again.
9. Hot Chocolate Popsicles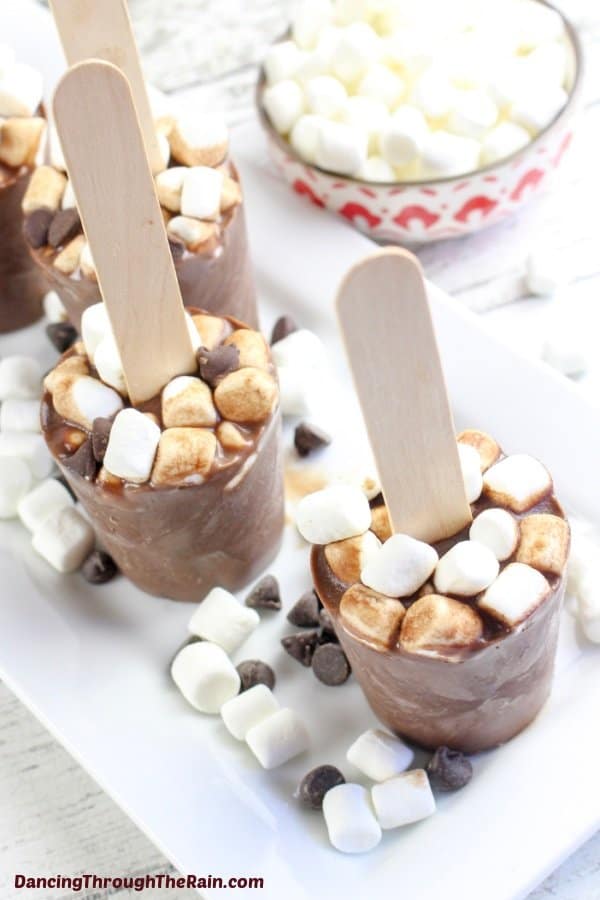 This is a super fun twist on a cup of hot cocoa! These hot chocolate pops are perfect for summertime. My kiddos love them.
You don't need a popsicle mold to make these - just paper dixie cups and popsicle sticks. Each pop gets mini marshmallows and chocolate chips on the top and bottom!
10. Hot Fudge Marshmallow Pie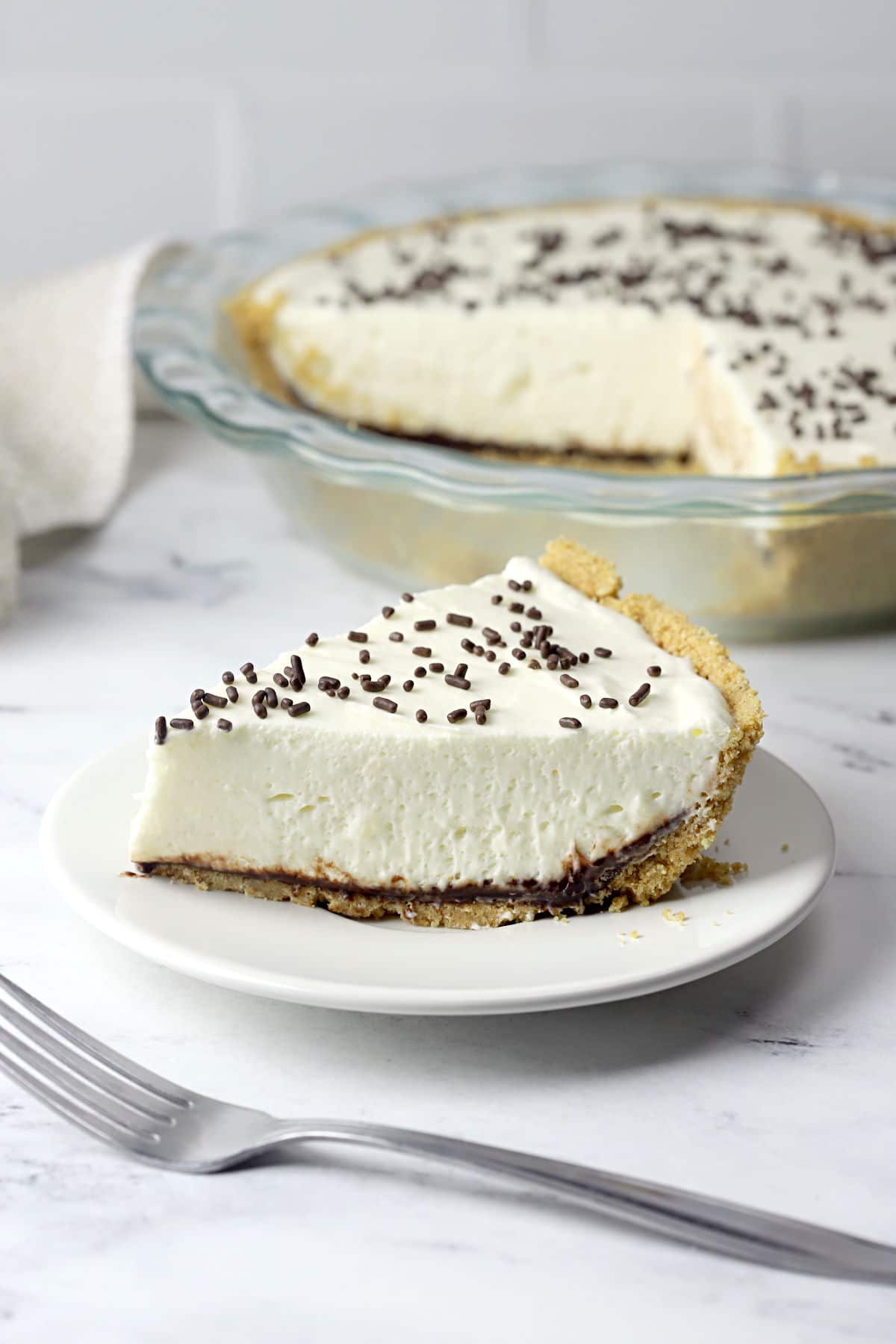 This no-bake marshmallow pie calls for exactly one 10-ounce bag of mini marshmallows. A graham cracker crust is layered with hot fudge and an ultra-light whipped marshmallow filling.
You can make your own crust or buy a store-bought Keebler crust and call it a day! It's super easy to make.
The hardest part is waiting for this delicious pie to chill in the fridge for four hours. Can you say torture?
11. Easy S'mores Dip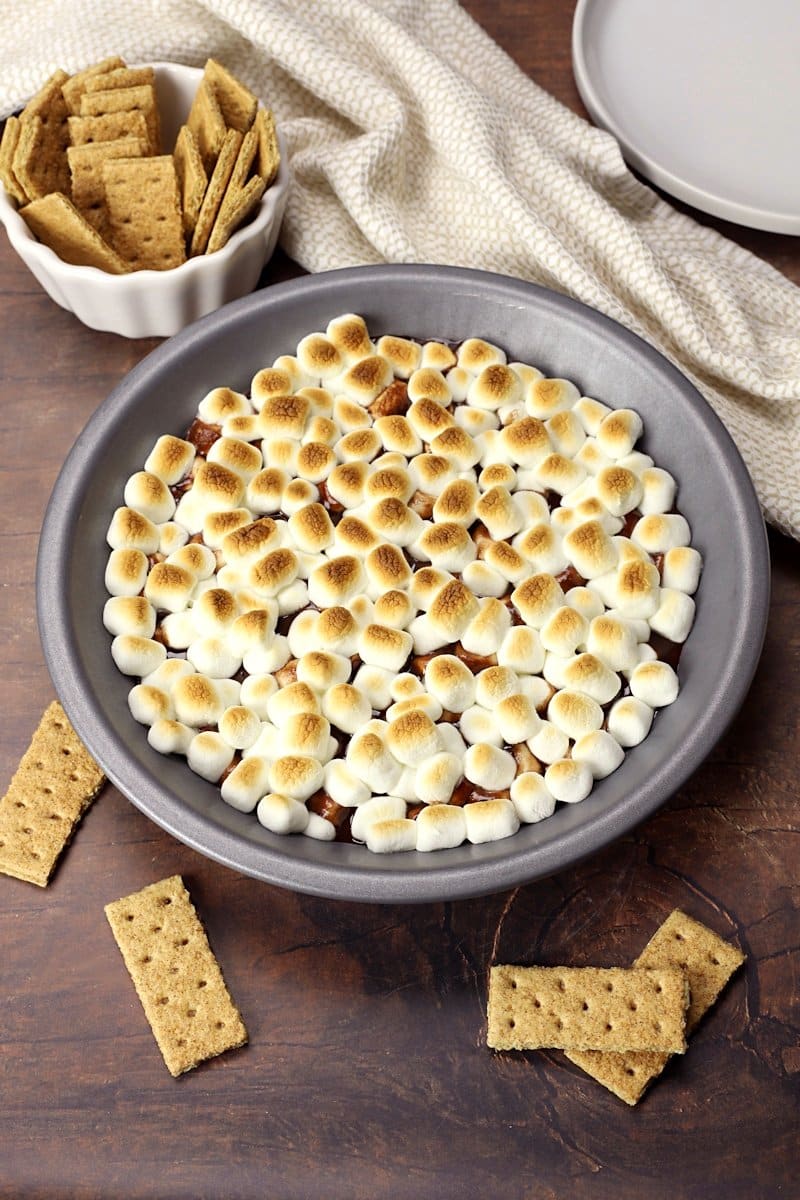 It just doesn't get any easier than s'mores dip! Chocolate ganache gets topped with marshmallows, then broiled for 3 minutes until the marshmallows toast to a gorgeous golden brown.
It takes less than 10 minutes and you only need four ingredients, including graham crackers for dipping!
I love to make this easy dip during movie night for the kids. They go bonkers for it, and frankly so do I.
12. Church Window Cookies
Church window cookies are an old timey classic. They're supposed to look like stained glass windows, hence the name.
These no-bake holiday treats boast multi colored marshmallows and crunchy walnuts wrapped in chocolate ganache and shredded coconut.
Everything is rolled into a log, chilled, and then cut into slices. I find these candy cookies so much fun and slightly addictive.
13. Marshmallow Cornflake Cakes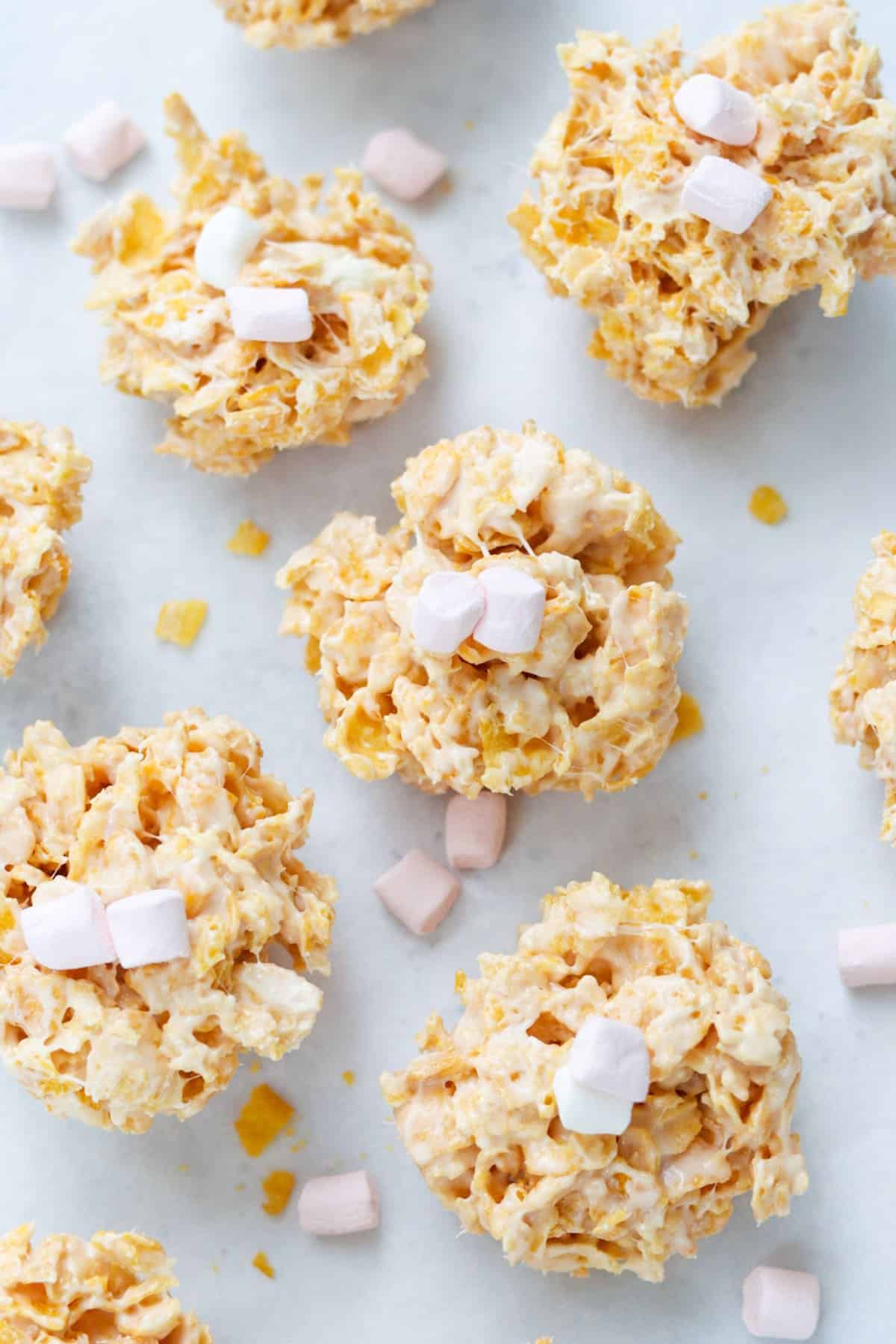 These cornflake cookies are very similar to rice krispie treats. Butter, mini marshmallows, and white chocolate are melted together then tossed with cornflakes.
They're a little bit gooey, a little bit crunchy, and highly addictive! These are perfect little treats for school lunches.
14. Fruit Salad with Whipped Cream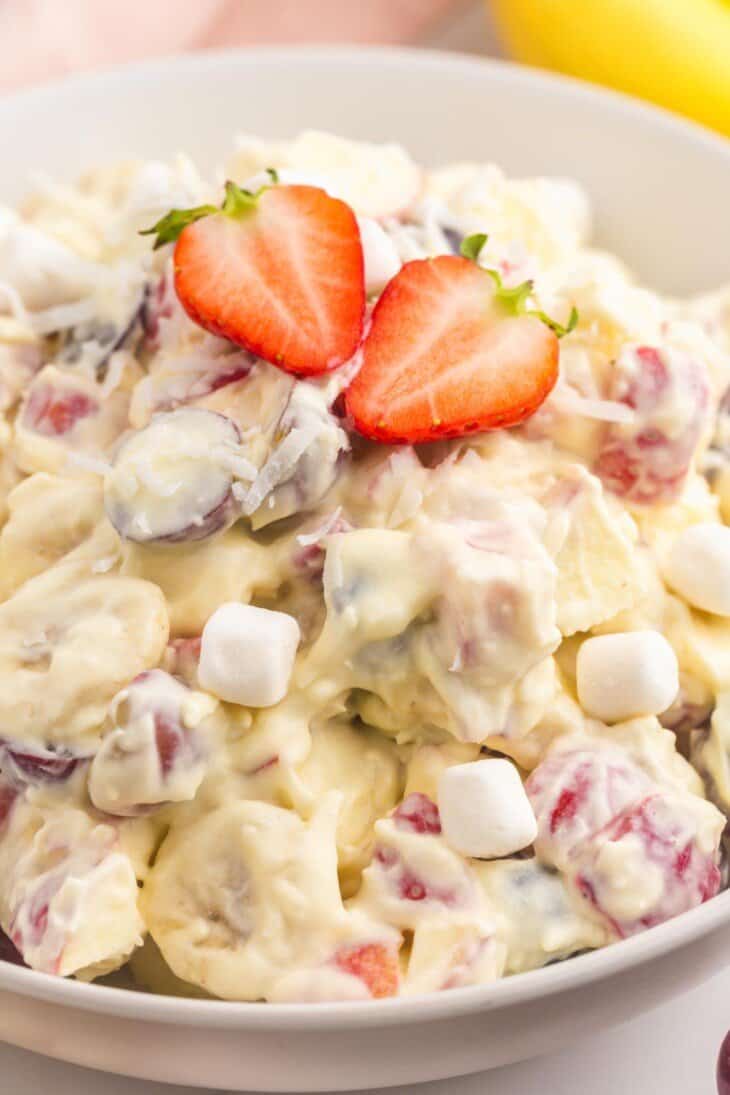 This creamy fruit salad is packed with bananas, grapes, apples, strawberries, and of course, mini marshmallows. The sweet dressing is made with heavy cream, powdered sugar, and a splash of vanilla.
It's a dessert salad that's great for summer barbecues and family get togethers! It's similar to ambrosia salad, but with fresh fruit instead of canned.
15. Avalanche Cookies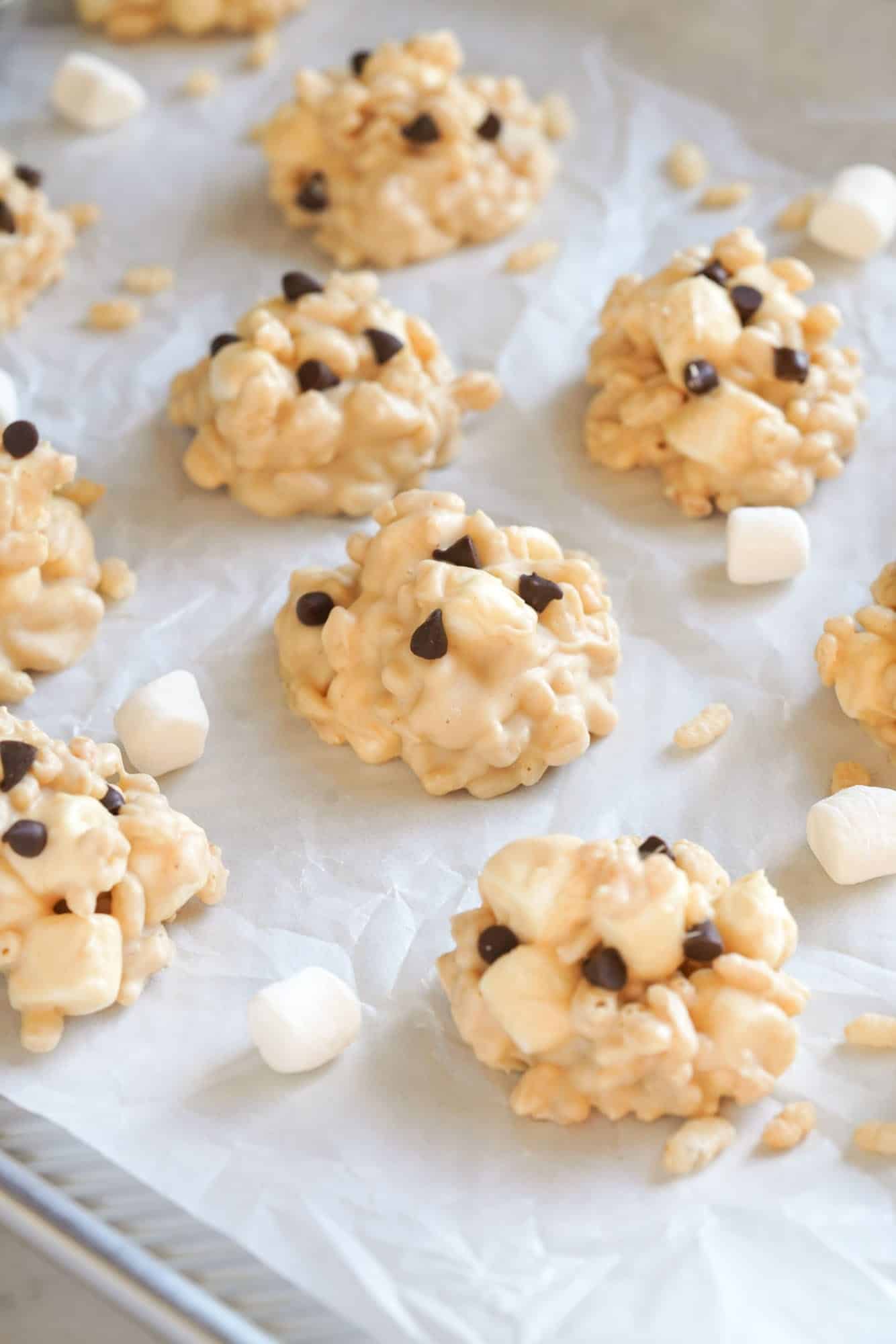 These bite sized cookies come together in a snap! All you have to do is melt peanut butter and white chocolate, then toss in rice krispies and marshmallows.
My kids love to help make these! Even my youngest can help stir and scoop. The combination of pillowy marshmallows, crispy rice cereal, and sweet white chocolate is super delicious.
I can't recommend these enough.
16. Three Ingredient Chocolate Mousse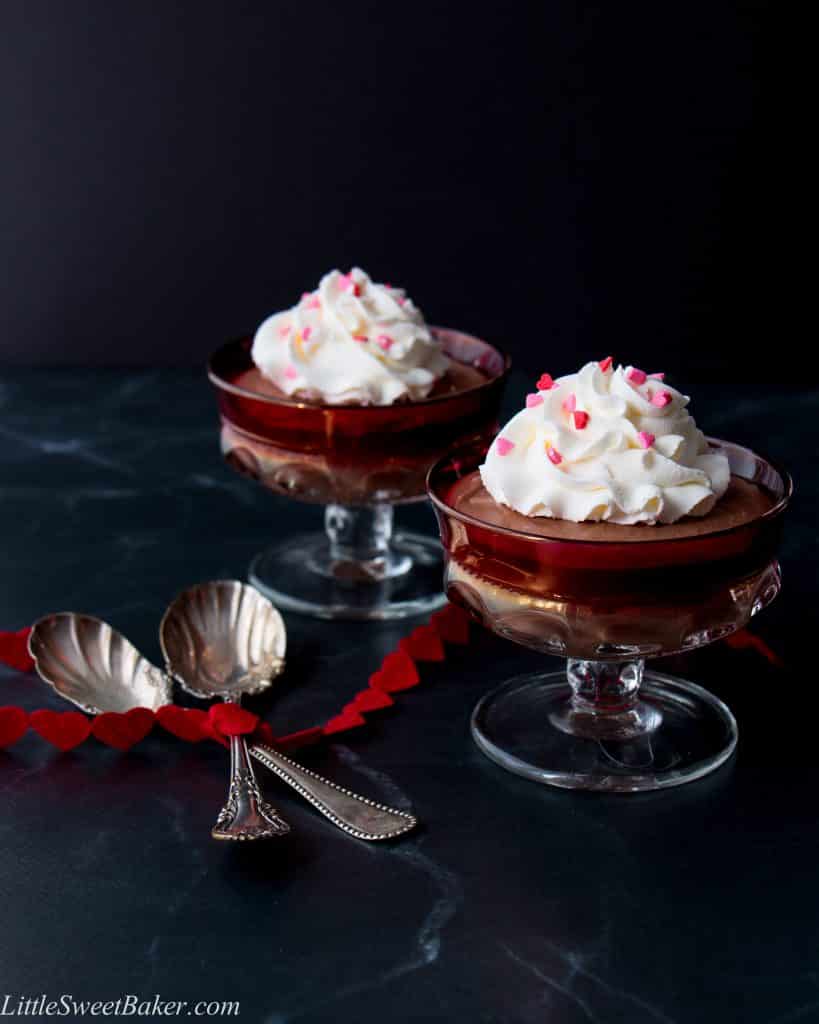 This chocolate mousse is silky smooth, ultra-chocolatey, and light as air. But the best part is it's only three ingredients and it's super easy to make!
No tempering or beating raw egg whites required! Mini marshmallows create a soft and fluffy texture that's heavenly.
Top with whipped cream and chocolate shavings!
17. Chocolate Mousse Cake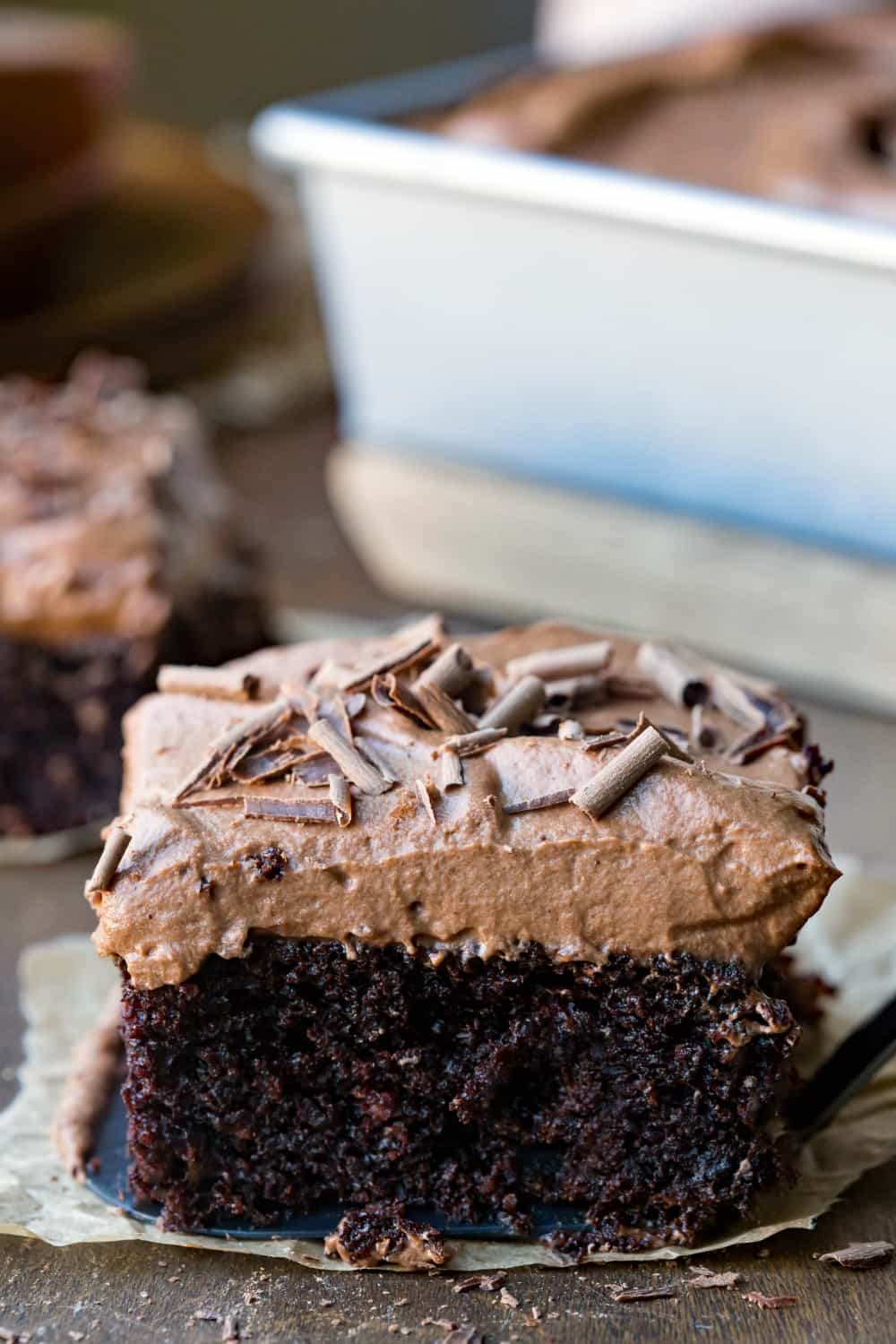 If the picture doesn't sell you on this one, I don't know what will! Chocolate cake is topped with a super rich and creamy chocolate mousse.
The chocolate cake is absolute perfection! It's light, moist, and ultra-chocolatey like any good cake should be. It's perfect for birthday parties, holidays, and family get-togethers.
The mousse frosting is made of melted chocolate, heavy cream, and you guessed it, mini marshmallows!
18. S'mores Scones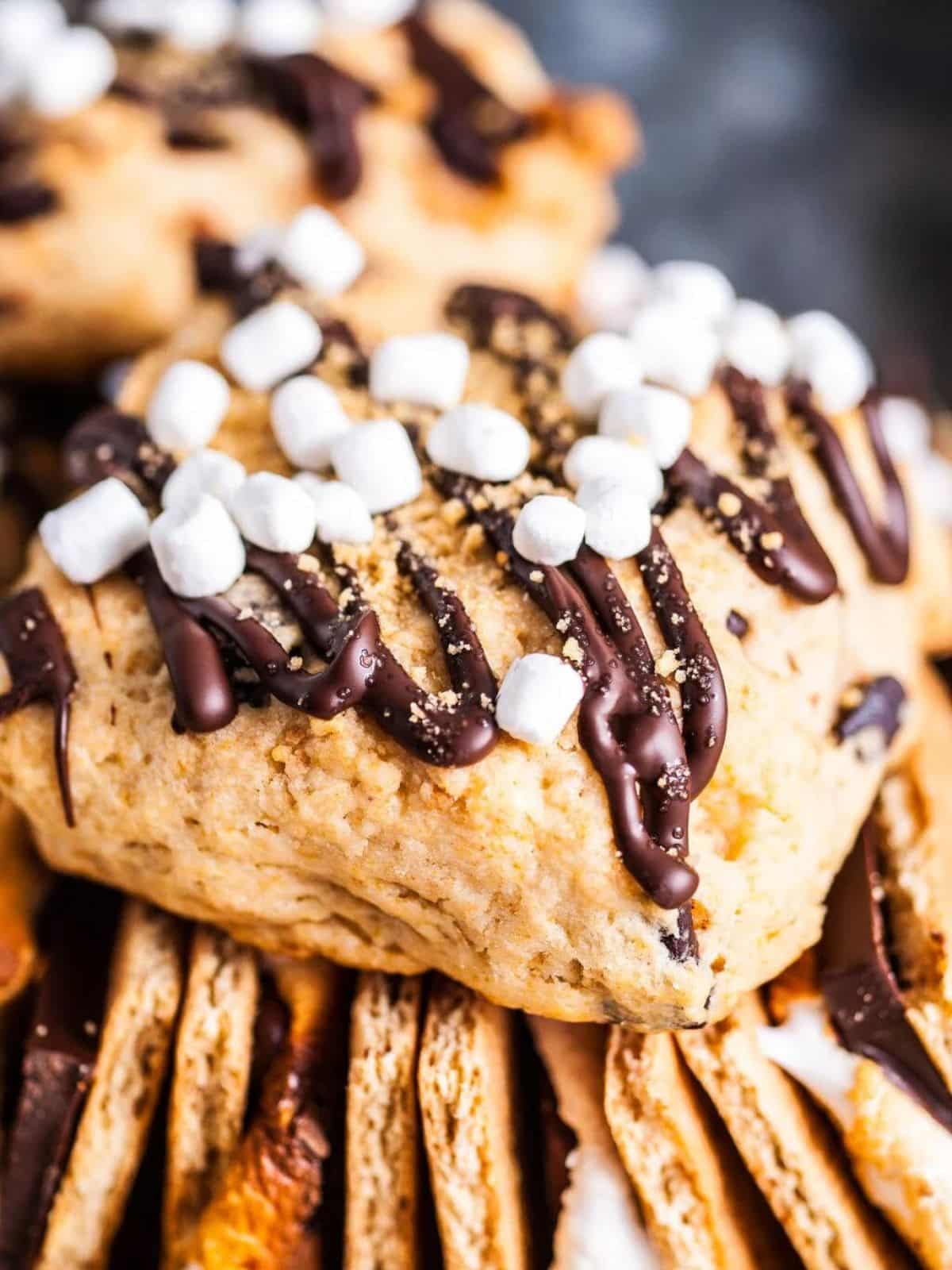 S'mores are the ultimate campfire treat! But sometimes I want the flavor of a s'more without any of the hassle. Meet s'mores scones.
These buttery scones are made with graham crackers crumbs, chocolate chips, and mini marshmallows. They perfectly encapsulate the flavor of a s'more!
Top with a drizzle of melted chocolate and marshmallow sprinkles!
19. Mississippi Mud Cake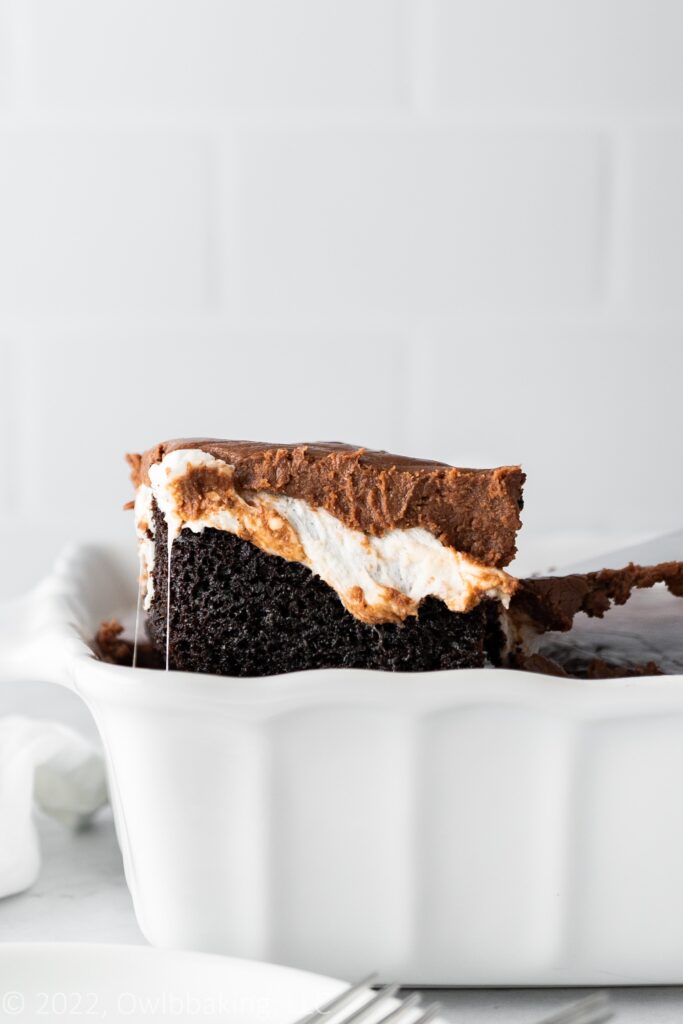 Mississippi mud cake is a rich, super moist chocolate cake that's topped with a layer of gooey marshmallows and a sweet fudge frosting!
The chocolate cake is slightly dense and brownie-like which tastes incredible with the pillowy marshmallow layer. It's TOO good and a total crowd pleaser.
20. S'mores Rice Krispie Treats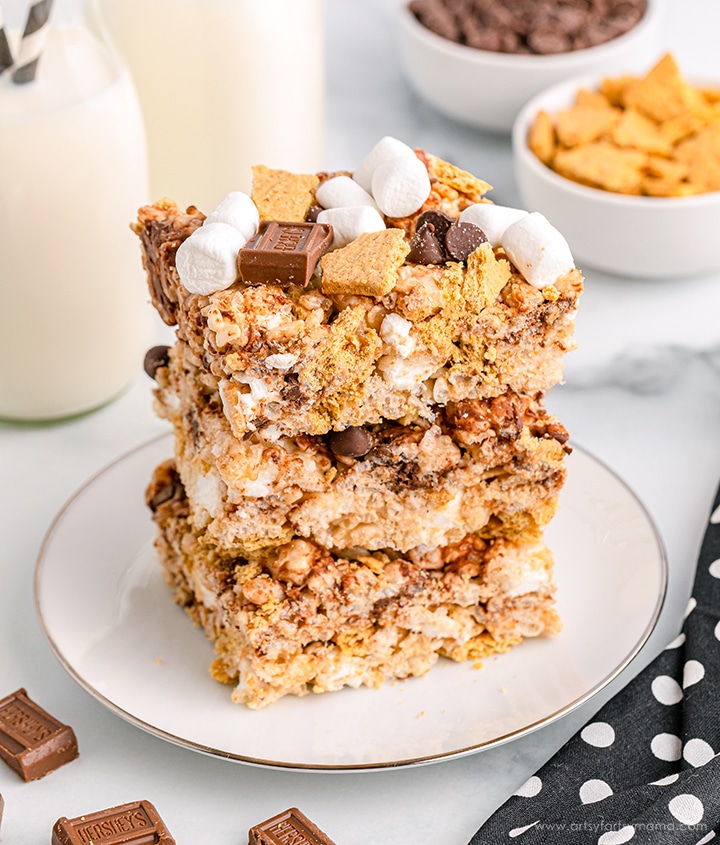 A s'mores rice krispie treat! This mashup is what children's dreams are made of. Gooey homemade cereal treats with crushed graham crackers, chocolate chips, and mini marshmallows.
Make sure to top them with extra marshmallows, grahams, and Hershey's pieces to make them completely irresistible! It's super fun and nobody will wonder what flavor they are.
21. Confetti Squares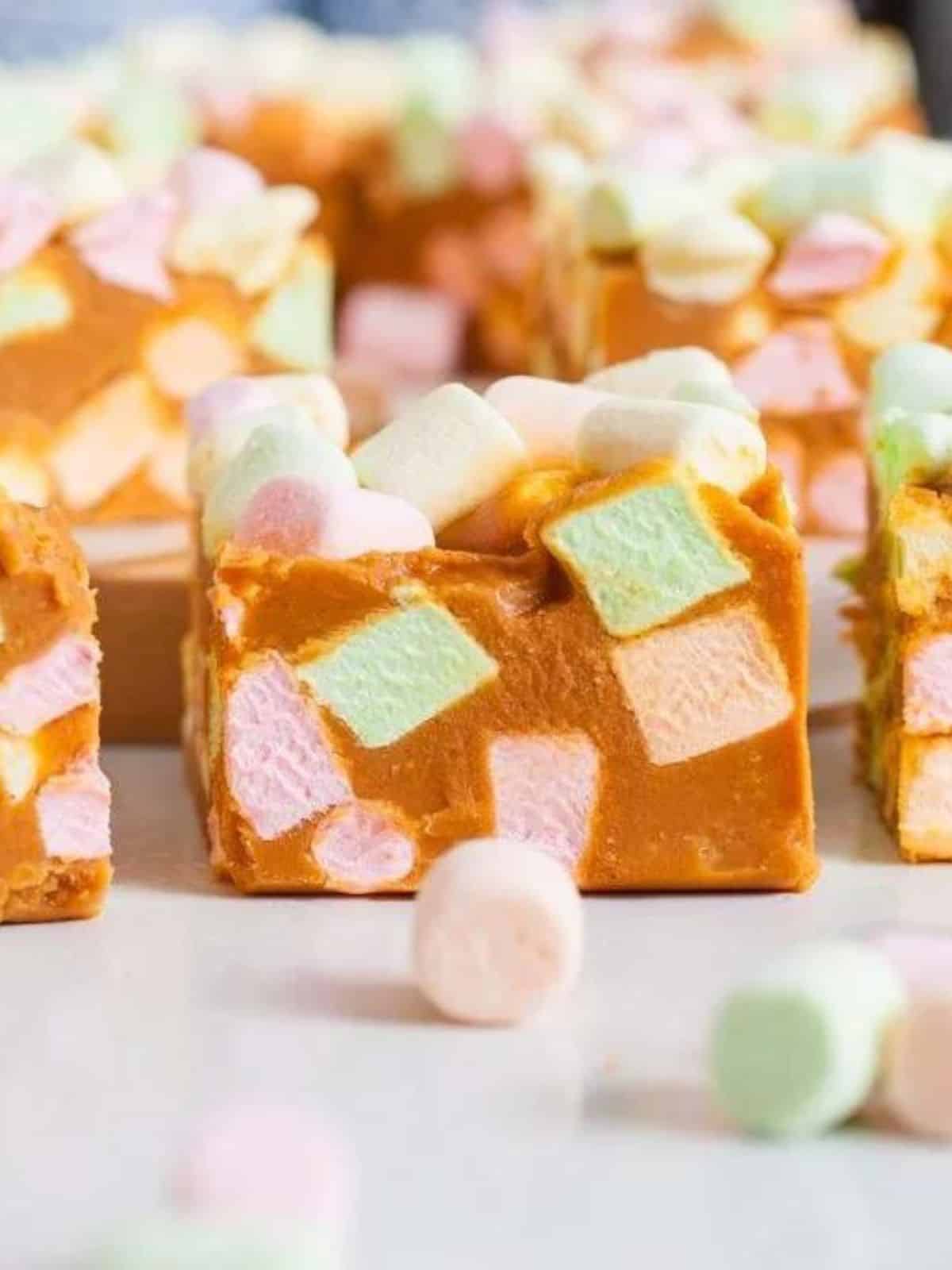 If you love butterscotch, these confetti squares are the treat for you! These no-bake treats are only six ingredients and a cinch to make.
All you have to do is melt the peanut butter, butterscotch, and butter, then toss it with colored marshmallows.
FAQs
How many mini marshmallows equal one regular sized marshmallow?
One large marshmallow equals about 10 mini marshmallows.
Can you make rice krispies with stale marshmallows?
No, don't use old marshmallows in cereal treats! They don't melt well and the treats won't be as gooey or soft as they should be.