Looking to use up those frozen bananas in your freezer? With 17 delicious frozen banana recipes, we got you covered! You can make everything from ice cream to smoothies and banana bread.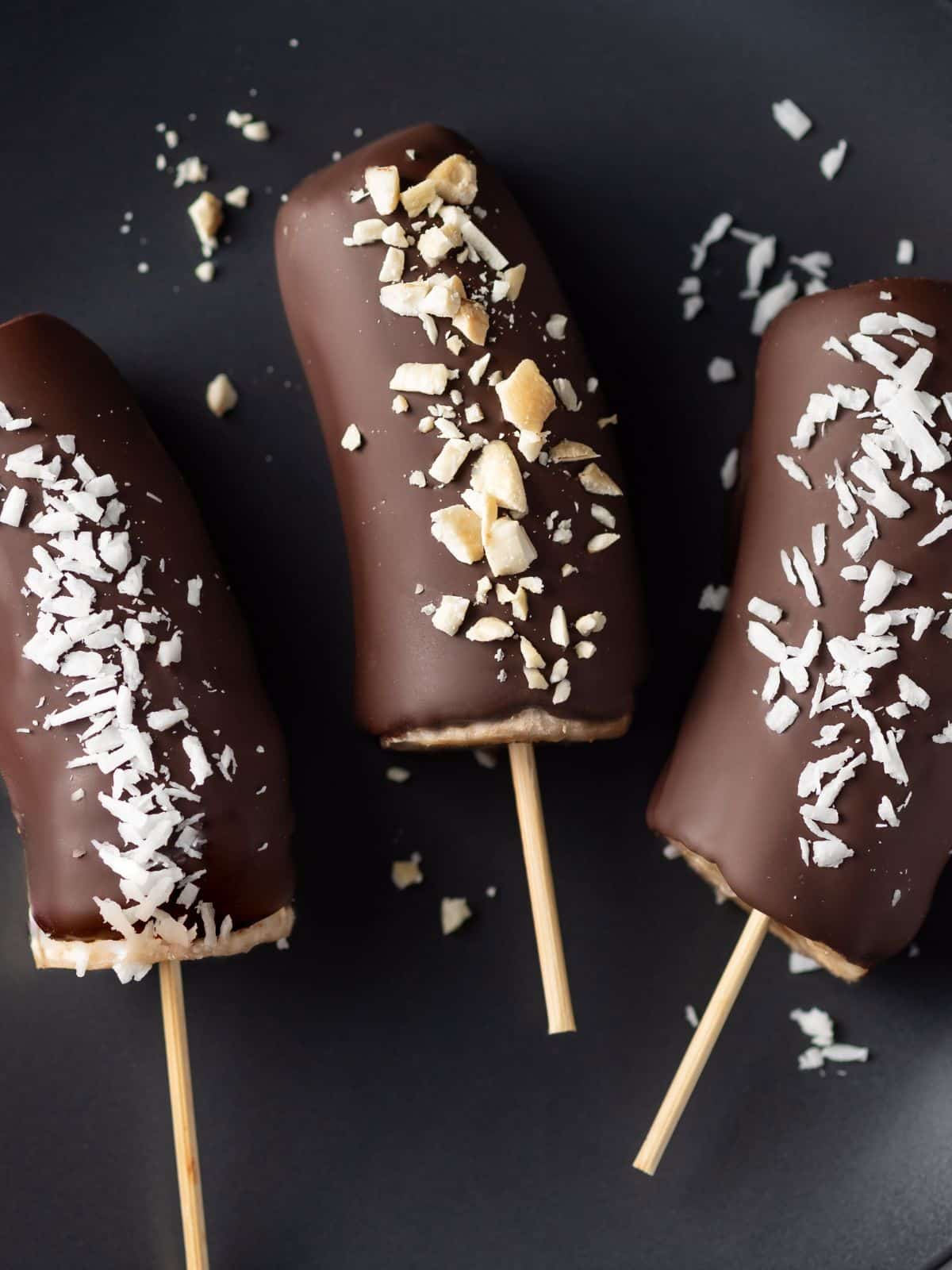 Don't toss your overripe bananas! Freeze them instead, then use them in these swoon-worthy frozen banana recipes.
Everyone in the family will love these frozen banana desserts.
How to Freeze Bananas
Bananas are easy to freeze! Be sure to freeze yellow, ripe bananas since they're naturally sweeter than green bananas.
Don't be afraid of a few spots either! Spotty bananas are nice and ripe. Just avoid bananas that are squishy or moldy.
You can freeze bananas whole, halved, sliced, or mashed!
When I'm feeling lazy, I just slice up a banana, throw it into a Ziplock bag, and place it in the freezer. The slices stick together, but it gets the job done!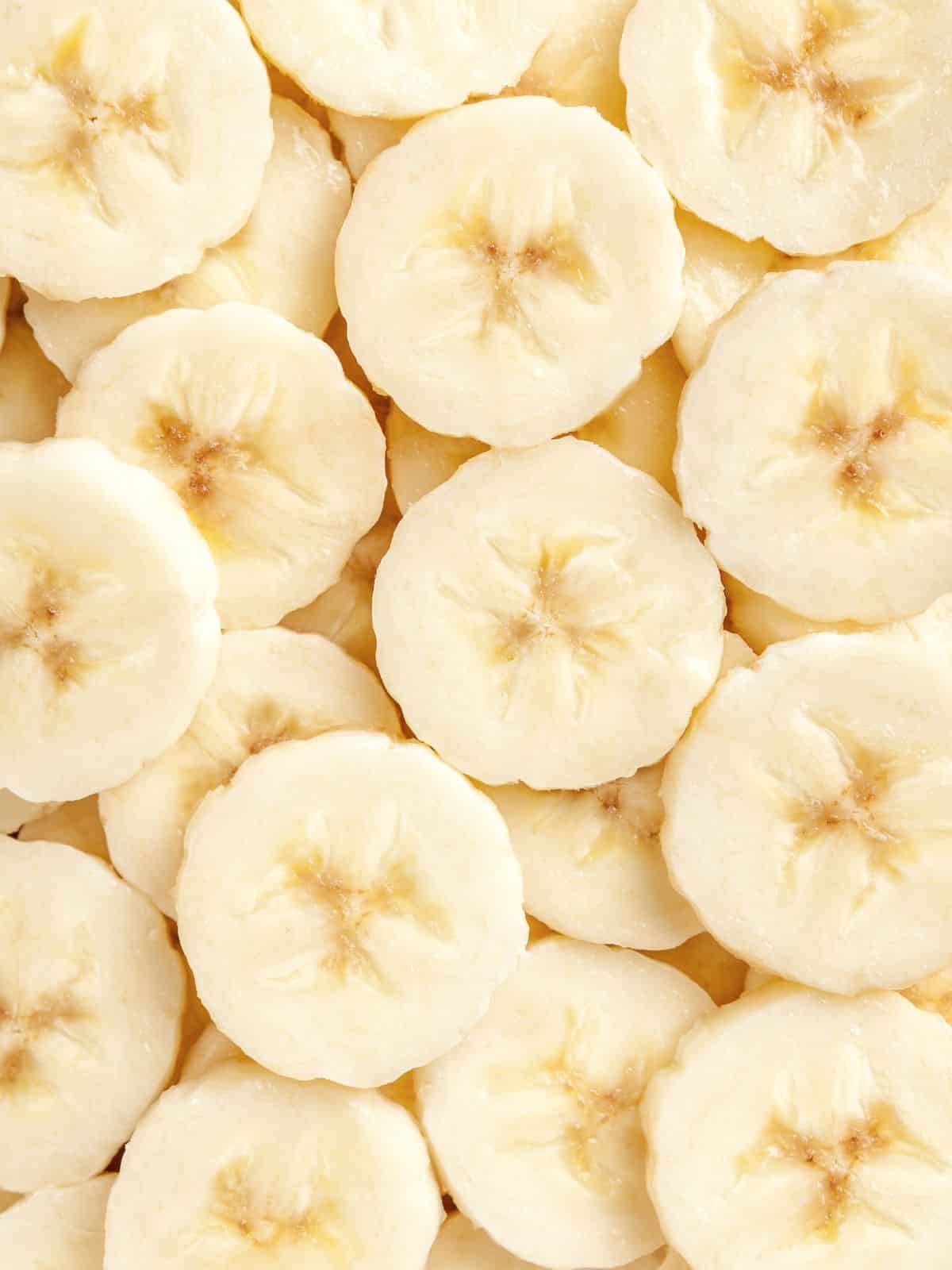 Here's four different methods to freeze your ripe bananas:
Whole - Peel the banana and place it into a zip-top freezer bag. If you plan to freeze lots of bananas, it's best to freeze them on a sheet pan first so they don't stick together. Once they're frozen, transfer them to a zip-top freezer bag.
Halves - Peel and cut the bananas in halves. Place the halves on a baking sheet and freeze until solid. Transfer to a zip-top freezer bag.
Slices - Slice the bananas into 1-inch thick rounds, then arrange them on a parchment-lined sheet pan. Freeze for at least 2 hours, or until solid. Transfer to a freezer-safe zip-top bag.
Mashed - For quick-breads, muffins, or pancakes! Mash the bananas well with a fork. Freeze ½ cup portions in a silicone muffin pan until frozen solid. Pop the banana discs out of the silicone and transfer to a zip-top freezer bag.
Once you've frozen your bananas, remember to label the zip-top bag with the date so you know how long your bananas have been in the freezer!
Jump to: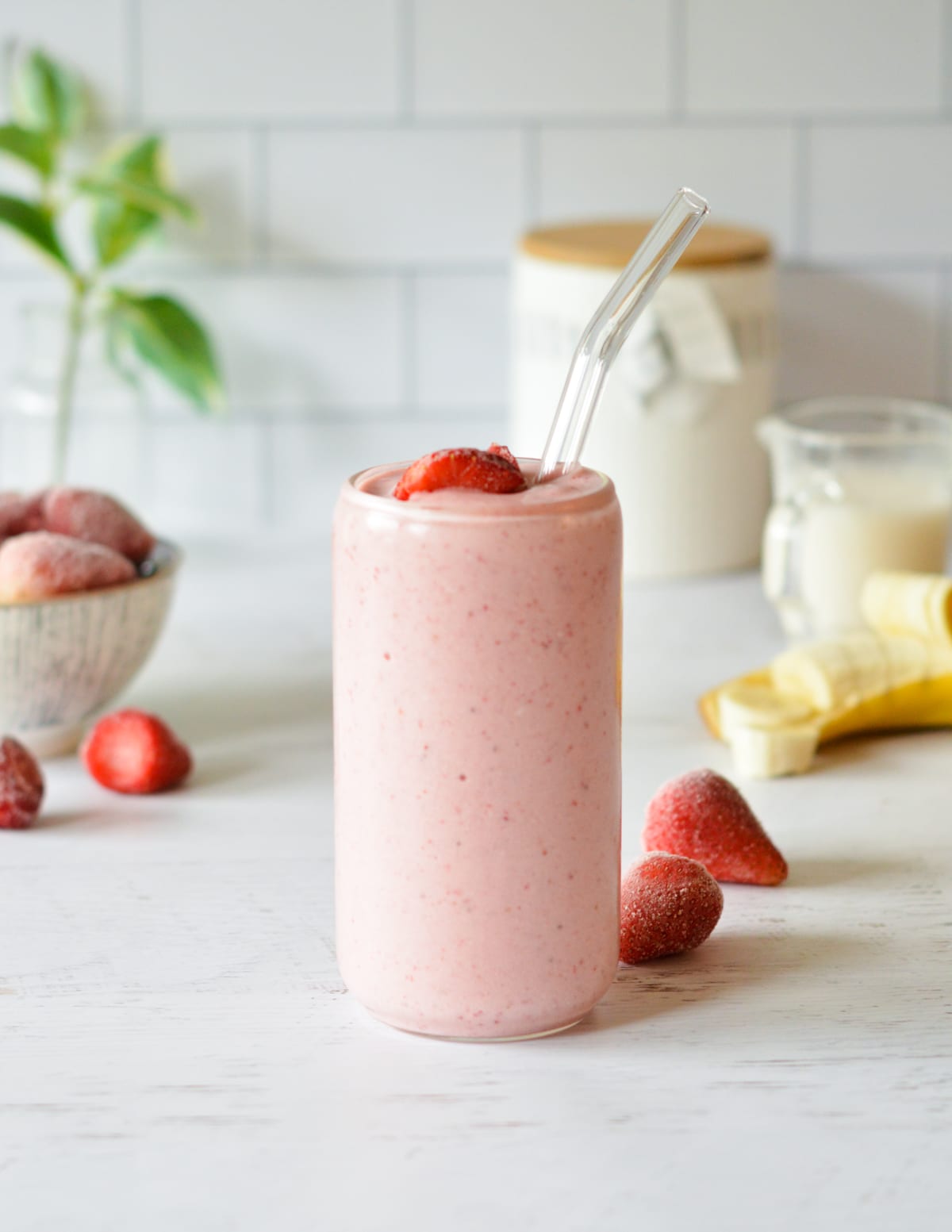 Ways to Use Frozen Bananas
Frozen bananas are such a great way to preserve bananas without tossing them in the trash! Here's a few simple ways I like to use them, even when I don't have a recipe:
Smoothies - Frozen bananas thicken a smoothie without the need for ice! This is especially helpful when you're not using other frozen fruit, like in chocolate smoothies.
Smoothie bowls - Smoothie bowls are just smoothies with less liquid. They're a thick, scoopable consistency, so they can be enjoyed in a bowl with toppings and a spoon! Frozen bananas create a super creamy texture! You can pair them with berries or other fruit to create different flavors.
Nice cream - Just blend frozen banana chunks in a blender or food processor with just enough milk to get them moving. It turns into a soft serve consistency and taste great with toppings!
Chocolate dipped - Peel and cut the bananas in half. Add popsicle sticks and freeze. Dip in melted chocolate and roll in your favorite toppings!
If you prefer a frozen banana recipe, keep reading for plenty of delicious ones!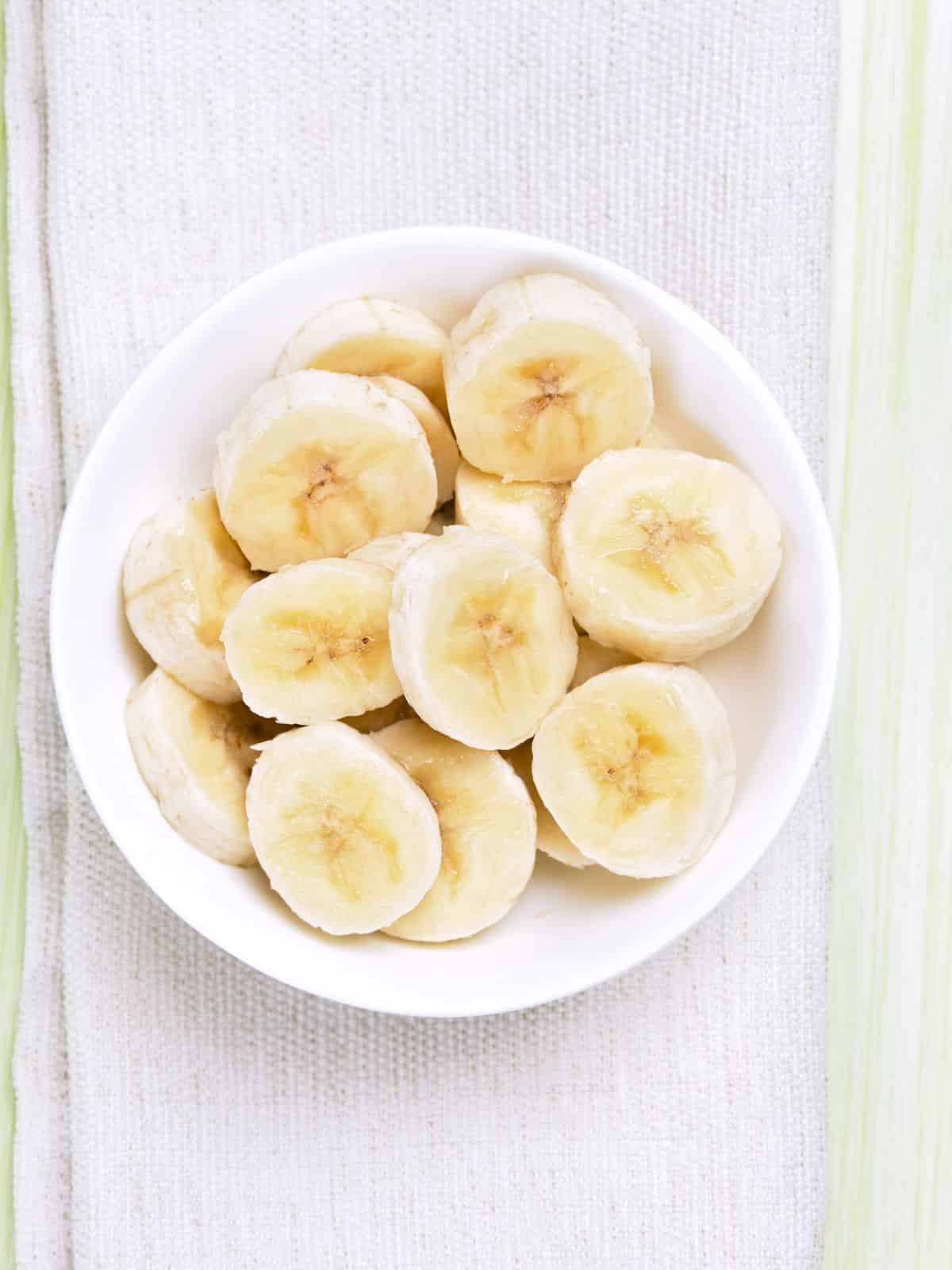 Recipes that Use Frozen Bananas
The recipes below use frozen bananas, meaning you don't need to thaw them first! Frozen bananas are ideal when you want to thicken something sweet, like ice cream, smoothies, and smoothie bowls!
For smoothies and smoothie bowls, I prefer to use frozen banana slices because it's easier on your blender!
Banana Smoothie Bowl
This banana smoothie bowl is ultra-creamy and the perfect base for any and ALL toppings! It's quick and easy, with only two ingredients. It's naturally gluten-free, dairy-free, and vegan!
Just blend up frozen bananas with almond milk in a high-speed blender until thick and silky smooth.
Scoop the banana mixture into a large bowl and add your favorite toppings! Try berries, cacao nibs, granola, shredded coconut, nut butter, mini chocolate chips, or fresh fruit.
Banana Bread with Frozen Bananas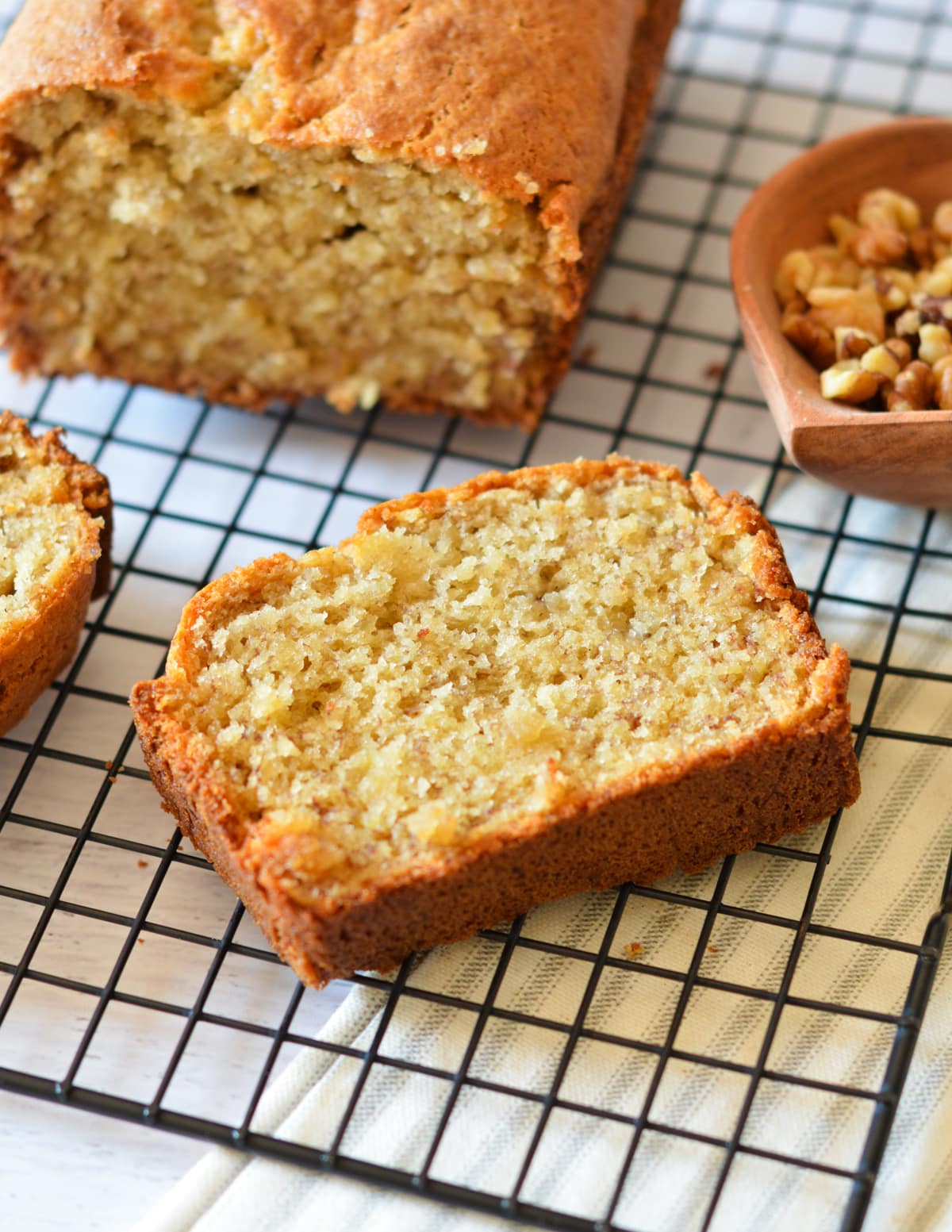 If you're on the hunt for a moist, dangerously good banana bread. This one is it! I have zero self control when I make this. It's just THAT good!
It's easy to make and it calls for frozen bananas!
Banana Nice Cream with Coconut & Lime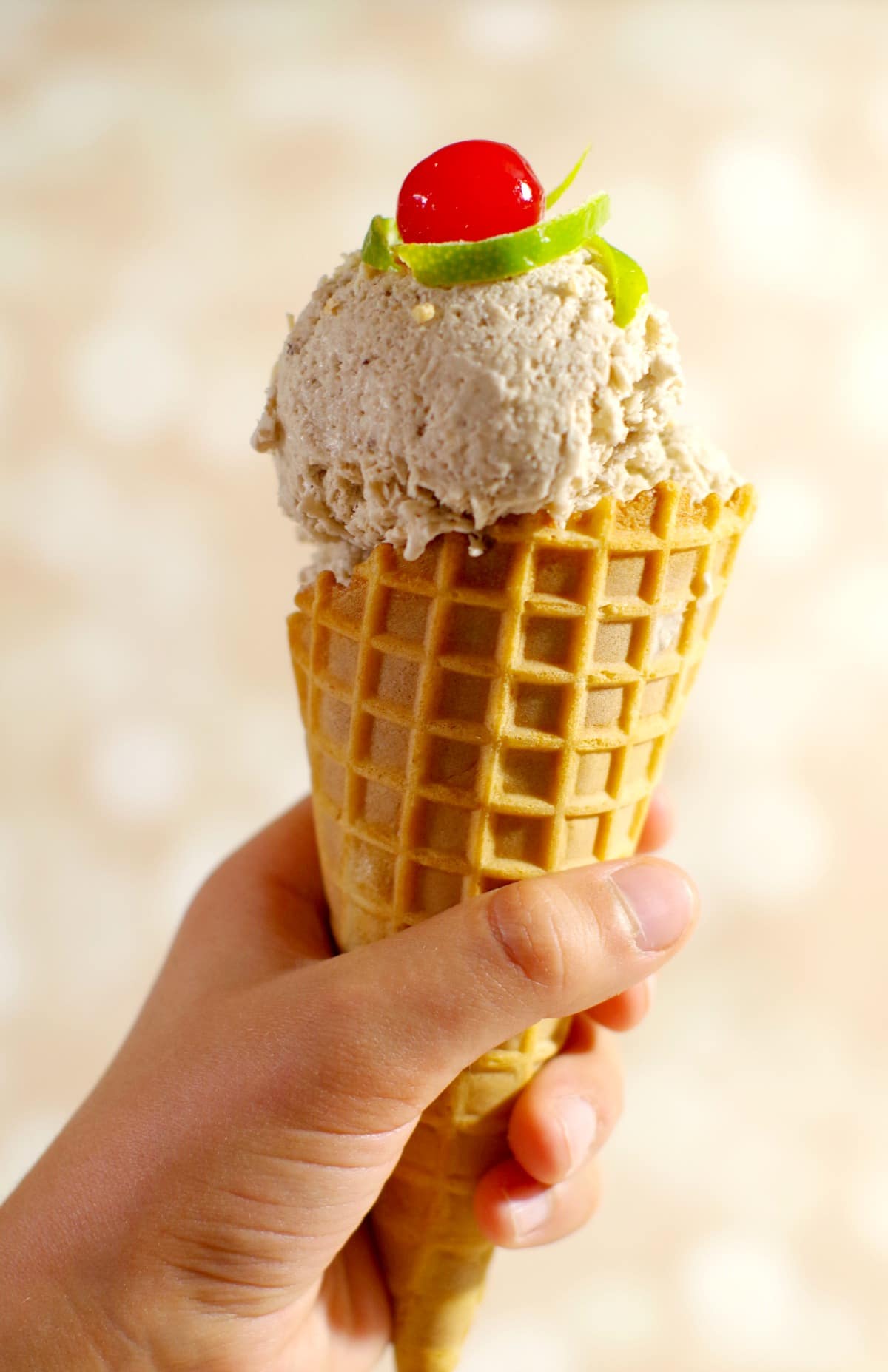 Banana nice cream with a twist! Banana nice cream is just a term for frozen bananas that have been blended into a soft serve consistency. You can flavor it with cocoa powder, peanut butter, or fruit.
This version gets a tropical upgrade with rum, coconut milk, and lime zest. It's a super simple, healthy dessert to curb those ice cream cravings!
Strawberry Banana Milkshake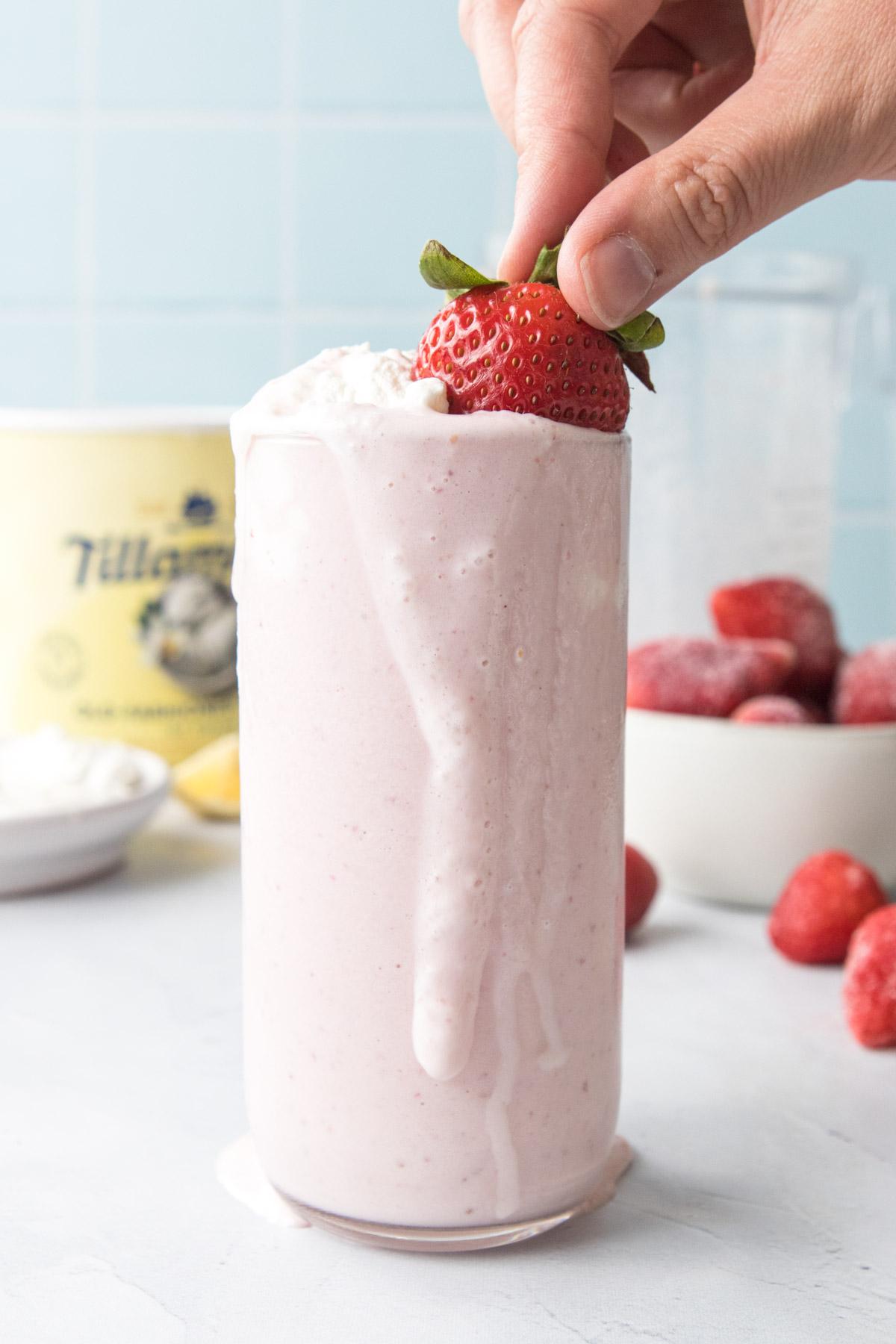 A classic milkshake! This strawberry banana milkshake is ultra-creamy and irresistibly delicious. It's made with frozen banana, strawberries, and vanilla ice cream.
I like to add a hefty dollop of whipped cream to the top and a few strawberry slices. This simple treat is only 5 basic ingredients. I keep them on hand at all times (for milkshake emergencies!).
Banana Kale Smoothie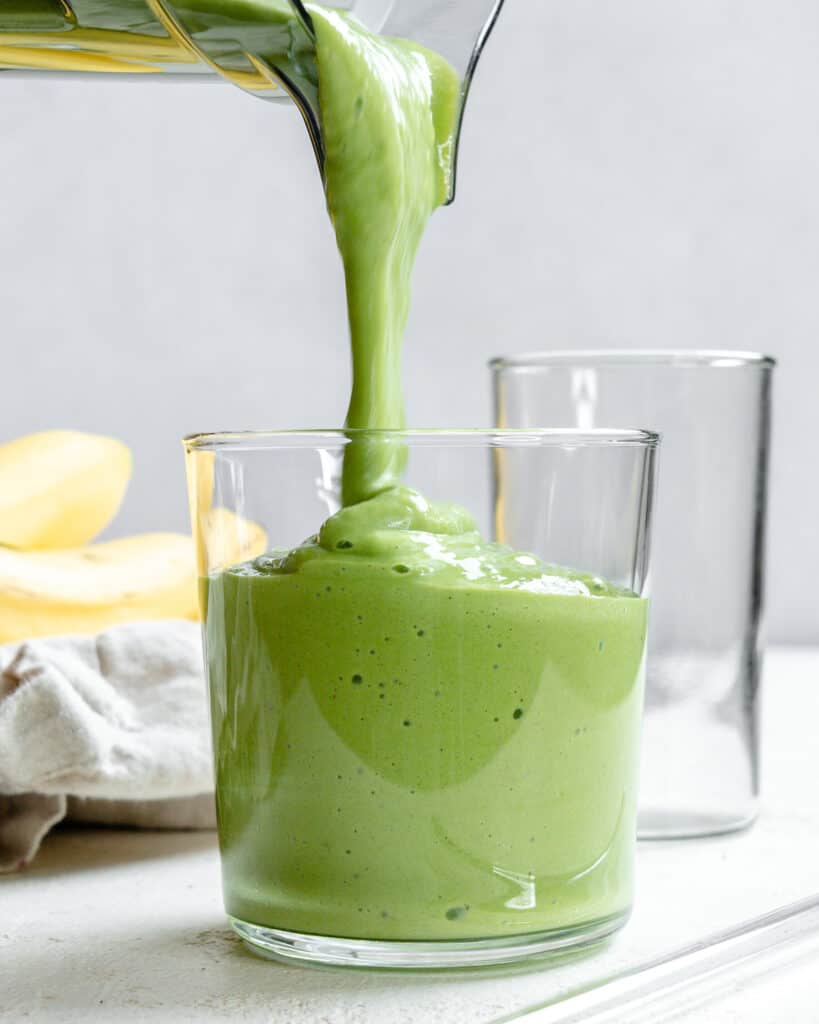 Frozen bananas are an ideal way to thicken smoothies! They won't water them down, like ice does, and they naturally sweeten them.
This banana kale smoothie is a great beginner green smoothie. It's just three simple ingredients and it's packed with antioxidants, fiber, and vitamins.
If you don't have a high-speed blender, I recommend swapping the kale with nutrient-dense baby spinach!
Banana Bread Nice Cream
Another take on banana nice cream, except this one tastes like a slice of banana bread! It's warmly spiced with cinnamon and vanilla, plus it has a scoop of nutty almond butter in it.
This healthy treat is gluten-free, paleo, and vegan! Swap the room temperature bananas with frozen banana chunks to skip the 4 hour freezing time at the end.
Oatmeal Cookie Smoothie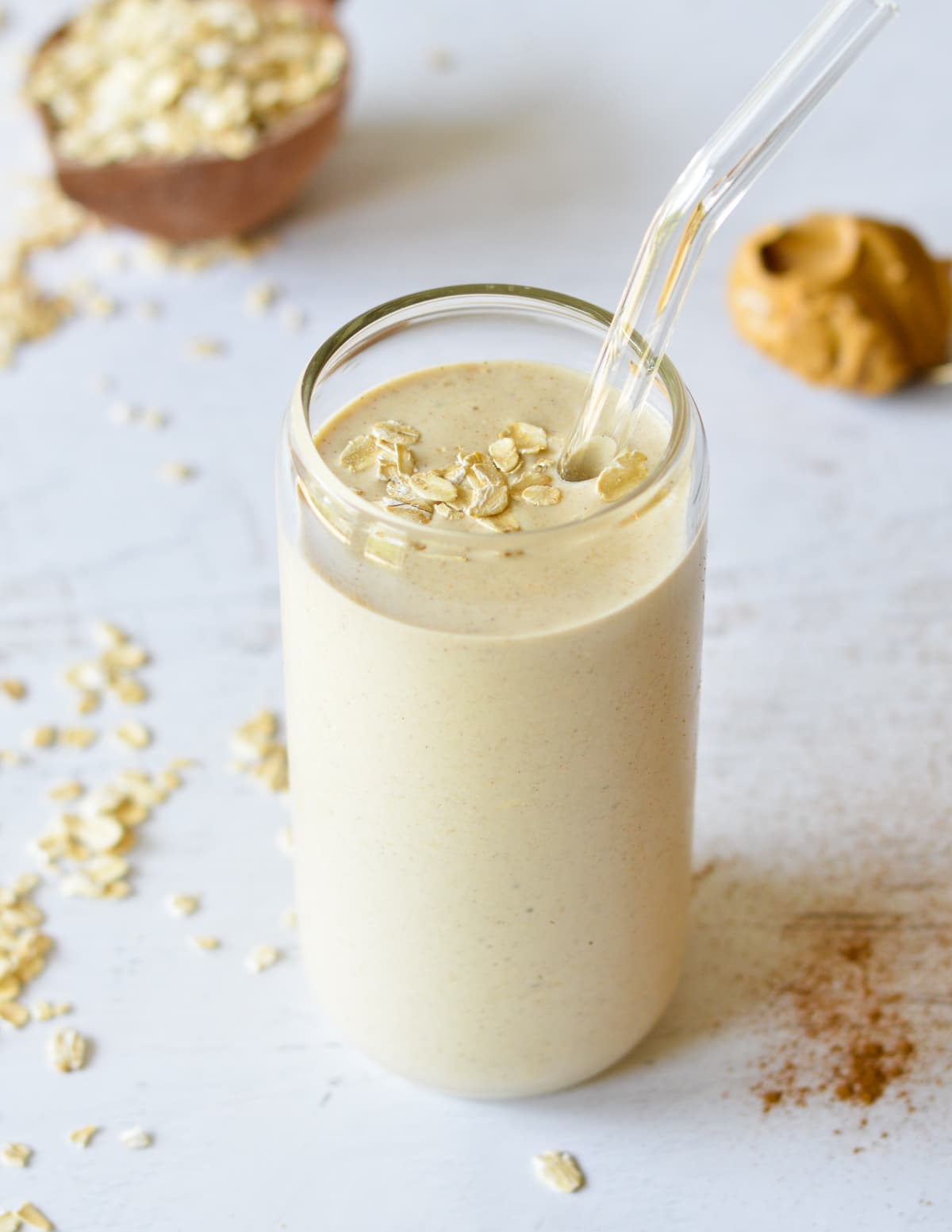 This oatmeal smoothie tastes like a lightly spiced oatmeal cookie! Frozen bananas, peanut butter, and rolled oats create a sweet and creamy base!
Although it tastes like an indulgent treat, it's actually made with feel-good, immune-boosting ingredients.
If you haven't tried oats in a smoothie yet, this smoothie will be a sweet surprise.
Eggnog Milkshake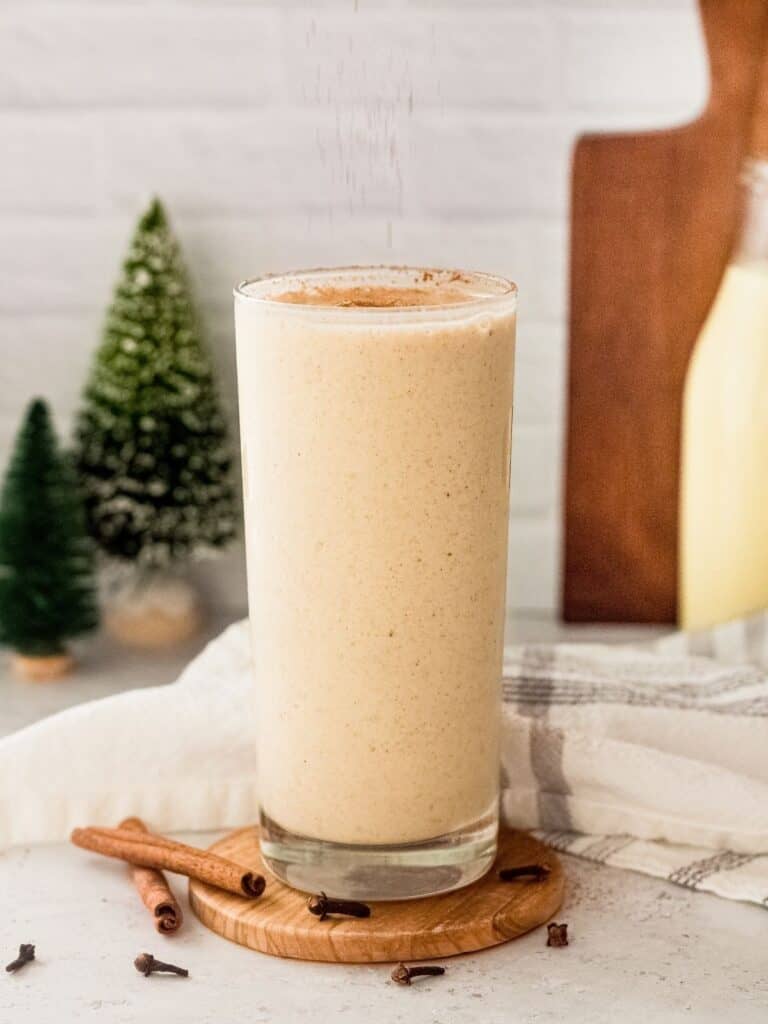 This creamy eggnog shake is for eggnog lovers everywhere! It's indulgent enough to curb your milkshake cravings, but nutritious enough to drink for breakfast. Score!
A frozen banana creates a rich and creamy base, while eggnog, spices, and protein powder bolster the flavor.
It's perfect for the holidays!
Recipes that Use Thawed Frozen Bananas
You can use frozen bananas in baked goods like muffins, pancakes, bars, and Bundt cakes! You just need to thaw the frozen bananas first.
If the recipe calls for mashed banana, just let your frozen bananas thaw on the counter first, then mash as directed. Or thaw your pre-mashed bananas and then measure for the recipe!
Banana Cinnamon Overnight Oats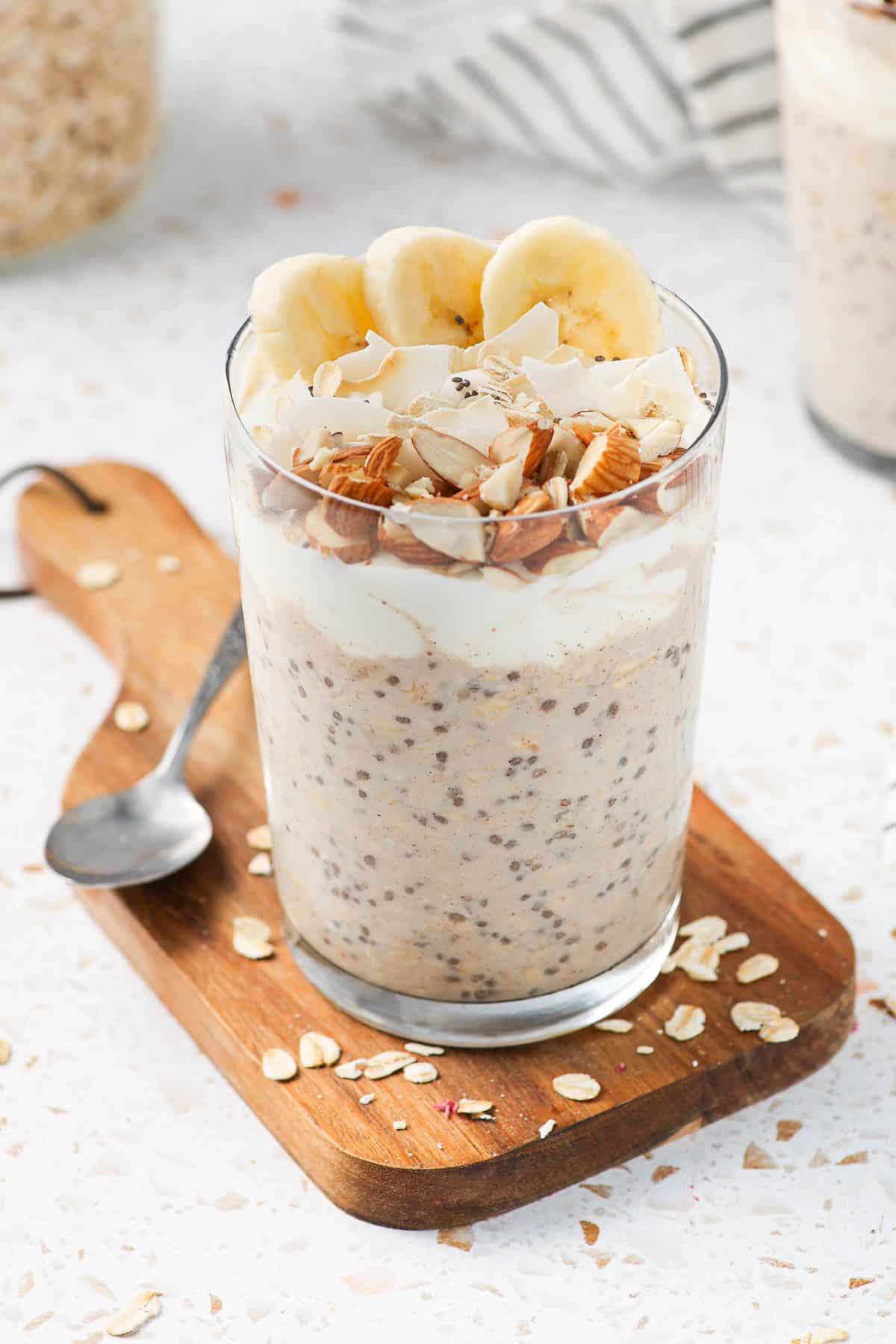 Overnight oats are one of my favorite breakfasts for busy mornings! They have a slightly chewy and irresistibly creamy texture, plus they're easy to customize.
This version is sweetened with mashed banana and maple syrup, with a tablespoon of chia seeds for plant-based protein and healthy fats.
Sourdough Banana Muffins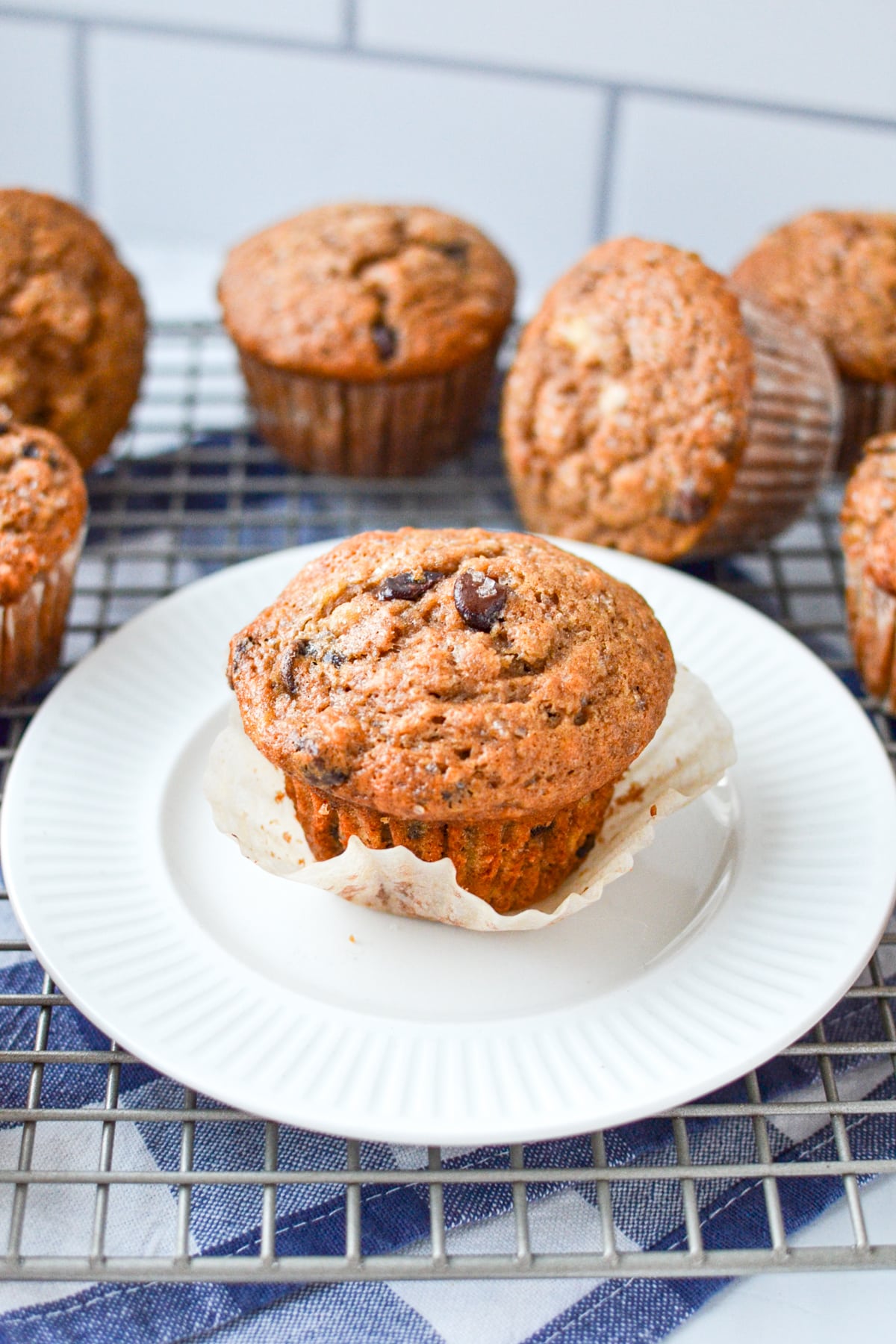 These sourdough discard banana muffins are a great way to use up your leftover discard! Plus they're light and moist with a nice banana flavor.
They make a great grab-and-go breakfast, especially for picky kiddos! You can add chocolate chips, walnuts, or raisins if you like.
Banana Bread Bundt Cake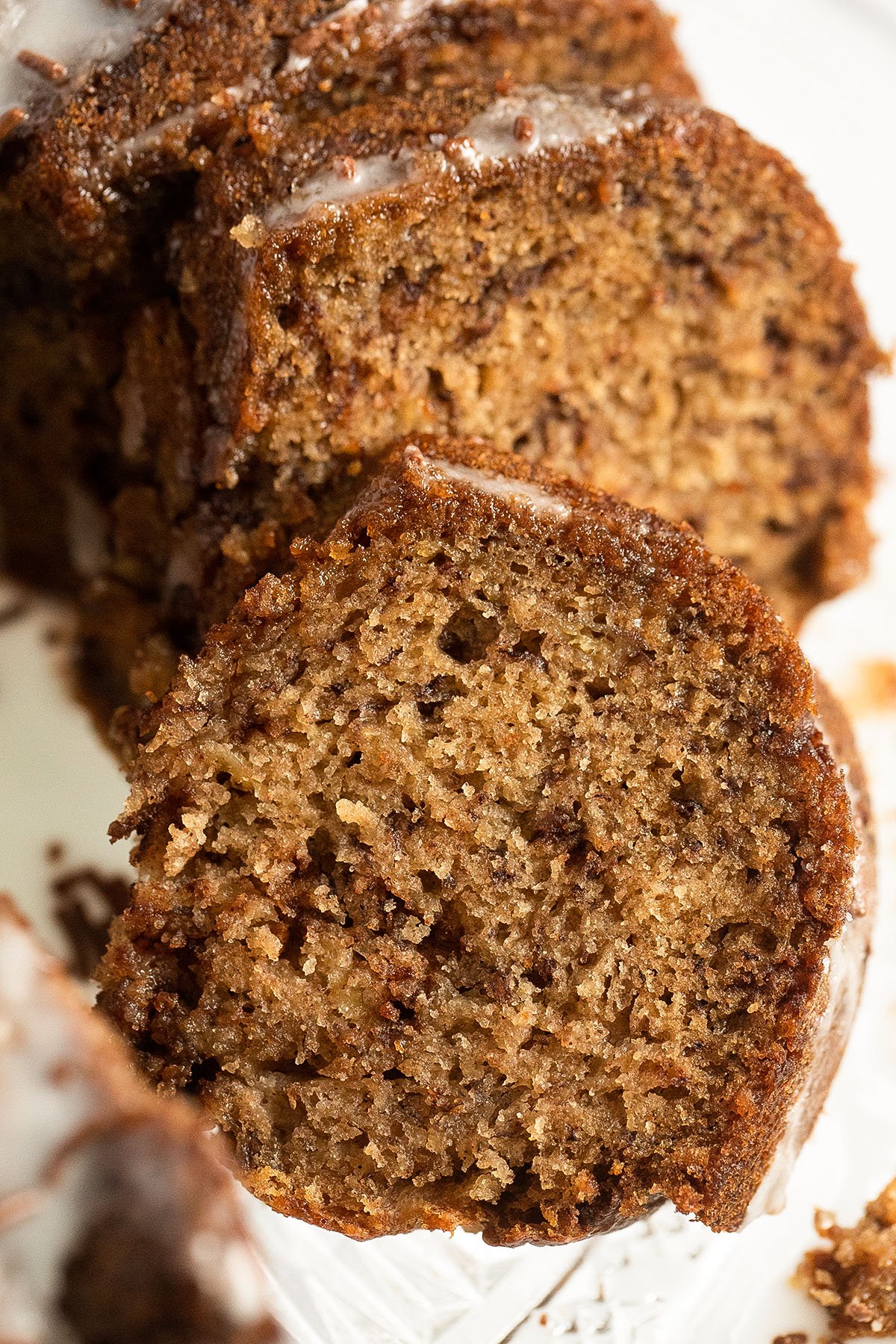 Banana bread gets a lovely makeover in a Bundt cake pan! This banana bundt cake is made with pantry staples and comes together in minutes.
It features a soft and moist crumb, plus it doubles as dessert or breakfast. You can freeze individual slices and pop one in the microwave for a few seconds to warm it up!
You just need to thaw three frozen bananas and mash them with a fork.
Dairy-Free Banana Muffins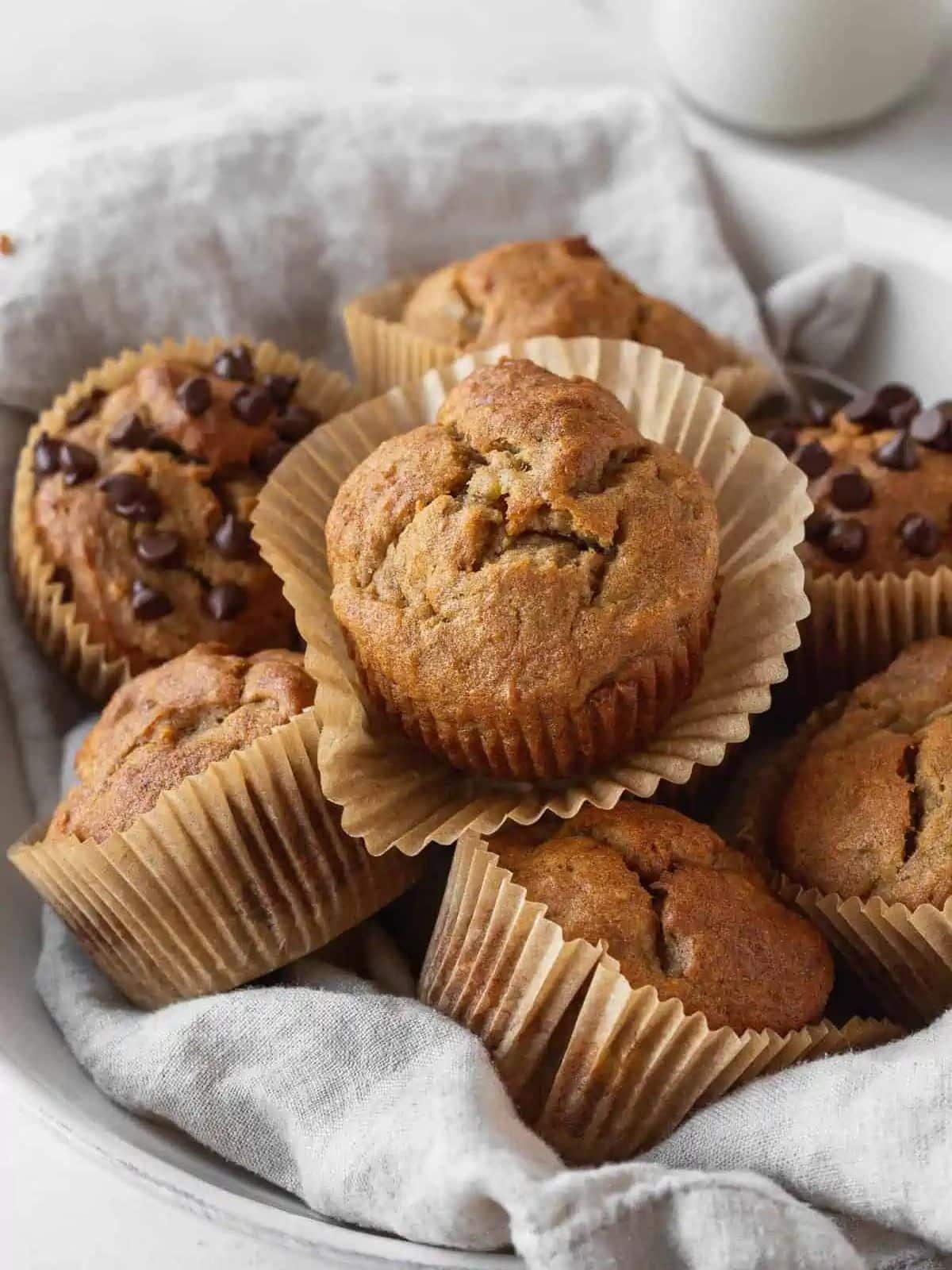 These banana muffins are dairy-free, but just as moist and light! You only need 15 minutes to prep and pop them in the oven.
Another great muffin recipe to stock your freezer! These portable muffins can be frozen for up to 6 months. Just pop one in the microwave for a super quick breakfast or snack.
Almond Flour Banana Muffins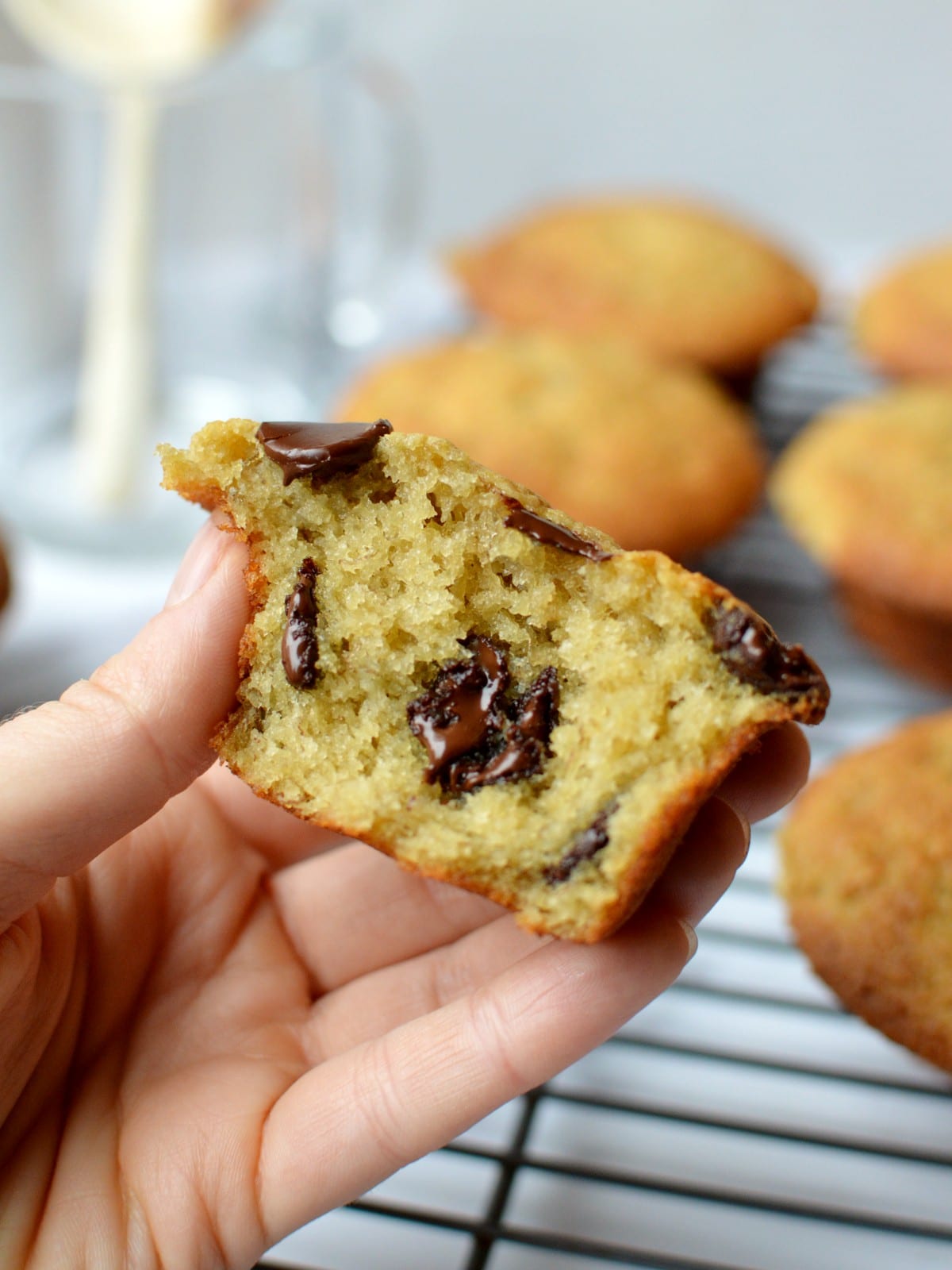 Almond flour is one of my latest obsessions! When done right, it creates a light and airy texture with a slightly addictive nuttiness.
These almond flour banana muffins are light, moist, and sweet, plus they're naturally gluten-free and dairy-free!
This recipe calls for ¾ cup of mashed banana. Just mash your thawed banana, then measure it as directed.
Banana Cake with Chocolate Frosting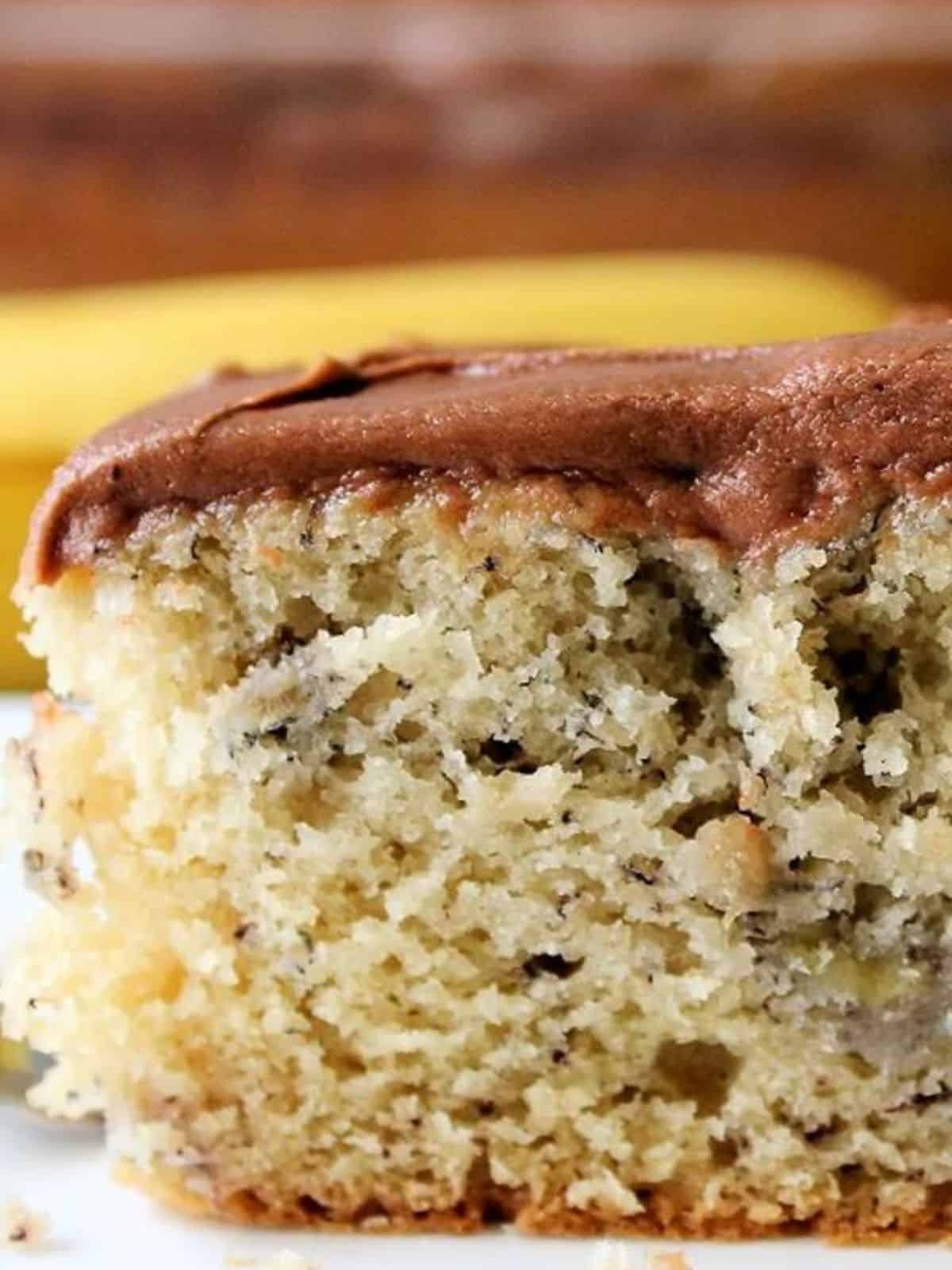 A light and super moist banana cake with chocolate frosting! Chocolate and banana are a match made in heaven. This humble cake is made in a casserole dish, then slathered with the best chocolate icing.
It's perfect for potlucks and get-togethers. It vanishes quickly though so save yourself a slice!
3-Ingredient Banana Oatmeal Bars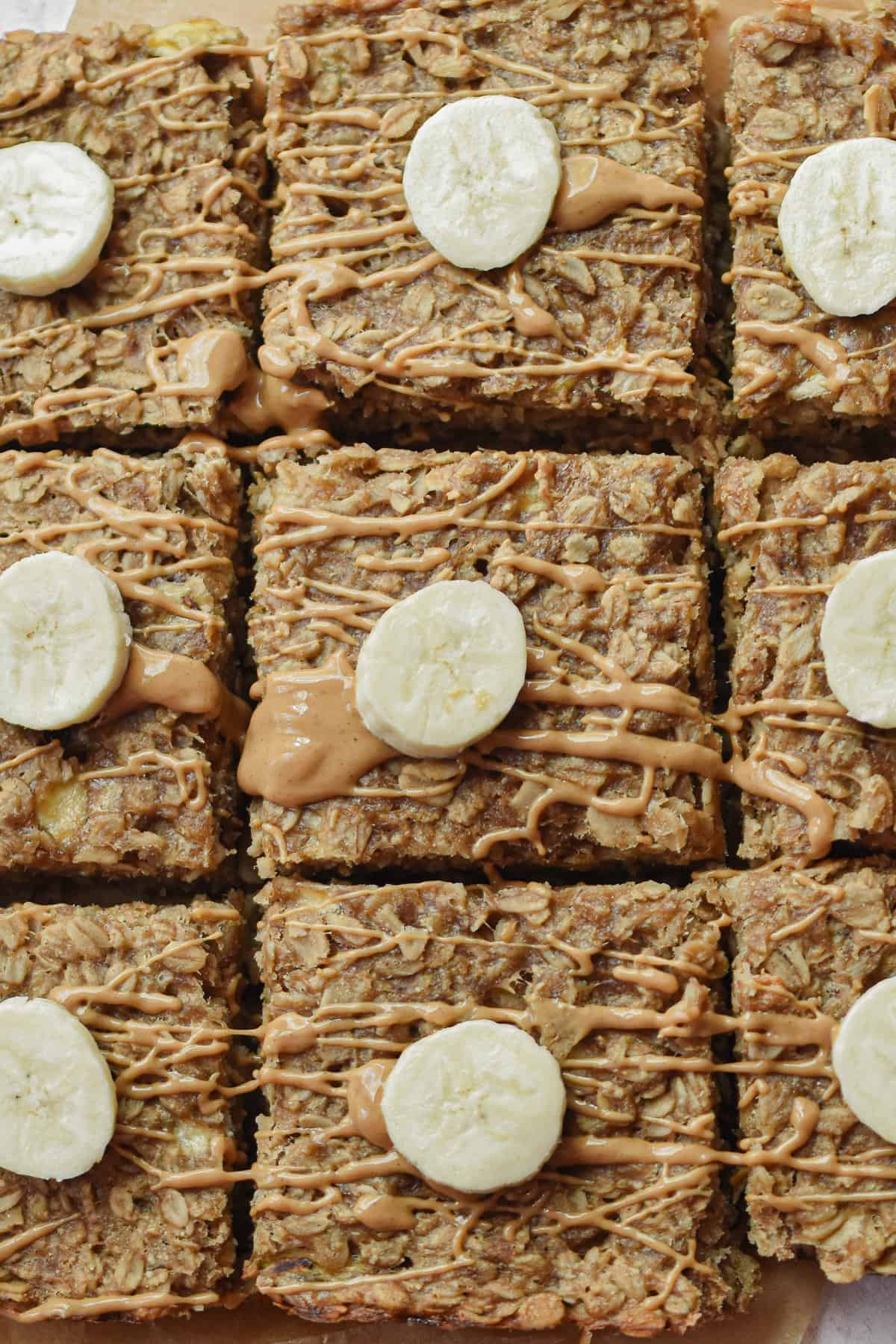 These oatmeal bars are made of creamy peanut butter, rolled oats, and mashed banana! They're filling and naturally sweet from the banana, with no refined sugar.
These bars make a great afternoon pick-me-up when your craving something sweet, but don't want make an unhealthy choice.
Banana Ice Cream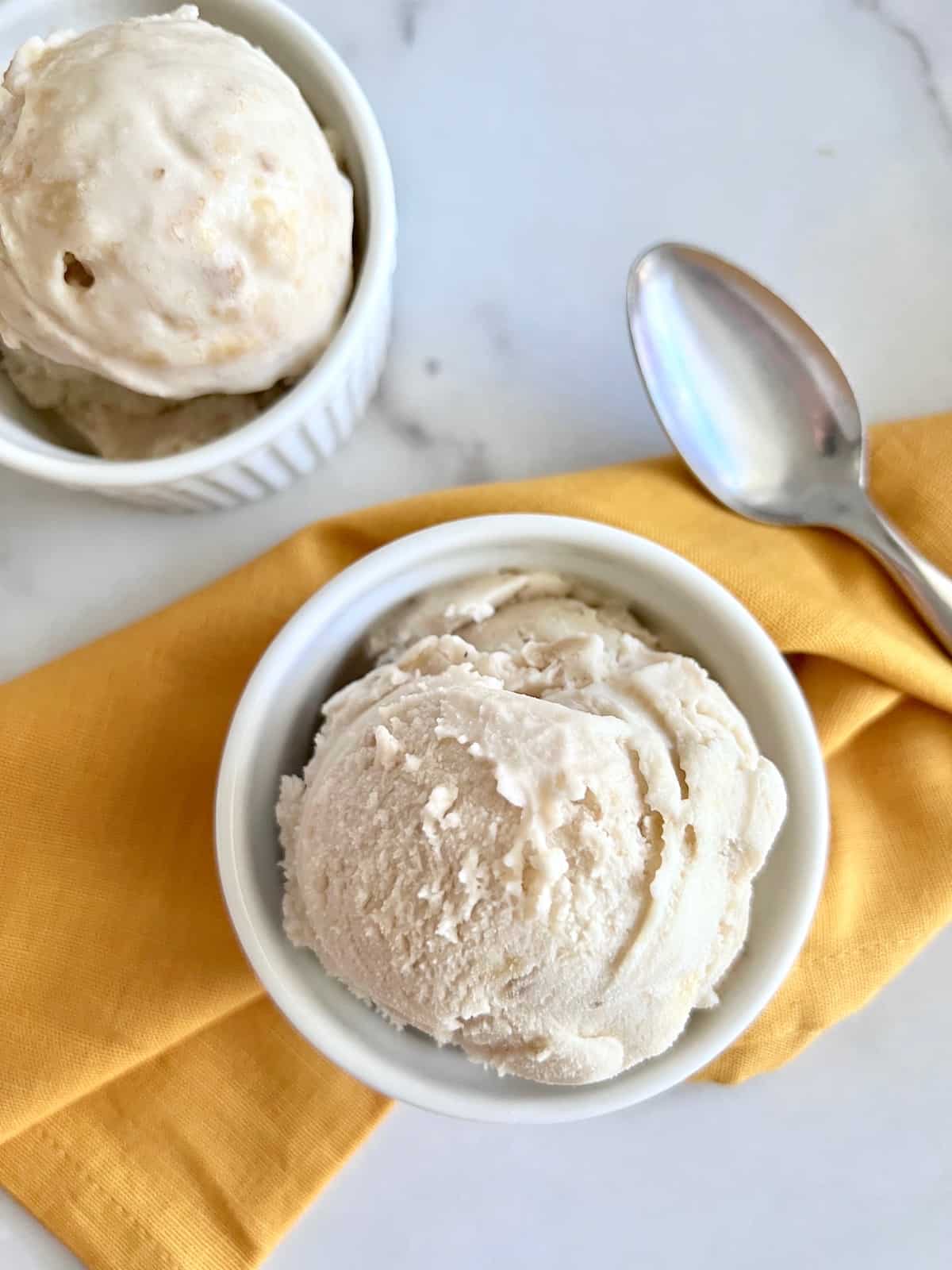 This banana ice cream is the real deal. It's a rich and creamy vanilla base with real bananas mixed in! I keep heavy cream in the fridge at all times so I can whip up homemade ice cream on a moment's notice.
Top with caramel sauce and walnuts for a salty-sweet crunch!
Recipes that Freeze Bananas
These banana recipes are ideal for when all your bananas are ripe and you don't want them to go bad.
Dip them in chocolate, sandwich them, or throw them into ice cream and you have treats that will last for months in the freezer!
Frozen Chocolate Covered Bananas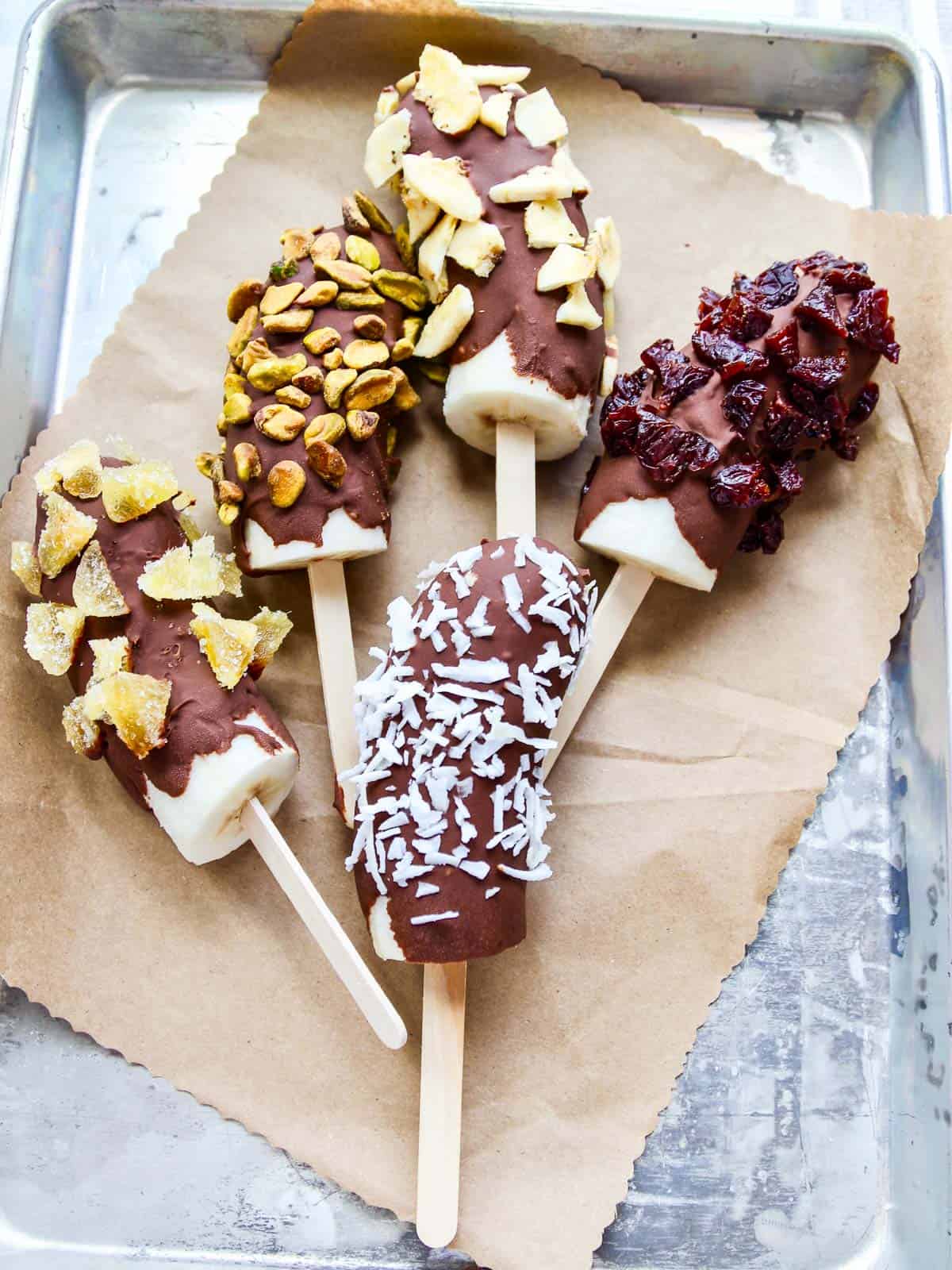 This classic beach time treat is perfect for a hot summer day! The best part about this frozen dessert? No toppings are off limits!
Try sprinkles, coconut, dried fruit, chopped nuts, crushed cookies, chocolate chips, sugar cereal, granola, or crushed graham crackers. My kids love to help me stick and dip the bananas.
This is my go-to when I have ripe bananas that need to go in the freezer. All you need is popsicle sticks, melted chocolate, and anything you can find in the pantry that works as a topping.
Frozen Chocolate Banana Sandwiches
If you're a huge chocolate-peanut butter fan, these frozen banana sandwiches will make you swoon!
Just sandwich peanut butter in between banana slices, then top with melted chocolate. Freeze until you crave something rich and sweet, then pop one into your mouth and enjoy!
Chunky Monkey Ice Cream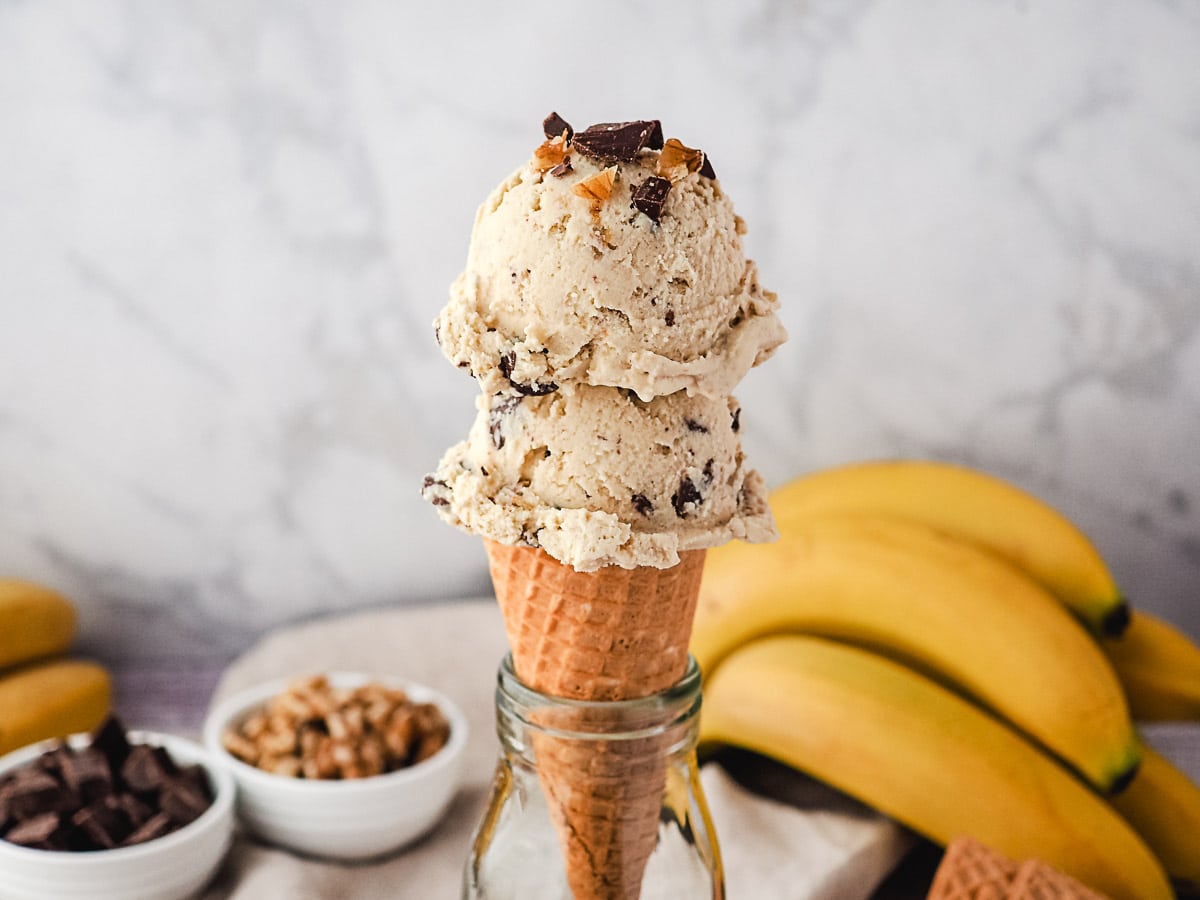 This chunky monkey ice cream recipe is just as good as it looks! It's full of fresh banana flavor, semi-sweet chocolate, and crunchy walnuts.
The bananas caramelize in butter and sugar first, which creates a caramel-like flavor that's otherworldly. It's a must-try for any ice cream lover.
FAQs:
What can you use frozen bananas for?
Frozen bananas can be used to thicken smoothies, smoothie bowls, and nice cream! They also can be thawed and used in baked treats like banana bread, pancakes, muffins, and cake. Just thaw the frozen bananas, then mash and measure as directed. Thawed bananas get mushy so they're not great for fruit salad.
Should frozen bananas be drained before baking?
No, frozen bananas release liquid when they defrost. Wait until they thaw, then mash the bananas with the liquid.
Why do people put bananas in the freezer?
Freezing bananas is a way to preserve them before they overripen! Overripe bananas will eventually get moldy and need to be thrown out. When you freeze bananas, you can use them in smoothies, smoothie bowls, baked goods, and nice cream!
Do bananas go bad once frozen?
No, bananas don't perish in the freezer. When properly stored, frozen bananas are good for up to 6 months. After that, they risk getting freezer burnt.
More Frozen Fruit Recipes: