These frozen strawberry recipes are perfectly sweet and bursting with strawberry flavor. There's no need to wait until summer to enjoy these bright and juicy berries.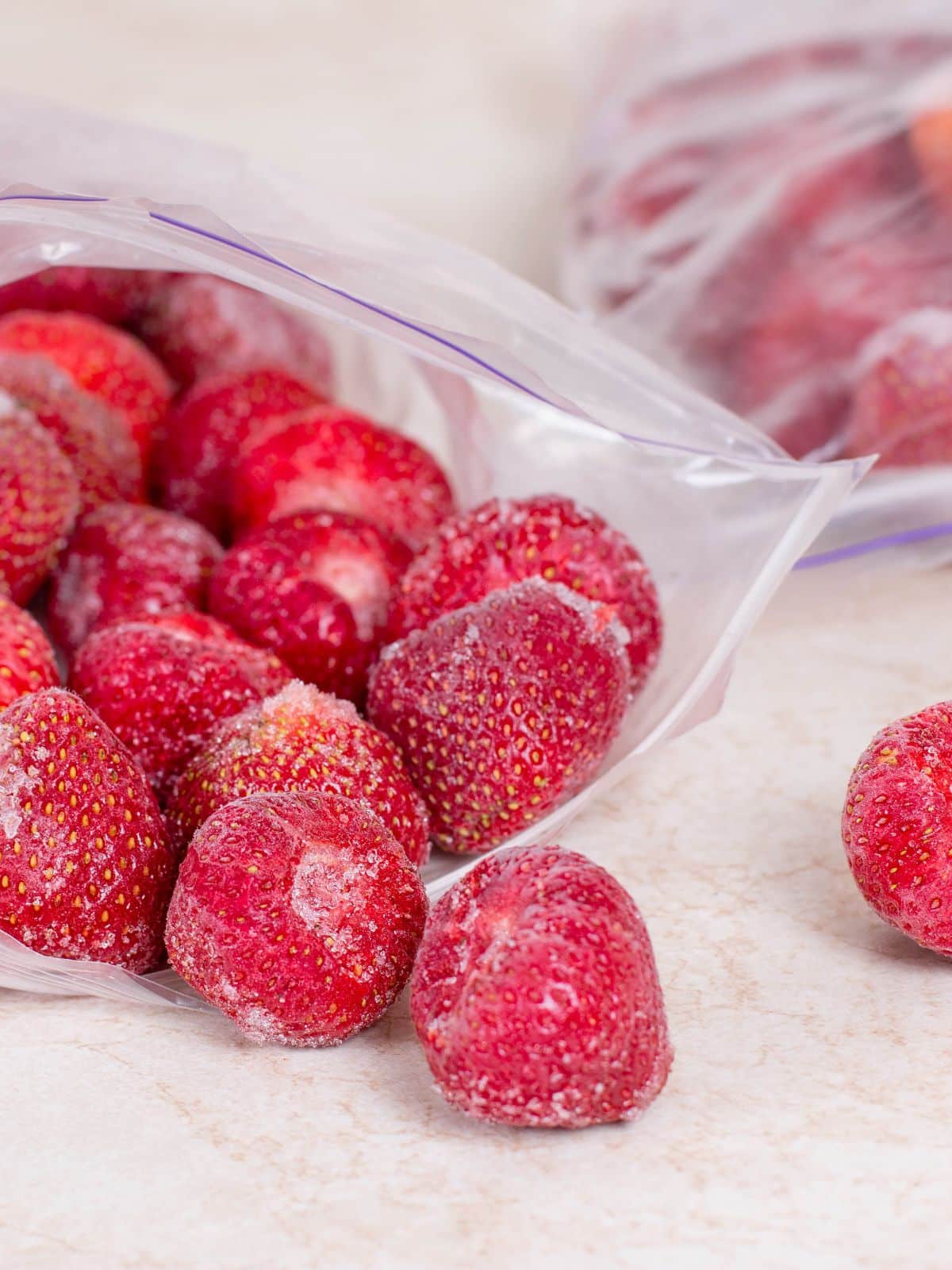 What can I do with Frozen Strawberries?
There's so much you can do with a bag of frozen strawberries! If you don't feel like following a frozen strawberry recipe, try one of these simple ideas instead:
Smoothie - Use frozen strawberries, a banana, Greek yogurt, and some milk to make a simple smoothie!
Strawberry crisp - I like to make individual crisps when I'm craving something sweet. Just toss frozen strawberries with a pinch of sugar and cornstarch then transfer them to an oven-safe ramekin. Make a quick crumble with oats, sugar, flour, and cold butter. Mix with your hands, taste, then top the berries and bake until bubbly.
Quick strawberry sauce - Heat the strawberries in a small saucepan with a little bit of sugar and lemon juice. Cook until thick and jammy. Drizzle on waffles, pancakes, or ice cream!
Popsicles - Blend thawed strawberries with maple syrup and lemon juice. Pour into popsicle molds and freeze overnight.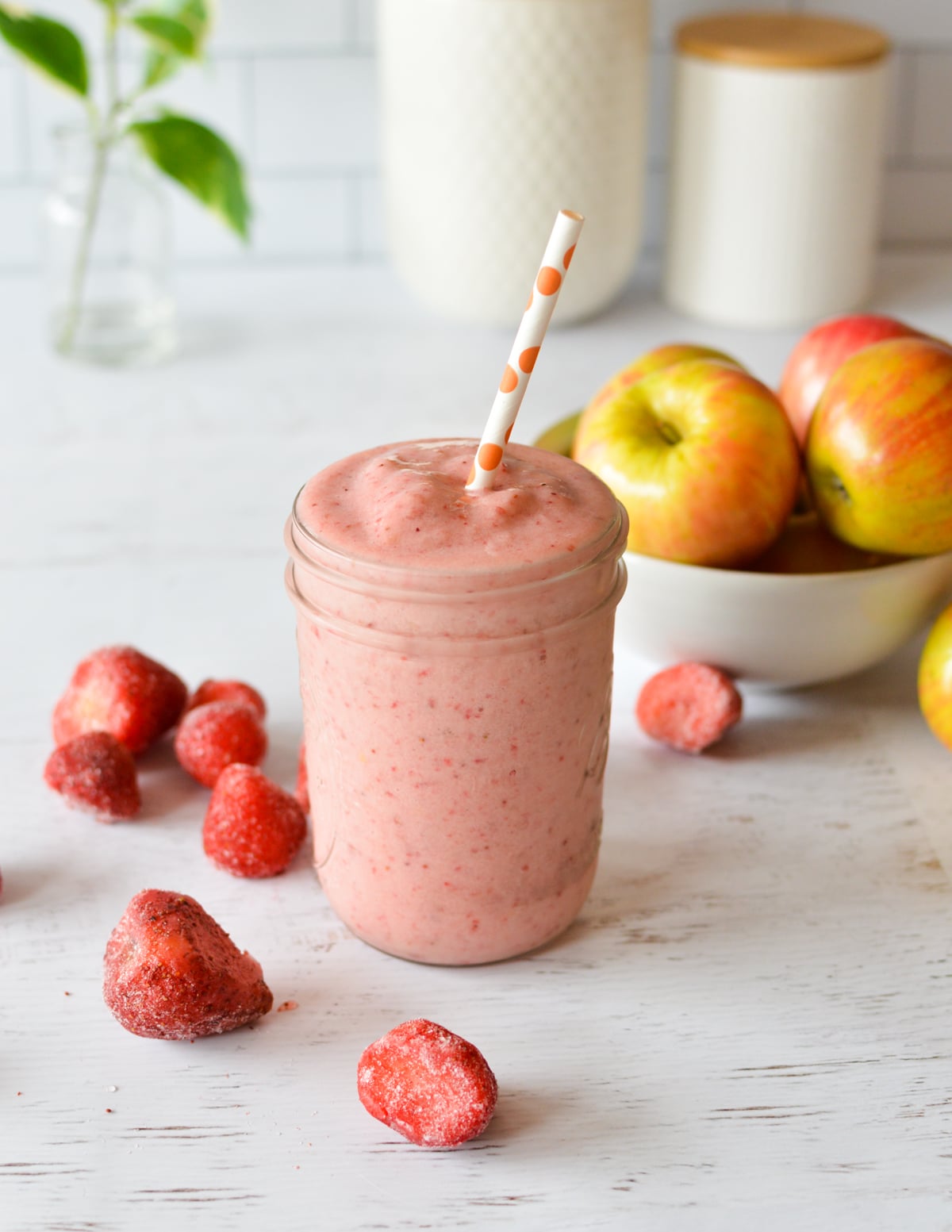 How do you Thaw Frozen Strawberries?
No matter how you thaw frozen strawberries, they won't be as fresh and firm as fresh strawberries. Ice crystals break down their cell structure, which makes them soft once defrosted.
For this reason, it's best to use frozen strawberries in recipes you plan to bake, cook, or serve frozen, like smoothies. Skip fruit salad and fresh fruit tarts!
You can thaw frozen strawberries one of three ways:
Microwave - Place the strawberries in a microwave-safe bowl or plate and heat on the defrost setting for 30 seconds, or until defrosted. Don't cook them!
In the fridge - Transfer the strawberries from the freezer to the fridge at least 8 hours before you plan to use them.
Under cool water - Place the bag of frozen strawberries in a bowl under cool running water. Move the bag around every minute or two until defrosted.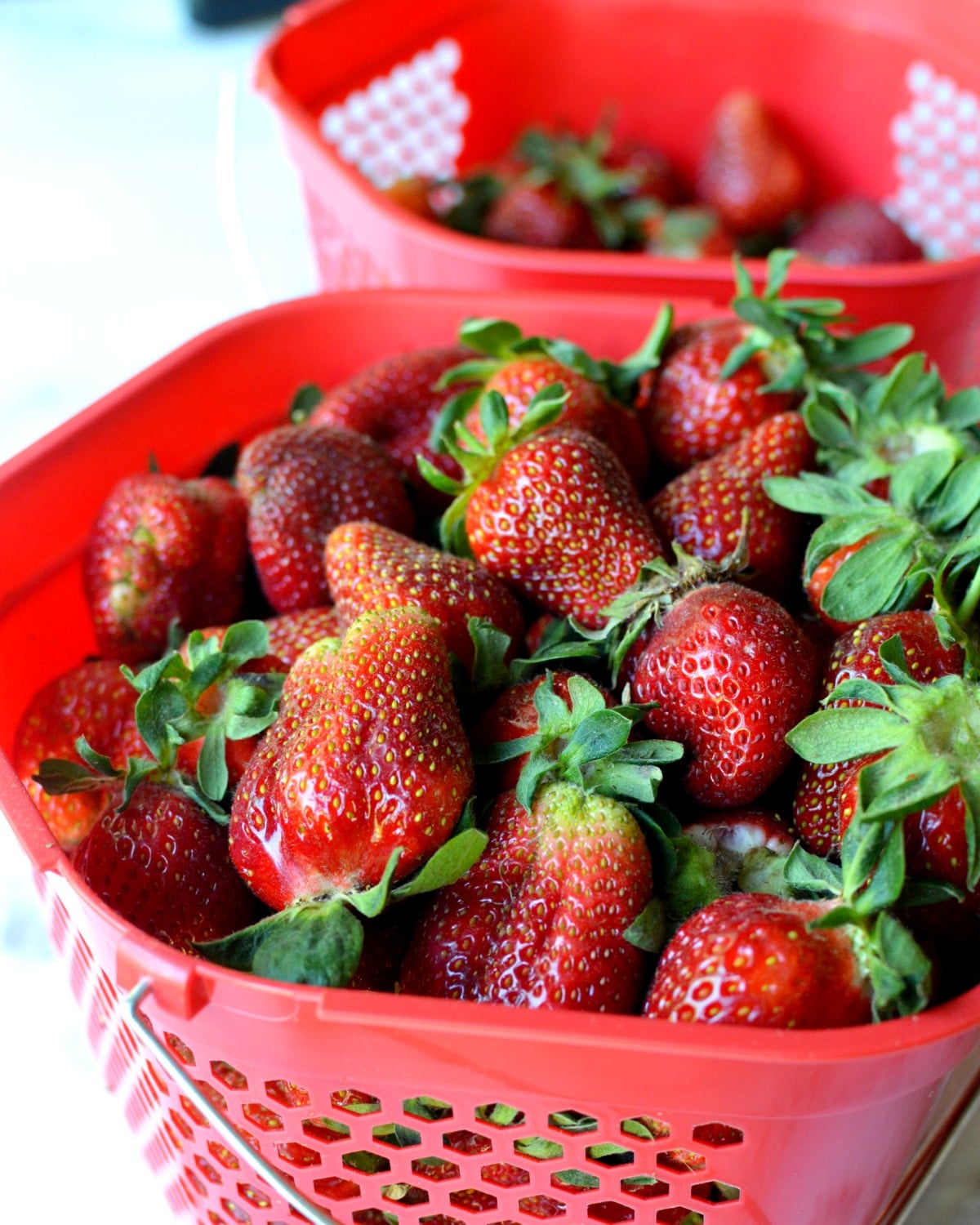 How to Bake with Frozen Strawberries
The short answer is to follow what the recipe instructs you to do. If a recipe calls for frozen strawberries, you can add them frozen.
If a recipe calls for frozen and thawed strawberries, make sure to thaw the strawberries before you follow the recipe.
If a recipe calls for fresh strawberries, look for any notes that tell you what to do if using frozen strawberries. If the recipe calls for fresh and doesn't say you can use frozen, look for another one!
Frozen Strawberry Recipes
All of these recipes either call for frozen strawberries or allow you to sub them in with no problems!
1. Strawberry Sundaes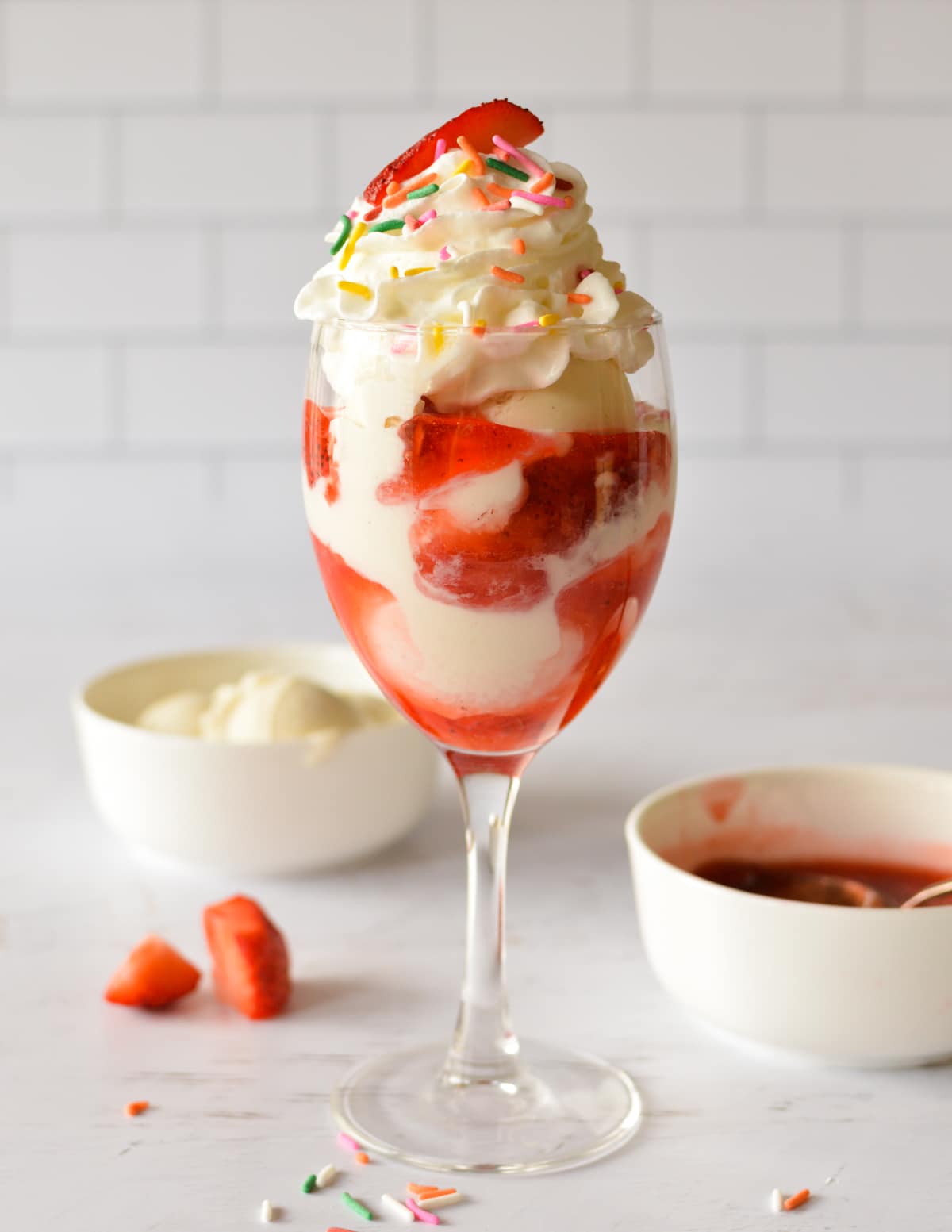 These strawberry sundaes transport you straight back to childhood. And they're so darn simple to make.
Just whip up a simple strawberry sauce, layer it with vanilla ice cream, and top with a boatload of whipped cream!
You can use fresh or frozen strawberries for this one. Just be sure to partially thaw the strawberries first so you can dice them up into chunks. I just let them sit for 30 minutes or so.
2. Strawberry Cupcakes with Strawberry Frosting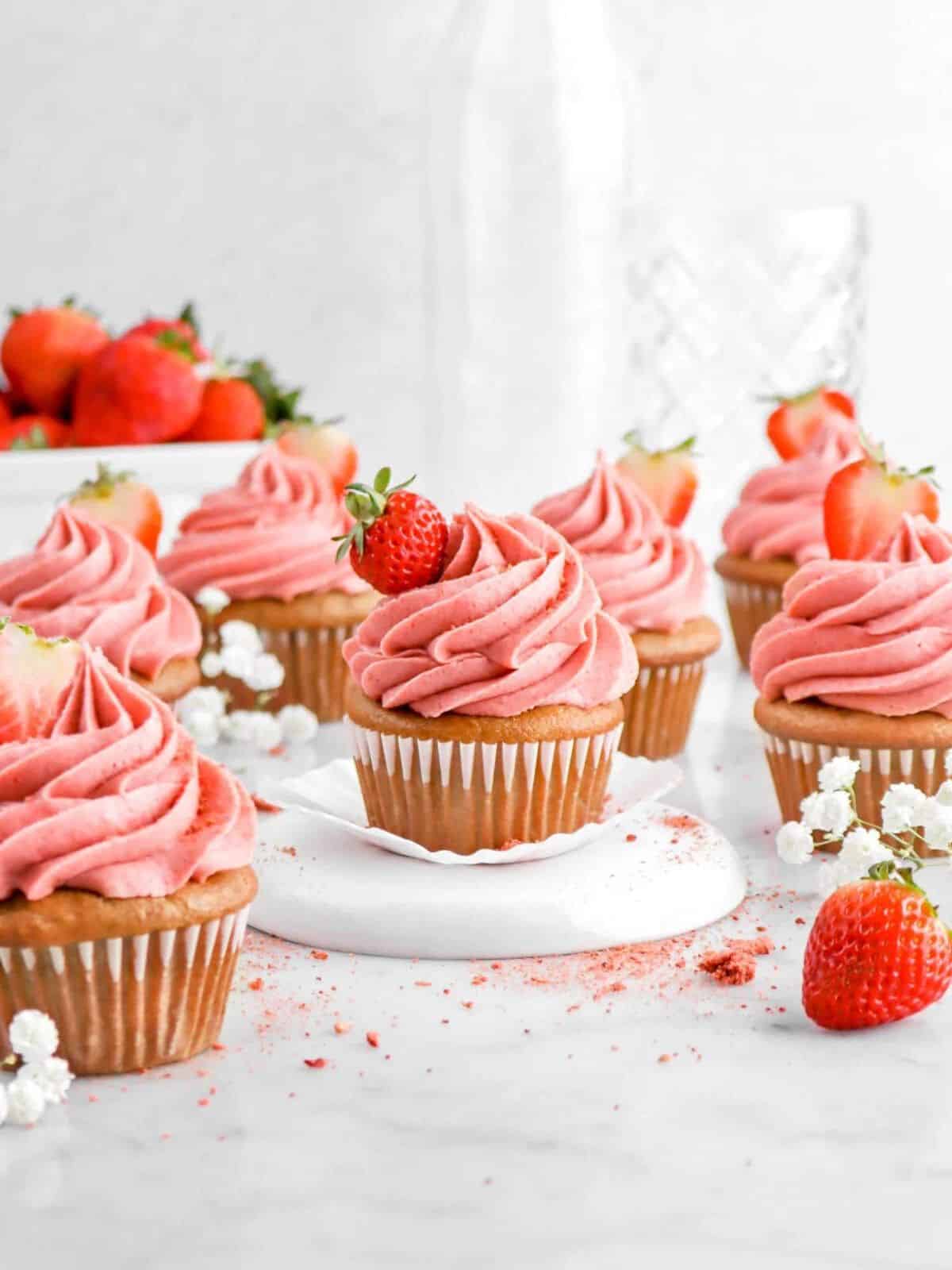 These adorable cupcakes are light, soft, and bursting with strawberry flavor. It's the taste of summer you've been searching for.
Frozen strawberries are thawed, pureed, then added to cupcake batter. The result? A light pink cupcake that's moist and tender. Top it with the creamiest strawberry buttercream for cupcake nirvana.
These strawberry cupcakes are perfect for birthdays, bridal showers, and spring holidays!
3. Strawberry Cake Filling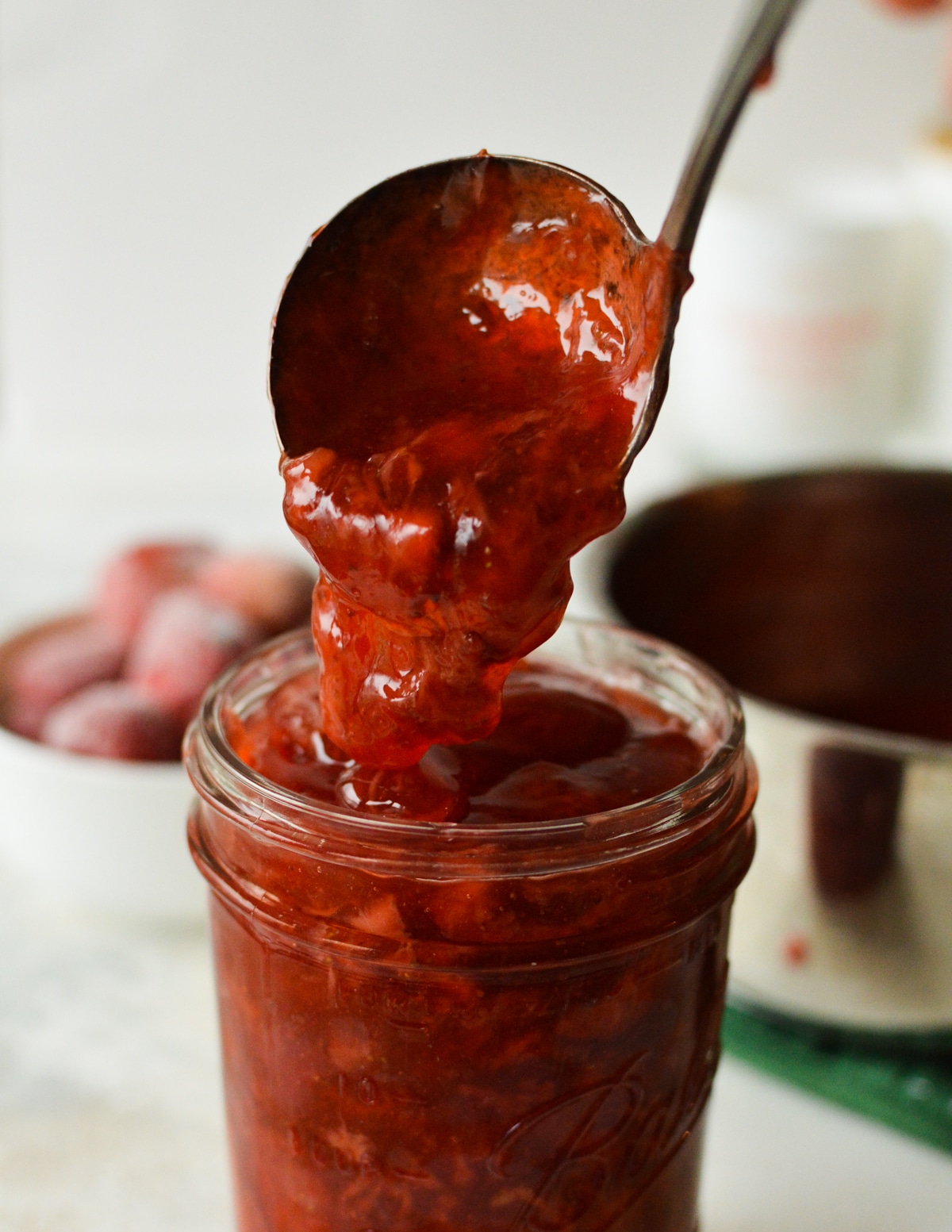 Transform any cake into a strawberry cake with this jammy strawberry filling! It's made with four pantry staples and ready in just 15 minutes.
You can use fresh or frozen strawberries for this filling. Thawing them first makes them easier to cut and lets them break down faster as they cook.
Store the strawberry filling in a sealed mason jar in the refrigerator for up to a week.
4. Strawberry Peach Smoothie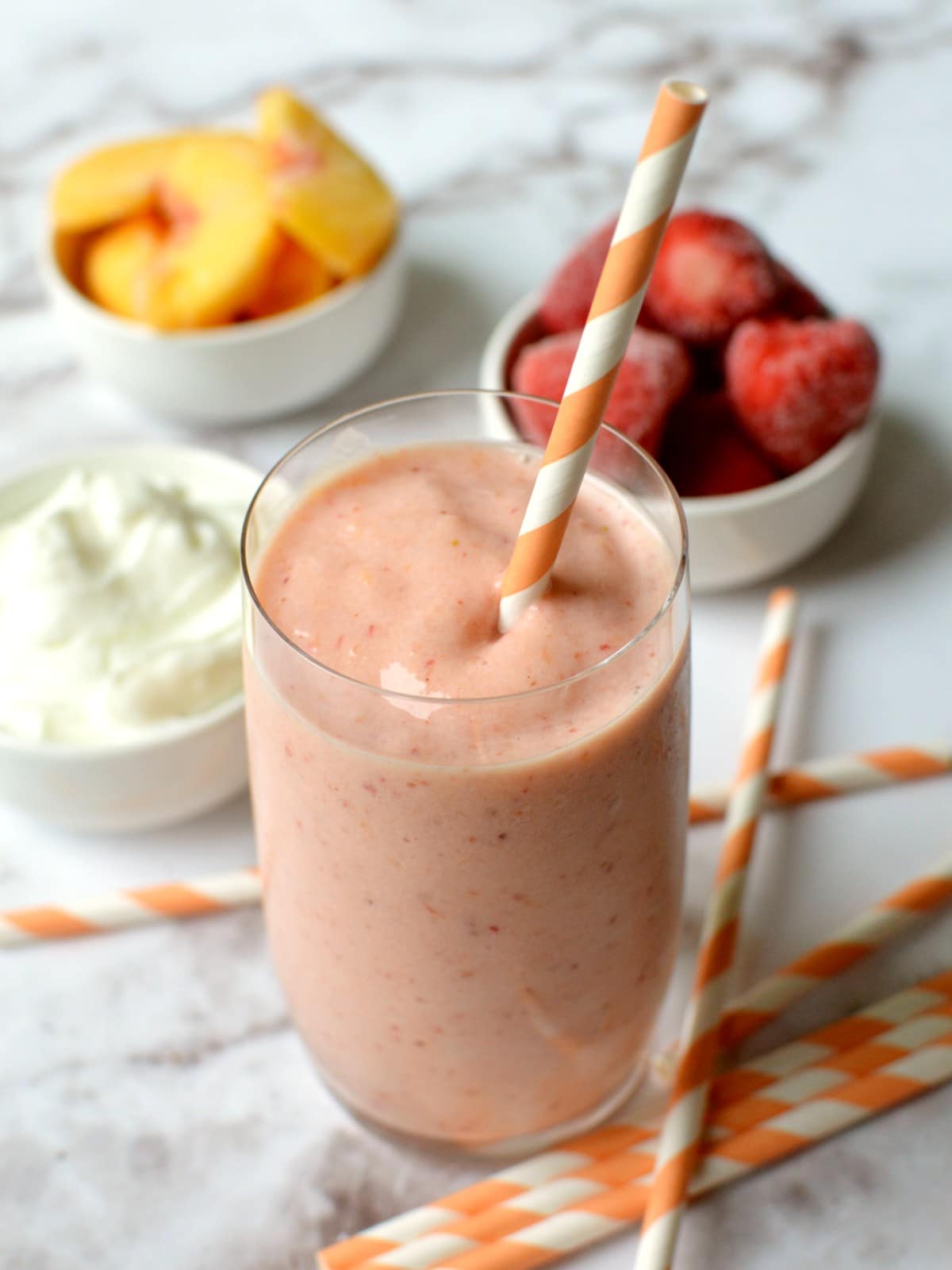 Smoothies are ideal recipes for frozen strawberries! Frozen berries thicken smoothies without the need for ice, creating a lusciously smooth texture.
This one is ultra-refreshing with peaches, strawberries, and Greek yogurt. Even my picky kiddos devour it! Smoothies are a great way to feed your kids healthy nutrient-dense fruits and veggies.
5. Strawberry Kiwi Smoothie Bowl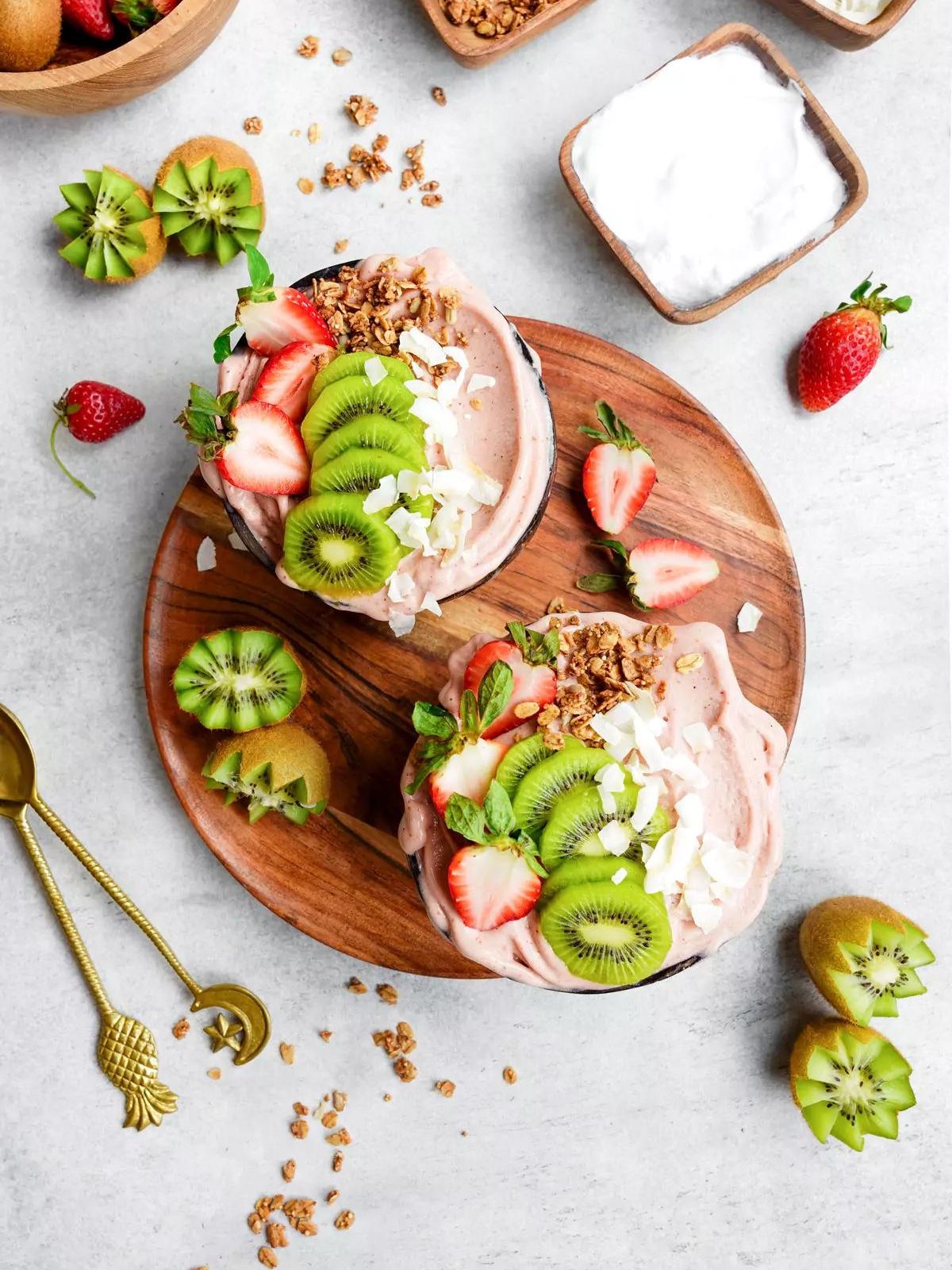 I'm a huge fan of sweet-tart smoothie combos! This strawberry kiwi smoothie bowl is the perfect balance of sweet strawberries and tart kiwis.
Frozen strawberries and bananas keep it nice and thick! It's naturally dairy-free, vegan, and gluten-free. It's the perfect base for sweet and crunchy toppings, like shredded coconut, granola, and fresh fruit.
6. Strawberry Rhubarb Pop Tarts
Pop tarts get a makeover with a homemade flaky crust and a jammy strawberry rhubarb filling. These handheld treats will delight the kid in you!
You can use fresh or frozen strawberries for the homemade jam, which is then used to make a light pink vanilla glaze. They're adorably delicious and perfect for summertime!
7. Creamy Strawberry Lassi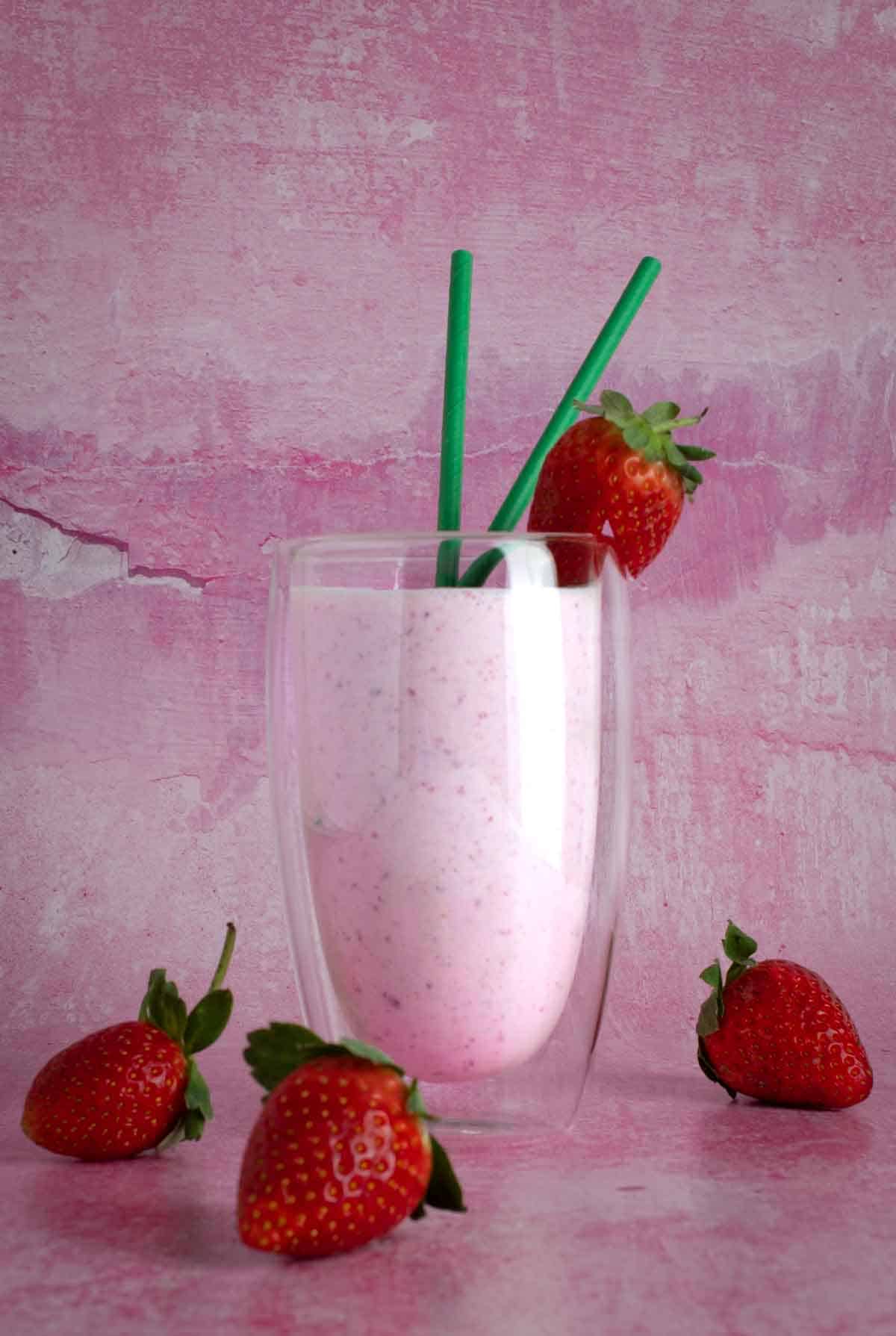 This strawberry lassi is ultra-creamy and refreshing! It's made with frozen strawberries, double cream, and full-fat Greek yogurt.
A lassi is a popular Indian drink made with yogurt. They have the best mango lassi at my favorite Indian restaurant and this strawberry version is divine!
8. Strawberry Yogurt Popsicles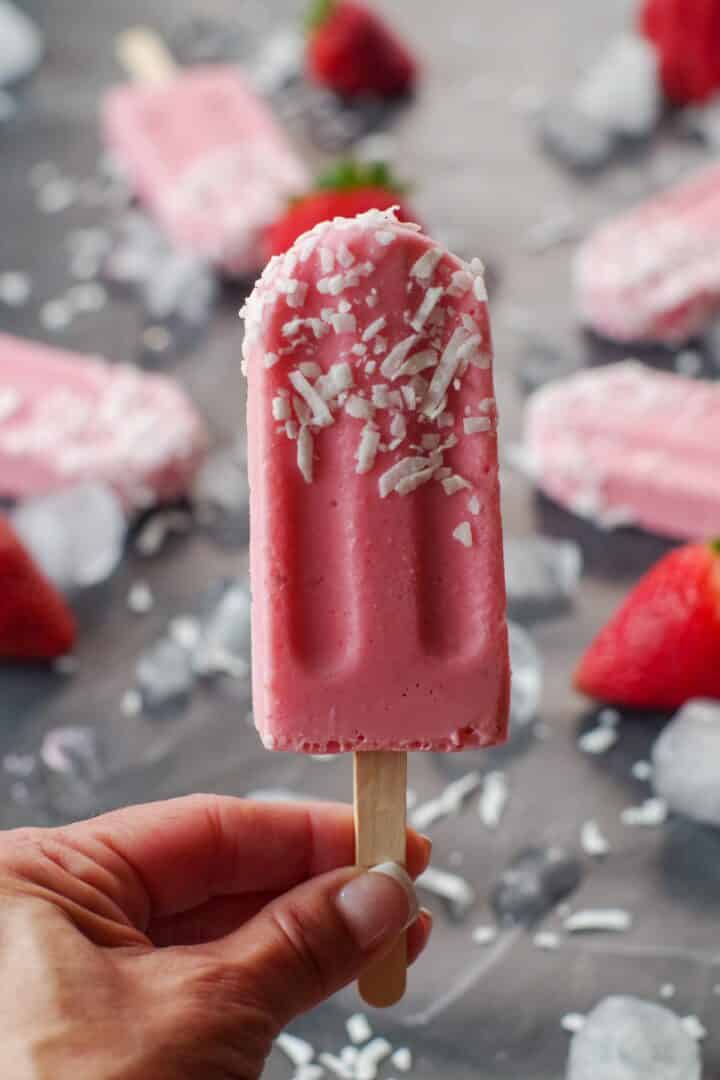 I need an intervention. Come summer, I have a full-on popsicle obsession! These strawberry pops are creamy, fresh, and healthy too.
They're made with Greek yogurt, strawberries, agave, and a hint of coconut. My kids love them and so do I!
Super simple and delish!
9. Strawberry Panna Cotta with Strawberry Sauce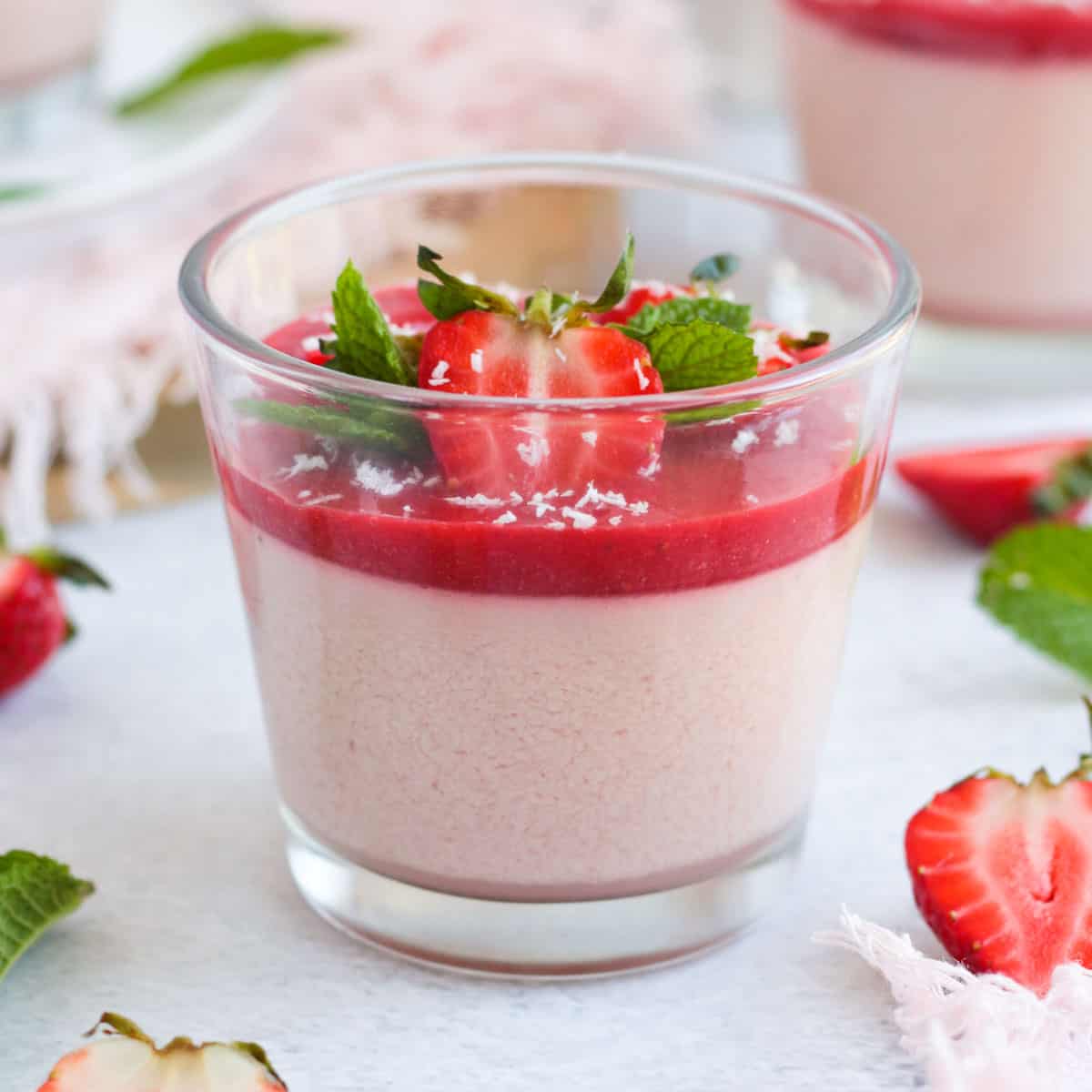 Panna cotta is an Italian dessert made of cream, sugar, and gelatin. It's creamy with a Jello-like texture and ice cream-like flavor.
This strawberry version is luxuriously light and perfect for summer. A homemade strawberry coulis flavors the panna cotta and creates a beautiful red and pink contrast.
Since it needs to chill for 2 hours anyway, it's the ideal make-ahead dessert!
10. Strawberry Mango Smoothie Bowl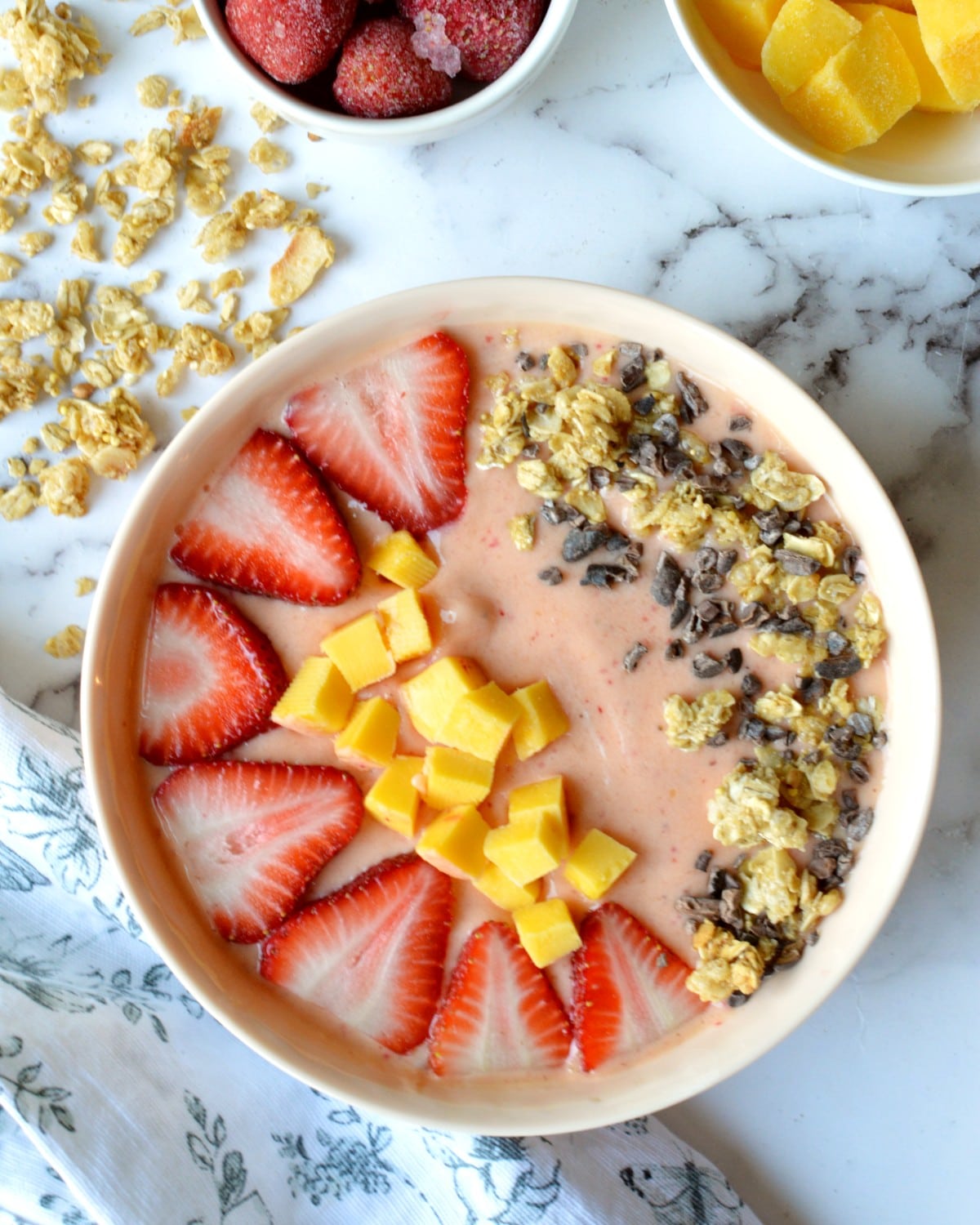 This strawberry mango smoothie bowl is naturally sweet and refreshing with zero refined sugar! Frozen strawberries and mango create an ultra-creamy base for crispy crunchy toppings like granola and cacao nibs.
A smoothie bowl is a super thick smoothie with a scoopable consistency that's served in a bowl with a spoon, instead of in a glass with a straw.
I love to make smoothie bowls for breakfast!
11. Easy Strawberry Crumble
You can use fresh or frozen strawberries for this jammy strawberry crisp with a buttery cinnamon crumble! The strawberries are sweetened and spiced, then topped with a biscuit-y crumble topping and baked.
Even dairy-lovers adore this strawberry dessert. If you're not vegan, you can swap in regular butter with no problems.
I highly recommend a generous scoop of vanilla ice cream on top!
12. Strawberry Milk Tea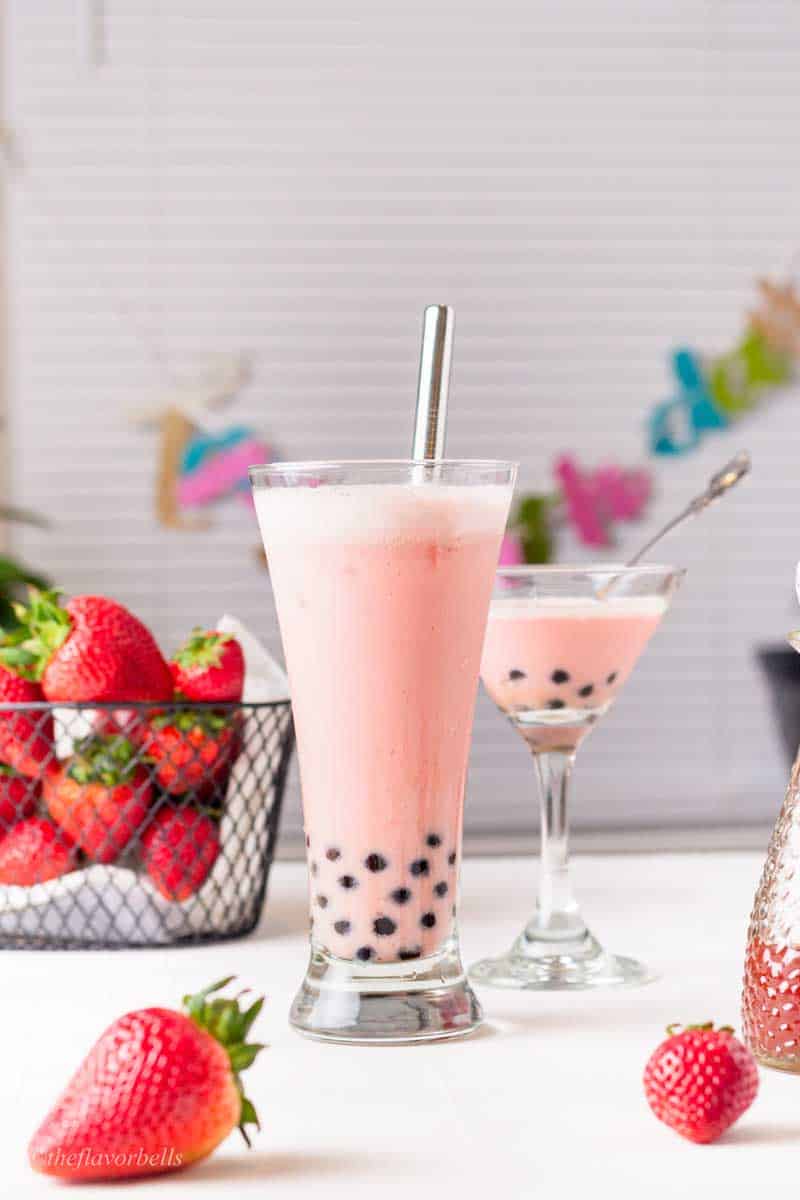 If you love a good boba beverage, this strawberry milk tea will make you swoon! It's smooth and fruity with a hint of tea and plenty of chewy boba pearls.
This milk tea with real strawberries is easy to make and customizable too! You can swap the milk with plant-based milk or the sugar with maple syrup or stevia.
13. Strawberry Smoothie with Lime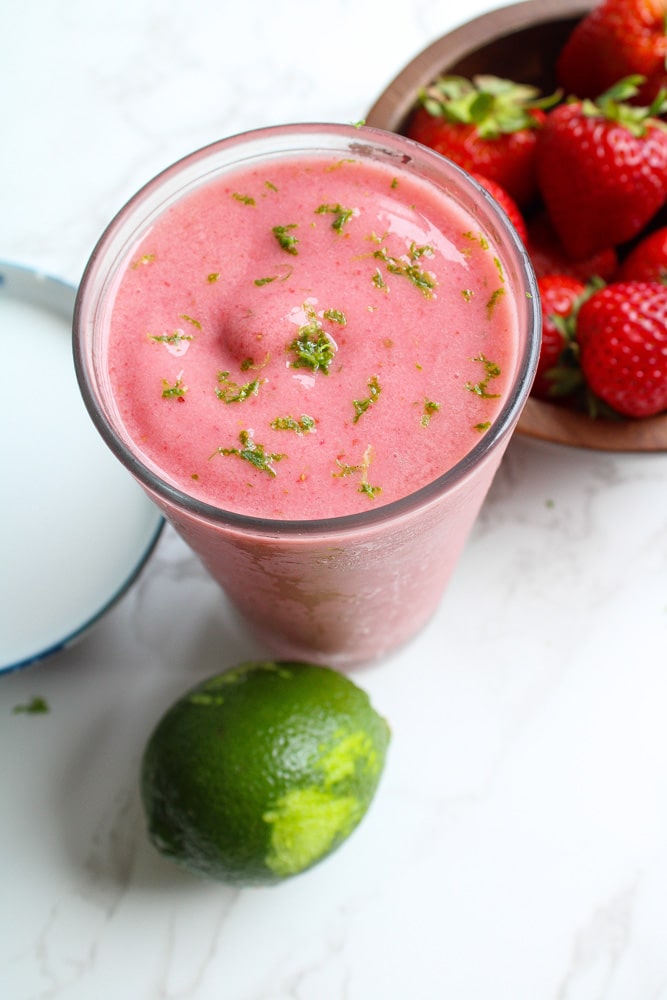 I'd be negligent if I didn't include a few smoothie recipes in a list of frozen strawberry recipes! Smoothies are an ideal way to use up frozen strawberries, and you don't even need a recipe.
But if you prefer to follow one, this strawberry smoothie with lime is a refreshing choice. Sweet strawberries, zippy lime, and coconut milk are a match made in heaven.
14. Sparkling Strawberry Frose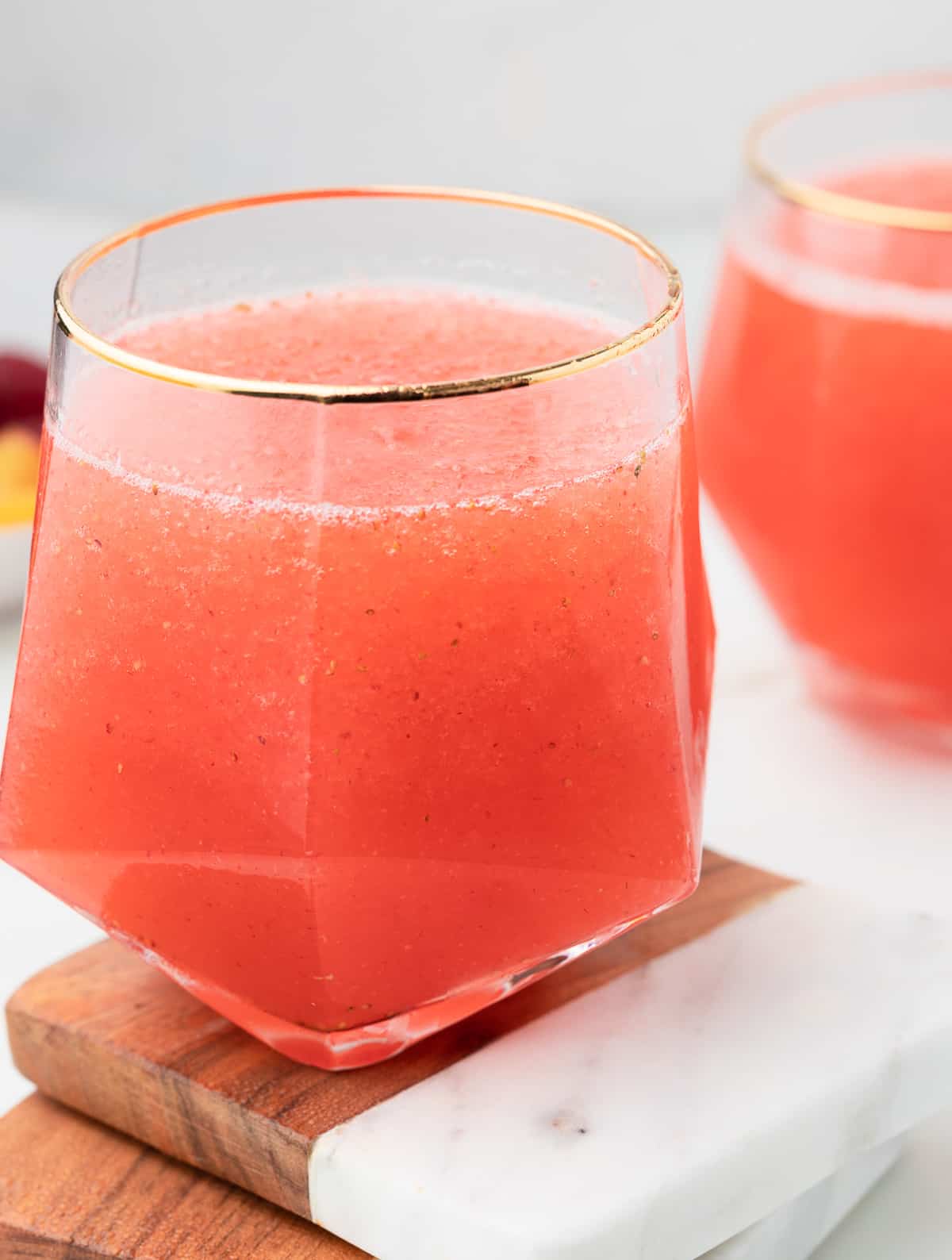 This sparkling strawberry frose is a boozy slushie that's ideal for hot summer days! Just throw some sparkling wine, frozen strawberries, sugar, and lime juice in a blender and blend until smooth.
You'll be making this slush on repeat all through July and August. It's super simple and takes less than 5 minutes to make it.
15. Strawberry Cucumber Smoothie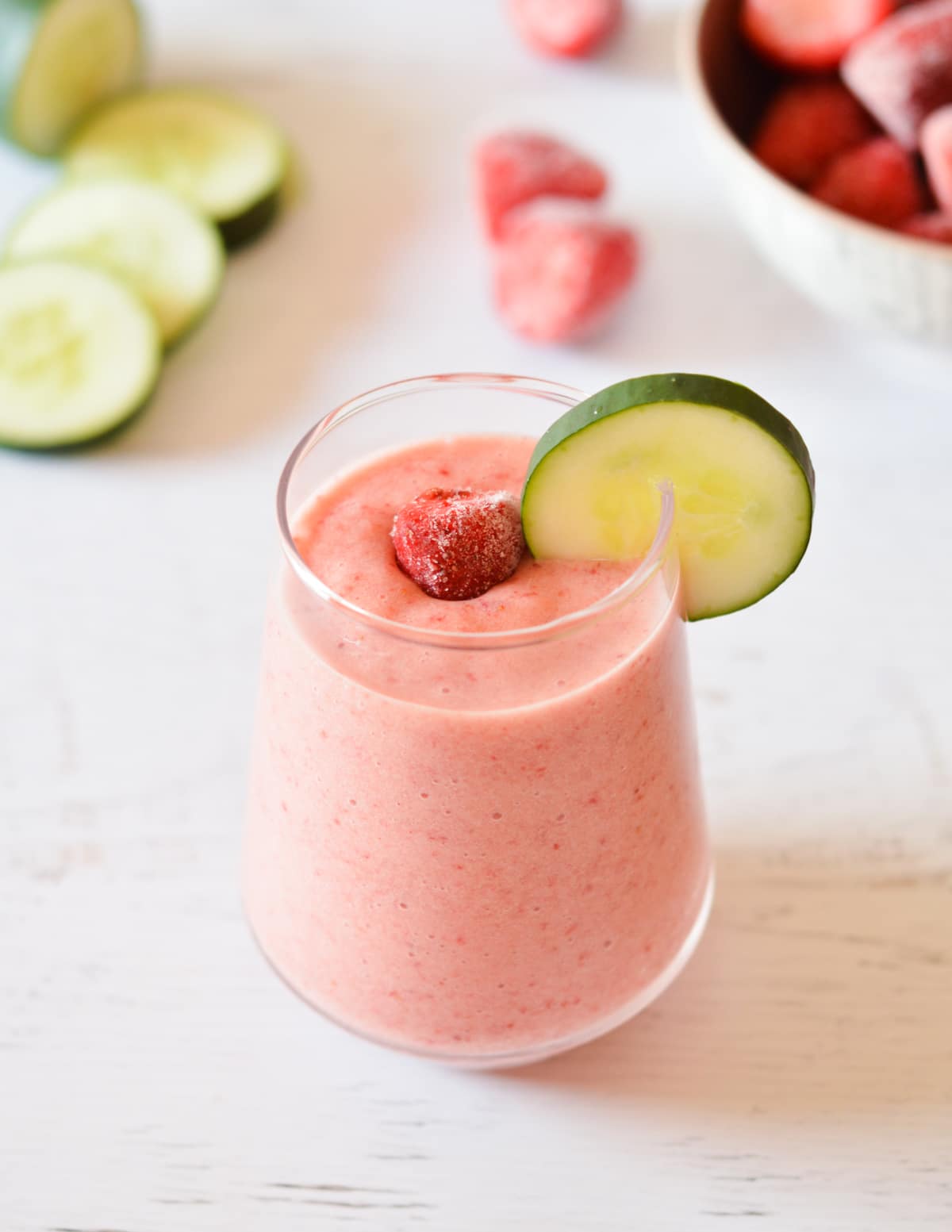 This strawberry cucumber smoothie is packed with antioxidants, low in calories, and naturally sweet. The clean, crisp flavor of a cucumber complements frozen strawberries to a tee.
The entire smoothie is only 222 calories and it's a rich source of feel-good nutrients and disease-fighting antioxidants.
16. Strawberry Banana Smoothie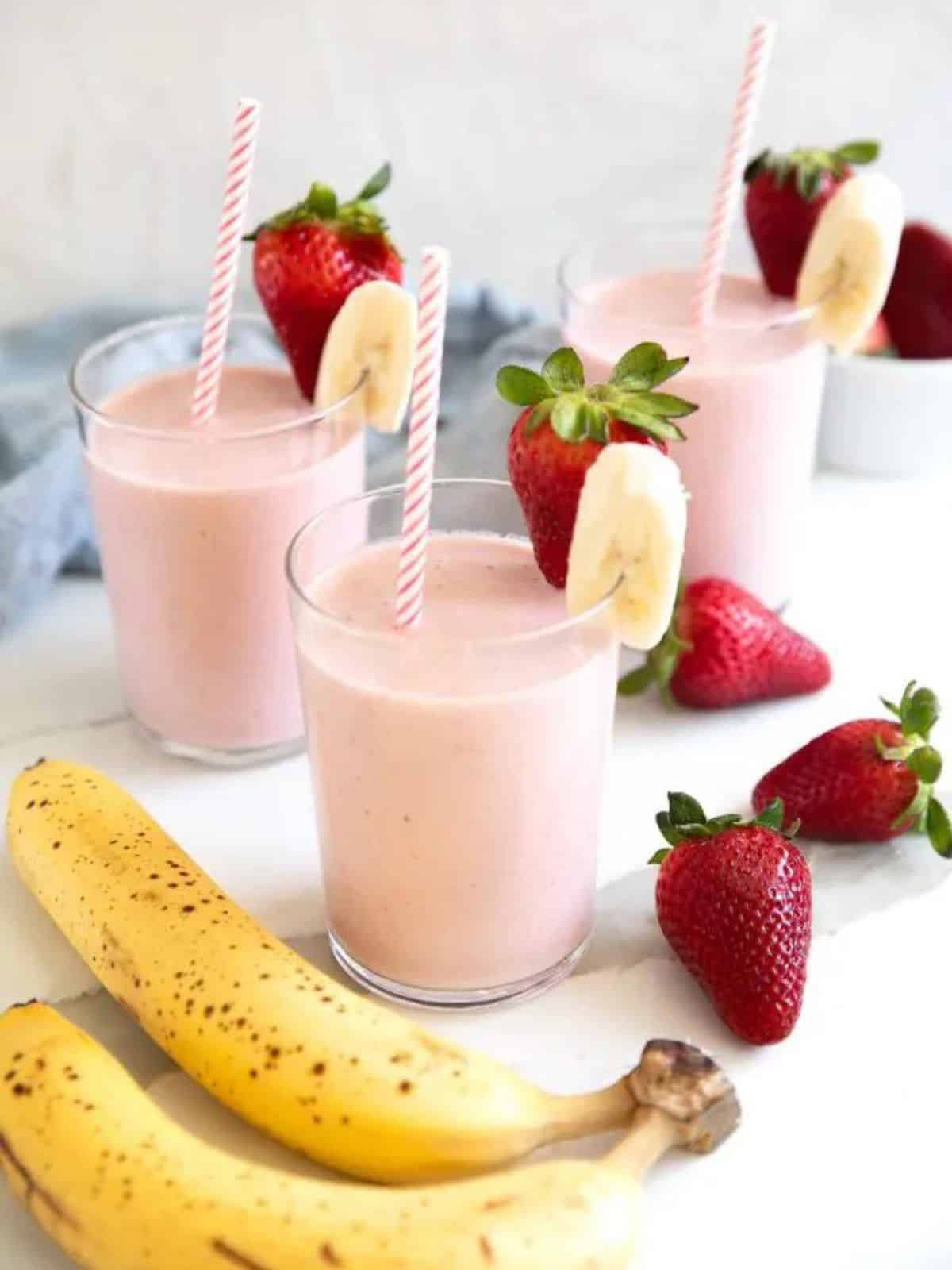 A classic for a reason - this strawberry banana smoothie is so simple! It's just bananas, yogurt, strawberries, milk, and ice. Yogurt adds high-quality protein and the fruit naturally sweetens it.
Not only are homemade smoothies a million times better than take-out smoothies, but they cost WAY less!
17. Strawberry Turnovers with Puff Pastry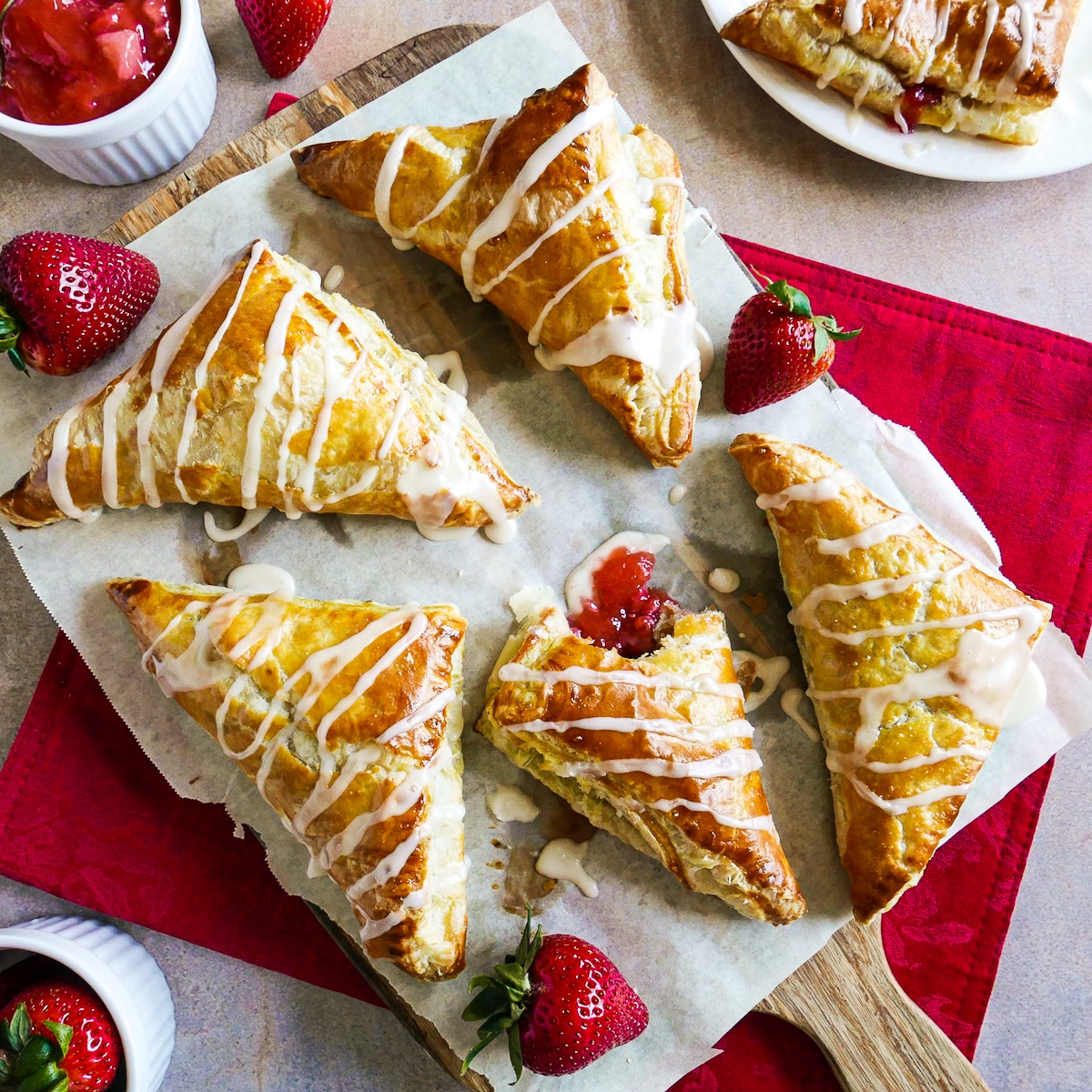 Store-bought puff pastry is a game changer! You can make buttery, light, and flaky pastries with minimal effort.
These turnovers get an upgrade with a homemade strawberry jam filling and a sweet vanilla glaze!
They're a gorgeous and irresistible addition to breakfast or brunch.
18. Strawberry Sorbet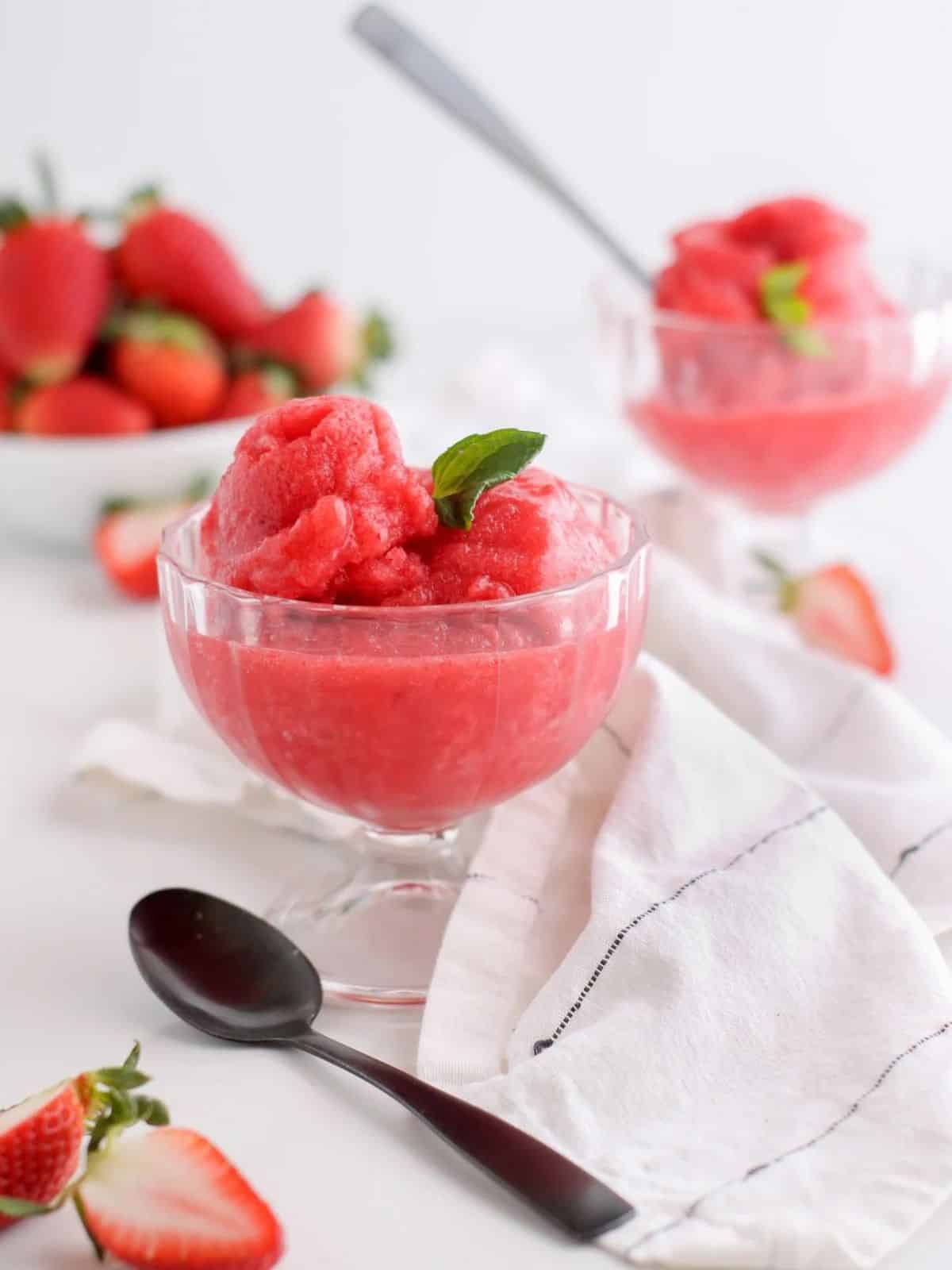 Homemade strawberry sorbet with a touch of nectarous honey and zippy lime juice! It's ready in a snap - no ice cream maker required.
Just add the ingredients to a food processor, blend, and serve! It's light, healthy, dairy-free, and low-carb. You can't go wrong with this one.
19. Strawberry Dole Whip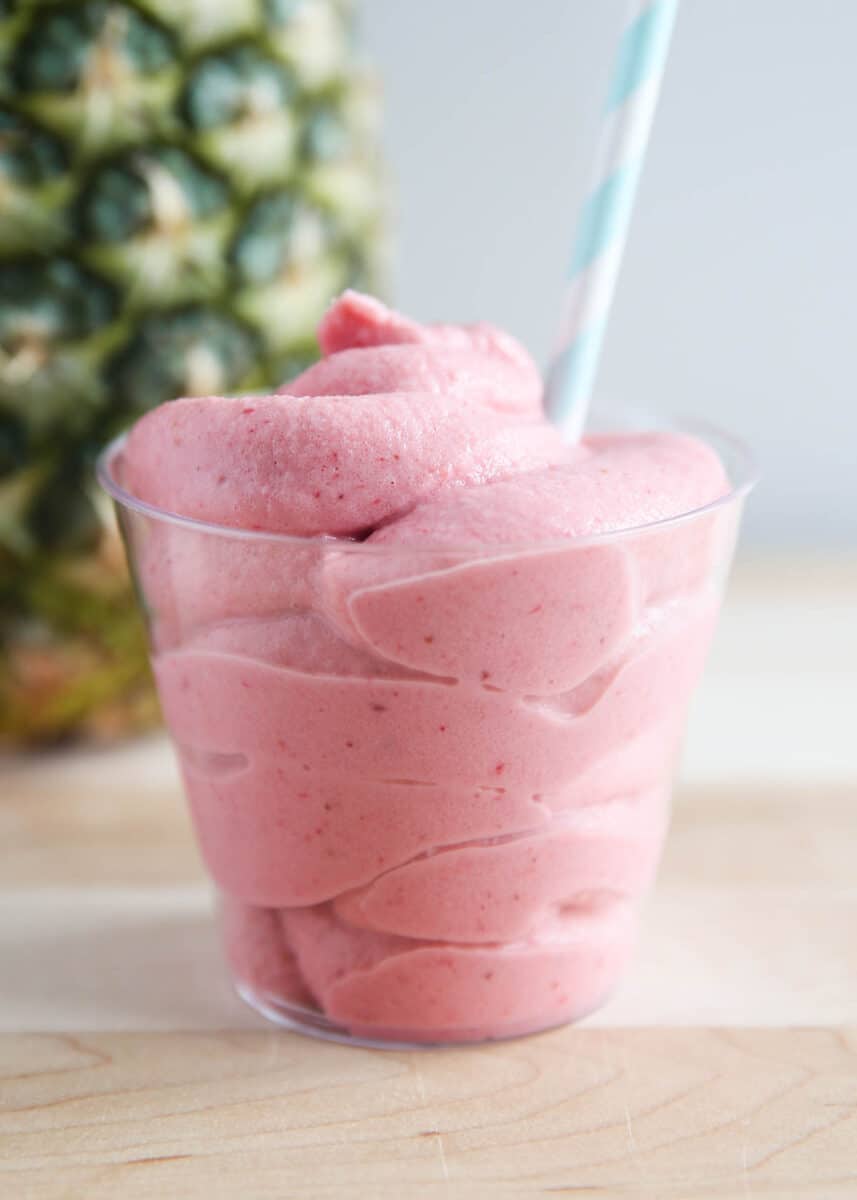 Every trip to Disney world requires a stop for the classic pineapple dole whip! If you love it as much as I do, then you're sure to love it's close friend, strawberry dole whip.
It's just 3 ingredients and it's so light and refreshing! Frozen strawberries impart the flavor and thicken it up, while vanilla ice cream makes it extra creamy.
The whole family will love this frosty treat.
20. Strawberry Chia Jam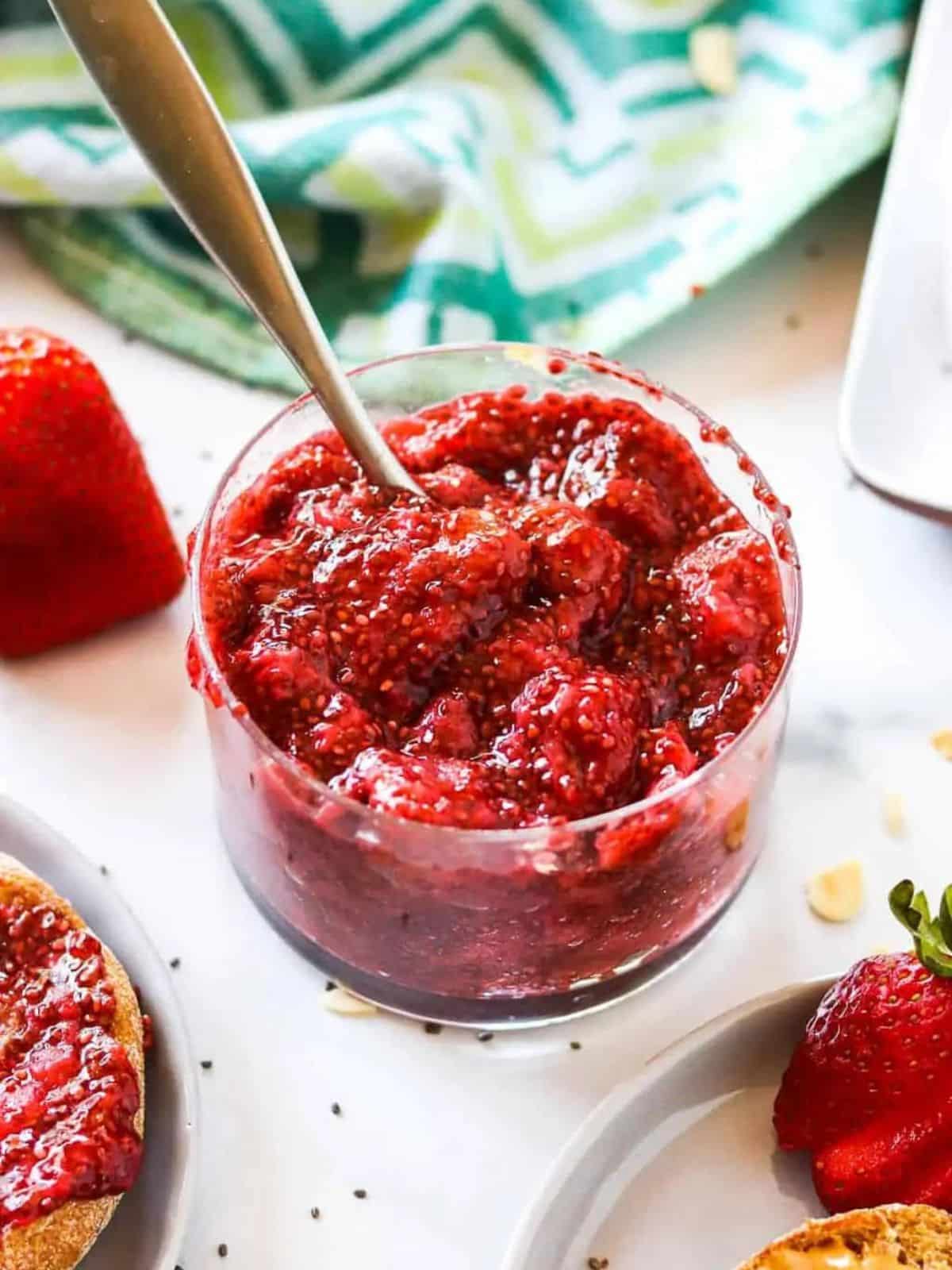 I'd be remiss if I didn't include a homemade strawberry jam in this list. Homemade jam makes my heart soar and this one is bursting with strawberries and chia seeds.
The best part? It's not loaded with added sugar like most jam recipes. It's made with a touch of maple syrup and lemon juice for the perfect sweet-tart balance.
Slather it on toast or just eat it by the spoonful. I'm not judging.
21. Mango Strawberry Banana Smoothie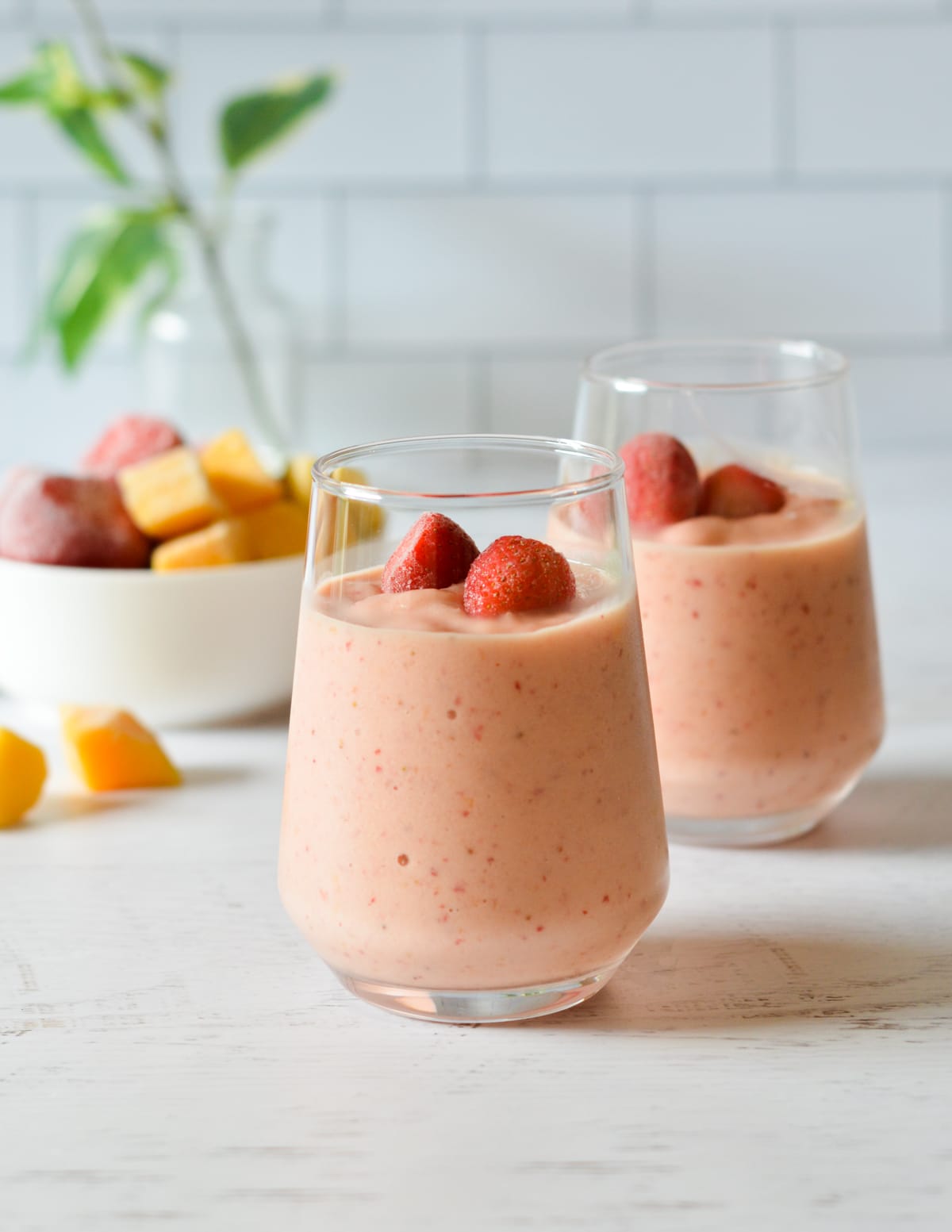 This strawberry mango banana smoothie is refreshingly fruity and creamy with tropical vibes! It's kid-friendly and a cinch to make. Perfect for a nutritious breakfast or afternoon pick-me-up.
Even my very picky kiddos gobble up every last drop. Greek yogurt makes it extra creamy and adds a boost of high-quality protein.
22. Strawberry Mousse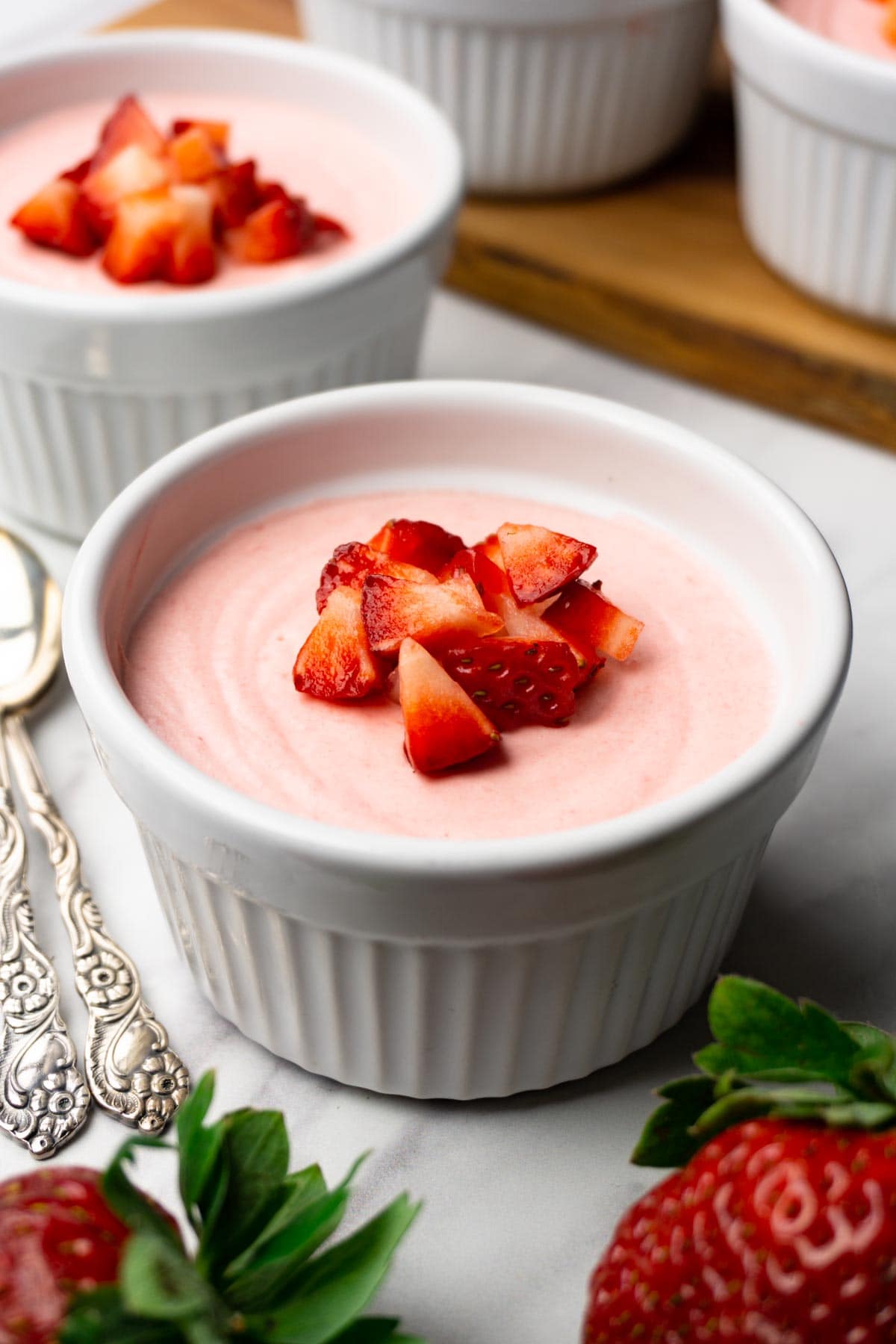 If chocolate isn't your jam, this strawberry mousse is for you! It's a light and airy, perfectly sweetened, no-bake dessert that's beautiful and simple.
You only need 20 minutes of hands-on time, and the hardest part is waiting for it to set so you can devour it!
FAQs
How do you thaw frozen berries so they aren't mushy?
Strawberries are 92 percent water. When water freezes, it expands into ice. Once this happens, the ice crystals rupture the cell walls of the strawberries. Unfortunately, no matter how you thaw strawberries, they will be softer than fresh. The best way to keep them firm and not mushy is to keep them slightly frozen.
Should I thaw frozen fruit before baking?
Only if the recipe instructs you to do so! Frozen fruit releases more liquid than fresh and some recipes call for you to thaw and drain the fruit first.
More Frozen Fruit Recipes: