I love a no cook breakfast and chocolate overnight oats is a favorite!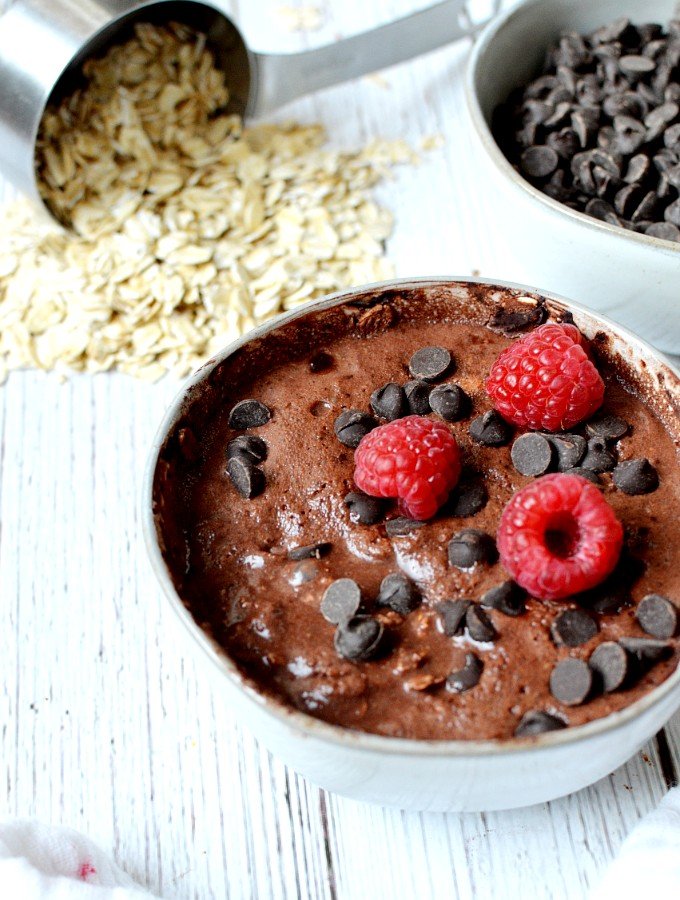 I'm a huge fan of overnight oats. Overnight oats are old fashioned oats soaked in milk in the fridge overnight often made with sweeteners and fillings. The oats absorb the liquid and turn into a chewy cold oatmeal by the next morning. The texture is much different than oatmeal and the only way to know if you like them is to give them a try.
Since I'm constantly experimenting in the kitchen it's often a mess. And since I let the wee people help me it looks like someone broke in and threw flour and sugar everywhere instead of breaking things. It's always a good time but it's messy.
Dishes stack up and I get to a point where I order take out because I'd rather pee my pants than clean another dish. All this to say I'm over the moon for a no cook breakfast. You literally stir all the ingredients together the night before and just open the fridge in the morning. If your life had a soundtrack this is when whoa oh it's magic would begin to play.
And these overnight oats are chocolate which makes this heart VERY happy. If dark chocolate is not your thing regular cocoa powder will work just as well. Dark cocoa powder gives a richer bittersweet flavor to the oatmeal.
Disclosure: This post contains affiliate links. In other words, if you click a link and purchase something I will receive a commission at no cost to you. I only recommend products I use and enjoy myself.
How do you make overnight oats?
The night or day before you plan to eat them you mix everything together. It takes about two minutes.
I like to put mine in a small bowl but a jar is common or any dish will work just fine.
Typically with basic overnight oats you would use a 1 to 1 ratio of liquid to oats and then add sweetener and/or fillings. I do find with chocolate overnight oats since it contains cocoa powder it needs a bit more liquid or it's really thick. If you like it extra thick (I do!) only use ½ cup liquid. In this recipe I use ½ cup old fashioned oats to ⅔ cup of unsweetened almond milk. If you don't want vegan overnight oats or dislike plant milk you can also use regular milk. I prefer almond milk in my overnight oats. If you prefer oatmeal to be on the sweeter side you could also use sweetened almond milk or add an extra tablespoon of maple syrup. You can always add more sweetener or sweet toppings in the morning but you can't take any out so keep that in mind.
I prefer mildly sweet and almond milk but this is really a preference thing. The important thing is that you have the ratio of liquid to oats right in this recipe. For thick oats use ½ cup liquid and for thinner oats like in the picture use ⅔ cup liquid.
You put all the ingredients into the jar or bowl and stir well. Cover with plastic wrap and refrigerate. Enjoy in the morning for a quick and easy breakfast. Check out this recipe if you would rather just have peanut butter overnight oats instead of chocolate peanut butter overnight oats.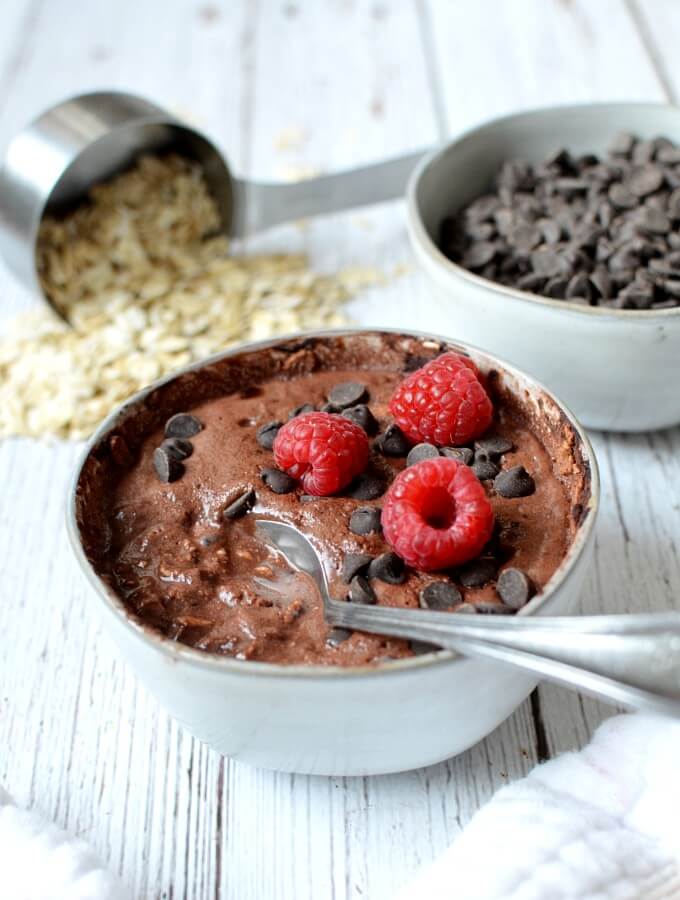 Are overnight oats healthy or good for weight loss?
Oats are very nutritious and a great source of carbs and fiber. They provide vitamins and minerals like Manganese that help with digestion and Phosphorous that help build strong bones. They are high in antioxidants and can help lower cholesterol. You can read all about their health benefits here.
Oats are filling which is why overnight oats beats cereal in my book any day of the week. I've all but given up on cereal to keep me full longer than an hour. High fiber foods take longer to digest and in turn keep you full longer. Since oats keep you satiated longer you may be less likely to curb a craving or eat an unhealthy snack. For a healthy weight loss plan you will need to do more than add oats to your diet but it's a great place to start.
I also like to go light on the sweetener. You can always add banana to the top to give it more sweetness and a boatload of potassium. If you are looking for a healthy overnight oats recipe for weight loss this is a good one. Unsweetened almond milk is low in calories and sugar. Peanut butter provides protein. Cocoa powder is high in antioxidants.
What oats are best for overnight oats?
Overnight oats are made with old fashioned oats or rolled oats.
Both rolled oats and quick oats are steamed but rolled oats are thicker than quick cooking oats. They take longer to cook and absorb liquid which is what we want here since we're soaking overnight. Steel cut oats are not steamed or rolled and would not have the right texture.
I will tell you there have been a few times I forgot to soak oats the night before. My husband eager for some overnights oats soaked quick cooking oats for 30 minutes and said they were delicious. The textures a little different but if you're in a pinch you can try it out to see if you like it.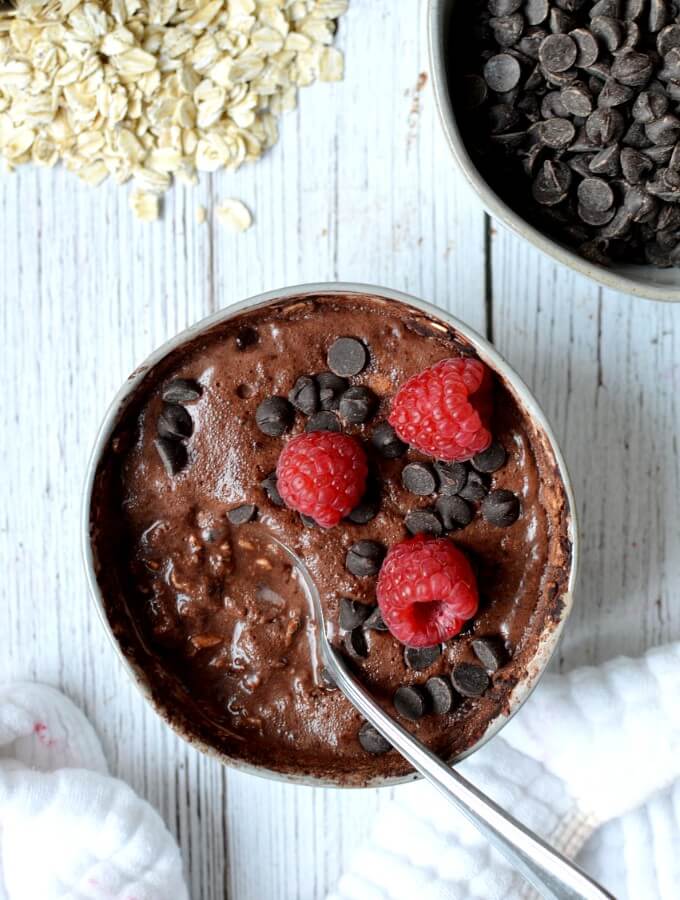 Toppings are always a good idea:
The toppings for oatmeal are endless and same goes for overnight oats. The toppings are half the fun!
I like to add sliced banana. I will say I never add it the night before. Some people do this but the thought of day old, brown, mashed banana sounds unappealing to me.
Some other topping ideas are:
Fresh Berries
Chocolate chips
Granola
Extra Peanut Butter
Almonds, Walnuts or Pecans
Dried Coconut
Jam
Crushed up cookies
Cinnamon
Sprinkles
Whipped Cream
I always like to have a filling but nutritious breakfast with a small amount of indulgence so I only add a tablespoon of maple syrup in this recipe then add sliced banana on top for more sweetness and additional minerals. I may add a few chocolate chips or sprinkles to make it feel extra special or indulgent. All of that though is really up to you!
Are oats gluten free?
Yes but be absolutely sure you buy gluten free oats!
Oats are processed in facilities around wheat and other gluten containing grains. The risk of cross contamination is very high and for this reason oats are not considered gluten free unless labeled so.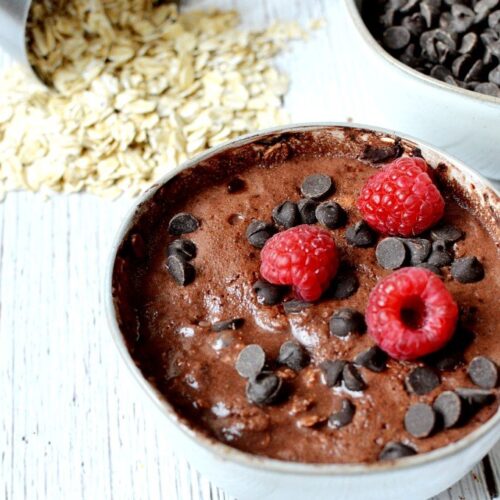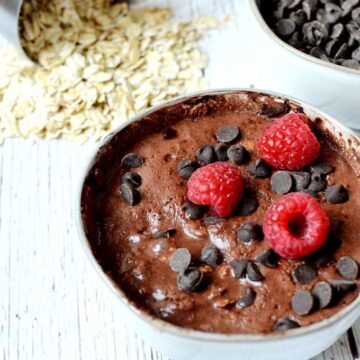 Dark Chocolate Overnight Oats
Ingredients
½

Cup

Old Fashioned Oats

Make sure they are labeled gluten free for gluten free overnight oats

⅔

Cup

Unsweetened Almond Milk*

1

tbsp

Dark Cocoa Powder

1

tbsp

Peanut Butter

1

tbsp

Maple Syrup
Instructions
Mix all the ingredients together really well in a jar or bowl. Cover and refrigerate overnight and enjoy in the morning.

For thicker oats, only use ½ cup of unsweetened almond milk.

Add additional toppings if you like. I like to add sliced banana and chocolate chips.
Notes
* For thicker oats only use ½ cup of almond milk.
*For sweeter oats add 2 tbsp Maple Syrup.