Maple, peanut butter and granola make these peanut butter overnight oats a quick and delicious breakfast. This recipe is vegan and gluten free.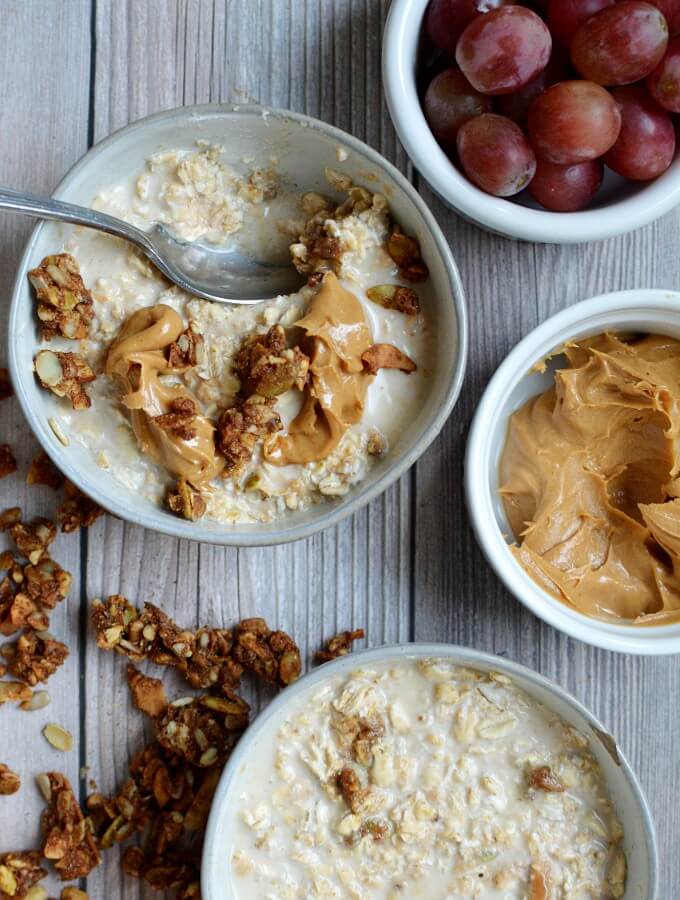 Peanut butter and oats are two of my favorite ingredients so it only made sense to marry the two. Honestly if breakfast doesn't involve peanut butter I feel a little slighted. I even put it on buttermilk pancakes. Overnight oats are exactly as they sound - old fashioned oats mixed with liquid and toppings left in the fridge overnight.
I first discovered peanut butter overnight oats ten years ago before my first marathon. My enthusiastic uncle purchased a couple pre-made packets at packet pickup for our healthy early morning breakfast. I added almond milk and peanut butter then threw it in the fridge and the rest was oatey history.
You can add anything from greek yogurt (what up protein!) to chia seeds, banana, chocolate or fruit. The opportunities are endless which makes this super quick breakfast super awesome.
Disclosure: This post contains affiliate links. In other words, if you click a link and purchase something I will receive a commission at no cost to you. I only recommend products I use and enjoy myself.
Ingredients for this Overnight Oats recipe:
For basic overnight oats you simply need old fashioned oats and liquid. But since we want super delicious morning vibes we've invited a few other all stars.
Old Fashioned Oats
Unsweetened almond milk
Maple Syrup
Granola (I used Purely Elizabeth)
Peanut Butter
How to make overnight oats:
Choose your vessel. I like to put mine in small ceramic bowls. There's something about a perfectly sized bowl that makes me so happy. You could use small mason jars, mugs or disposable containers for an on the go breakfast with no clean up.
Add the old fashioned oats and the almond milk.
Add maple syrup and mix it in with a spoon.
Add the peanut butter and granola and stir in with a spoon but not too well. It's always nice to have small chunks of peanut butter throughout your oatmeal.
Using your spoon make sure all the oats are submerged. Cover with plastic wrap or a lid.
Refrigerate overnight.
Oatmeal toppings and Variations:
In my opinion a delicious overnight oats recipe has four ingredients:
Oats (of course!)
Liquid
Sweetener (not too much)
Mix ins
I like to use unsweetened almond milk for healthy overnight oats. It's my favorite healthy plant milk. You can use whatever liquid suits your fancy though.
Nowadays you've got everything from regular milk to coconut milk. If you prefer to eat like a ten year old at summer camp you could even use chocolate milk or strawberry milk. (I won't judge!) Sometimes our inner kid just needs to get out.
The oat to liquid ratio is generally 1:1. For example if I'm using ½ cup oats I need ½ cup (4 oz.) of liquid. If you like thicker oats you can add 3 oz in this recipe instead of 4 oz. This is how my husband prefers it.
Since I don't want to eat dessert for breakfast (usually) I don't add much maple syrup. Also the granola adds sweetness as well. There are so many options for sweeteners.
Honey
Agave
Coconut Sugar
Date Sugar
Brown Sugar
Banana
Banana is a great one to add for natural healthy sweetness. I would not recommend mashing it in there the night before though. Cut it up in the morning and fold it into your oatmeal. Which brings me to toppings. The world is your oyster my friend. Here are some ideas for you:
Chocolate Peanut Butter Overnight Oats- Add peanut butter, cocoa powder, milk of choice, honey and chocolate shavings
Strawberry Overnight Oats - Add strawberries, strawberry greek yogurt, honey, milk of choice and vanilla extract (just a smidge)
Peanut Butter Banana Overnight Oats - Add peanut butter, maple syrup, sliced banana, and milk of choice
Low Calorie Overnight Oats - Add unsweetened almond milk, stevia and cinnamon
Is this Overnight Oats Recipe Gluten Free?
The answer is yes but you have to purchase oats and granola that are labeled gluten free.
They are usually processed on the same equipment as wheat therefore they must be labeled or certified gluten free. I buy Bob's Red Mill Gluten Free Oats but I know Quaker now has a gluten free line.
This recipe is also vegan if you use vegan granola. I used Purely Elizabeth Vanilla Almond Butter granola because it's gluten free, vegan and incredibly delicious.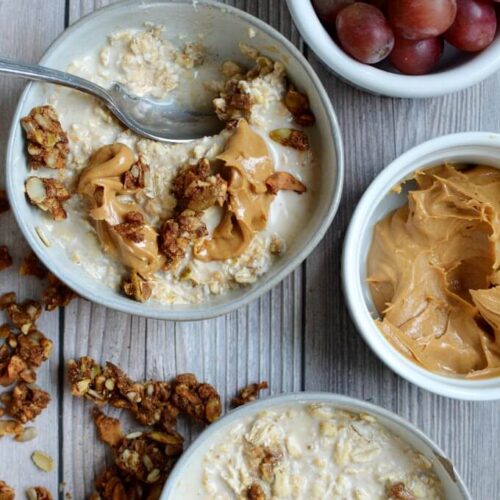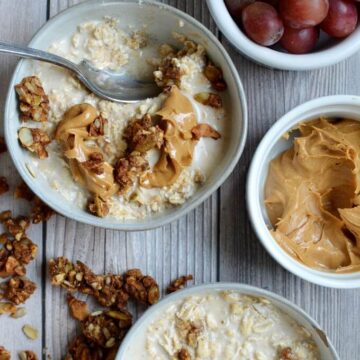 Peanut Butter Overnight Oats
Equipment
Small bowl or jar

Liquid Measuring cup
Ingredients
½

cup

old fashioned oats

For gluten free make sure they are certified gluten free

½

cup

unsweetened almond milk

1

tbsp

Maple Syrup

1-2

tbsp

peanut butter

2

tbsp

granola

Make sure its vegan and gluten free if needed
Instructions
Add oats and unsweetened almond milk to a small bowl or jar.

Stir in maple syrup. Stir in peanut butter but not too well. It's nice to have chunks throughout. Stir in granola.

Using a spoon make sure oats are submerged in liquid. Cover with saran wrap or a lid.

Refrigerate overnight. Enjoy in the morning. Top with more peanut butter and granola if desired.
Notes
I like to add granola the night before for sweetness and additional flavor and top it with more in the morning for crunch! 
For sweeter oats drizzle additional maple syrup on top!