This cream cheese frosting is dreamy! It's silky smooth, perfectly sweet and everything that's right in life.

I remember years back ordering a red velvet cupcake at a local bakery. I admired it for a second then went in for a luscious bite only to realize it was topped with buttercream. Dun dun dunnnnn!
Is this some kind of cruel pastry joke? Where was the cream cheese frosting? I felt a little cheated. Scratch that - REALLY cheated. At the very least it should have had a big red flag in front of it reading "no cream cheese".
Disclosure: This post contains affiliate links. In other words, if you click a link and purchase something I will receive a commission at no cost to you. I only recommend products I use and enjoy myself.
How do you make cream cheese frosting from scratch?
This 3 ingredient cream cheese frosting is super simple. I love those two little words. Simple recipes are the best kind of recipes. It's almost as easy as picking up Betty Crocker cream cheese frosting from the store.
You beat butter, cream cheese and powdered sugar together until silky smooth then scrape into a bowl and pipe onto your favorite cupcakes.  It really is that easy. Just be sure to follow a few pointers I've laid out for you in the post. We only want good baking vibes in this kitchen!
If you are interested in making homemade cream cheese check out this post on how to do it. If you swear by Philadelphia cream cheese that's great but I've had good success with Walmart brand as well. I swear by their grocery delivery. Three kids under 6 grocery shopping is like shopping during a tornado.
I have not tried this recipe with low fat cream cheese so I can not attest to how it will come out.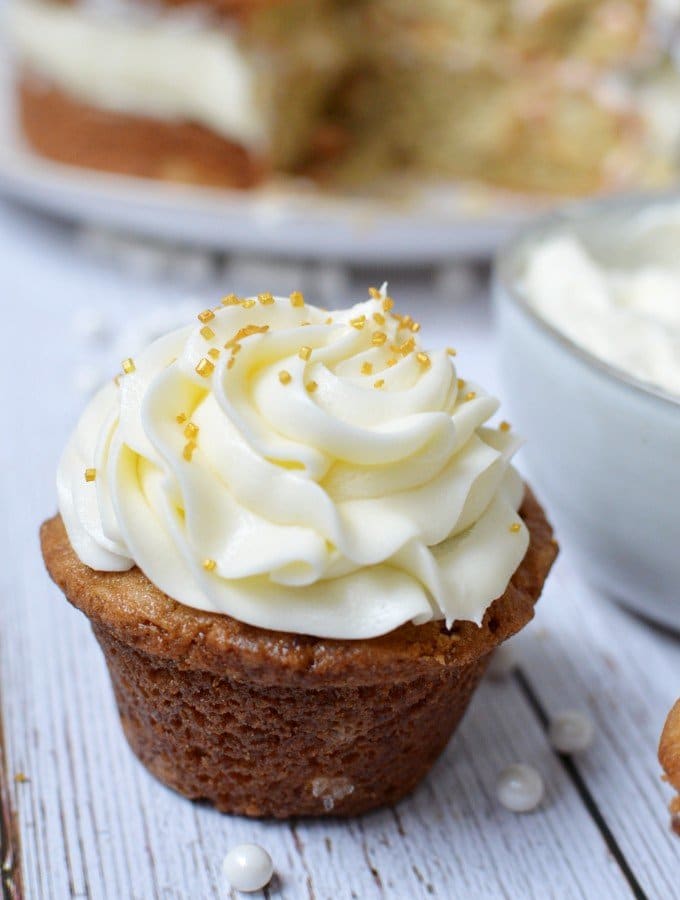 Tips for making easy cream cheese frosting to die for:
Make sure your butter is room temperature!
This one I can't emphasize enough. Normally even when a recipe calls for softened butter you can get away with cold butter. This is not the case with cream cheese frosting. Years ago I worked at a University as a Pastry Chef in the catering department. I had total freedom to bake what I wanted, and I loved it. I went to make a HUGE batch of cream cheese frosting to ice lemon blueberry cakes I so lovingly baked. In a mad dash I threw the butter and cream cheese in the 30 quart mixer without letting it come to room temp and boom I had tiny bits of butter all throughout my icing. Yuck. No amount of beating was getting those stubborn suckers out. Which brings me to my next tip.
It's okay to microwave the butter.
You forgot to leave a stick of butter on the counter so now what? Not a problem friend.  Simply microwave cold butter in 5 second intervals until it can easily be pressed into with your fingers. Be careful not to melt it. This is why you only do it in 5 second intervals. It will turn melty on you before you can say cream cheese soup. It's actually better for it to be just a bit firmer than melty.
Adjust powdered sugar accordingly. 
I love the ratio in this recipe! But if theirs anything I've learned in life it's everyone's different. Make the recipe as follows and if you taste it and think "hmmm, I'd like it sweeter" by all means add more powdered sugar. Just be sure to do it a small amount at a time. You can put it in but you can't take it out.
What is cream cheese icing good on?
Everything!
That's a carrot cake with pineapple in the background and it tasted amazing on that! This fluffy cream cheese frosting is great for cupcakes, cakes and cinnamon rolls. If you've been itching to bake up your award winning carrot cake recipe then look no further!
Carrot cake and Red Velvet Cake are the most well known pairings. It tastes great on these Gluten Free Carrot Cake Muffins. I always say muffins are cupcakes without frosting.
It also tastes great with:
Lemon Cake
Coconut Cake
Chocolate Cake
Pumpkin Cake
Vanilla Cake
Strawberry Cake
Cinnamon Rolls
You can make cinnamon roll icing without cream cheese but if you want that Cinnabon-esque icing stick to cream cheese.
Can you pipe it?
Yes you can.
Cream cheese frosting isn't quite as thick as traditional buttercream. This one especially since I use half the amount of cream cheese most recipes call for and a lot less sugar. To me there's nothing worse than a frosting so sweet it makes you sick when you eat it. Don't misunderstand me. I'm not trying to put my frosting on a diet. It's frosting after all. The perfect ratio of sugar and fat will make you swoon and this ratio is perfect in my opinion. If you would like it to be stiff for piping or frosting pop it in the fridge for 20 minutes. I piped the cupcake in the picture with it fresh but it's all a matter of preference.
Just be careful because if you leave it in too long it will become too thick to pipe. An easy solution is to beat it for a few seconds until pipe-able again. You can use the mixer or a heavy duty spatula for this but it takes arm muscles (for which I have none).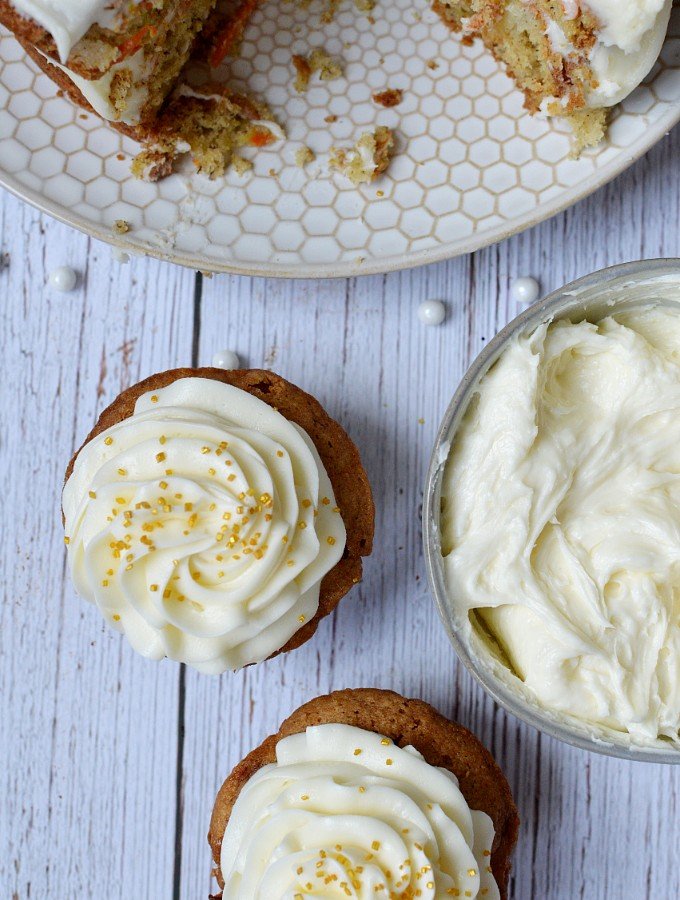 Are there any variations for this frosting?
Yep!
Chocolate cream cheese frosting - Add a small amount of cocoa powder with the powdered sugar until it tastes perfect for you. I like to add dark cocoa powder to most of my chocolate desserts. It's right next to Hershey's regular version. It produces a rich, dark chocolate flavor you can't achieve with regular cocoa powder.
Cinnamon cream cheese frosting - Add a small amount of cinnamon with the powdered sugar to taste.
Coconut cream cheese frosting - Add a small amount of coconut extract. You can always add more so only add a drop or two at a time.
Strawberry cream cheese frosting - Try pulsing freeze dried strawberries into a powder and then folding them into the frosting. This way you get the strawberry flavor without it turning runny.
Vanilla cream cheese frosting - Add a teaspoon of vanilla extract to it.
How much frosting do I need?
Good question.
This recipe is enough to frost 6 to 8 cupcakes depending on how heavy handed you are.
If you need enough to frost an 8 inch layer cake or more cupcakes simply double the recipe.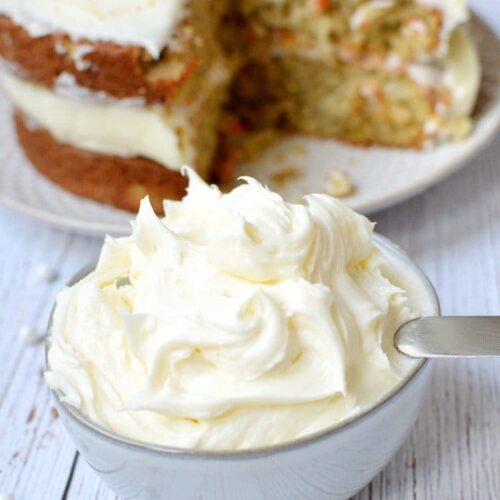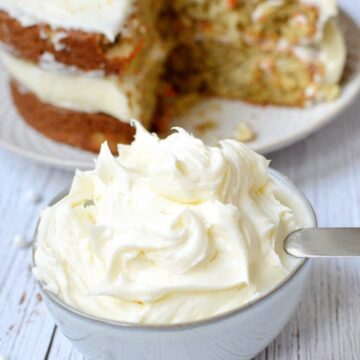 Cream Cheese Frosting Recipe
A perfectly sweet cream cheese frosting for cupcakes, cakes and cinnamon rolls.
Equipment
Stand Mixer with the paddle attachment or a hand mixer
Ingredients
½

cup

Unsalted Butter (1 stick)

room temperature*

4

oz

Full Fat Cream Cheese

half a block

3

cups

Powdered Sugar
Instructions
Beat butter on medium speed for 30 seconds. This will ensure the cream cheese and butter emulsify with no lumps especially if your butter is on the cold side.

Add cream cheese and beat for 1 more minute. Scrape the bowl with a spatula.

Add 1 ½ cups of the powdered sugar. Beat on low for 5 seconds so the sugar doesn't poof out of the bowl. Beat on medium high for 1 minute.

Add 1 ½ cups of powdered sugar and beat on low for 5 more seconds. Beat on medium high for 1 more minute.

Use frosting to pipe onto cupcakes.*
Notes
*If your butter is not room temperature simply microwave it 5 seconds at a time until easily pressed into. It is better to be a little on the cold side than on the melty side. I usually microwave butter right out of the fridge for 10 seconds and no longer. 
*If you need to frost and fill an 8 inch cake I would double this recipe.