Sweet mixed berries combined with lime juice and sugar then topped with a buttery oatey crumble makes one delicious berry crisp!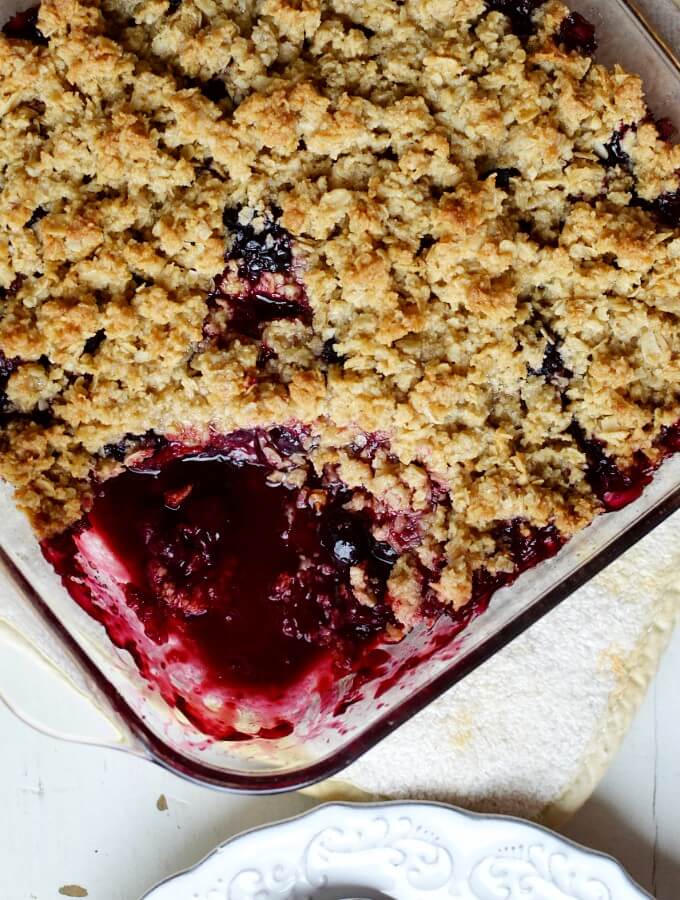 I am crazy for mixed berries. I cook them on the stove with lime juice for a quick snack all the time. I love the combination of citrus and berries even without sugar or a crumble atop.
It's not unusual for me to whip up a warm berry crisp on a weeknight and pop it in the oven right before I put the kiddos to bed. The only difference being it's a berry crisp for two not for ten.
Disclosure: This post contains affiliate links. In other words, if you click a link and purchase something I will receive a commission at no cost to you. I only recommend products I use and enjoy myself.
How to make a berry crisp:
Berry crisps are really simple. I make them on the regular. It's really just berries, sugar and cornstarch or flour topped with a crisp then baked until bubbly and golden. The flour or cornstarch acts as a thickener so the berries aren't too liquidy. The crisp is simply butter, flour, sugar and oats. Everyone puts a different spin on it and uses different ratios.
I use frozen berries in my crisp and crumbles mainly because when berries are perfectly ripe I can't seem to do anything with them but shove them into my pie-hole. It feels sacrilege to to put them in anything else but that's just me. I also like frozen berries because they are accessible all the time for the same price. During the winter a half pint of blueberries can cost up to 4 bucks. I'm no math whizz but that's eight bucks a pint. Mega Ouch.
There's only a couple steps to a delicious berry crisp.
Add berries, sugar, cornstarch and lime to a bowl then stir it all up until coated well.
Pour berries into a greased 8 by 8 baking dish. I used glass but anything oven safe will work here.
Wipe out the bowl and make your topping. Add both sugars, salt, and oats to the bowl. Cut in your cold butter with your fingers until completely combined.
Top frozen berry mixture with your topping and pop in a 350 degree oven for 55 minutes until hot and bubbly.
Sounds easy, doesn't it? That's because it is!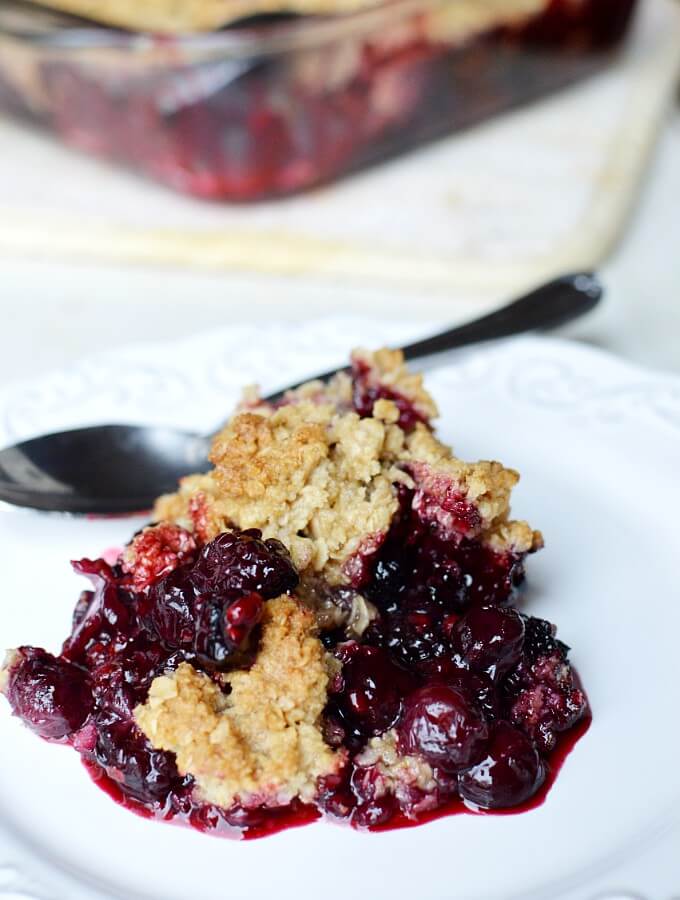 What's the difference between a crumble and a crisp?
I would say it depends on who you ask.
They are basically interchangeable at this point.
From what I've read crisps contained oats to make the topping crispy whereas crumbles did not. I would say there isn't much a difference nowadays but a berry cobbler would be very different. A cobbler has more of a shortcake or biscuity topping.
In this crisp I use blackberries, blueberries and raspberries. I find the addition of strawberries off-putting. If you would like a blueberry crisp my gut says this recipe would work for that as well but I have not tried it yet. I will update this post when I do and let you know if the ratios work for a blueberry crumble.
Can you freeze berry crisp?
Yes you can!
I love this question because I freeze a LOT of things. Who has time to make everything from scratch all the time? And guess what you don't have to! My freezer is my best friend. I'm considering walking down the stairs and giving her a hug right now.
Theres three ways you can freeze this crisp with great results.
Make the berry crisp as the recipe calls for but before baking it wrap it well with plastic wrap and freeze it ready to bake. When you are ready to bake it simply pull it out of the freezer and pop it in a 350 degree oven and bake for 55 to 65 minutes on the middle rack until the berries are bubbly and hot. If the topping starts to brown too much during baking cover it with aluminum foil.
Make the topping and dump it into a plastic freezer bag. Next time you want to make a berry crisp pull the bag out and let it sit on the counter until it can be crumbled onto your berry crisp. You just cut the process in half by making your berry crisp topping ahead of time. That's what I call killin' it in the kitchen.
Make and bake it as directed. Enjoy yourself a hefty portion of it. Once it has completely cooled on the counter use a spoon to scoop single portions onto a silpat lined sheet pan (parchment paper also works). Once all the berry crisp is scooped into single portions place the sheet pan in the freezer until frozen. You can always use a half sheet pan if a whole one won't fit into your freezer. Peel the frozen berry crisps off the sheet pan and put into a gallon sized freezer bag. Now anytime you want a berry crisp just pop one of those bad boys into an oven safe bowl. Bake at 350 until reheated. No work and no mess my friend!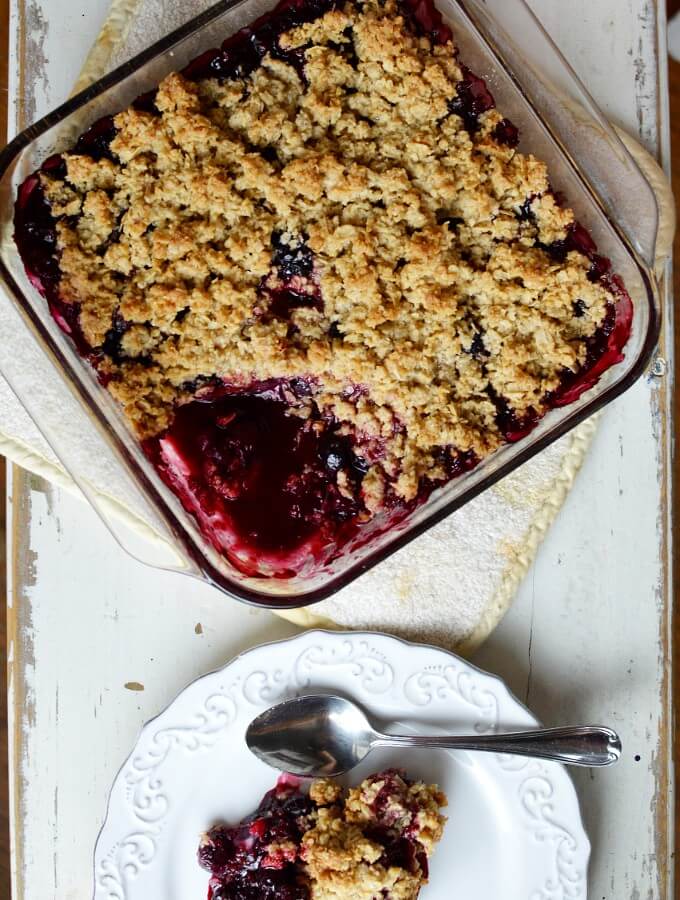 How do you reheat berry crisp?
If you are reheating individual size portions like I mention above simply microwave for 1 minute or bake at 350 for 25 minutes until heated through.
I do both and I will say I prefer the microwave method. The topping stays crisp and the filling gets piping hot and delicious in a snap. There's really no downside here unless you count how dangerous it is to have amazing desserts so accessible.
Is this recipe gluten free?
Those of you who read my blog know I have Celiac and ALL my recipes are either gluten free or easily made so. This is a gluten free crisp BUT you have to buy gluten free oats.
I always like to clarify on oat recipes that if you want this recipe to be gluten free you need to buy gluten free oats! Oats are processed in facilities with wheat and other gluten containing grains which makes cross contamination a certainty. I like to buy Bob's Red Mill's oats as I really like the quality of their products plus they sell both quick cooking and old fashioned gluten free oats. Just make sure you buy the bag with the big red gluten free banner at the top.
The reason I use both quick cooking and old fashioned oats in this recipe is as follows. Quick cooking oats are rolled even thinner when processed and therefore absorb liquid faster. They act much more like flour whereas old fashioned oats are more prominent and add a nice chew. You can read about the different oat types here. 
I like to use quick cooking oats in gluten free recipes to act similar to a flour like I do in these flourless oatmeal cookies.
If you love this berry crisp recipe be sure to follow me on Pinterest for other gluten free recipes!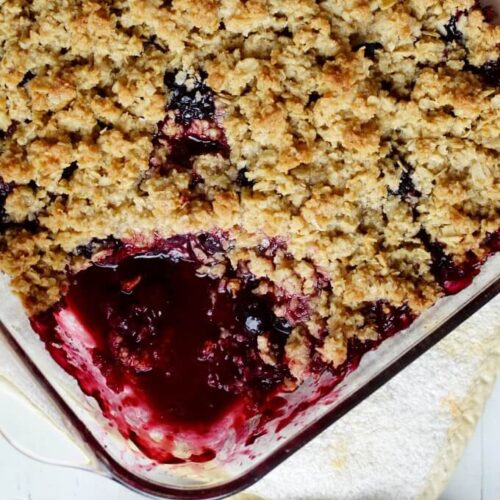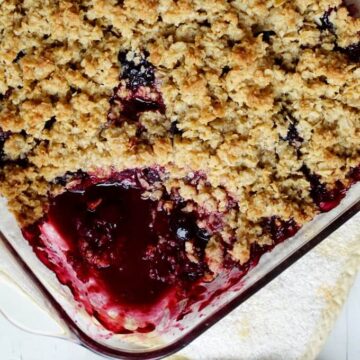 Triple Berry Crisp with Oat Crumble
The best triple berry crisp with a delicious oat crumble and easy to freeze too!
Equipment
8 by 8 oven safe pan

Large Bowl
Ingredients
6

cups

Frozen Mixed Berries

No strawberries

3

tbsp

Cornstarch

1

tbsp

Lime Juice, fresh squeezed

3

tbsp

Sugar
Crumb Topping:
8

tbsp

Unsalted Butter, cold and cut into pieces

1 Stick

¼

Cup + 2 tbsp

Sugar

¼

Cup

Brown Sugar, Packed

¼

t.

Kosher Salt

1

Cup

Quick Cooking Oats

Make sure they're gluten free for a gluten free berry crisp

½

Cup

Old Fashioned Oats

Make sure they're gluten free for a gluten free berry crisp
Instructions
Preheat oven to 350 degrees and spray 8 by 8 baking pan with nonstick spray*.

Add frozen berries, cornstarch, lime juice and sugar to a large bowl and stir with a large spoon until well coated and mixed. Pour berries into pan and make sure all the remaining sugar/cornstarch gets in there too. Set aside.

Wipe out bowl and make the topping. Add both sugars, kosher salt and both oats to the bowl and stir. Using a knife carefully cut up the butter into pieces and add to the oat mixture.

Using your hands or a pastry blender cut the butter into the oat mixture until well combined. Cover the berries evenly with the topping and bake for 55 to 60 minutes on the middle rack until the berries are bubbly and hot.

If the topping begins to look too brown during cooking carefully pull the berry crisp out of the oven and cover with aluminum foil then finish cooking.
Notes
*If you are making this for someone who is gluten free make sure to check your nonstick spray to make sure it does NOT contain flour. Some do and they are not gluten free.