An easy spinach frittata recipe topped with a sweet cherry tomato jam for any night of the week.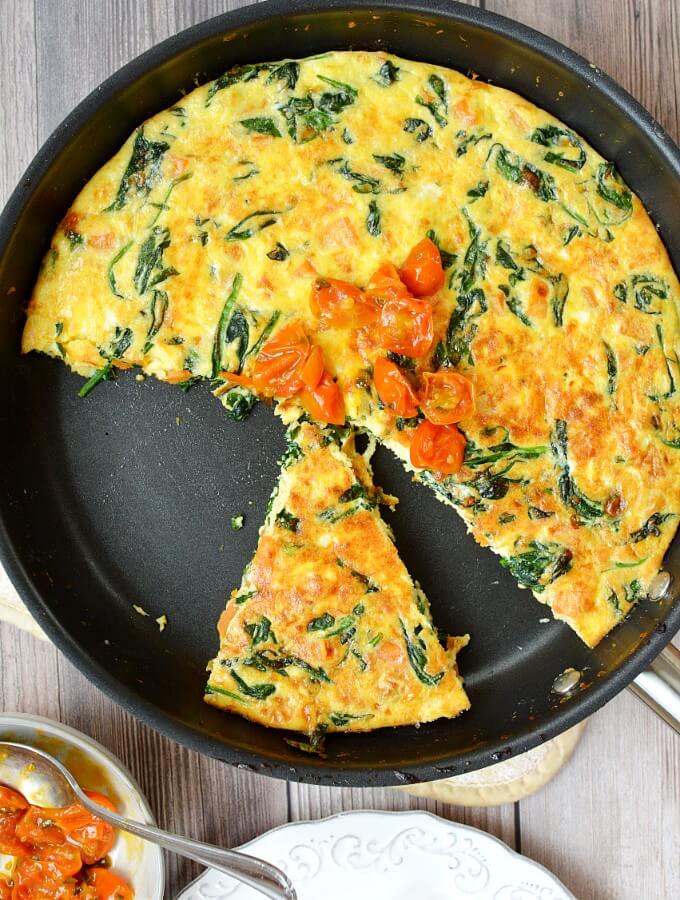 The tomato jam really elevates this frittata. It might just make this the best frittata recipe ever. It's something about the creamy eggs and cheese paired with the tart but sticky sweet cherry tomato jam. It just turns me into a heart eyed emoji face.
Disclosure: This post contains affiliate links. In other words, if you click a link and purchase something I will receive a commission at no cost to you. I only recommend products I use and enjoy myself.
What is a frittata (besides a funky word)?
It's sort of like if an omelette and a quiche had a baby. We've got no crust and no rolling here, thank goodness. It's a one pan dish (so far so good) with eggs, filling, and dairy started on the stovetop and finished in the oven.
An omelette typically has toppings folded into the center like this omelette with garden fresh veggies. A frittata has toppings cooked inside of it like a quiche with no crust. Typically the toppings are sautéed in the pan then the egg mixture is poured directly into the skillet. I have found that everyone does it a bit different and honestly I think that's great. It just shows off how versatile a frittata is. You can even make mini frittatas in a muffin pan and bake them. An egg muffin recipe is basically individual frittatas.
Some people swear by baking the frittata, others broil it. Everyone seems to swear by a different ratio of eggs to dairy. Is there really one perfect ratio? I say find a recipe you like with a ratio you like and go with that.
It's always nice to have a memorized ratio because then you can just throw together a frittata anytime you please. This recipe has a ratio of 10 eggs to ⅓ cup whole milk and is cooked in a 10 inch nonstick skillet.
They're a great catchall for leftovers or random ingredients. Have leftover bacon from brunchin' it up Saturday? Make a spinach bacon frittata! Have some mushrooms about to expire? Make a spinach mushroom frittata! Looks like I've got spinach and egg recipes on the brain.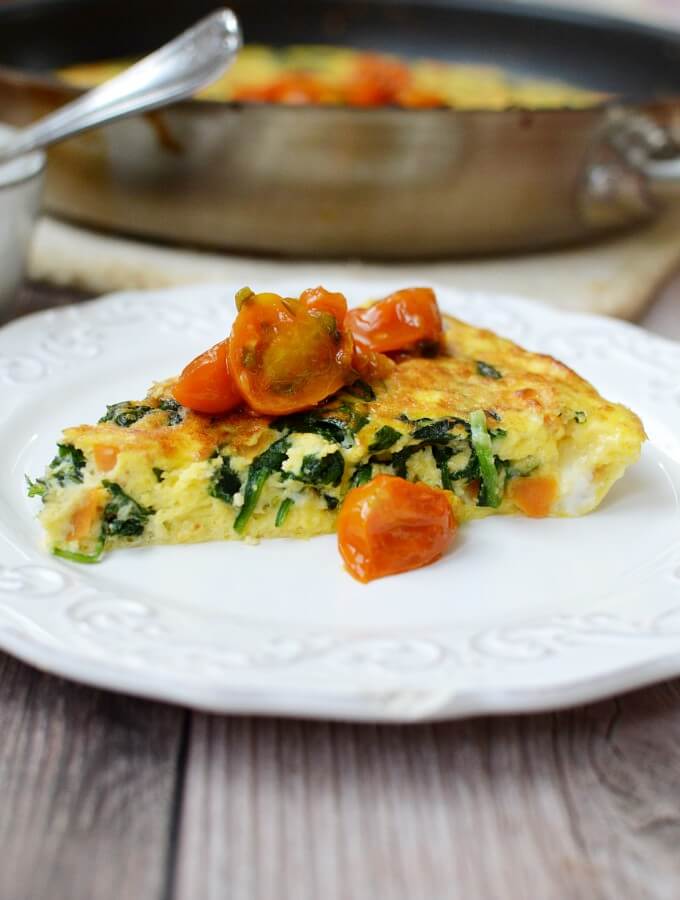 What do I need for this spinach frittata recipe?
Eggs
Whole Milk
Salt
Baby Spinach
Sweet Potato
Sharp White Cheddar, shredded
Garlic, minced
Olive Oil
Cherry Tomatoes, halved
Lime
Sugar
Poblano Pepper, minced
How to make this baked frittata recipe:
First make the tomato jam. Saute minced poblano in olive oil on medium high heat. Add the minced garlic and cook for a minute. Add tomatoes, lime juice, and sugar and let cook for 14 minutes until they are jammy and sticky. Stir occasionally especially toward the end so they do not burn.
While the tomato jam is cooking, prep ingredients. Shred sharp white cheddar cheese and mince the garlic (I just use a garlic press). Peel and small dice the sweet potato. Whisk together eggs, milk, cheese and salt in a large bowl.
Once the tomato jam is done put it in a bowl and wipe out the saute pan. Set to medium high heat. Make sure to wait until the pan and oil are nice and hot. Saute sweet potato in olive oil until fork tender then add spinach and garlic. Turn everything with a spatula until all the spinach is wilted and the garlic is spread throughout. Once the spinach is cooked use a spatula to spread it evenly across the pan. Pour the egg mixture into the pan.
Stir the egg mixture. This will bring all those lovely ingredients to the top plus help cook the eggs. Continue to stir until the top still looks runny but the bottom looks cooked, almost like really undercooked scrambled eggs. Stick the pan under broil on the middle rack until set about 3 minutes then transfer to the top rack until it starts to brown about 20 seconds.
Remove from the oven, top with tomato jam and enjoy.
If you are a die hard white potato person simply sub out the sweet potato with a waxy or all purpose potato. Follow the recipe otherwise.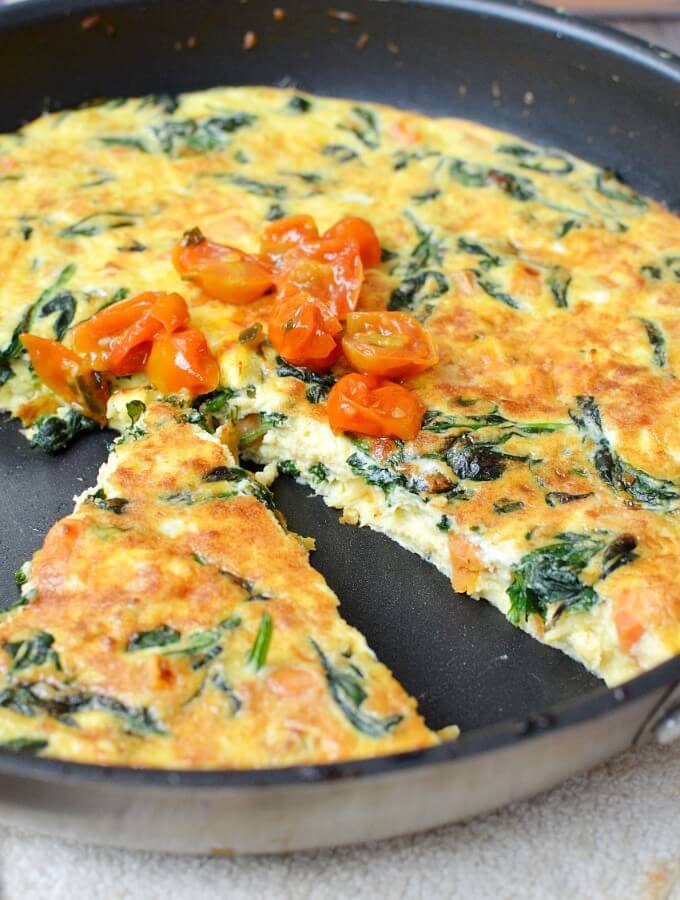 Bake or broil?
After trying both methods I've decided I prefer the stir and broil method over baking it.
In the stir and broil method after sautéing up your vegetables you add the egg mixture and then stir it until partially cooked then broil it to finish. In this method, you get to see the lovely ingredients poke through more and the top takes on a lovely golden brown with a creamy interior.
In the bake method after sauteing your veggies you add the egg mixture and then pop it in the oven to bake the rest of the way. Both start on the stovetop and end up in the oven.
Frittatas are pretty forgiving so as long as you season it properly and don't add too much dairy you should end up with a delicious frittata either way.
A few more tips to remember:
I use a nonstick 10 inch skillet in this recipe but you can use a cast iron skillet (again some people swear by it). Just don't use a stainless steel pan. Eggs and stainless steel aren't friends. The stick factor is unreal. Ain't nobody got time for that.
Frittatas are the perfect catchall which means you can use almost anything in them. Just make sure you saute the vegetables until they are almost all the way cooked. A frittata doesn't take long to cook and won't cook a raw potato. Some excellent things to put in a frittata:
Bell Peppers
Broccoli
Potato
Mushrooms
Roasted Red Peppers
Feta
Goat Cheese
Cheddar
Mozzarella
Get creative with what you have!
If you would like a keto frittata then you're in luck because frittatas make great keto recipes. Simply use low carb vegetables. They are also naturally gluten free (most of the time) since they have no crust.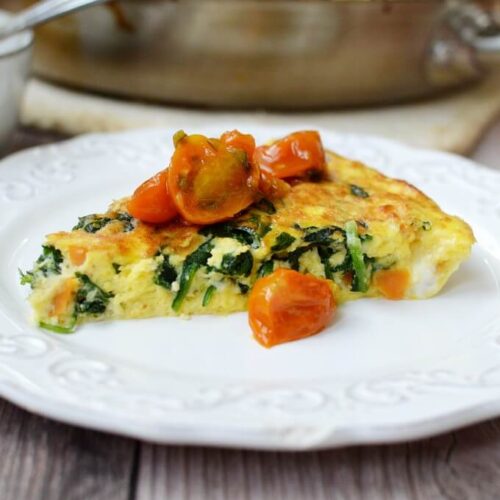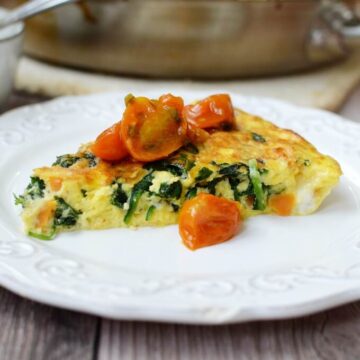 Spinach Frittata with Cherry Tomato Jam
A spinach frittata recipe topped with sweet and sticky cherry tomato jam!
Equipment
10 in nonstick skillet or cast iron skillet
Ingredients
10

large eggs

⅓

cup

whole milk

¾

t.

kosher salt

1 ½

cup

loosely packed aged cheddar cheese

From the block

2

tbsp

extra virgin olive oil

1

sweet potato, small diced

About 2 ¼ cups

5

oz

baby spinach

1

garlic clove, minced
For the Tomato Jam:
10

oz

cherry tomatoes, halved

1

tbsp

extra virgin olive oil

1 ½

tbsp

fresh squeezed lime juice

About 1 lime

1 ½

tbsp

sugar

2

tbsp

poblano, minced

About half of a poblano

1

large clove garlic, minced

Or 2 little ones
Instructions
First make the tomato jam. On medium high heat saute the minced poblano in the olive oil for 2 minutes then add the minced garlic and saute one more minute. Add the tomatoes and cook for 2 more minutes then add the lime juice, and sugar.

Cook until jammy and sticky, stirring occasionally about 14 minutes. Toward the end make sure to watch it so it doesn't burn. Once done use a spatula to scrape it into a small bowl and carefully wipe out the nonstick pan. The pan is hot so be careful.

While the tomato jam cooks down prep your ingredients. Shred your aged cheddar cheese. Peel and small dice your sweet potato*. Whisk up the eggs, milk, cheddar cheese and kosher salt in a large bowl. Mince your garlic if you don't have a garlic press.

Always be sure your pan is hot before you add anything to it. On medium high heat, saute the diced sweet potato in 2 tbsp olive oil until almost fork tender. Add spinach and minced garlic (I just use a garlic press) to the pan. Let cook down for 20 seconds and then using your spatula turn the mixture until all the spinach is cooked. Turn the broil setting on your oven on.

Spread the mixture evenly around the pan with your spatula then pour in the egg mixture. Stir with a spatula so the filling shows more and the eggs are partially cooked. The top will still look runny.

Place the pan on the middle rack until the eggs set about 3 to 4 more minutes. Using a oven mitt transfer the skillet onto the top rack. Let it cook until golden brown on top about 30 more seconds. Keep a close eye on it so it doesn't burn.

Using an oven mitt remove skillet from the oven. Let cool until warm enough to eat. Slice it up with a spatula and top with cherry jam.
Notes
*You can use regular potato as well. Just choose a waxy or all purpose potato and small dice then cook the same way.
Remember when you bake anything in a skillet in the oven the handle will be HOT. Always use an oven mitt to move it and remember once it is out of the oven it will take a while to cool down.