A simple but delicious sautéed butternut squash recipe with just 3 ingredients - olive oil, butternut squash and salt.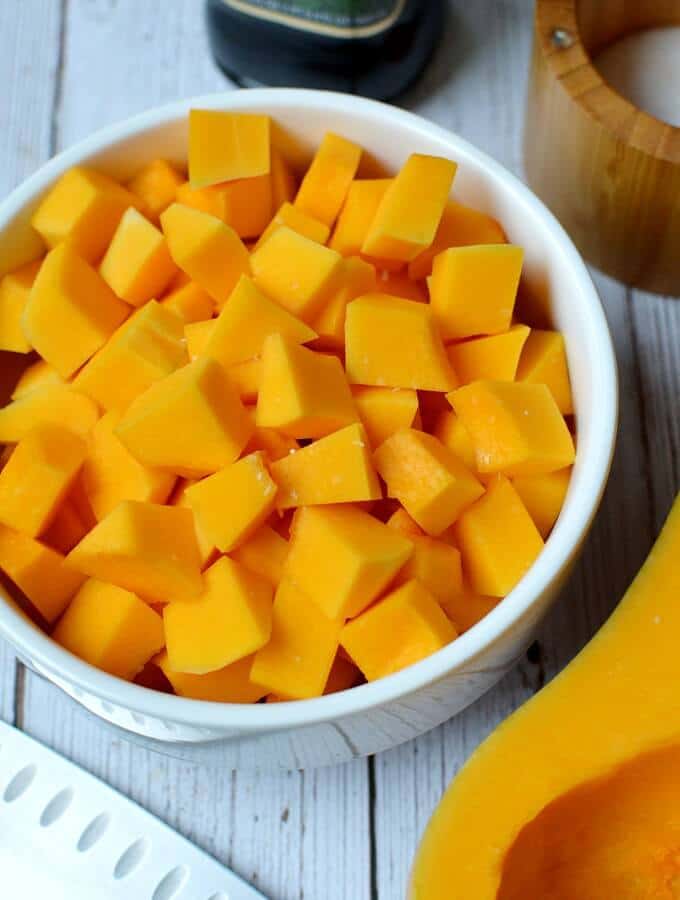 I love squash recipes. I personally like them more than sweet potatoes.  It doesn't take as long to cook and it has this beautiful sunny orange color and creamy texture that can't be matched. It's like the sun and an orange had a baby. 
Disclosure: This post contains affiliate links. In other words, if you click a link and purchase something I will receive a commission at no cost to you. I only recommend products I use and enjoy myself.
How to Peel Butternut Squash
Butternut Squash is a bit high maintenance. You have to peel it, scoop out the seeds and then cut it up into cubes. If you want to skip all this some grocery stores sell pre-diced butternut squash. 
I prefer to do it myself because you know it's fresh but also it's more cost effective. I also like to dice up my squash a bit smaller than large cubes. This way it has enough time to caramelize and cook all the way through without burning. 
First cut off both the stem end and bottom end so both ends are flat. 
I like to hold the bottom while I peel the neck of the squash then turn it around and peel the round bottom. 
Place the squash standing up on its round bottom and cut right down the middle of it. 
Scoop out the seeds of each side with a large spoon. 
Cut the squash into ½ in cubes. 
Don't worry about the cubes being perfect. They won't be. Just aim for around the same size as you cut it. This how to cut a butternut squash video is how I do it to a tee.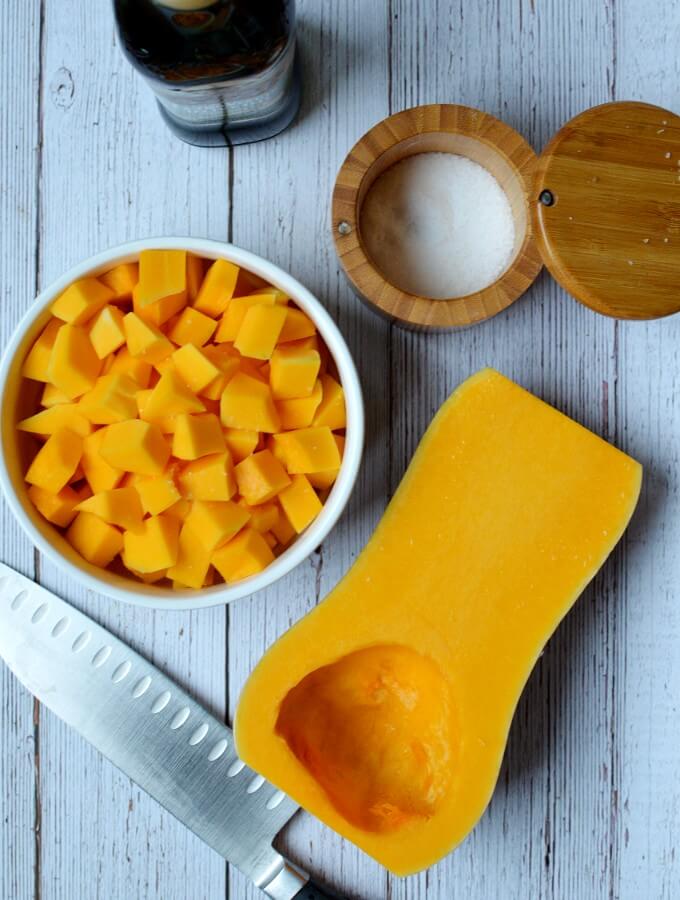 How to Cook Butternut Squash
There are plenty of ways to cook butternut squash: 
Baked Butternut Squash - Instead of dicing it into cubes put both sides crevice side up in a baking dish and bake at 350 degrees until squash is tender. This method takes quite a long time taking anywhere from 40 to 90 minutes depending on how big your squash is. It is a good method to use however if you plan to puree it. You can put butter and brown sugar on it for even more deliciousness plus it's simple. And simple is good! 
Fried Squash - Most fried squash recipes are actually referring to summer squash like yellow squash. I have seen battered and fried butternut squash but with so many other delicious (and easy) ways to cook it, why bother? 
Roasted Butternut Squash - Roasted butternut squash usually refers to cooking it in the oven at a high temperature so the outsides get caramelized. Typically one would toss it in olive oil, season and then roast in the oven at 425 until the outside is caramelized and it's fork tender. This method is delicious as a side dish or in roasted butternut squash soup.  
Sautéed Butternut Squash - My favorite way to cook it! Details on this below.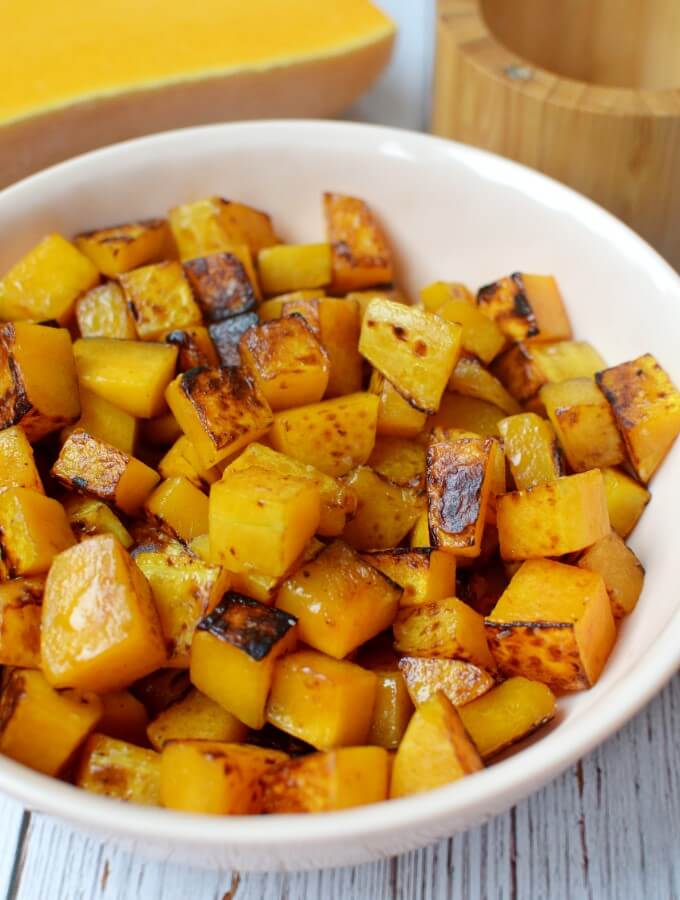 What Flavors Pair Well with Butternut Squash
I personally love sautéed butternut squash with just olive oil and salt. It has a natural sweetness to it and a creamy texture all on its own. But Butternut squash also tastes amazing with other flavors and spices. 
I love to add a tablespoon of maple syrup toward the end of cooking to give it that maple flavor plus additional sweetness. I think the most common pairings (for good reason) are fall flavors like cinnamon, nutmeg, rosemary, sage and thyme. It tastes great with creamy cheeses like goat cheese and feta. 
Since butternut squash has a natural sweetness it also pairs well with spicier friends like Cayenne or black pepper. Really the flavoring opportunities are endless with butternut squash. 
How to make this recipe
Cut up your squash and have it ready. For this recipe I used 4 cups of squash or about half a large squash. I like to dice the whole squash up and then put what I'm not going to use in a ziplock bag in the fridge for later. If you use more than 4 cups in a 10 inch skillet you risk overcrowding the pan and not evenly cooking the squash. 
Heat 2 tablespoons of olive oil in a 10 inch saute pan on medium high heat. Once hot add squash to pan, spread around evenly and then leave undisturbed for 3 minutes. This is what causes it to caramelize. If you stir it the entire time you won't get any golden brown edges. 
Season it with salt and give it a good stir with a spatula then let it sit again undisturbed for 2 more minutes. At this point you should have some really nice caramelization and you can just stir it occasionally until it's fork tender. Just be sure your pan isn't too hot or instead of caramelization you will have burnt black edges.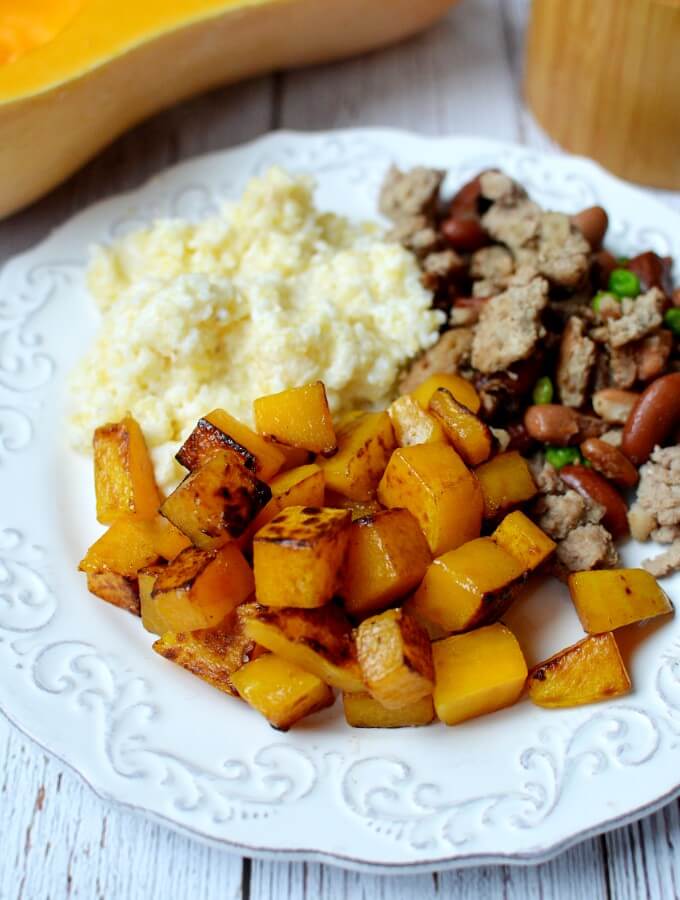 I love creamy grits and butternut squash together!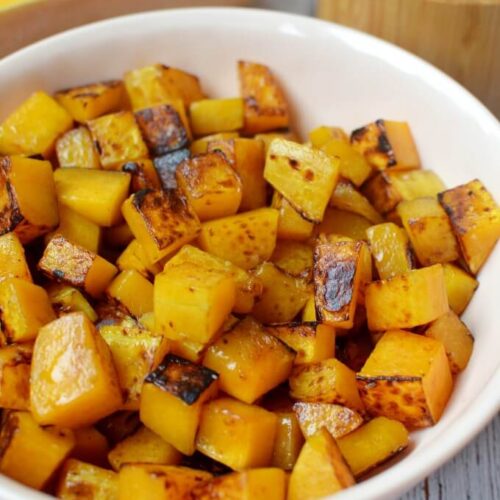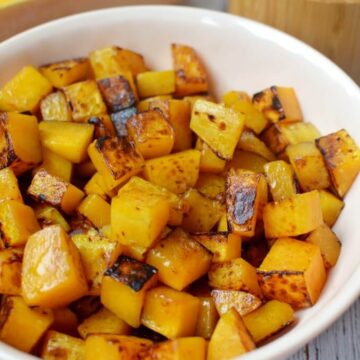 Sauteed Butternut Squash
A quick and easy 3 ingredient sauteed butternut squash to go with dinner.
Equipment
10 inch Saute Pan

Cutting board
Ingredients
4

cups

Butternut Squash, cut into ½ inch cubes

1 ½

tbsp

Extra Virgin Olive Oil

½

t.

Kosher Salt

1

tbsp

Maple Syrup

Optional
Instructions
Heat oil in a 10 inch saute pan over medium high heat.

Add butternut squash cubes and spread around the pan so it's evenly distributed. Leave the squash undisturbed for 3 to 4 minutes. Season with salt and stir it well.

Leave squash undisturbed for another 3 to 4 minutes and then stir well. Add maple syrup stirring occasionally until squash is fork tender.
Notes
Leaving the squash undisturbed and not stirring the whole time will produce caramelized edges on the squash. Just be sure your heat is not too high or the sides will burn.