If you love muffins with beautiful muffin tops and lots of chocolate chips then these gluten free chocolate chip muffins are for you!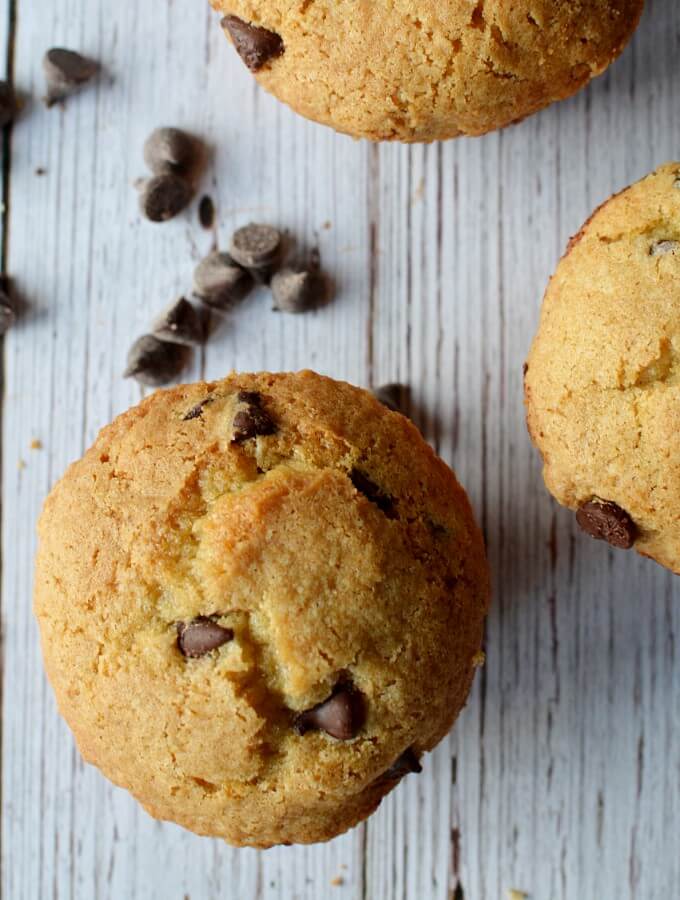 If I'm anything in life it's a muffin person. Growing up I was notorious in my family for eating four too many muffins in one sitting. And frankly I wear my badge with honor. Nowadays I still love them just as mightily but I muffin smarter and gift them to everyone around me. Who doesn't want a delicious muffin with a beautiful muffin top like the one above? You can't eat them all if you give them all away.
As I crafted this recipe I knew I wanted four things:
A moist and delicious muffin
Lots of chocolate chips!
A beautiful muffin top
A muffin so good I couldn't stop eating them
I'm proud to say after throwing one batch out and eating three more (cause let's face it they were all pretty good) I finally created perfect gluten free chocolate chip muffins in all their glory.
Disclosure: This post contains affiliate links. In other words, if you click a link and purchase something I will receive a commission at no cost to you. I only recommend products I use and enjoy myself.
Ingredients for Gluten Free Muffins
Here's what you need for these moist gluten free muffins:
Brown Sugar
Sugar
Canola Oil - I chose oil over butter in these muffins because it keeps them tender and moist.
Egg
Baking Powder
Baking Soda
Kosher Salt
Bob's Red Mill 1:1 Gluten Free All Purpose Flour - I'm convinced now more than ever that if a recipe calls for a specific flour you should use that flour. Most of my recipes call for this brand because I love it but I will say there are others I like too but the thickness is completely different. They do not come out the same!
Whole Milk - To add moisture to the muffins
Semi Sweet Chocolate Chips - We want to be liberal with the chocolate! Nobody wants to play I spy while eating a muffin.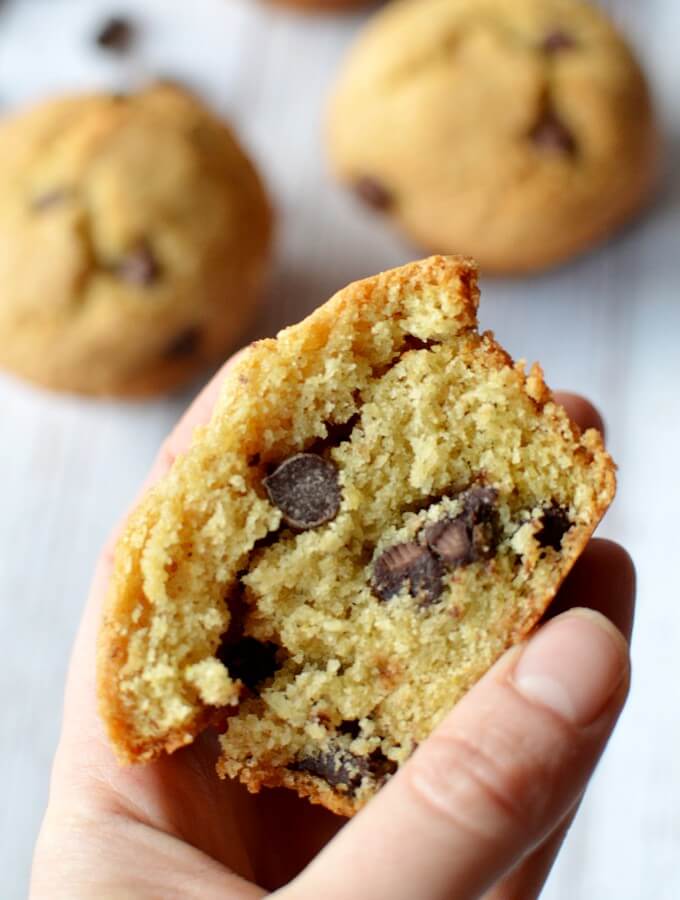 Essential things to remember
Grease your pan well or use muffin liners. Muffins with tops are harder to get out of a tin therefore make sure they are sprayed sufficiently with nonstick spray or use liners.
Fill your muffin tins with batter all the way to the top. This should give you 6 muffins exactly but more importantly give you that domed muffin top that's so wonderful.
Sprinkle additional chocolate chips on top of each muffin. As you can see in second photo I didn't do it in this batch and I didn't have any of those beautiful chocolate morsels poking through. Not only does it look great but it gives you chocolate in every single bite.
Don't over bake them. This seems kinda like an obvious tip but it's even more essential in gluten free baking. Gluten free goodies are already more susceptible to being dry/crumbly and over baking them is a huge no no. My muffins took exactly 22 minutes but this could vary depending on the oven. You can set the oven for 18 and check them with a toothpick and add three more minutes if they're not done. Just don't forget about them!
What flour should I use for this recipe?
I touched on this a little bit earlier but if you want this recipe to come out as it's intended use Bob's Red Mill 1:1 All Purpose Gluten Free Flour.
Even though Bob's Red Mill is my go-to I also think Cup4cup has a really nice flavor as well. But I've subbed it into my pancake recipe with little success unless I alter the liquid. Reason being cup4cup's number one ingredient is cornstarch which thickens up much more readily than flour. The reason I say this is because each recipe is created specifically with a gluten free flour that has a specific combination of starches and flours to it.
If you change the flour the recipe may come out okay but it may not and since gluten free ingredients cost mucho dinero I always recommend using what the recipe calls for. This especially goes for recipes with single ingredient flours like coconut flour recipes or almond flour recipes. If you have coconut flour then do a search for coconut flour muffins. This will give you the best bet at success in gluten free baking.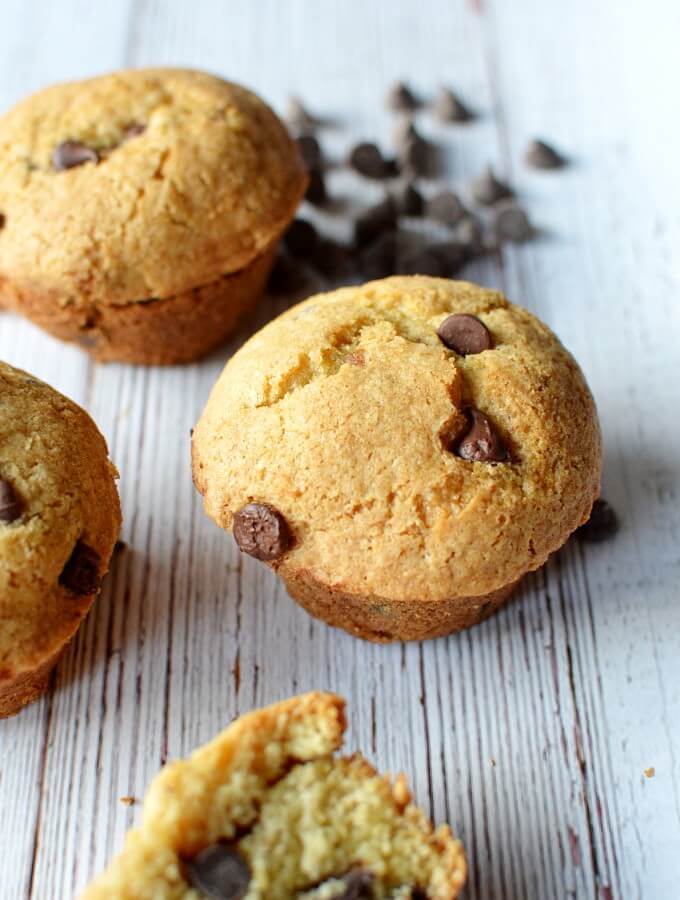 How to make these gluten free muffins
You can use a mixer for this recipe but you don't have to. We aren't creaming butter in this recipe so it's not necessary.
This is a one bowl recipe and it's very simple.
In a large bowl whisk together the oil and the sugars (or beat in a mixer) until just combined. Add the egg and again beat it until combined. Add all the dry ingredients to the bowl and beat until the mixture looks like thick batter. Slowly add the milk until completely incorporated. Fold in the chocolate chips and bake at 350 degrees. Mine took exactly 22 minutes to bake but each oven is a little bit different so keep an eye on them. Insert a toothpick into a muffin and if it comes out clean with no batter on it the muffins are done. If you are a seasoned baker you can also touch the top of the muffin and usually tell by how it bounces back or leaves an indentation.
If you love these muffins check out my gluten free pumpkin muffins, gluten free chocolate muffins, gluten free chocolate cookies or my best gluten free chocolate chip cookies recipe. I must have tweaked and baked these cookies 12 times before finally getting the perfect cookie. It's chewy and soft with crispy edges and lots of chocolate chips. It's everything you want in a chocolate chip cookie.
My next muffin venture will be perfect gluten free blueberry muffins!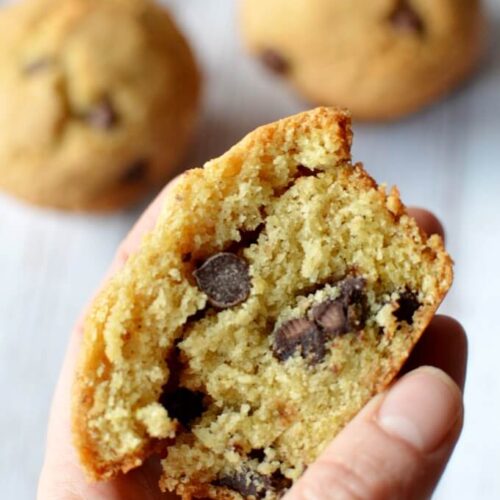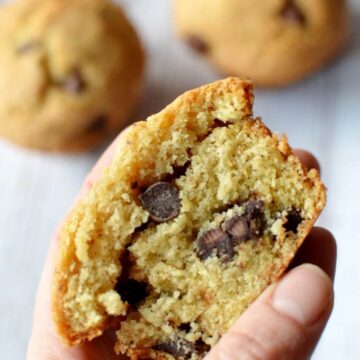 Gluten Free Chocolate Chip Muffins
Equipment
Large Bowl or Stand Mixer
Ingredients  
3

tbsp

Brown Sugar, packed

⅓

cup

White Sugar

3

oz.

Canola Oil

1

egg, Large

1

t.

Baking Powder

¼

t.

Baking Soda

¼

t.

Kosher Salt

2

oz.

Whole Milk

¾

Cup

Semisweet Chocolate Chips

Plus more for sprinkling

Nonstick cooking spray
Instructions 
Preheat the oven to 350 degrees Fahrenheit.

In a large bowl whisk or beat together both sugars and canola oil.

Add the egg to the sugar mixture and whisk/beat until combined.

Add gluten free flour, baking powder, baking soda, and salt to the bowl and beat until completely combined.

Slowly add the milk to the mixture and beat until a smooth batter forms. Stir in the chocolate chips and scoop 6 muffins into a tin filling each muffin to the top. Bake for 22 minutes until a toothpick inserted into the muffin comes out clean.
Notes
If you need to double the recipe keep in mind that 4 tbsp is equal to ¼ cup so 6 tbsp would equal ¼ cup + 2 tbsp.