These flourless peanut butter cookies are perfect for the peanut butter lovers in your life! They're Gluten Free, Dairy Free and incredibly delicious!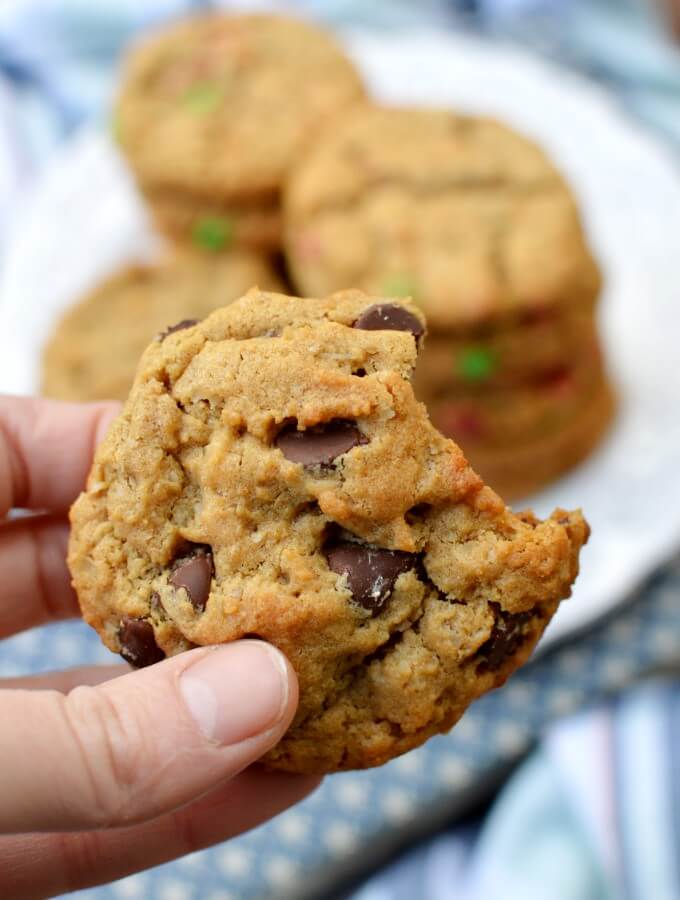 Since my celiac diagnosis flourless recipes are my heart and soul. They're simple, taste like the real deal and have no alternative flours. I've never heard a gluten-loving individual complain about a flourless cookie and trust me when I say my family LOVES gluten.
These aren't 3 ingredient peanut butter cookies BUT they are super duper easy and much better in my opinion.
I made these peanut butter cookies with chocolate chips and M & M's but they taste great without as well. Chocolate has a special place in my heart and pantry. I just finished off a pricey high quality artisan chocolate bar and I'm flying high. Everyone splurges on something and my something is chocolate!
Disclosure: This post contains affiliate links. In other words, if you click a link and purchase something I will receive a commission at no cost to you. I only recommend products I use and enjoy myself.
How to make these flourless peanut butter cookies:
You can make this recipe without a mixer but since my arms are about as strong as a toothpick I like to use a mixer.
You simply beat the peanut butter and sugars together, then beat in the egg and lastly add all your dry ingredients. It really is that simple.
There are no special techniques in this one like cream the butter until fluffy. You really do just combine all the ingredients and then scoop them onto a Silpat lined sheet pan.
They have the perfect amount of spread. It's such a buzzkill when a looksie in the oven only shows it hasn't spread a smidge or WORSE it's flat as a crepe.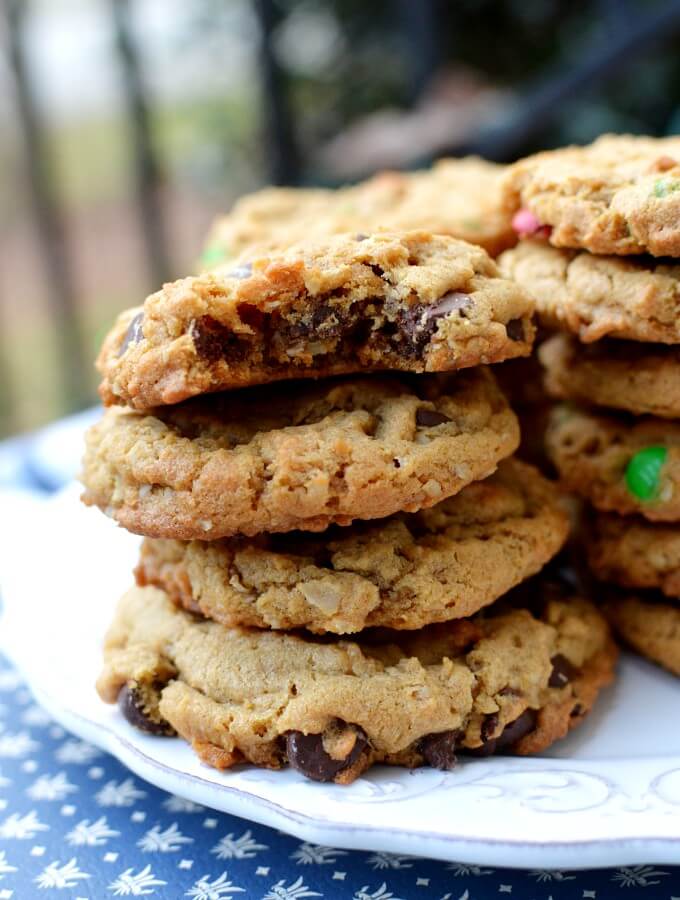 Ingredients for these peanut butter oatmeal cookies:
Peanut Butter - I used creamy but my gut says crunchy would be killer delicious.
Brown Sugar - Flourless peanut butter cookies with brown sugar react with the baking soda in the recipe to give them a bit of rise. This is perfect because when you pull them out of the oven they naturally sink a little which gives you that beautiful crack-age on top and chewy center.
Sugar - Of course!
Egg - To help bind
Quick Oats - For just a tiny bit of chew and structure.
Baking Soda - Rise baby rise!
Kosher Salt - My favorite salt for baking! Once you go kosher you never go back.
Can you freeze these cookies?
Yes! I am a huge fan of freezing treats!
You can do this two ways:
Freeze them after they're baked.
Freeze them as cookie dough and then bake.
Since I'm an avid baker freezing treats is a MUST. If I ate all the treats I baked I might just morph into a sugar cube. And I hate to waste perfectly good desserts and/or food.
To defrost already baked cookies simply leave out at room temp until soft OR microwave one at a time in 15 second intervals until soft. If frozen as cookie dough simply bake as directed.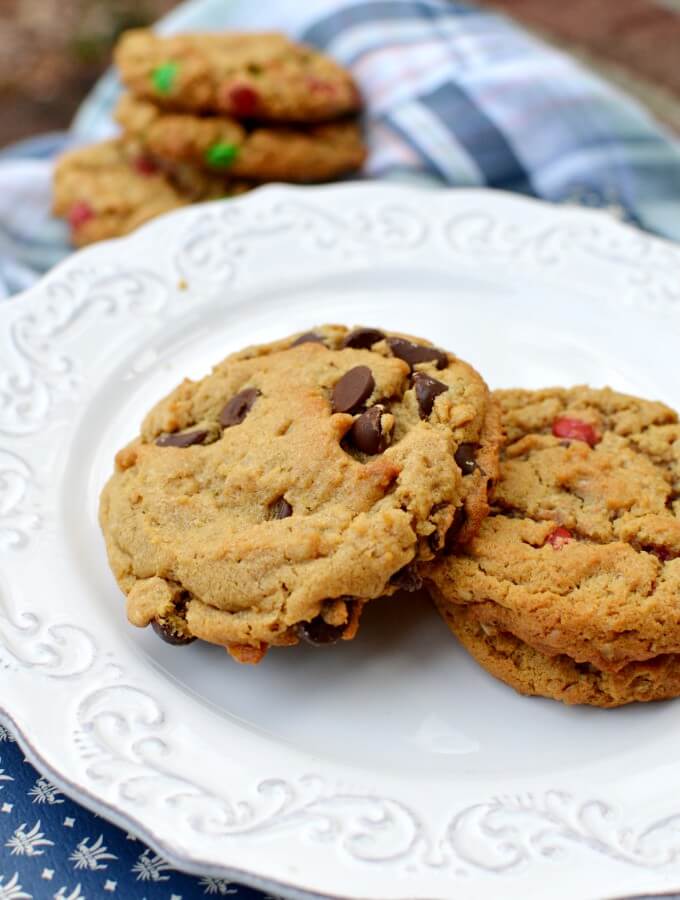 Are these cookies gluten free?
Yes! Just make sure to buy gluten free oats! If you read my blog posts you may have read this ten too many times but I must say it over and over lest someone accidentally gluten their best friend or neighbor.
Oats are often processed in facilities with wheat and other gluten containing grains. What does this mean? The possibility of cross contamination is so high oats are not considered gluten free unless labeled so. You can read more about oats and gluten here. I like to buy Bob's Red Mill's Gluten Free Oats. They sell both old fashioned and quick cooking rolled oats which is great because I love to use both for different purposes.
Other delicious variations:
Peanut butter cookies are the perfect cookie for delicious mix-ins. If you are dairy free or gluten free just be sure any mix-ins you add are also dairy free/gluten free.
Here are some delicious options:
Chocolate chips - (Flourless peanut butter chocolate chip cookies!) For a hefty amount of chocolate per cookie add ⅔ cup of chocolate chips and for a moderate amount add ½ cup.
Butterscotch Chips
White Chocolate Chips - Peanut butter and white chocolate make a killer combo.
M & M's
For more amazing flourless desserts check out these flourless oatmeal cookies and triple berry crisp with oat topping.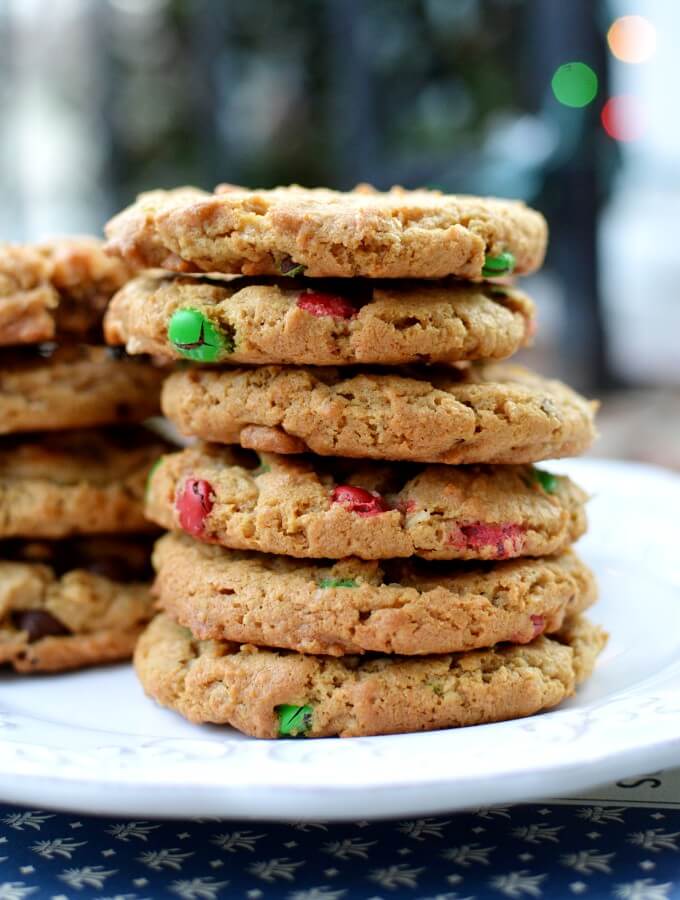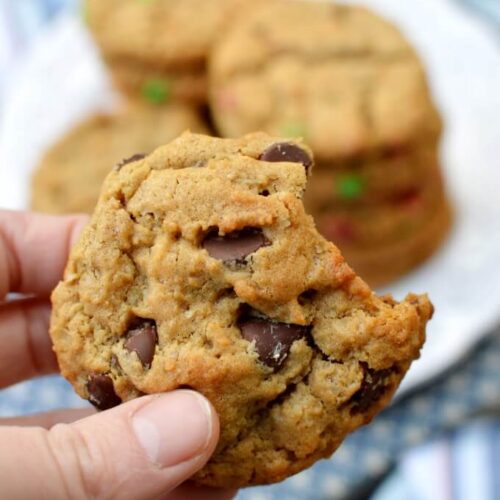 Flourless Peanut Butter Cookies
Equipment
Large Bowl or Stand Mixer
Ingredients
½

cup

Peanut Butter, creamy

¼

cup

Brown Sugar

¼

cup

Sugar

1

Egg, Large

⅓

cup

Quick Cooking Oats

Use gluten free oats for gluten free cookies

½

t.

Baking Soda

¼

t.

Kosher Salt
Instructions
Preheat oven to 350 degrees Fahrenheit. In a stand mixer with the paddle attachment beat peanut butter and both sugars until combined.*

Add the dry ingredients and beat until everything is mixed in well.

Using a small portion scoop, scoop 6 cookies onto a sheet pan lined with a Silpat or parchment paper.

Bake for 11 minutes and let the cookies cool and set on the pan. Remove cookies and repeat with rest of the cookie dough.
Notes
*You can also beat them together by hand in a large bowl with a spoon and some muscles.