Chewy with crisp edges and soft centers, these peanut butter oatmeal cookies are the perfect cookie for peanut butter lovers everywhere!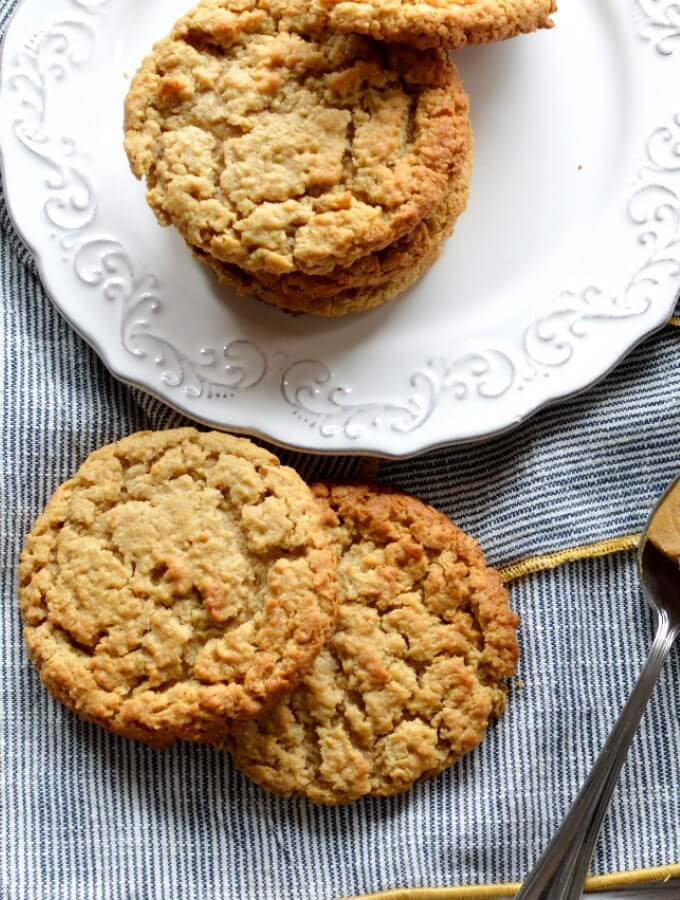 I think if there is one thing in life most everyone can agree on it's cookies. Who doesn't ohhh and ahhhh at a big, beautiful cookie that's perfect in every way.
Disclosure: This post may contain affiliate links. In other words, if you click a link and purchase something I will receive a commission at no cost to you. I only recommend products I use and enjoy myself.
What you will need for these cookies:
Unsalted Butter
Peanut Butter
Brown Sugar
Sugar
Egg
Quick Cooking Oats
Baking Soda
Kosher Salt
Are these peanut butter cookies gluten free?
Yes! Just be sure to buy gluten free quick cooking oats. They need to be labeled gluten free. I buy Bob's Red Mill Oats because I know they carry both quick cooking and old fashioned oats that are tested and labeled gluten free.
The reason they must be labeled is because oats are produced in facilities with other gluten producing grains such as wheat and cross contamination is almost certain. If you have celiac, gluten sensitivity or you are making these for a gluten free friend pay the extra for the gluten free label. You can read more about gluten and oats here.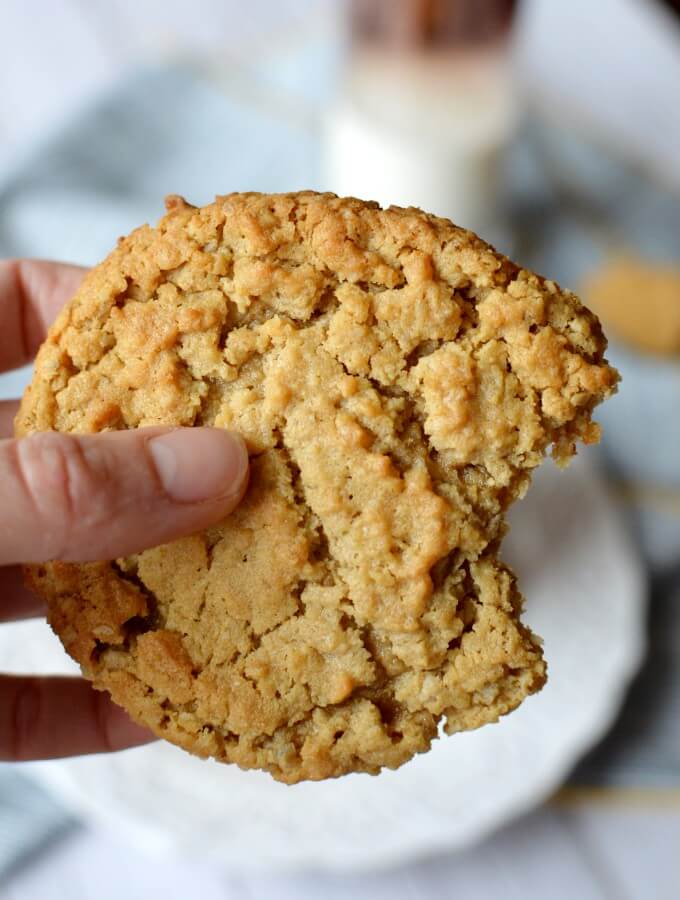 Cookie Baking Tips
These cookies spread nicely so give 'em some space. If you use a small cookie scoop don't add more than eight to the pan. If you use a larger cookie scoop then only scoop five onto the pan.
Always use parchment paper or a silicone baking mat so your cookies don't stick to the pan. I use Silpat baking mats because I know the quality is reliable.
I bake these cookies at 375 degrees instead of 350. This does two things: it gives them nice crispy edges and the perfect thickness.
Can I freeze these cookies:
Yes! Cookies freeze wonderfully. You can freeze them unbaked or baked.
To freeze them unbaked, scoop cookies onto a sheet pan with a nonstick mat or parchment paper. Place the sheet pan into the freezer and once the cookies are frozen throw them in a freezer bag. When ready pull them out and bake as directed.
To freeze cookies baked, place the cookies carefully in a freezer bag and freeze. Microwave in 5 second intervals until unfrozen or leave at room temperature for a couple hours until no longer frozen.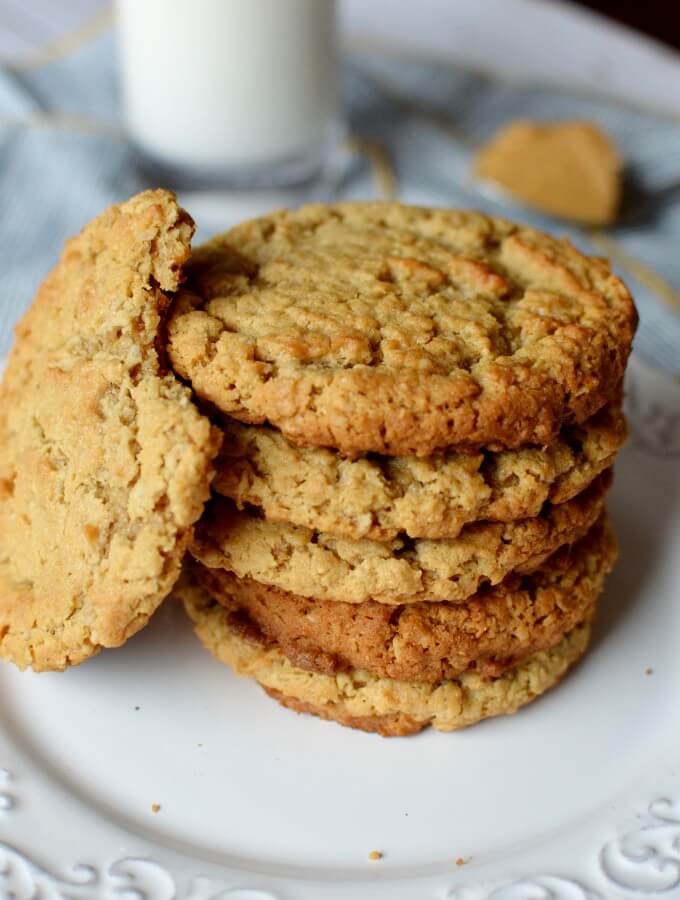 What else can I add to these easy peanut butter oatmeal cookies?
Hmmm … well let's see the only cookie I can think of that would be more delicious than these are peanut butter oatmeal chocolate chip cookies. I always air on the heavy side when it comes to chocolate. I don't want to be inspecting my cookie for chocolate.
We have a local café here that sells the most amazing vegan peanut butter oatmeal cookies with dark chocolate chunks. They use high quality dark chocolate and it makes my heart sing a little. Once I made it all the way through my cookie to find one yes ONE chocolate chunk hiding in the back. Epic fail.
Other amazing mix in ideas:
White Chocolate (Before you object, just know peanut butter and white chocolate make an amazing combo!)
Dark Chocolate Chunks
Semisweet Chocolate Chips
M & M's
Dried Cranberries
Reese Pieces
Cinnamon Chips
Butterscotch Chips
More Amazing Cookie Recipes
Well I hope you enjoy these amazing cookies as much as I did. They are truly irresistible!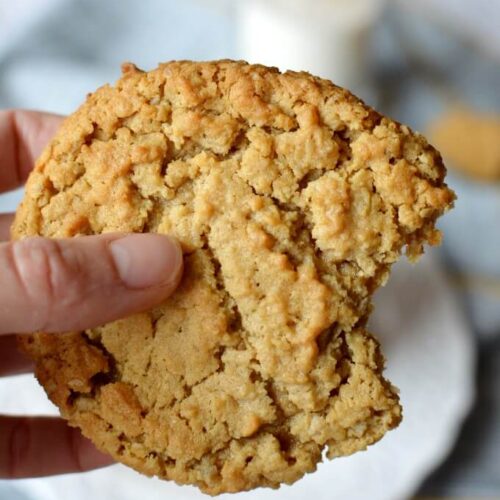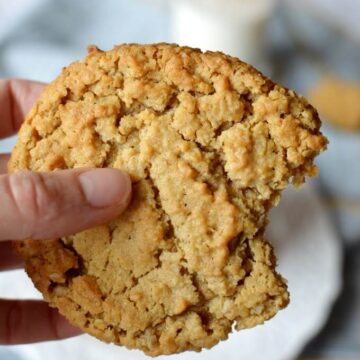 Peanut Butter Oatmeal Cookies
These cookies are addictively delicious! Quick cooking oats and peanut butter is all you need for perfect crispy edges and chewy centers.
Equipment
Stand Mixer with the Paddle Attachment
Ingredients
6

tbsp.

Unsalted Butter

3 oz.

¾

cup

Creamy Peanut Butter

½

cup

Brown Sugar

½

cup

Sugar

1

large

Egg

2

cups

Quick Cooking Oats*

½

t.

Baking Soda

¼

t.

Kosher Salt
Instructions
Preheat the oven to 375 degrees Fahrenheit. Cream peanut butter, butter and both sugars on medium speed for 4 minutes scraping with a spatula halfway through.

Add the egg and beat until combined. Scrape the bowl with a spatula.

Add oats, baking soda and salt. Beat until the mixture is completely combined. Using a large cookie scoop, scoop 5 cookies onto a silpat or parchment lined sheet pan. Give them space so they can spread.

Bake cookies for 13 minutes or until the edges are golden brown. If you're making smaller cookies, reduce the baking time by a few minutes.
Notes
*Make sure the oats are labeled gluten free for gluten free cookies. 
This recipe makes 13 big cookies or 17 small cookies.