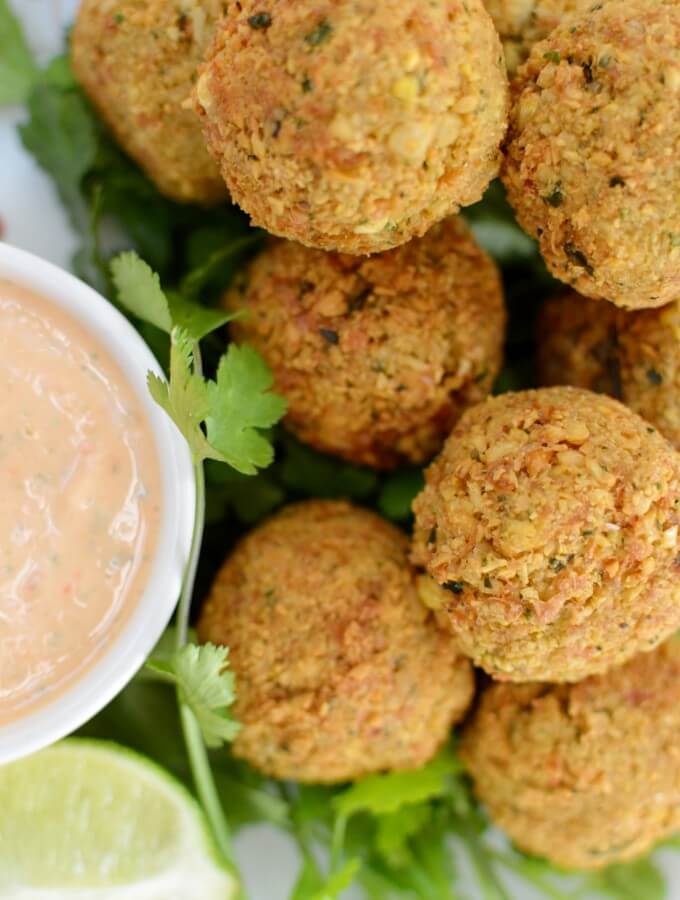 Disclosure: This post contains affiliate links. In other words, if you click a link and purchase something I will receive a commission at no cost to you. I only recommend products I use and enjoy myself.
Does anyone else wish they had a bottomless supply of energy? If I had half the energy my 65 year old mother possesses I'd be killing it. Not to mention my four year old who can barely contain herself enough not to cut flips off the couch. Energy or not, I killed it with these falafels. (I know, I know … humble much?)
I always found soaking dry beans ambitious. Why put in the extra effort to soak and cook them when I can use canned beans? Don't get me wrong – I enjoy whole foods, and don't even get me started on cost effectiveness. I am frugal to a fault.
After testing out homemade falafel recipes, I now know canned chickpeas just aren't as good – plain and simple. I highly recommend soaking dried beans for this recipe and not substituting canned. It really only adds an extra two minutes. You simply cover them with water, leave them be for a day and throw 'em in the fridge. Its actually very gratifying to see them double in size.
This recipe is fairly simple but requires a bit of finesse. When you form your falafel mixture into balls do it gently or they will fall apart. A portion scoop is incredibly helpful for this (and a million other things I might add). You want the mixture to look like this.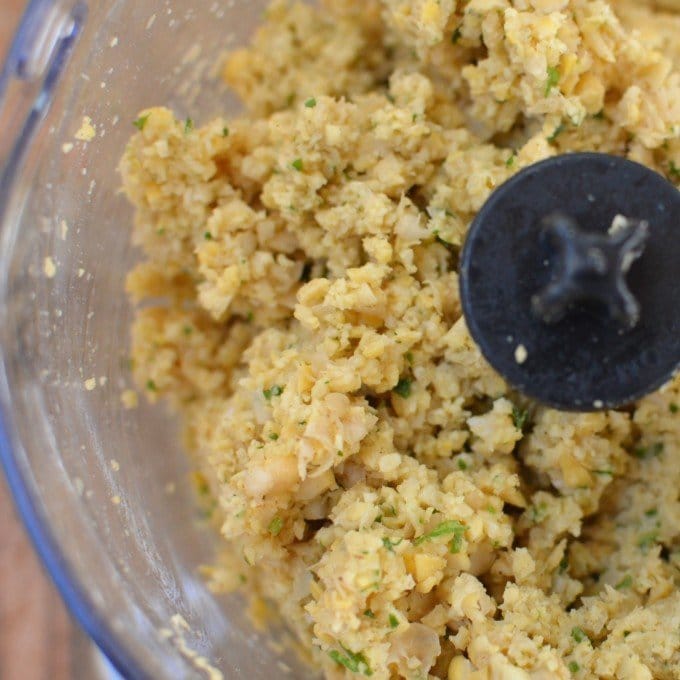 Another important component to this recipe is your fry technique. Frying food can be a tricky skill to learn. It is critical the oil is up to the correct temperature so the falafels don't absorb too much oil and become greasy. You want to fry each side quickly, only a minute per side, or the exterior will be overdone and the interior dry.
Since falafels can only be described as friggin amazing they are worth the extra effort. Enjoy them on the side or throw them in a pita for lunch with your favorite Tzatziki sauce.
Homemade Falafel Recipe
Equipment
Food processor

Dutch Oven or Deep fryer
Ingredients
8

oz

dried chickpeas

3/4

t.

minced garlic

1

t.

kosher salt

3/4

t.

cumin

1/4

C.

loose leaf parsley

1/2

t.

lemon juice

1

t.

baking powder

2

tbsp

all purpose flour*

Canola Oil for frying
Instructions
In a large bowl, soak 1 1/4 cup dried chickpeas with 2 cups of water for 24 hours. Drain, cover and refrigerate in a small bowl until ready for use.

Heat 2 inches of oil in a dutch oven until the temperature on a thermometer reaches 375 Fahrenheit.

While the oil comes to temperature in a food processor process 2 cups chickpeas, minced garlic, salt, cumin, parsley, lemon juice, baking powder, and all purpose flour until the mixture is very fine. Stop and scrape the the mixture with a small spatula periodically if necessary.

Using a small portion scoop, form rounded scoops into balls gently using your fingers. If you form them too hard they will fall apart.

Once the temperature reaches 375 degrees, place half of your falafels into the hot oil and fry 1 minute. Using a spider or small skimmer, turn falafels gently and fry 1 minute on the other side. Immediately remove falafels with spider and place on paper towel lined plate.

Enjoy once immediately cooled. Serve with tzatziki or your favorite sauce.


Notes
*To make this recipe gluten free just substitute regular flour for Bob's Red Mill 1:1 All Purpose Gluten Free Flour.