Disclosure: This post contains affiliate links. In other words, if you click a link and purchase something I will receive a commission at no cost to you. I only recommend products I use and enjoy myself.
This really is the best buttermilk pancake recipe you will ever try.
I tend to be wary of "best pancake ever" recipes. In my experience most fluffy pancake recipes could be titled flat as a crepe or not that moist. (Not knocking crepes of course ...)
I lucked out at the library last month, displayed at the top of the New Books section stood Magnolia Table
. It radiated that never been touched kind of beauty only a new cookbook can do. I picked it up and smelled it (don't judge me) then skimmed through its pages.
It's no secret to those of you who know me how much I adore Joanna Gaines. She's dignified, beautiful and seems to genuinely love her brood. She inspires others to do what they love which I love.
And as it turns out Joanna Gaine's go to best buttermilk pancake recipe really is the best ever! Breakfast just got real. It's magical what a stick of butter can do! (It's clearly not low fat) They are thick, fluffy and delicious.
I would stake my right pinky on how good these pancakes are.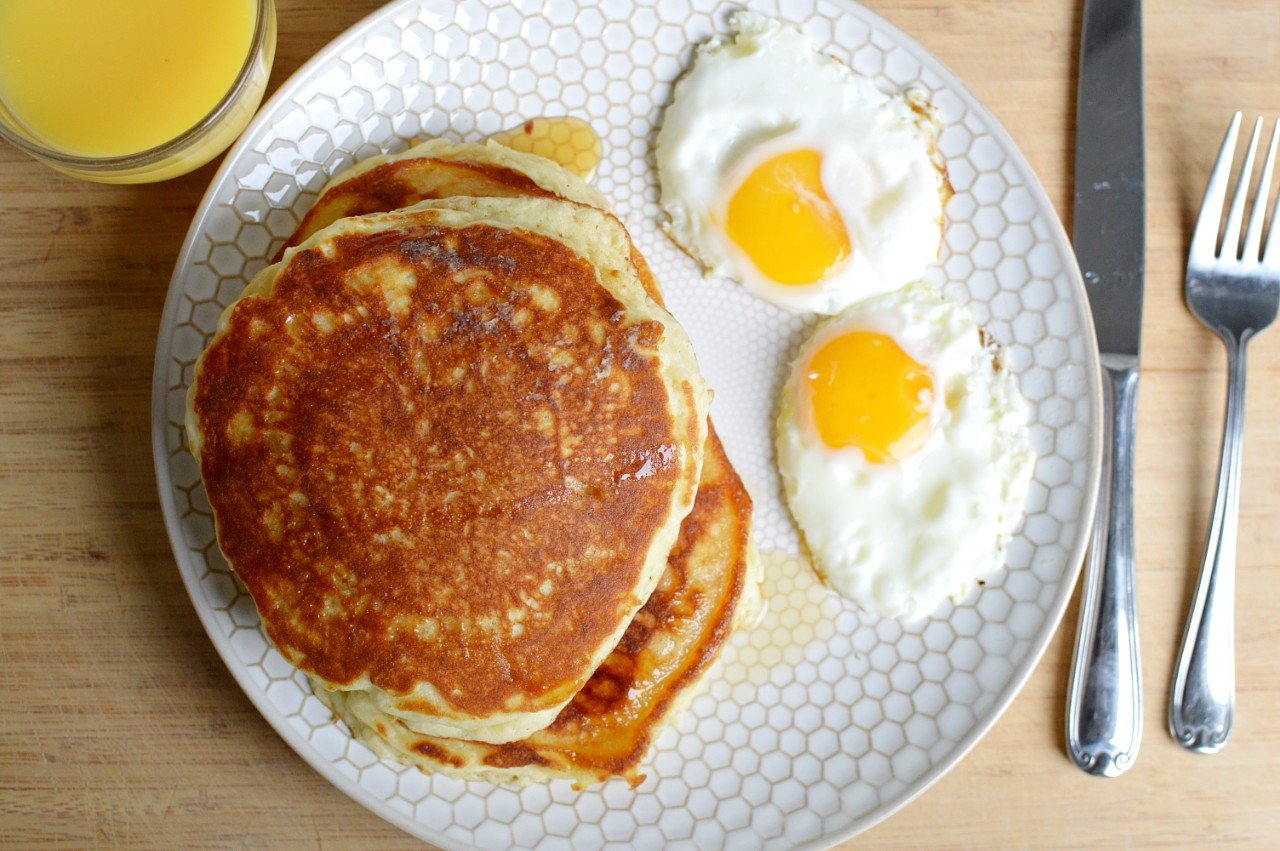 But pancakes are a lot of work ...
Look, I know what you're thinking.
I don't have the time nor energy to make buttermilk pancakes from scratch in the morning. I will NOT give up the snooze button. Before you reduce your pancake relationship to exclusively Bisquick (or Ihop) just here me out.
I make this recipe on a Saturday morning, or whenever I have some bum around time. I lay the cooled pancakes on a sheet pan and pop in the freezer for 30 minutes. No worries if it's for longer. You can leave them in there a full day without them tasting like the freezer. Pull them out and throw them in a gallon sized bag. Voila, pancakes all week long. Just microwave for 1 minute and enjoy. This saves a ton of time in the mornings of which I have very little. I will never be the type to wake up two hours before I have to head somewhere. Kudos for those who do.
If you don't go through your pancakes in a few days like I do I would recommend saran wrapping each pancake to prevent freezer burn.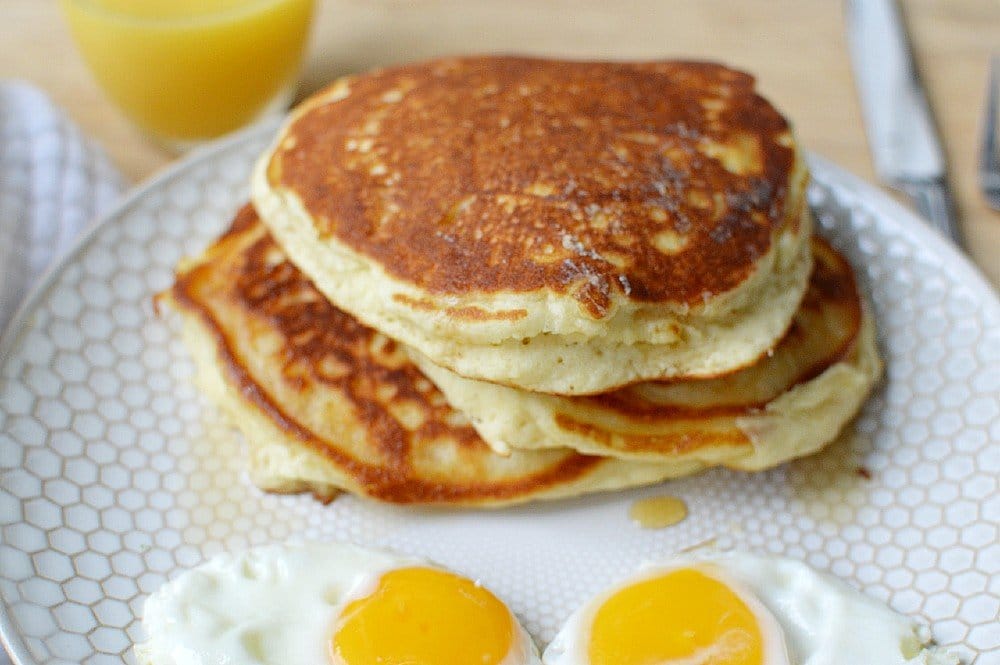 Can you make these pancakes gluten free?
If you're like me and you must avoid gluten like its The Shining then this best buttermilk pancake recipe is for you!
Just use Bob's Red Mill 1:1 Gluten Free All Purpose Flour in place of regular flour. This is my all time favorite gluten free flour and I have used a LOT of them. King Arthur's Gluten free flour will also work but I wouldn't bother using Pillsbury's gluten free flour. The texture is awful. I like to buy mine at Walmart or on Amazon. You can buy four bags for under 4.50 per bag on Amazon and I don't have to worry about Walmart being out (which happens fairly often).
I've actually made these buttermilk pancakes without buttermilk as well. When you're out of a vital ingredient what else is there to do but experiment. I will tell you that you can make your own buttermilk with milk and vinegar but the thickness is not the same. The pancakes will be a bit too thin. The easy way to remedy this is to just add a tablespoon or two more of flour. Just keep adding, a tiny amount at a time until the thickness is right. Alternatively you can add less of the homemade buttermilk. Use ¾ cup of homemade buttermilk and keep the rest of the ingredients the same.
You can always "sacrifice" one for the good of the batch to make sure.
Welp, here it is!
If you swear by waffles, I hear ya. Check out these Light and Crispy Waffles. They are crisp on the outside and airy on the inside - perfect really.
As an update, since I've posted this recipe I have tried many more of her magnolia table recipes and her biscuits are amazing too. Just sub in Bob's Red Mill All purpose Gluten Free Flour 1:1 for the all purpose flour. Easy Peasy.
Joanna Gaines Buttermilk Pancake Recipe
Ingredients
2

cups

All Purpose Flour*

¼

cup

Sugar

1

T.

baking powder

2

t.

baking soda

1

t.

kosher salt

2

cups

buttermilk

10

T.

butter

melted but cool

2

large eggs

Neutral oil

such as vegetable or canola

Butter

Maple syrup
Instructions
Combine flour, sugar, baking powder, baking soda and salt in a large bowl. Mix well with a fork or whisk.

In a seperate bowl, whisk together buttermilk, melted butter, and eggs.

Pour the buttermilk mixture into the dry ingredients and mix until well combined.

Let your pancake batter sit for 20 minutes. Don't skip this step! This allows your leaveners to activate giving you fluffy pancakes.

Heat your skillet over medium low heat. Let your skillet heat up for 5 minutes, and then add 1 Tablespoon of oil.

I use a portion scoop to place the batter in my hot skillet. The size of your pancakes are entirely up to you although I recommend ½ cup.

Your aim is for each side to be golden brown. To achieve this, wait until the top of your pancake is creating small bubbles, around 3 minutes each side.

Repeat until all your batter is gone, adding more oil as needed.
Notes
*I use Bob's Red Mill 1:1 Gluten Free All Purpose Flour for this recipe.