Joanna Gaines pancake recipe truly is the best! They're light, fluffy, and perfectly sweet. These pancakes are freezer-friendly too. Enjoy for breakfast, brunch, or a busy weekday morning.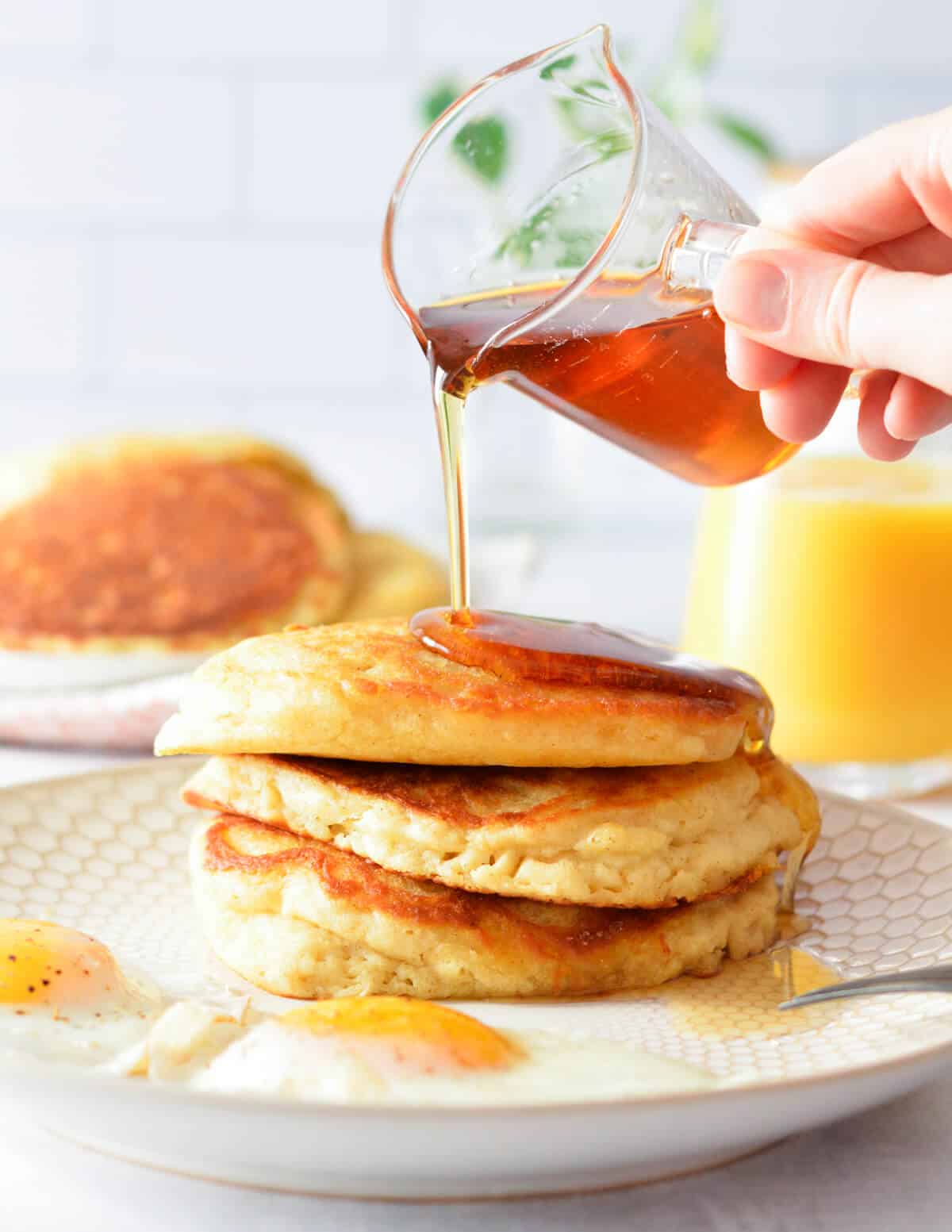 Best Buttermilk Pancakes:
I tend to be skeptical of "best pancake ever" recipes. After all, not every pancake recipe is the best.
I lucked out at the library last month, displayed at the top of the New Books section stood Magnolia Table by Joanna Gaines.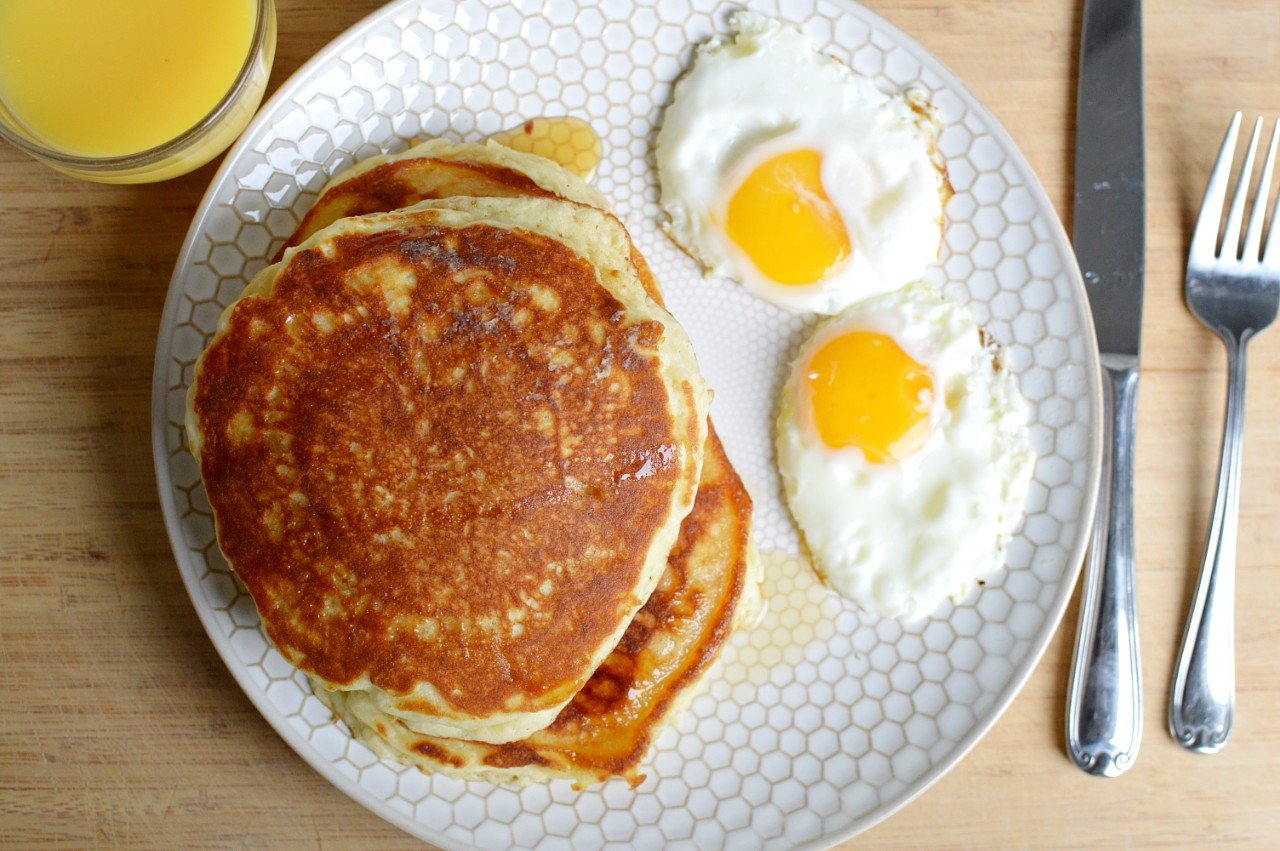 It's no secret how much I adore her. She's dignified, beautiful, and seems to genuinely love her brood. She inspires others to do what they love, which I love.
And as it turns out Joanna Gaines's go-to buttermilk pancake recipe really is the best ever! It's magical what a stick of butter can do! (It's clearly not low fat.) They are thick, fluffy, and delicious.
I would stake my right pinky on how good these pancakes are.
Why You'll Love it:
These buttermilk pancakes are life-changing! At least for breakfast lovers! I make them bi-weekly.
Thick and fluffy: They are thick, not dense! The generous amount of baking powder creates a super fluffy texture.
Freezer-friendly: You can meal prep these! Cook, freeze, then pop in the microwave for a 30-second hot breakfast.
Easy to make: No special equipment or ingredients necessary. Whipping egg whites is for the birds.
Key Ingredients: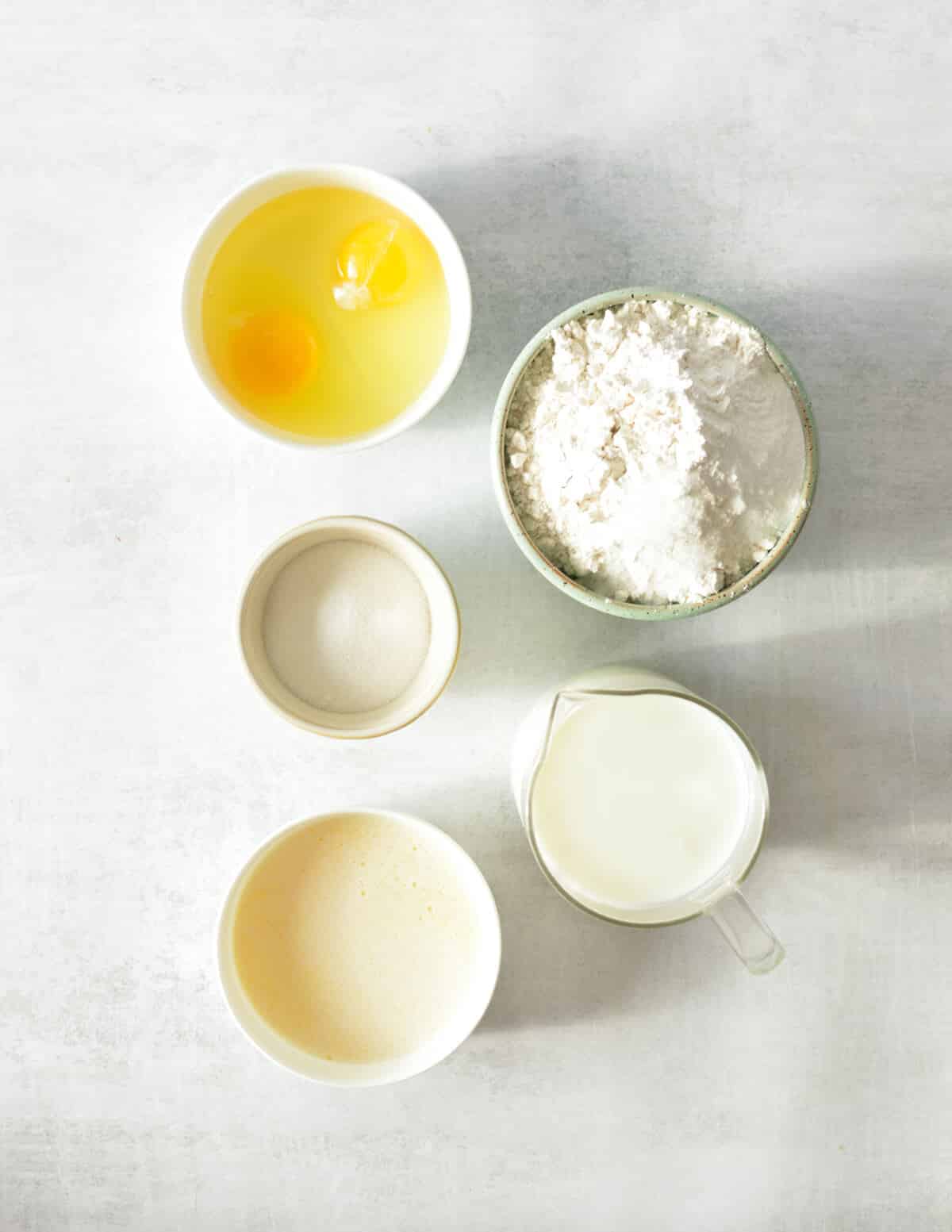 All-purpose flour - The base of any good buttermilk pancake! I don't recommend swapping it with another kind of flour.
Sugar - Not too much. The pancakes should have a subtle sweetness. Maple syrup will handle the rest!
Baking powder & soda - This recipe calls for a generous amount of leavening. It's not a typo! Most people don't notice it. If you're sensitive to the soapy taste it produces, decrease the leavening by ½ teaspoon each.
Kosher salt - If you only have table salt, decrease the amount by half. Table salt has smaller granules, so less is literally more!
Buttermilk - Buttermilk isn't just for the tang! It's for the texture. Buttermilk's acidity reacts with the baking soda to create a light and fluffy pancake. I don't recommend homemade buttermilk. It works in a pinch, but it doesn't create the same fluffy results!
Butter - Fat is essential for a light texture. You can use butter or vegetable oil, but butter adds the best flavor and optimal fluffiness.
Eggs - For binding and structure!
How to Make Buttermilk Pancakes:
Mix the dry: In a large bowl, combine the flour, sugar, baking powder, baking soda, and salt.
Mix the wet: In a separate bowl or liquid measuring cup, combine the buttermilk, eggs, and melted butter. Whisk to combine. If the butter curdles a little, don't worry about it.
Combine: Pour the wet into the dry and mix until a batter forms. Don't beat it to death. You can overmix it! Overmixing can result in less than fluffy pancakes.
Let it sit: Let the batter sit for 20 minutes! Resist the urge to skip this step. The baking powder activates and creates air bubbles which results in super fluffy pancakes.
Heat the skillet: Let the pan heat up for 5 minutes, then add the oil. Do not add the pancake batter until the pan is up to temperature.
Cook: The size is up to you! Scoop the batter into the skillet and let them cook for 4 minutes. You should see a generous amount of bubbles popping on top and the bottoms should be golden brown.
Flip: Use a thin-set spatula to carefully flip the pancakes over. Cook for another 3 to 4 minutes. Transfer the pancakes to a plate and repeat with the rest of the batter.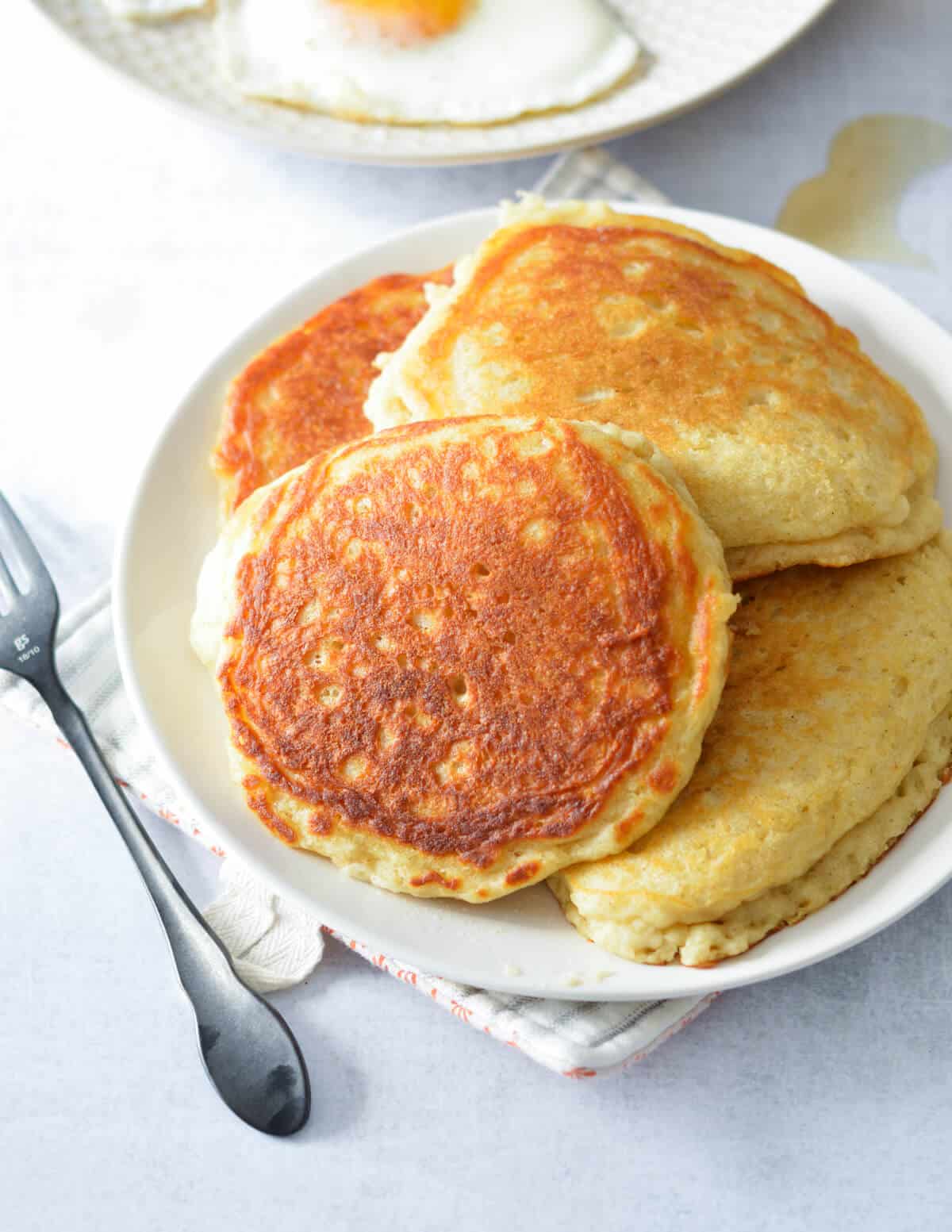 Make-Ahead Tips:
If you have neither the time nor energy to make buttermilk pancakes from scratch in the morning, here me out.
Before you reduce your pancake relationship to exclusively Bisquick, know these pancakes are easy AND freezer-friendly!
Make the pancakes on a Saturday morning, or whenever you have some bum around time.
Lay the cooled pancakes on a sheet pan and pop in the freezer for 30 minutes. No worries if it's for longer. You can leave them in there a full day without them tasting like the freezer.
Pull them out and throw them in a gallon sized bag. Voila, pancakes all week long.
Just microwave each pancake in 20-second increments until warm throughout. Enjoy!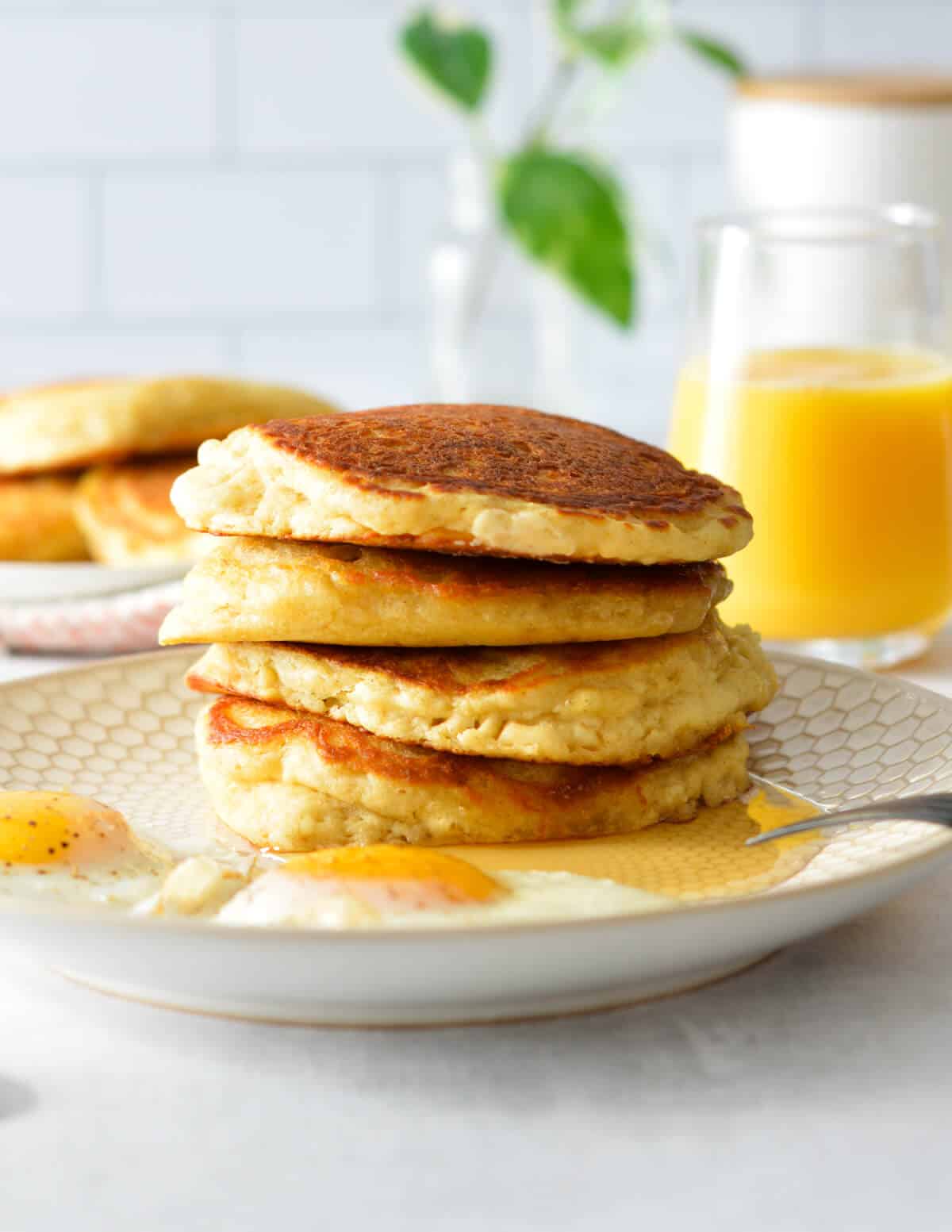 Variations:
Gluten-free - Just swap all-purpose flour with Bob's Red Mill Gluten Free 1 to 1 Baking Flour. It's my all-time favorite gluten-free flour and it works like a dream! You can find it at Walmart, Target, or on Amazon.
Blueberry - Only use fresh blueberries. Frozen blueberries release too much liquid!
Chocolate chip or sprinkle - When making chocolate chip or sprinkle pancakes, it's important to bury them in the batter. Drop the chocolate chips onto the pancake, then gently press on them with your fingers until they sink into the pancake. If you don't do this, they will burn against the hot skillet when you flip the pancake over.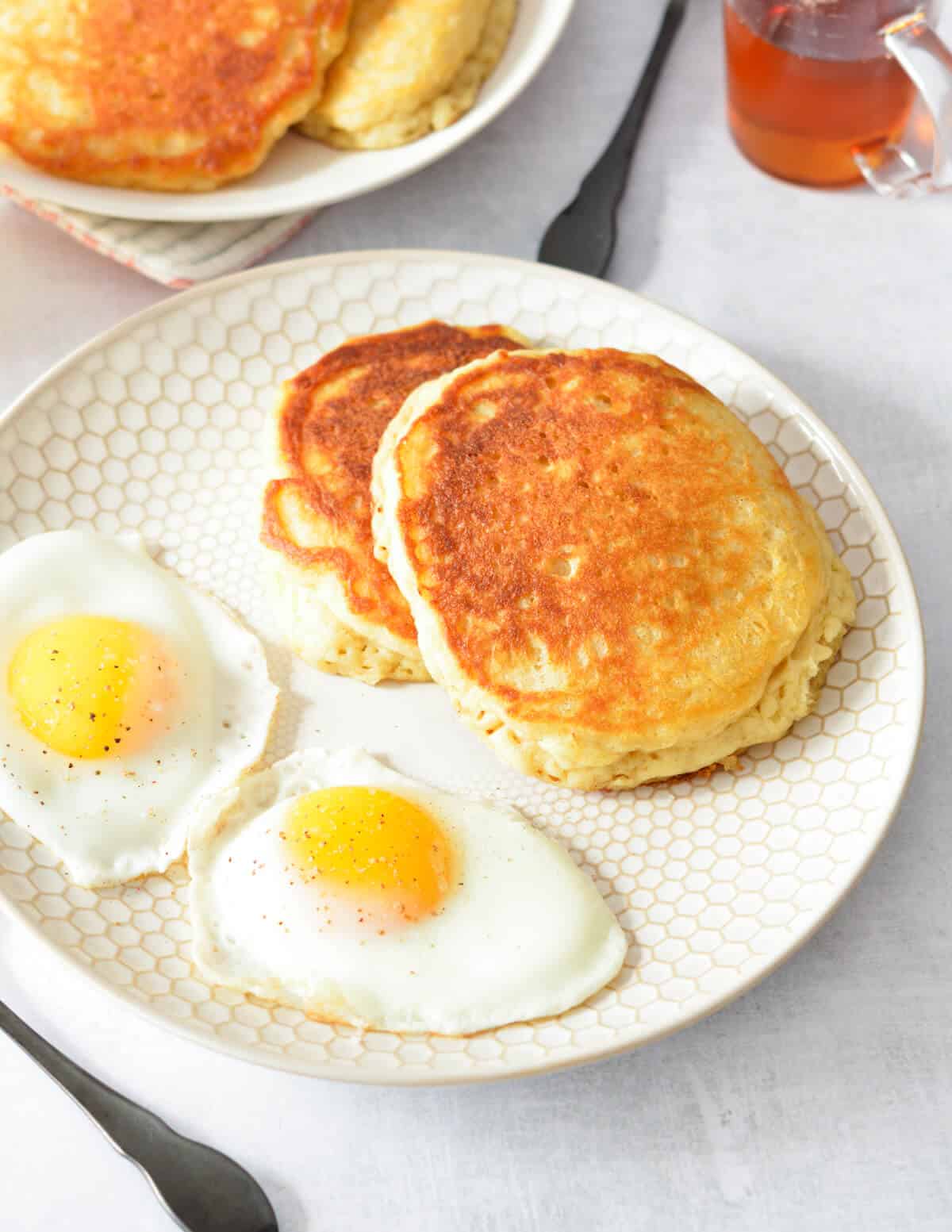 Can I use regular milk?
I've made these buttermilk pancakes without buttermilk. When I'm out of a vital ingredient, I experiment.
I will tell you that you can make your own buttermilk with milk and vinegar, but the thickness is not the same. The pancake batter will be a bit too thin. To remedy this, just add a tablespoon or two of flour. Just keep adding, a little bit at a time until the thickness is right.
Alternatively you can add less of the homemade buttermilk. Use ¾ cup of homemade buttermilk and keep the rest of the ingredients the same.
You can always "sacrifice" one for the good of the batch to make sure it comes out right.
More Pancake Recipes: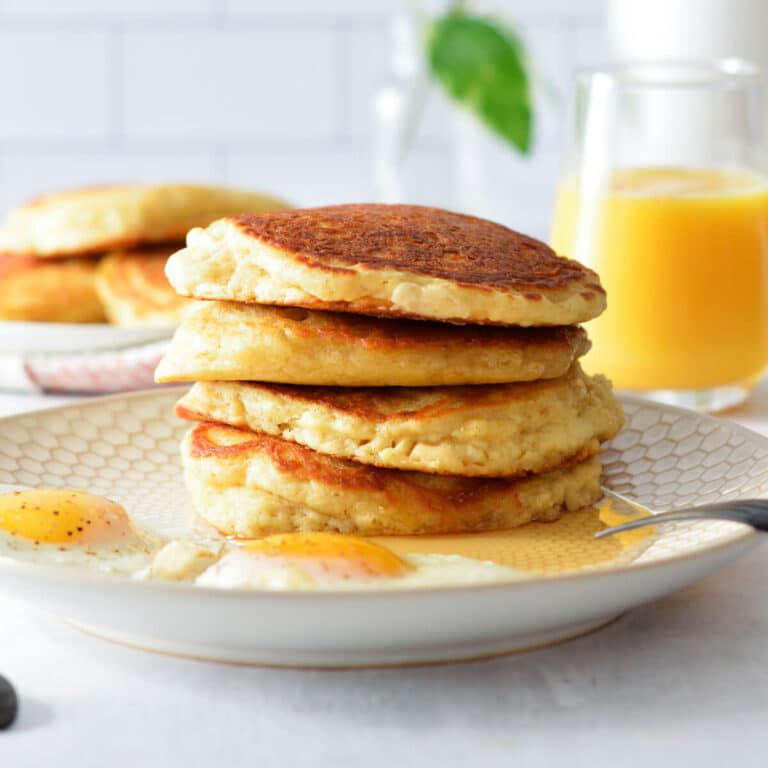 Joanna Gaines Buttermilk Pancake Recipe
Joanna Gaines pancake recipe truly is the best! They're light, fluffy, and perfectly sweet. These pancakes are freezer-friendly too. Enjoy for breakfast, brunch, or a busy weekday morning.
Ingredients
2

cups

All Purpose Flour

Note 1

¼

cup

Sugar

1

T.

baking powder

2

t.

baking soda

1

t.

kosher salt

2

cups

buttermilk

Note 2

10

T.

butter

melted but cool, Note 3

2

large eggs

Neutral oil

such as vegetable or canola

Butter

Maple syrup
Instructions
Combine flour, sugar, baking powder, baking soda, and salt in a large bowl. Mix well with a fork or whisk.

In a separate bowl, whisk together the buttermilk, melted butter, and eggs.

Pour the buttermilk mixture into the dry ingredients and mix until well combined.

Let your pancake batter sit for 20 minutes. Don't skip this step! This allows the baking powder to activate, giving you fluffy pancakes.

Heat your skillet over medium-low heat. Let your skillet heat up for 5 minutes, then add 1 tablespoon of oil.

I use a portion scoop to place the batter into my hot skillet. The size of your pancakes are entirely up to you. I recommend ½ cup for large pancakes.

Your aim is for each side to be golden brown. To achieve this, wait until the top of your pancake is creating small bubbles, around 4 minutes. Use a thin-set spatula to flip the pancakes over, then cook for 3 to 4 more minutes.

Repeat until all your batter is gone, adding more oil as needed.
Notes
Note 1: To make this recipe gluten-free, use Bob's Red Mill 1:1 Gluten Free All Purpose Flour.
Note 2: I highly recommend store-bought buttermilk. If you use homemade buttermilk, the batter will be a bit too thin. Add a tablespoon or two of flour until you reach the right thickness. 
Note 3: Vegetable oil can also be used, but the pancakes won't be as tender or light in texture. 
Nutrition
Calories:
282
kcal
Carbohydrates:
30
g
Protein:
6
g
Fat:
16
g
Saturated Fat:
9
g
Polyunsaturated Fat:
1
g
Monounsaturated Fat:
4
g
Trans Fat:
1
g
Cholesterol:
76
mg
Sodium:
813
mg
Potassium:
119
mg
Fiber:
1
g
Sugar:
8
g
Vitamin A:
530
IU
Calcium:
153
mg
Iron:
2
mg