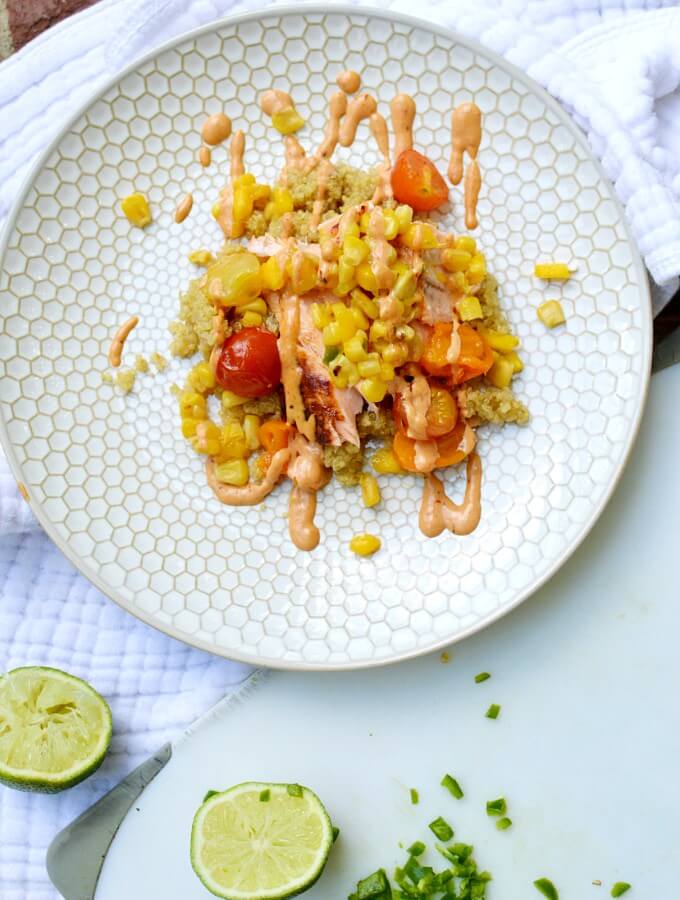 Disclosure: This post may contain affiliate links. In other words, if you click a link and purchase something I will receive a commission at no cost to you. I only recommend products I use and enjoy myself.
Ah, salmon  - you really know how to stink up the joint. This salmon quinoa bowl is worth the undoubtedly smelly kitchen you will have thereafter.
Smelly or not, I do love salmon. I grew up on it. On special occasions my dad would put a whole salmon in the smoker and we'd all be thrilled when we found out smoked salmon was for dinner. (I have four siblings)
Honestly, my dad's enthusiasm for food (or anything really) was so infectious he could have smoked an old shoe and we would have been just as thrilled. I love that smoked salmon is something my kids will get to grow up on too.
I've been making quite a bit of quinoa lately because it's the only grain-like food my husband will eat. He doesn't eat simple carbs like pasta and rice (you know, the delicious stuff). I do love quinoa though.
So, what's so great about this salmon quinoa bowl?
It's incredibly nutritious with a high amount of protein, vitamins and minerals. One cup of quinoa cooked yields 8 grams of protein and 4 grams of fiber. Essentially, you can feel (very) good about eating this salmon bowl. It's also very filling.
You will notice on the package it calls for a 1:2 ratio of quinoa to cooking liquid. I would encourage you to use this ratio. After trying a couple different ratios, I have settled on 1 cup of quinoa to 2 cup cooking liquid. The result is a delightful, slightly al dente texture.
If cooking salmon intimidates you, or you just wish to read up on it first check out this New York Times Article. This article goes in depth on everything from cooking the salmon to knowing if it's done.
Just a few pointers for pan searing your salmon:
Let your salmon come to room temperature before pan searing it. This prevents the salmon from seizing, and also speeds up the cooking process.
Pat the skin dry. Moisture is the antithesis of a crispy skin. Anyone else spill water on their french fries before? Yeah, no bueno.
Do NOT add your salmon to a warm pan. The pan should be hot. The oil should be hot. I cringe at the thought of a salmon fillet plopping into some warmish oil. No sizzle  = no good.
Don't forget to season liberally with salt and pepper.
How to cook quinoa:
Use a 1 part quinoa to 2 parts liquid ratio.
Do not cover your quinoa! I made this mistake one time and my quinoa came out mushy and overcooked - yuck. It's amazing how something so simple in cooking can affect your end result.
Let quinoa and liquid come to a boil then turn down to medium low and let simmer until all the water is absorbed.
I like to stir once about halfway through just to make sure all the grains get cooked. We don't want any stragglers sitting on the top uncooked.
The chipotle mayo adds great flavor to this bowl and tastes good on nearly anything. I don't care which way the food trends sway I will always sing mayo's praises. Which is funny because growing up I couldn't even look at the stuff. In my defense, it does look kind of gnarly. (Sorry, mayo)
A good way to make this recipe simpler is to make your chipotle mayo in advance. It tastes even better on day two after all the flavors have truly married. I keep this condiment in my fridge at all times. I usually triple my recipe so it lasts a couple weeks.
This is a great, simple weeknight meal. Or if you cook it up when you have some time and put it in a container, it makes a lunch worth looking forward to. You could also use rice in the place of the quinoa. I won't judge. 😉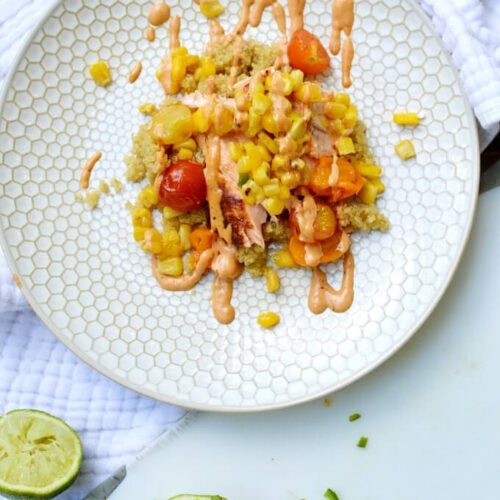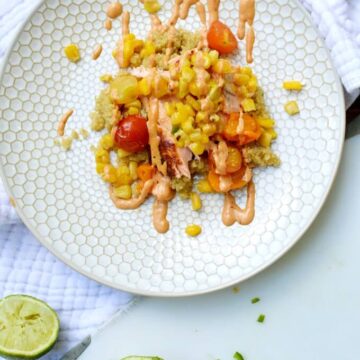 Quinoa Salmon Bowls
Ingredients
For the salmon:
1

lb.

salmon fillet

2

T.

flour*

1

cup

quinoa

1

cup

vegetable stock

1

cup

water

15

oz

can corn

drained

1

jalapeno pepper

minced

1

small mango

peeled and small diced

½

lime

Olive oil

1

pint

grape tomatoes, halved
For the mayo
½

cup

mayo

1

chipotle pepper in adobo sauce

1

t.

honey

Large squeeze of lime

salt and pepper
Instructions
Preheat oven to 400 degrees and pull out a sheet pan. Pull salmon out of the refrigerator and pat dry with a paper towel. Season with salt and pepper. Sprinkle flour over salmon and gently rub it in. Pat off any excess.

Drain corn. Mince jalapeno. If you prefer less heat, de-seed and de-rib it. Peel and small dice the mango. Cut tomatoes in half and place on one side of the sheet pan. Drizzle with olive oil and season with salt and pepper then stir to coat. Roast for 10 minutes and remove from the oven.

Meanwhile add 1 cup of quinoa to a medium sized saucepan with 1 cup vegetable stock, 1 cup water and ¼ t salt. Set on high and wait for it to come to a boil. Once boiling, change heat to medium low and cook for 18 minutes or until all the water has been absorbed, stirring halfway through.

Meanwhile heat a large stainless steel saute pan to medium high. Add 1 T. olive oil to pan.

Once the pan is screamin hot, and the oil is shimmering, add corn, minced jalapeno and a large pinch of salt. Do not stir. Let mixture caramelize (but not burn) before stirring and then repeat. Place corn mixture into a bowl. Add mango, a squeeze of lime and a pinch of salt to corn mixture. Put pan back on the heat, and add a thin layer of oil to the pan.

Sear salmon skin side down for 2 minutes, then flip and sear for two more minutes. Place salmon on other side of sheet pan with the tomatoes and bake until inside of salmon is mostly opaque and flakes, about 13 more minutes depending on the thickness of your filet.

Make chipotle mayo. In the bowl of a food processor, add ½ cup mayo, 1 chipotle pepper in adobo, 1 t. honey, large squeeze of lime juice and a pinch of salt. Process until smooth and completely combined.

Assemble bowls, quinoa first then corn, then salmon and tomatoes. Drizzle with chipotle aoli. Sprinkle with salt. As my 5 year old says - easy peasy, lemon squeezy.
Notes
*Gluten free flour can be used instead to make this recipe gluten free. I always use Bob's Red Mill 1:1 All Purpose Flour in the blue bag.