An easy chipotle mayo recipe that tastes great on nearly everything! It's four ingredients and takes two minutes to make. Perfect for burgers, tacos, and french fries!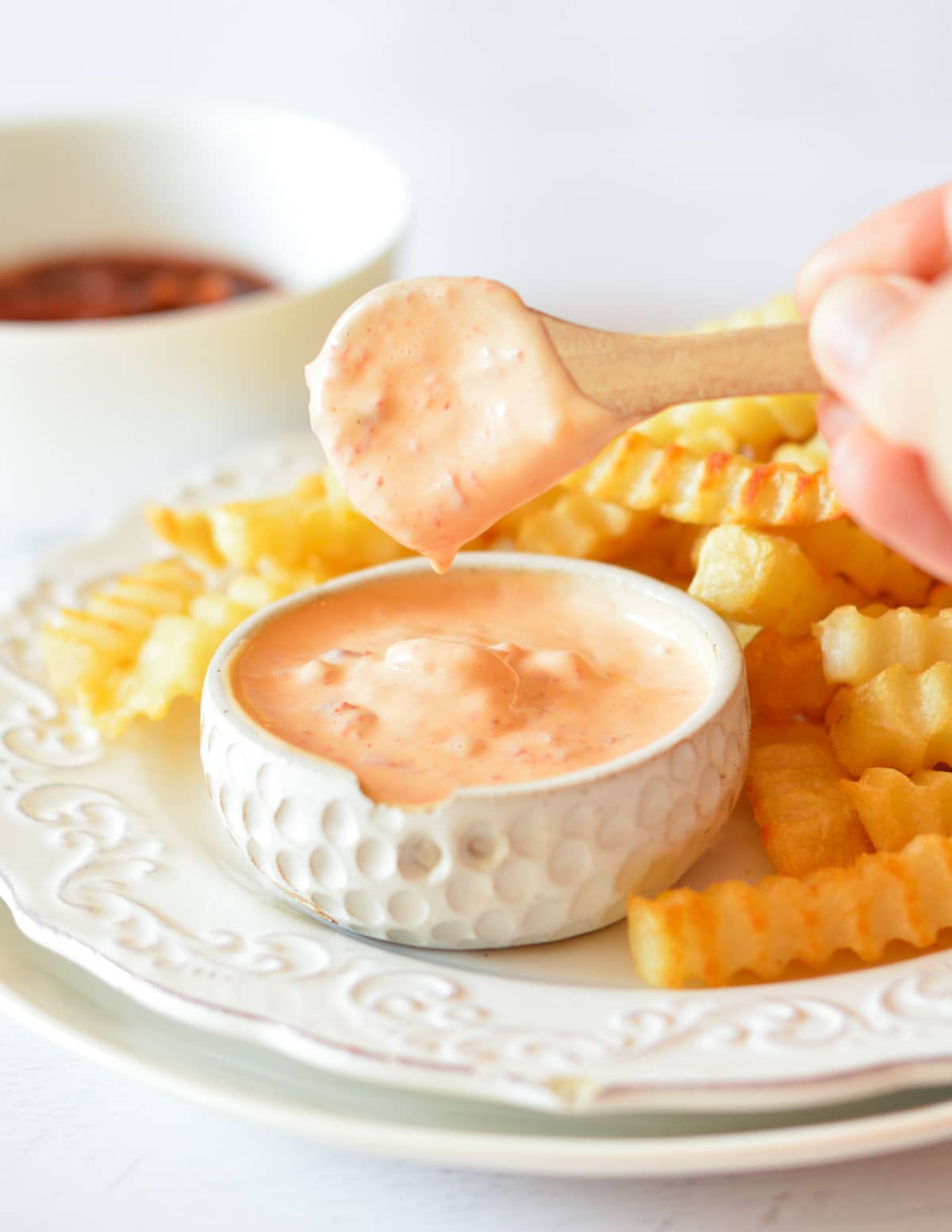 Why You'll Love it:
I don't mean to be dramatic when I say I put this creamy chipotle sauce on EVERYTHING but my morning waffles.
You could make a cardboard box taste good if you doused it in this homemade chipotle mayo. As a bonus, it's stupid easy to make. Easy recipes make me so happy. 🙂
Chipotle mayo can be made many different ways. Some add sour cream, others add spices, but the key to one so good you'd lick it off the bathroom floor (too far??) is canned chipotles in adobo.
If you like spicy food, this ingredient should become your new best friend. It can be added to soups and chilies, chicken/meats, & condiments!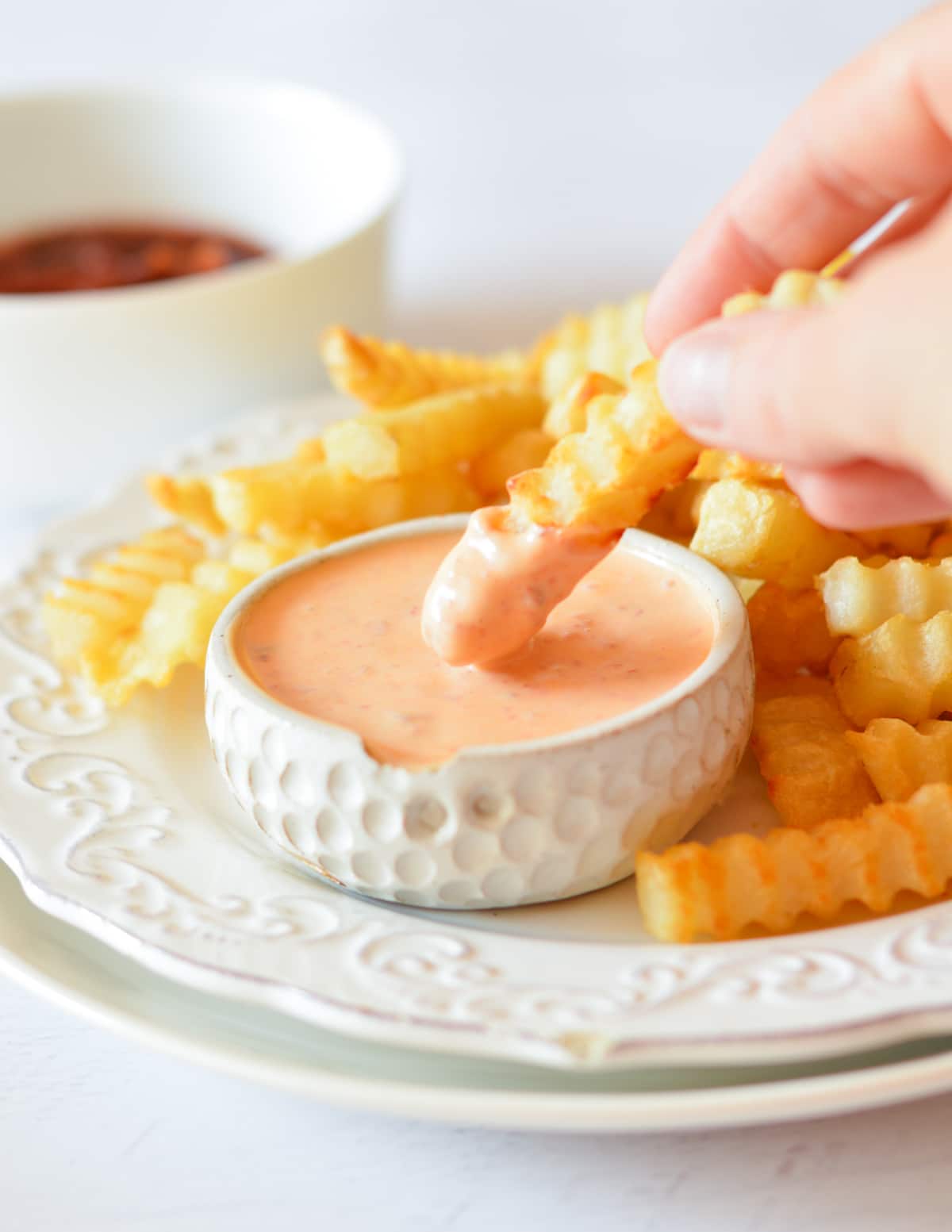 Key Ingredients
Only four ingredients my friends!
If you wanted to you really could just stop at mayo + chipotles but why do that when we can take it from pretty good to drink it from a ladle good.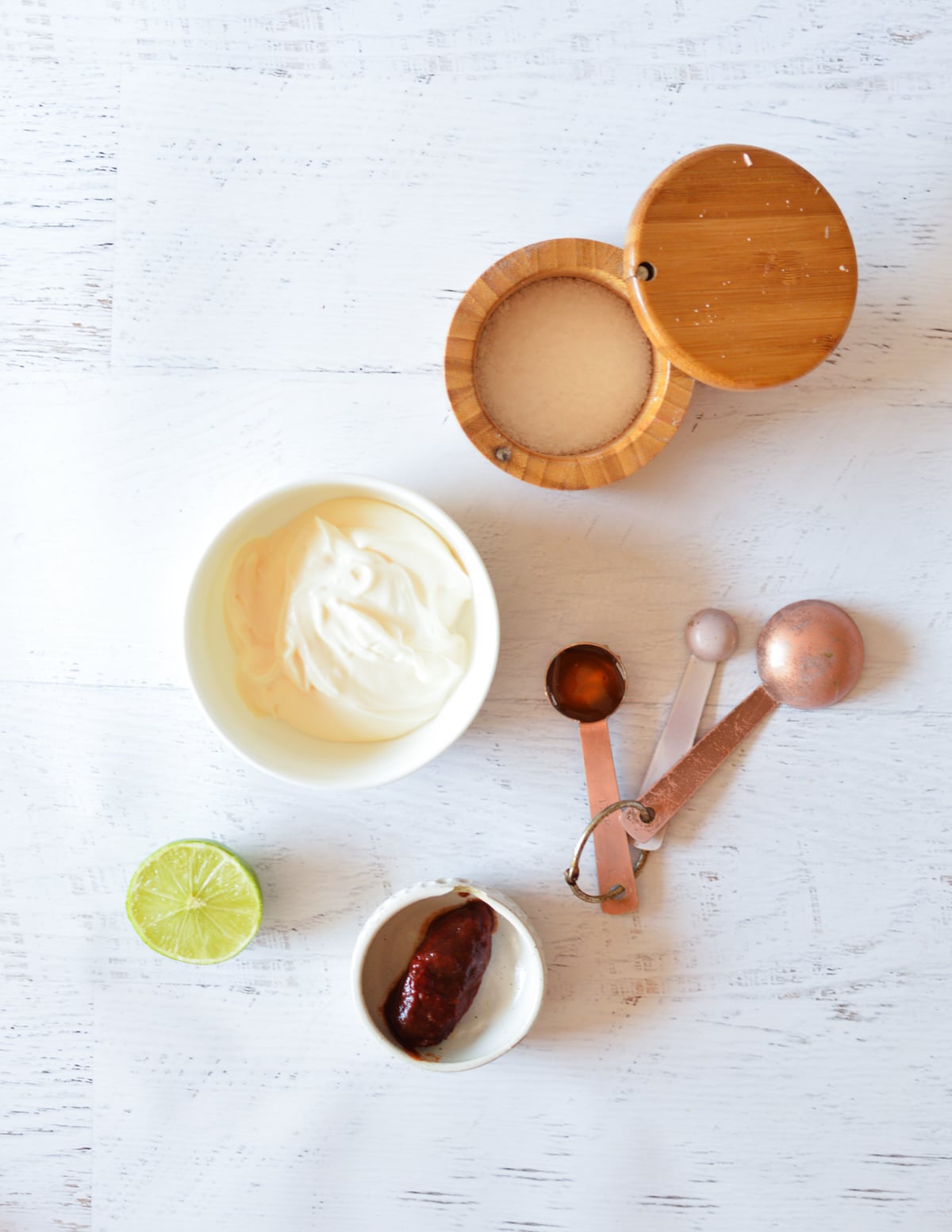 Mayo - The creamy base! Mayo is a non-negotiable, but you can use any variety you like.
Chipotles in Adobo Sauce - You can find them in the international aisle of your grocery store - same aisle as salsa and coconut milk. It will set you back about 2 bucks. An opened can of chipotles in a sealed container will last you a month or two in the fridge.
Fresh Lime Juice -  You will need an acid to cut the fattiness of the mayo a bit. IMHO - ain't nothing better than fresh lime juice, BUT if you have none - fret not! In a pinch, most mild vinegars (sorry balsamic) will do just fine. I usually have apple cider vinegar on hand.
Honey - This chipotle sauce isn't sweet. It adds just enough to balance out the heaviness of the mayo and the spiciness from the chipotles. Don't skip it! Trust me.
Kosher Salt - Salt enhances flavor! Add a pinch. I would encourage you to use Kosher if you don't already. It has a cleaner, saltier flavor without tasting like you swallowed sea water. Matt and I have driven back to the store after accidentally buying table salt.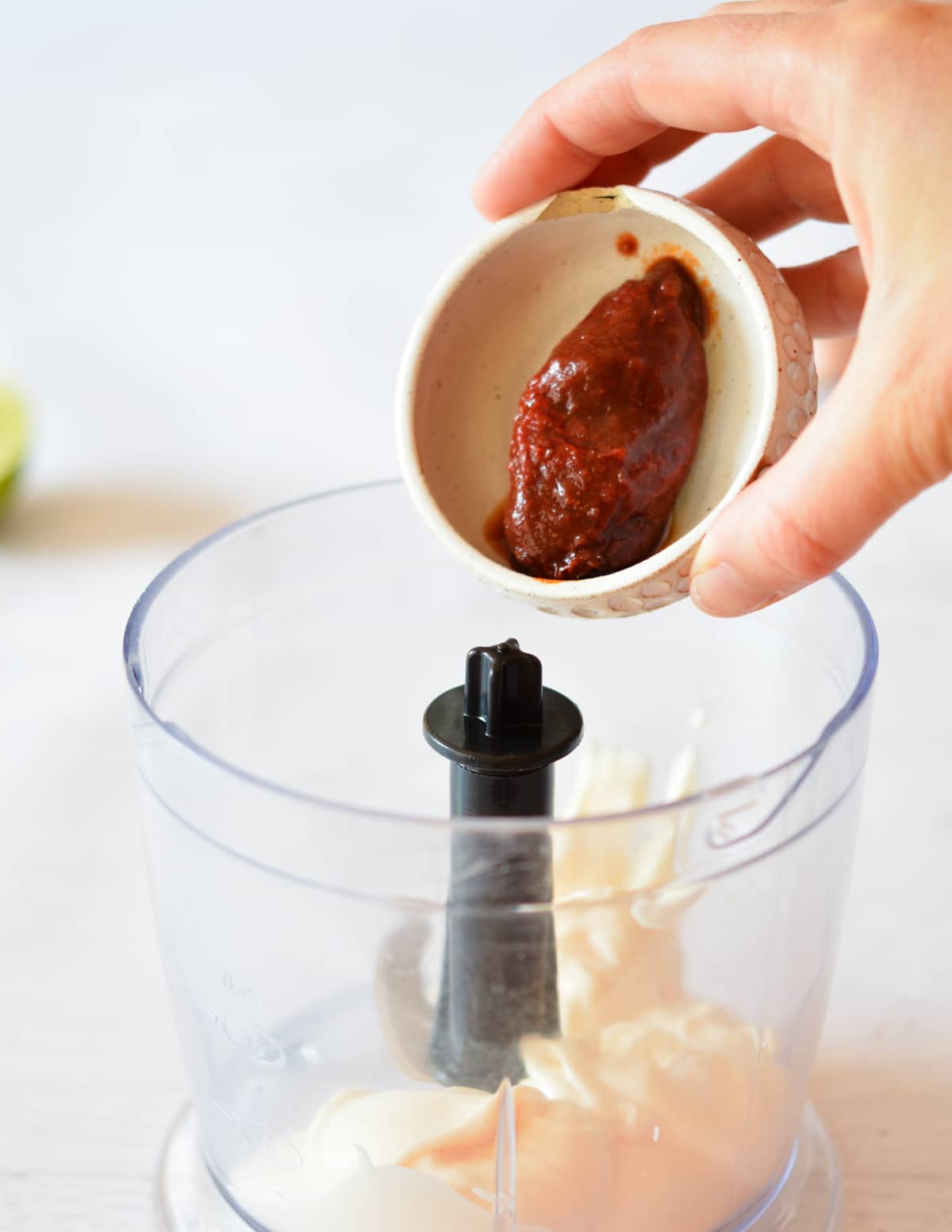 And there you have it. Only five ingredients for a killer condiment.
And if you can simply remember the ingredients, you can pretty much eyeball the measurements to this simple chipotle mayo recipe. I do it all the time.
If you like it spicier - hello one more chipotle. Creamier? Pass me the mayo. You get the point. 😉
How to Make Chipotle Mayo:
I can't emphasize enough just how easy this chipotle mayo recipe is!
You basically just dump everything into a food processor and blend, but for those who prefer a bit more guidance:
Pull out all your ingredients.
Add the mayo to a small food processor. If you don't have a small one, you can use an immersion blender and a cup.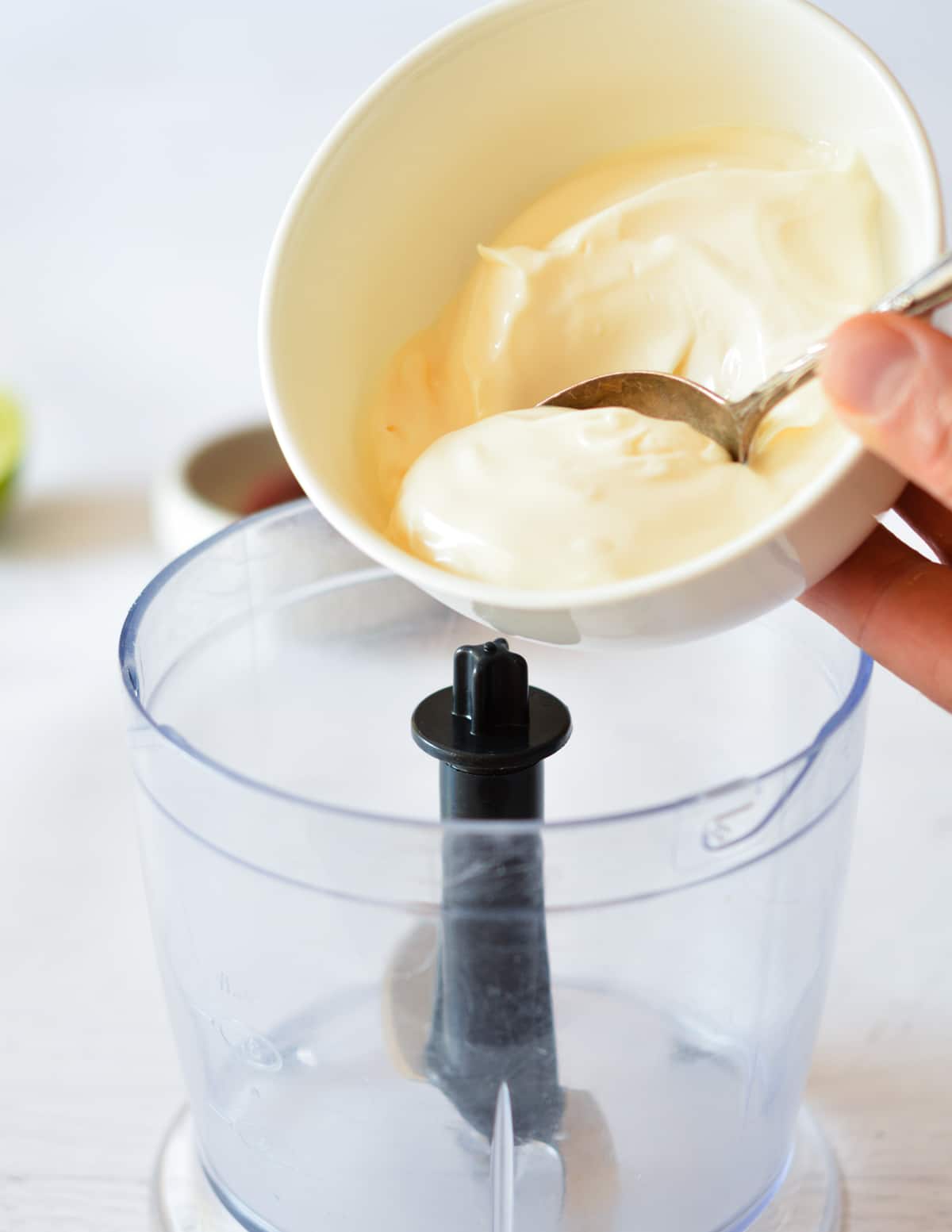 Add the lime, honey, chipotle, and salt. Start with one chipotle. You can always add another if you like it extra spicy!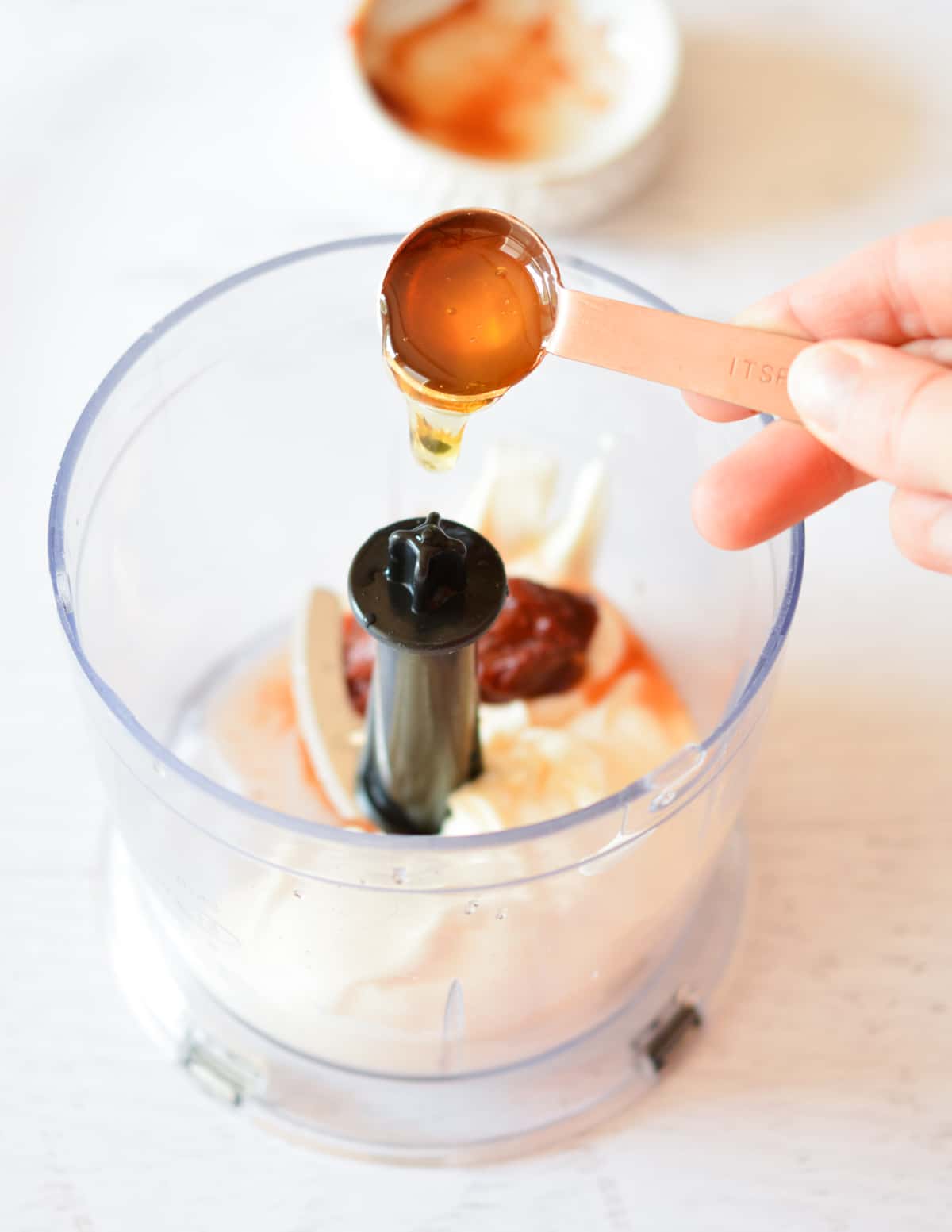 Pulse until the chipotle is pulverized and everything is mixed together.
Pour into a bowl and enjoy as a spicy dip or sauce.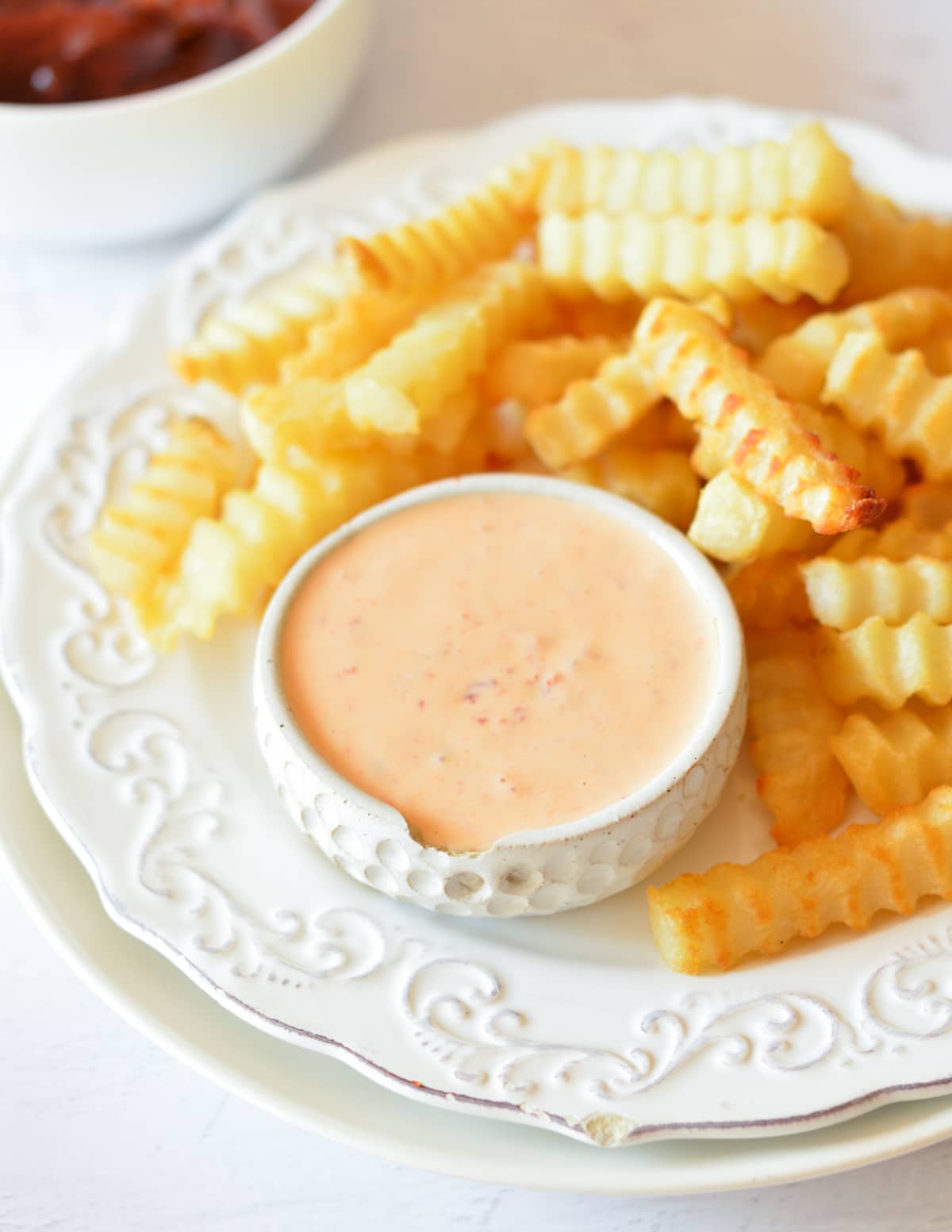 Ways to Use Chipotle Sauce:
Put it on everything! I kid. (Sort of)
I usually throw my chipotle aioli into a container and put it in the fridge, but you can pour it into a squirt bottle for more efficient condiment action.
You can serve this spicy condiment with SO many things, but these are some of my favorites:
Tacos or burrito bowls
Chicken tenders
Burgers & french fries
If you don't like spicy condiments, try this cilantro lime crema sauce! It's dangerously good.
Variations:
It's easy to customize! Here's a few simple variations:
Vegan - Use Vegenaise and maple syrup and you have a vegan chipotle mayo.
Keto - If you are on a strict keto diet simply omit the honey and you have a keto chipotle mayo.
Spicy - If you like the spice level to kick you in the face, add two chipotles.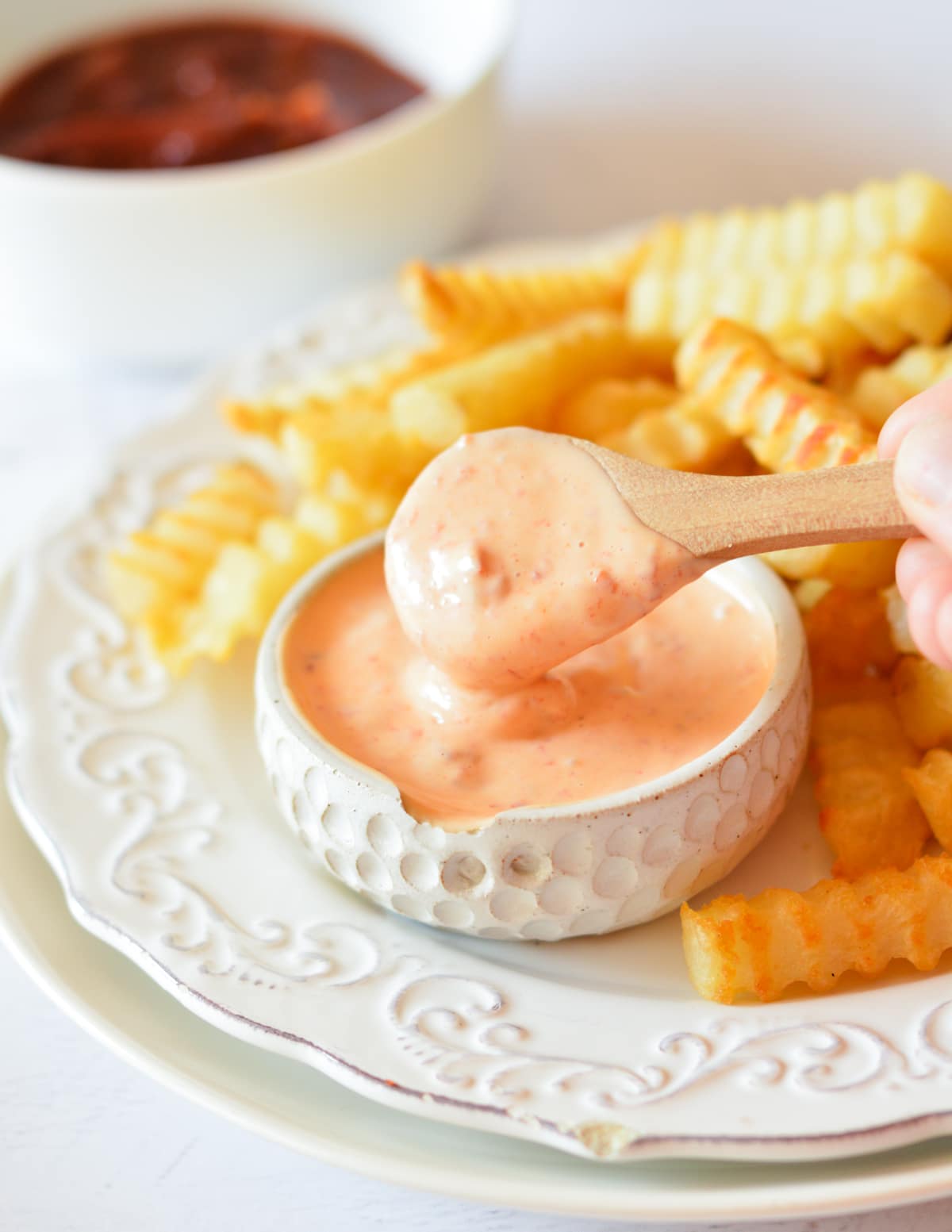 Storage Tips:
If you're like me and you toss anything that even comes close to expiring, then you're in luck - this condiment lasts a long time in your fridge!
You can use it for up to two weeks, no problem (it certainly won't last that long, trust me).
FAQs:
What is chipotle mayo made of?
Chipotle mayo can vary depending on the recipe, but the best versions contain chipotles in adobo.
Chipotle peppers in adobo are jalapeno peppers that have been dried, smoked, and packed in a tangy tomato sauce. They add a major flavor boost, more than just spices like chili powder or cayenne.
Is spicy mayo the same as chipotle aioli?
Technically, aioli and mayo are different, but the terms have become interchangeable. Aioli is basically just a fancy homemade mayo. So any sauce that's termed an aioli is mayo-based.
More Sauce Recipes: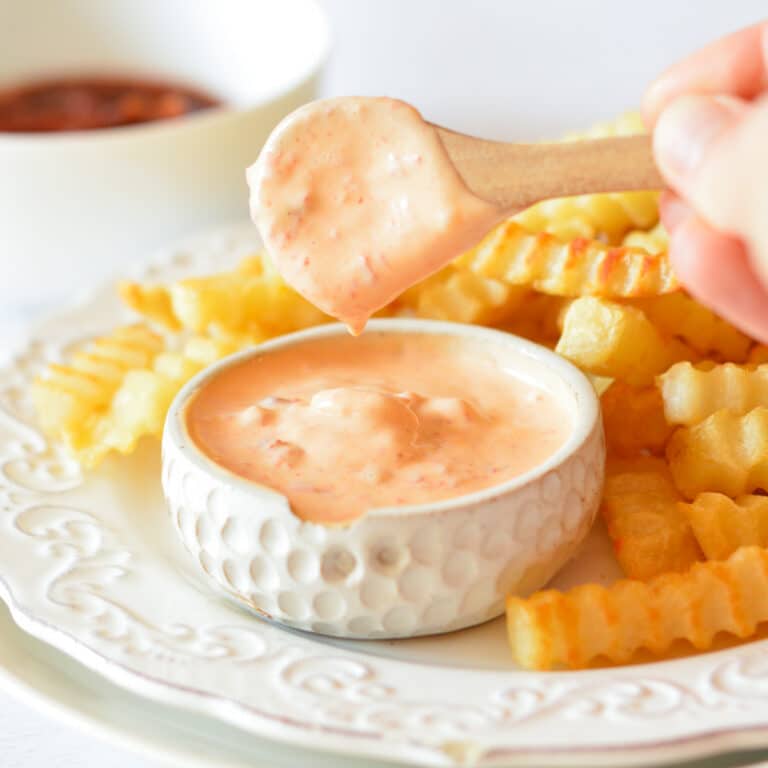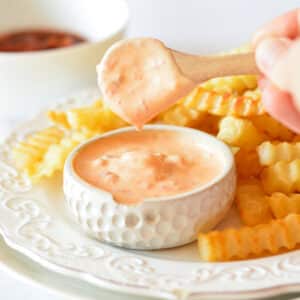 Chipotle Mayo Recipe
An easy chipotle mayo recipe that tastes great on nearly everything! It's four ingredients and takes two minutes to make. Perfect for burgers, tacos, and french fries!
Equipment
Food processor

or immersion blender
Ingredients
½

cup

mayo

1

chipotle pepper in adobo

1

squeeze of fresh lime juice

1

t.

honey

kosher salt to taste
Instructions
Add all ingredients to a food processor and process until smooth.

For a spicier chipotle mayo, add an additional chipotle.
Nutrition
Calories:
133
kcal
Carbohydrates:
2
g
Protein:
0.2
g
Fat:
14
g
Saturated Fat:
2
g
Polyunsaturated Fat:
8
g
Monounsaturated Fat:
3
g
Trans Fat:
0.03
g
Cholesterol:
8
mg
Sodium:
119
mg
Potassium:
10
mg
Fiber:
0.3
g
Sugar:
1
g
Vitamin A:
15
IU
Vitamin C:
2
mg
Calcium:
2
mg
Iron:
0.1
mg