A simple omelette with avocado, cucumber, red bell peppers and cilantro sour cream for a delicious breakfast or dinner.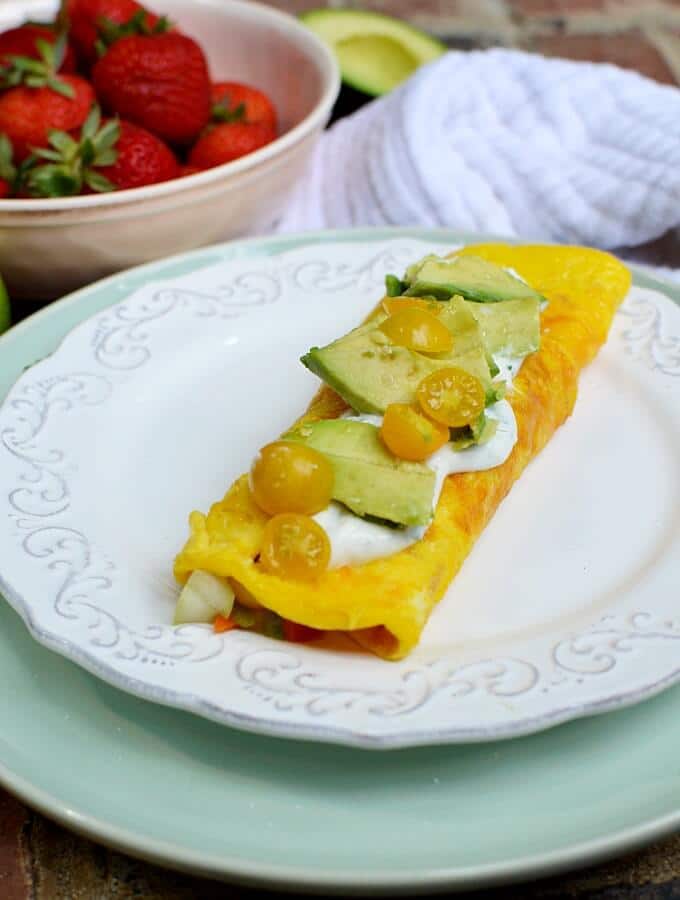 Disclosure: This post may contain affiliate links. In other words, if you click a link and purchase something I will receive a commission at no cost to you. I only recommend products I use and enjoy myself.
Our garden is bursting with cucumbers, bell peppers, jalapeños, and tomatoes. Lately everything around here is quite literally garden fresh. So really what else was there to do but make an omelette with avocado. It almost felt sinful not to.
Omelettes are just vehicles for delicious fillings and hey, I'm game. If you need a recipe to use up produce then omelettes are the perfect choice.
An avocado omelette for breakfast, lunch or dinner.
Omelettes can be a bit pretentious. You have to drag the eggs inward as they cook. Overcook the bottom and your eggs are rubbery - undercook the top and well, yuck. There is some debate on the proper method. Do you fold, flip, drag or roll?
I'm going to confess though, I cheated. Cheating may be frowned upon in fifth grade but kitchen cheats are the BEST.
In this recipe I simply add the shredded cheese to the eggs and whisk together with a fork. I pour the egg into the pan and then once the bottom is cooked I flip it. No dragging or swirling needed. The result - a fluffy omelette every time. I will say the key to my success is a thin spatula. Come to find out there called turner spatulas. Bulky spatulas are the worst.
Plus I add cheese to the eggs instead of milk - hello delicious!
If you want to up your egg game get yourself a thin silicone turner spatula. They're also great for flipping these white cheddar, zucchini and eggs breakfast cakes. There I go with the cheese again. Mmmm.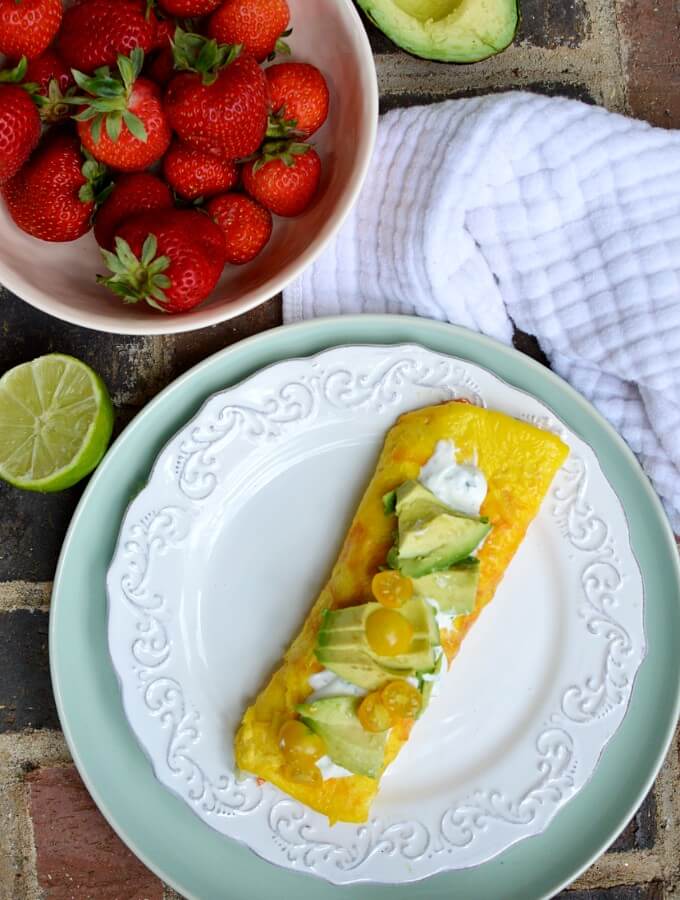 How to make this simple omelette with avocado:
I put a teaspoon or two of olive oil into a nonstick saute pan.
Never cook eggs in a stainless steel pan. Unless you like activities in line with stepping in red ant piles. Because that's how much fun cooking those eggs will be.
Whisk up your eggs and cheese. This recipe will make two omelettes - two eggs per person.
While your pan heats up small dice your cucumber, and red bell pepper. Deseed and mince your jalapeno. Halve or quarter your cherry tomatoes. Mine are from the garden and incredibly small so I only halve them. Whip up your cilantro sour cream. Do all your prep work essentially. Once your omelettes are on the plate all we want to have to do is fill them and devour them.
Saute your red bell pepper and jalapeno for just a minute and don't forget to season as you go.
I used a half measuring cup to scoop the eggs into the pan. They should spread into a large circle. Let the bottom cook and set. Flip with your thin spatula. Let the other side cook then use your spatula to put your unfolded omelette onto a plate. Fill with your veggies. Fold one side over and then fold the side with the fillings over again.
Top with cilantro sour cream and sliced avocado. Sprinkle with kosher salt.
Let's talk fillings:
This omelette recipe feels like an ode to summer. I love the brightness and acidic punch lime gives to vegetables.
I always have limes on hand. I don't ever buy lime juice in the bottle. Limes are cheap plus they stay fresh in the refrigerator for up to a month. The bottled stuff just can't compete with fresh squeezed lime.
I love that it's filled with crisp cucumber, bell pepper, sweet cherry tomatoes, creamy avocado, spicy jalapeno and herby sour cream. It tastes amazing but it's also a feel good omelette. You can feel good about all the amazing nutrients you're getting first thing. Cucumbers are filled with vitamins K,B and C. Red Bell Peppers are packed with antioxidants. Cherry tomatoes carry an abundance of Vitamin C. This omelette is also keto friendly, and gluten free.
But one of the incredible things about omelettes is their versatility. Don't be afraid to get a little creative. This omelette would taste amazing with crumbled bacon.  You could add spinach or sub veggies out if needed.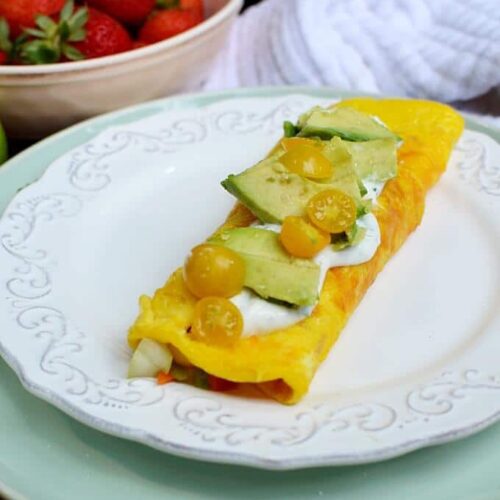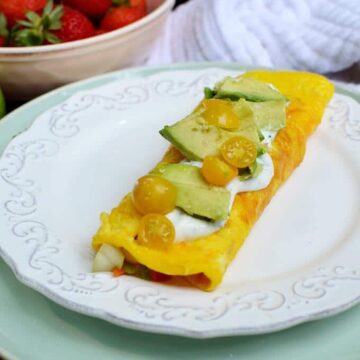 Omelette with Avocado and Veggies
Ingredients
4

eggs

½

cup

shredded cheddar cheese

¼

t.

kosher salt

½

Cup

red pepper, small diced

½

Cup

cucumber, deseeded and small diced

1

tbsp

jalapeno, deseeded and minced

½

Cup

cherry tomatoes, quartered

3

tbsp

sour cream

1

t.

cilantro, finely minced

½

lime

kosher salt

extra virgin olive oil
Instructions
Heat a nonstick saute pan on medium high with a teaspoon or two of olive oil.

While pan is heating up small dice cucumber and red pepper. Mince and deseed jalapeno. Quarter cherry tomatoes and finely chop cilantro.

Mix together sour cream, cilantro, a squeeze of lime and a pinch of salt. Set aside.

Saute red pepper, minced jalapeno and a pinch of kosher salt for about a minute. Put mixture into a bowl then add your cucumbers and cherry tomatoes. Add a squeeze of fresh lime juice. Taste for seasoning. Add another pinch of kosher salt if needed.

Whisk together eggs, cheddar cheese and ¼ t. kosher salt. Use a half cup measuring cup and pour egg and cheese mixture into pan.

Once bottom is set and cooked use your spatula to flip omelette. Let omelette finish cooking and use your spatula to put the unfolded omelette onto a plate. Repeat with the rest of the egg mixture.

Fill omelette down the center with bell pepper mixture. Fold one side onto the middle and then fold over again so the fold is facing down.

Top with cilantro sour cream, sliced avocado and another pinch of kosher salt. Serve immediately.