Gluten-free protein bars should taste satisfying, delicious and contain feel-good ingredients! These 11 gluten-free protein bars check all the boxes!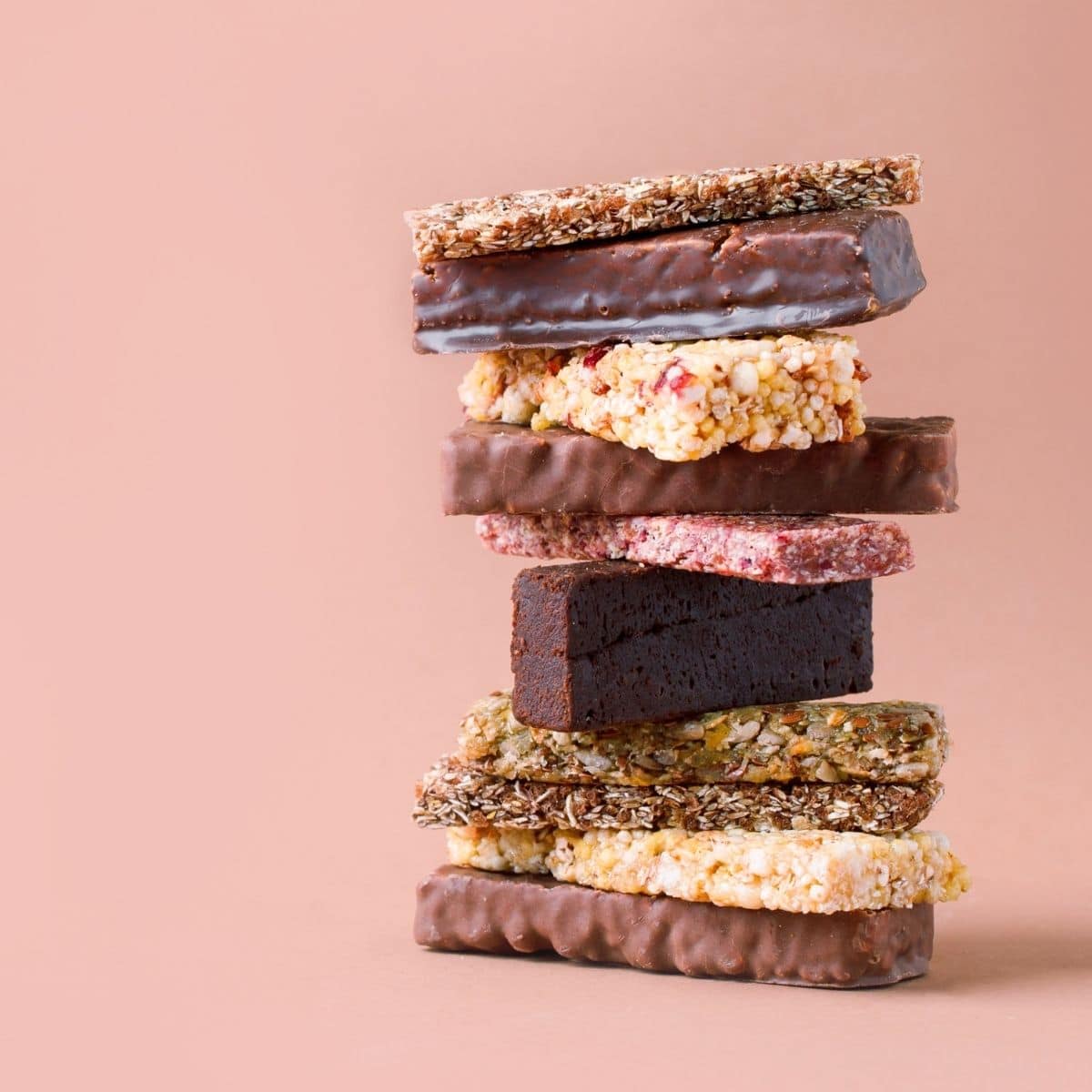 Sometimes life is hectic and there's not even time for breakfast smoothies or gluten-free toaster waffles. It's mornings like these that I grab a gluten-free protein bar and go on my merry way! No cook, no mess, no problem.
Right? … Wrong.
I'm here to tell you friends. Protein bars are NOT all created equal. In fact, some are downright awful. Thankfully, their are several brands who've nailed it both in ingredients and taste!
Here's a list of 10 (because honestly, who needs 30???) of the best gluten-free protein bars I've found!
Jump to:
Protein Bars: The Rundown
What is a protein bar anyhow? Is it a granola bar? A nut-bar? A chocolate bar? Technically, a protein bar is any kind of prepackaged bar that provides an adequate amount of protein.
They're meant to be a quick and convenient snack that provide substantial nutrients in the form of a tasty, flavored bar.
The source of protein varies depending on the protein bar. Here are a few common ingredients found in different brands I've tried.
Pea protein
Whey protein
Brown rice protein
Soy protein
Nuts & nut butters
Seeds
Egg whites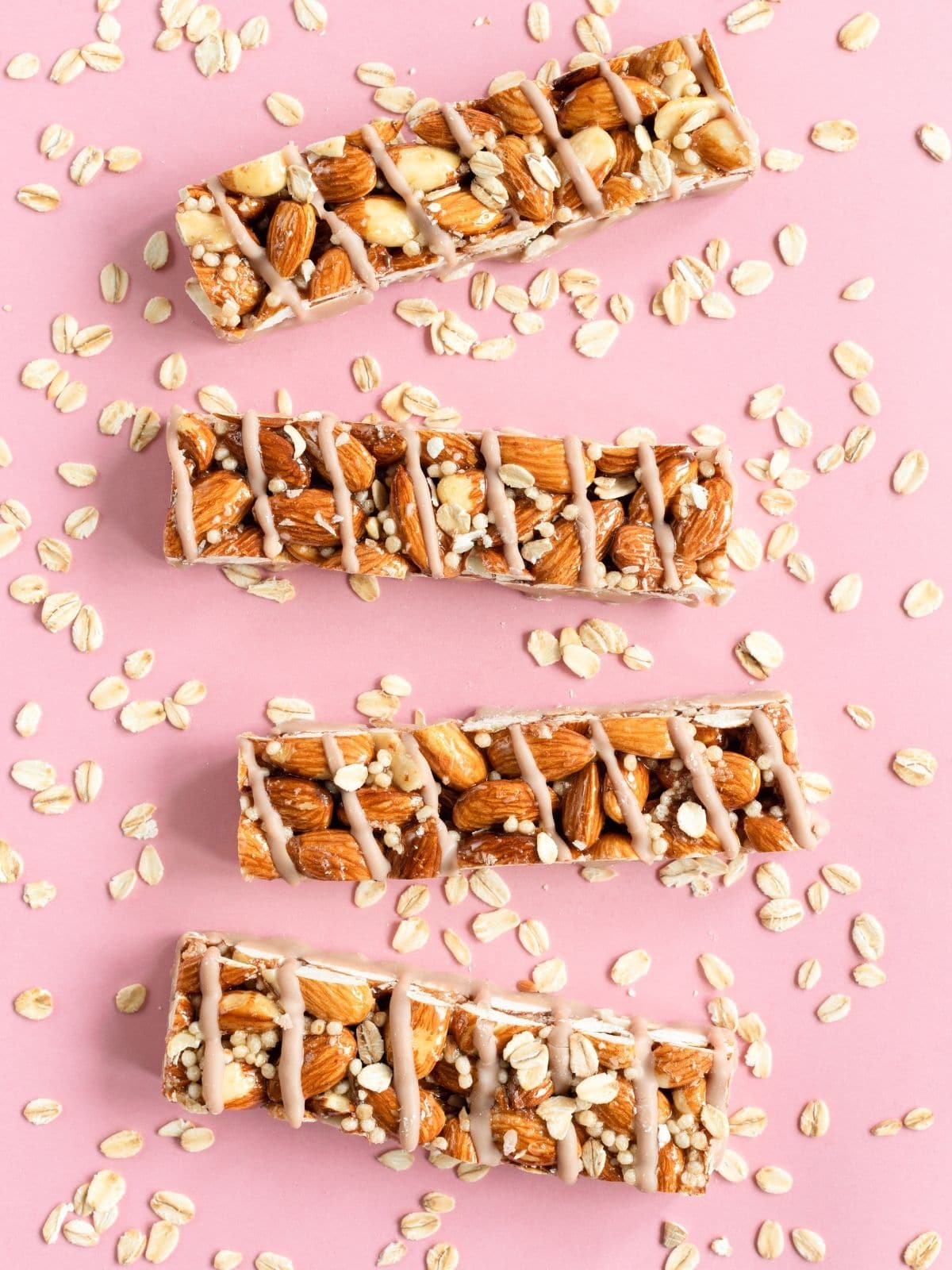 What you need to know:
While some protein bars are full of clean ingredients, others are packed full of ingredients I can't recognize or pronounce. Always check labels for ingredients and nutrition count. Here's what you need to look out for:
Protein Content: While two of the bars contain less, the rest in this list contain at least 10 grams of protein!
Gluten-Free Label: Always check labels when looking for gluten-free bars. I prefer to buy protein bars that have the gluten-free certification or a label saying so. This way I don't get sick from sneaky gluten-containing ingredients or cross contamination.
Sugar Content: Some energy bars are packed with sugar! If you're looking for a healthy snack, opt for an energy bar with a low amount of added sugar.
Clean Ingredients: Look for protein bars with clean, natural ingredients. Nuts, seeds, oats, egg whites, dates, dried fruit, dried coconut, quinoa, flax meal, honey, and dark chocolate are great examples!
What does gluten-free mean?
Gluten-free means a product or food doesn't contain gluten. Gluten is the name for the proteins found in wheat, barley, rye, and triticale. It's an important distinction for those who have celiac disease or gluten intolerance.
When a product is labeled gluten-free, it has to comply with the FDA's standards and tests. A third-party gluten-free certification is even better because it means the products are rigorously tested by an independent third-party like the GFCO.
Disclosure: This post contains affiliate links. In other words, if you click a link and purchase something I will receive a commission at no cost to you. I only recommend products I use and enjoy myself.
210 calories, 7g fat, 24g carbs, 15g sugar, 12g protein
If you're looking for a bar with clean, simple ingredients - this is the one for you! Dates, egg whites, almonds, cashews, and blueberries make one delicious bar. There's no added sugars (just dates!), preservatives, or weird ingredients.
These satisfying gluten-free protein bars come in a variety of flavors like peanut butter chocolate, chocolate raspberry, chocolate sea salt, and mixed berry. I will say that RXBARS are not labeled gluten-free so keep that in mind if you're sensitive to cross contamination.
These bars are very sweet and chewy. If you like a bar with less grams of sugar, check out the next one!
170 calories, 15g fat, 16g carbs, 5g sugar, 5g protein
These nutrient-dense bars are made with heart-healthy almonds, coffee, and chocolate. They're only lightly sweetened which is why I love them so much! They don't taste like sugar-laden candy bars.
They have a layer of dark chocolate which complements the lightly sweetened almonds so perfectly! I honestly love all the products and bars from Kind.
This bar only contains 5 grams of protein though. If you're looking for a gluten-free protein bar with lots of protein check out the next one!
260 calories, 13g fat, 22g carbs, 4g sugar, 14g protein
These chocolate coconut almond bars are vegan, non-GMO, kosher, soy-free, dairy-free, and gluten-free!
These vegan protein bars are full of plant-based protein and low in sugar. They also taste amazing, like an almond joy but not as sweet. If you love coconut and chocolate, this is the bar for you. Even my picky kids like them.
250 calories, 13g fat, 22g carbs, 10g sugar, 10g protein
This filling bar is made from peanut butter, pea protein, and cinnamon! It has a creamy and nutty taste with a slight crunch. It's made with clean ingredients without any junky fillers.
While churro is my personal favorite, there other flavors are delicious too! Try almond blueberry, almond chocolate, peanut butter chocolate, or peanut butter and honey! This brand doesn't disappoint.
270 calories, 10g fat, 34g carbs, 11g sugar, 12g protein
GoMacro peanut butter bars are certified gluten-free, vegan, organic, non-GMO, and kosher! These bars are very chewy, but delicious, perfect for an on-the-go breakfast!
These bars are great if you like to travel, but have serious food allergies. Never get stuck on an airplane while starving again.
330 calories, 20g fat, 24g carbs, 18g sugar, 15g protein
These bars are delicious but a bit higher in sugar than the rest! I like to enjoy one when I want a treat, but one that's made with clean ingredients and high in protein.
These protein bars need to be refrigerated so keep that in mind before purchasing. They're gluten-free, Non-GMO, organic, and made with whole food protein!
200 calories, 11g fat, 21g carbs, 9g sugar, 6g protein
These oat and seed bars are the best! They're gluten-free, nut-free, soy-free, peanut-free, dairy-free, plus non-GMO and vegan! They have no artificial sweeteners or weird ingredients.
This bar has just the right amount of spice and is perfectly sweet, but not overly so. They also have flavors in blueberry lemon, dark chocolate, cinnamon maple, and triple berry crumble.
220 calories, 12g fat, 25g carbs, 9g sugar, 9g protein
These delicious peanut butter bars are high-fiber, dairy-free and gluten-free with no artificial flavors or preservatives.
They contain simple and clean ingredients like oats, peanuts, honey, peanut butter, and egg whites. They're filling, slightly sweet, and way quicker than eggs!
These delicious bars come in three tasty flavors - peanut butter & chocolate, peanut butter & jelly, and peanut butter & banana.
Each bar contains a blend of peanuts, oats, and honey. I prefer to get the variety park so I can enjoy all the flavors!
240 calories, 17g fat, 18g carbs, 8g sugar, 12g protein
KIND brand is on the list twice, because I love it that much! They have a protein line that packs in more protein than their regular bars.
Dark chocolate nut is my absolute favorite with peanuts, almonds, dark chocolate, and sea salt. I honestly haven't tried a kind bar I didn't like.
More Amazing Gluten-Free Products
If you want to find more delicious gluten-free products, check out these posts!