Make the most of your pantry staples with these irresistibly good canned peach recipes! From cobblers, crisps, and pies, to popsicles and pancakes, we've got you covered.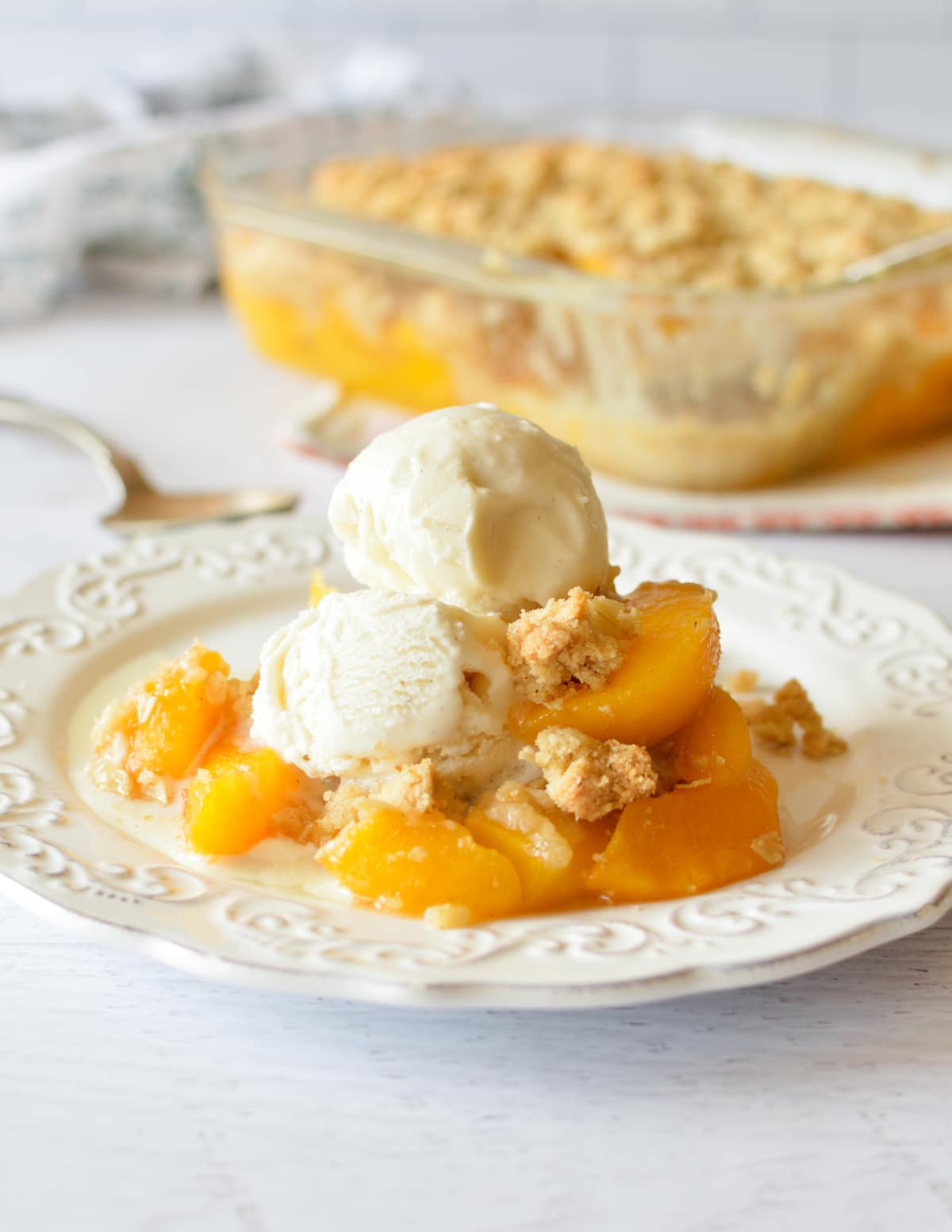 It's hard to resist a juicy, peak-season peach with it's sweet-tart flesh. Fresh peaches aren't always in season though and that's when canned peaches truly shine!
I've compiled a list of the best recipes with canned peaches to utilize this pantry staple.
Whether you're craving peach recipes in December or you just don't feel like peeling, slicing, and pitting fresh ones. These recipes will satisfy your peach craving!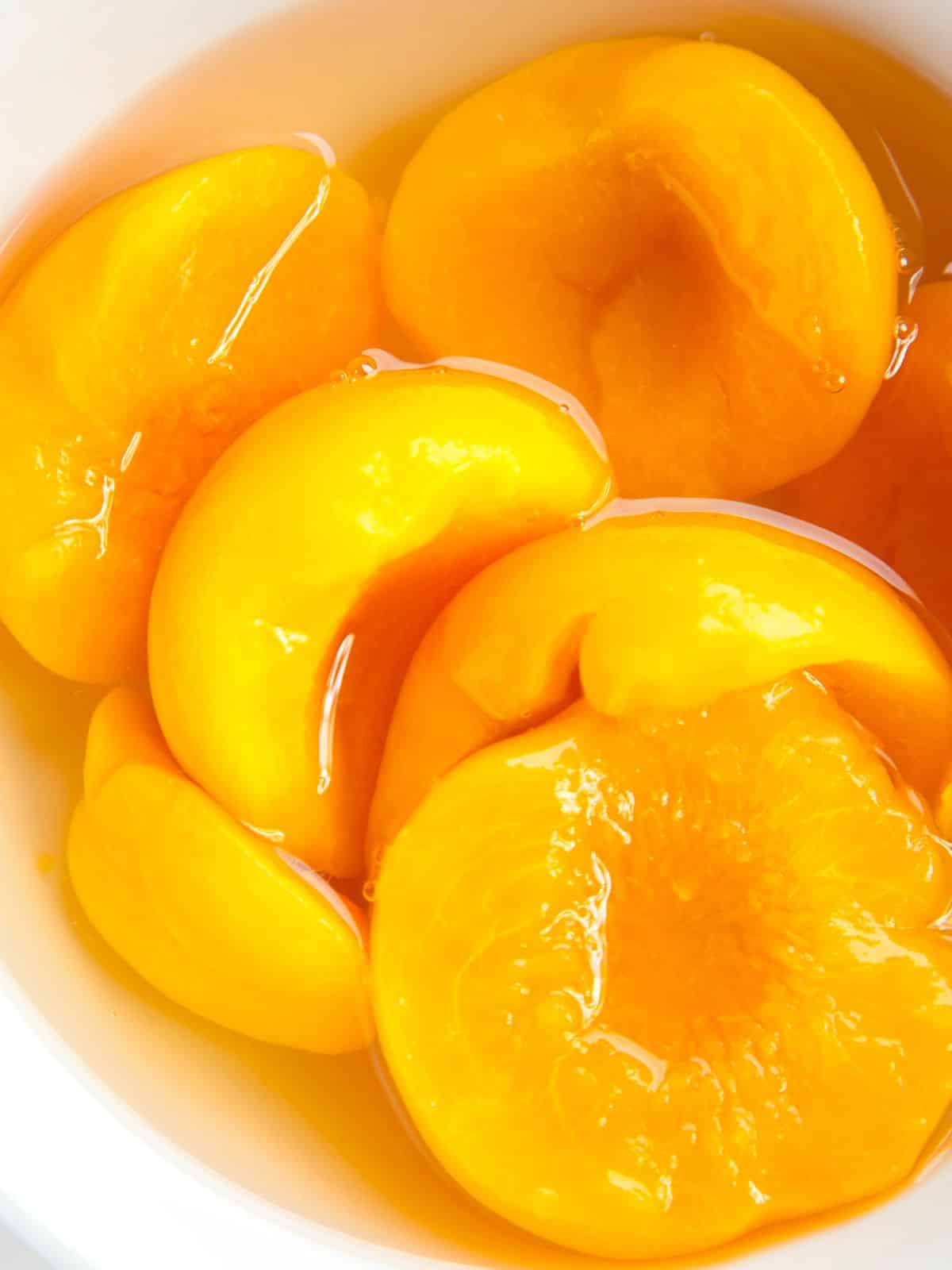 Types of Canned Peaches
Canned peaches is a broad term that includes many different canned peach products. Most canned peaches are made from yellow cling peaches. Here are a few of the most common:
Sliced peaches in 100% juice
Sliced peaches in heavy syrup
Sliced peaches in light syrup
Peach halves in heavy syrup
Peach chunks in heavy syrup
Diced peaches in 100% juice
Canned peach pie filling
Canned peaches in 100% juice are packed in concentrated fruit juices like white grape, lemon, pear, or peach juice.
Canned peaches in heavy syrup are packed in a sugar syrup instead of juice. Peaches packed in syrup are often sweeter with more sugar added.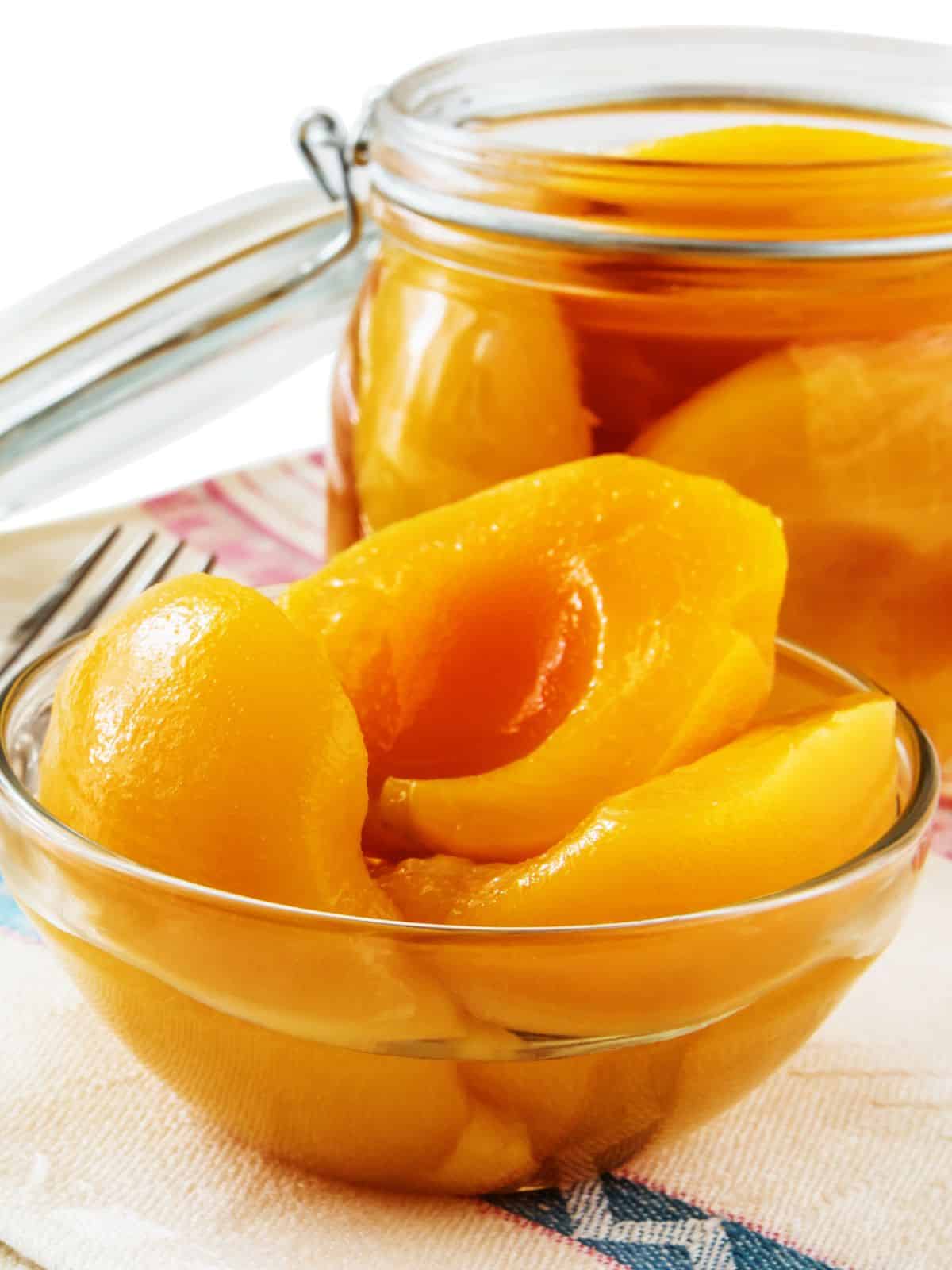 Ways to use canned peaches
Canned peaches are a versatile pantry staple that can be used in sweet and savory dishes! Typically they need to be drained beforehand, but that depends on the recipe.
Here's a few of my favorite easy ways to use canned peaches:
Oatmeal - Add peach chunks to your morning oatmeal! I like to add peaches for sweetness and granola for an oatey crunch.
Yogurt - Add peach jam and peach chunks to Greek yogurt, or make a yogurt parfait with peaches as the filling.
Chia pudding - Top your chia pudding with canned peaches or swap milk with some of the juice to soak the chia seeds in.
Pancakes - Use sliced peaches or peach pie filling as a quick topping for pancakes and waffles.
Ice cream - Use it as a topping for store-bought ice cream or as a mix-in for homemade ice cream.
Pie - Use a store-bought pie crust and a can of peach pie filling for a super simple peach pie!
Iced tea - Pour some of the peach juice into black tea for a refreshing iced tea.
How to bake with canned peaches
I highly recommend using recipes specifically for canned peaches, or recipes that specify you can swap them in without any issues.
In my experience, canned peaches release more liquid in the oven than fresh peaches. While this doesn't matter in certain recipes, it can ruin others.
For example, a light and airy cake recipe with fresh peaches might be weighed down by all the excess liquid from canned peaches. The result? A dense and soggy cake!
Recipes with Canned Peaches
All of these canned peach recipes are addictively delicious and easy to make! Sometimes life is busy and you just want a canned peach dessert with minimal prep involved. I hear ya!
1. Peach Crisp with Canned Peaches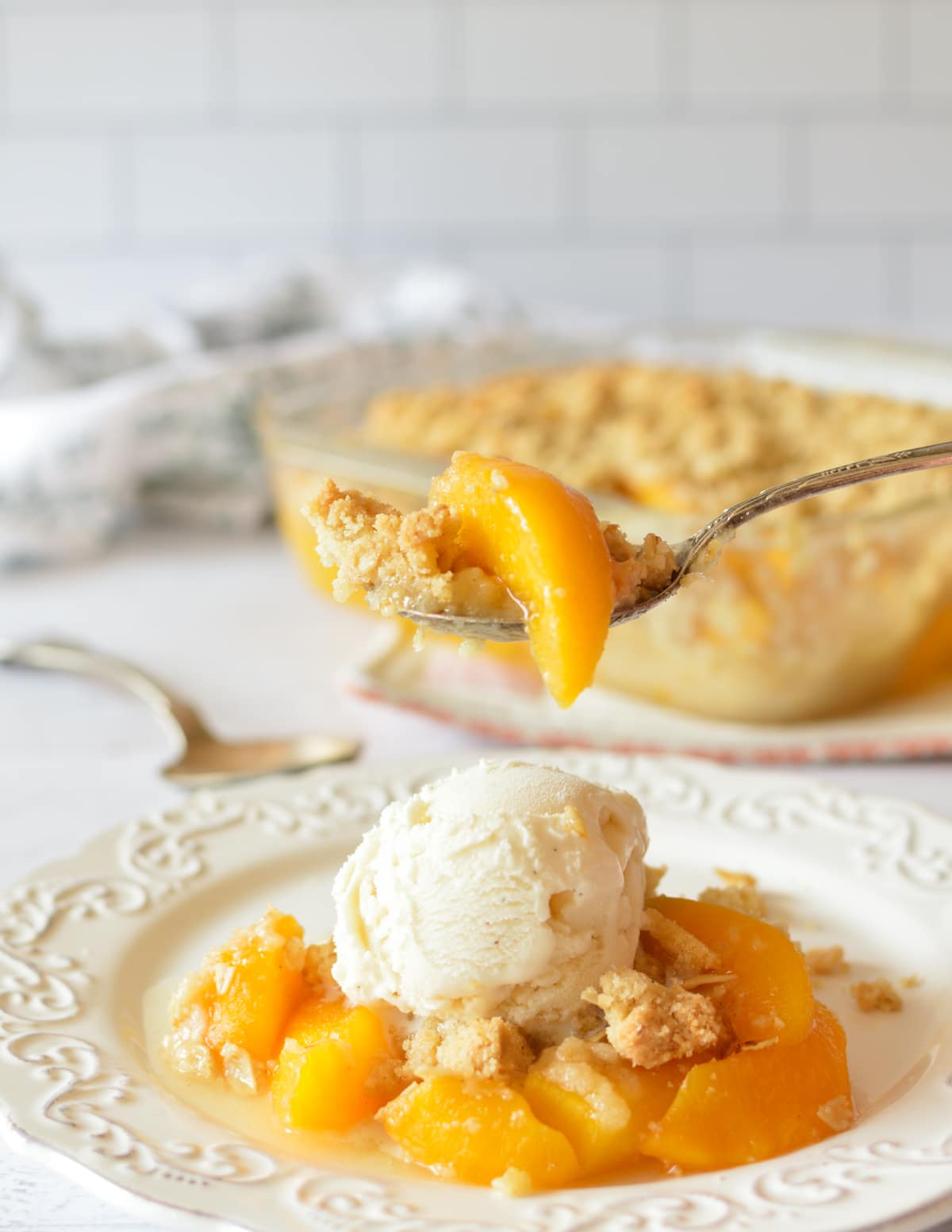 This peach crisp with canned peaches is a peach lover's dream! It's made with two large cans of sliced peaches and a homemade crumb topping. The crumble is buttery, oatey, crispy, and delicious!
My favorite way to eat this recipe is with a large scoop (or two) of vanilla ice cream. Yum!
Feel free to add nuts to the crisp if for an extra nutty crunch.
2. Homemade Peach Popsicles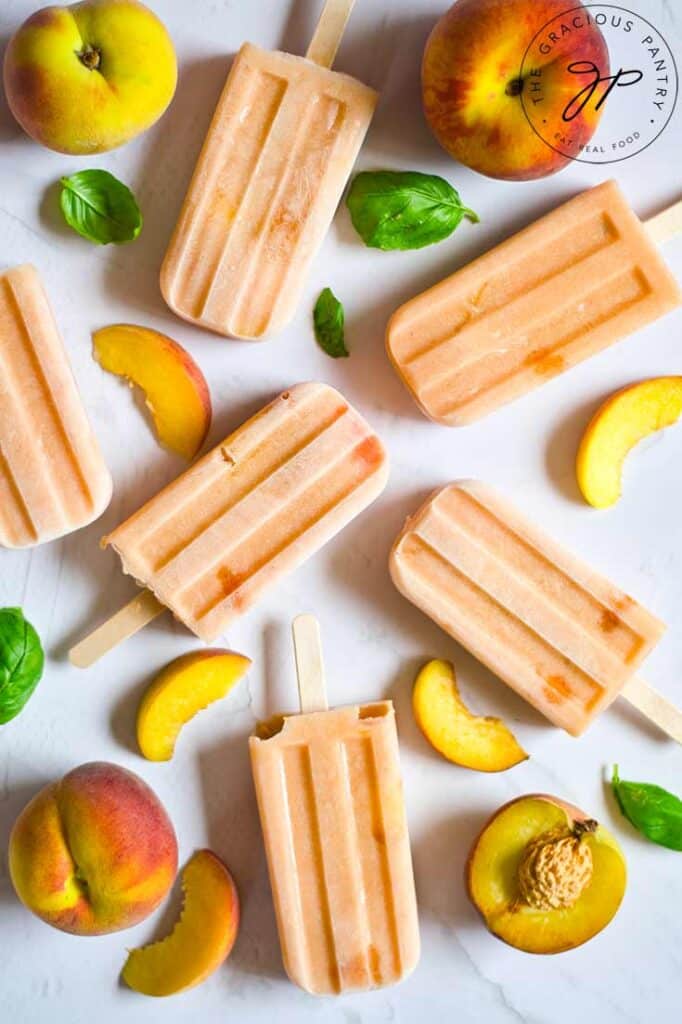 These homemade peach pops are a refreshing summertime treat! You can use fresh, frozen, or canned peaches in this simple recipe. It's only three ingredients and it's naturally sweetened with maple syrup.
This recipe calls for five peaches so to keep things simple, buy peach halves and count out 10 halves (or 5 whole peaches). Follow the recipe as directed.
3. Peach Cobbler with Cake Mix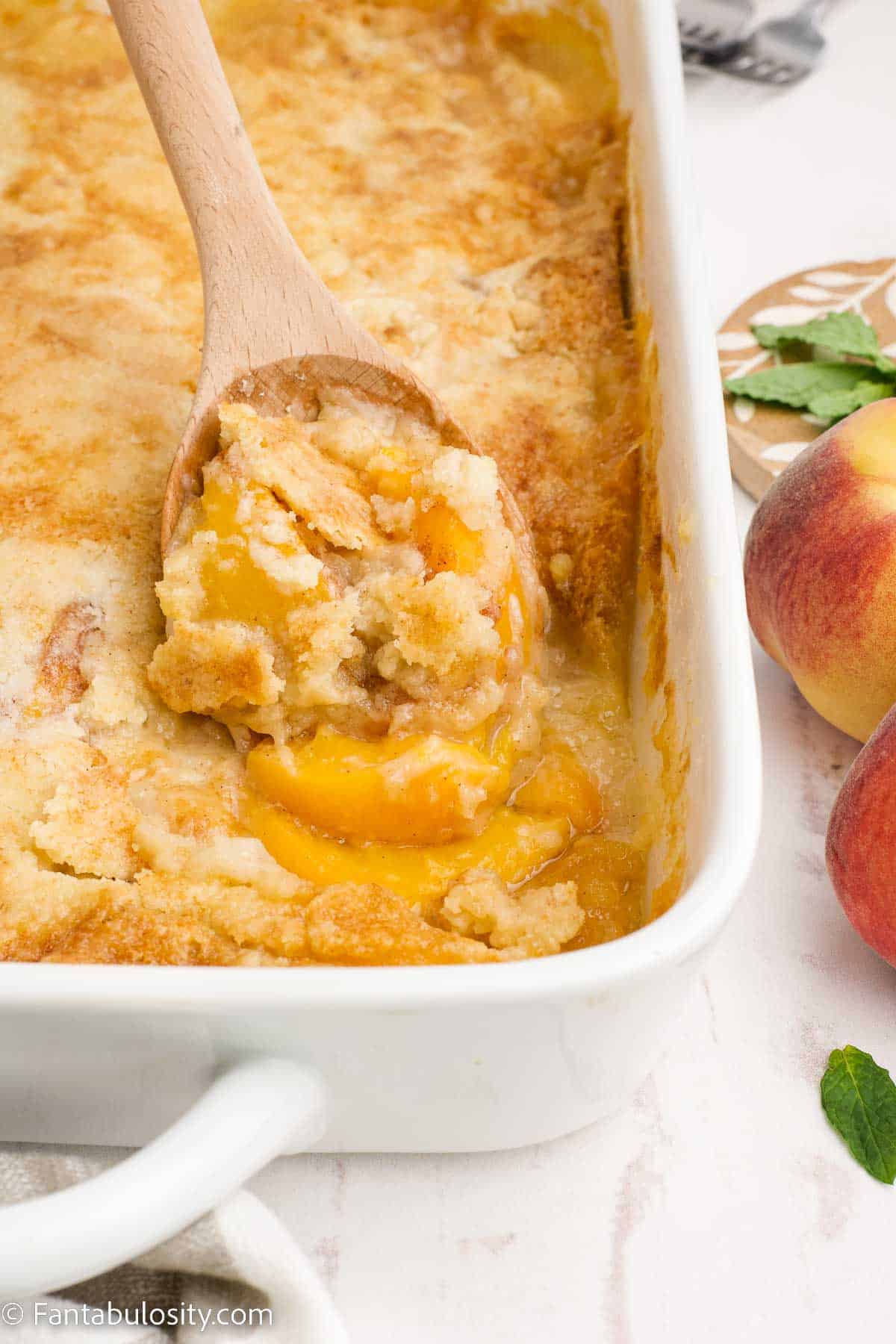 If you've only got 5 minutes of hands-on time to spare, this peach cobbler recipe is for you! It's only 4 ingredients and it utilizes yellow cake mix and canned peaches.
You might have all 4 ingredients in your fridge and pantry right now! It's rich, decadent, and a breeze to make!
4. Vegan Peach Cobbler Pancakes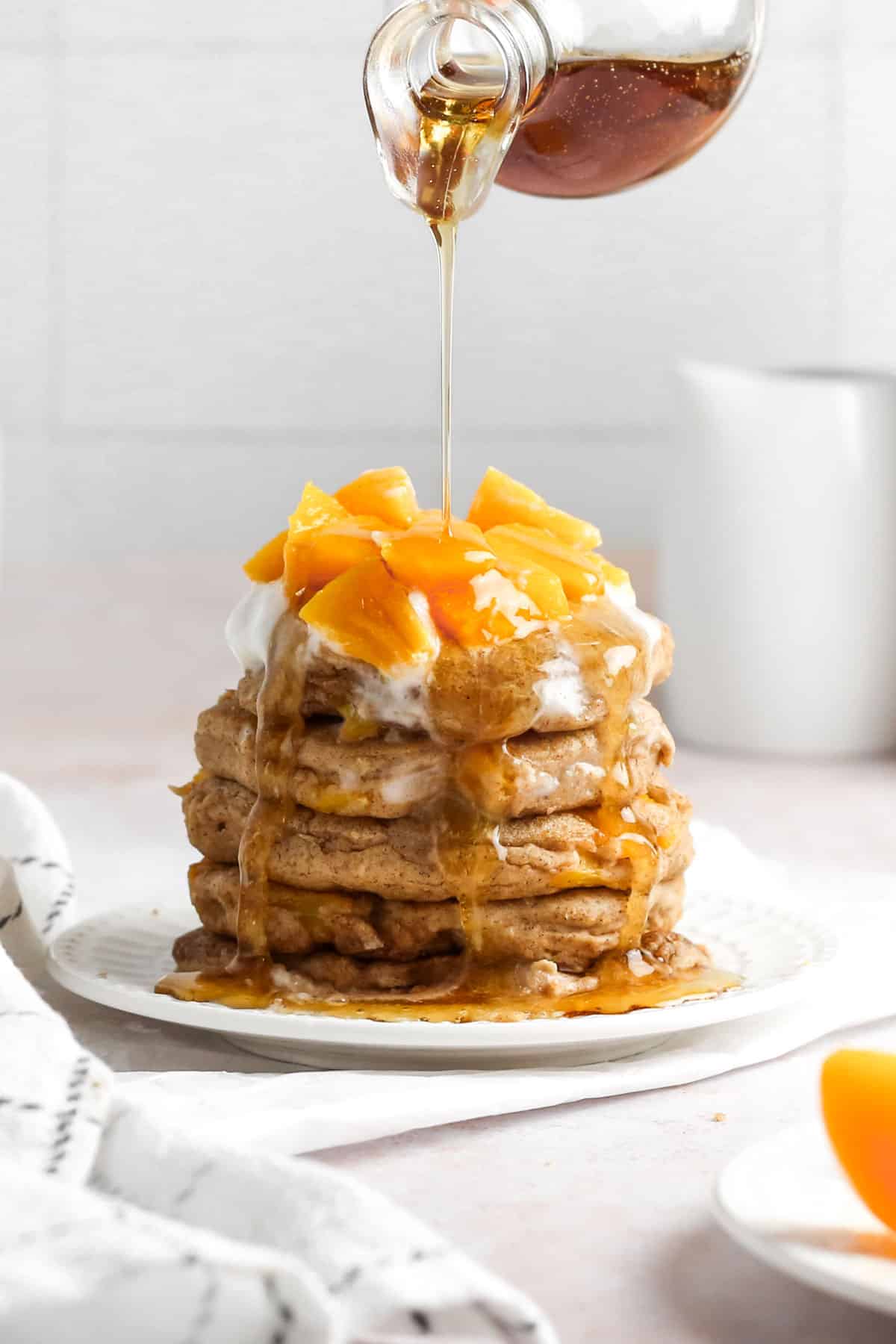 This stack of vegan pancakes is thick, pillowy, and studded with little bites of fresh or canned peaches!
It's an easy one-bowl recipe that tastes like a mashup of peach cobbler and pancakes. It's also dairy-free, egg-free, and vegan!
Top with coconut whipped cream, sliced peaches, and a hefty drizzle of maple syrup!
5. Peach Tiramisu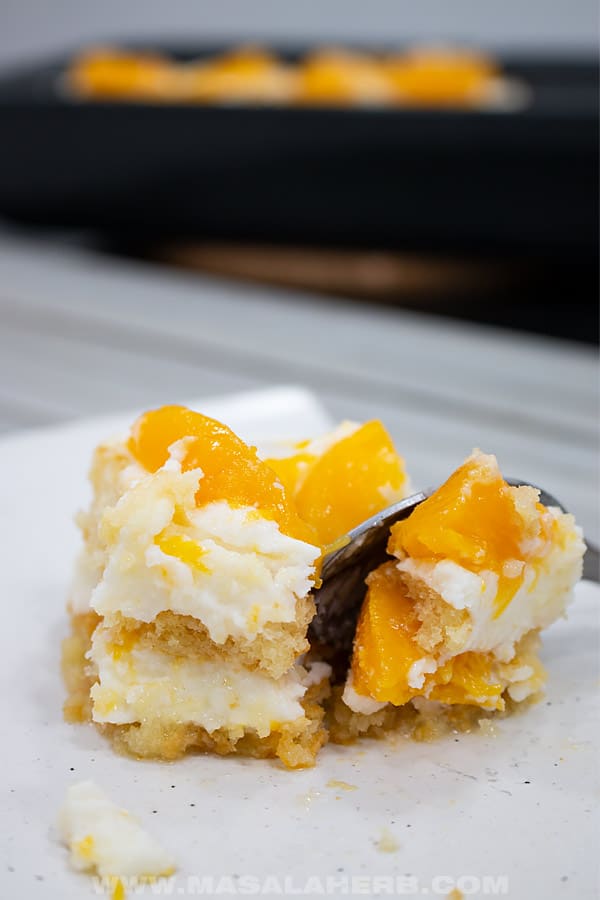 A fun and fruity spin on the classic, this peach tiramisu is just 4 ingredients and a breeze to make.
Ladyfingers soaked in peach juice are layered with canned peaches and sweetened mascarpone for a decadent treat. Such a simple concept, yet SO good!
6. Peach Cobbler in a Jar - Gluten-Free & Vegan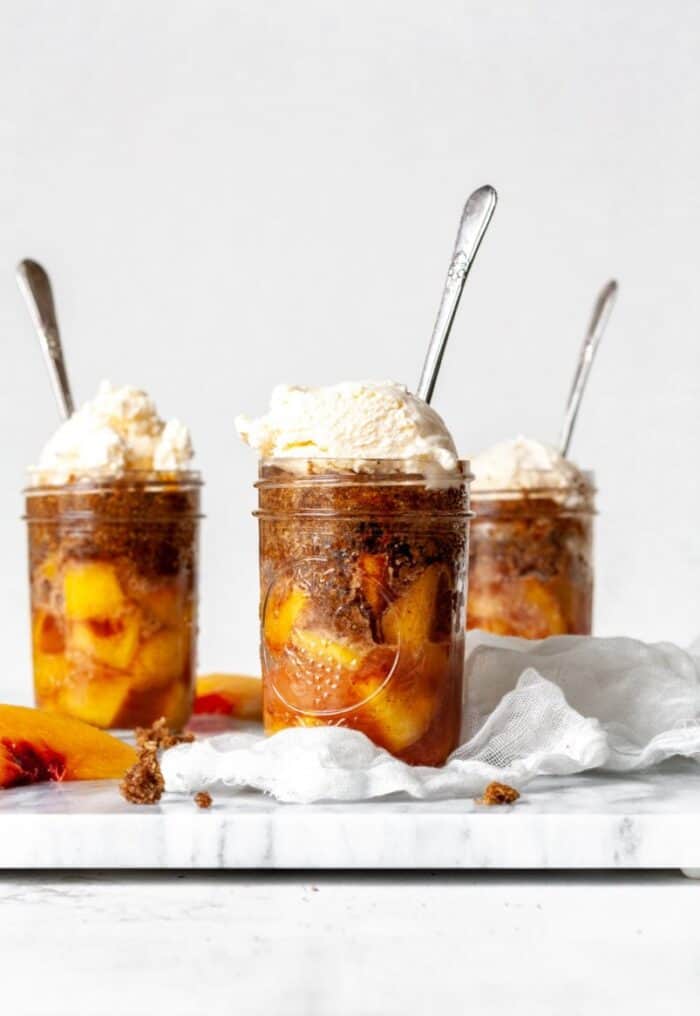 These adorable peach cobblers are baked and served in a jar. They're a fun and healthy spin on a Southern classic.
The topping is paleo, gluten-free, and vegan! It's made with almond flour, coconut sugar, and coconut oil.
You can use fresh, frozen, or canned peaches for these individual cobblers!
7. Peach Dump Cake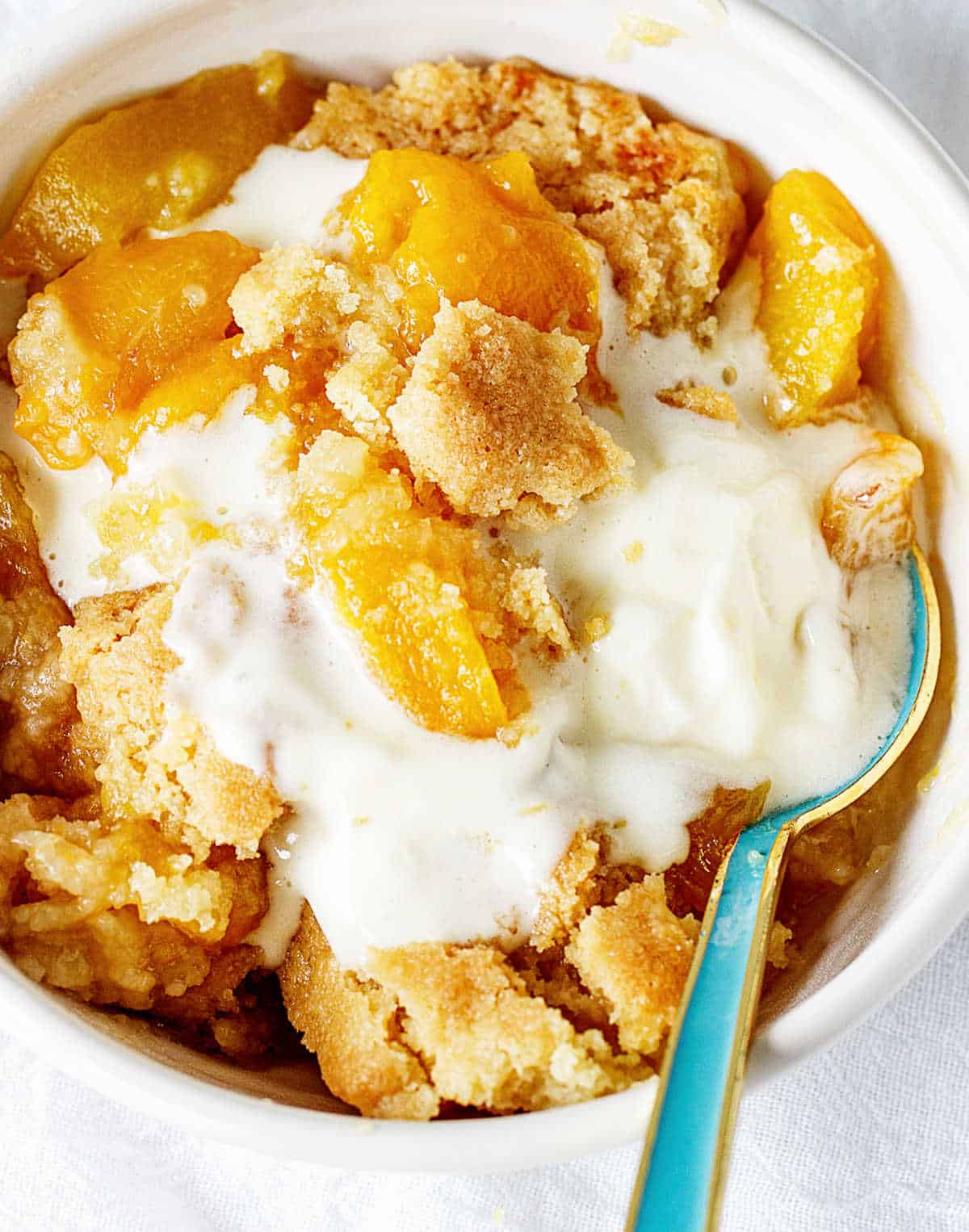 Dump cakes are popular for a reason - they're so darn simple! This peach dump cake calls for three ingredients - canned peach pie filling, butter, and yellow cake mix!
The topping is buttery, crunchy, golden brown perfection. Serve with a generous scoop of vanilla ice cream and dig in!
8. Peach Pie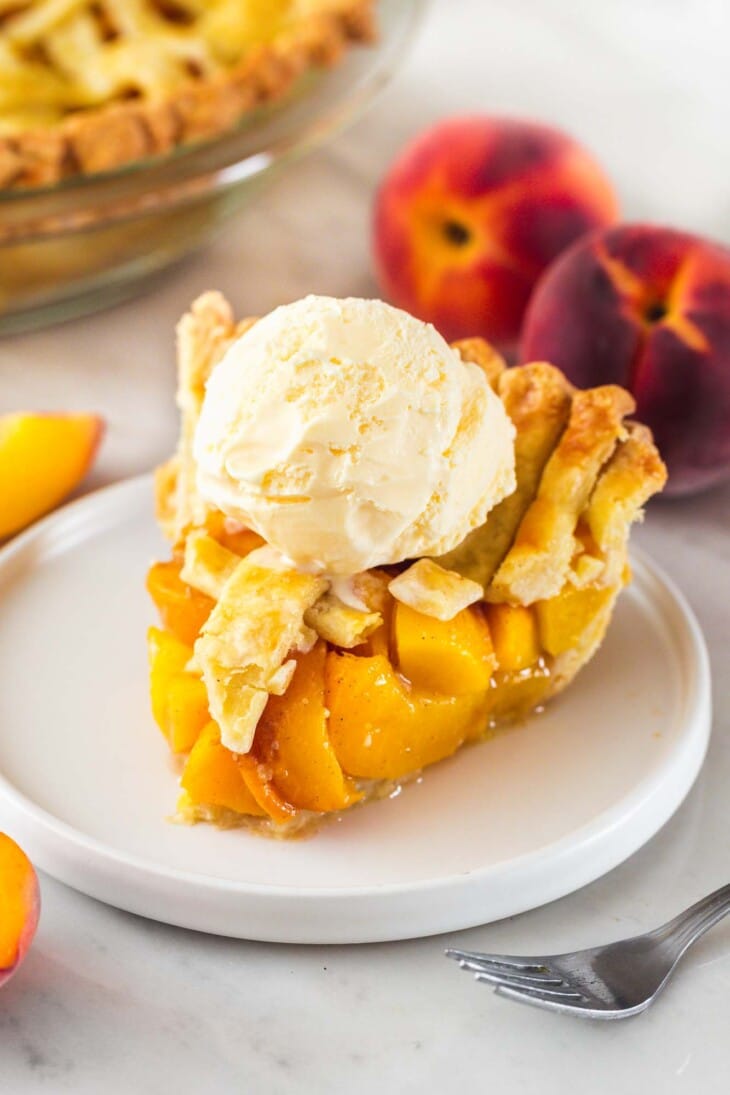 I'd be negligent if I didn't include a classic peach pie! This stunning pie is made with perfectly spiced peaches in a homemade pie crust.
The recipe calls for fresh peaches but says you can swap them with canned peaches with delicious results.
Just be sure to drain the syrup really well. I like to dump them directly into a fine mesh sieve over a bowl and let them drain for a minute. Then follow the recipe as directed!
9. Peach Cheesecake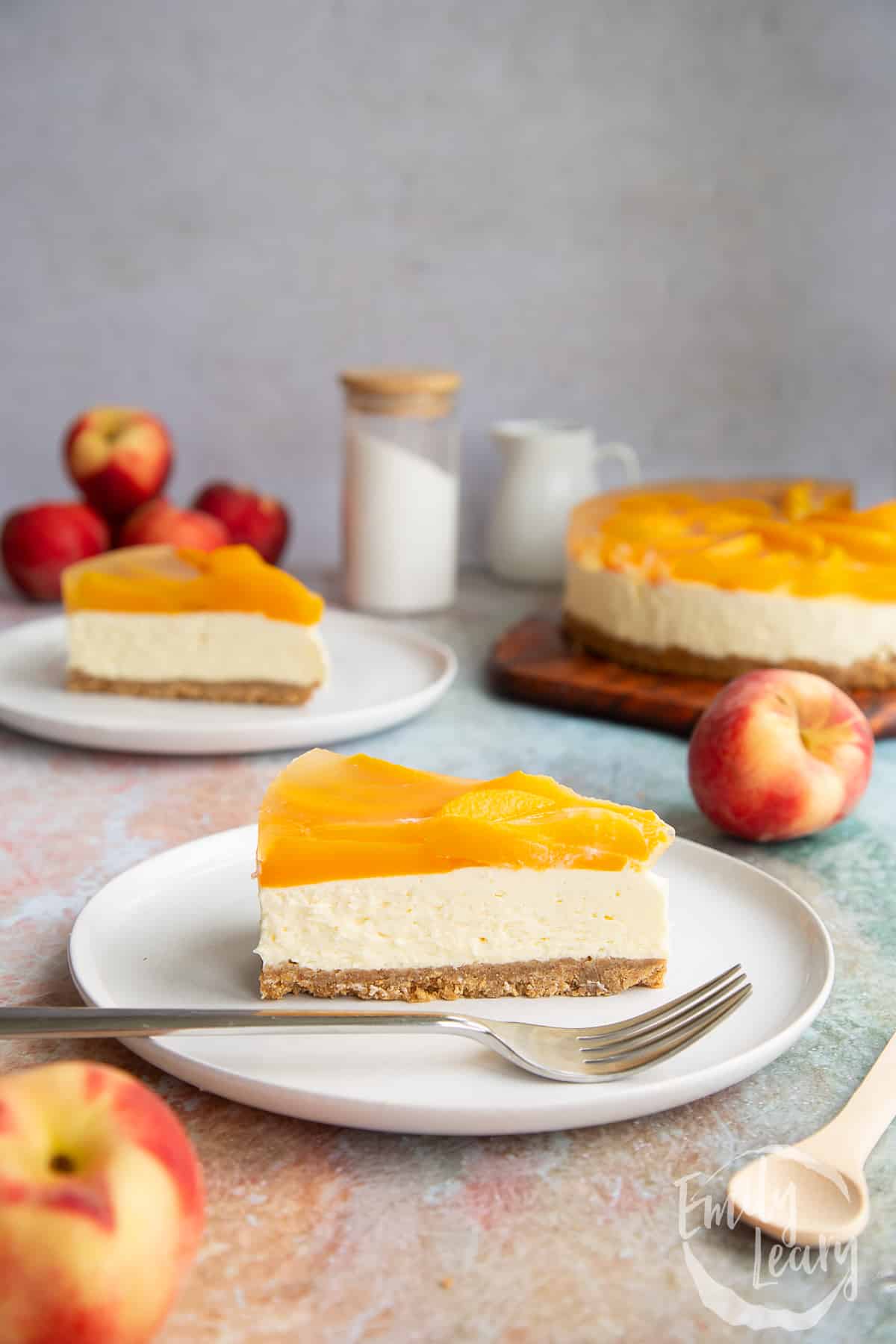 This peach cheesecake is stunning! It's a no-bake cheesecake with a graham cracker crust and a layer of homemade peach jelly on top. The peach jelly is made from canned peach juice!
It's light and fresh yet creamy and decadent all at the same time. If you love cheesecake, this is a must-try!
10. No Churn Cinnamon Bourbon Peach Ice Cream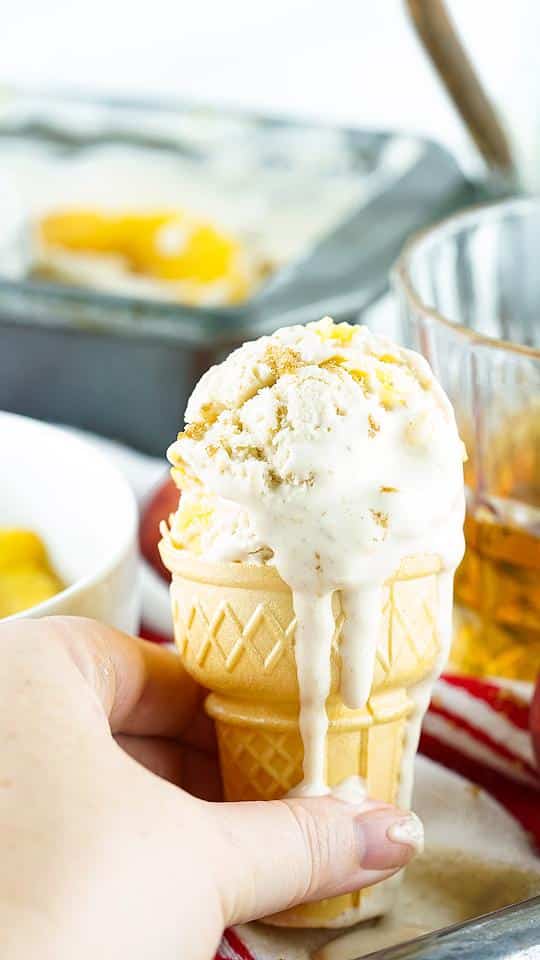 This sweet boozy dessert is made with canned peaches! It's a no-churn ice cream base made with sweetened condensed milk and heavy cream. It's rich, decadent, and the flavor is spot on!
Bourbon, cinnamon, and peaches is a match made in heaven!
11. Easy Peach Cobbler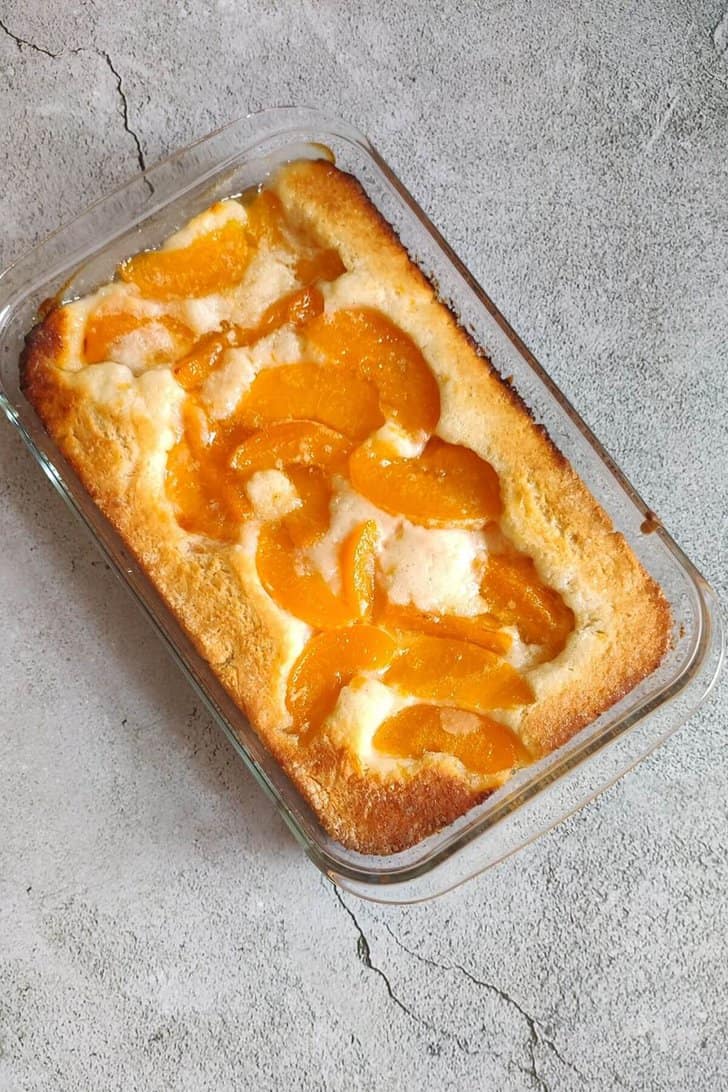 This version of the classic peach cobbler is the perfect combo of homemade and pantry shortcuts. The filling is made with canned peaches, but the batter isn't premade.
It's a southern style peach cobbler and it's a crowd pleaser. Serve warm with vanilla ice cream!
12. Peach Cobbler Pound Cake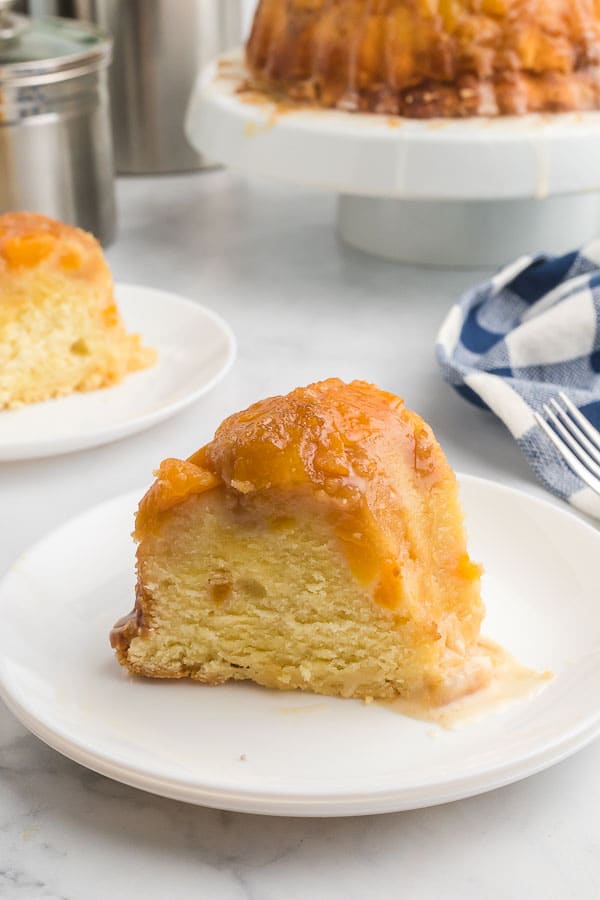 The ultimate dessert mashup - peach cobbler and pound cake! This pound cake is soft and decadent. It's layered with canned peaches and a sweet glaze.
Top with whipped cream and enjoy!
13. Canned Peach Baked Oatmeal
A big batch of baked oatmeal filled with canned peaches, pecans, and cinnamon! Just mix everything together in a casserole dish and bake!
No need to stir or babysit the stove! Baked oatmeal is a super simple and satisfying breakfast.
14. Peach Upside Down Cake
A soft and moist cake covered in sliced peaches! This delicious cake works great with both fresh and canned peaches.
It screams summer and best of all, it's super easy to make!
15. Slow Cooker Peachy Barbecue Ribs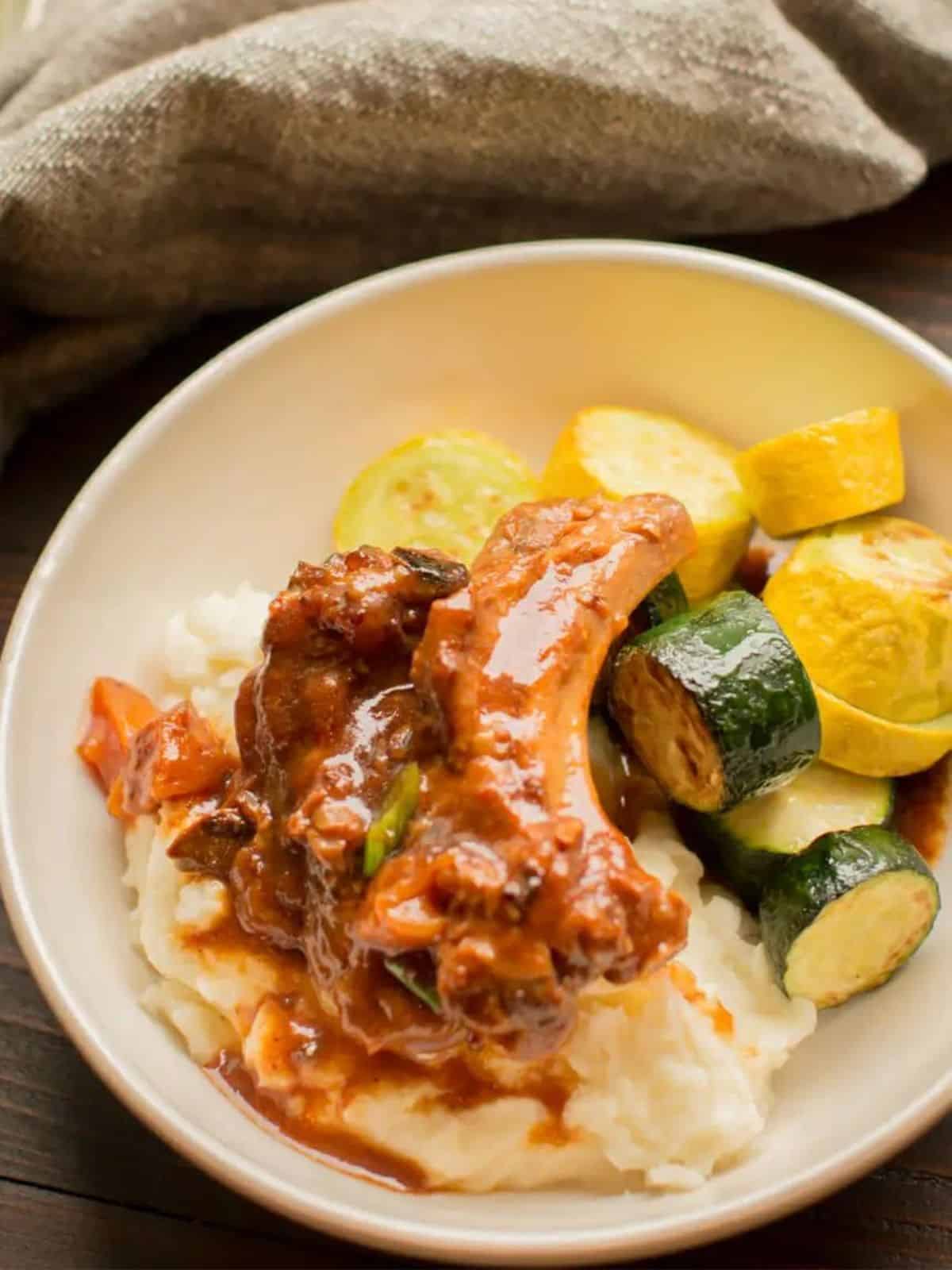 Canned peaches aren't just for desserts! These peachy barbecue ribs are the perfect combo of sweet and tangy.
The best part? They only take 10 minutes to prep! Dump everything into your slow cooker and let it work its magic.
These BBQ ribs taste amazing over a plate of creamy mashed potatoes!
Canned Peach FAQs
What can I do with a can of peaches?
You can do so many things with a can of peaches! Use them to top oatmeal, yogurt, chia pudding, pancakes, waffles, or ice cream. You can also use them as a filling for cobblers, crisps, and crumbles.
Are store-bought canned peaches cooked?
Yes, canned peaches are cooked during processing. This means they have a softer texture than fresh peaches.
Can you drink the juice from canned peaches?
The juice from a can of peaches is safe to drink! You can just pour it into a glass and refrigerate for up to 5 days. You can also drink the syrup from a can of peaches in heavy syrup, but it's not the best for you!