White rice is a blank canvas for all the mouth watering sauces you can find! These rice sauces feature everything from chipotle honey to lemon herb tahini.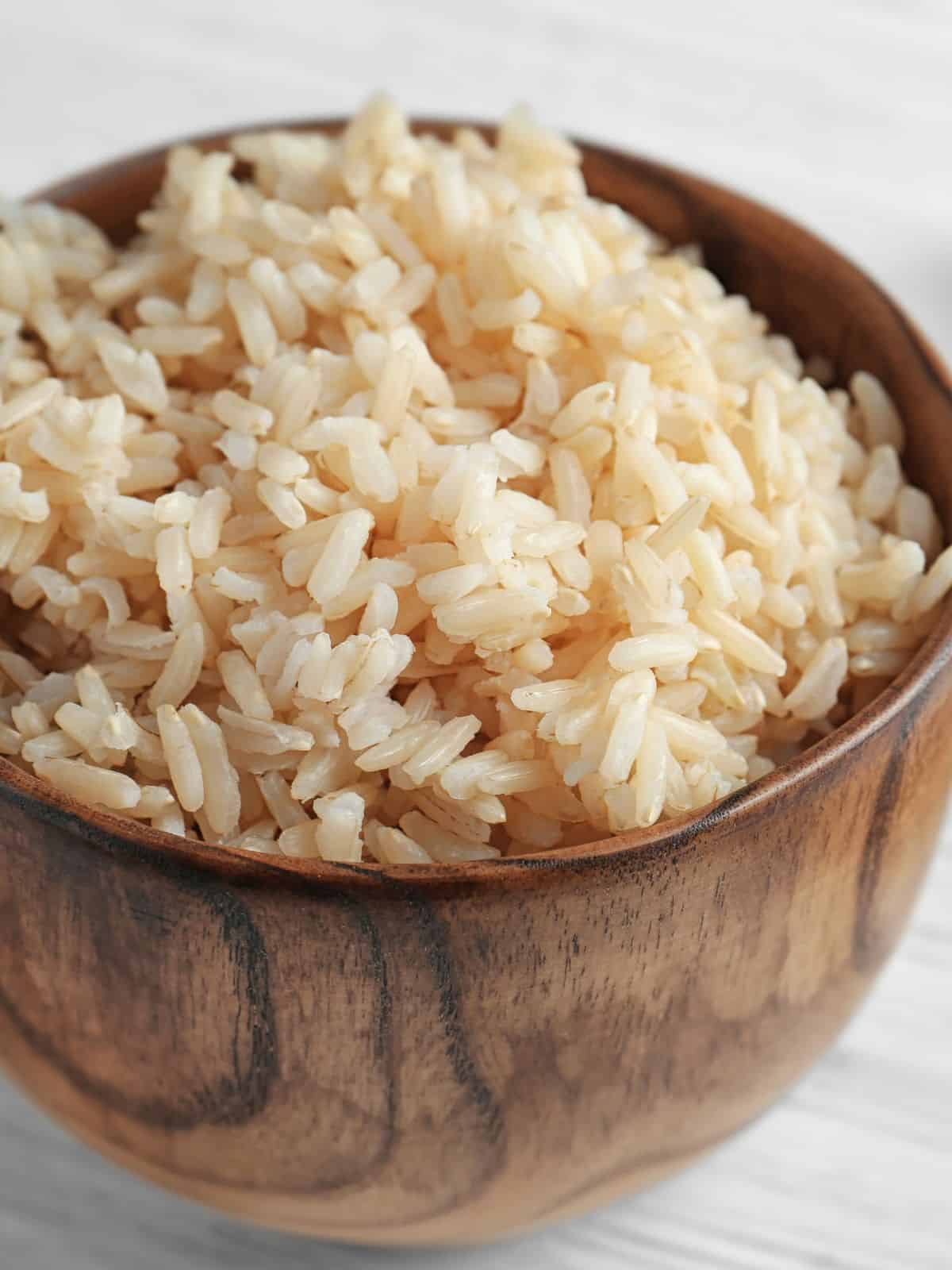 Rice is a weekday staple for us! It's a no brainer since it's budget-friendly and my picky kiddos gobble it up.
Even though it tastes delicious plain with a sprinkle of salt, I can't help but douse it in sauce. It's the perfect vehicle to soak up delicious flavors. Rice goes with more sauces than you might think!
All of these rice sauces are downright delicious! My favorite way to use them is in rice bowls, a bowl of rice topped with protein and veggies, but they can be used other ways too! Try them on sandwiches or on salads as well.
1. Chipotle Mayo
I don't mean to be dramatic (or maybe I do) when I say I put this creamy chipotle sauce on EVERYTHING except my morning cheerios.
A cardboard box would taste good if you doused it in this stuff and it's stupid easy to make.
It's only five ingredients and chipotles in adobo sauce is the key ingredient. You can't get that addictively smoky flavor without it. Drizzle this on a burrito bowl to take it up five notches.
2. Lemon Herb Tahini Sauce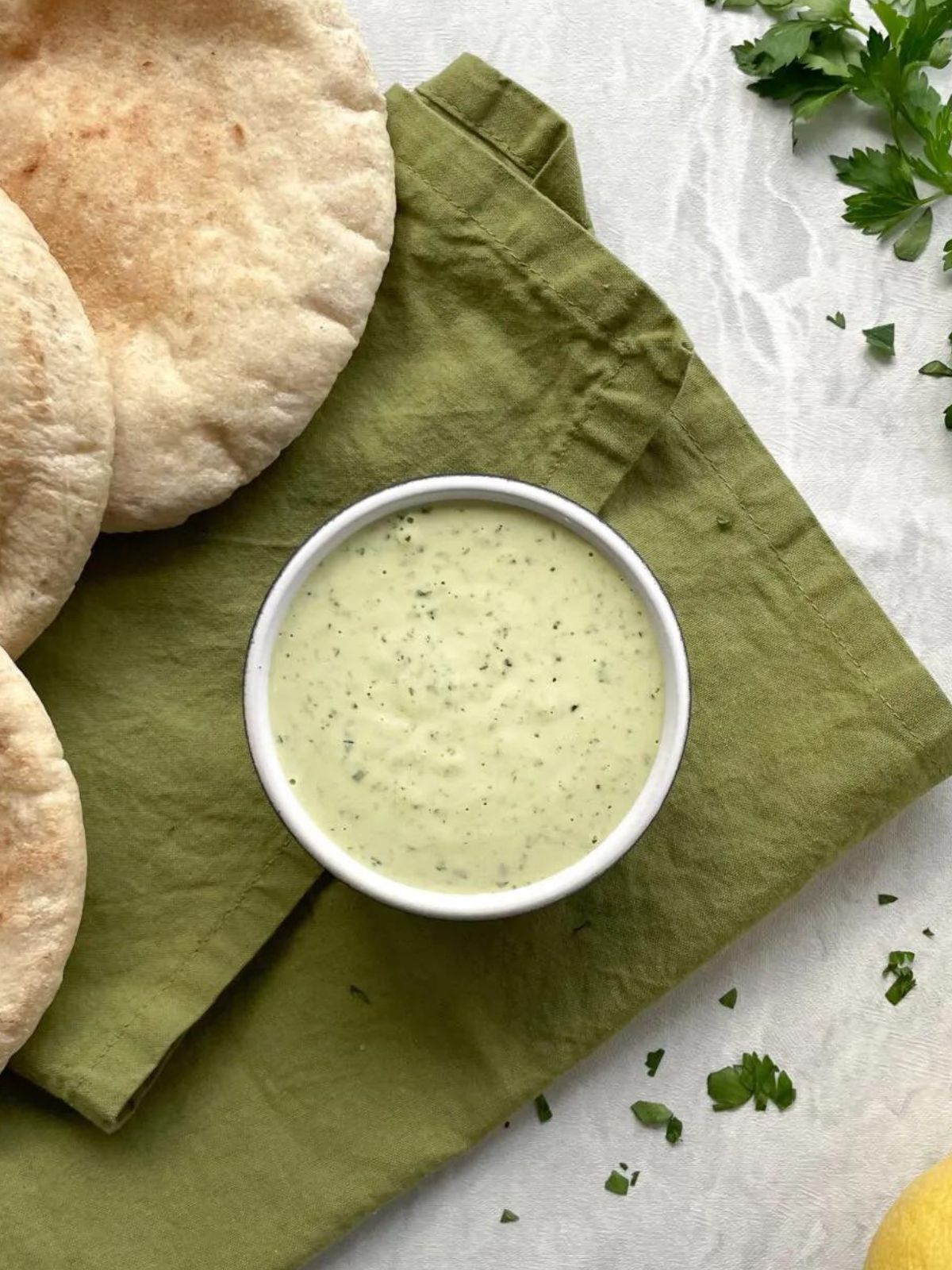 This lemon herb tahini sauce is so fresh and full of herby flavor. It's perfect for Mediterranean style rice bowls. Try it with lemon garlic chicken or lamb meatballs for a punch of flavor.
It's made with nutty tahini, bright lemon juice, garlic, parsley and cilantro! It's finished off with a bit of Greek yogurt to make it ultra creamy and delish.
3. Tangy Apricot BBQ Sauce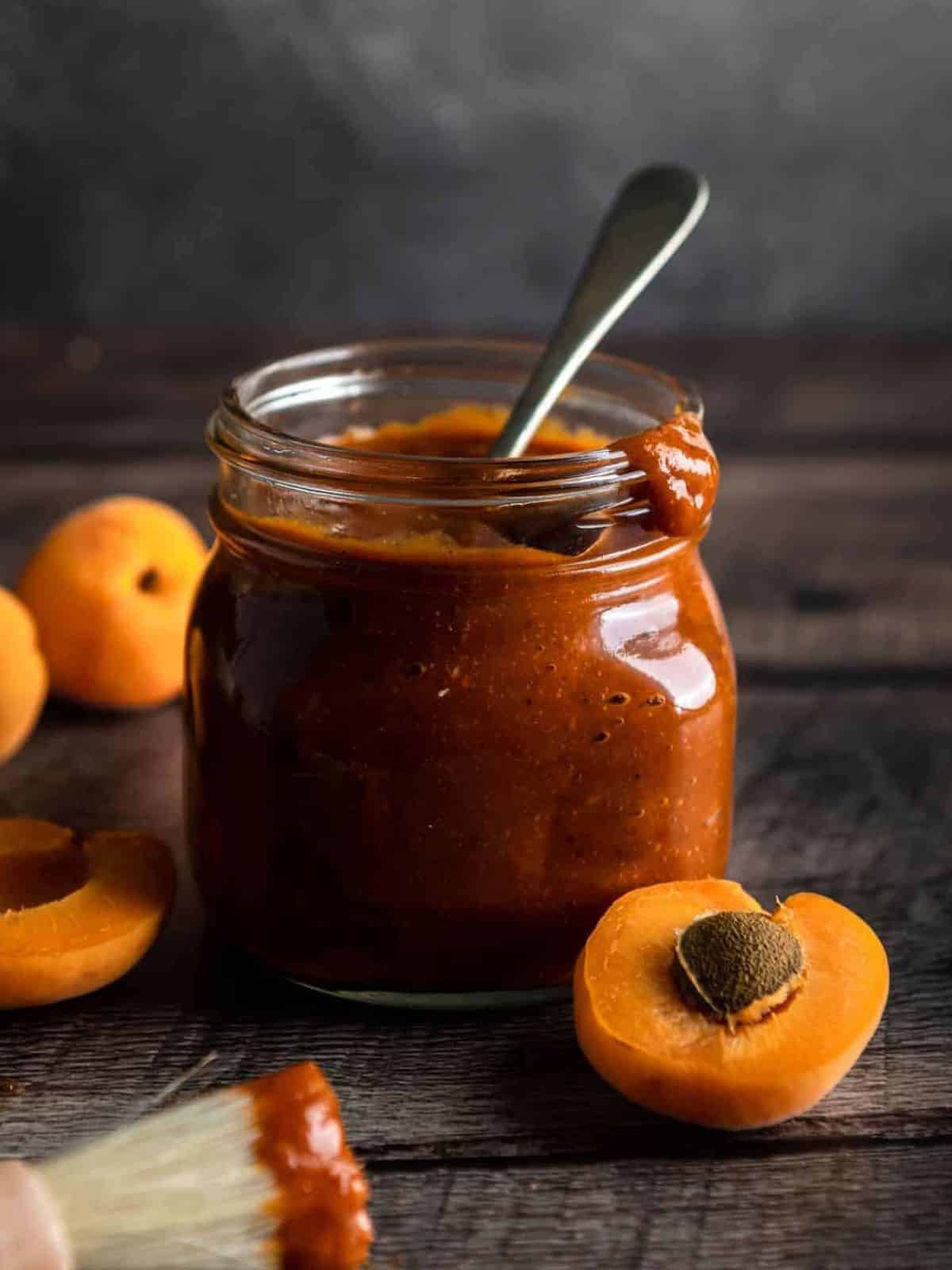 This easy homemade apricot barbecue sauce is sweet, tangy, spicy and absolutely crave-able! It tastes downright incredible on a BBQ chicken rice bowl.
Use it to glaze the chicken while it cooks, then drizzle some extra on top for good measure. Try a bowl of rice with grilled veggies, BBQ chicken, roasted corn, black beans, and this tangy BBQ sauce! Ah, heaven.
4. Homemade Buffalo Sauce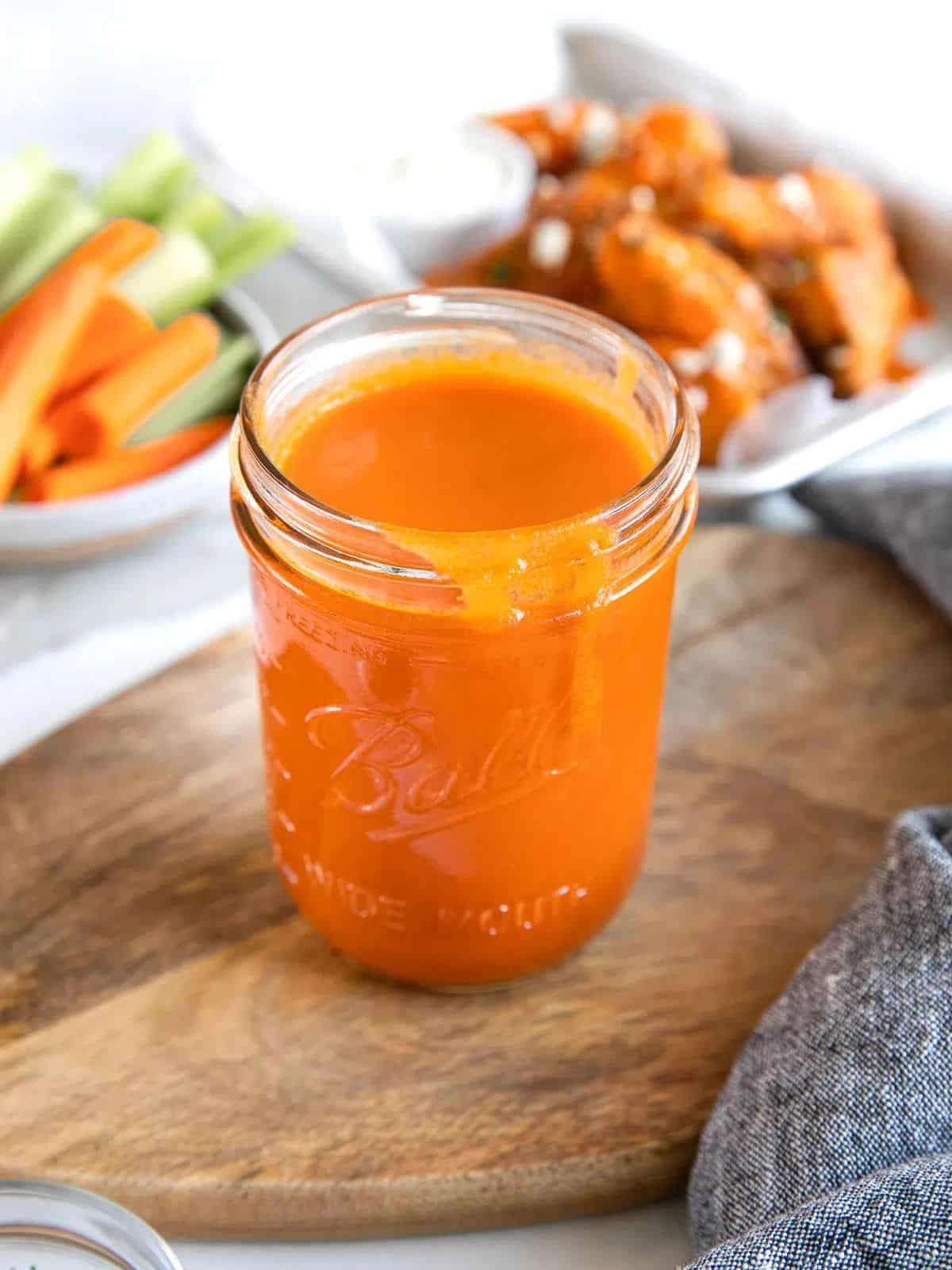 Homemade buffalo sauce is so easy to make at home using simple pantry ingredients.
Tangy, spicy, and so much better than store-bought, this recipe takes just 5 minutes to make and tastes delicious with everything from wings to sliders to vegetables – and everything in between!
Buffalo chicken rice bowls make a great weekday lunch! Top rice with grilled chicken, black beans, cheese, and red onion, then drizzle with buffalo sauce.
5. Honey Chipotle Sauce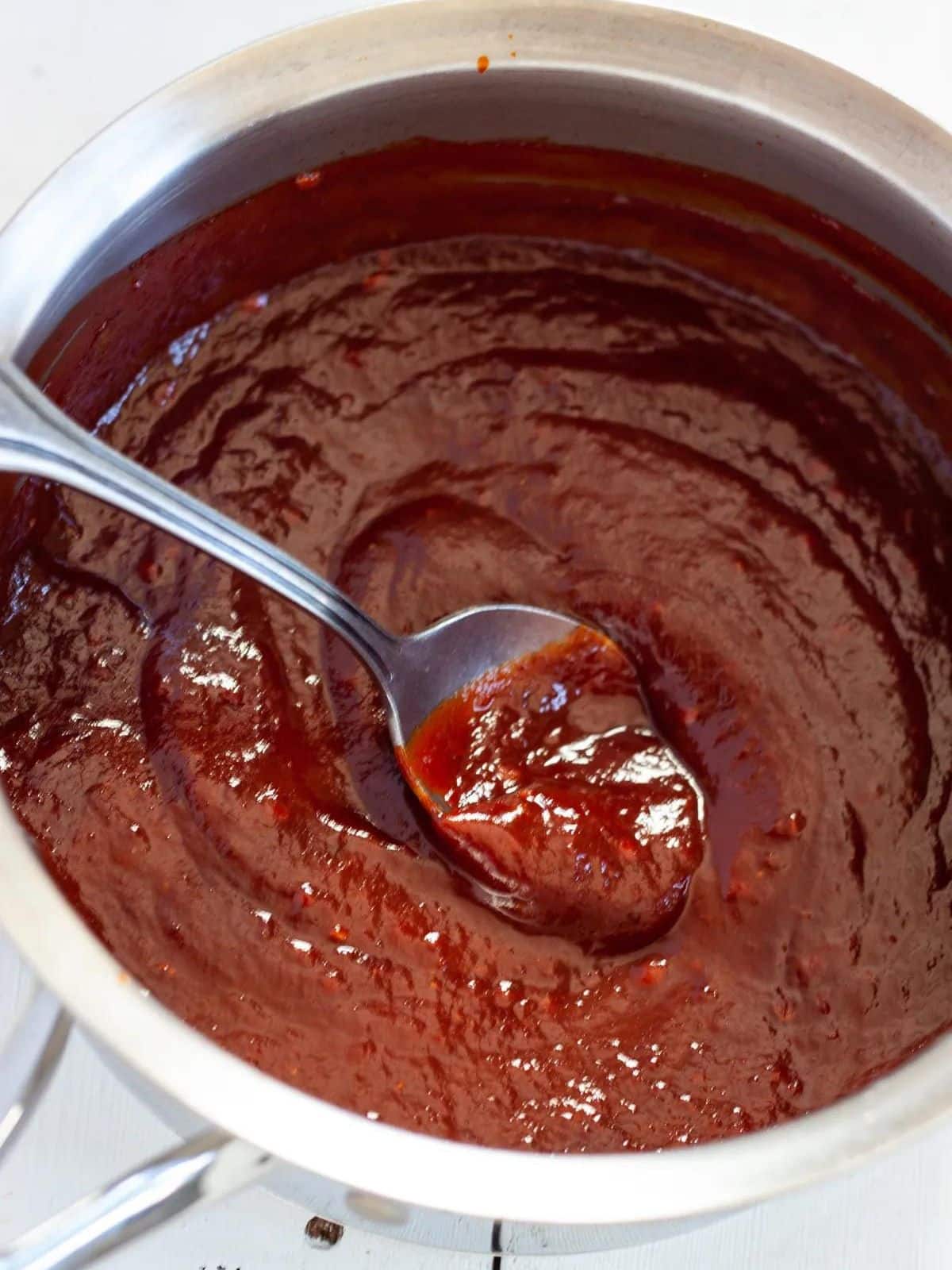 Sweet, smoky, tangy, and fiery, this super easy honey chipotle sauce is perfect for everything from coating chicken wings to topping a cream cheese appetizer.
It's only four ingredients and comes together in less than 10 minutes. Store it in a mason jar in the fridge and use it all week long!
6. Indian Mint Sauce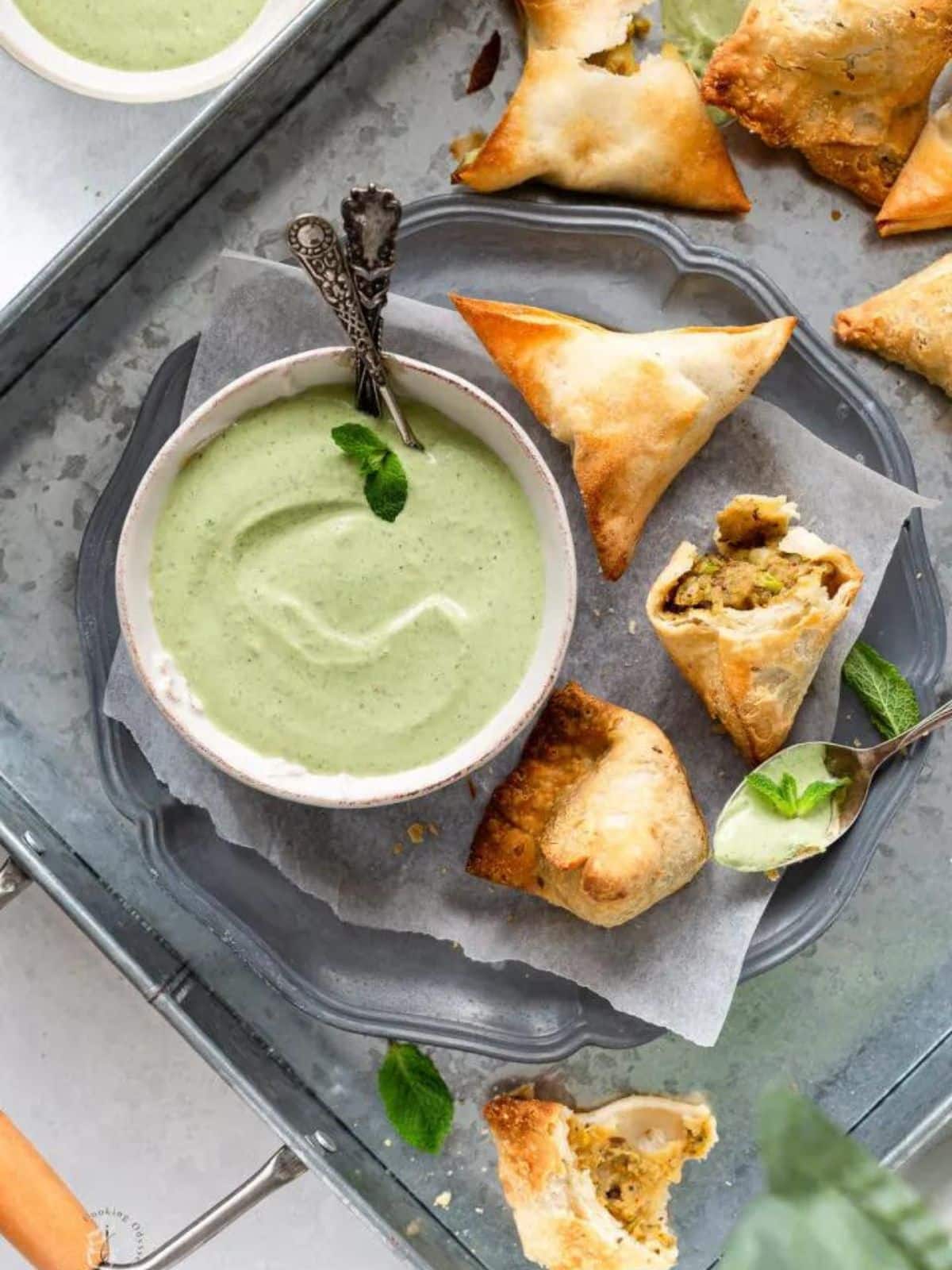 We have an authentic Indian restaurant in town named Saffron that's to die for! One of my favorite things is the fresh green sauce that comes with the lentil wafers.
This mint sauce tastes just like the dip for poppadoms you find at Indian restaurants. It goes great with Indian starters or even for BBQs. It's made from a few simple ingredients and takes little time to prepare.
7. Lemon Garlic Aioli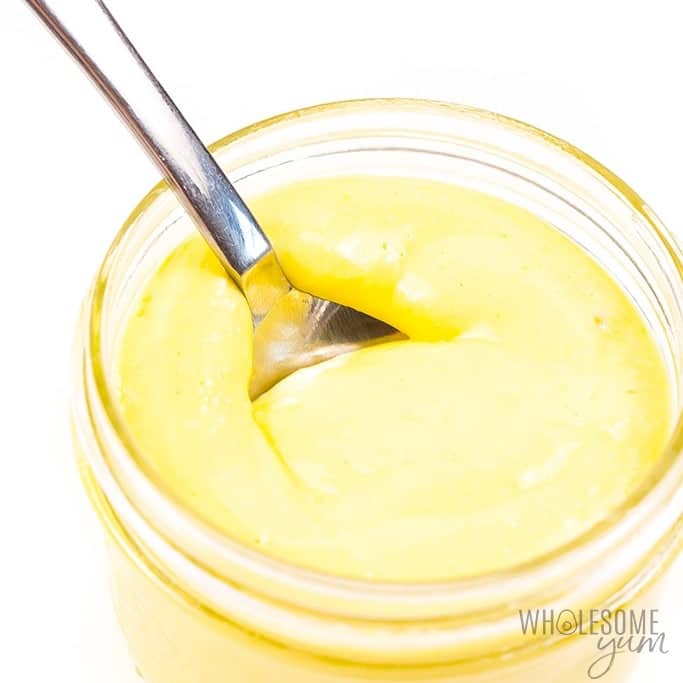 This lemon garlic aioli is addictively delicious and you'll want to put it on everything!! It's only 5 ingredients and takes about 2 minutes to whip up.
Aioli is basically a homemade mayonnaise, which makes it ultra rich and creamy! Don't worry though, it's super quick and easy to make. Just place all the ingredients in a jar and use an immersion blender to whip it! SO. Darn. Good.
8. Vegan Onion Gravy with Dried Mushrooms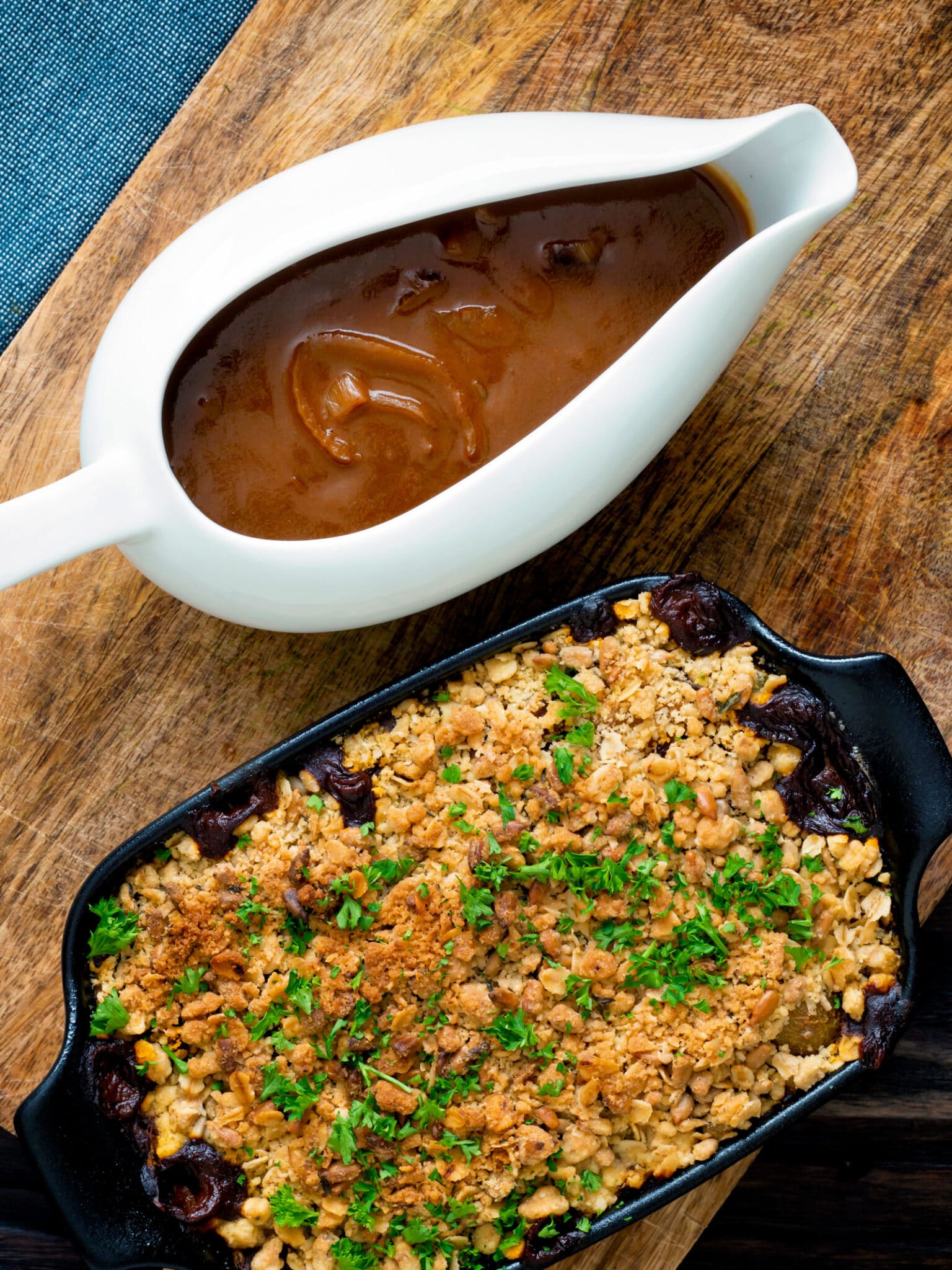 This vegan onion gravy is a rich and indulgent silky sauce that is packed to the gunnels with onions and thickened with dried porcini mushrooms.
This savory gravy tastes incredible on a bowl of roasted veggies, chicken, and rice! Or for a plant-based take, try it with vegan meatloaf and rice.
9. Boom Boom Sauce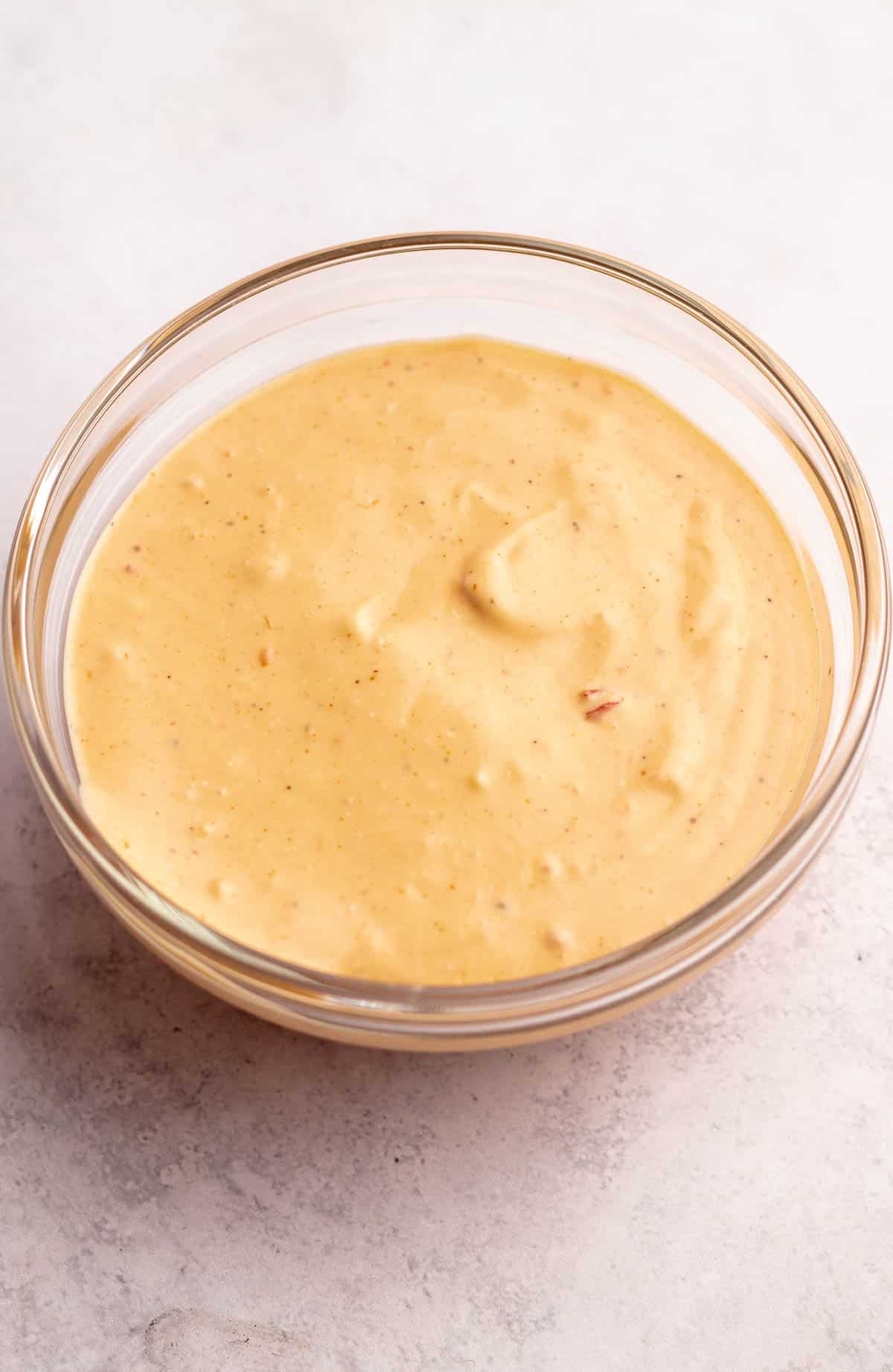 This delicious and easy boom boom sauce is a slightly sweet mayonnaise-based chili sauce that goes with everything! It's made with simple ingredients and takes under 10 minutes to prep.
It's perfect for poke rice bowls, or smother it on all your favorite sandwiches.
10. Yogurt Dill Sauce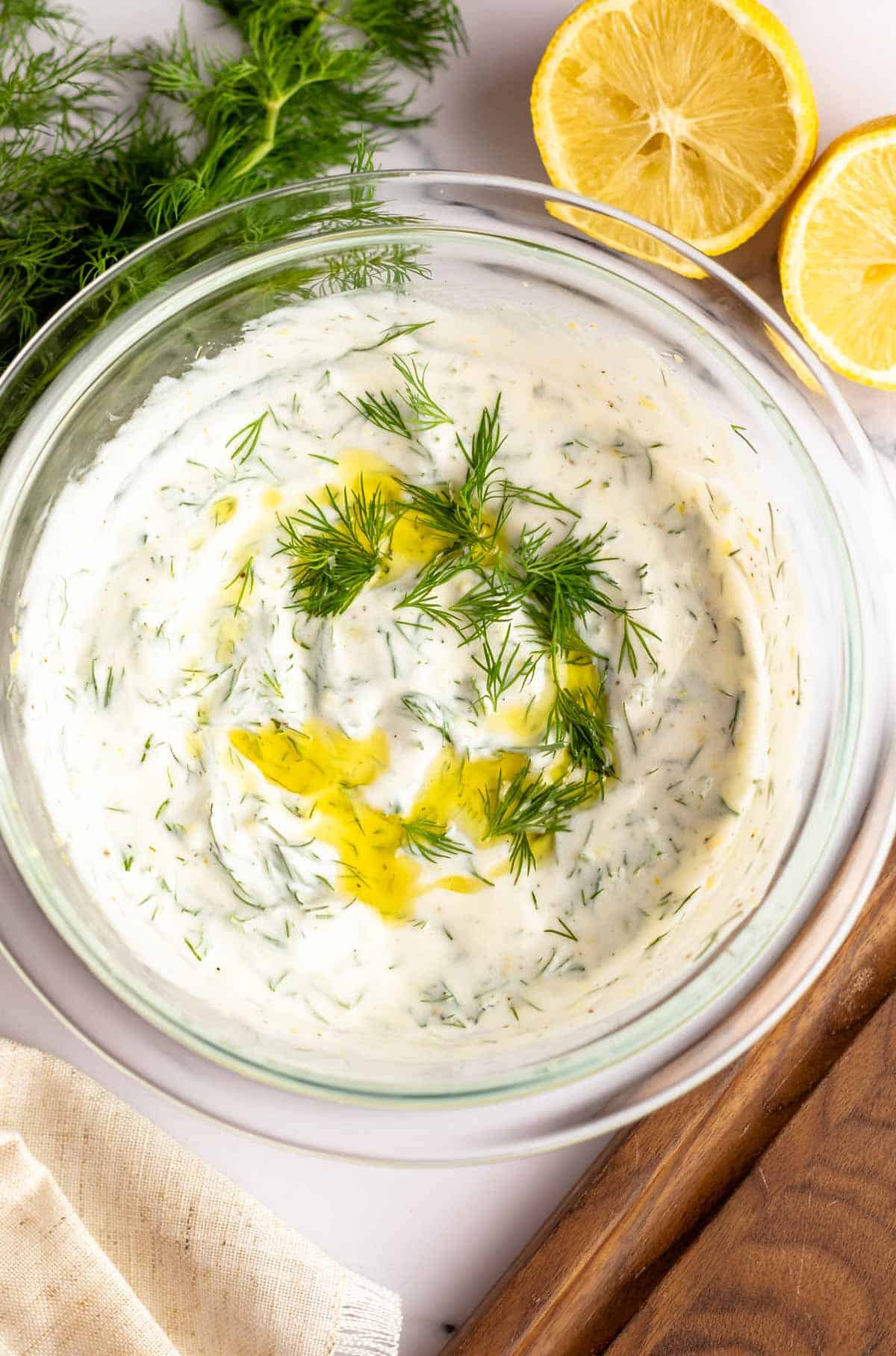 This easy yogurt dill sauce comes together in 5 minutes, it is made with chopped dill, olive oil, Greek yogurt, lemon juice, and spices. It tastes amazing with baked salmon, roasted veggies, and rice.
It's also delicious with Mediterranean dishes like falafels or gyros. It tastes like tzatziki, but it's easier to make. It's fresh, healthy, and DELICIOUS!
11. Sundried Tomato Pesto
Sun dried tomatoes, extra virgin olive oil, and almonds are blended together to make this simple, rich, Pesto Rosso also known as sun dried tomato pesto.
Serve this pesto on your favorite pasta, a bowl of chicken and rice, or slathered on a thick piece of sourdough bread!
12. Basil Chimichurri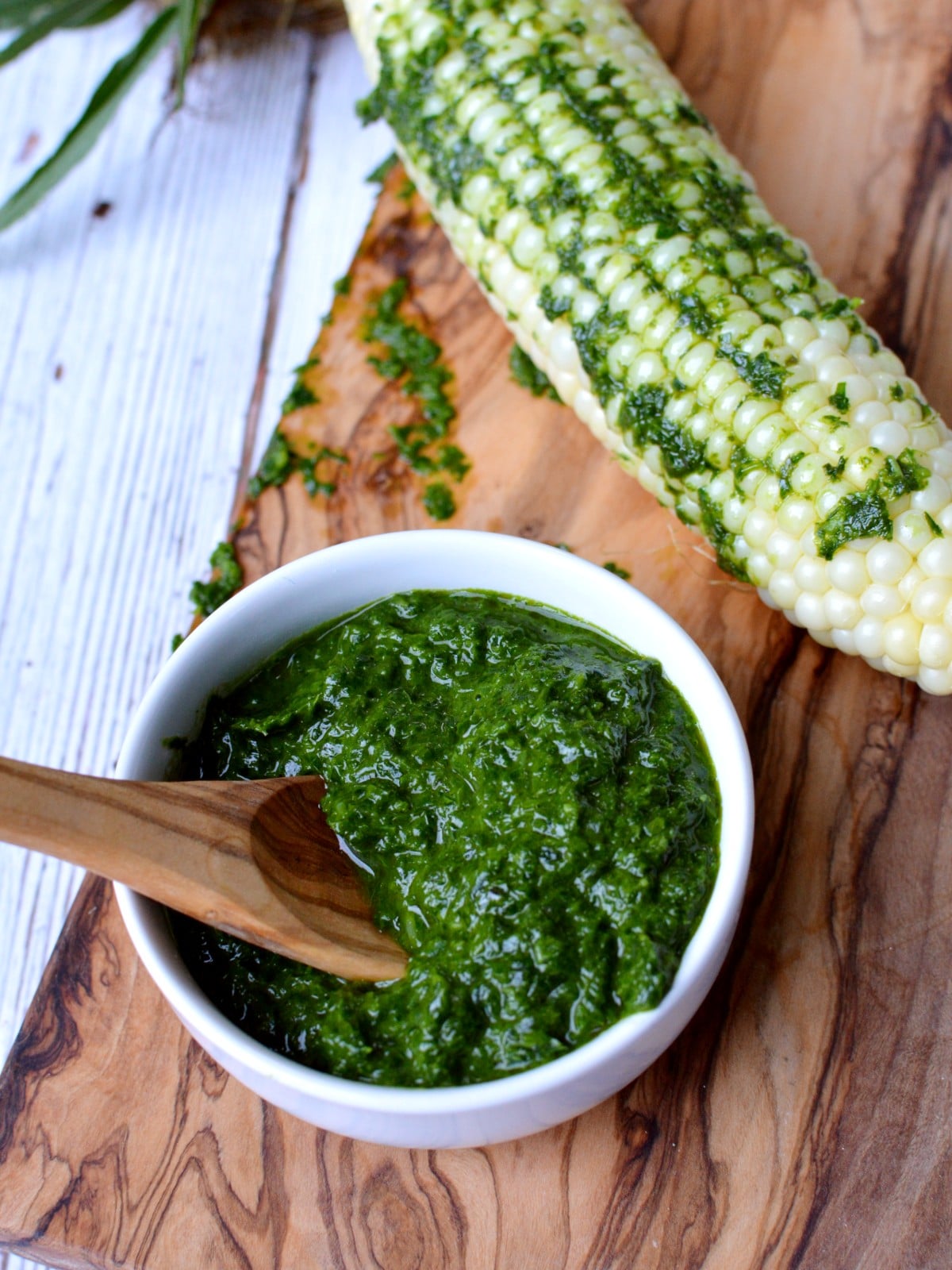 Basil and parsley are pulsed together to make basil chimichurri - a delicious multipurpose spread, marinade, and dip. Slather it on grilled corn or toss with roasted potatoes for an herbaceous punch of flavor!
Try it with grilled steak over rice with cherry tomatoes, feta, and pickled onions!
13. Homemade Teriyaki Sauce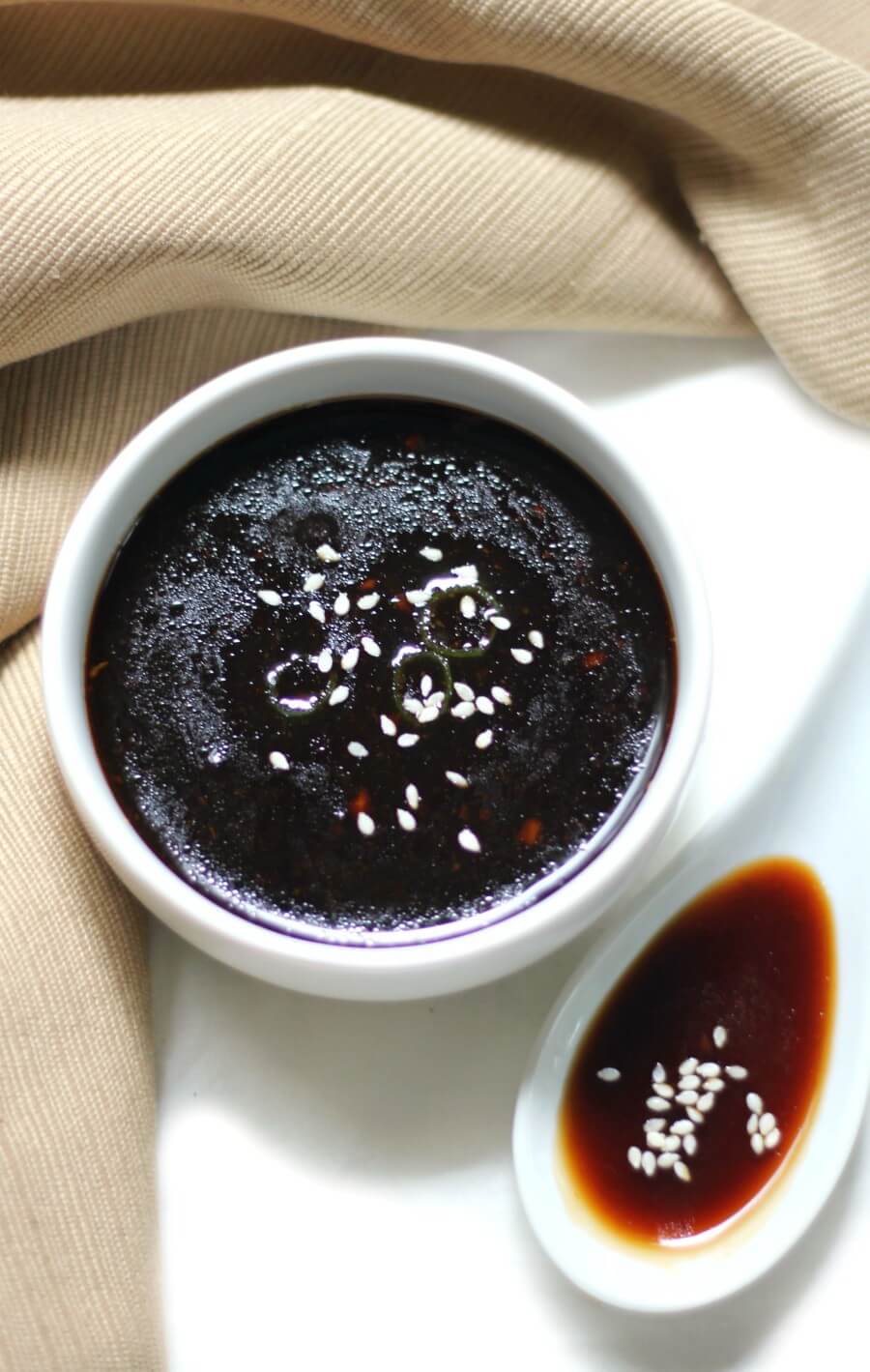 Skip the bottled stuff! This Homemade Teriyaki Sauce is the easy, healthy, & allergy-free recipe you need!
This simple sauce is soy-free, gluten-free, vegan, paleo, and sugar-free! A naturally sweet version of the classic to have on hand for any Asian dish, sauce, or marinade.
It's perfect for stir-fried veggies and rice!
14. Peanut Sauce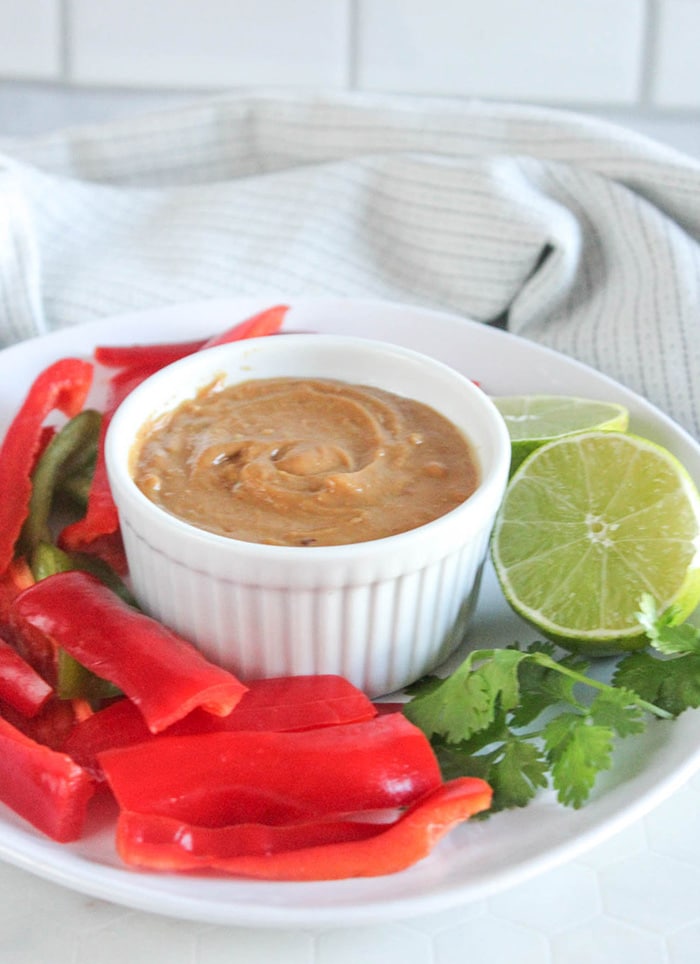 I'd be remiss not to include a classic peanut sauce! It's so simple to make with a creamy, umami flavor. It's perfect for stir fry veggies, chicken, and rice bowls!
For a bit of heat, add siracha to it. It makes a great dipping sauce too! I like to dip chicken skewers into it and use it on chicken wraps.
15. Roasted Poblano Cream Sauce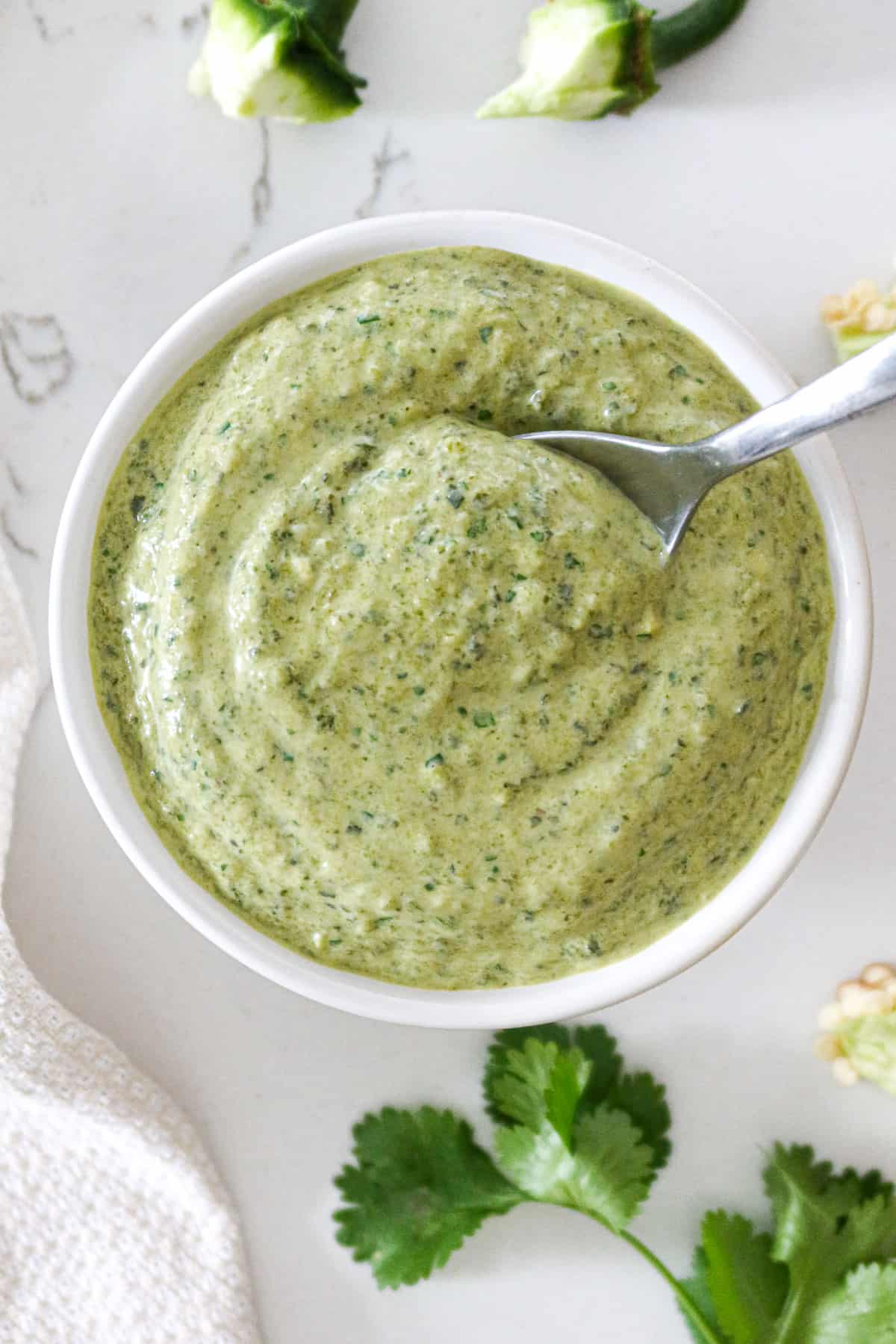 This irresistibly delicious and fresh green sauce is made with six simple ingredients! Poblano peppers, sour cream, garlic, salt, fresh cilantro and lime juice.
It's the perfect addition to your favorite tacos, enchiladas, burrito bowls, and tostadas. It's delicious, PLUS it's gluten-free, low sugar, low carb, and low calorie. Score!
16. Spicy Smoked Paprika Sauce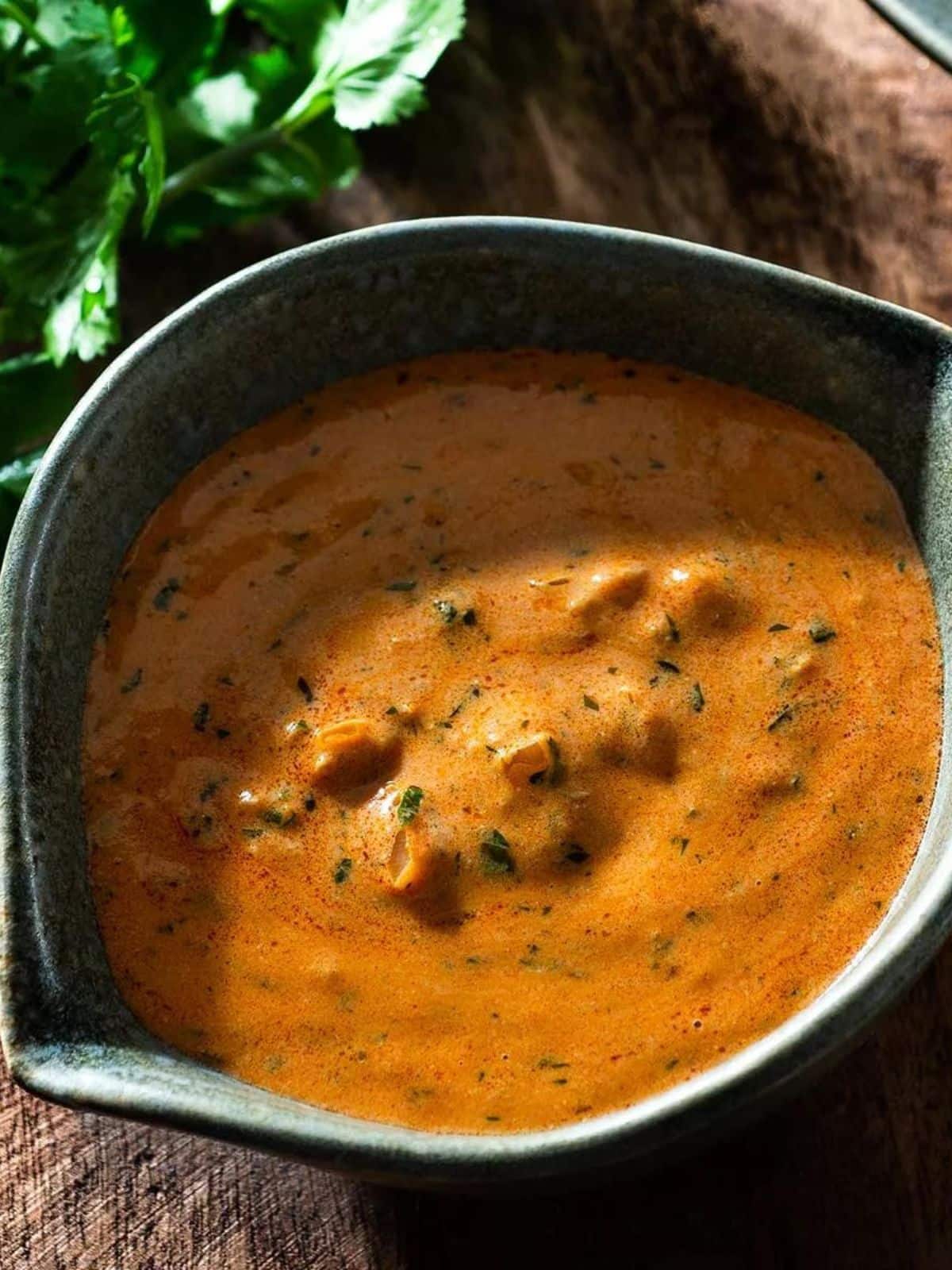 This paprika sauce is the best combo of spicy and smoky! It's rich, creamy, and tastes great with grilled or baked chicken.
I like to drizzle it all over a bowl of grilled chicken, rice, and roasted corn. You could also serve it with potato gnocchi and some parmesan cheese. Yum!
17. Spicy Honey Mustard Sauce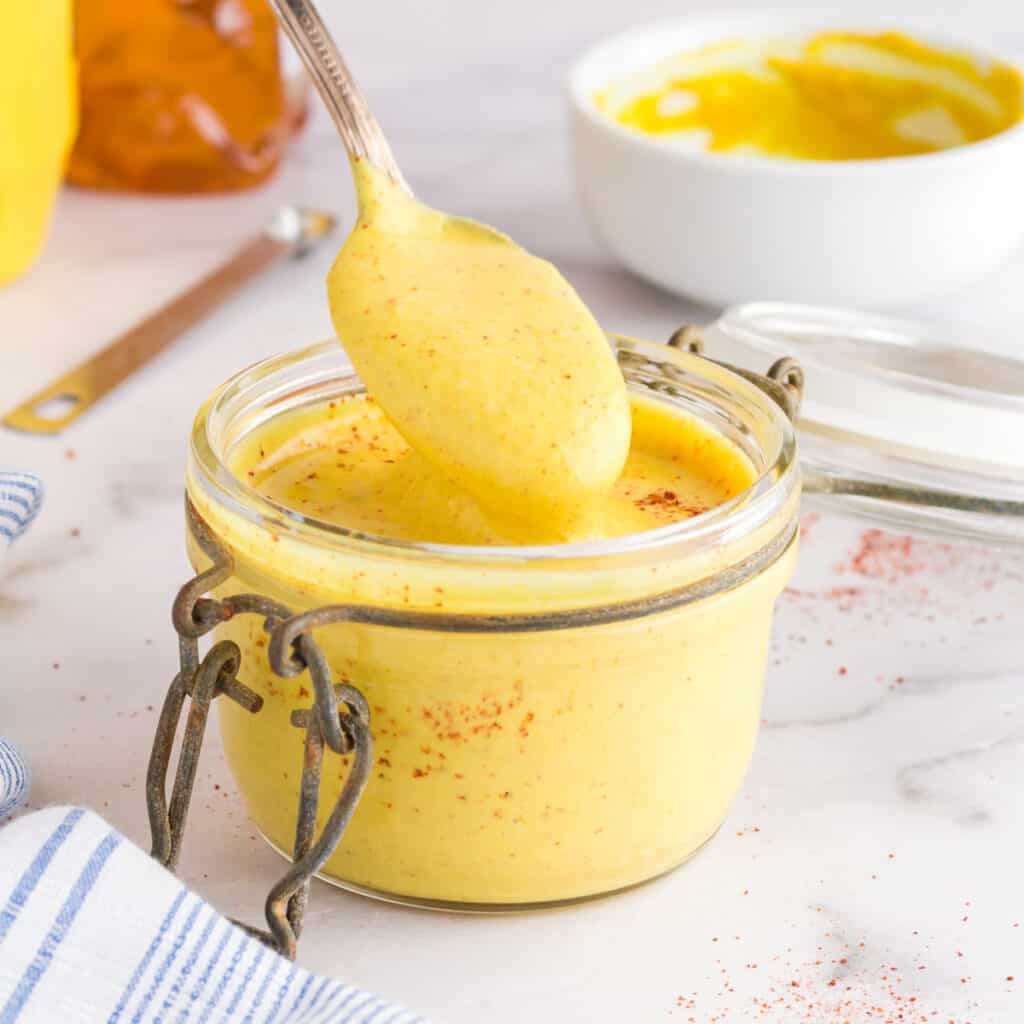 With six simple ingredients and less than five minutes, you can make homemade Spicy Honey Mustard Dipping Sauce. It's the perfect dip for chicken strips, fries, or veggies!
I had to include this one, because I LOVE honey mustard on everything, including chicken and rice!
If you try any of these rice sauces, let us know in the comments! It helps other readers when you leave tips, tricks, and your own spin on it.