Almond butter oatmeal is a creamy, satisfying, and quick breakfast! It's a healthy way to start the day with plenty of whole grains, fiber, and important vitamins.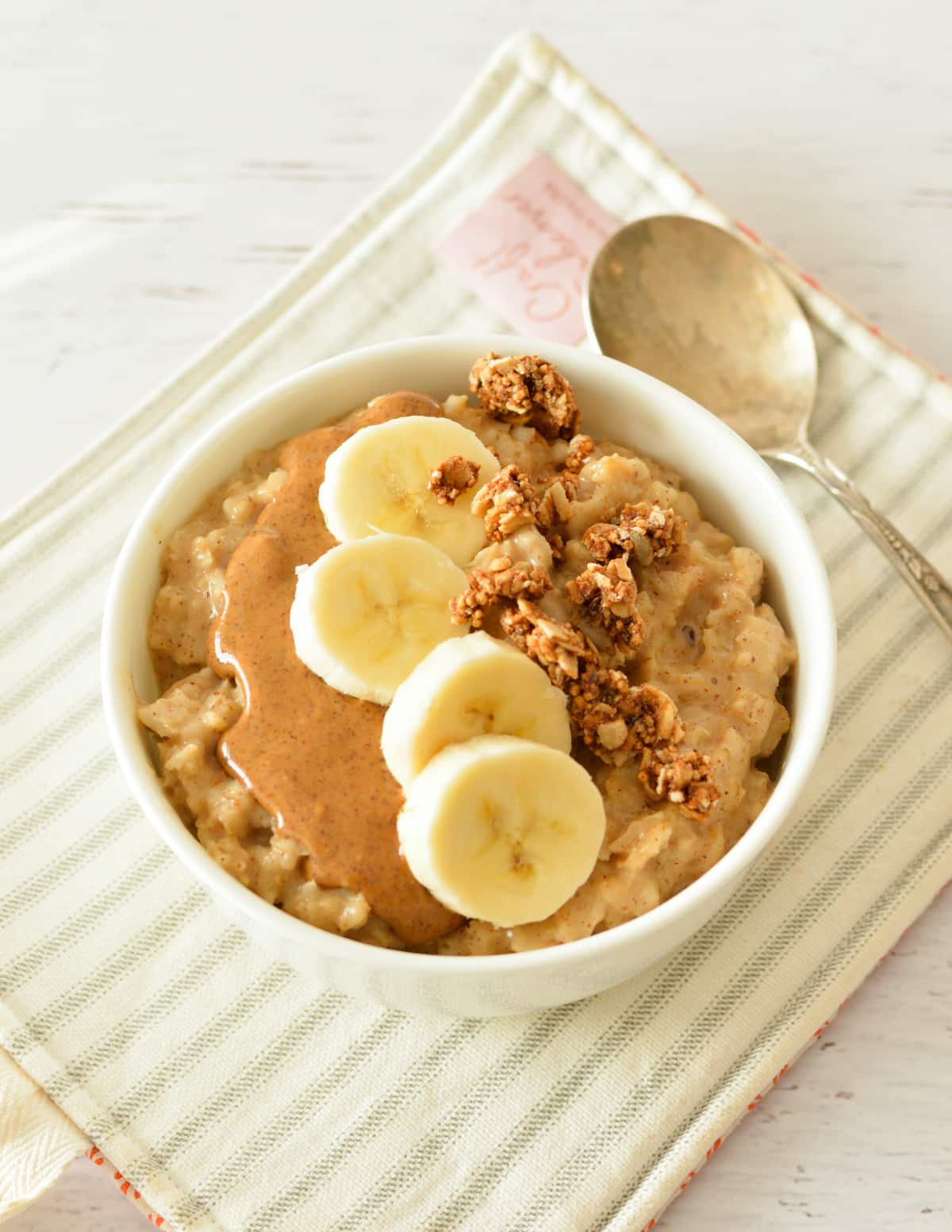 Oatmeal with almond butter is a nutritious and well-balanced breakfast!
Why you'll love it
My favorite part about oatmeal is how customizable it is! And don't even get me started on toppings. If it's acceptable to add toppings, it WILL get toppings.
In this oatmeal recipe, I added almond butter and maple syrup for a nutty, sweet bite! The almond butter adds plant-based protein to the already nutritious whole grain oats.
It's a match made in breakfast heaven. I like to top almond butter oats with extra almond butter (of course!), sliced banana, and crunchy granola.
Key Ingredients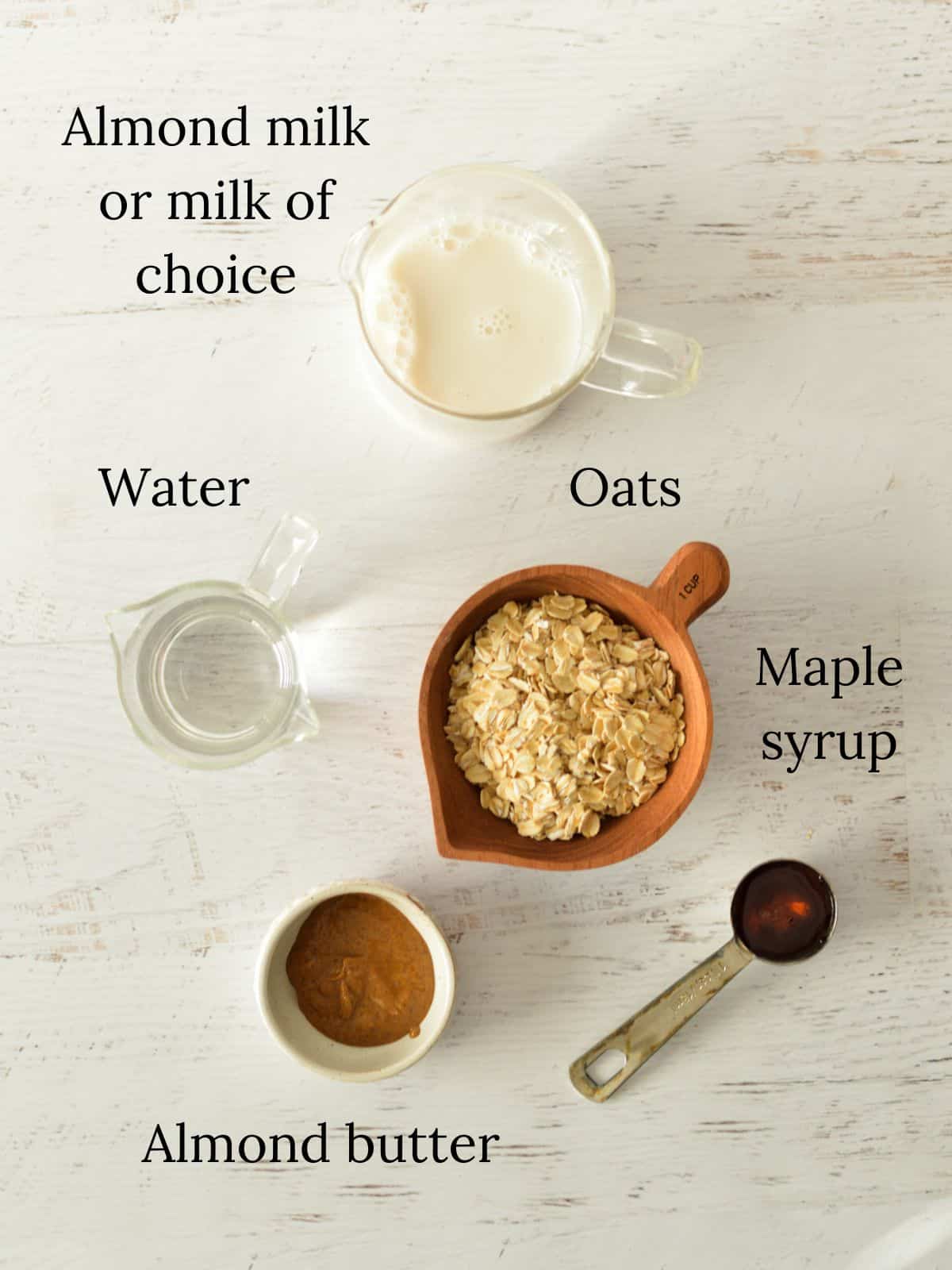 Oats - For best results, use old fashioned oats! Steel cut oats won't work for this recipe, because they need more liquid and a longer cooking time. Quick or instant oats should work, but taste mushy with little texture.
Almond milk - Any type of milk or water works here! I love almond milk for its creamy and mild flavor.
Water - I like to use a combination of water and almond milk, but you can use all water or all milk if you prefer. You just need 1 ¼ cups of liquid total.
Maple syrup - For sweetness! If you prefer oatmeal less sweet, you can bump it down to 1 tablespoon. I found 2 tablespoons to be the perfect sweetness.
Almond butter - One tablespoon mixed in and one for the top! Adds a nutty flavor. You can use peanut butter if you don't have almond butter.
How to Make Almond Butter Oatmeal
In a small saucepan, combine the water and milk. Bring to a boil over medium-high heat.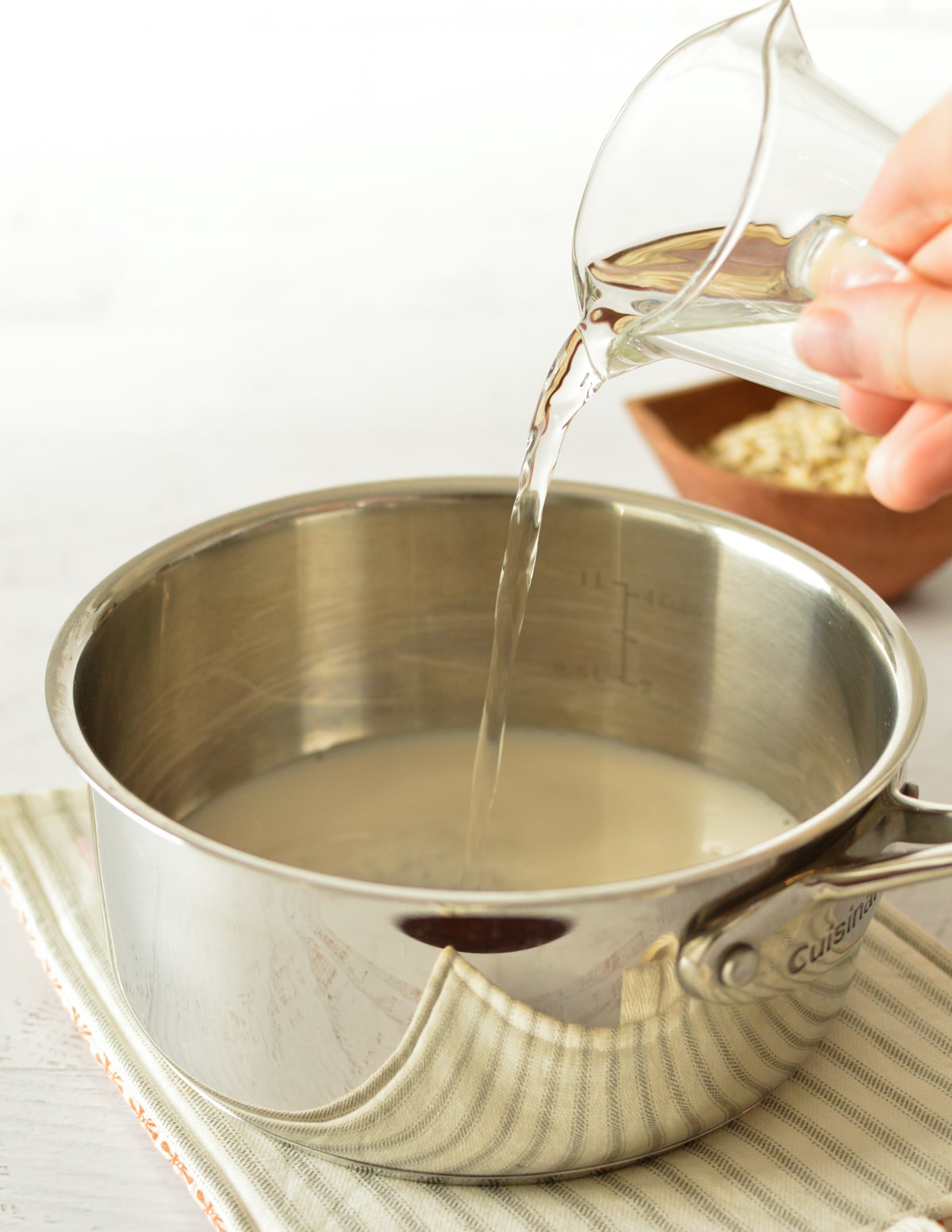 Reduce the heat to medium-low then add the oats. Cook the oats, stirring occasionally, until the oats absorb the liquid and soften some, about 10 minutes.
Remove the saucepan from the heat. Stir in one tablespoon of almond butter, a pinch of salt, and the maple syrup.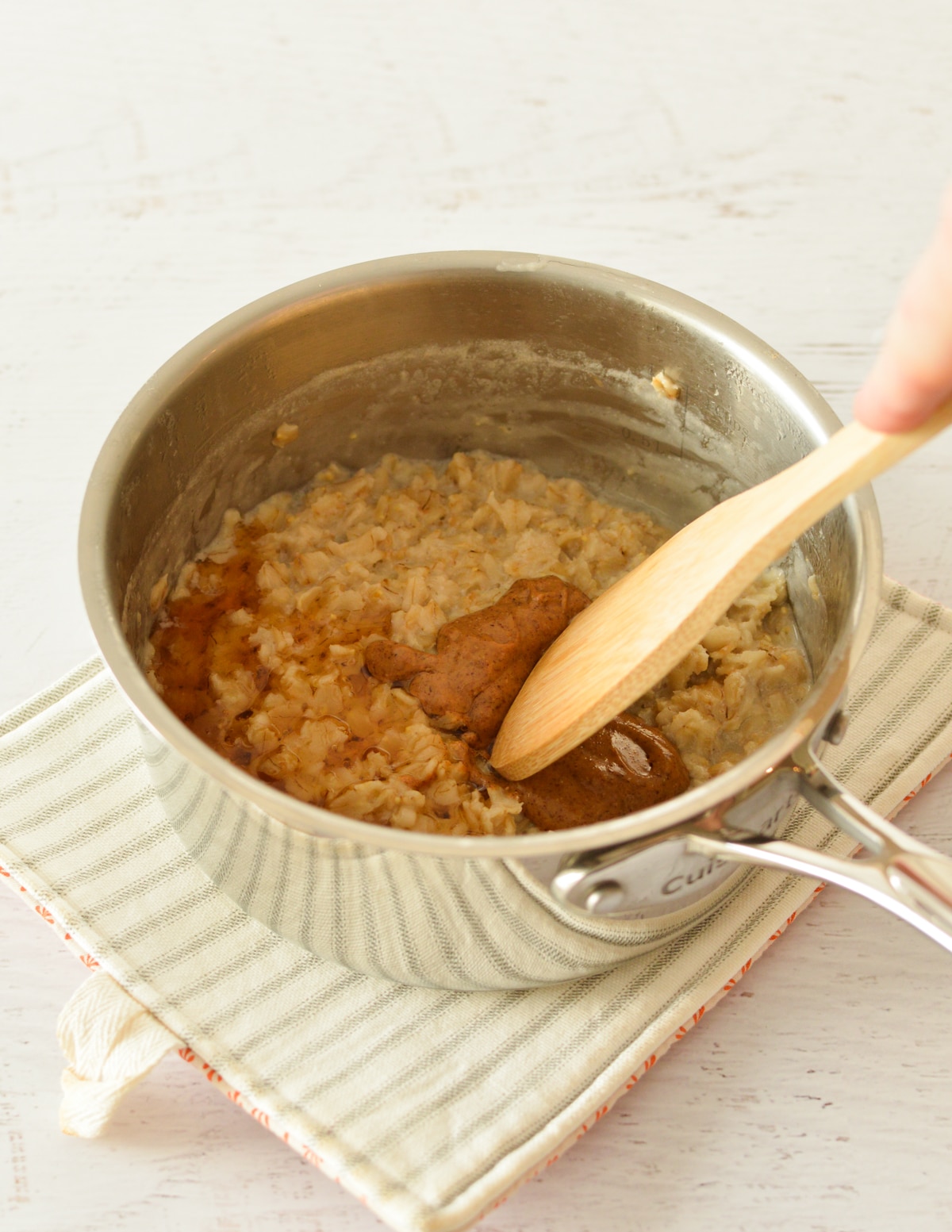 Cover the pan with a lid and let sit for 4 minutes. This steams the oats and gives them the perfect texture, soft with a slight chew!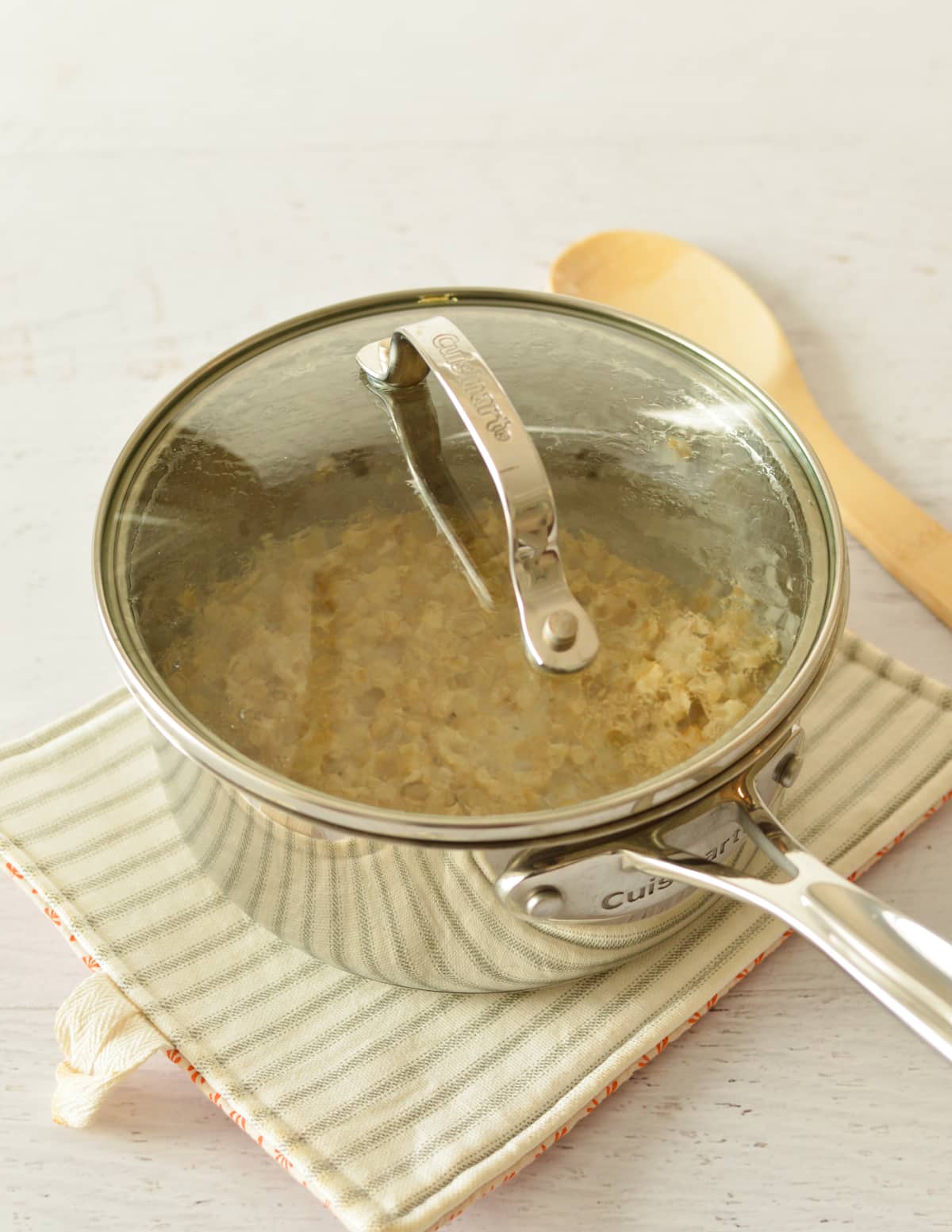 Transfer the almond butter oatmeal to a bowl, add toppings, and enjoy!
Recipe Tips
For chewier oatmeal, use 1 cup of liquid instead of 1 ¼ cups. I find 1 ¼ cup of liquid to be the perfect ratio for ½ cup of oats, BUT if you like a lot of texture, bump it down to 1 cup instead.
Feel free to double this recipe for more servings! Just double the amount and follow the recipe as directed.
Oatmeal is easy to customize! For a base oatmeal recipe, just follow the recipe as directed without adding maple syrup or almond butter. Add whatever mix-ins or toppings you like!
For best results, use old-fashioned oats. Steel cut oats won't cook properly and instant oats are mushy. If you like the soft texture of instant oats, reduce the liquid to 1 cup and follow the recipe as directed.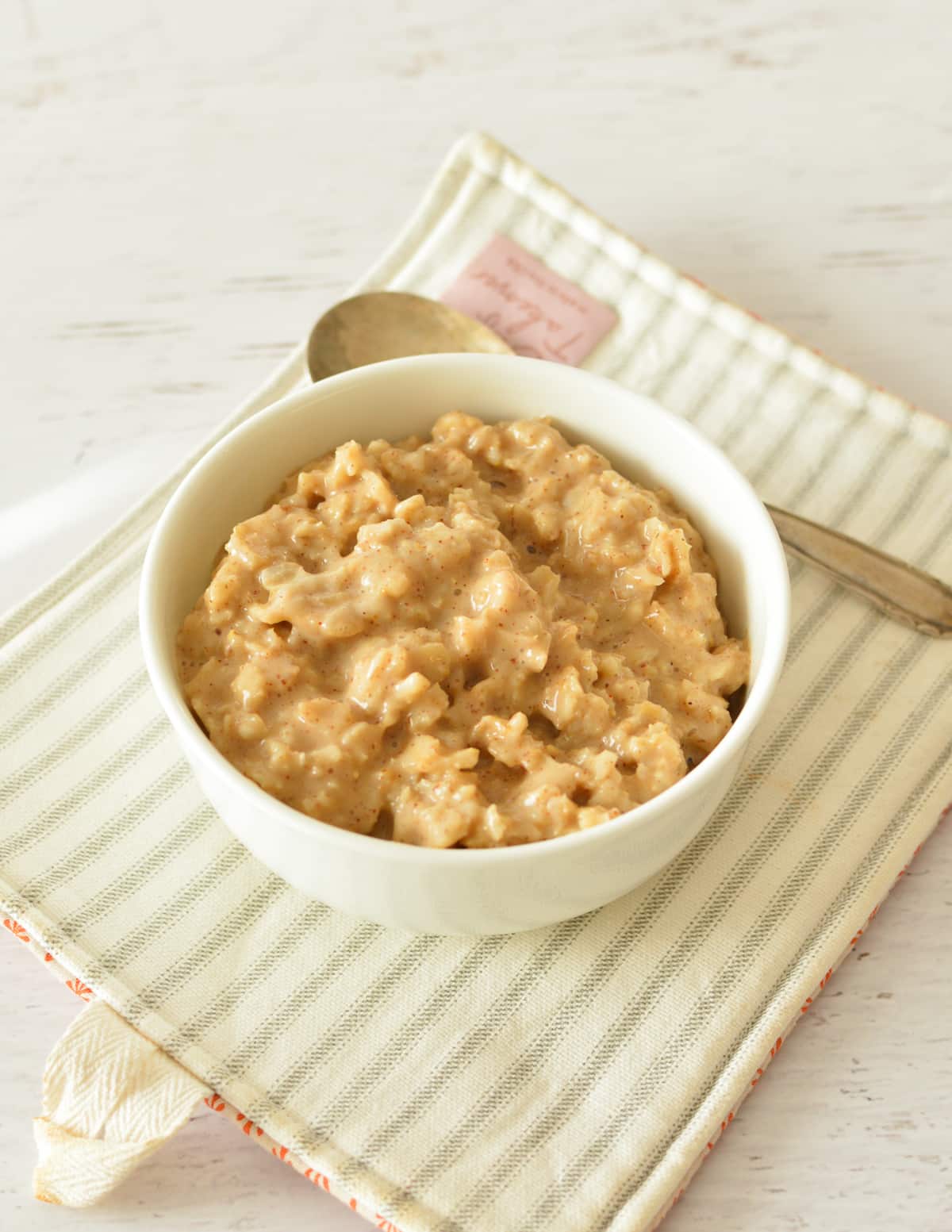 Almond Butter Oatmeal Toppings
Oatmeal is a perfect vehicle for sweet and crunchy toppings! These are my favorite toppings for almond butter oats:
Nuts - Slivered almonds, pistachios, walnuts, or pecans.
Fruit - Sliced bananas, strawberries, or raspberries.
Dried fruit - Raisins, golden raisins, dried cherries, chopped dates, or dried cranberries.
Seeds - Pepitas, sunflower seeds, chia seeds, hemp hearts, or flax seeds.
Chocolate - Chopped dark chocolate or mini chocolate chips!
Sweeteners - Maple syrup, honey, or light agave.
Granola - I love Purely Elizabeth granola, in any flavor!
Variations
Liquid - Feel free to use water or any type of milk! You can use regular or plant-based milk. I prefer almond milk but soy, rice, cashew, or oat milk are good options too!
Oats - You can use rolled oats or quick oats for this recipe! If you like a bit of texture, stick with rolled oats. If you like softer oats, use instant or quick cooking oats.
Nut butter - You can swap the almond butter with peanut butter, cashew butter, or sunbutter.
Sweetener - You can swap the maple syrup with sugar, brown sugar, honey, or light agave.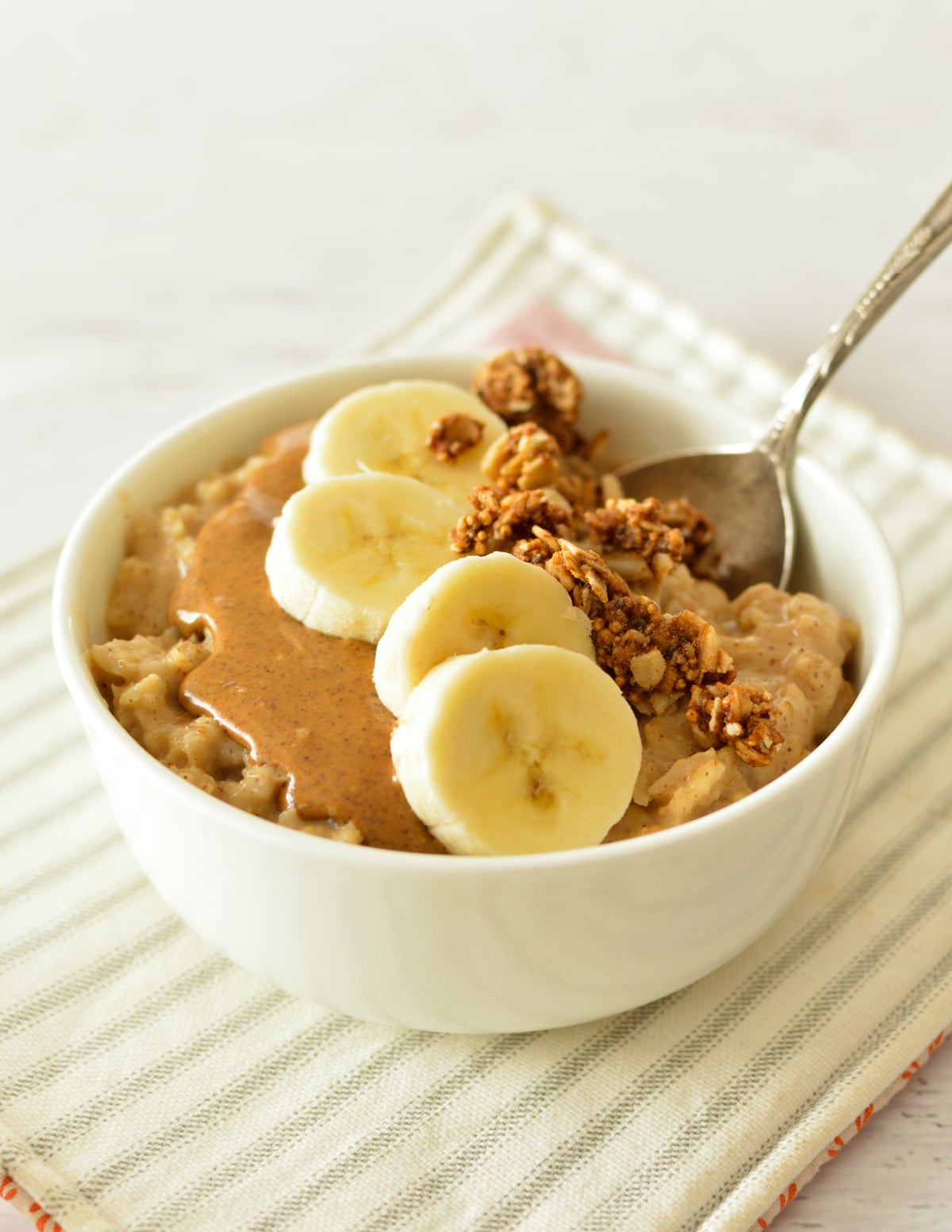 Storage Tips
Store leftover oatmeal in the refrigerator in an airtight container for up to 4 days.
Reheat oatmeal in a heat-proof bowl in the microwave until warmed through. You may need to add a splash of liquid so it doesn't get too thick.
FAQs
More Oatmeal Recipes