Creamy and comforting tomato bisque is simple to make and way better than store bought! San Marzano tomatoes, onion, garlic, and vegetable broth are simmered and then blended together for a soup that's easy and delicious.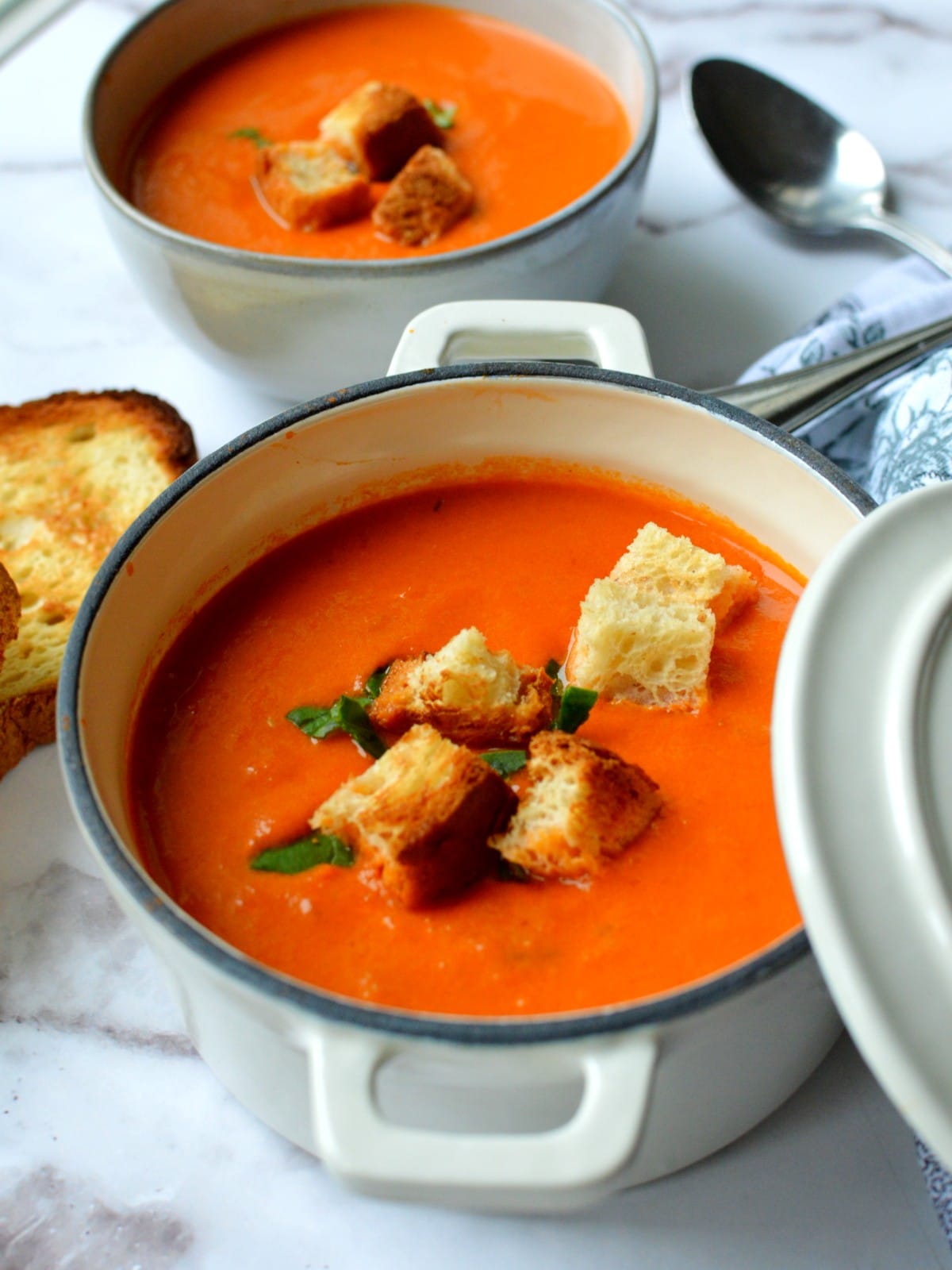 Once you make homemade tomato soup you won't ever buy Campbell's again!
Tomato Bisque Vs Soup
A tomato bisque is just a creamy version of tomato soup most often made so with heavy cream. Traditionally the term bisque was a French cooking term referring to soup made with crustacean stock (lobster, shrimp, crab, etc.) but nowadays it's used interchangeably with a creamy soup.
Disclosure: This post contains affiliate links. In other words, if you click a link and purchase something I will receive a commission at no cost to you. I only recommend products I use and enjoy myself.
Why You Will Love This Soup
It's so easy to make. It may take 50 minutes for it to cook but 40 of that is simmer time which means you only have to work for 10 minutes.
It's a one pot meal. You don't have to dirty up several pots for this recipe which means less mess and less cleanup.
It's delicious! Delicious meals (in this case soup) don't have to be complicated.
The Secret to a Good Tomato Soup
There are several ways to make a good tomato soup but I think the real secret is in the simmer.
Some recipes call for cream, some don't. Some use flour to help thicken up the soup and others add parmesan or bell peppers for additional flavor.
Most of the recipes call for tomatoes, garlic, onion, and some form of stock BUT the best way to make an incredible soup is only partially about the ingredients.
The best way to make a delicious tomato soup is to simmer it for a good while.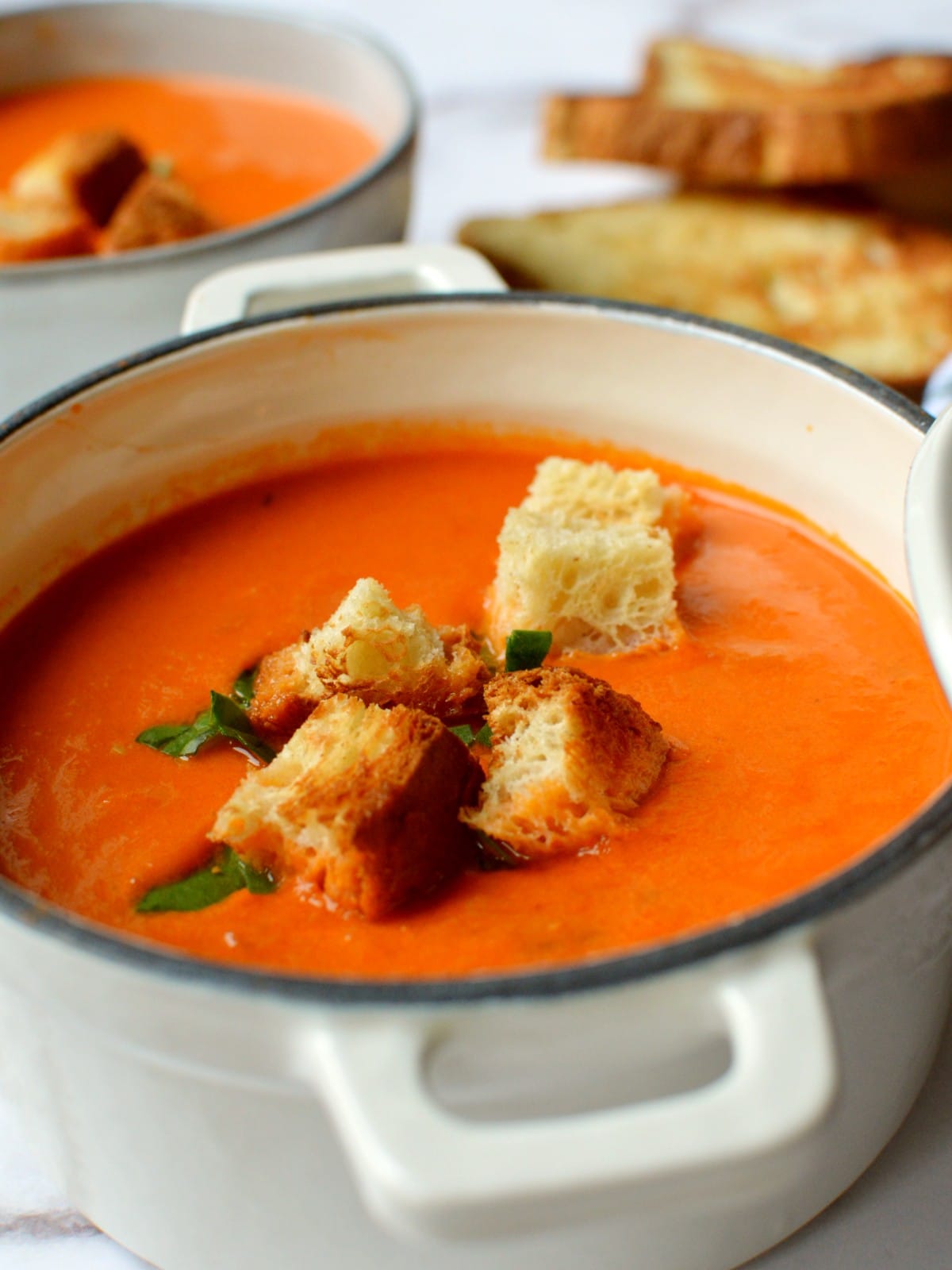 Ingredients for this Soup
I used canned San Marzano tomatoes for this soup because it's simple and easy but more than that it still tastes amazing.
That being said in a couple months when my garden is bursting with fresh tomatoes I plan to make this tomato bisque with fresh tomatoes. I will update this post when I do or if you use fresh tomatoes leave us a comment to tell everyone how it came out.
Unsalted butter
Sweet onion
Garlic
Kosher salt - Seasoning is important. This recipe doesn't call for much as vegetable broth adds saltiness as well.
Sugar - Just a small amount adds the perfect amount of sweetness to balance the acidity of the tomatoes.
San Marzano canned tomatoes - San Marzano tomatoes are less acidic with less seeds and a thick and sweet flesh. It is somewhat of a debate whether they are better than regular canned tomatoes but I love them for this soup.
Vegetable broth - This reduces during the simmer for additional flavor.
Basil - I am in love with sweet basil and the tomato basil combo but if you don't like basil at all you can leave it out.
Heavy cream - Just a ½ cup makes this soup perfectly creamy!
How to Blend Up the Soup
You have two options here:
A stick blender or immersion blender - I prefer this method because it's easier and you don't have to transfer hot soup. Simply lower the blade into the soup and blend until smooth. It is a little harder to get all the onions and tomatoes blended smooth but I didn't mind this.
A regular blender - This should get all those ingredients blended nice and smooth but you have to transfer the soup into the blender and then back into the pot. You can certainly do this method but if you have a stick blender I recommend using it instead.
Other Recipes You Might Like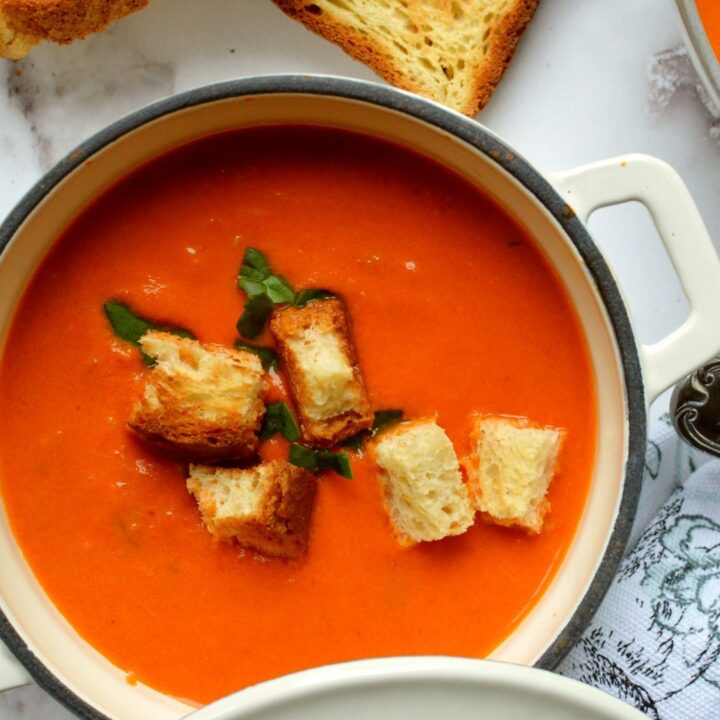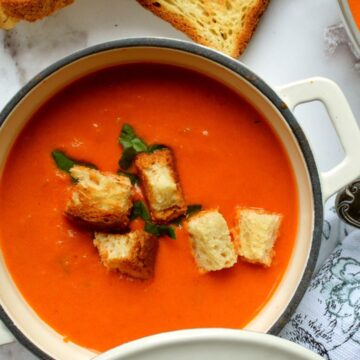 Tomato Bisque Recipe
Creamy and comforting tomato bisque is simple to make and way better than store bought! San Marzano tomatoes, onion, garlic, and vegetable broth are simmered and then blended together for a soup that's easy and delicious.
Equipment
A dutch oven or soup pot

A blender or an immersion blender
Ingredients
2

tbsp

unsalted butter

1

sweet onion, medium diced

2

garlic cloves, minced

1

tbsp + 1 t.

sugar

½

t.

kosher salt

28

oz

can of san marzano tomatoes

I used Cento brand

2 ¼

cups

vegetable broth*

½

cup

heavy cream

small handful of basil
Instructions
In a Dutch oven on medium high heat sauté the diced onion in the butter for 4 minutes. Add the minced garlic, kosher salt, and a teaspoon of sugar and sauté for 30 more seconds.

Add the san marzano tomatoes and the vegetable broth to the pot. Stir and then let it come to a simmer. Turn down the heat to medium low and let simmer for 35 minutes.

Add 1 tbsp of sugar and the basil and blend up the soup with an immersion blender. If you don't have an immersion blender carefully transfer the soup to a regular blender and blend until smooth.

Let the soup simmer for 5 more minutes then add ½ cup of heavy cream. Once the soup is hot again turn off the heat and serve warm.
Notes
*If you want this recipe to be gluten free like I do then make sure to buy gluten free vegetable broth. Both Swanson and Progresso are labeled gluten free among other brands.