These cassava flour pancakes are simple and fluffy. They make a perfect no fuss breakfast plus they're paleo and gluten free!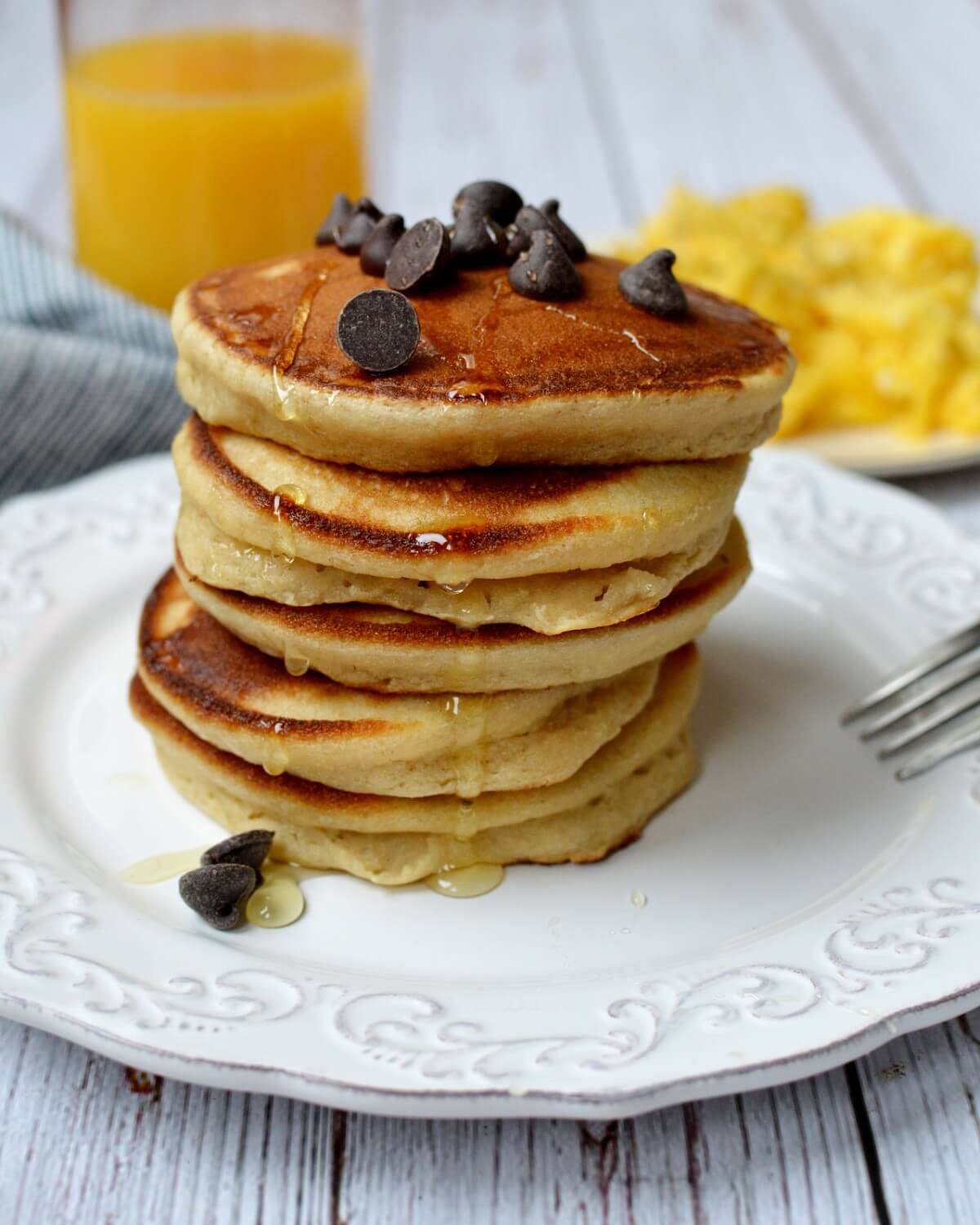 This is my first go at cassava flour and I must say - I'm sold. I've seen cassava flour tortillas at Walmart and a coffee shop down the street has delicious cassava flour crepes. So when I was perusing the gluten free flour section I thought it's time I tried it out.
Not to toot my own horn (but I'm gonna) my kids ate these cassava flour pancakes without maple syrup on top (we were out).  Cassava flour is officially a staple in my pantry now and you can be on the lookout for more cassava flour recipes from here on out.
Disclosure: This post contains affiliate links. In other words, if you click a link and purchase something I will receive a commission at no cost to you. I only recommend products I use and enjoy myself.
Jump to:
What is cassava flour?
Cassava flour comes from the cassava root also known as the yucca root. It's a starchy root vegetable with mild flavor similar to a potato. It's dried, peeled and then ground into a flour with a nutty flavor.
Although tapioca and cassava flour are both from the yucca root they are processed differently. Tapioca which is commonly used to thicken something (think corn starch) is the starch extracted from the yucca plant.
Ingredients:
Cassava Flour
Baking Powder
Kosher Salt
Unsweetened Almond Milk
Eggs
Neutral Oil
Maple Syrup or Honey
For paleo pancakes use maple syrup instead of honey and a paleo friendly oil such as avocado oil or melted coconut oil. I have made these with both canola oil and coconut oil with delicious results.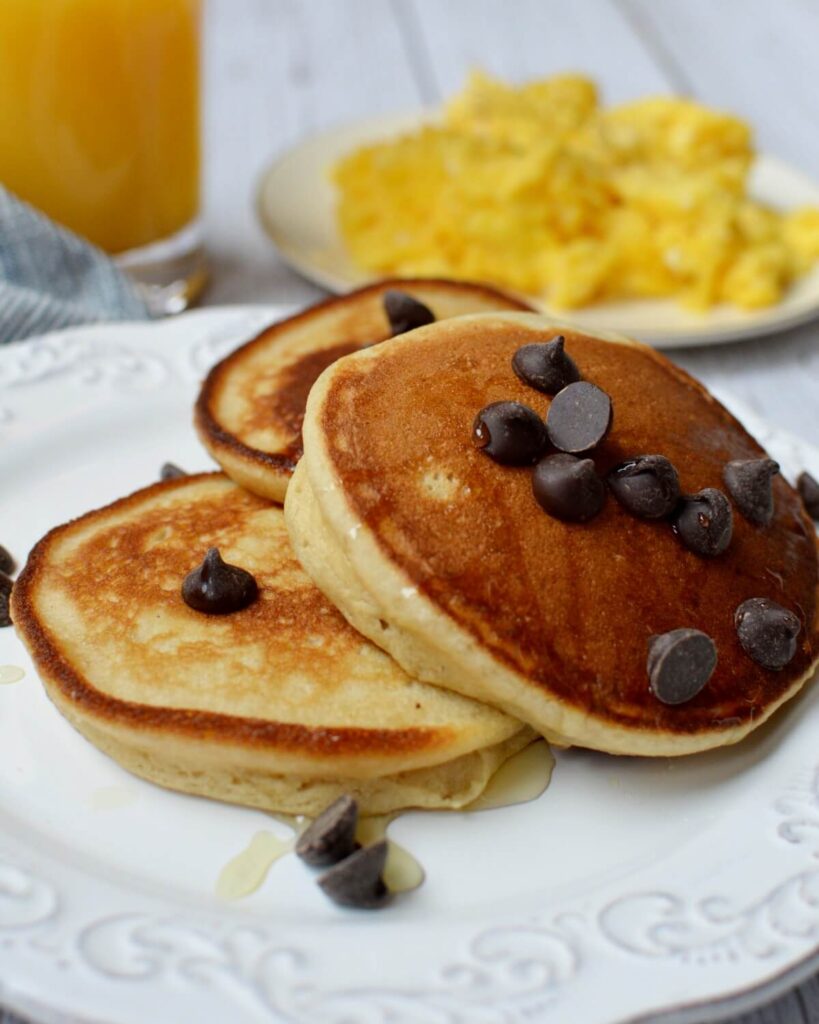 How to make the batter:
The batter is really easy to make just follow these simple steps.
In a medium bowl measure all of the dry ingredients and stir with a small whisk or fork.
Measure the almond milk in a liquid measuring cup and then add the eggs, oil and maple syrup. Whisk together well.
Add the liquid ingredients to the dry and whisk until a smooth batter forms.
The batter will look thin and it should. The pancakes puff up really well and should be thick and fluffy when done.
Pancake cooking tips
Let the pan heat up first. Don't jump the gun and put them in before it's hot. They will spread more than they should and not brown well.
Keep the heat on medium low. We want the pan up to temperature but on a medium low heat setting. If the pan is too hot the pancakes will brown too quickly. If you flip them too soon too prevent this the insides won't be done.
Turn down the heat if your pancakes are browning too quickly.
The pancakes spread a bit plus you want room to flip them so only put three pancakes into a 10-inch nonstick skillet at once.
My pancakes took approximately two to three minutes per side.
Can you freeze these pancakes?
Yep! I love freezing pancakes.
We go through pancakes super quickly so I just wait until they're cool then stack three together and wrap in saran wrap. I then put the stack in the freezer.
If I don't plan to use them within the week I just place them on a half sheet pan and put it in the freezer. Once frozen throw the pancakes in a gallon size freezer bag and you're all set.
To reheat simply microwave in 20 second intervals until warm.
Other delicious pancake recipes: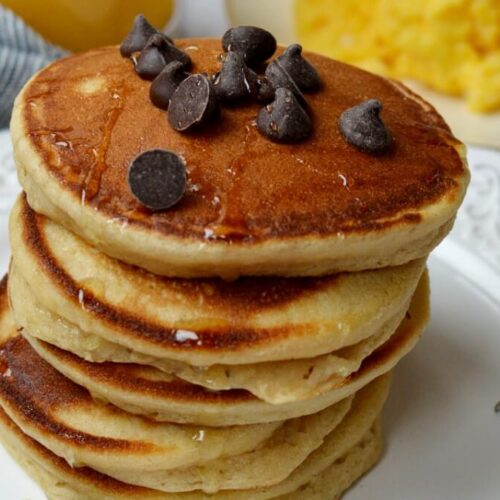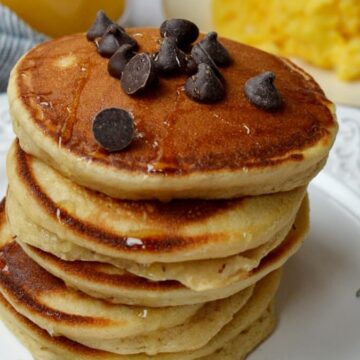 Cassava Flour Pancakes [Paleo & Gluten Free]
Easy and fluffy pancakes made from cassava flour and sweetened with maple syrup for a delicious stack! These pancakes are paleo, grain and gluten free.
Ingredients  
1

cup + 2 tbsp

Cassava flour

2

t.

Baking powder

½

t.

Kosher salt

1

cup + 2 tbsp

Unsweetened Almond Milk

2

large

Eggs

2

tbsp

Canola Oil

For paleo use melted coconut oil

2

tbsp

Maple Syrup or Honey
Instructions 
Heat a 10-inch nonstick skillet on medium low heat with a teaspoon of coconut or canola oil.

Meanwhile in a medium bowl add the cassava flour, baking powder, and kosher salt then stir with a fork or whisk.

In a liquid measuring cup measure the almond milk and then add the eggs, maple syrup and oil. Whisk together then add the liquid ingredients to the bowl.

Whisk until a smooth batter forms. Once the pan is up to temperature use a portion scoop scoop the batter onto the pan to make three pancakes. My portion scoop holds about ¼ cup of batter.

Let the pancake cook until the bottom is golden brown and a few small bubbles form on the top - about 2 to 3 minutes per side. Serve and enjoy immediately with maple syrup.
Notes
If the pan becomes too hot the pancakes will brown too quickly which will cause you to flip them early and the center wont cook properly. Make sure the pan comes up to temperature before cooking the pancakes but is set to medium low not medium or high. Turn down the heat a little if needed. 
Nutrition