These almond flour pancakes are fluffy and delicious. Top with maple syrup and fruit for a delicious breakfast.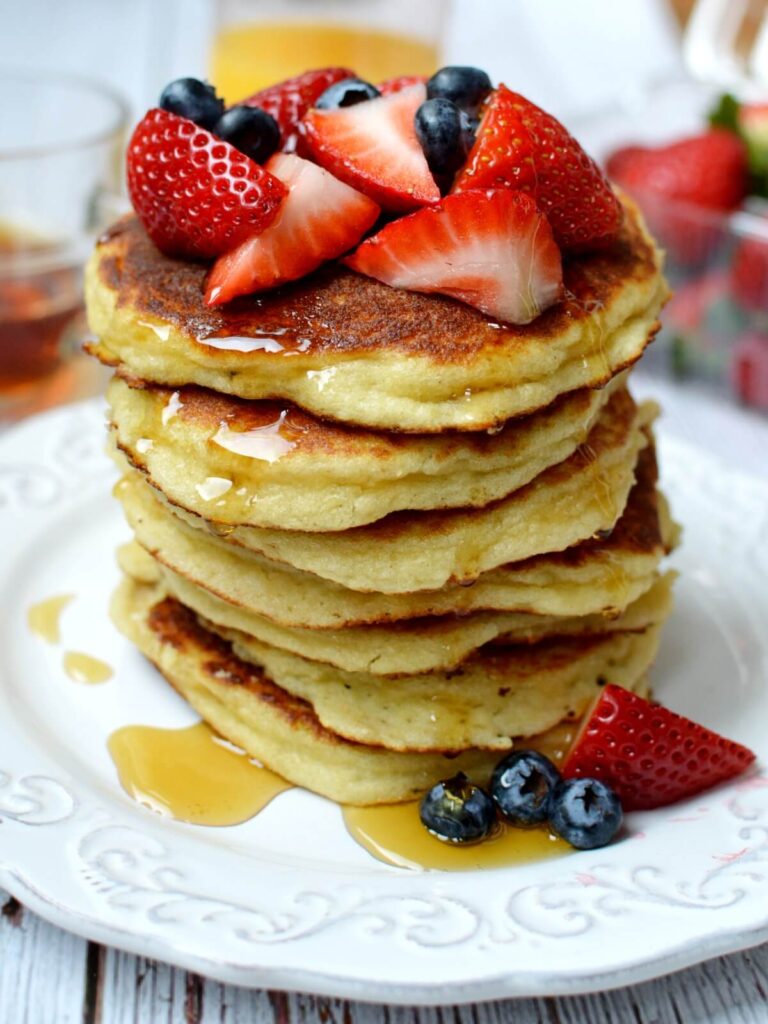 I have finally perfected almond flour pancakes.
I've been working on these for a month. And in an attempt to not waste food (or dinero) I've been eating them every morning. I'm proud to say they're delicious.
I won't say almond flour pancakes taste just like the regular kind because they don't and it irks me when people do that. It's like when people say spaghetti squash tastes "just like pasta". It doesn't and comparing a vegetable to pasta seems a bit unfair.
Almond flour has a distinct taste and texture and I personally love it. It's sweet, nutty flavor is perfect for pancakes and cookies.
Disclosure: This post contains affiliate links. In other words, if you click a link and purchase something I will receive a commission at no cost to you. I only recommend products I use and enjoy myself.
Let's talk almond flour, shall we?
After experimenting a boatload of times I would recommend only using finely sifted almond flour for pancakes and not almond meal.
Almond flour has a much finer texture than almond meal. This means the texture of your pancakes will change if you use almond meal.
I tried it once and the pancakes came out grainy and fell apart too easily. I've seen a lot of recipes say you can use them interchangeably and I'm willing to bet some almond meals are finer than others but it doesn't feel like a risk worth taking for me.
Almond flour ain't cheap and throwing away a batch of pancakes makes me sad even without the bajillion dollar price tag.
I used Bob's Red Mill Super Fine Almond Flour because I love their products.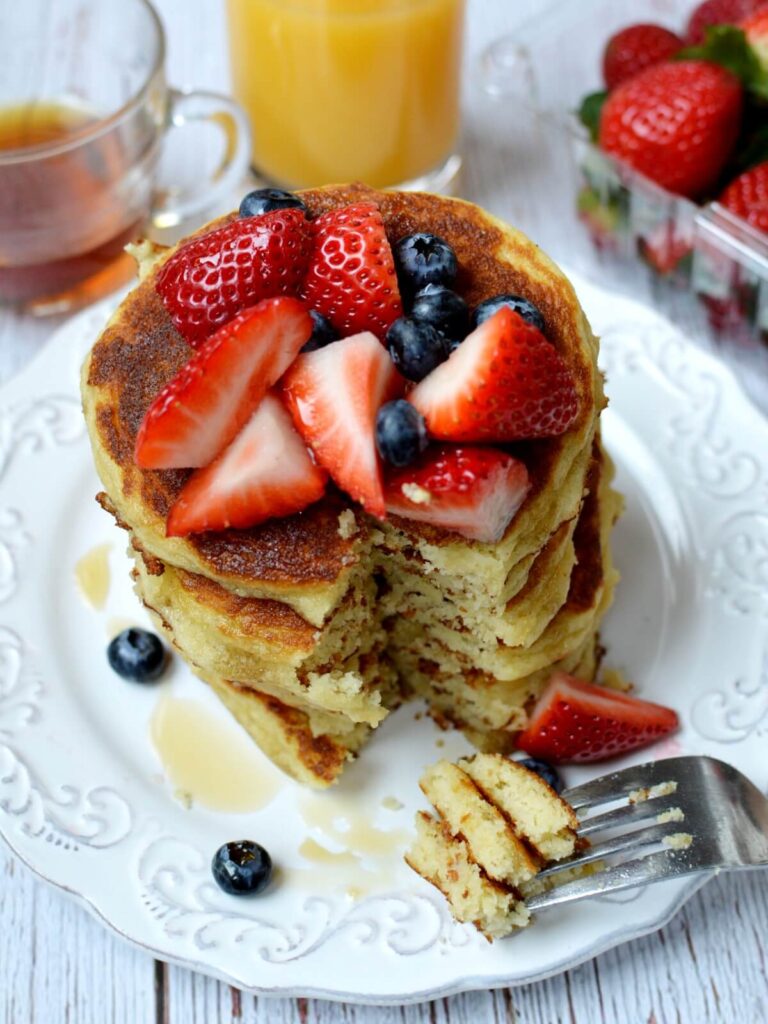 How to make these almond flour pancakes keto:
There are two easy substitutions you need to make this a keto recipe or low carb almond flour pancakes.
One is the tapioca starch - omit it and just use almond flour in it's place. The pancakes will still be delicious just a little more almondy with a bit more texture. My husband actually prefers them this way.
And the other substitute is for the sugar. You can substitute erythritol in for the sugar and your all set.
To make these pancakes paleo, simply omit the sugar and add 1 tablespoon of maple syrup instead then use a paleo friendly oil.
These pancakes are also gluten free and dairy free!
Other gluten free pancake recipes:
How to make them
Making the batter is easy. Measure all the dry ingredients and put into a medium sized bowl. Mix together with a fork or whisk. Measure all your liquid ingredients and your egg then whisk together.
Add the liquid ingredients to the dry ingredients and whisk until a smooth batter forms.
Here's where it gets a bit tricky. Almond flour is of course made of almonds and more prone to burning than regular flour. So for this recipe your heat needs to be on medium low. But you need to wait until the pan heats up before adding the pancakes.
Essentially if the pan isn't hot yet the pancakes will spread too much. If the pan's too hot they will burn. So set your burner to medium low, add some canola oil and wait for it to heat up. Don't jump the gun! If your pancakes look too brown or smell like they're starting to burn then turn down the heat a little.
Other tips and tricks
Make sure the pan is up to temp! (I can't say this enough)
Don't add more than three pancakes to the pan because they spread.
To add to my last point don't add too much batter because they spread.
I like to make mine into banana almond flour pancakes by adding peanut butter and sliced banana to the top. I've always spread peanut butter on my pancakes and didn't realize it was unusual until my twenties. Who knew?
Here is the recipe. I hope you like it as much as I do!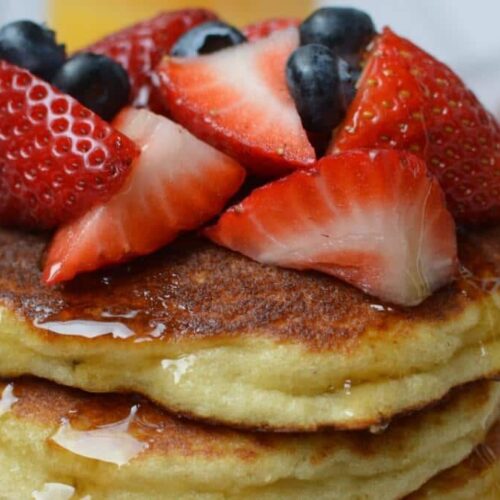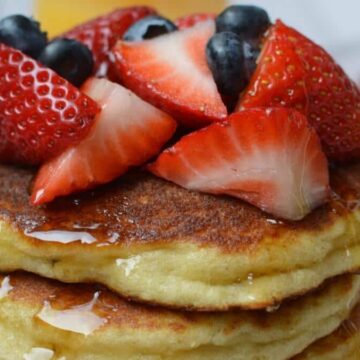 Almond Flour Pancakes
Fluffy and delicious almond flour pancakes make a perfect weekday breakfast.
Equipment
10-inch nonstick pan

Medium bowl

Liquid Measuring cup

Dry Measuring Cups

Whisk
Ingredients
1

cup + 1 tablespoon

Almond Flour, finely sifted

2

tbsp

Tapioca Flour

1

tbsp

Sugar

Use Maple Syrup for Paleo version

½

t.

Baking Soda

1

t.

Baking Powder

Pinch

Kosher Salt

¼

cup or 2 oz.

Unsweetened Almond Milk

1

large

Egg

1

t.

Apple Cider Vinegar

2

tbsp or 1 oz.

Canola Oil

Use Paleo friendly oil if preferred
Instructions
Heat a nonstick skillet to medium low heat and add a tablespoon of oil.

In a medium bowl combine almond flour, sugar, baking soda, baking powder and salt. Mix together with a fork or whisk.

Measure all the liquid ingredients together and the egg then whisk together.

Add the liquid ingredients to the dry ingredients and whisk until a smooth batter forms.

Once the pan is hot use a small portion scoop and scoop three pancakes into the nonstick skillet. Give each pancake room as it will spread nicely. Cook until the top bubbles a little bit approximately three minutes and then flip. Cook another two to three minutes or so and transfer to a plate with a spatula.

Continue until all the batter is gone. Enjoy immediately with maple syrup.
Notes
Be sure the pan is not too hot. If the pancakes are getting too brown turn the heat down. Almonds flour burns easier than regular flour.