The best homemade gluten free cinnamon rolls! They're fluffy, filled with ooey gooey cinnamon filling and topped with cream cheese frosting!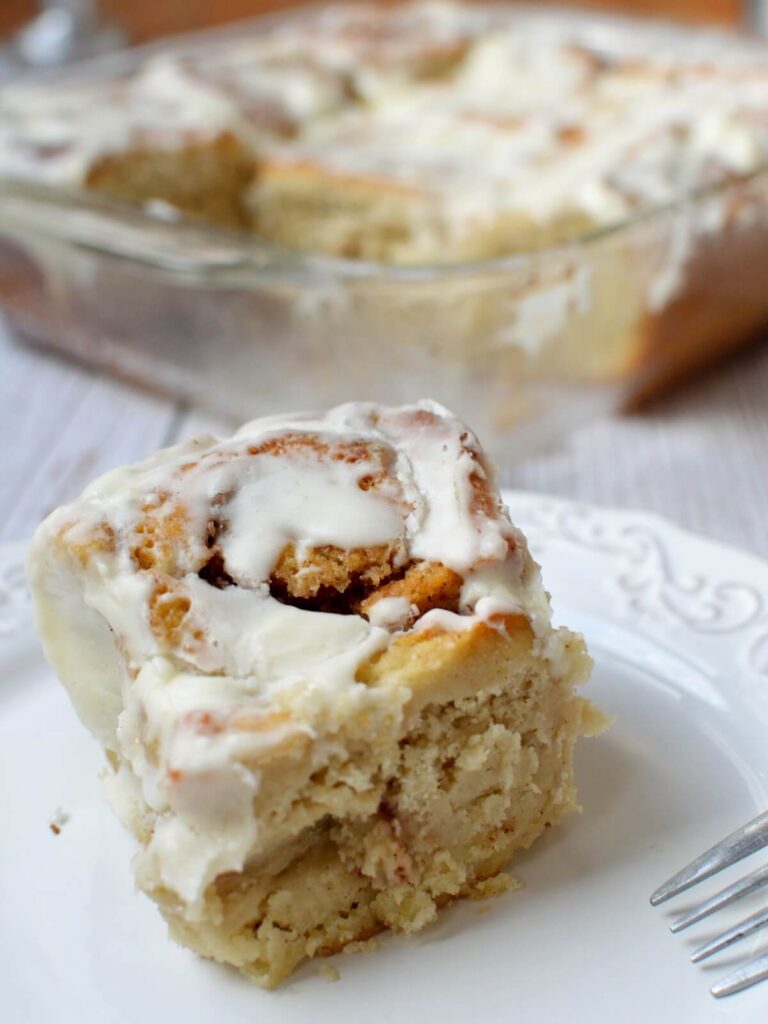 Unfortunately I don't have a gluten free bakery near me with gluten free cinnamon rolls so I did what any obsessive baker would do - I pulled out some yeast and turned on the oven.
After a few tries and way too many cinnamon rolls later I had a clear winner. I wanted these rolls to do the following.
Be ooey gooey in the center without being under-baked or doughy and trust me when I say this is a fine line.
Rise! I can't tell you how many gluten free cinnamon roll recipes I've tried where the rolls didn't rise much.
Be addictively delicious like a Cinnabon on Christmas morning!
Oh and not be too complicated. Easy gluten free cinnamon rolls that taste incredible was my goal.
Gluten free yeast recipes are tricky and no yeast cinnamon rolls weren't an option. Read on to learn some of the tricks I learned while baking up several batches.
Disclosure: This post contains affiliate links. In other words, if you click a link and purchase something I will receive a commission at no cost to you. I only recommend products I use and enjoy myself.
Jump to:
What you need:
Whole milk
Active Dry Yeast
Sugar
Eggs
Canola Oil
Bob's Red Mill 1:1 Gluten Free All Purpose Flour
Kosher Salt
Baking Soda
Cream of tartar
Cream Cheese (For the icing)
Butter (For the icing & Filling)
Brown sugar (For the filling)
Cinnamon (For the filling)
All gluten free all purpose flour brands are blends of starches, flours and sometimes xanthan gum. Each one is slightly different and therefore the end result is always a little bit different.
I wouldn't recommend using a different blend for this recipe mostly because I can't tell you for sure it will come out right. If you do try it with another flour blend and it comes out delicious please post a comment so others can benefit from this information too.
I added baking soda and cream of tartar to give the dough an extra lift.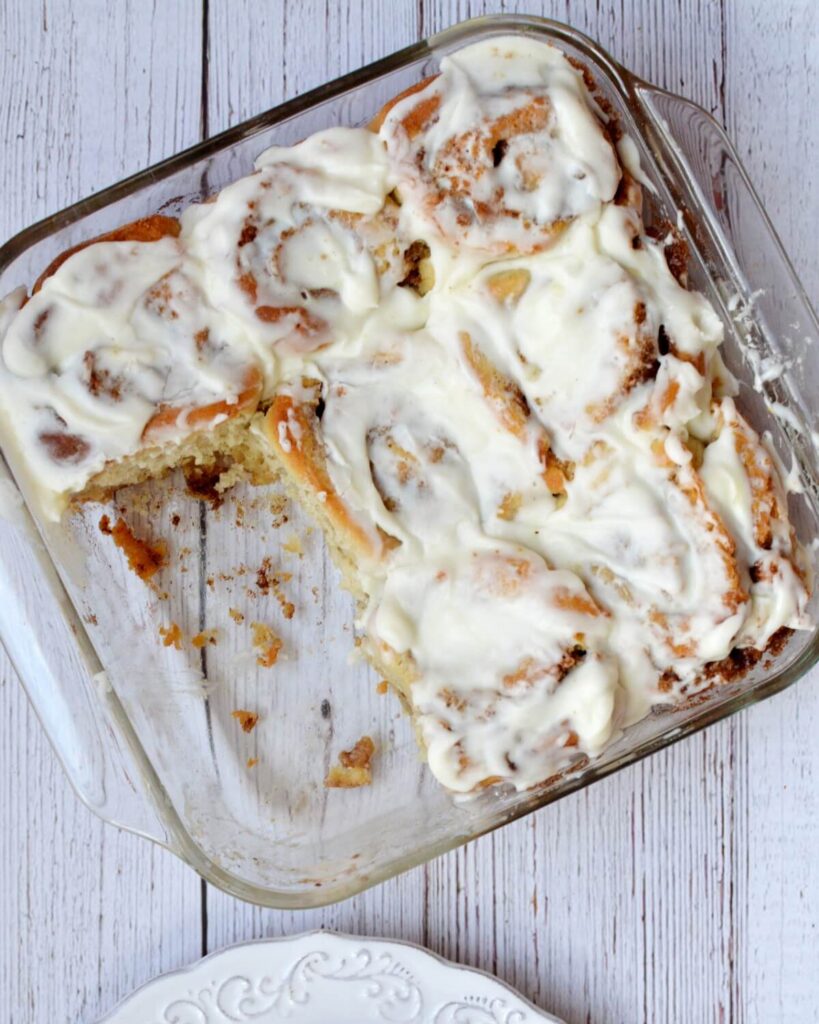 The frosting and the filling
For the filling: Mix one stick of softened butter, ¾ cup of brown sugar and one tablespoon of cinnamon together in a medium bowl. I just mixed it up with a spoon. Resist the urge to melt the butter all the way. This will only cause the filling to leak more whilst baking.
For the icing: I used my delicious cream cheese frosting to ice these rolls. I halved the recipe and didn't use it all because in my opinion too much frosting on a cinnamon roll is no bueno. But I know some people LOVE lots of frosting so feel free to use it all if you like.
The dough making process
First I activated the yeast. I did this by heating the milk in the microwave to 110 degrees Fahrenheit and then adding the sugar and active dry yeast. I let it sit for six minutes until the yeast looked frothy.
Why did I do this? It tells you the yeast is still alive to work it's magic. If the milk is too hot it will kill the yeast so be sure to use a thermometer. Alternatively if it's too cold it won't activate the yeast and the rolls won't rise well. You can read more about yeast here.
Then I added room temperature eggs, oil and the rest of the sugar into the milk mixture and whisked until incorporated.
Add the milk mixture into a stand mixer bowl with the dough hook attachment then add the flour, salt, baking soda, and cream of tartar. Blend with the dough hook for two minutes stopping to scrape the sides of the bowl after 15 seconds.
The dough should be smooth and really sticky at this point. This is a very sticky dough which means it's sticky to work with but it also means we won't end up with a dense roll.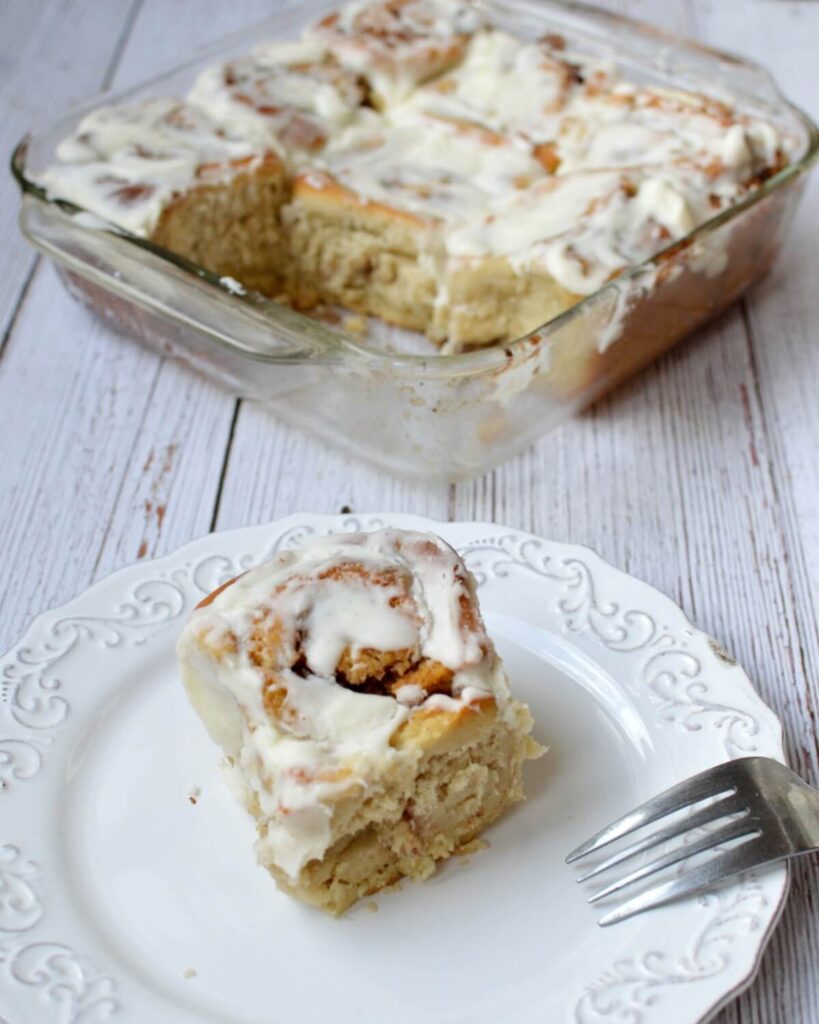 The first rise
Scrape the sticky dough into a large greased bowl and brush the top with a small amount of oil so it doesn't dry out. Saran wrap and set aside for two hours to rise.
How to roll them up
Sprinkle flour over a large work surface. Place the dough on the floured work surface and sprinkle flour on top of the dough. This will make it so the dough doesn't stick to the counter and the top doesn't stick to the rolling pin. Both are mega buzzkills when it's time to get rolling.
Gently roll the dough into a rectangle shape about 11 by 13 in long. Using an offset spatula spread the cinnamon butter filling evenly over the dough leaving a ¼ in gap on all sides.
Starting on the long side directly in front of you roll the dough into a log. It will lengthen a little as you do this. Mine ended up being close to 18 inches long at this point. Cut the rolls into 9 equal pieces. For me this ended up being 2 inch rolls.
Just do your best to cut the rolls evenly - they don't have to be exact.
Baking the rolls
Grease an 8 by 8 pan with nonstick cooking spray.
Place 9 cut rolls into the pan in 3 rows with 3 rolls each evenly spaced. It's important the rolls are in an 8 by 8 pan nestled next to one another. This means they will rise into one another and you will have a gorgeous pan of cinnamon rolls with sticky centers and soft sides. Let the rolls rise in the pan for another 45 minutes.
Bake at 350 degrees Fahrenheit on the middle rack for 30 to 34 minutes until the tops are golden brown but more importantly the insides are cooked but still soft. Make and spread the icing on the rolls while they're still slightly warm.
Tips and things to remember:
Cinnamon rolls are BEST the day you make them. On day two I would finish them up, gift them to a friend or freeze them individually so you can pull one out later.
Use room temperature eggs so you're not changing the temperature of the liquid and inhibiting the yeast.
Ice the rolls while there still warm. The icing will melt a little bit into the roll and be super delicious. I like to save just a little bit and ice them again once they've cooled. This is mostly a preference thing just don't ice them right out of the oven or the icing will completely melt.
If you do freeze them for later make sure to let them come to room temperature before warming them up in the oven or microwave. If you heat them up frozen the icing will melt.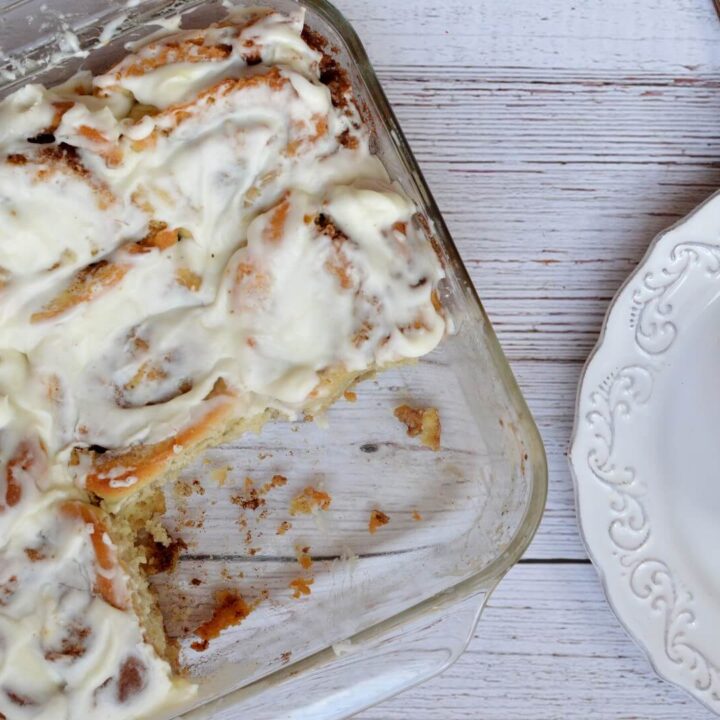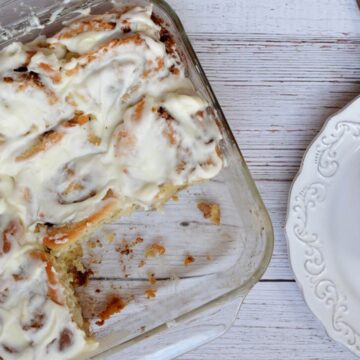 Gluten Free Cinnamon Rolls
These soft and delicious gluten free cinnamon rolls are the perfect indulgent treat! Filled with cinnamon, brown sugar and butter then topped with a cream cheese frosting for a truly delicious bun!
Equipment
Stand Mixer with the Paddle Attachment

Stand mixer with the whisk attachment or a hand mixer

Large Bowl
Ingredients
For the dough:
1

cup

Whole milk, 110 degrees

3

t.

Active dry yeast

1

t.

Sugar

2

Eggs

½

cup

Vegetable Oil

½

cup

Sugar

¾

t.

Kosher Salt

½

t.

Baking Soda

½

t.

Cream of Tartar
For the filling:
8

tbsp

Unsalted butter, softened but not melted

¾

cup

Brown sugar

½

tbsp

Ground cinnamon
For the icing:
4

tbsp

Unsalted butter, room temperature

2

oz

Full fat cream cheese

A quarter of a block

1 ¼

cup

Powdered sugar
Instructions
For the filling:
Stir or beat together 1 stick of softened butter, ¾ cup of brown sugar and one tablespoon of cinnamon. Set aside.
For the dough:
Preheat the oven to 350 degrees Fahrenheit. Microwave the whole milk until it reaches 110 degrees Fahrenheit on a thermometer. Add active dry yeast and 1 teaspoon of sugar. Let sit for six minutes while yeast gets frothy.

Add room temperature eggs, canola oil, and ½ cup of sugar into the yeast mixture and stir well. Pour into the bowl of a stand mixer with the dough hook attachment. Add gluten free flour, kosher salt, cream of tartar and baking soda to the bowl and beat on medium speed for 2 minutes, scraping the bowl after 15 seconds to incorporate all the flour. The dough should be sticky.

Using a spatula scrape the dough out of the bowl and into a large greased bowl. Brush the top of the dough with oil and cover with saran wrap. Set aside and let rise for two hours.

Meanwhile sprinkle flour over a large work surface. Once the dough has risen place it onto the floured area and sprinkle flour onto the dough. Roll it out into a rectangle about 11 by 13 inches long. Using an offset spatula spread the butter mixture evenly on the dough leaving a ¼ in gap on all sides.

Starting with the long side (closest to you) roll the dough up into a log shape. Cut into 9 rolls similar in size (doesn't have to be exact).

Nestle the rolls into a greased 8 by 8 pan in rows of three. Let the rolls rise for 45 more minutes and then bake on the middle rack for 30 to 34 minutes until the tops are golden brown and the insides are soft but baked. Make the icing.
For the icing:
Beat butter on medium speed for 30 seconds. This will ensure the cream cheese and butter emulsify with no lumps especially if your butter is on the cold side.

Add cream cheese and beat for 1 more minute. Scrape the bowl with a spatula.

Add ¾ cup of the powdered sugar. Beat on low for 5 seconds so the sugar doesn't poof out of the bowl. Beat on medium high for 1 minute.

Add the last ½ cup of powdered sugar and beat on low for 5 more seconds. Beat on medium high for 1 more minute.

While the cinnamon rolls are still a little warm spread them with frosting leaving any leftovers for those who want extra icing. Enjoy immediately.