An easy grilled chicken salad recipe you can actually look forward to eating.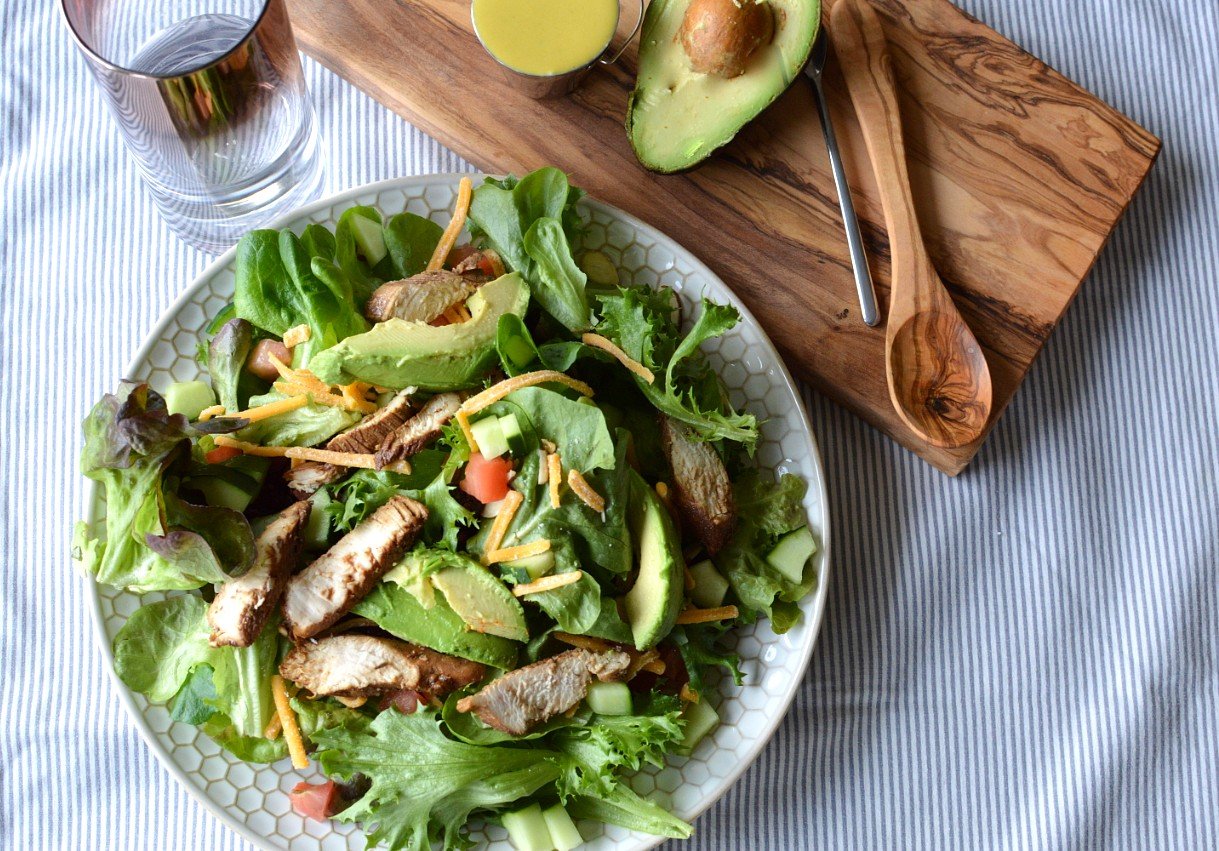 Disclosure: This post may contain affiliate links. In other words, if you click a link and purchase something I will receive a commission at no cost to you. I only recommend products I use and enjoy myself.
Does anyone else wonder why homemade salads never seem to measure up to restaurant salads? I have thought this on several occasions. I have now come to the conclusion that with a little preplanning and a scratch made dressing you really can't outdo a homemade salad.
Who's invited to the party?
Glad you asked.
Grilled Chicken
Avocados
Tomatoes
Cucumbers
Shredded cheddar
Slivered almonds
Dried Cranberries
Mixed Greens
Honey Mustard
You might find dried cranberries an unusual addition to this otherwise savory grilled chicken salad recipe but trust me on this one - add them! The sweetness of the dried cranberries with the sweetness of the honey mustard serve to make all the other ingredients taste even better.
Now when I eat a predominately savory salad I'm always wishing it had a sweet element, something to make the flavors pop - pickled onions, dried fruit etc.
In the same way I find it incredibly off putting eating a salad that is simply sweet ingredients. I want my salad to be delicious and balanced - not like I just ate a bowl of ice cream. (Not knocking ice cream of course)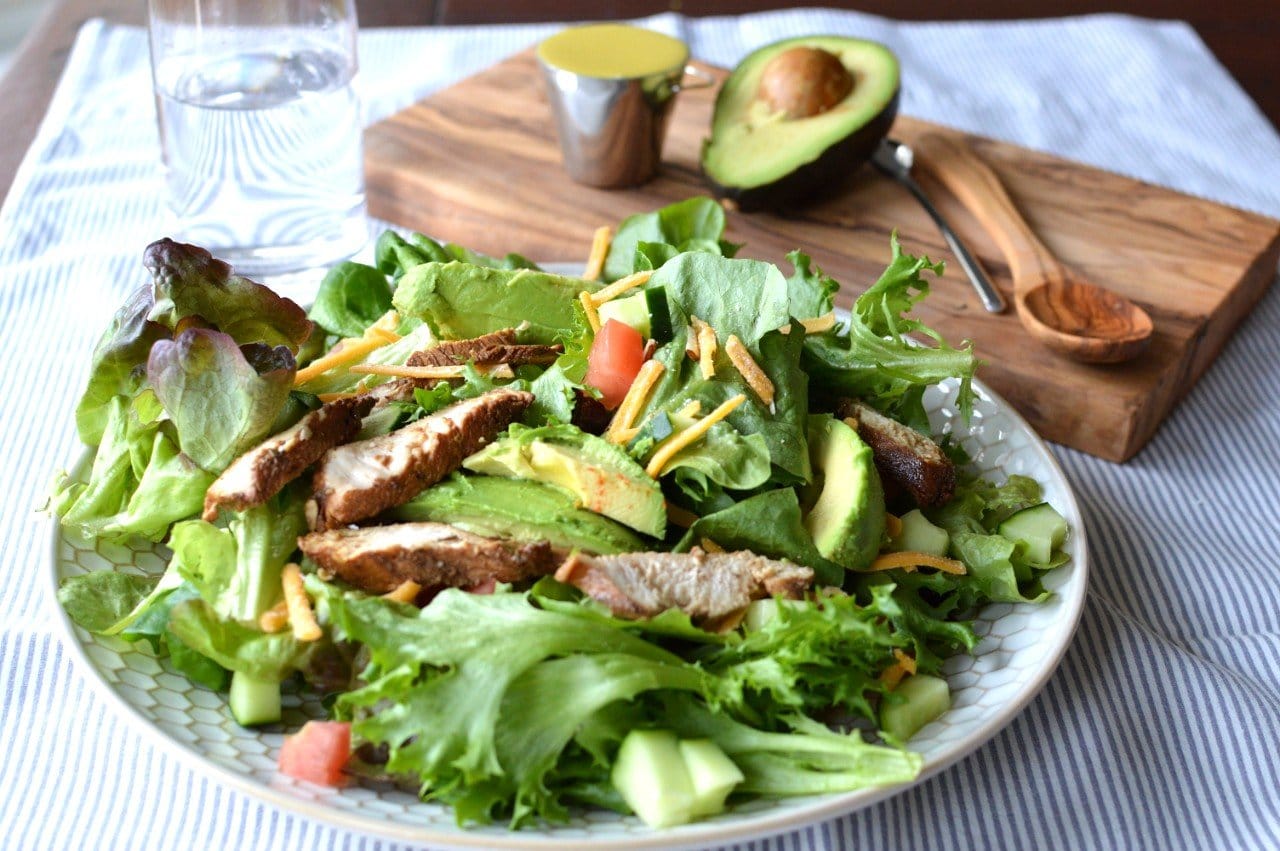 How do I make homemade salad dressing?
Easy. Seriously. Most dressings with a few exceptions (Green Goddess) only have a couple of ingredients. Green Goddess dressing is ah-maze-ing so its allowed. Green Goddess dressing is a good one to make if you grow your own herbs, or don't mind buying fresh herbs. ($$$)
Honey Mustard is truly simple, and one of my favorites. This one has four ingredients.
Honey
Mustard
Mayo
Lemon
Kosher salt
Yeah, yeah I can count. I just don't count salt since everyone has it. Hopefully.
Most dressings have some sort of fat and acid. (Fat = olive oil, sunflower oil, mayo, sour cream, buttermilk etc.) (Acid = vinegars, citrus juices etc.) Depending on the dressing it will have a sweet component too (sugar, agave, honey, maple syrup etc.)
For example, here are a couple of popular dressings and their essential ingredients.
Balsamic Vinaigrette - balsamic vinegar, olive oil, honey, dijon mustard
Ranch Dressing - mayo, buttermilk, lemon, herbs
Italian Dressing - olive oil, white or red wine vinegar, herbs, possibly honey
See the pattern? Once you learn patterns or techniques in cooking it makes it much simpler to just do yo thang in the kitchen. Don't be afraid to experiment. At worst it tastes awful, at best you may just create something incredible and it's a recipe YOU created.
I hate to say this but lots of "old family" recipes are not created in the family. Our favorite pumpkin oatmeal cookies we decorate every year since we were littles - Quaker Oats recipe. It's no less delicious, of course.
If you make your own dressing and it doesn't taste quite right, trust your tastebuds. Is it a little too vinegary? Add a bit more oil or mayo. Does it taste good but just needs a little something and has no sweetener in it? Add a small amount of honey.
Here are a few unique dressings from huffington post.
Or for a super simple but unique salad dressing try this Easy Balsamic Jam Dressing.
A few tips to throw a salad together in two minutes:
Grill up some chicken ahead of time and store in the fridge. Cut it into thin slices against the grain. This is how you get it to taste moist and not chewy. If you think ahead you can also marinade it in a ziplock bag the night before. There are a ton of simple marinades out there with pantry staples you may just have on hand.
Prep any ingredients that need cooking ahead of time and store in the fridge.

This salad is also great with bacon. You can cook that a day ahead and just break it into pieces when you need it.
You can make the salad dressing ahead of time. Since all the ingredients won't perish in the fridge for a while, this dressing will stay good for at least a month.
This salad goes perfect with a hearty bowl of soup! Here are a few amazing soup recipes for you:
Well let's get to it. Happy eating!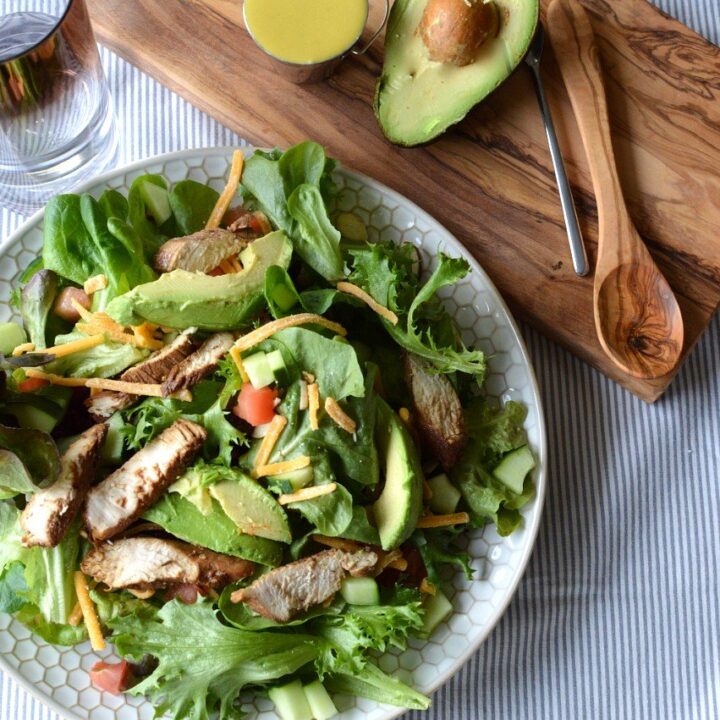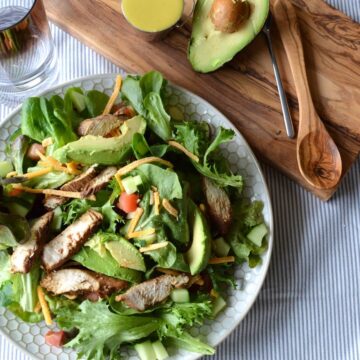 Grilled Chicken Salad Recipe
A simple grilled chicken salad recipe with avocado and scratch made honey mustard for an easy lunch you can look forward to.
Ingredients
Mixed greens

Avocado, sliced

tomato, diced

cucumber, deseeded and diced

shredded cheddar cheese

dried cranberries

slivered almonds

scratch made honey mustard

see recipe

grilled chicken, thinly sliced
For the honey mustard:
¼

cup + 1 tbsp

Mayo

¼

cup

Mustard

1 ½

tbsp

Honey

½

tbsp

Lemon Juice

Kosher Salt
Instructions
Whisk all the dressing ingredients together.
For the Salad
Assemble all ingredients together for salad, and add dressing accordingly.
Notes
* To deseed cucumber cut it in half lengthwise and scoop out seeds with a spoon then dice it up.