A healthy Chickpea Coconut Curry packed with flavor to cozy up with any night of the week. Tomatoes, coconut milk, curry powder, and chickpeas are simmered together to create this Indian-inspired dish.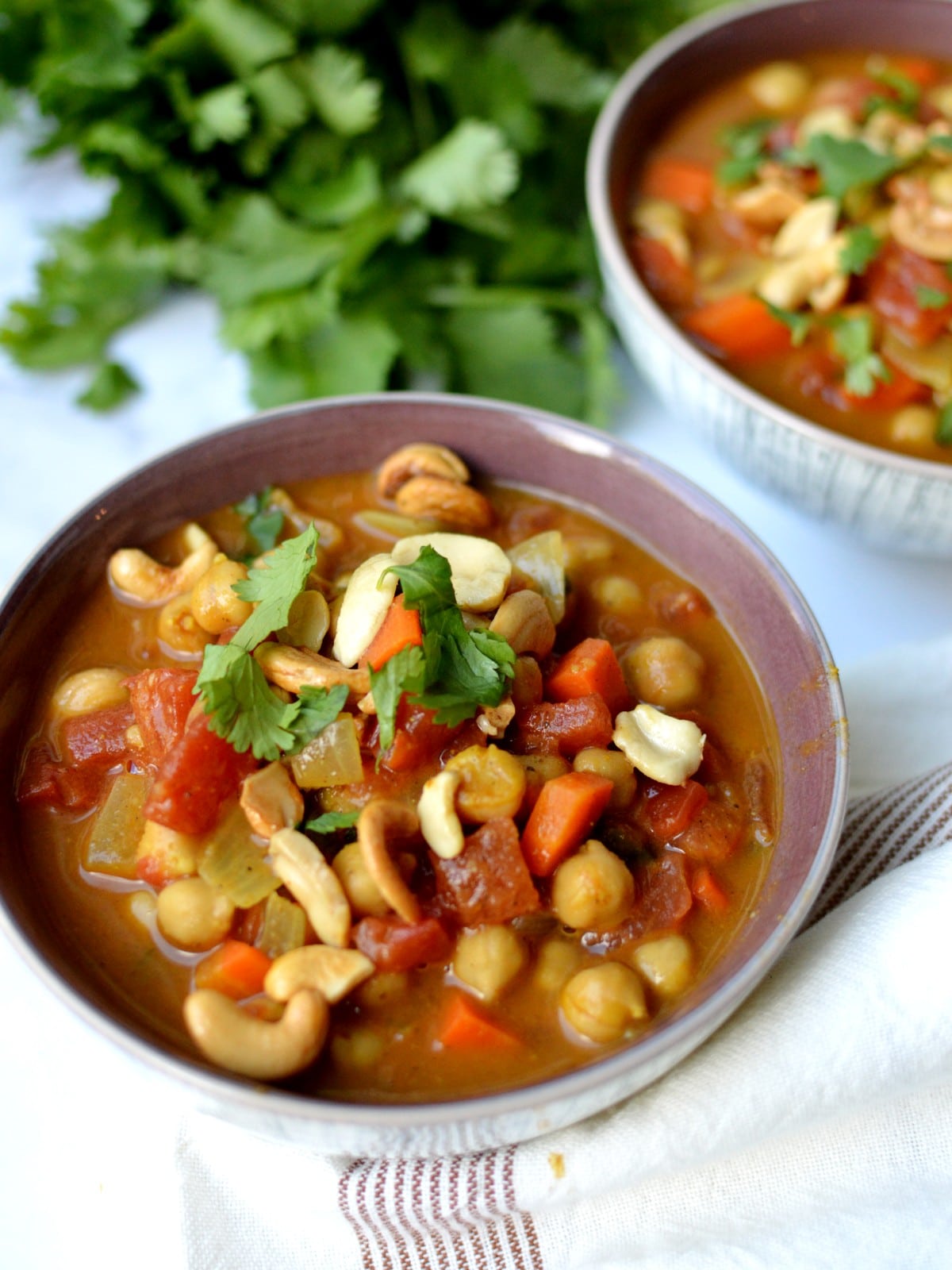 What makes this Creamy Chickpea Curry so amazing?
Ginger root, lime, cilantro, Garam Masala and coconut milk give this dish a complex and creamy flavor. I love Indian style spices. Chickpea recipes are great because they're so simple but also filling.
Garam Masala is an authentic Indian spice mix that typically contains Cloves, Peppercorns, Cinnamon, Cumin, Coriander and Cardamom. All of the store-bought ones vary slightly so don't fear if yours is a little bit different. Paired with a perfectly cooked long grain white rice, this chickpea coconut curry will convert you into a plant-based meal lover in no time. Or if you'd rather pair it with a flavorful green biryani rice that would be delish too!
Disclosure: This post may contain affiliate links. In other words, if you click a link and purchase something I will receive a commission at no cost to you. I only recommend products I use and enjoy myself.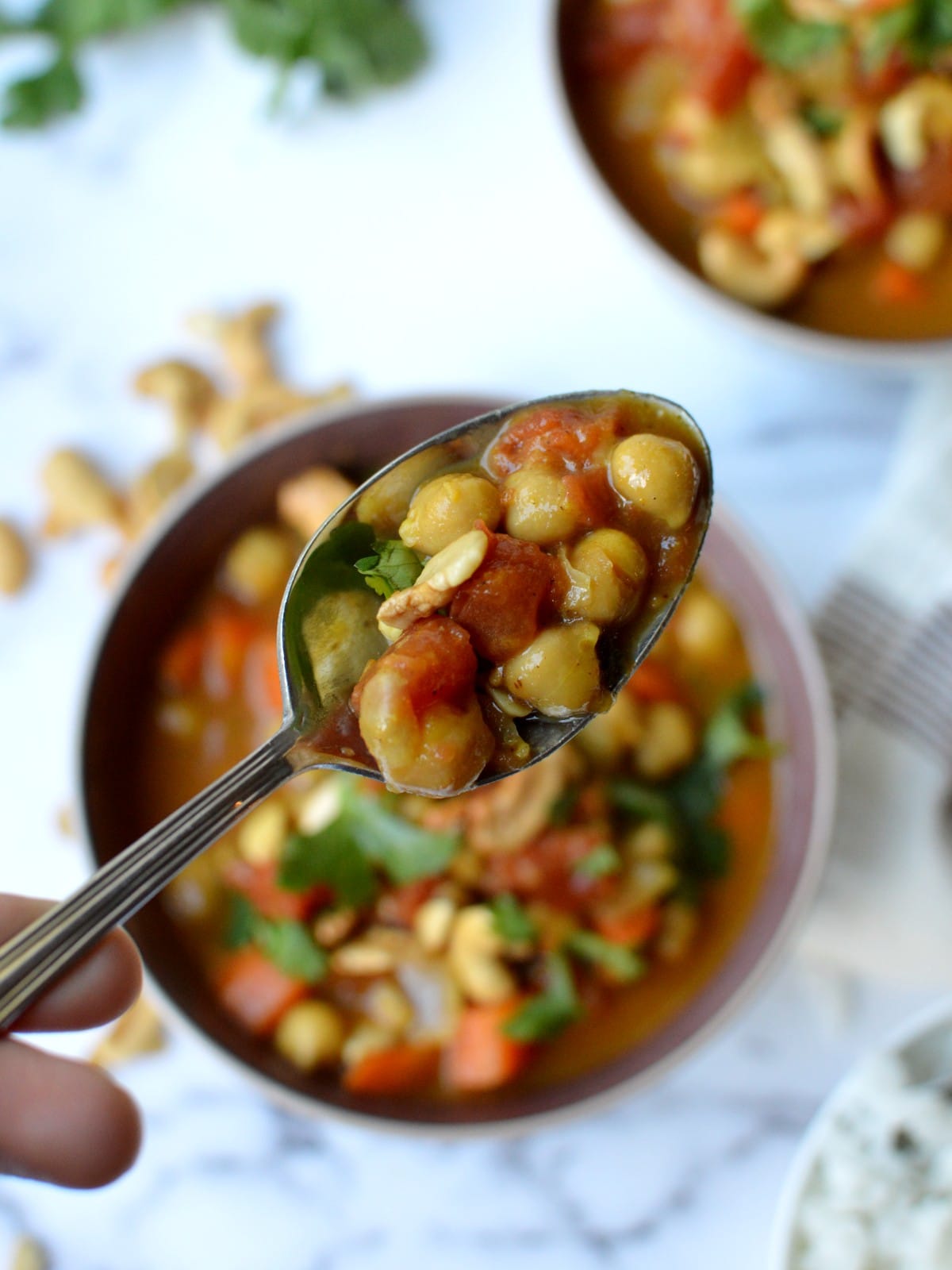 You need this Chickpea Curry Recipe in your life.
It's ahhmazing.
I've been digging plant-based meals lately for three reasons (hence this vegan chickpea curry)…
1) Matt and I have morphed into avid gardeners. Okay fine, Matt is the avid gardener and I try not to kill anything.
2) The incredible health benefits. My husband's cholesterol is high which feels a bit ironic considering Matt's more likely to order a salad when we eat out. Me? The bacon jam and cheddar burger with special sauce and French fries (gluten free, please!).
3) They taste amazing. Sometimes I am just plain tired of meat. (I said sometimes. See number two for reference) It's pretty incredible how you can transform vegetables into something so delicious.
Ingredients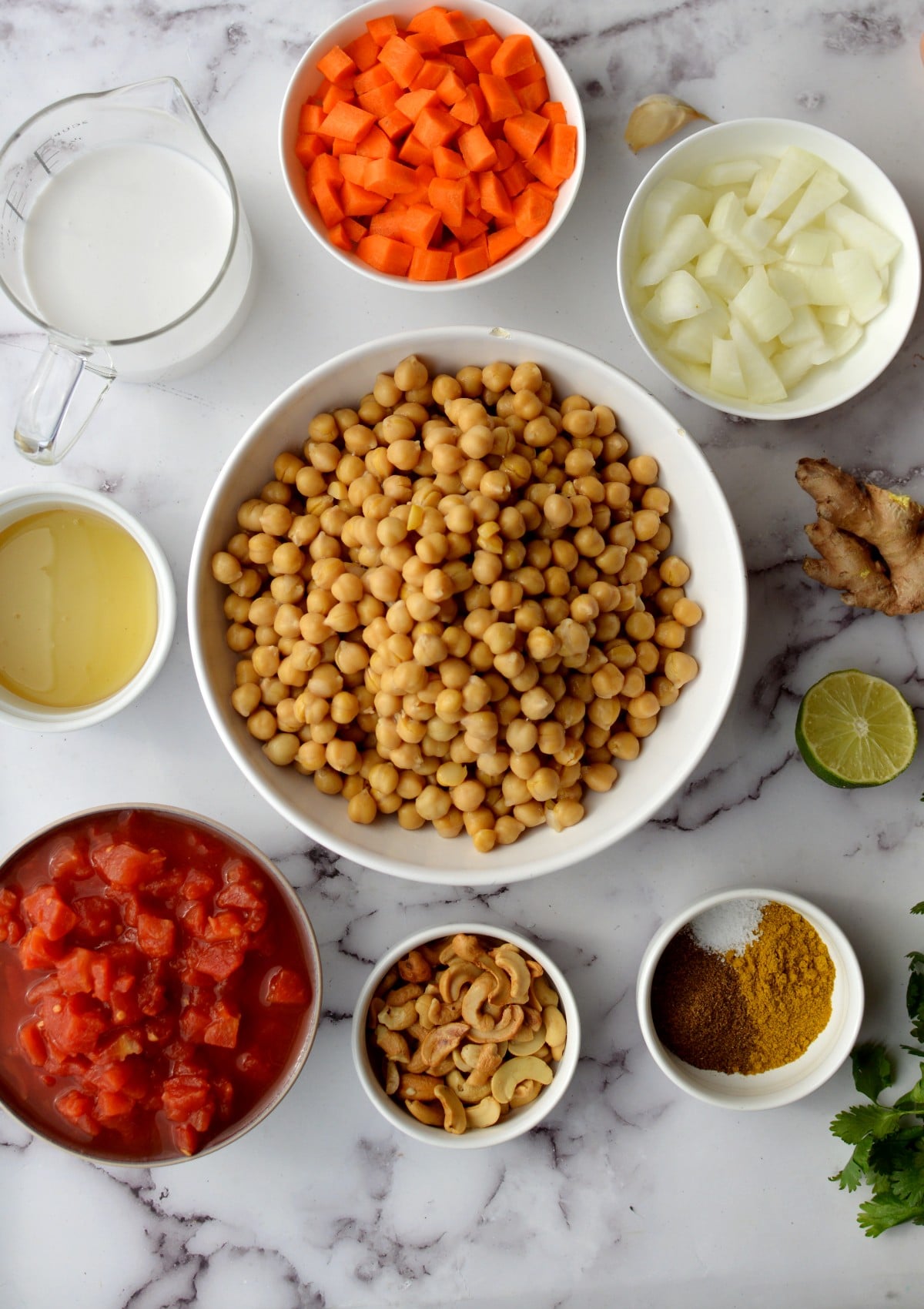 Vegetable oil - A neutral oil great for sautéing, this cooks the veggies and spices without any burn-age. You could also use olive oil or ghee here.
Carrots & onion - Not only do carrots and onion add a mountain full of nutrients but they add great flavor to this curry.
Ginger root - I love the kick and flavor of ginger root. If you don't love it feel free to leave it out.
Chickpeas - Chickpeas are rich in protein and fiber which makes them a perfect alternative (or addition) to meat.
Spices - Curry powder and garam masala are amazing spice blends to have on hand. They add a smash of flavor with very little effort.
Agave nectar - If you don't have agave then don't sweat it. You can use honey or maple syrup in its place. The key here is adding a small amount of sweetness.
Tomatoes - Tomatoes & vegetable broth are simmered together to make the liquid base of the curry.
Coconut milk - Coconut milk is delightfully rich and makes the curry perfectly creamy. It's also vegan and gluten-free! Be sure to buy the canned version. The kind in the carton isn't near as thick or rich.
How to make this coconut chickpea curry recipe:
There are a lot of ingredients but it's rather simple to make.
Prep your Veggies
Prep your vegetables. Dice up your carrots, and onion then grate your ginger. Open up all your cans. It's important to be prepared before you start. This way instead of scrambling you can enjoy your time in the kitchen.
Sauté Veggies
Sauté your carrots in a hot pan with some olive oil first. Carrots take longer to cook than onions and we also don't want the garlic to cook too long and become bitter. Then add your onion, garlic and spices and sauté a few more minutes.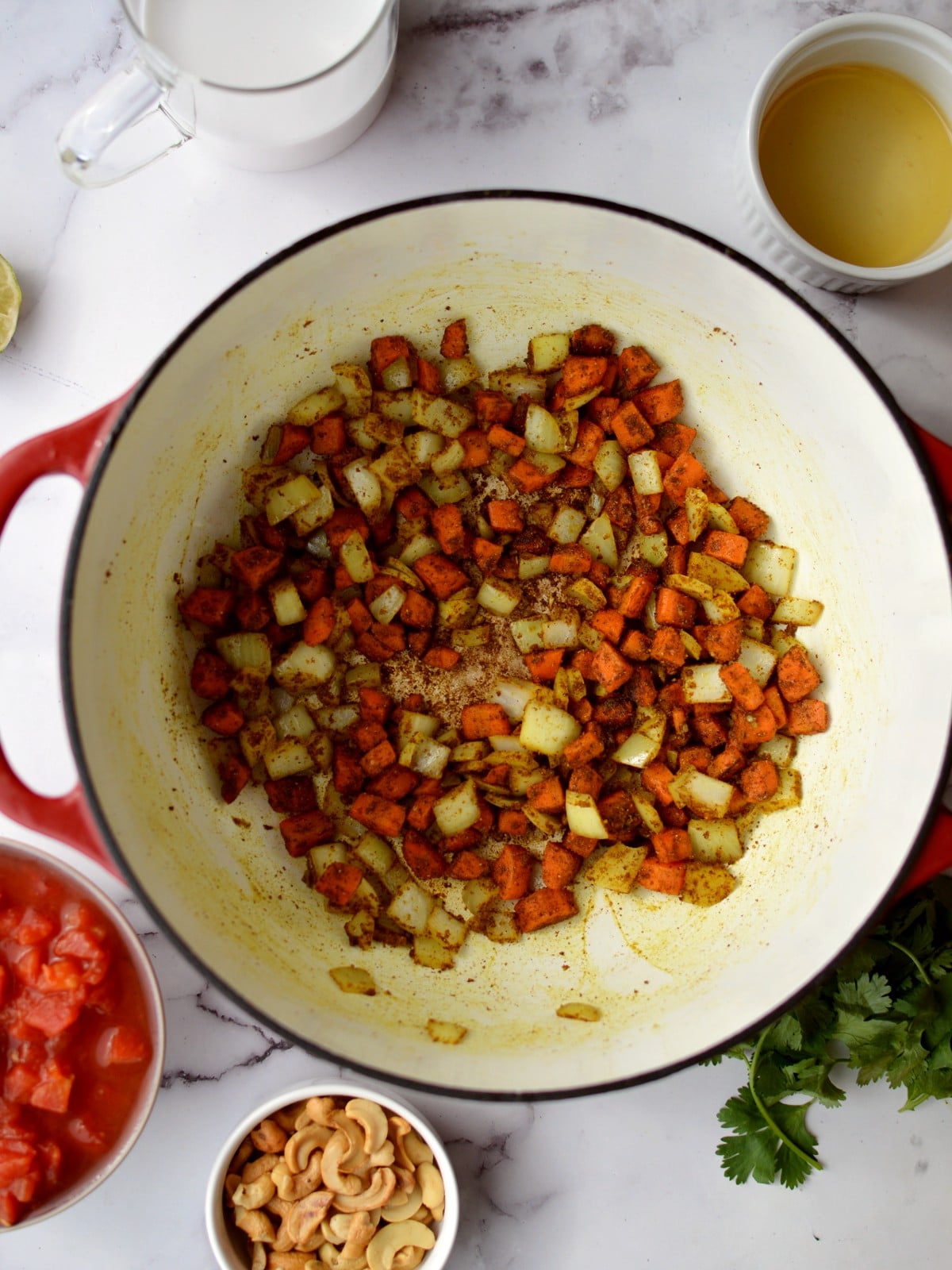 Add Ingredients & Simmer
Add the tomatoes, ginger root, coconut milk, agave, and vegetable broth. Trust me when I say simmering is not optional. Simmering is such a vital part of so many recipes. It really brings all the flavors together.
Stir in Lime & Cashews then Enjoy
Stir in the lime juice, cashews, and cilantro then enjoy warm with white rice.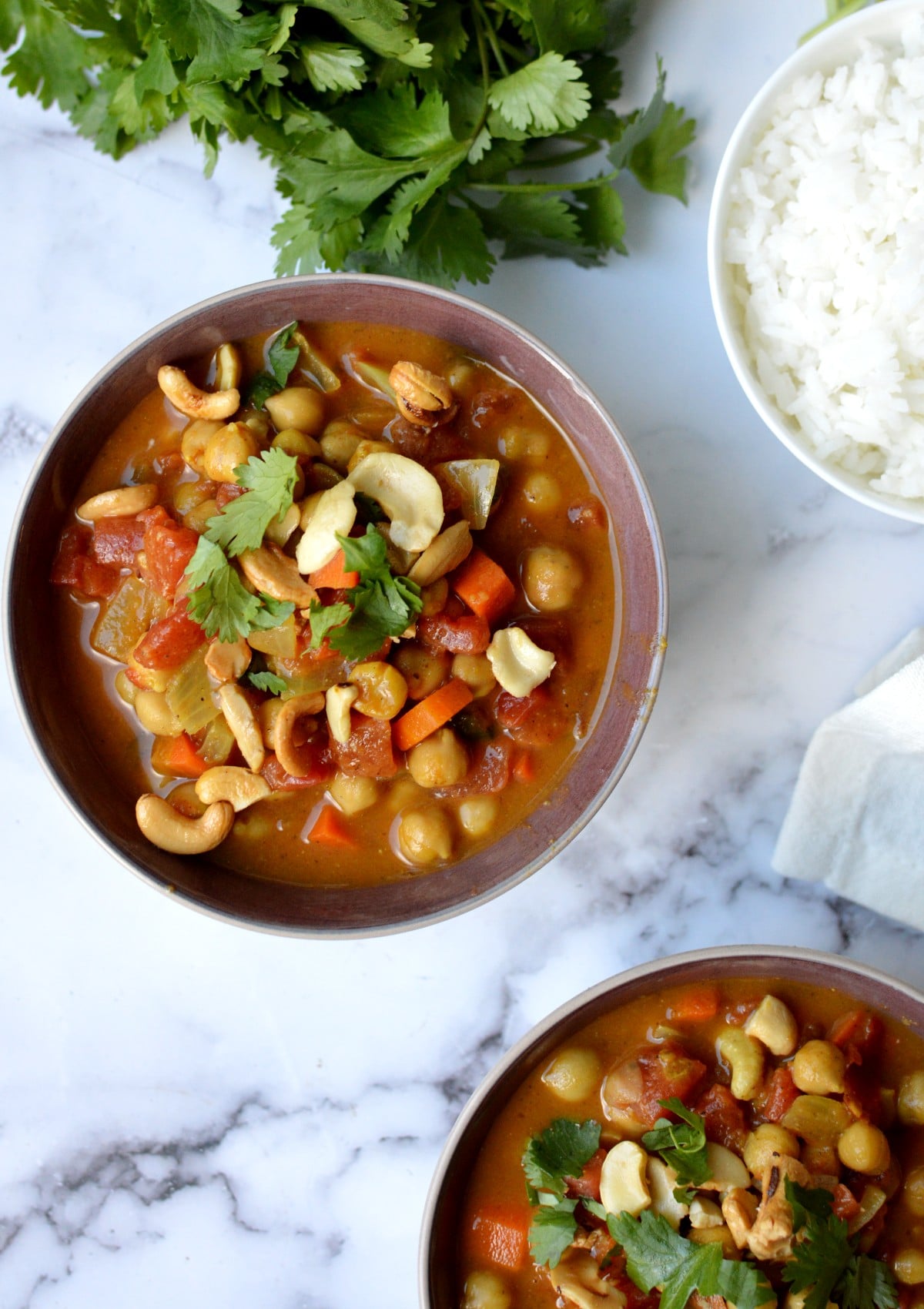 Recipe Tips & Substitutions
This super useful microplane will help with most recipes calling for ginger root. It can be a bit chewy, gritty and off putting in tiny chunks. I like to peel it, then grate it (watch those fingers!) and throw it in many of my recipes. Microplanes are also great for zesting citrus. I couldn't live without mine.
You could add spinach, sweet potato, regular potatoes, or even meat to this chickpea curry. The opportunities are rather endless. If you want to add potatoes or meat be sure to cook it before adding it to the curry.
Chickpea curry will stay good for up to 4 days in the refrigerator. Reheat in the microwave until warmed through or in a pot on the stove.
Other Recipes You Might Love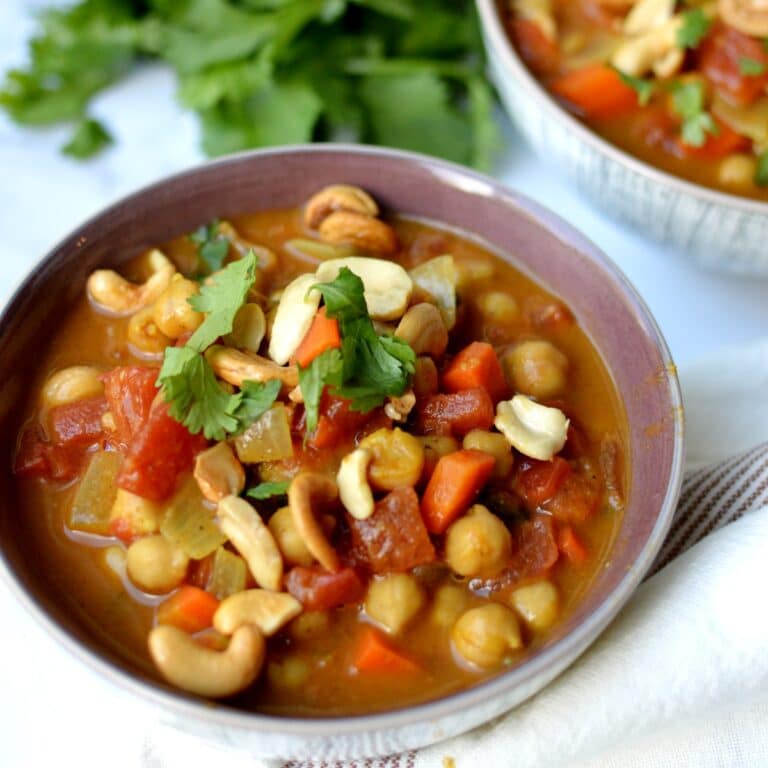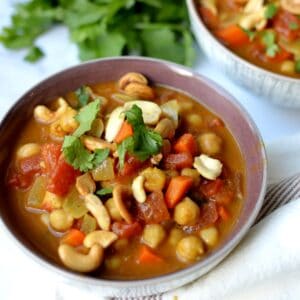 Chickpea coconut curry
Ginger root, lime, cilantro, Garam Masala and coconut milk give this creamy chickpea curry a complex and creamy flavor. 
Ingredients
Creamy Chickpea Curry
2

T.

vegetable oil

3

medium carrots, peeled & diced

1

medium sweet onion, peeled & diced

1

garlic clove, minced

1

tbsp

curry powder

2

t.

garam masala

1

T.

ginger root, peeled & grated

3

cans chickpeas, drained

1

T.

agave sweetener

or honey

28

oz.

diced tomatoes

1

cup

vegetable broth

1

cup

canned coconut milk

¾

t.

salt

¾

cup

cashews

½

lime

juiced

handful of torn cilantro

3

Cups

Cooked long grain rice
Instructions
Place a large pot on medium high heat and add vegetable oil. Sauté diced carrots on medium high until beginning to soften, around 4 minutes. Add diced onion, minced garlic, and spices and sauté 3 more minutes.

Add ginger pulp, tomatoes with juice, vegetable broth, chickpeas, coconut milk, kosher salt, and agave.

Simmer on medium low heat for 20 minutes stirring occasionally to prevent the bottom from burning.

Stir in cilantro, lime and cashews at the very end.
Nutrition
Calories:
247
kcal
Carbohydrates:
22
g
Protein:
6
g
Fat:
17
g
Saturated Fat:
10
g
Polyunsaturated Fat:
2
g
Monounsaturated Fat:
4
g
Sodium:
491
mg
Potassium:
614
mg
Fiber:
5
g
Sugar:
11
g
Vitamin A:
5347
IU
Vitamin C:
19
mg
Calcium:
76
mg
Iron:
4
mg