This iron rich smoothie is sweet, creamy, and jam-packed with healthy fruits and iron-rich spinach! It makes a refreshing on-the-go breakfast or nutritious snack. Dairy-free, vegan, & gluten-free!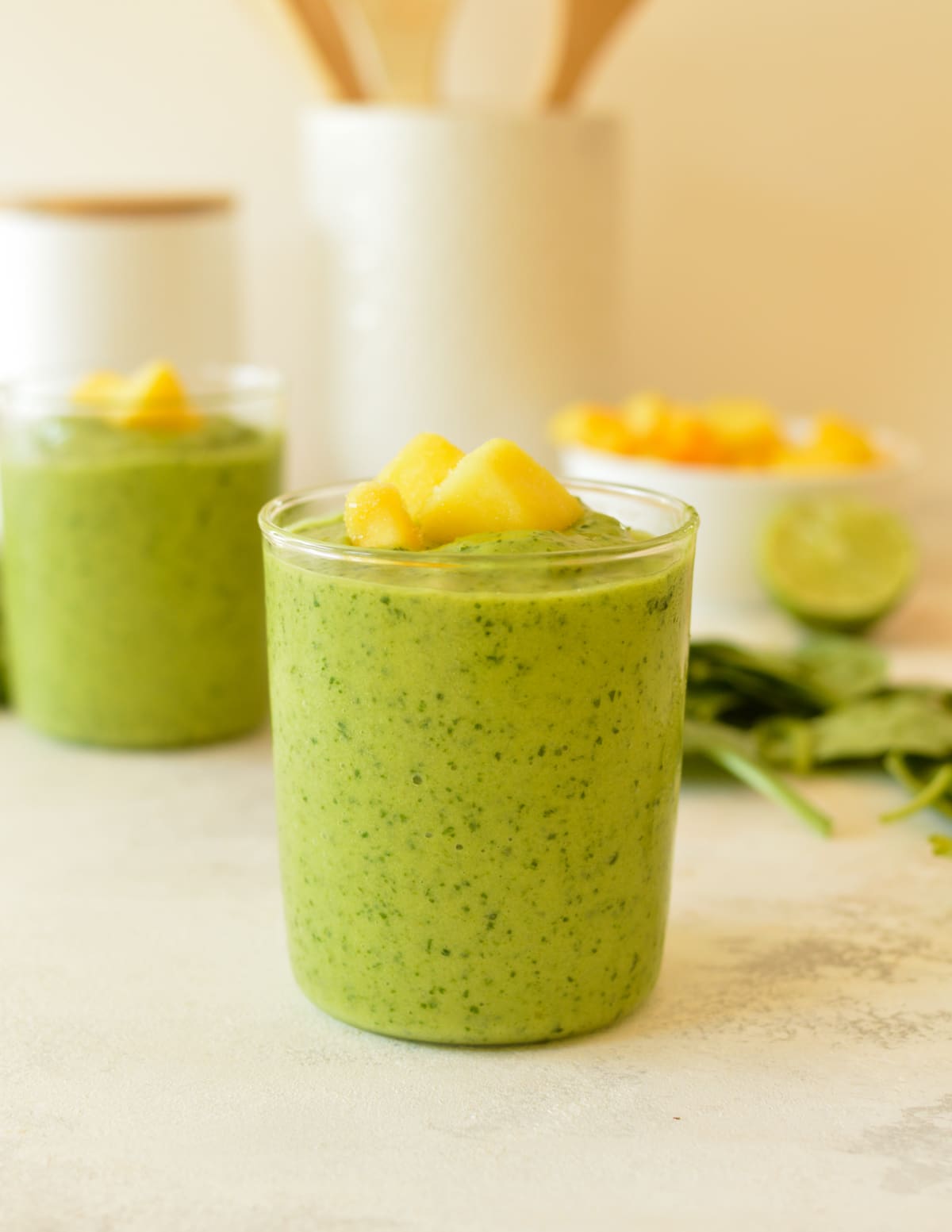 Iron is a crucial mineral found in foods such as beef, spinach, sweet potatoes, and peas. It supports a healthy metabolism, connective tissue, physical growth, and brain development. It's important to consume iron in the food we eat, but it can be difficult to get enough!
If you're looking for ways to add more iron to your diet, this high iron smoothie is a quick and delicious way to do it!
It's jam-packed with naturally iron-rich foods like spinach, avocado, and pineapple. It's naturally sweet with no refined sugars or pasteurized fruit juice, and it's got plenty of vitamin C to increase iron absorption.
This iron-boosting smoothie is a great way to start the day! It gives me lasting energy and it tastes like a sweet treat.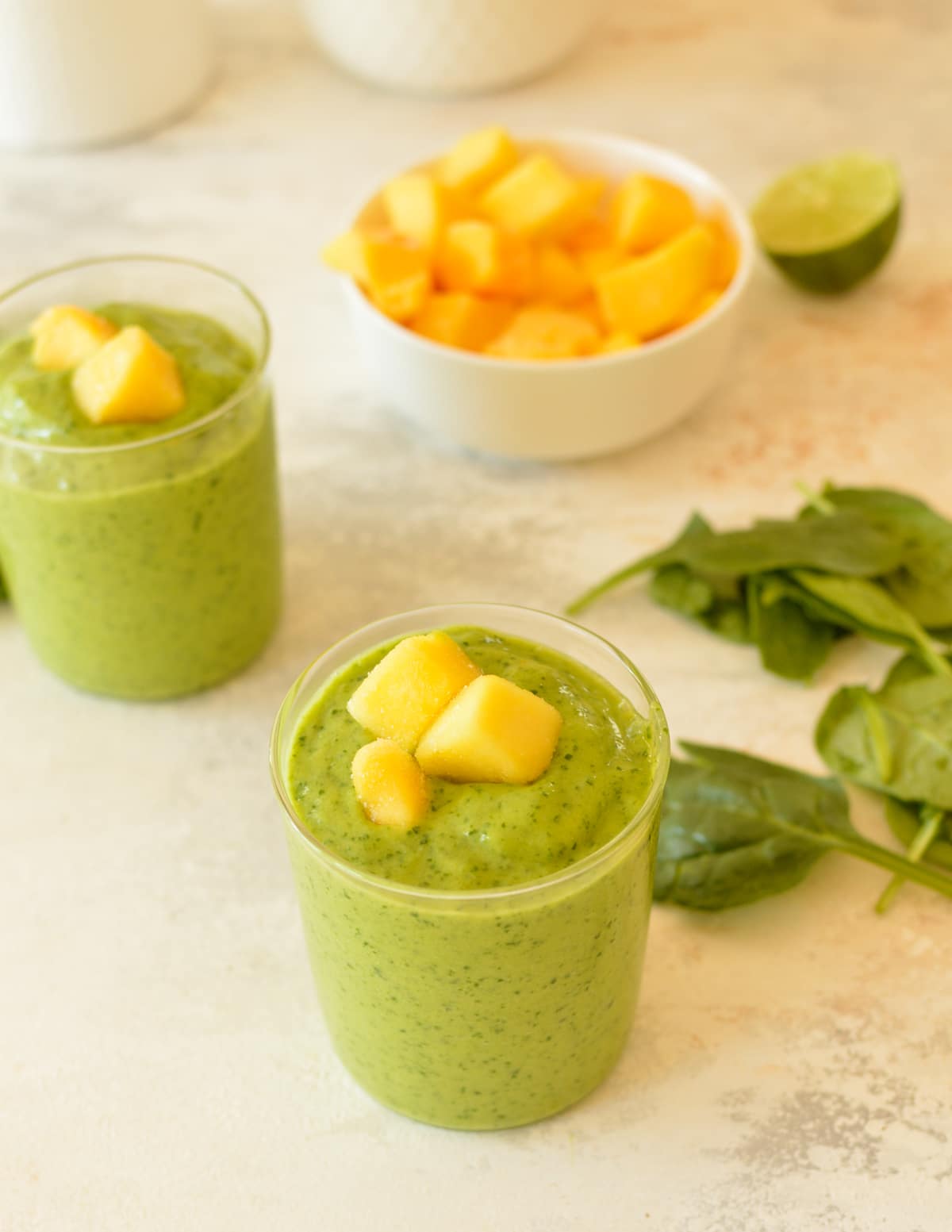 Why you will love it
It's high in iron, vitamin C, and potassium.
It's packed with fiber, healthy fats, and complex carbs.
Made with whole foods like spinach, avocado, pineapple, and banana
No added sugars or sweeteners
Makes a quick on-the-go breakfast or snack
Ingredients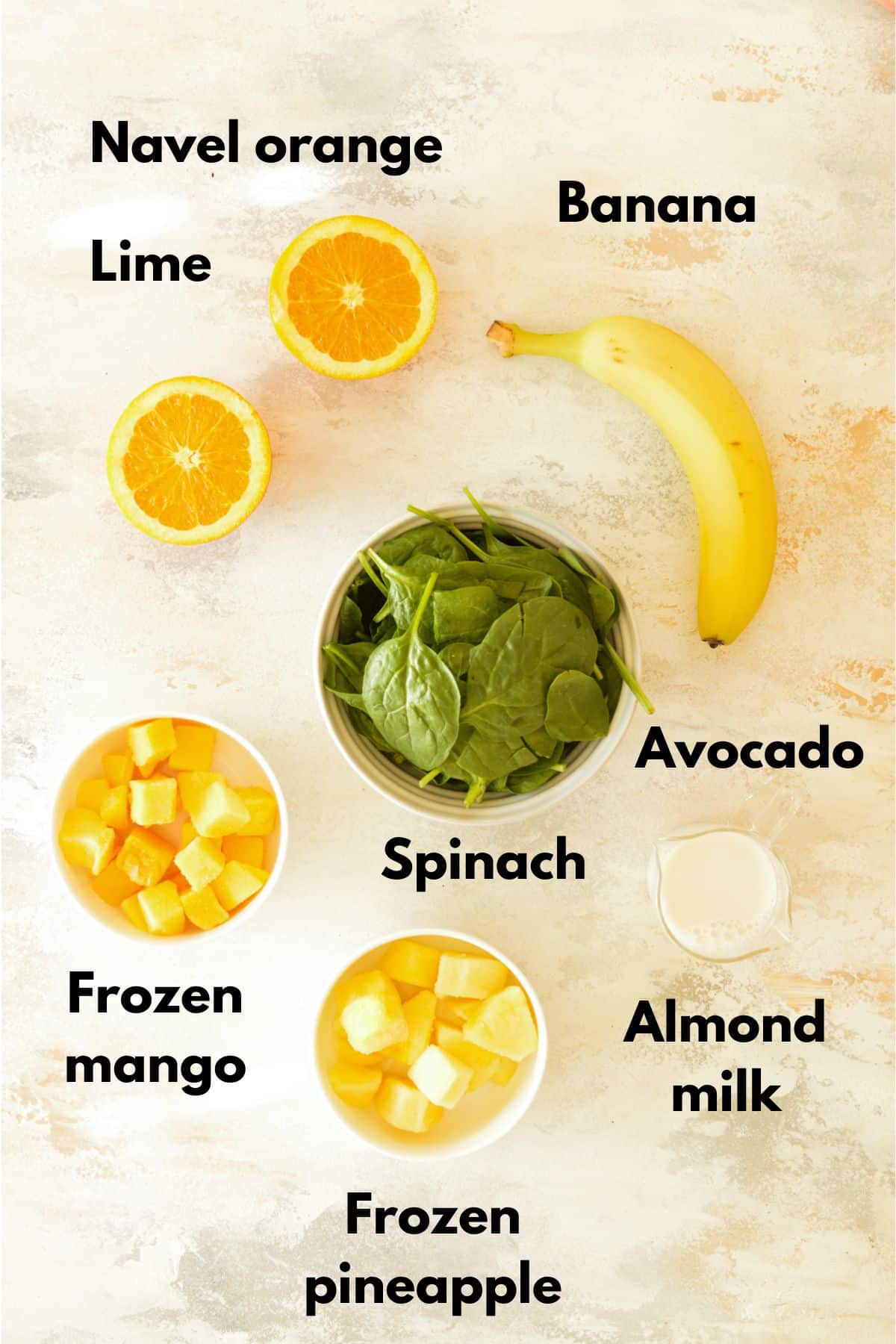 Spinach - This leafy green veg has soft leaves and a mild flavor that works great in smoothies! It's low in calories, high in fiber, and rich in vitamins and minerals. For best results, use fresh baby spinach. A 100 gram serving of spinach contains 2.6 milligrams of iron!
Avocado - An avocado is full of healthy fats that keep you feeling satiated! It's also super creamy and a great way to thicken a smoothie and add nutrients. Avocadoes are rich in vitamins E, C, B6, and K. Be sure to use a ripe avocado!
Pineapple & mango - This tropical pair is a smoothie's dream duo! They're naturally sweet and refreshing, plus they go great with the mild taste of spinach. And their bright yellow color doesn't muddy the color of the smoothie, giving you a bright green smoothie.
Banana - To naturally sweeten and thicken the smoothie. Always use a ripe banana! As a banana ripens, its starch converts to sugar making the banana sweet and creamy.
Navel orange - The juice of a navel orange is much sweeter than the carton! If you don't have one, a splash of orange juice will do the trick.
Almond milk - Be sure to buy unsweetened almond milk. Most brands add sugar to their plant-based milks and call them original. You have to specifically buy the unsweetened kind if you don't want added sugar.
Lime - To bring out all the sweet flavors of the fruit. A little acid goes a long way in terms of bright flavor!
How to make this smoothie
This smoothie rich in iron is simple to make! You just need a high-speed blender like a Ninja or a Vitamix.
In a high-speed blender, add the baby spinach.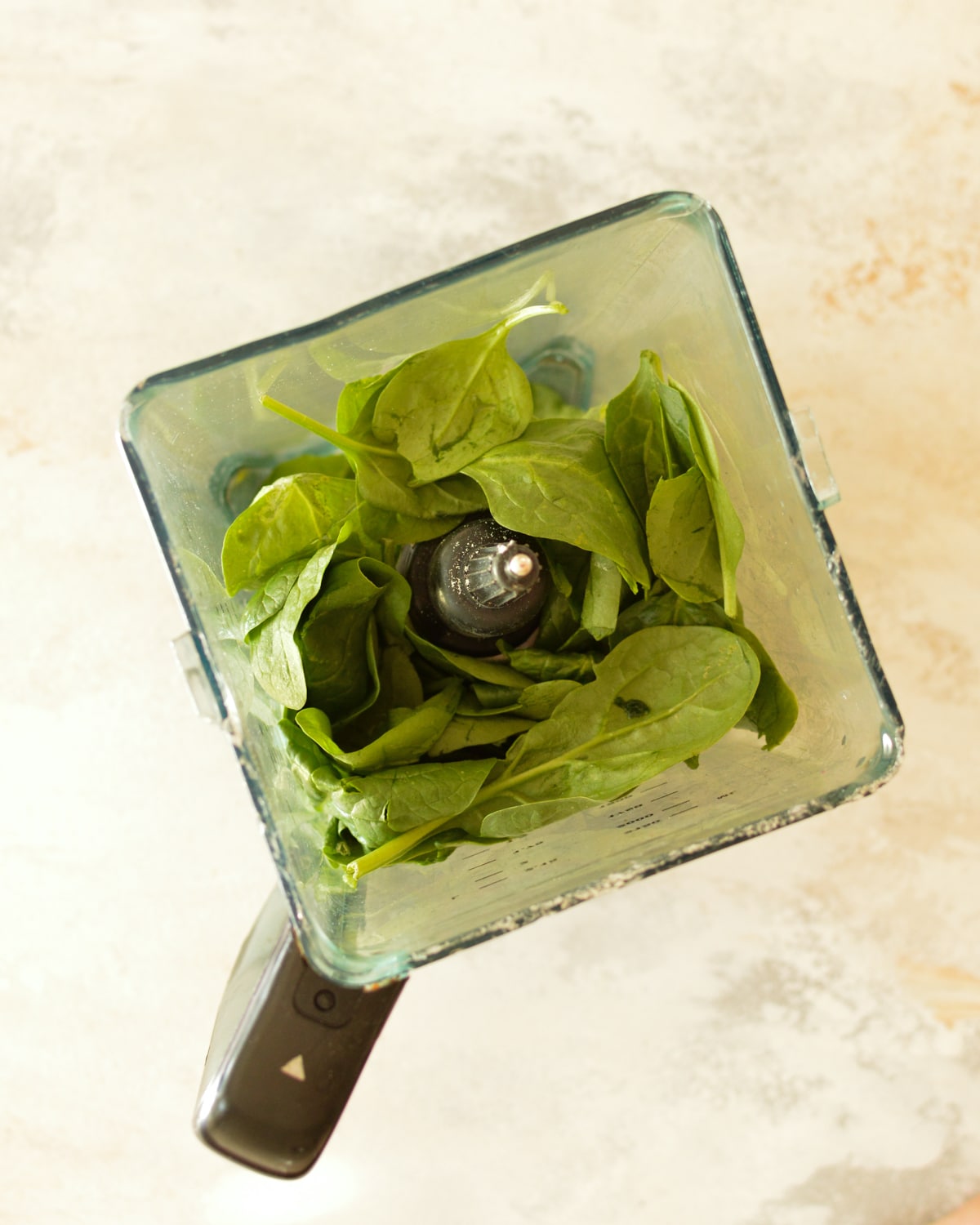 Add the avocado, frozen pineapple, frozen mango, and banana.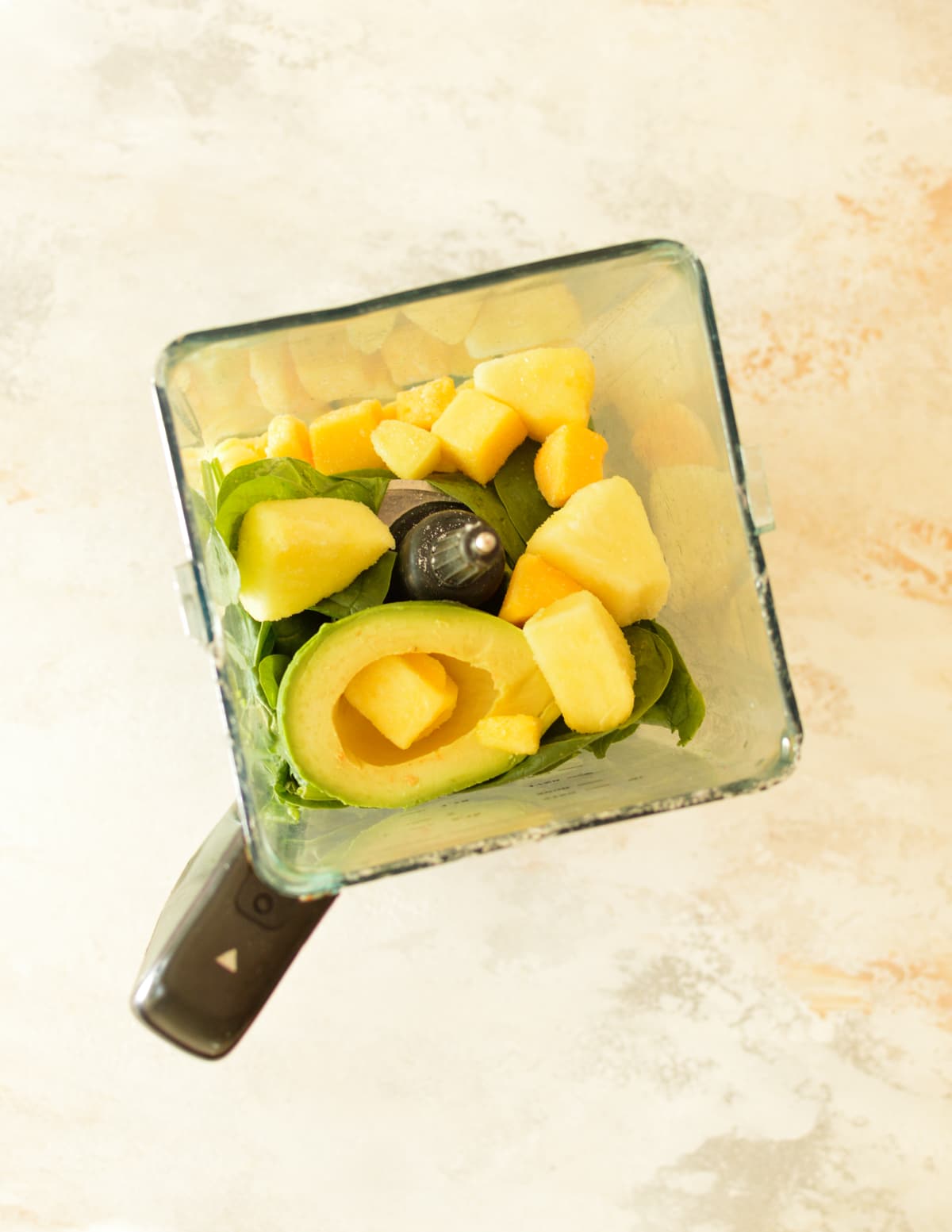 Squeeze the juice of the orange and the lime into the blender. Add the almond milk.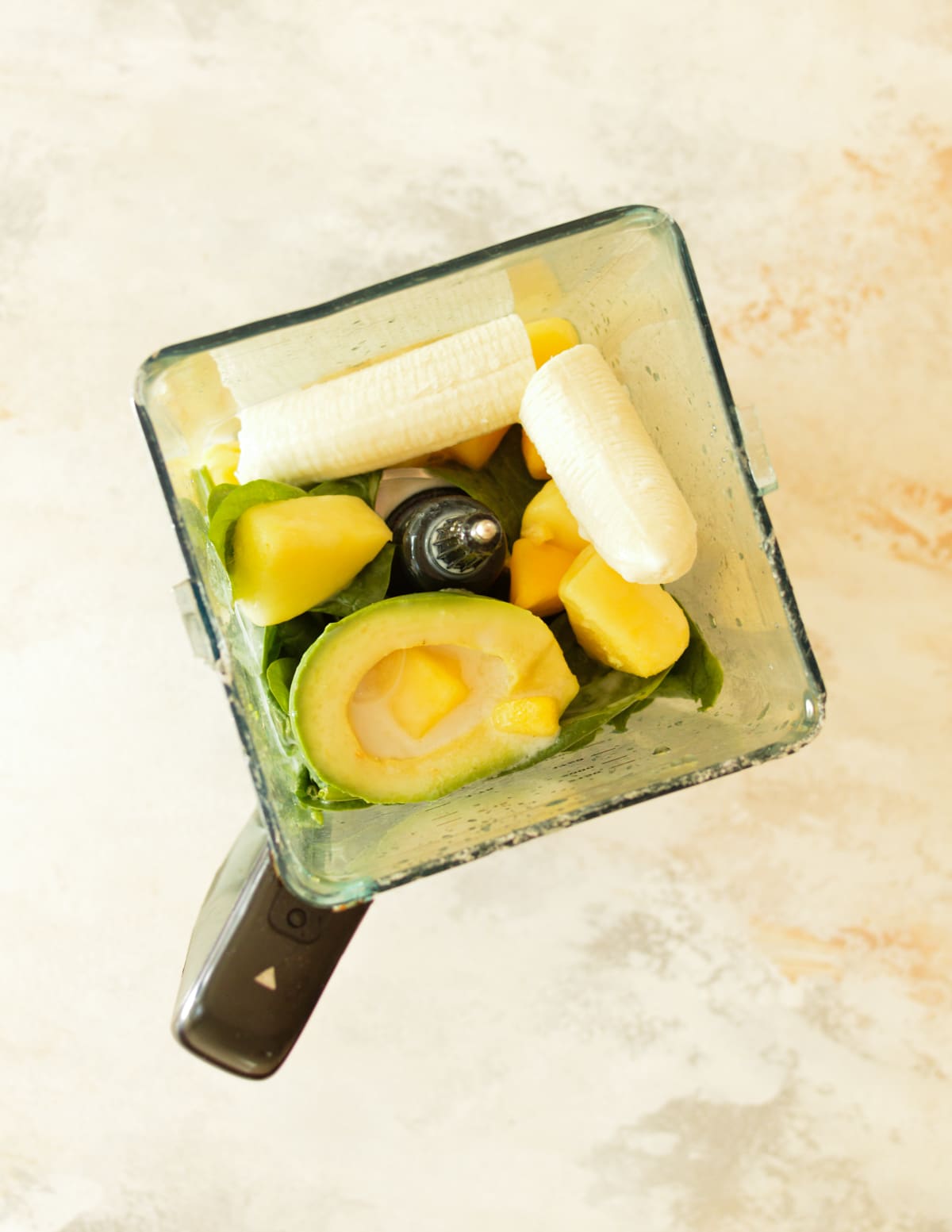 Blend until thick, creamy, and smooth.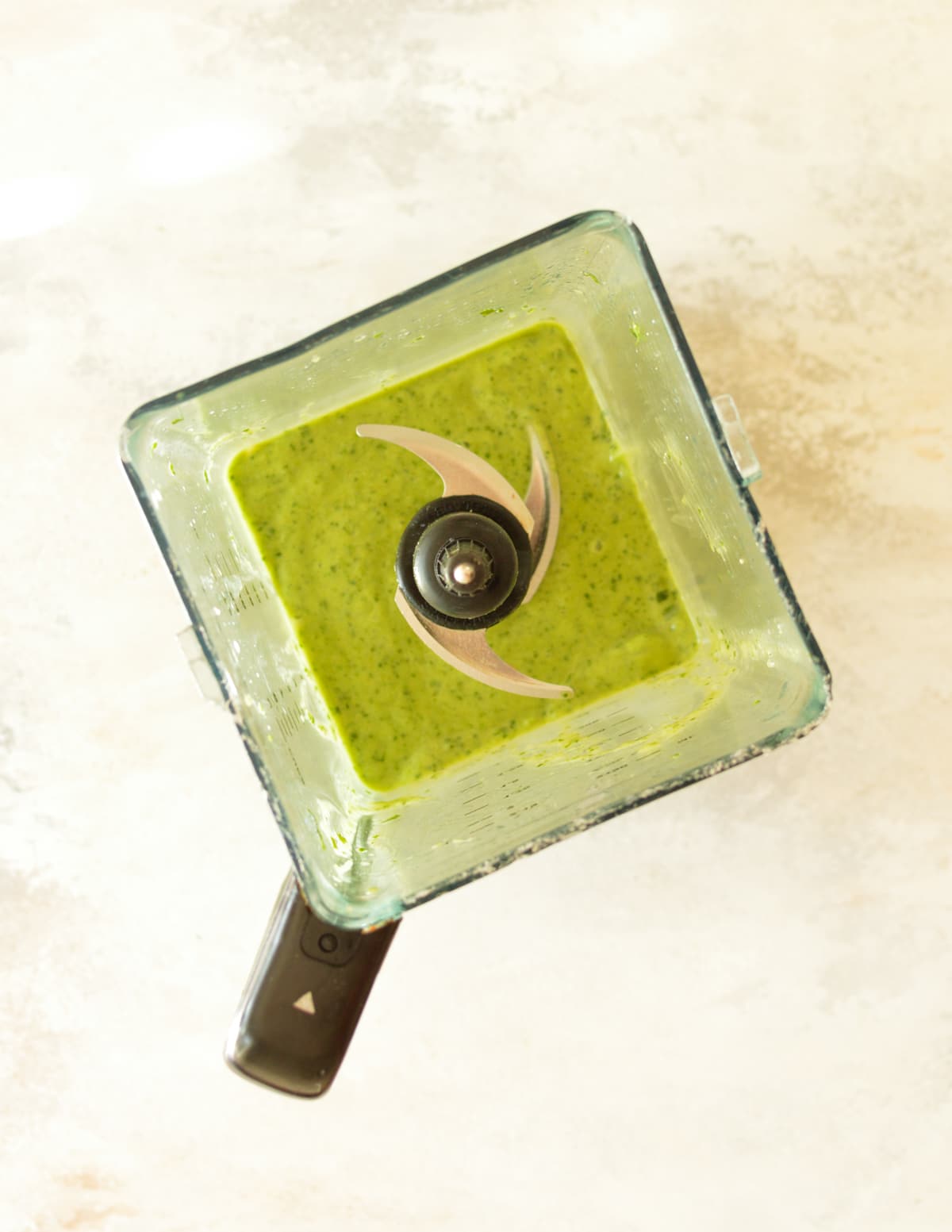 Enjoy immediately!
Recipe Tips
Don't add ice! You don't need to! Frozen fruit thickens the smoothie perfectly and ice just makes the texture icy. Ice also makes the smoothie melt faster.
If you want the smoothie thinner, add a splash more almond milk. For a thicker smoothie or a smoothie bowl, add more frozen pineapple or mango.
Don't use a green banana! Make sure your banana is ripe. A ripe banana is sweet and creamy, while an unripe banana tastes bitter and chalky.
Use a high-speed blender if possible. If you don't have one, it will taste delicious but the texture of the spinach won't be as smooth.
Variations
Toppings: I like to add toppings to my smoothies and eat them with a spoon! Try cacao nibs, granola, pumpkin seeds, fresh fruit or berries, chia seeds, shredded coconut, or whipped cream.
Protein: Add a scoop of Greek yogurt. Keep in mind that the calcium in yogurt can prevent iron absorption.
Fruit: Swap the frozen pineapple or mango with frozen strawberries or peaches!
FAQs
Healthy Smoothie Recipes