This addictively good gluten free blueberry crisp is easy to make and eat! An oat crumb topping covers jammy blueberries for a dessert so delicious you'll make it over and over.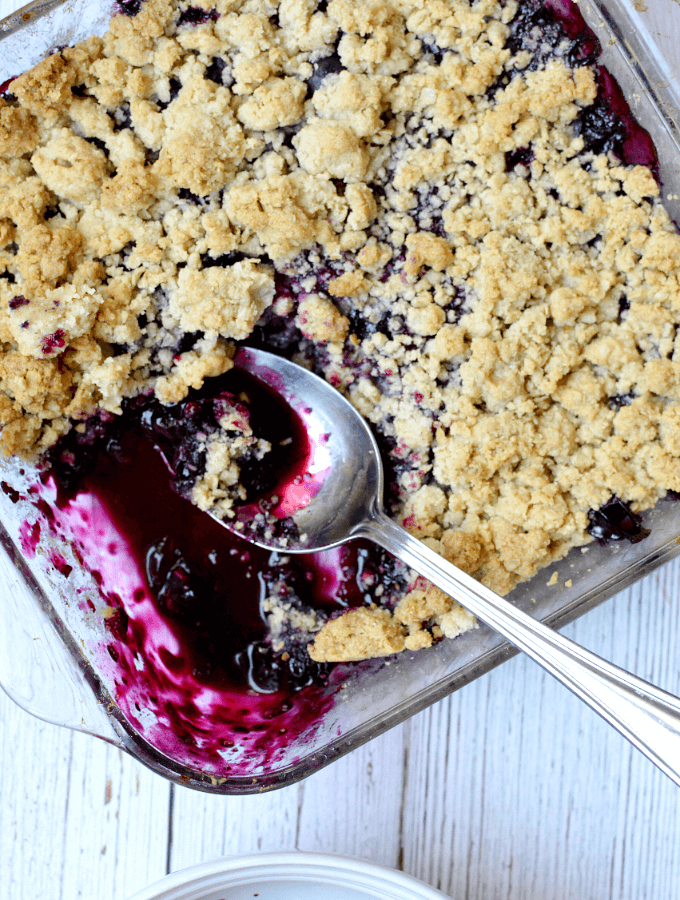 My favorite time to make crisps and crumbles, believe it or not, is in the wintertime. It's a sweet reminder of the sunny days that I miss so dearly in the winter. I love to make this gluten free berry crisp as well but I will say I much prefer a crisp to a gluten free blueberry cobbler.
I like to use frozen blueberries for two reasons:
You can find them all year long for the same price and condition. Fresh blueberries cost mucho dinero out of season.
Fresh blueberries don't make it past my mouth much less into any baked dessert.
I pop them into my mouth by the handful. I love snacking on fresh blueberries so much it's hard to bake with them.
Disclosure: This post contains affiliate links. In other words, if you click a link and purchase something I will receive a commission at no cost to you. I only recommend products I use and enjoy myself.
Blueberry Crisp Ingredients:
Frozen blueberries
Cornstarch
Lime Juice
Sugar
Butter
Brown Sugar
Bob's Red Mill 1:1 All Purpose Gluten Free Flour (My favorite!)
Gluten Free Quick Cooking Oats
Kosher Salt
I am obsessed with lime BUT blueberries and lime juice belong together.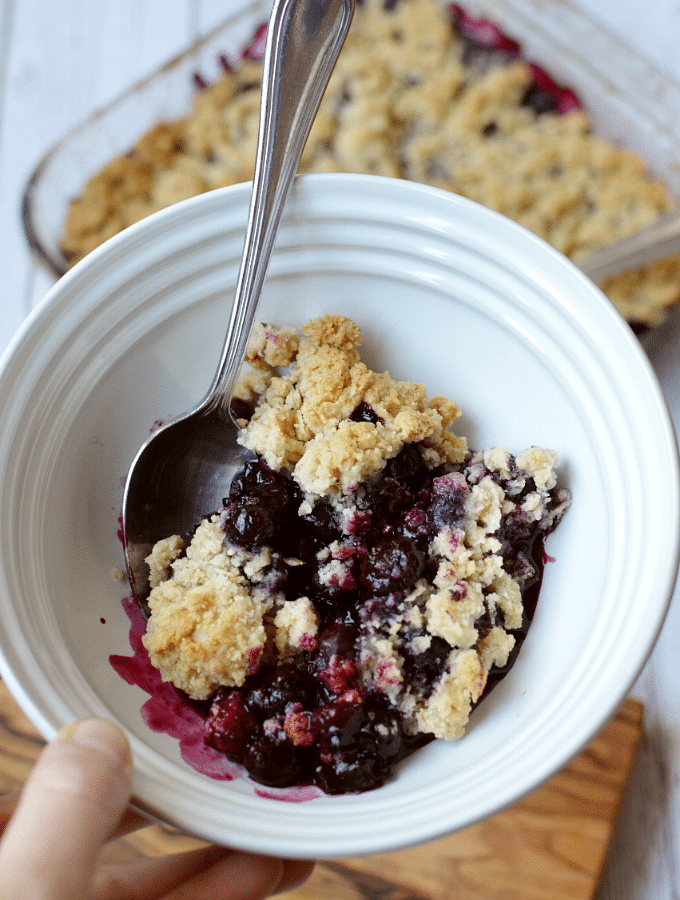 How to make a gluten-free blueberry crisp:
Make crisp topping.

Combine cold cut-up butter, sugar, brown sugar, salt, flour, and quick cooking oats into a bowl or a food processor.
If using your hands work the butter until the mixture is completely combined and resembles crumbly cookie dough. If using a food processor buzz the mixture up until it resembles crumbly cookie dough.

In a bowl mix together frozen blueberries, cornstarch, lime juice, and sugar. Pour into an oven-safe 8 by 8 pan.
Top the blueberry mixture with the crumb mixture. Spread evenly so the entire pan is covered in the crumb topping.
Bake in a 350 degree oven for 60 to 70 minutes until the top is golden brown and blueberries are bubbling.
Super simple!
Tips for the best results:
Do not mix the blueberries with the sugar, cornstarch, and lime directly in the 8 by 8 pan. The first time I made this I completely forgot to do it in a bowl, and I thought meh it will be okay. It wasn't.
I should have known better because if I've learned anything from baking it's cutting corners isn't worth it!
If you do it this way, the cornstarch will get stuck at the bottom of the pan and will stay there. Nobody wants a big bite of gluey, chalky cornstarch - yuck. The cornstarch is there to thicken up the blueberries a bit so they have a jammy consistency. Blueberries release quite a bit of water when cooked especially frozen ones. The cornstarch helps thicken it up just a touch so it's not too liquidy.
Once you mix it all up in the bowl pour the blueberries into the pan and let the cornstarch-sugar mixture fall on top of the blueberries. Spread it around a bit so it's evenly distributed.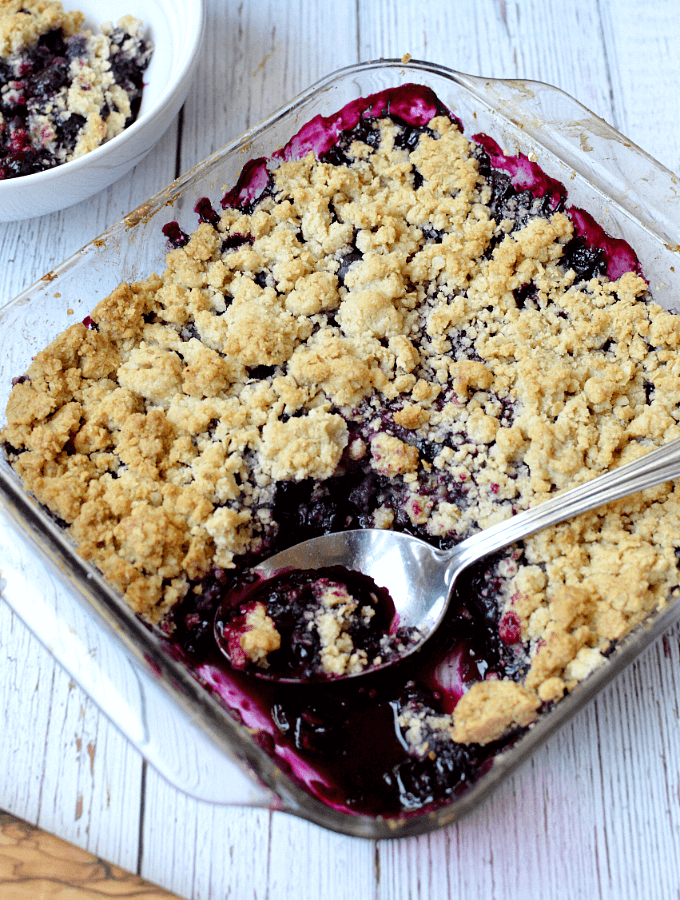 Can you freeze a blueberry crisp?
I'm all about freezing desserts. More than that I'm all about saving time and making life easier which is exactly why I LOVE freezing desserts!
You can freeze this blueberry crisp two different ways:
Assemble it and then freeze it precooked.
Bake it, enjoy it and then freeze the leftovers.
To freeze it precooked:
Make the crisp as directed but instead of baking cover well with Saran Wrap then aluminum foil and freeze. Once ready to use it bake as directed by the recipe.
To freeze after it's baked:
Once completely cool scoop individual size portions onto a parchment or Silpat lined sheet pan. Place the sheet pan into the freezer and freeze until completely frozen. Put the individual portions into a gallon size freezer bag.
To reheat the individual size portions put in a bowl and microwave until hot for approximately 1 minute or reheat in a 350 degree oven until heated through. This should take about 25 minutes.
Don't forget gluten free oats!
This is so important that I dedicated a whole paragraph to it.
If you want this to be a gluten free blueberry crisp be sure to buy gluten free oats! Oats are processed in facilities with gluten-producing grains and therefore the risk for contamination is almost certain. You can read more about it here if you like but be sure to buy oats that are labeled gluten free.
I buy Bob's Red Mill's Gluten Free Quick Cooking oats. You can tell which ones are gluten free because they have a big red banner at the top with gluten free written on it.
To make this blueberry crisp flourless:
If you want to make this gluten free blueberry crisp with oats without using any alternative flours you can do that too! Simply use 1 cup of gluten free quick cooking oats and ½ cup of gluten free old fashioned oats for the topping instead of the flour and oats in the recipe.
Although I wouldn't say it turns this recipe into a healthy blueberry crisp (hence all the sugar) it does make it a little bit healthier. Oats are a great source of important vitamins and fiber.
I love to use quick cooking oats in baked goodies because they absorb the liquid much quicker than old fashioned oats. Because of this, they act more like flour than chewy oats in recipes.
If you are always on the hunt for amazing gluten free desserts I got you covered!
Check out these Gluten Free Chocolate Chip Cookies or check out my desserts page! Everyone needs an amazing chocolate chip cookie recipe in their pocket.
Happy Baking!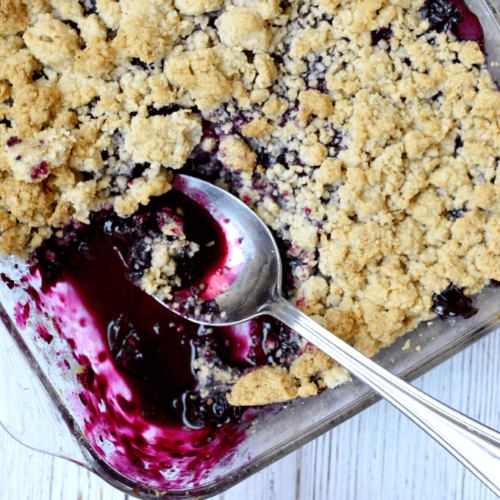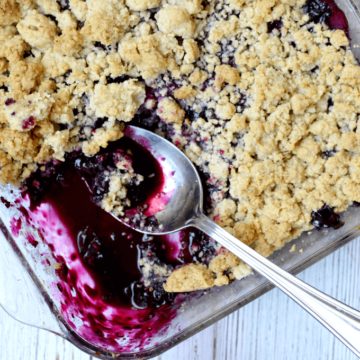 Gluten Free Blueberry Crisp
Ingredients
6

cups

Frozen Blueberries

2

tbsp

Cornstarch

1

tbsp

Fresh Squeezed Lime Juice

3

tbsp

Sugar
For the crumb topping:
8

tbsp

Butter, cold and cut into pieces

¼

cup + 2 tbsp

Sugar

¼

cup

Brown Sugar

¼

t.

Kosher Salt

¾

cup

Gluten Free Quick Cooking Oats

I used Bob's Red Mill
Instructions
Preheat the oven to 350 degrees and spray an 8 by 8 oven safe pan with nonstick cooking spray.

Using a large spoon stir the frozen blueberries, sugar, lime juice and cornstarch together in a large bowl until mixed well. Pour into the greased pan letting the cornstarch-sugar mixture pour over the top. Set aside.

Wipe out the bowl and make the topping. Combine all the topping ingredients and cut the butter into the mixture with your hands until it resembles crumbly cookie dough. You can do it in a food processor if you prefer.

Spread the topping evenly over the blueberries and bake for 60 to 70 minutes until the top is golden brown and the blueberries are bubbly.