Crispy edges, soft centers, and plenty of melty chocolate, these gluten free chocolate chip cookies are addictively delicious! They vanish all too quickly.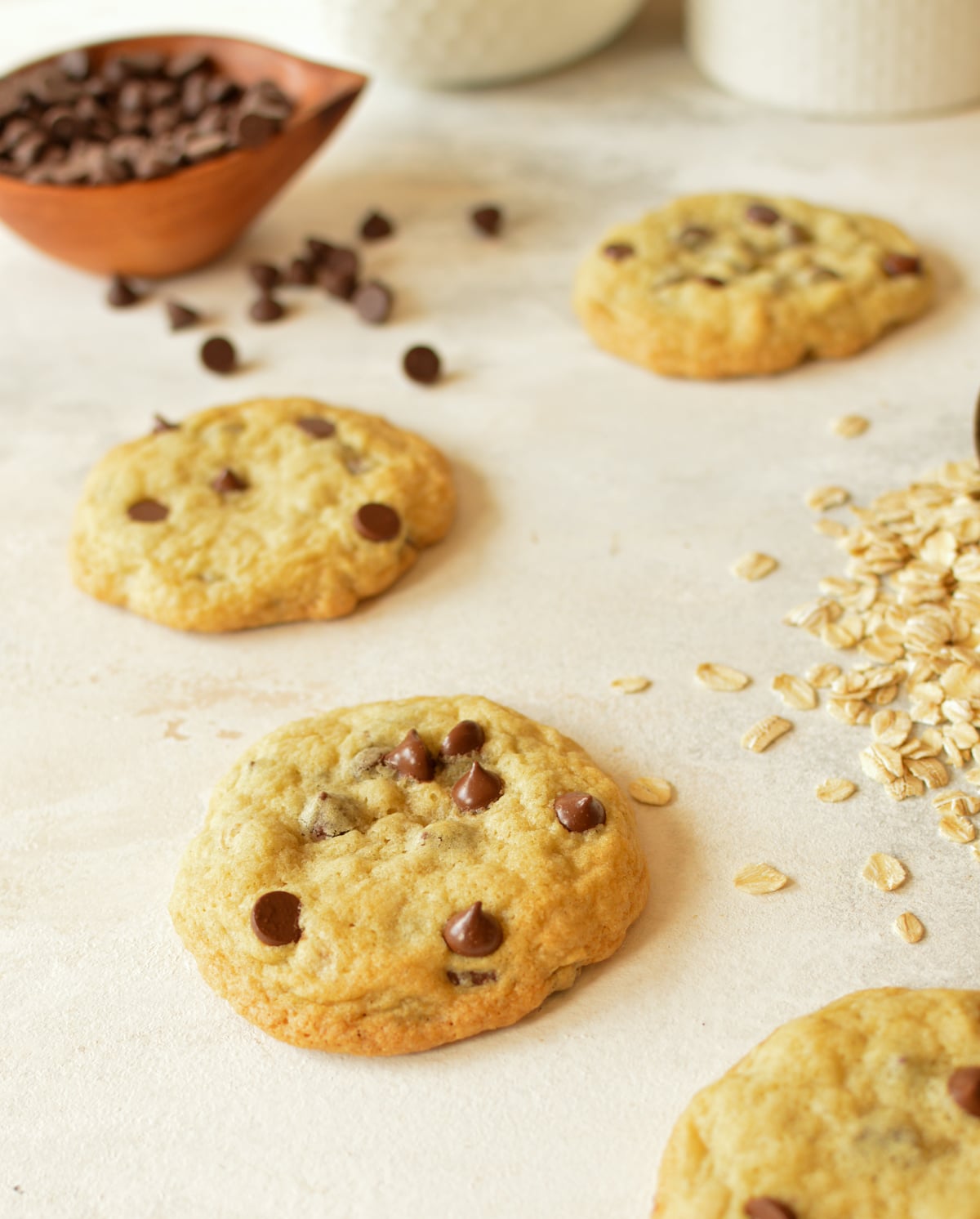 Let's face it, there's always room for a standout gluten free chocolate chip cookie. Just be sure to gift the extras to your neighbors, or you may eat five too many. Ask me how I know this.
Since a subpar cookie is nearly criminal, I knew I had to work hard on this one. I altered this recipe 12 times, and I finally created the best gluten free chocolate chip cookie ever! Golden brown and crispy edges, soft middles, with lots of ooey-gooey chocolate chips.
And it's easy! I used to think a complicated recipe meant it must taste good. Thank goodness I wised up. Simple recipes rock.
If you're a gluten free newbie, you'll wonder how you're ever going to survive, much less stay away from fast food or Hawaiian rolls. I feel you.
Trust me when I say, these gluten free cookies will lift your cookie-loving spirits!
Disclosure: This post may contain affiliate links. In other words, if you click a link and purchase something I will receive a commission at no cost to you. I only recommend products I use and enjoy myself.
Jump to:
Gluten-Free Cookie Ingredients
Here's what you need for this gluten free chocolate chip cookie recipe.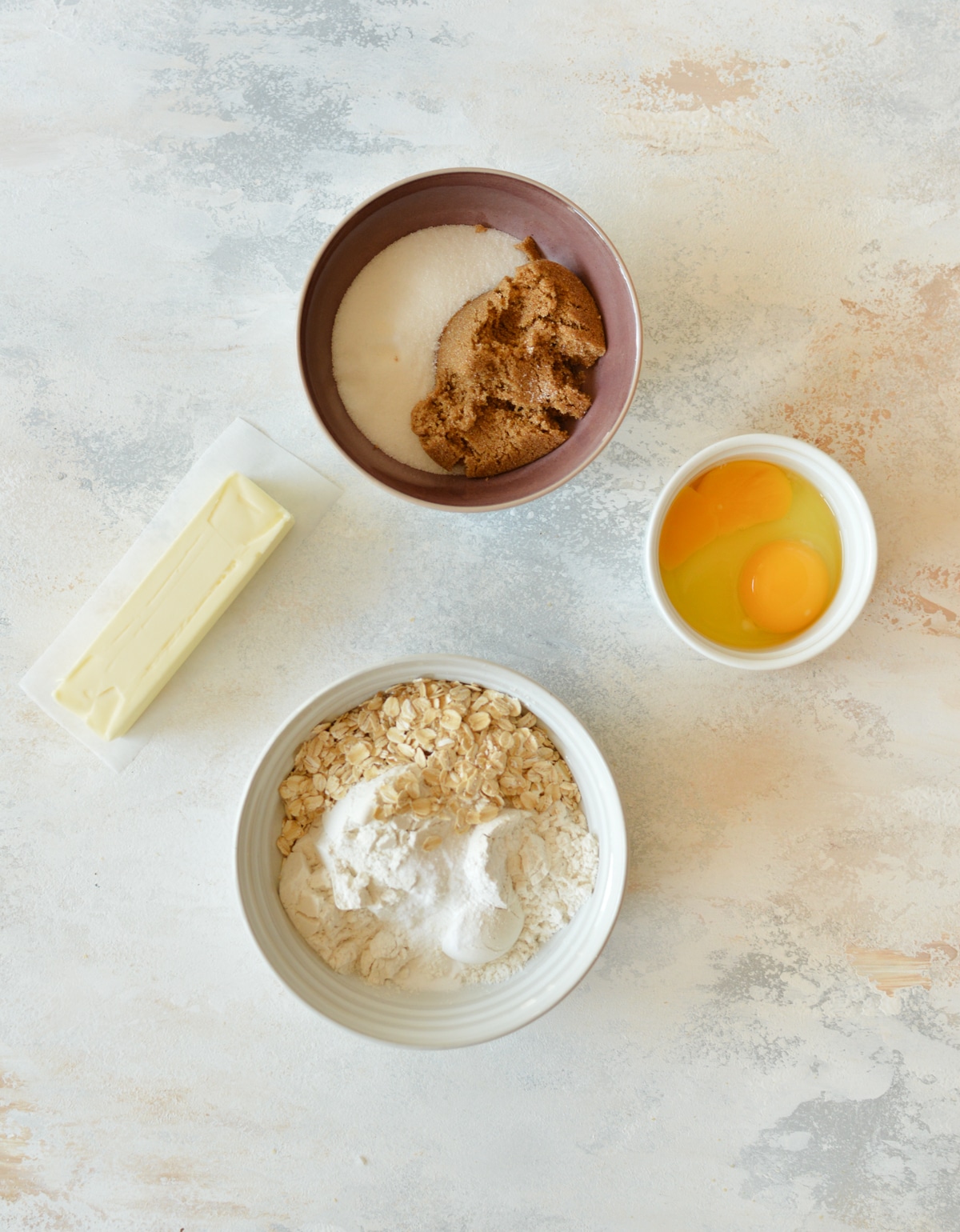 Unsalted butter - Butter is the base of any good cookie. It provides a tender and rich structure for a soft yet chewy cookie. (Tip: If you're dairy-free, dairy-free butter works great too!)
Sugar - Sugar sweetens the cookies and causes them to spread.
Brown sugar - Adds a caramel-like sweetness and a little bit more chew! The acid reacts with the baking soda to cause the cookies to rise in the oven.
Egg + yolk - Eggs provide structure and the extra yolk is like insurance. It creates a rich and chewy cookie in the best possible way!
Gluten-free all-purpose flour - I recommend Bob's Red Mill 1:1 Gluten-Free All-Purpose Flour. It's what I created this chocolate chip cookie recipe with and it has a gluten-like taste and texture.
Baking soda - For just the right amount of lift.
Kosher salt - Salt enhances sweetness, so don't omit it!
Old fashioned oats - A small amount of oats add a little bit of texture without an oatey flavor.
Chocolate chips - I like to go heavy on the chocolate chips. I prefer semi-sweet, but dark and milk chocolate chips are great too! Try mini or chunks to change things up.
How to make these gluten-free cookies
Preheat oven - Preheat the oven to 350 degrees Fahrenheit. Prep your sheet pans with parchment paper or silicone baking mats. I love, love, love my silicone baking mats!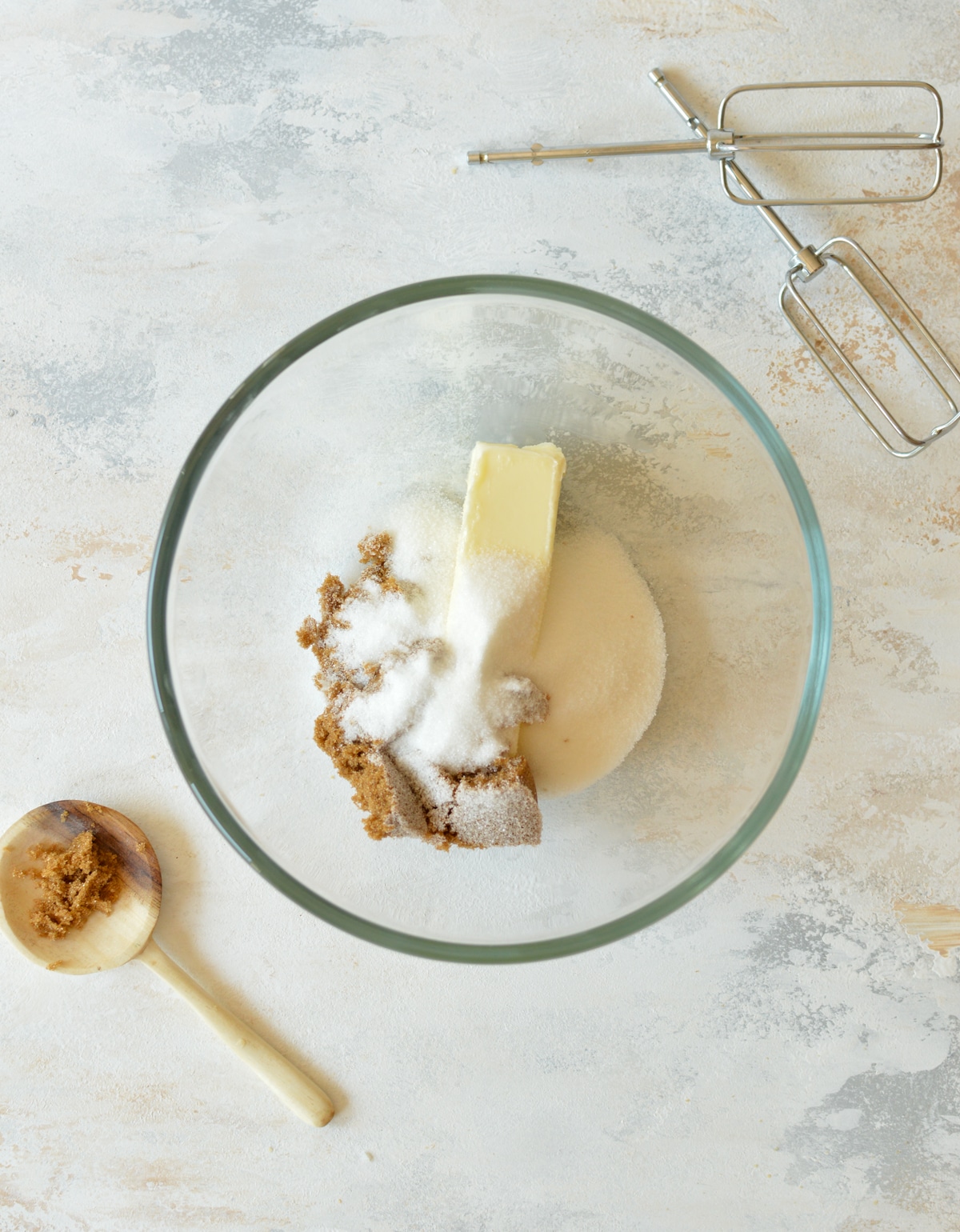 Cream butter & sugar - In the bowl of a stand mixer with the paddle attachment, cream the butter with both sugars. Alternatively, a bowl and a hand mixer works too.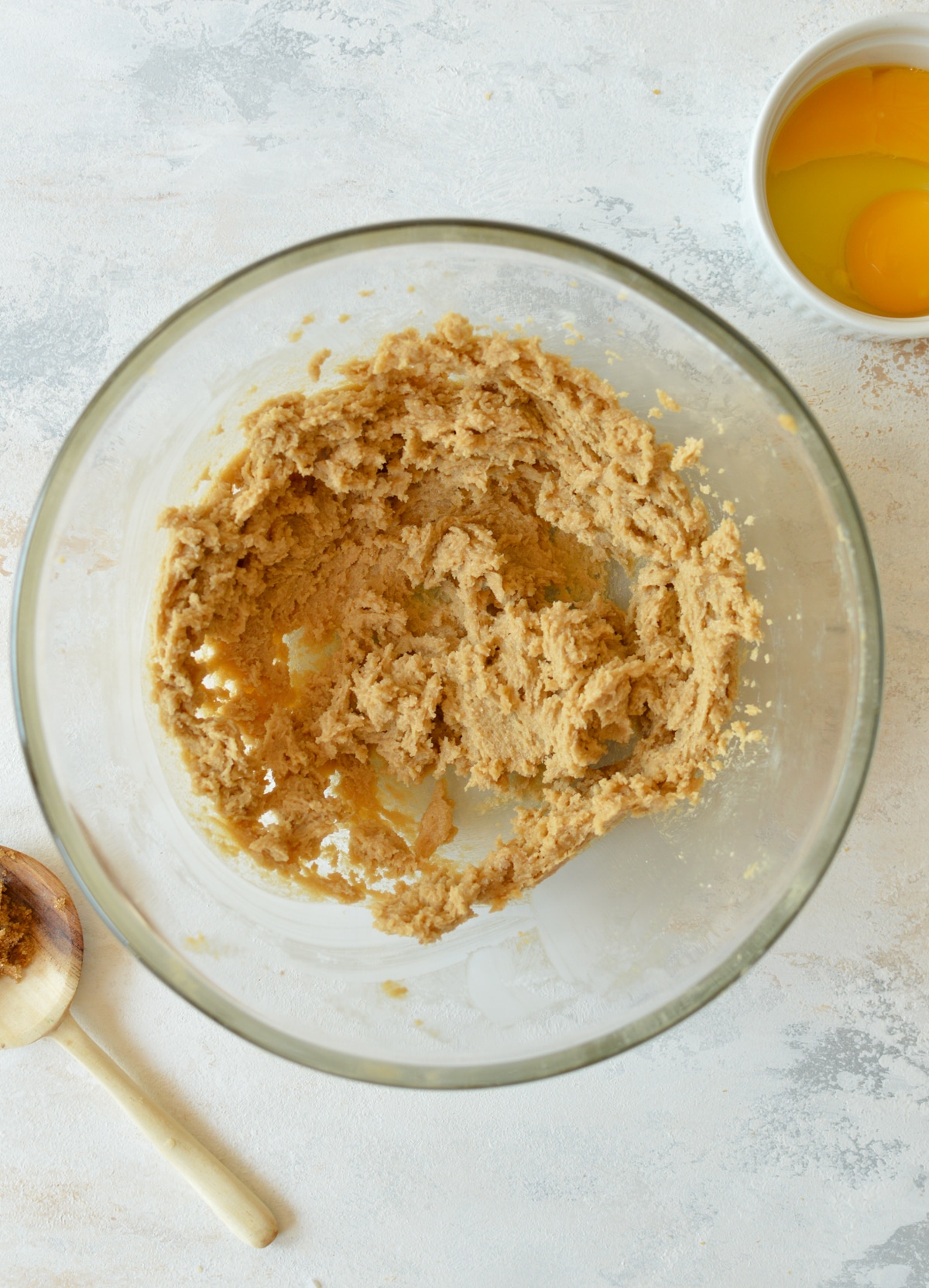 Add egg & yolk - Add the egg and yolk to the butter mixture and beat on medium speed until well incorporated. Stop the mixer and scrape down the sides of the bowl.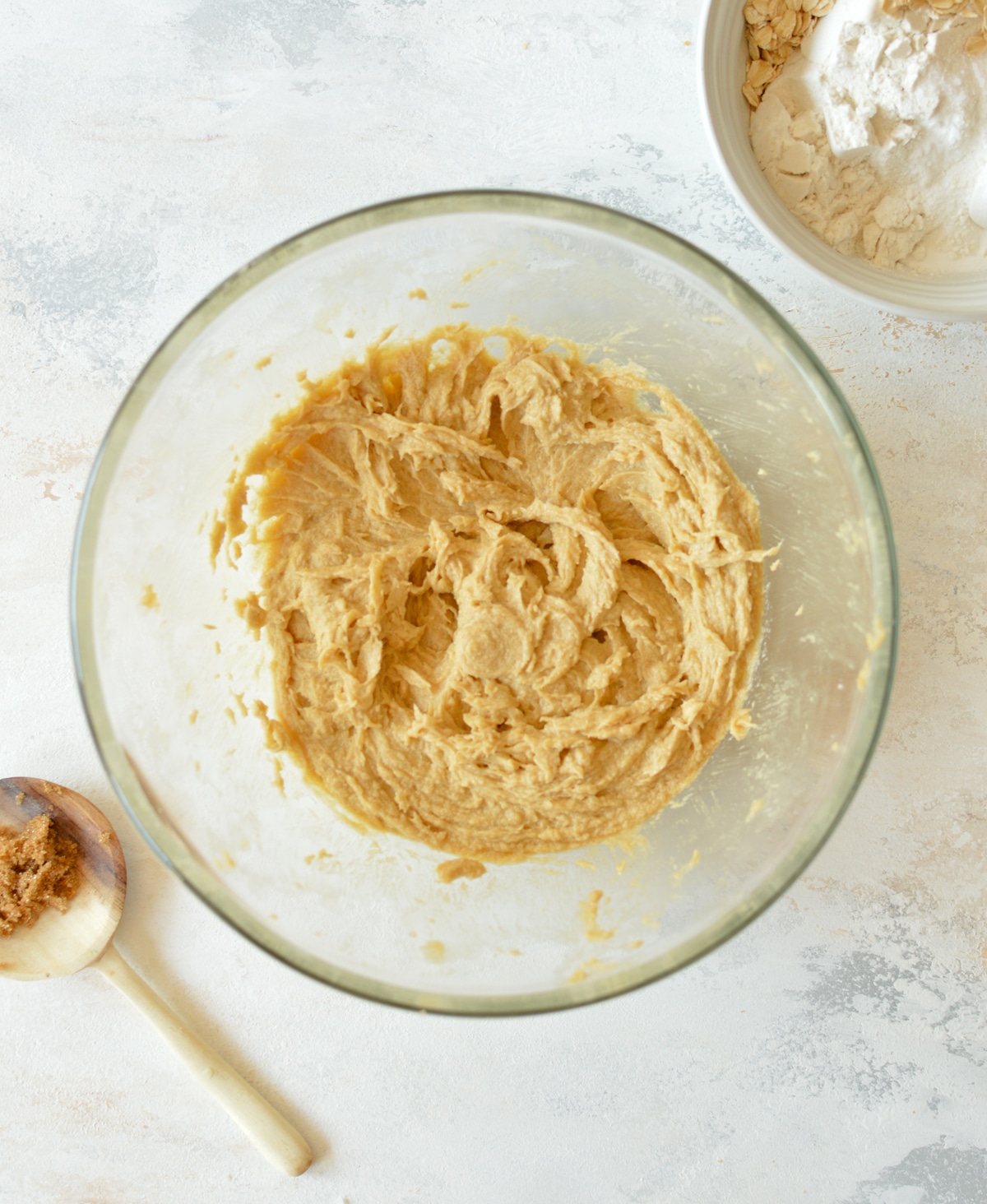 Add dry ingredients - Add the gluten-free all-purpose flour to the butter mixture. Beat on low speed at first so the flour doesn't poof out of the bowl. Increase the speed to medium and beat until incorporated.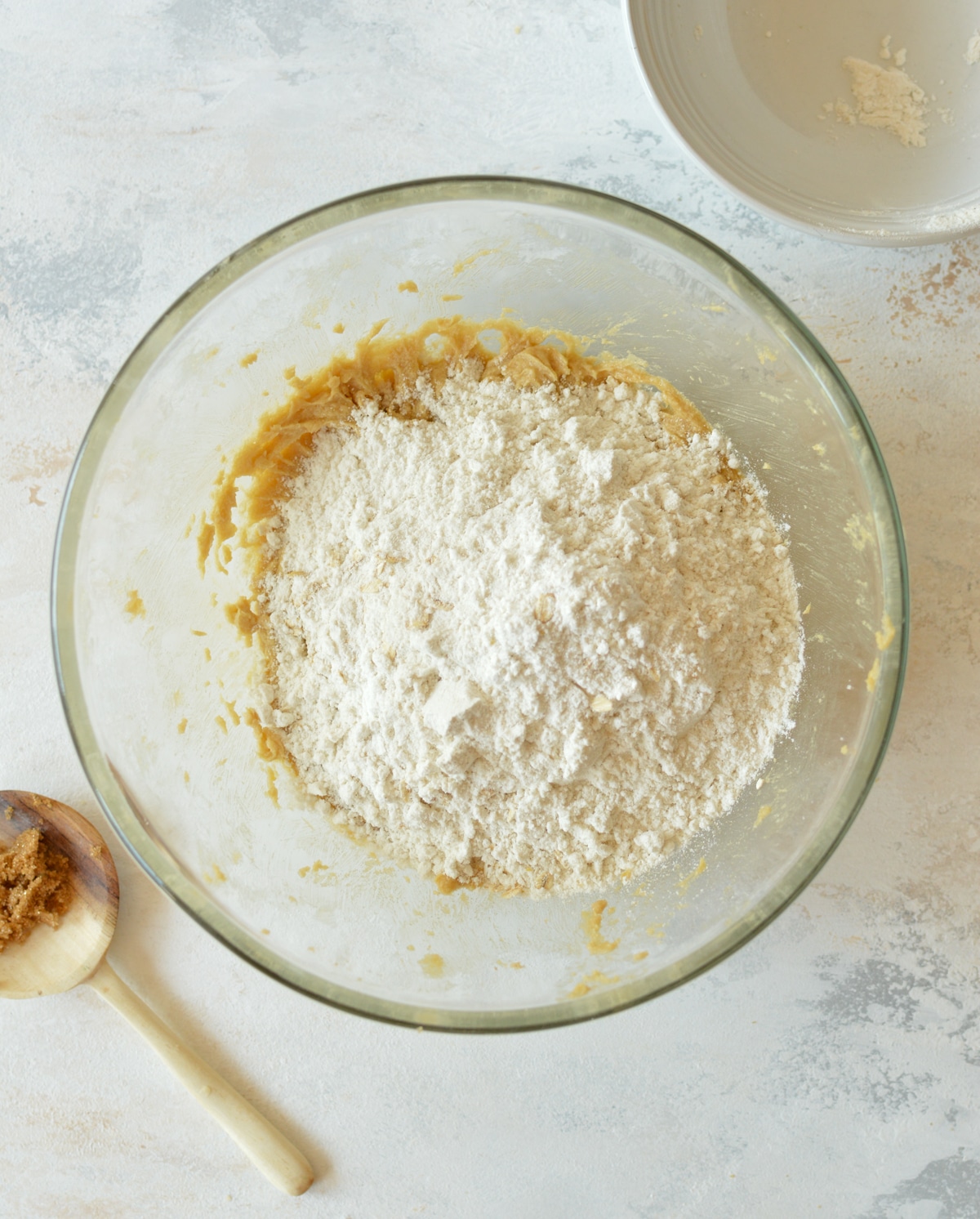 Add chocolate chips - Add the chocolate chips to the cookie dough and beat until evenly dispersed.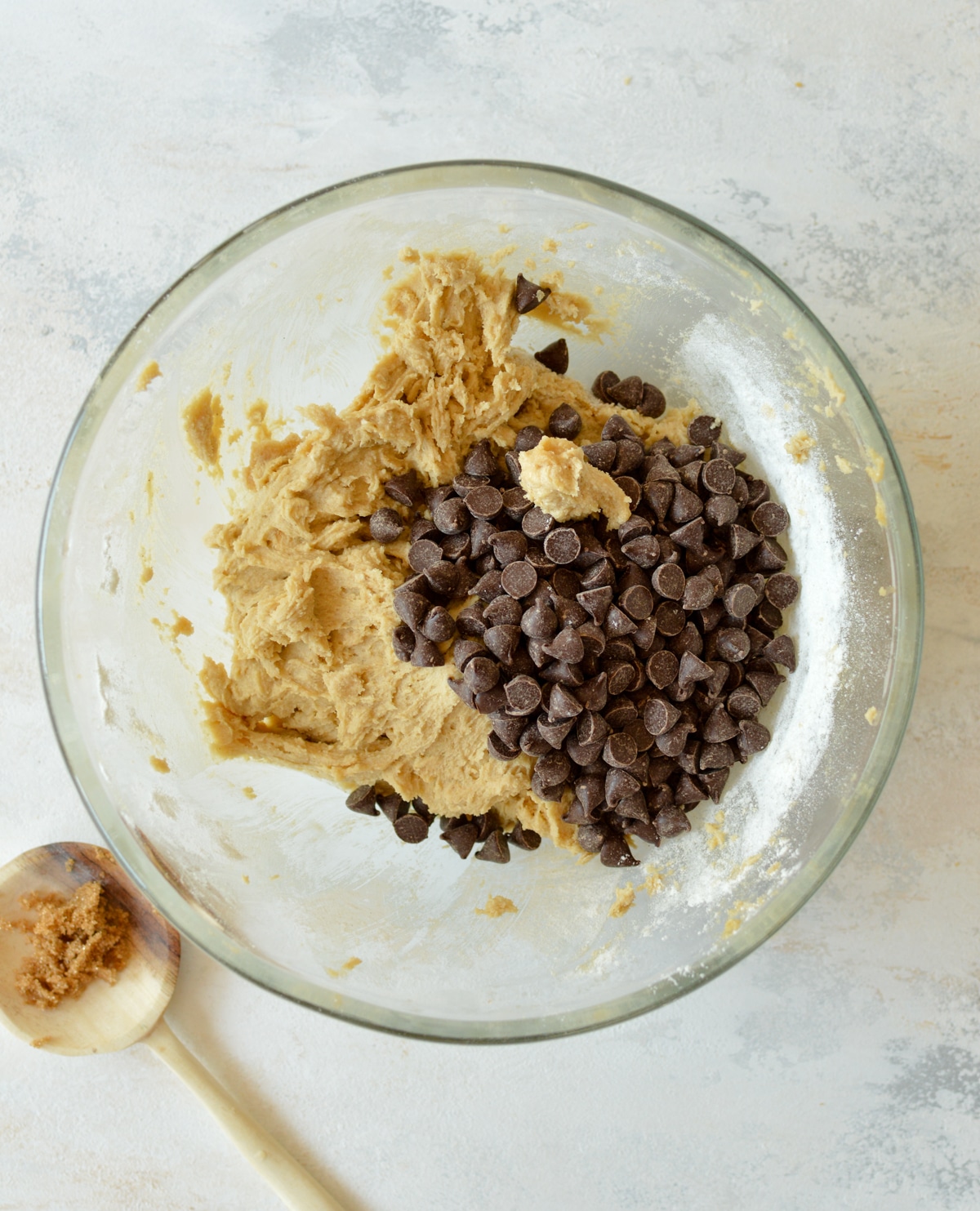 Scoop & bake - Use a cookie scoop to scoop 8 cookies onto each sheet pan. Make sure to give them space so they can spread.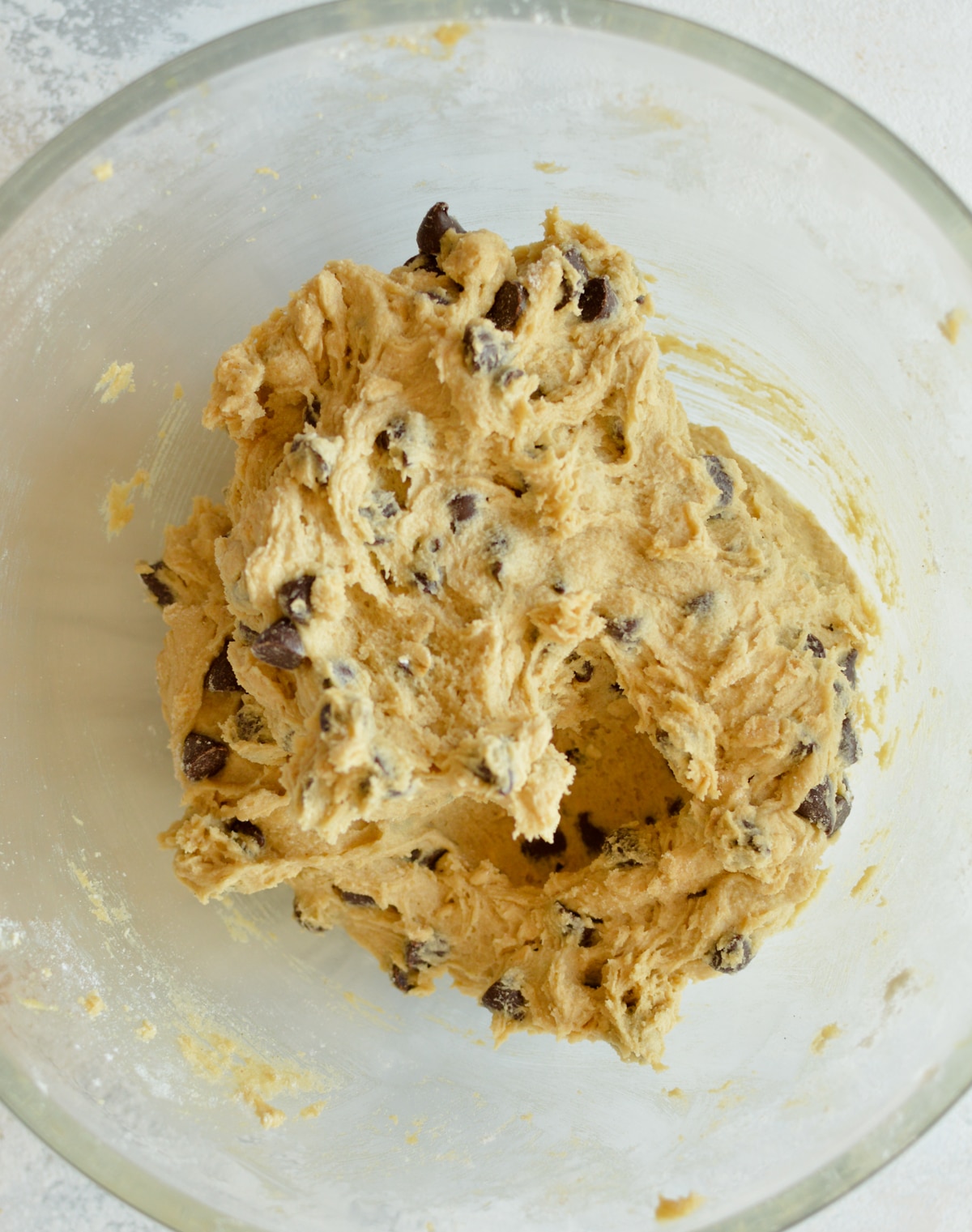 Cookie Making Tips
Let the gluten-free cookies set up before transferring to a cooling rack. If you try to move them immediately, they will fall apart!
Be sure to buy gluten-free old-fashioned oats. Regular oats are not considered gluten-free due to the way they're grown and processed.
Don't overbake the cookies! The outsides should look golden brown, but the middles should look underdone. If the entire cookie looks brown when you remove them from the oven, they're overbaked!
Use a portion scoop. It makes scooping the gluten-free cookies super easy, but more importantly they're all the same size!
Storage & Freezing
How to store:
Store gluten-free chocolate chip cookies in an airtight container for up to 4 days.
How to freeze:
I freeze baked goods ALL the time. The only baked goods that don't freeze well are fried items like donuts. I worked at a bread bakery for a long time as the sweets baker and froze BIG batches of cookie dough on the regular.
How to freeze cookie dough:
Use a portion scoop to scoop cookie dough onto a silpat lined sheet pan. Parchment paper will also work here.
Pop sheet pan into the freezer until cookie dough is frozen.
Peel off the cookie dough balls and pop into a freezer bag.
When ready to bake cookies bake as directed in the recipe. It may take a minute longer since they are frozen. Just look out for those golden brown edges.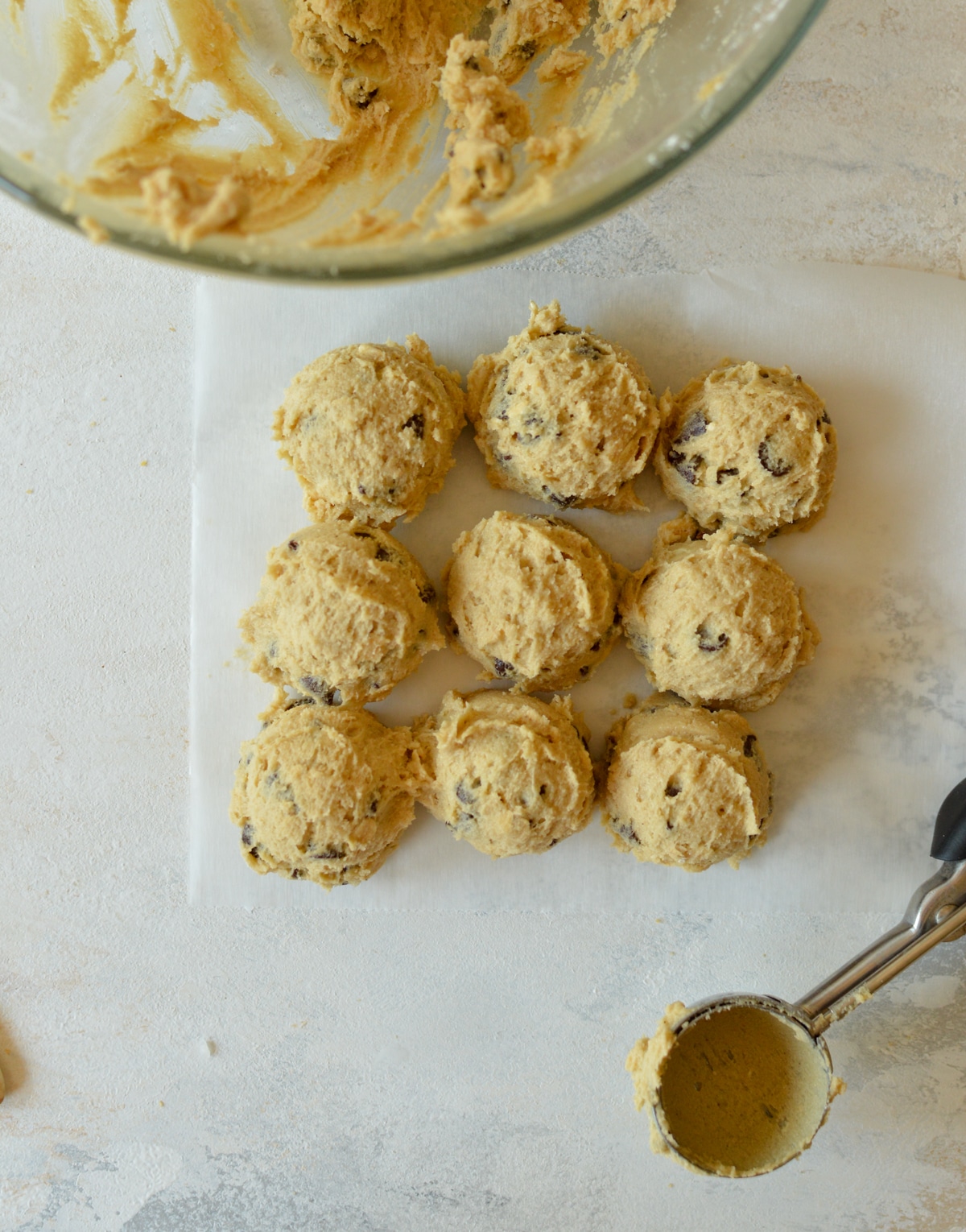 How to freeze baked gluten-free cookies:
Place the cookies in a single layer on a sheet pan. No need for a silpat or parchment paper here because they shouldn't stick.
Once cookies are frozen carefully place in a freezer safe container or freezer bag.
Doing it this way versus just putting them into a bag unfrozen keeps them from breaking as easily.
Gluten Free Cookie FAQs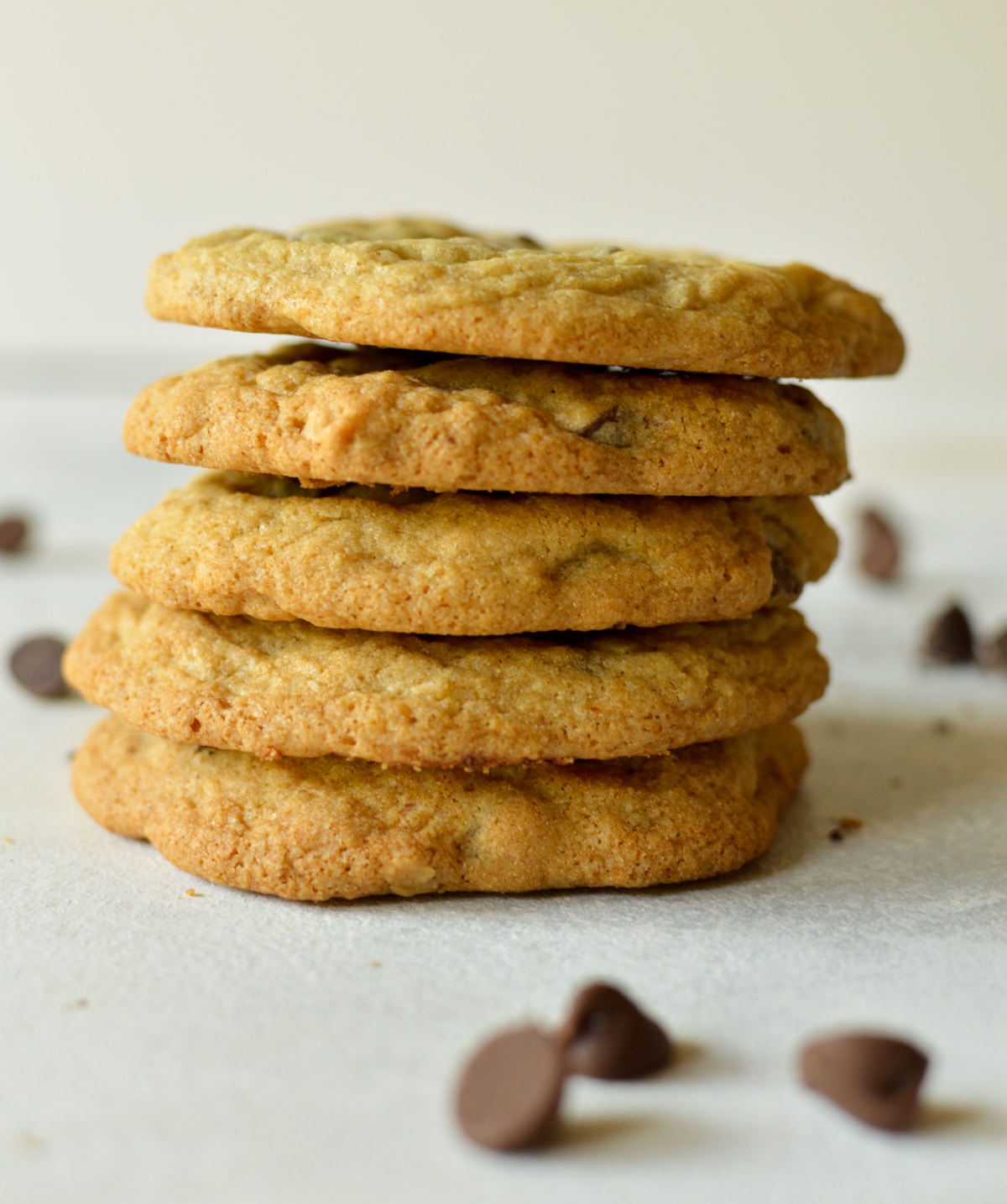 More Delicious Gluten-Free Cookie Recipes