Disclosure: This post may contain affiliate links. In other words, if you click a link and purchase something I will receive a commission at no cost to you. I only recommend products I use and enjoy myself.
Isn't she a beaut? This gluten free waffle recipe is a definite keeper.
My four (and only) goals lately:
Keep my lovely children alive (Anyone else create reckless climbers?)
Find my way through the rabbit hole of SEO.
Prevent house from looking like someone ransacked it then vomited goldfish, Legos and kidney beans everywhere (which by the way, it does).
Eat these light and crispy gluten free waffles like my life depends on it.
I've always been a coffee person, but lately my love for coffee runs deep (said parents everywhere). In my opinion there's not much that pairs better with coffee than breakfast food. Enter - waffles.
What can I do with my leftover gluten free waffles?
You can freeze any leftover waffles for later. Just wrap them in saran wrap and put in the freezer. When you pull them out frozen just be sure to reheat them in the oven. Don't reheat them in the microwave because they will not taste good. There are certain things you should never microwave - pizza, donuts and waffles are three of them. Just set your oven for 350 and pull them out when they are reheated. We are not looking to cook them more.
I actually prefer to eat pancakes and waffles the day after I make them. They taste just as good and I don't have to do any work. Boom - love it.
What flour should I use for this gluten free waffle recipe?
I have made this recipe with both King Arthur Gluten's GF flour and Bob's Red Mill 1:1 GF flour. Both work great but I will always sing Bob's Red Mill's praises because they have an excellent product with little to no aftertaste.
Everyone needs a stand out waffle recipe in their pocket. Trust me when I say look no further. The cornstarch gives it a crispy, golden exterior while the whipped egg whites lighten it up, and gives it height. Saggy is not what you want when describing a waffle (or anything).
If you are a pancake person then check out this amazing buttermilk pancake recipe.
This recipe was adapted from this gluten full waffle recipe.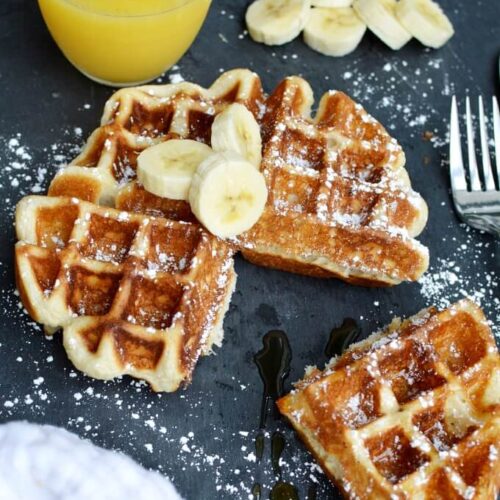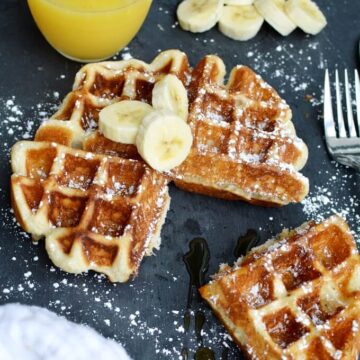 Gluten Free Waffle Recipe
Ingredients
¾

Cup

Gluten Free All Purpose Flour

I use Bob's Red Mill 1:1 All Purpose Gluten Free Flour

¼

Cup

Cornstarch

¾

t.

baking powder

¼

t.

baking soda

½

t.

kosher salt

¾

Cup

buttermilk

¼

Cup

milk

3

oz.

vegetable oil

1

tbsp

sugar

2

egg whites

1

egg yolk
Instructions
Preheat oven to 200 degrees and turn on your waffle maker. I make this recipe on the medium high setting but every waffle maker will vary in temperature a little.

Combine all the dry ingredients except the sugar in a large bowl.

Combine the buttermilk, milk, vegetable oil and egg yolk together and whisk together with a fork.

In a medium bowl, beat egg whites with a hand mixer until frothy. Sprinkle in the sugar and beat to stiff peaks.

Pour the wet mixture into the dry ingredients and stir until combined. Fold the egg whites into the batter carefully until completely folded in.

Using a measuring cup or a portion scoop fill the waffle maker with batter and cook until golden brown and crispy. Use a fork to remove from waffle iron.

If you are not eating them immediately place in the oven to keep warm while you finish cooking. Serve with syrup and enjoy.