These perfect gluten free madeleines are light and sweet. Madeleines are French butter cakes made in a madeleine pan to get that beautiful scalloped shape they're known for.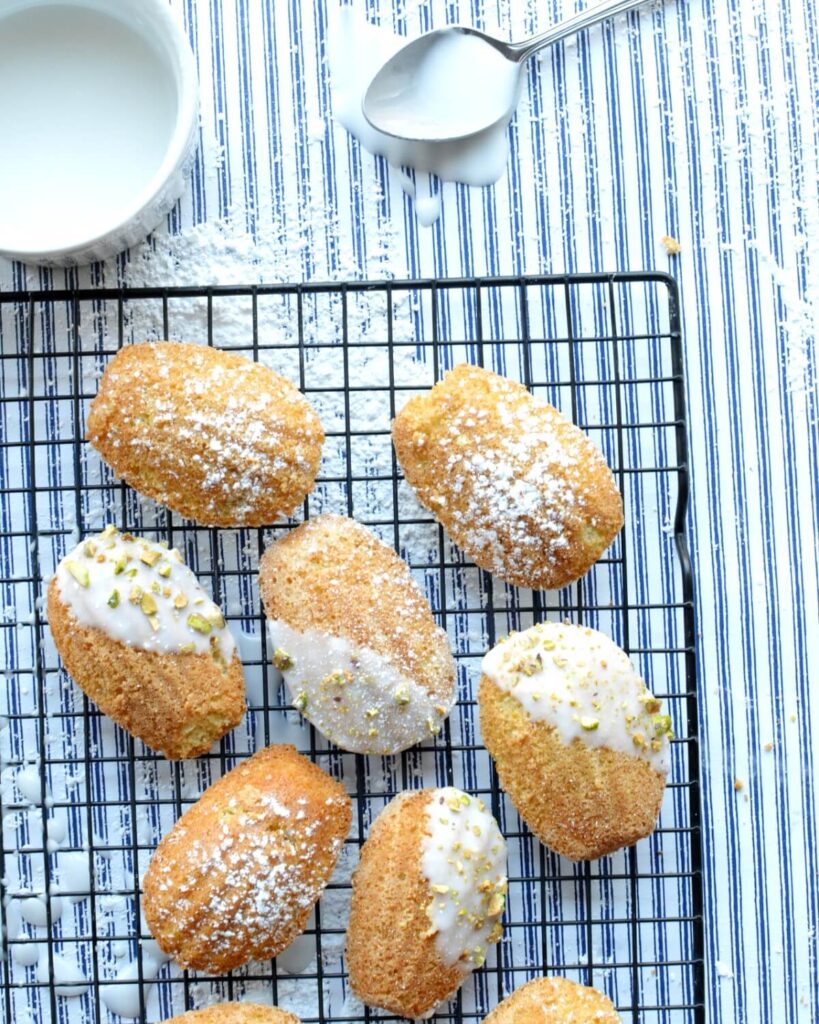 After baking all day in search of the best madeleine recipe I finally came up with gluten free madeleines that are light, moist and incredibly delicious.
I made a few changes to the traditional madeleine method. Read on to learn what I did and how you can make them too!
Disclosure: This post contains affiliate links. In other words, if you click a link and purchase something I will receive a commission at no cost to you. I only recommend products I use and enjoy myself.
Jump to:
What is a madeleine?
French madeleines are small sponge cakes with a substantial amount of butter in them.
The method usually involves beating eggs and sugar until it thickens and lightens in color. This is also referred to as the ribbon stage because the batter should fall in ribbons that you can see. The dry ingredients are then folded into the batter followed by the melted and cooled butter. The batter is then set to rest in the fridge and then baked until done.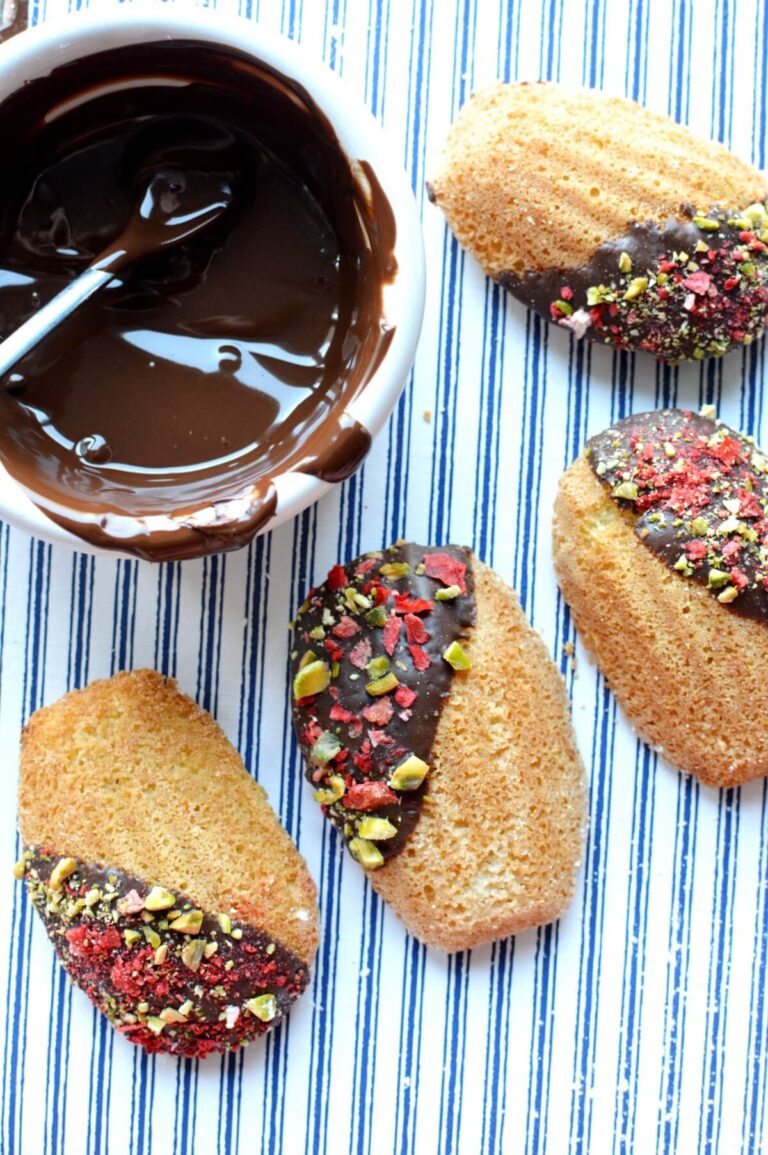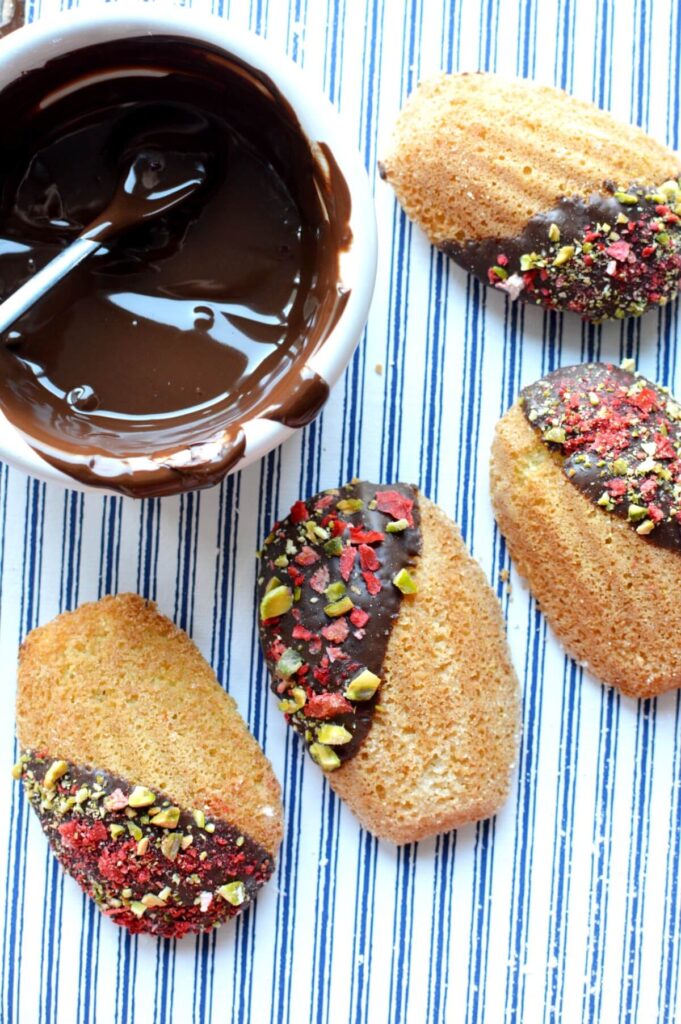 Ingredients for this recipe:
Eggs - Eggs whip better at room temperature so pull them out of the fridge for thirty minutes or more before starting.
Brown Sugar - Not in a traditional madeleine recipe but I love the flavor it adds.
Sugar - Of course!
Gluten Free Flour - I use Bob's Red Mill 1:1 Gluten Free All Purpose Flour. It's my favorite as far as taste and texture.
Baking Powder - To help with rise
Kosher Salt
Unsalted Butter - Melt it first so it has time to cool. We want to add the butter when it's still a liquid but not warm either.
Madeleines have a reputation for being difficult (like French macaroons) but they are actually just a bit technical and very specific. You can't fudge the recipe like you can with other less technical desserts.
How to make these madeleines:
Butter and sugar the pan. Brush the madeleine pan with melted butter so the cakes don't stick. I also sprinkle each crevice with sugar and then pat out the excess. This gives the madeleines the most delightful texture and sweetness.
Whip the eggs and sugar. Beat two room temperature eggs with both sugars for five whole minutes until it's pale and thick.
Fold in the dry ingredients. Do not whisk it in. Measure the dry ingredients in a small bowl and whisk together. Add half of it to the egg mixture and use a spatula to gently fold it in. Repeat with the rest of the flour mixture.
Fold in the melted butter. Make sure the butter is cool but still a liquid. Again don't whisk it in. Fold it in with a spatula until the batter is smooth and shiny.
Let the batter rest. Place the batter in the fridge for 15 minutes.
Fill and bake. This batter makes 24 madeleines. You don't want to overfill the madeleine molds or you will lose the shape of your madeleine. I add less flour to this recipe so they don't come out dry (a problem I found with other madeleine recipes). Since they have less flour in them if you overfill them they will spread a bit and the shape won't be perfect. Spoon a small amount of batter into each mold. It shouldn't fill it more than two thirds of the way. Here is a picture for reference. Bake for 10 minutes until the tops bounce back when gently pressed.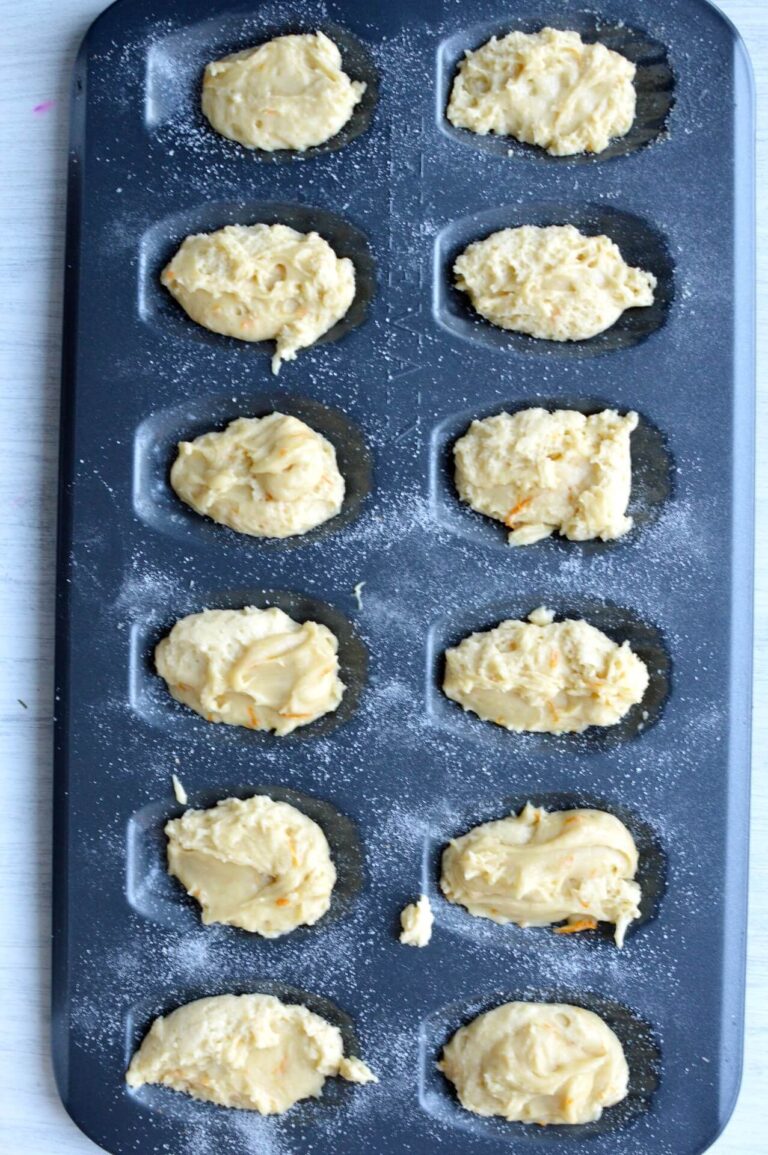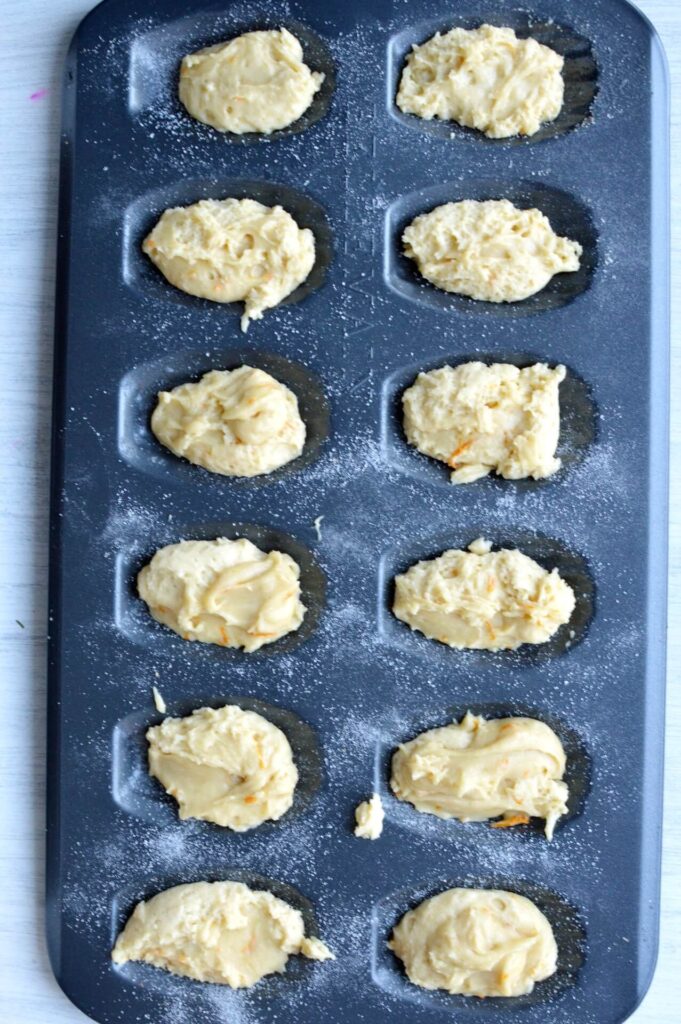 Important things to remember
Remember eggs should be room temperature and butter should be melted but cool.
It's better to add less batter to the molds than more because you will lose the shape if you fill too much.
Resting or not resting the batter isn't going to ruin the recipe but resting does help the batter rise a bit.
Wait until the cakes are cool enough to handle to put on a cooling rack. If you try to remove them out straight out of the oven they will break.
Madeleines are one of those desserts that taste the best the day they're made. And this says a lot coming from me because I'm all about freezing desserts.
Variations and decorating tips:
I add orange zest to these gluten free madeleines because it adds the most wonderful citrus flavor. You can use lemon zest instead or even lime zest or leave it out if you don't want any citrus notes.
One thing I love about madeleines are how beautiful they look and even more so when they're dipped. You can dip them in melted chocolate, water icing or melted white chocolate.
Water icing is just powdered sugar with a small amount of water mixed in. It should be the consistency of honey.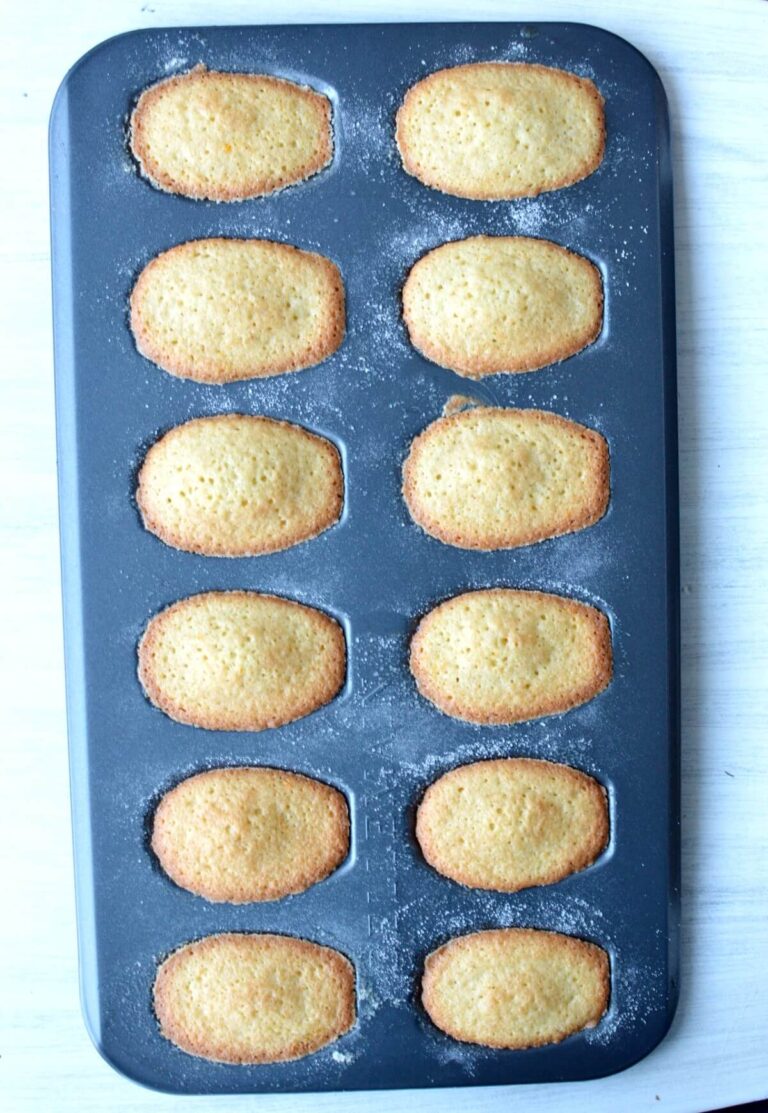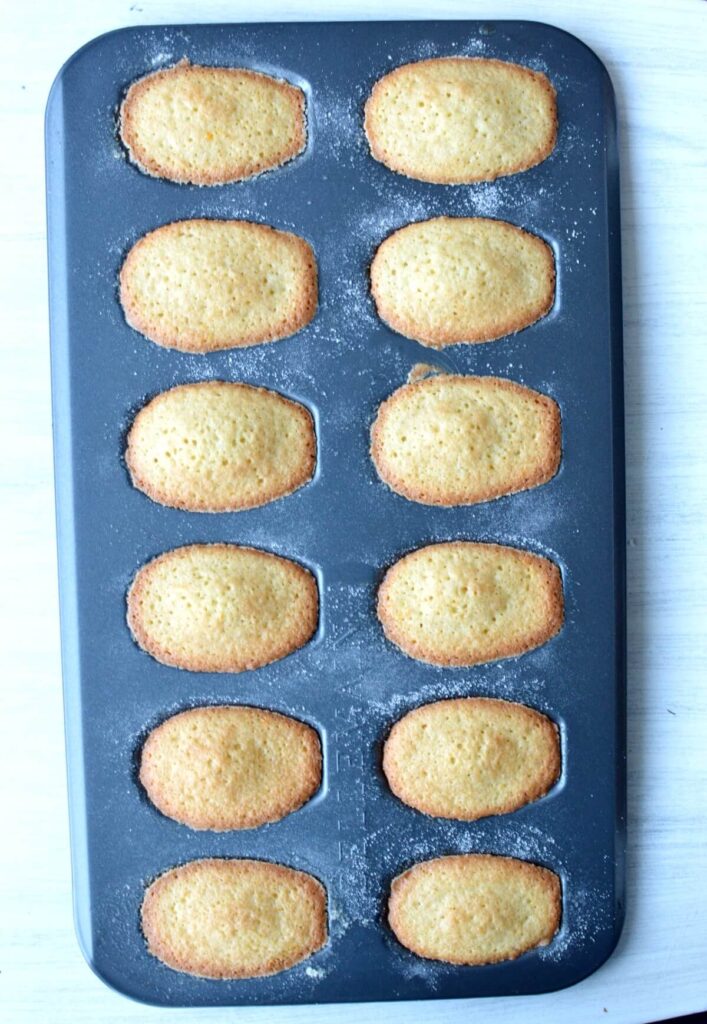 Here are a few fun and beautiful variations:
Melted dark chocolate + Chopped pistachios + Chopped dried strawberries
Water icing + Pistachios
Melted dark chocolate + Cocoa Nibs + Chopped dark chocolate
Melted Dark Chocolate + Chopped almonds
Water icing + Colorful Sprinkles
The combinations are endless which is why they're so fun to decorate. Simply dip letting any excess drip off then sprinkle with a topping and place on a silpat or parchment paper to set and dry.
If you love these gluten free madeleines check out some of my other popular gluten free treats including my fudgy brownies, chocolate chip cookies, and chocolate mousse.
Enjoy!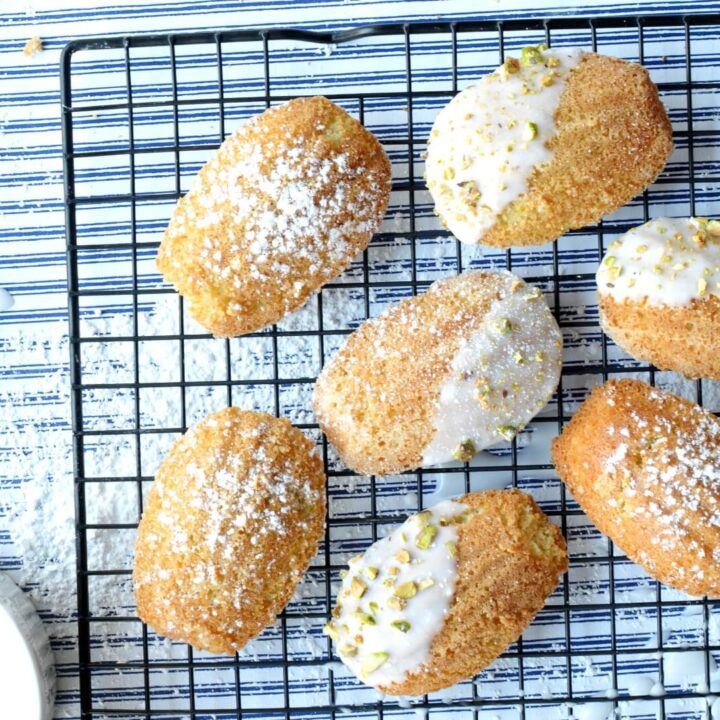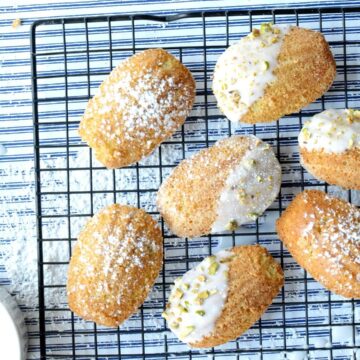 Gluten Free Madeleines
These light and airy gluten free madeleines taste amazing on their own or dipped in chocolate. They're simple to make if you follow the directions closely.
Equipment
Madeleine pan

Hand mixer

Large Bowl
Ingredients
For the pan:
2

tbsp

Melted Butter

Sugar for sprinkling
Instructions
Melt the butter in a microwave safe bowl just until it melts and set aside to cool.

Zest an orange and set aside. Measure dry ingredients in a bowl and whisk together.

In a large bowl whip eggs, brown sugar and sugar for 5 whole minutes on medium high with a stand mixer. The mixture should look pale and fluffy.

Fold in half of the dry ingredients and the orange zest with a spatula. Once incorporated fold in the rest of the dry ingredients.

Fold in the melted and cooled butter until the batter looks smooth and shiny. Don't overmix.

Put the batter in the fridge for 15 minutes. Meanwhile preheat the oven to 350 degrees Fahrenheit. Brush the madeleine pan with melted butter and sprinkle with sugar. Pat the back of the pan over the sink to get out any excess sugar.

Using a spoon fill each madeleine mold no more than two thirds of the way full. Bake for 10 minutes. Let the madeleines cool enough to move to a cooling rack. Repeat with the rest of the batter.
Notes
Don't overfill the molds or the madeleines shape won't be perfect.