Chewy gluten free oatmeal cookies are easy to make and perfect for tasty mix-ins. Nobody will know they're gluten-free! Be sure to snag one because they vanish quickly!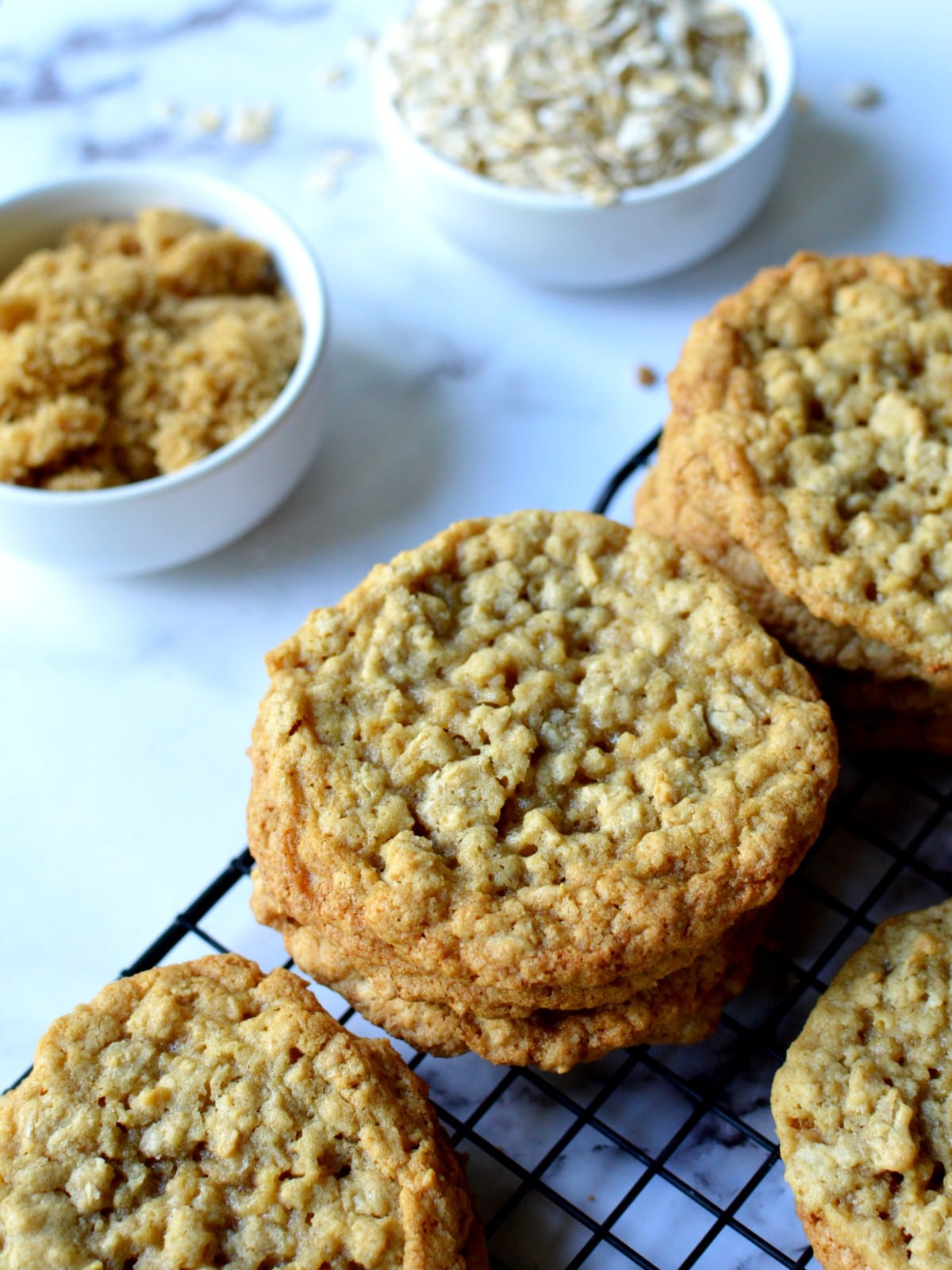 I love classic oatmeal cookies and this gluten free oatmeal cookie recipe doesn't disappoint! They have crispy edges with chewy centers and just the right amount of oats.
Ingredients
GF oatmeal cookies require simple ingredients!
Unsalted butter - Fat is what gives you tender and chewy cookies. Unsalted butter allows you to control the amount and quality of the salt. If you only have salted, omit the salt from the recipe.
Brown sugar & sugar - To sweeten the gluten-free oatmeal cookie recipe!
Egg - Eggs provide structure in cookies and cakes. To make these oatmeal cookies vegan, you could try using a flax egg.
Gluten-free all-purpose flour - It's essential to choose a good gluten-free all-purpose flour blend. Since each brand contains a different blend of flours, they all taste and behave slightly different. My favorite is Bob's Red Mill 1:1 Gluten-Free All-Purpose Flour for it's superb taste and texture.
Gluten-free oats - Be sure to buy old-fashioned oats for this recipe. I prefer Bob's Red Mill's gluten-free oats, but trader joe's also carries some. Quaker also carries gluten-free old fashioned oats now. I will say the quality isn't always the same with every brand which is why I go with Bob's.
Baking soda - Even cookies need leavening! It prevents them from tasting like dense hockey pucks. Baking soda reacts with the molasses in the brown sugar to create lift.
Kosher salt - A small amount of salt accentuates the sweet flavors!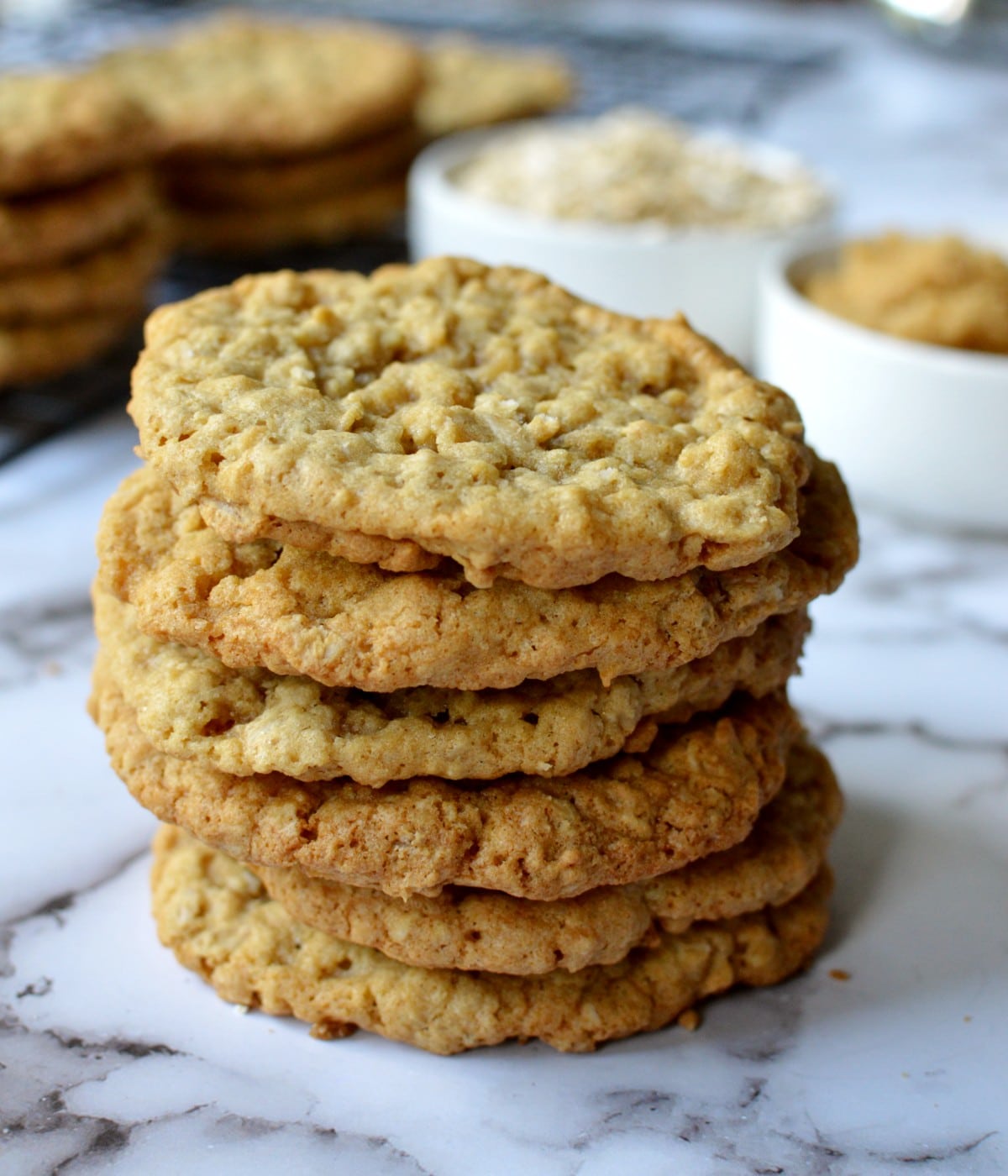 Disclosure: This post contains affiliate links. In other words, if you click a link and purchase something I will receive a commission at no cost to you. I only recommend products I use and enjoy myself.
How to Make Gluten-Free Oat Cookies
Gluten-free oatmeal cookies are easy to make! Here's how:
Cream the butter & sugars: In the bowl of a stand mixer or in a bowl with an electric mixer, beat the softened butter, sugar, and brown sugar until fluffy - about four minutes.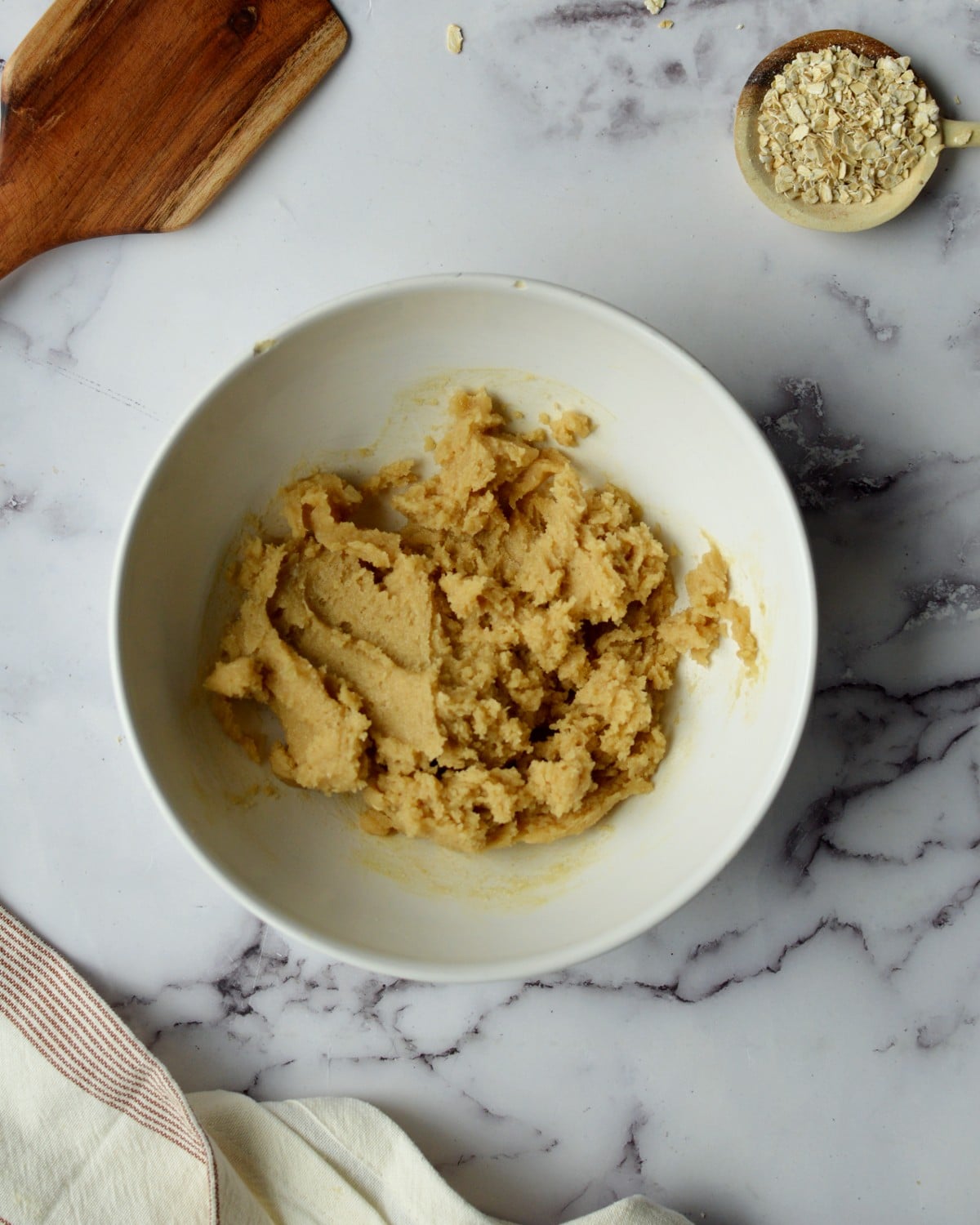 Mix in the egg: Add the egg to the butter mixture and beat until combined.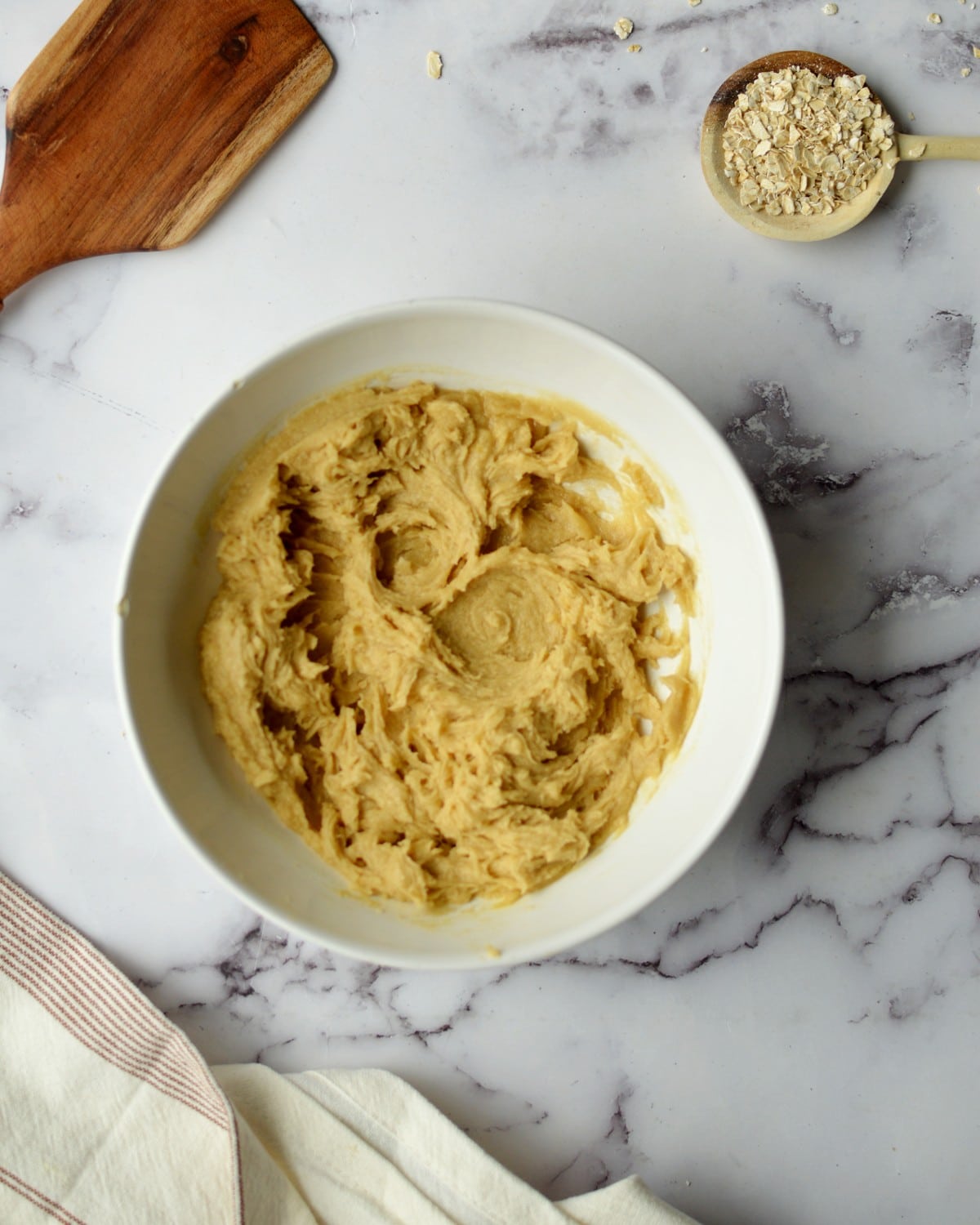 Add the dry ingredients: Add the gluten-free flour, rolled oats, baking soda, and salt to the mixture. Beat until well combined.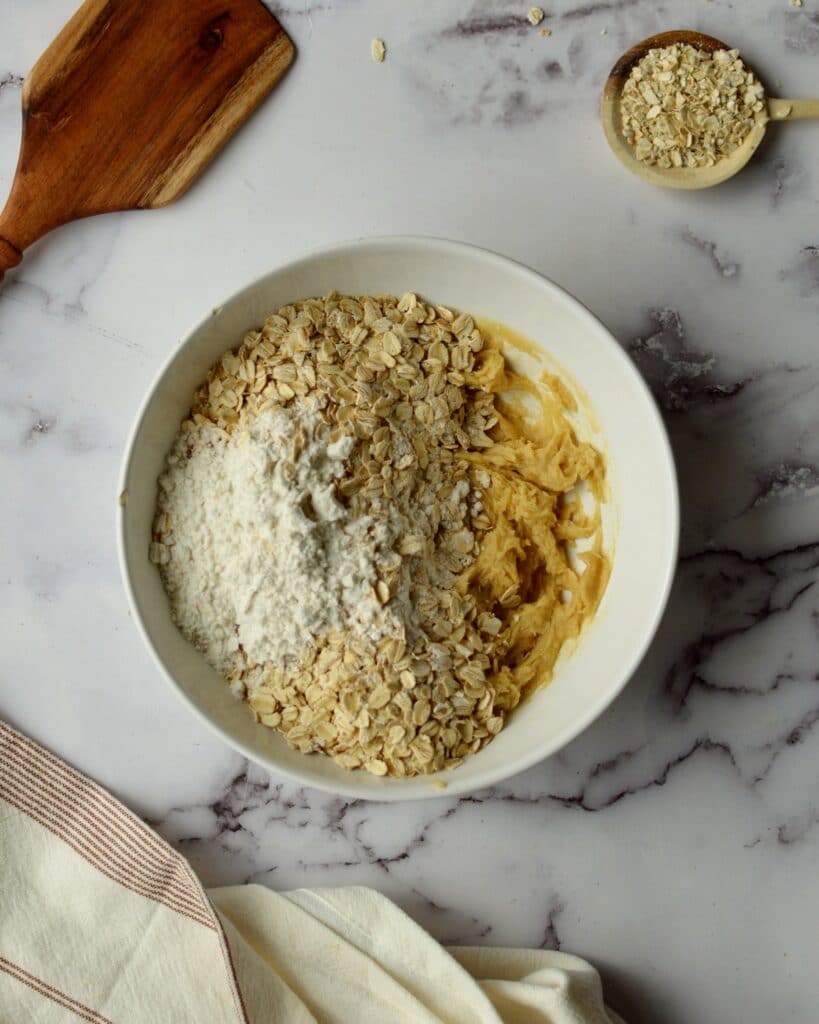 Scoop cookies onto pan: Line a baking sheet with parchment paper or a silicone baking mat. Use a small cookie scoop to scoop 6 to 8 cookies onto a sheet pan. Be sure to give them space.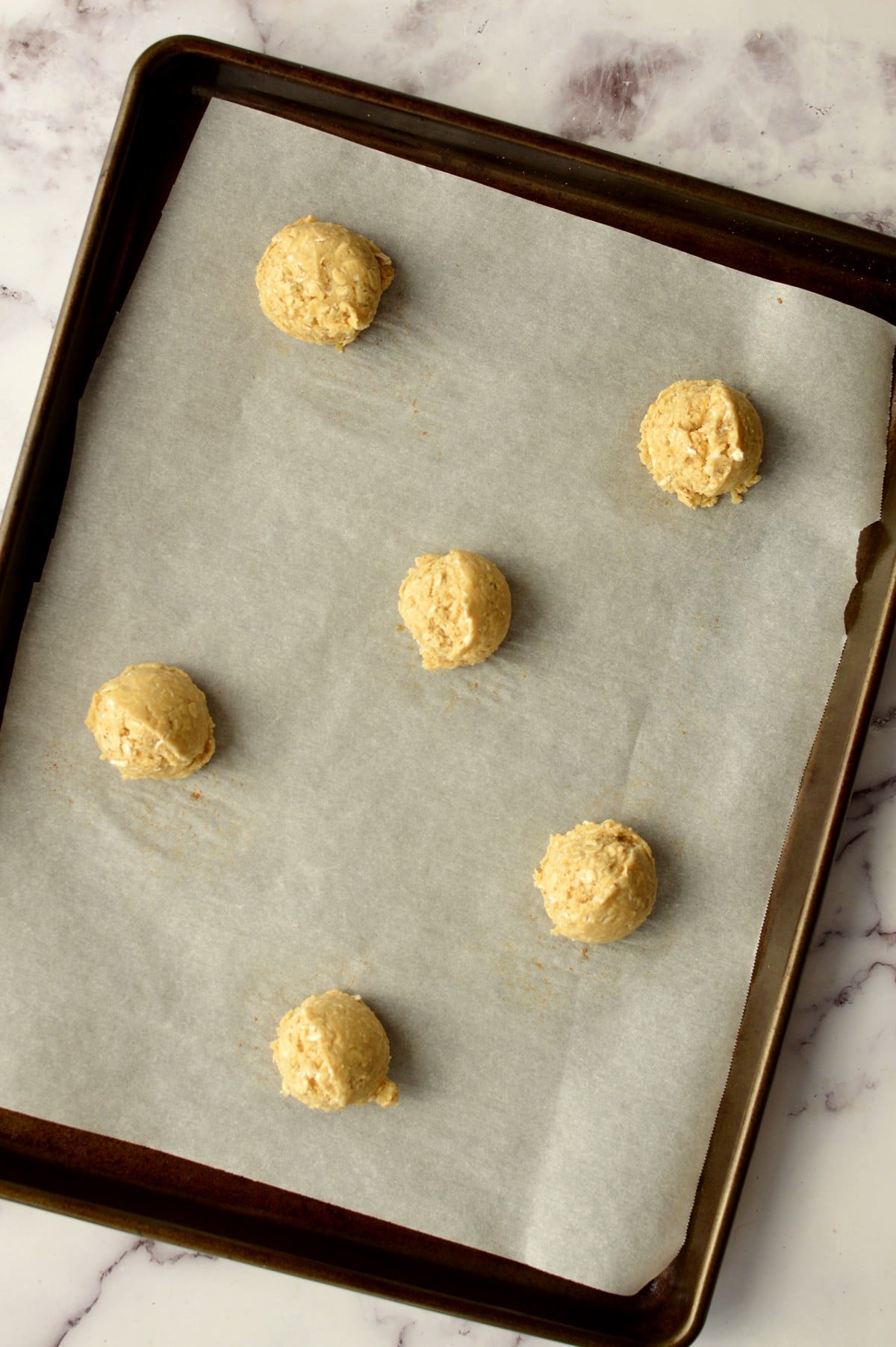 Bake the chewy oatmeal cookies: Bake for 11 to 12 minutes or until the edges look golden but the insides look underdone. If the entire cookie is brown when you remove it from the oven, they are overbaked.
Oatmeal Cookie FAQs
Recipe Tips
Add mix-ins! This oatmeal cookie recipe can easily be adapted to make gluten-free oatmeal raisin cookies or another variation! Add ¾ cup of raisins, chocolate chips, chopped walnuts, dried cranberries, white chocolate, or semisweet chocolate chips!
There's no need to chill the cookie dough! Just scoop and bake!
Let the cookies cool on the sheet pan for a few minutes before transferring. They set up as they cool. If you try to move them immediately, they may fall apart.
You can also freeze the cookie dough! Scoop the cookies onto a plate or parchment-lined sheet pan. Place the sheet pan in the freezer for 45 minutes. Once the cookies are frozen, place them in a ziptop bag and freeze. Bake from frozen as directed. You may need to add minute or two.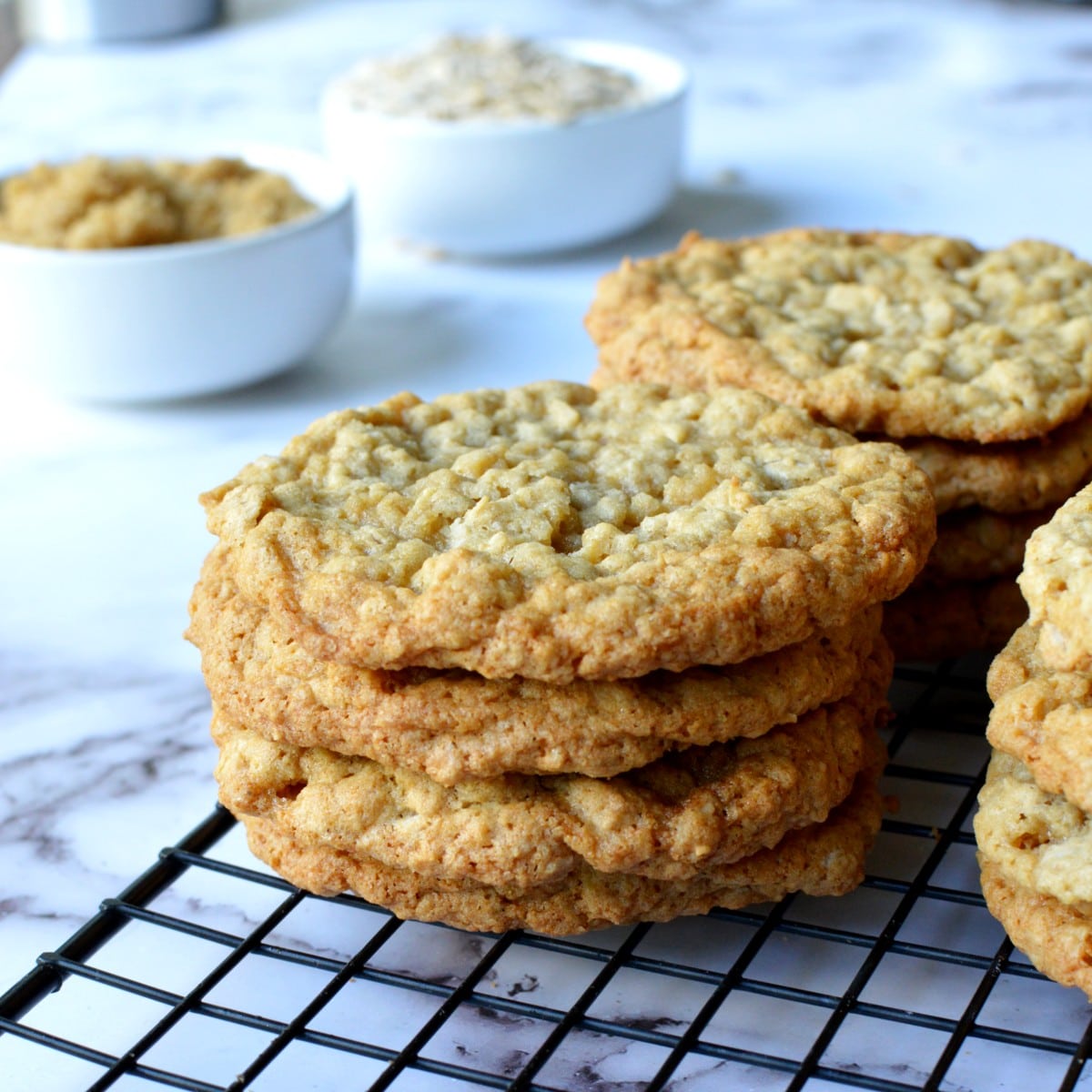 My gluten-free flour recommendation
I love Bob's Red Mill 1:1 All Purpose Gluten Free Flour. They sell it at Walmart for close to 4 bucks a bag. I either buy it there or right here on Amazon where you can get it for less than 4.50 a bag. I like to buy a four pack because I'm an avid baker and one bag lasts about three days in my house. I make these buttermilk pancakes with it at least once a week. My kids and I love that carb life.
My backup is King Arthur's gluten free measure for measure flour. It's pretty good but the end result is a little denser.
More Gluten-Free Oatmeal Cookie Recipes