These chewy Gluten Free Oatmeal Cookies are such a great catch-all for tasty mix ins. Just be careful these simple oatmeal cookies whisper eat me every time you walk by.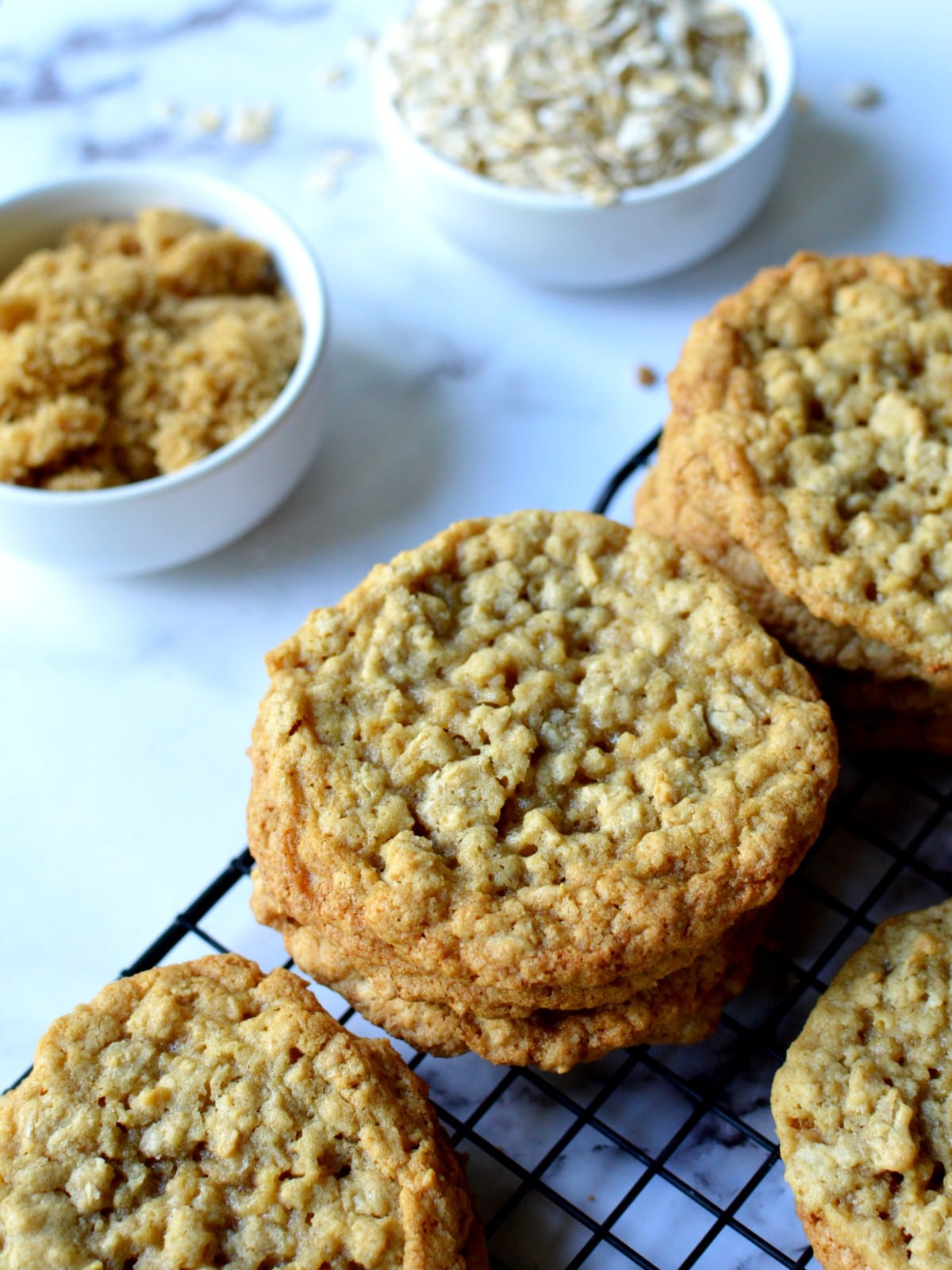 I love oatmeal cookies and these gluten free oatmeal cookies do not disappoint!
Disclosure: This post contains affiliate links. In other words, if you click a link and purchase something I will receive a commission at no cost to you. I only recommend products I use and enjoy myself.
Are oats (and oatmeal) gluten free?
Yes but you have to use gluten free oats. Oats are processed in the same facilities as wheat which makes cross contamination almost certain.
Look for a gluten free certification or label on the bag. If you don't see one find a brand who does have one. The FDA considers products to be gluten free if they have less than 20 parts per million of gluten containing ingredients. So if you see oats labeled gluten free they should be safe to eat.
I do know there are some loopholes and if you are very sensitive to gluten it's always best to find products with a certification. Certified products are independently tested and therefore are more reliable.
I like to buy Bob's Red Mill Gluten Free Oats but I know Quaker Oats carries a gluten free line now with quaker gluten free oatmeal and oats. Just make sure you grab the gluten free bag from Bob's Red Mill because I know they carry a line that isn't as well. It will be somewhat easy to tell. Just look for a big Gluten Free banner in red letters on the top of the bag.
One of the certified gluten free oatmeal brands I really like is Purely Elizabeth but it's hard on my wallet so I typically make my own with oats. Check out these Peanut Butter and Maple Overnight Oats if you love oatmeal for breakfast.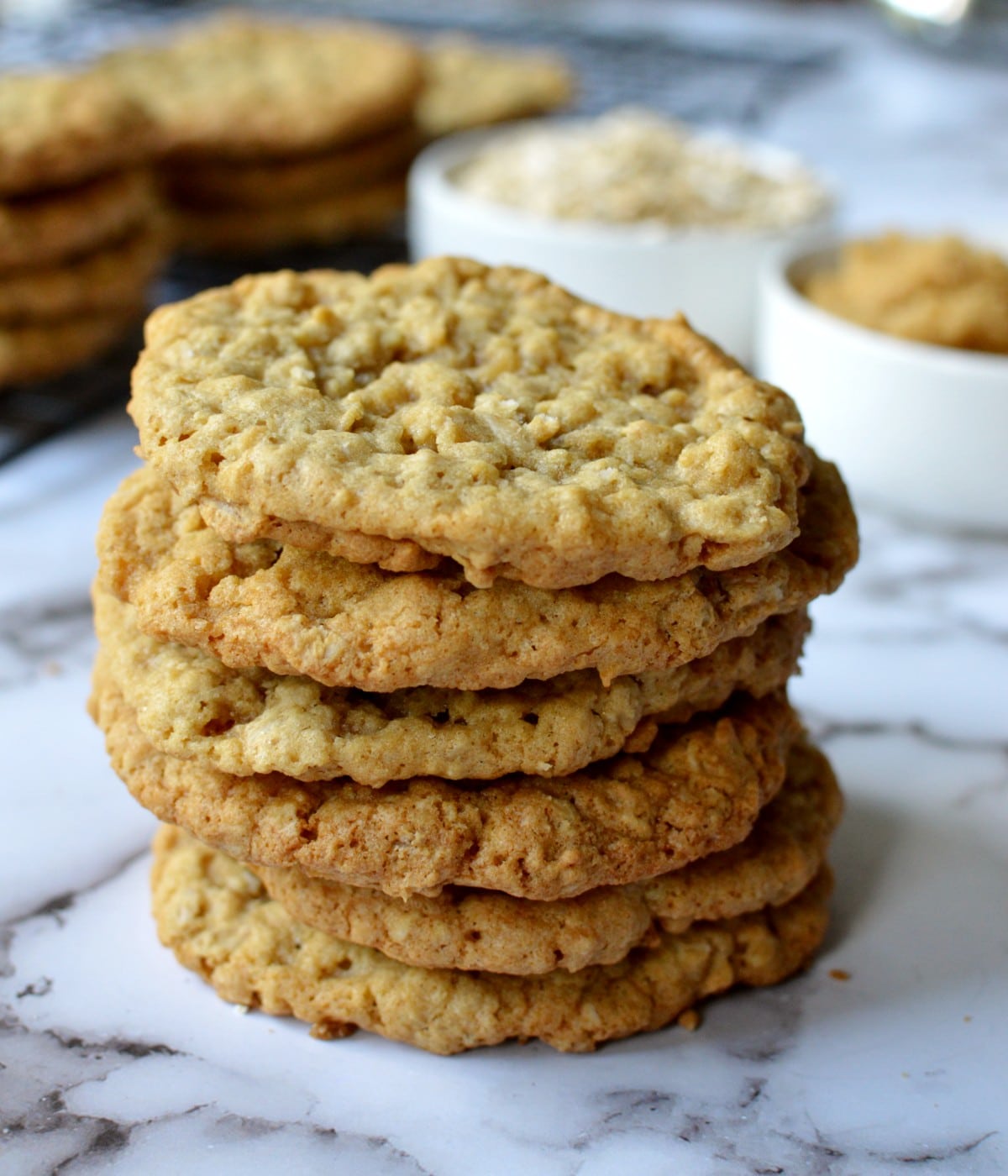 What kind of oats should I use?
Use old fashioned oats for this recipe. Quick cooking oats absorb moisture differently and so I am not positive they will come out right with them since I haven't tested it yet.
Old fashioned oats will also give a chewier texture that is reminiscent of an oatmeal cookie.
What flour do I need for gluten free cookies?
You need an all purpose gluten free flour that includes xanthan gum.
There are a ton of options for all purpose gluten free flours. Oftentimes I recommend using the specific brand the recipe calls for but these cookies have more oats than flour and should do well with most all purpose gluten free flour blends.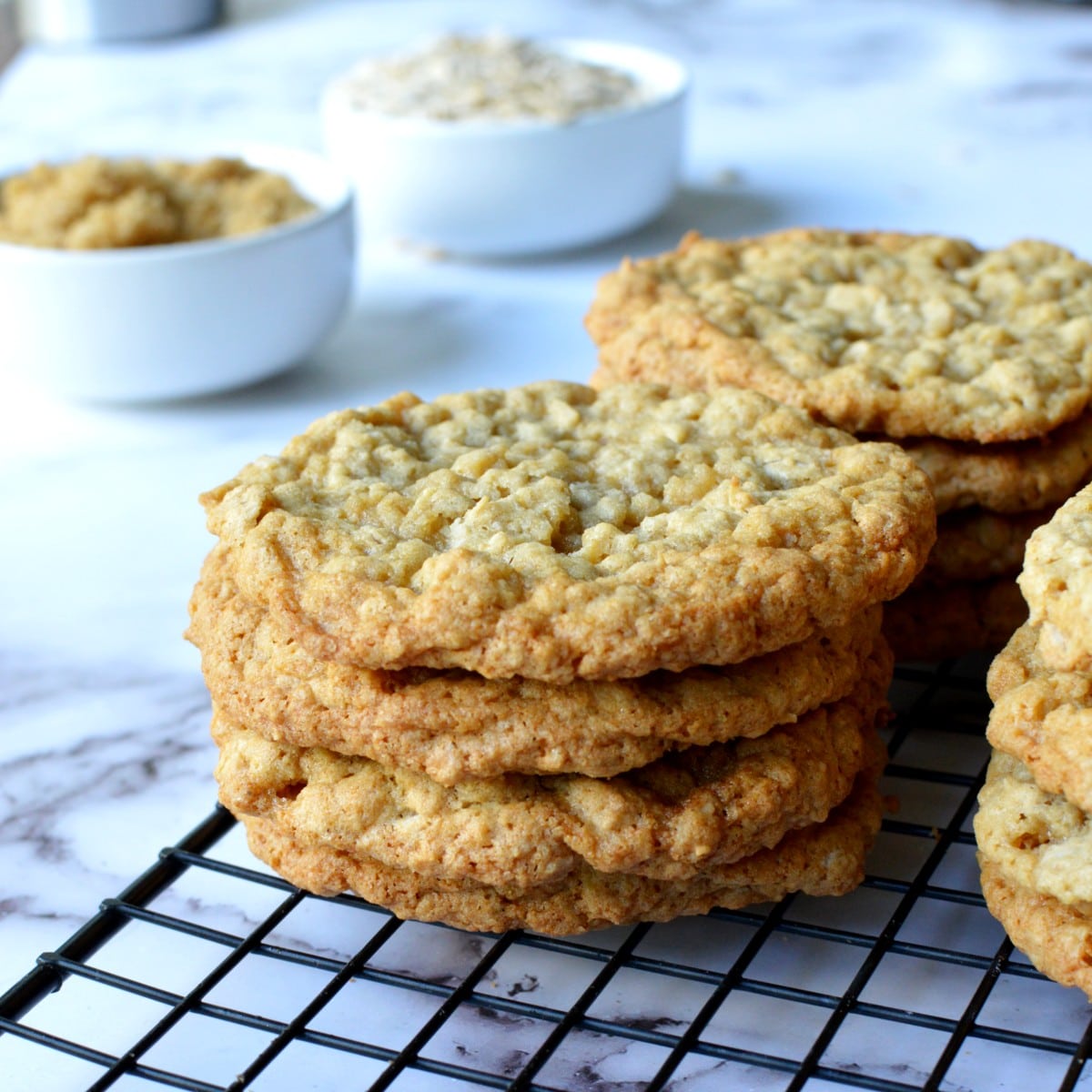 I love Bob's Red Mill 1:1 All Purpose Gluten Free Flour. They sell it at Walmart for close to 4 bucks a bag. I either buy it there or right here on Amazon where you can get it for less than 4.50 a bag. I like to buy a four pack because I'm an avid baker and one bag lasts about three days in my house. I make these buttermilk pancakes with it at least once a week. My kids and I love that carb life.
My backup is King Arthur's gluten free measure for measure flour. It's pretty good but the end result is a little denser.
Can these be made into flourless oatmeal cookies?
Sure can!
I tested this recipe with just quick cooking oats and it was delightful. Gluten free oatmeal cookies without flour are surprisingly delicious!
Simply omit the gluten free all purpose flour (no flour!) and add 3 cups of quick cooking oats. That's it. The end result is an oatier cookie with lovely crispy edges and a chewy center. It may be a stretch to say there healthy gluten free oatmeal cookies but one could say they're healthier. Oats are a good source of fiber and vitamins. Hey, I'll take it!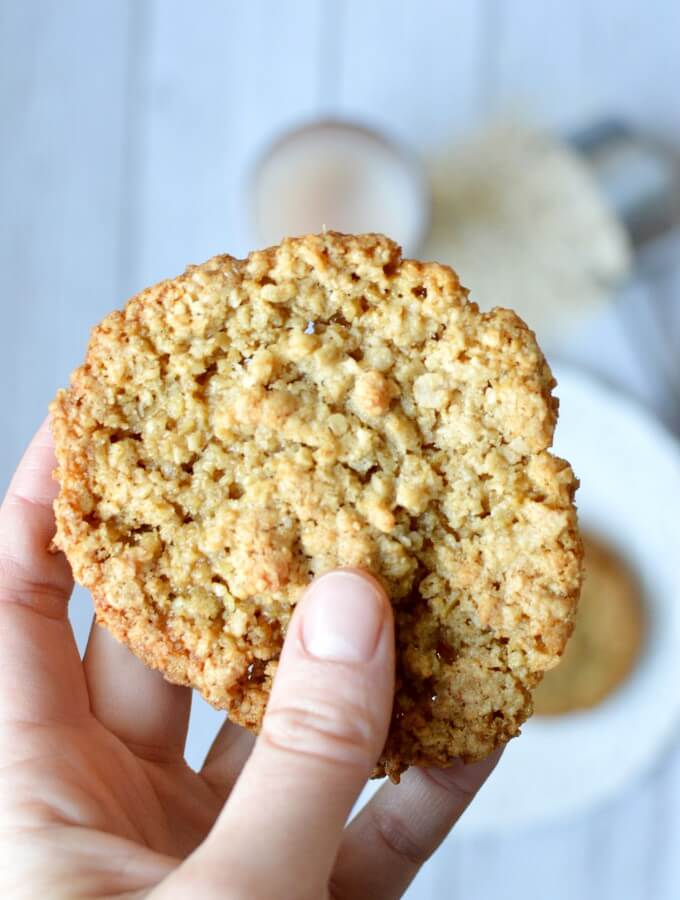 This is what they look like with just oats! Yum.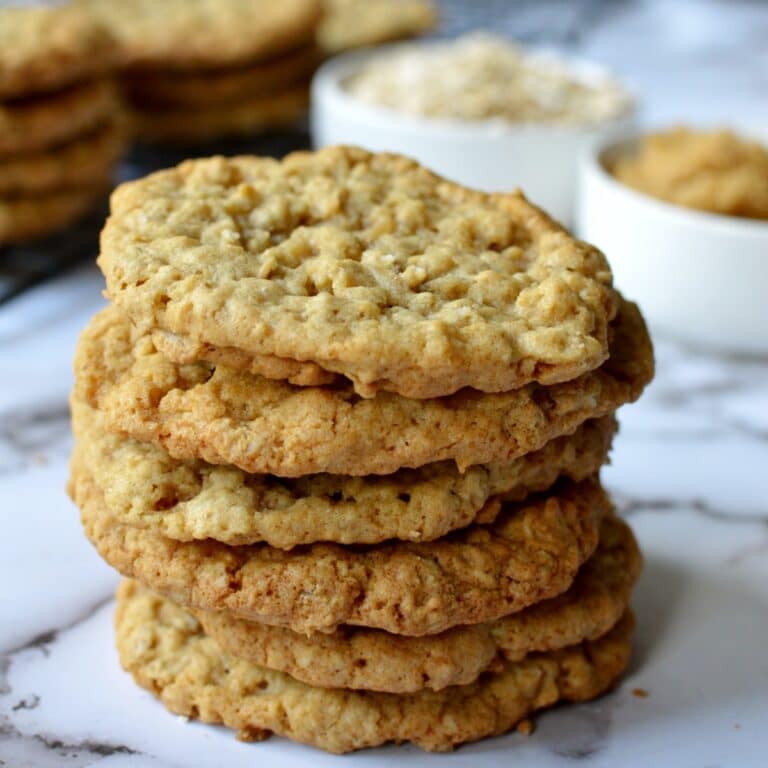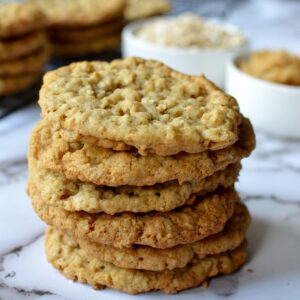 Gluten Free Oatmeal Cookies
These chewy Gluten Free Oatmeal Cookies are such a great catch-all for tasty mix ins. Just be careful these simple oatmeal cookies whisper eat me every time you walk by.
Equipment
Sheet pan

Silpat or parchment paper

Stand Mixer with the Paddle Attachment
Ingredients  
½

cup

unsalted butter, room temp

¾

cup

brown sugar

¼

cup

sugar

1

egg

1

cup

Gluten Free All Purpose Flour

Make sure it includes xanthan gum

1 ¾

cup

gluten free old fashioned oats

½

t.

baking soda

½

t.

kosher salt
Instructions 
Preheat oven to 350 degrees Fahrenheit. Beat butter and both sugars for four minutes on medium speed with an electric mixer.

Add the egg beating on medium speed only until combined. Scrape the bowl if necessary.

Add gluten free flour, gluten free oats, baking soda and kosher salt. Beat on medium speed until thoroughly combined.

Using a small portion scoop go ahead and scoop 6 cookies onto a silpat lined sheet pan. Use parchment paper if you don't have a silpat. The cookies spread so don't crowd too many onto the sheet pan.

Bake for 11-12 minutes depending on size - until the outsides are brown and the insides look underdone. The cookies will set as they cool down. Once cool remove from sheet pan with a spatula and enjoy.
Notes
*If you would like flourless gluten free oatmeal cookies simply omit the flour and only add 3 cups quick cooking gluten free oats. 
*If a cookie looks completely done or brown all over when it comes out of the oven it is over cooked and will be crispy all the way through.