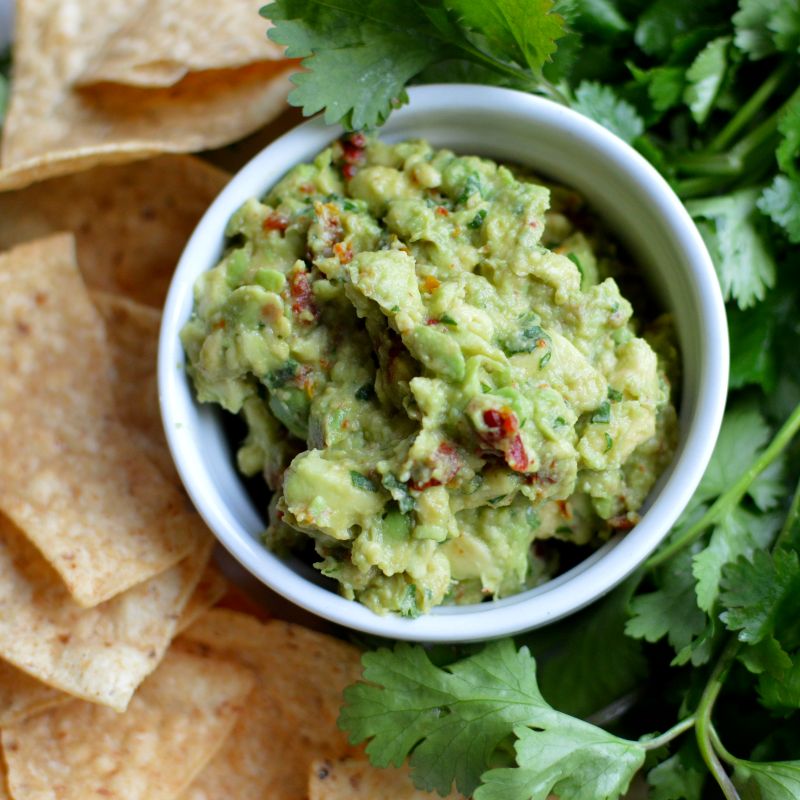 This is one of our favorite ways to make guacamole. It's simple. It's delicious. And it deserves its own day of the week (move over tacos!) I take that back. The only thing I love more than home made guac is a taco.
It's also incredibly nutritious. Score!
Not too long ago, we decided to take a family trip with our two young kiddos. Chipper and caffeinated, I nearly had the front desk extend our reservation the minute we arrived.
The next three days were rife with possibility. Needless to say, our little people don't travel well…
Twelve very long sleepless hours later (after calling the front desk to take off one night) we zombie-walked to the nearest taco place for a much needed pick-me-up. And the place was good – head bursting into confetti good.
Although I've forgotten the components of my taco, I do remember one simple yet incredible addition to their home made guac – sun dried tomatoes. Try this recipe out. It's healthy, delicious and less than 5 ingredients. And when you have an adorable little crank monster chasing you around screaming while you cook, 5 ingredient dishes are the best.
One thing I will mention is that the absolute MOST important key to a good guacamole is a perfectly ripe avocado. Avocados don't achieve their thick creamy texture until they are ripe. They taste slightly bitter and chalky when they are under ripe. Hold out, and wait until you can press your finger gently into the avocado without much resistance.
If guac without salsa makes you want to cry (I feel you) check out this Pineapple Mango Salsa Recipe. It is seriously good, and tastes great on nearly everything – meat, fish, tacos, rice. I make a big batch of it and then eat it … All. Week. Long.
Simple Guacamole
Ingredients
2

ripe avocados

1/2

lime

1

T.

cilantro

finely chopped

1

T.

sun dried tomatoes

rinsed and finely chopped

1/4

t.

kosher salt
Instructions
Use a knife to cut the avocado in half lengthwise. Remove the pit. Using a spoon scoop out the flesh of each side into a medium sized bowl.

Squeeze the juice of half a lime into the bowl. Using a fork, mash the avocado until it comes together and is still a bit chunky.

Add sun dried tomatoes, cilantro and kosher salt. MIx together well and serve with tortilla chips or cut up veggies.