This is one of our favorite ways to make guacamole. It's super simple. It's delicious. And it deserves its own day of the week (move over tacos!). I take that back. The only thing I love more than a simple guacamole recipe is a taco.
It's also incredibly healthy. Score!
Not too long ago, we decided to take a family trip with our two young kiddos. Chipper and caffeinated, I nearly had the front desk extend our reservation the minute we arrived.
The next three days were rife with possibility. Needless to say, our little people don't travel well...
Twelve very long sleepless hours later (after calling the front desk to take off one night) we zombie-walked to the nearest taco place for a much needed pick-me-up. And the place was good - head bursting into confetti good.
Although I've forgotten the components of my taco, I do remember one simple yet incredible addition to their guacamole - sun dried tomatoes. Try this recipe out. It's healthy, delicious and less than 5 ingredients. And when you have an adorable little crank monster chasing you around screaming while you cook, 4 ingredient dishes are the best.
Disclosure: This post may contain affiliate links. In other words, if you click a link and purchase something I will receive a commission at no cost to you. I only recommend products I use and enjoy myself.
Guacamole Recipes
One of the things I love about guacamole is how versatile it is. Everyone makes it a little bit different. Chipotle adds jalapeno. Some prefer no tomato. Some prefer it without onion. Other crazy people make it with bacon, feta or olives (not knocking it of course). In a pinch you can just throw some salsa into the avocado, mash it and you have an easy guacamole recipe with salsa.
This is not the only way we make guacamole but it's definitely a favorite. It's a slightly different take than your authentic guacamole recipe since it has sun-dried tomatoes.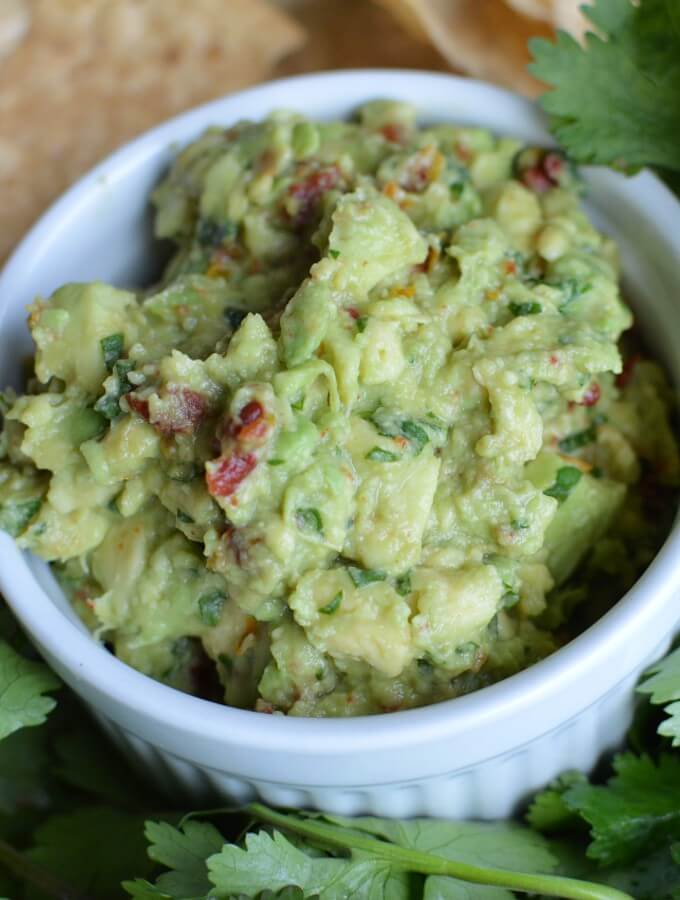 The key to a perfect guacamole recipe:
One thing I will mention is that the absolute MOST important key to a good guacamole is a perfectly ripe avocado. Avocados don't achieve their thick creamy texture until they are ripe. They taste slightly bitter and chalky when they are under ripe. Hold out, and wait until you can press your finger gently into the avocado without too much resistance.
An underripe avocado will have a pale green center instead of a creamy yellow one. The flesh will be hard to dig into with a spoon. And if you taste it you will notice the flavor isn't there or the creamy texture. If you're looking at your underripe avocado right now don't dismay. I've been there and as it turns out there are a whole slew of tasty ways to use an underripe avocado.
Also keep in mind that overripe avocados aren't good either. If your finger leaves a dent when you press into it it's probably overripe. Overripe avocados usually have brown spots and again lose that creamy texture. Instead of creamy you just get mush.
How to make guacamole step by step:
Cut the avocado in half lengthwise around the pit. Holding the side with the pit firmly in my hand I tap the pit with the sharp end of my knife and then gently lift it out and toss it. If this method makes you uncomfortable simply use a spoon to scoop the pit out. Scoop the flesh out of each side of the avocado with a spoon.
Mash avocado flesh, lime and salt until slightly chunky. If you like it smooth continue to mash until it's smooth.
Add sun-dried tomatoes, kosher salt and cilantro. Mix well and taste for seasoning.
If you can't ever seem to get all the juice out of your limes (I hear ya!) check out this citrus juicer. I love this thing! Matt pokes fun of me when I cook because I use lime a lot. It's my favorite form of acid in recipes. This squeezer gets every last drop out of my limes. Totally worth it. It looks like this.
If you only have one avocado simply half the ingredients and a healthy squeeze of lime. You can always add more at the end if it's not limey enough for you.
If guac without salsa makes you want to cry (I feel you) check out this Pineapple Mango Salsa Recipe. It is seriously good, and tastes great on nearly everything - meat, fish, tacos, rice. I make a big batch of it and then eat it ... All. Week. Long.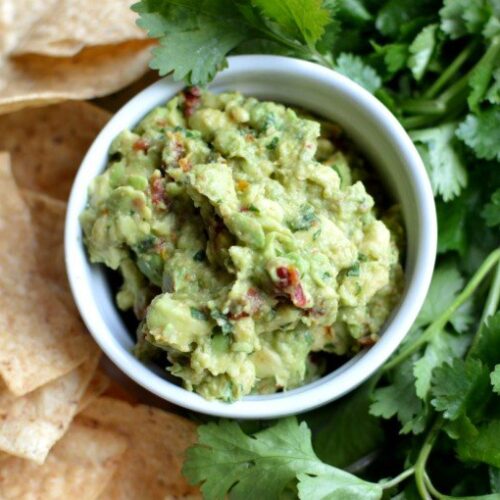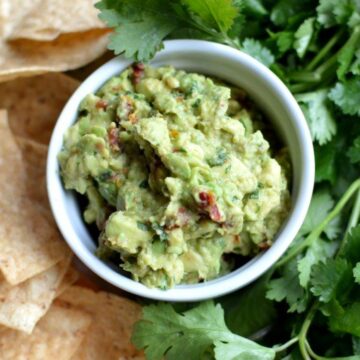 Simple Guacamole
This is one of our favorite ways to make guacamole. It's super simple and delicious. It has a unique twist - sundried tomatoes. It's a delicious way to change things up every now and again.
Ingredients
2

ripe avocados

½

lime

1

T.

cilantro

finely chopped

2

T.

sun dried tomatoes

finely chopped

¼

t.

kosher salt
Instructions
Use a knife to cut the avocado in half lengthwise. Remove the pit. Using a spoon scoop out the flesh of each side into a medium sized bowl.

Squeeze the juice of half a lime into the bowl. Using a fork, mash the avocado until it comes together and is still a bit chunky.

Add sun dried tomatoes, cilantro and kosher salt. MIx together well and serve with tortilla chips or cut up veggies.