A fresh fruit salsa with crunchy cucumber, sweet red bell pepper and minced jalapeno for an addictive feel-good appetizer, or addition to almost any meal.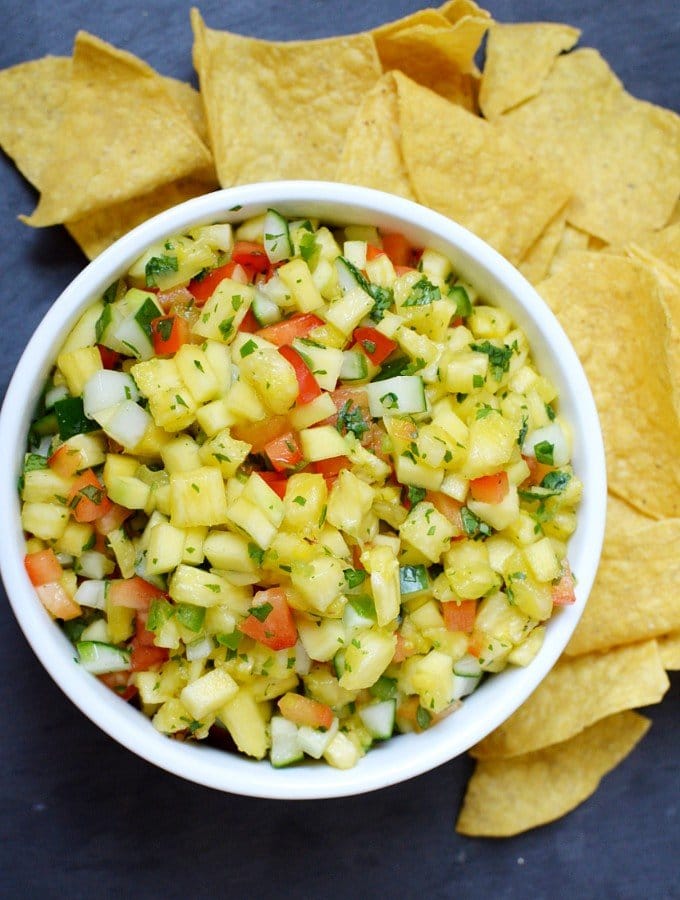 Disclosure: This post may contain affiliate links. In other words, if you click a link and purchase something I will receive a commission at no cost to you. I only recommend products I use and enjoy myself.
This pineapple mango salsa recipe is so fresh. It's irresistible, right alongside cinnamon rolls and curry dishes. Yes, I did just compare a salsa recipe to a cinnamon roll. It's that good! Unlike cinnamon rolls, I don't hate myself after eating the entire batch. Anyone else lack self control around a cinnamon roll? errr ... yeah, me neither 
What can I use this mango pineapple salsa recipe for? Let me count thy ways. 
I mostly enjoy it with tortilla chips but you can really dump it on anything (fish, chicken, pork, salmon, tacos etc.) With the exception of cereal, if you throw it on there it will most likely taste amazing. It makes a great neighbor gift if you can will yourself to give some away. (I believe in you.) The only thing I haven't tried yet with this recipe is canning it. 
I feel like salmon and pineapple salsa are soul mates. Salmon recipes are all over Pinterest but a real simple way to cook a filet is to season liberally with salt and pepper then cover with flour. Pat the excess flour off the salmon filet and then pan fry both sides until crispy and opaque inside. 
Since this salsa is so fresh (only whole foods) there is quite a bit of peeling and dicing required. Let me assure you, it's worth it. Brace yourself for some cheesy, cat poster inspiration ... 
You can do this. 
It won't be easy, but it will be worth it. 
Keep your eye on the prize. 
Convinced yet? Here is a picture of mine. Perfection isn't really the goal here. It's salsa after all. It needn't be pretty, though it will be.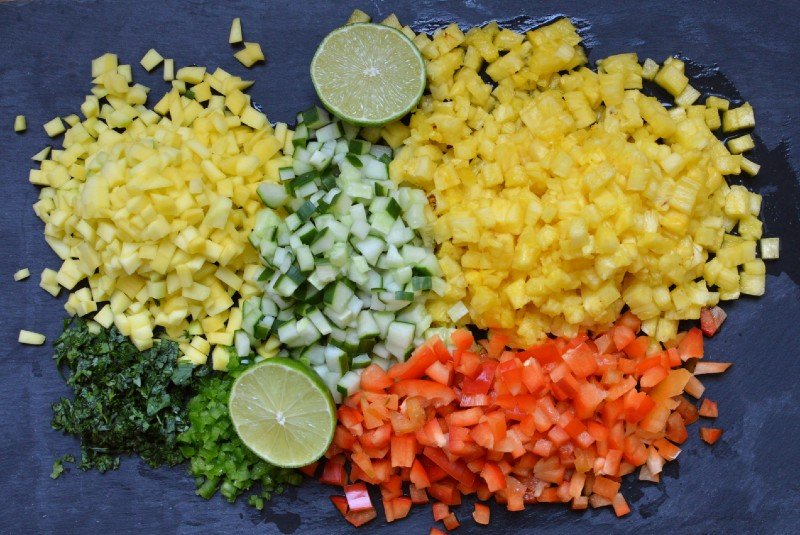 Lovely, isn't it? This recipe does make a relatively big batch of salsa. I, however, can eat the whole thing within a week myself. Little salsa bonus: it only gets better as it sits in the fridge. The ingredients cozy up to one another and mingle a bit. 
I only put half a jalapeno in this recipe in the hopes my little people will eat it too. If you prefer more heat, leave the seeds and ribs in yours. Just mince up the whole thing then add it gradually until you reach optimal heat. If you like to sweat, a habanero pepper would also work.
If you REALLY like to punish yourself, do it without gloves. You may end up with your head in the freezer. Ask me how I know this. (This is sarcasm people, use gloves!) 
The sweetness of the pineapple, and the heat from the jalapeno are muy bueno. 
Wait? I have to cut up an entire pineapple myself ... 
I will quote cat posters again if I have to. You can do this. It's actually quite simple. If you're looking for a shortcut just buy the de-cored and peeled pineapple in the precut fruit section. 
Whenever you cut up your pineapple, lay it on its side and cut off the bottom and top first. This will give you stability as you cut off the rind. I basically do this with any roundish fruit (mango, watermelon, cantaloupe etc.)
Now place that pineapple on its bottom, standing up straight. Use a serrated bread knife (or chef's knife) and carefully cut the rind off one side while holding the other with your hand. Continue to do this until the entire rind is gone. The trick is cutting enough rind off without taking too much of the pineapple with it. 
Discard the rind, and with the pineapple still standing, cut it in half. Cut each half in half again. You should have four pieces of pineapple now. Cut the core off each piece of pineapple and small dice two pieces. Place the other two in the fridge for future snacking. 
If the whole procedure intimidates you, check out this pineapple cutting video here. 
This video is exactly how I peel and core my pineapple. The only difference is I use a serrated bread knife. I find it much easier to cut the rind off this way. 
The mango can also be a little tricky since the pit is an oblong shape. I basically cut the rind off the same way I cut off the pineapple. I then do my best to the cut the fruit off the pit. You can tell when you are cutting through the pit since it is fibrous and hard to cut. There are plenty of mango cutting tutorials out there as well. This one is very straightforward.
Make this simple guacamole to go with it for a great appetizer for any get together. Enjoy!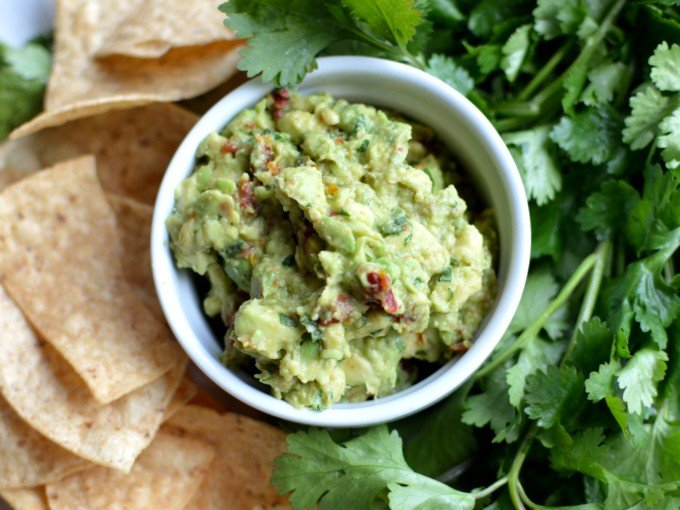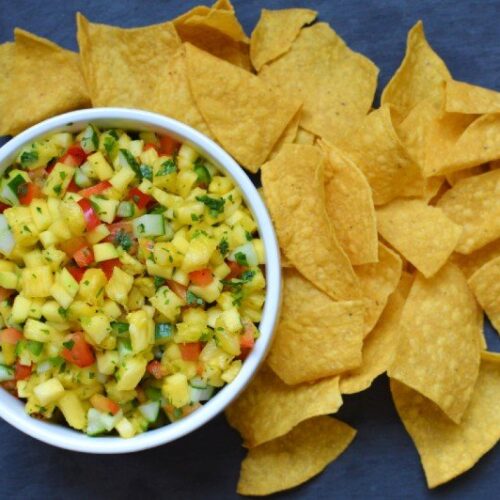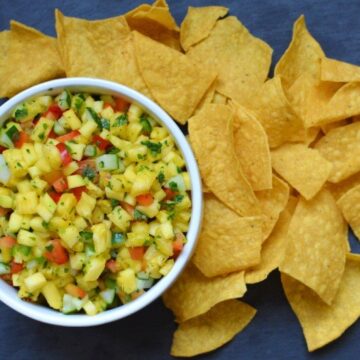 Pineapple Mango Salsa Recipe
A fresh fruit salsa with crunchy cucumber, sweet red bell pepper and minced jalapeno for an addictive feel-good appetizer, or addition to almost any meal.
Ingredients
½

pineapple - peeled

cored and small diced

½

sunset or hothouse cucumber - de-seeded and small diced

1

red bell pepper - de-seeded

cored and small diced

1

ripe mango - peeled

cored and small diced

½

jalapeno - deseeded

and minced

Handful of cilantro

minced

juice of 1 lime

1

T.

apple cider vinegar

pinch

of salt
Instructions
1. Peel, core and small dice pineapple, mango, cucumber and red pepper. Place in large bowl. Using gloves, de-seed and mince jalapeno. If you like more heat, leave in the seeds and ribs. You can also mince the whole jalapeno and add it in gradually until you're satisfied with the amount of heat.

2. Mince your cilantro. Add jalapeno, juice of 1 lime, apple cider vinegar, cilantro and a pinch of salt to your bowl. Stir everything together and enjoy immediately or keep in the fridge for up to one week.