This pineapple mango salsa recipe is so fresh! I find it hard to resist, right alongside cinnamon rolls and curry dishes. Yes, I did just compare a salsa recipe to a cinnamon roll, it's that good! 
My favorite way to eat it is with tortilla chips, but you can really dump it on anything (fish, chicken, pork, tacos etc.) It makes a great neighbor gift if you can will yourself to give some away. (I believe in you) 
Since this salsa is so fresh there is quite a bit of peeling and dicing for this recipe. Let me assure you, it's worth it.  Perfection is not the goal. Here is a picture of mine.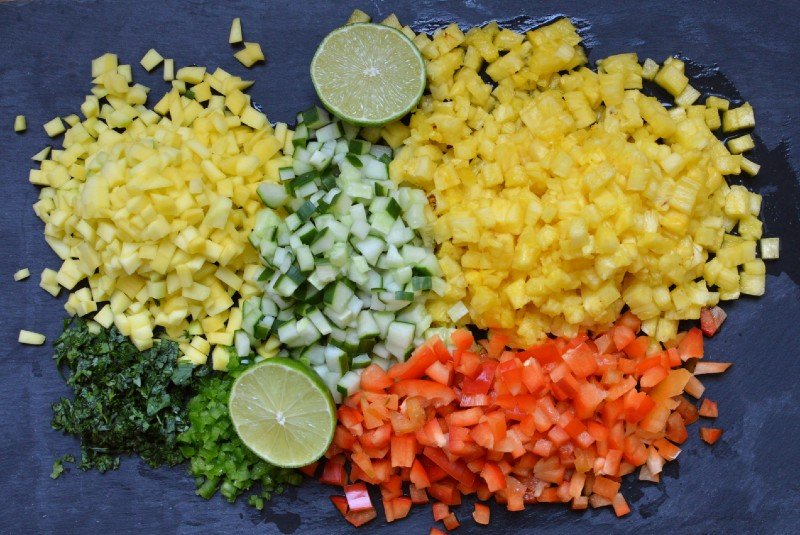 Lovely, isn't it? This recipe does make a relatively big batch of salsa. I, however, can eat the whole thing within a week myself. Little salsa bonus: it only gets better as it sits in the fridge. 
I only put half a jalapeno in this recipe in the hopes my little people will eat it too. If you prefer more heat, leave the seeds and ribs in yours or just mince up the whole thing and add it gradually until you reach optimal heat. 
Whenever you cut up your pineapple, lay it on its side and cut off the bottom and top first. This will give you stability as you cut off the rind. I basically do this with any roundish fruit (mango, watermelon, cantaloupe etc.) If the whole procedure intimidates you, check out this pineapple cutting tutorial here.
The mango can also be a little tricky since the pit is an oblong shape. I basically cut the rind off the same way I cut off the pineapple. I then do my best to the cut the fruit off the pit. You can tell when you are cutting through the pit since it is fibrous and hard to cut. There are plenty of mango cutting tutorials out there as well. This one is very straightforward.
Make this simple guacamole to go with it for a great appetizer for any get together. Enjoy! 
Pineapple Mango Salsa Recipe
Ingredients
1/2 pineapple - peeled, cored and small diced
1/2 sunset or hothouse cucumber - de-seeded and small diced
1 red bell pepper - de-seeded, cored and small diced
1 ripe mango - peeled, cored and small diced
1/2 jalapeno - deseeded, and minced
Handful of cilantro, minced
juice of 1 lime
1 T. apple cider vinegar
pinch of salt
Instructions
1. Peel, core and small dice pineapple, mango, cucumber and red pepper. Place in large bowl. Using gloves, de-seed and mince jalapeno. If you like more heat, leave in the seeds and ribs. You can also mince the whole jalapeno and add it in gradually until you're satisfied with the amount of heat.
2. Mince your cilantro. Add jalapeno, juice of 1 lime, apple cider vinegar, cilantro and a pinch of salt to your bowl. Stir everything together and enjoy immediately or keep in the fridge for up to one week.
https://caramelandcashews.com/pineapple-mango-salsa/