It's hard not to love oven roasted carrots when they're so beautiful, simple and nutrient dense.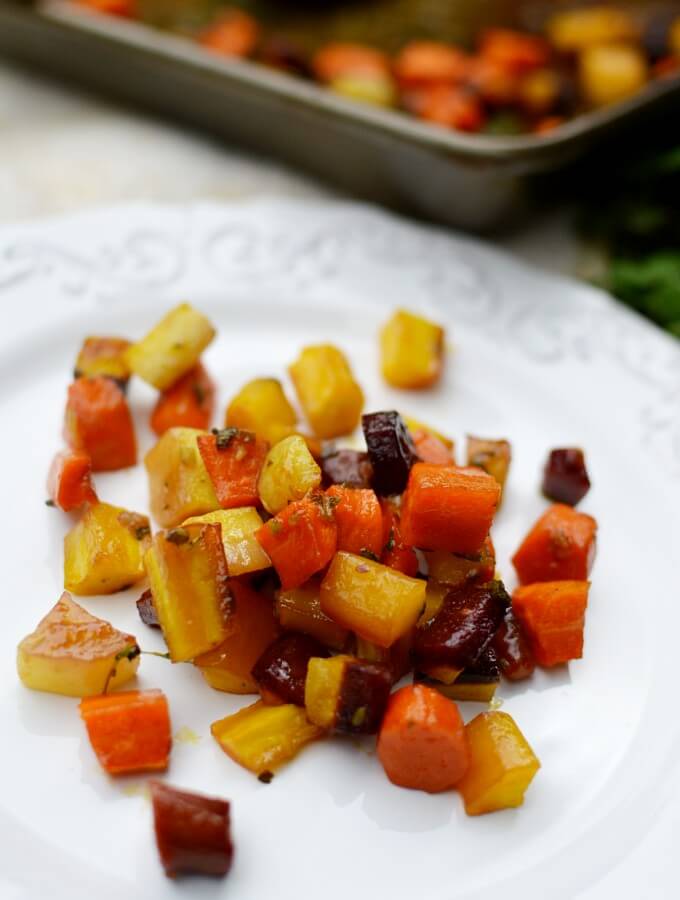 Disclosure: This post may contain affiliate links. In other words, if you click a link and purchase something I will receive a commission at no cost to you. I only recommend products I use and enjoy myself.
I have a new obsession: rainbow carrots.
I mean look at these beauties. Wowza.
I've always admired tricolored carrots from afar not wanting to pay the slightly higher price tag. On Saturday we decided to buy some local produce from our favorite market and cafe. It's a splurge since staying ahead of our grocery budget is always a challenge. It seems celiac disease is harder on my wallet than my tastebuds. While shivering in the produce fridge I admired all the vibrant colors and couldn't resist these carrots and two extravagantly orange bell peppers.
Pan Roasted Carrots with a Mustard Maple Sauce
I had some fresh thyme and sage leftover from a mushroom recipe, and since fall is nearly upon us it only seemed right to add them to carrots. The roasted carrot and honey team is great but maple syrup is my jam come winter (also much healthier than brown sugar).
Whole roasted carrots are gorgeous but I don't like to cut my carrots after cooking. I want the ability to throw them in and on dishes as I please.
Theres a reason bowls are so popular. Dishes where all the elements taste better together are so satisfying. If simplicity is your game oven roasted baby carrots would work just as well. You can find baby rainbow carrots near the orange ones.
The sauce is super simple. Let's see who's invited to the party:
Olive Oil
Maple Syrup
Mustard
Kosher Salt
Fresh Sage
Fresh Thyme
Garlic
Apple Cider Vinegar (Balsamic would compete with the mustard)
These would also taste good with Rosemary if you like it. I only use Rosemary on occasion since it's a show stealer with its strong flavor.
Just mince up your fresh herbs and mix everything together. I like to use a garlic press to mince my garlic. I just put the garlic clove in skin and all and it comes out minced. Use a chef's knife or santoku to mince up your herbs. It may seem like a small knife for small herbs makes sense but it is actually more difficult this way. I use my santoku knife for 90 percent of my cutting and chopping.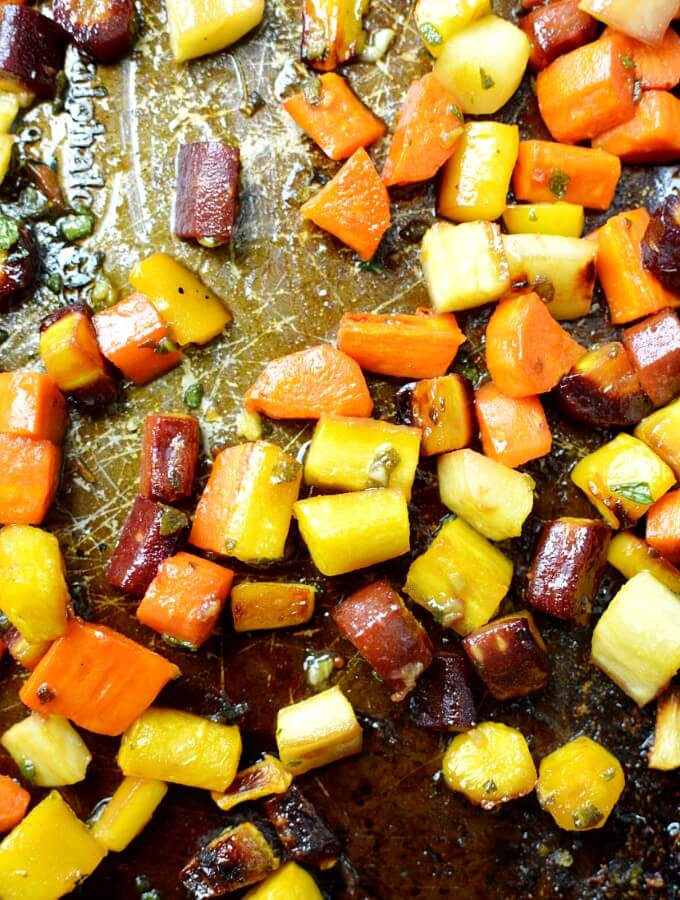 While all carrots contain potassium, fiber, vitamin C, and Vitamin K each color brings something different to the table.
Orange carrots have the most alpha and beta carotenes. Beta carotenes are converted into Vitamin K by our bodies which is vital for our immune systems. Taking too much Vitamin K as a supplement can cause a whole slew of unwanted side effects but the great thing about beta carotene from carrots is our body only converts as much as it needs.
Red carrots carry lycopene - an antioxidant shown to reduce heart disease and various cancers.
Yellow carrots carry lutein - a carotenoid that can reduce risk of age related eye diseases.
Purple carrots carry anthocyanin - a flavonoid shown to have anti inflammatory properties.
I love eating vegetable centric dishes because I know the health benefits are high. The trickiest meal to fit veggies into is breakfast. I do love this omelette with avocado and veggies though.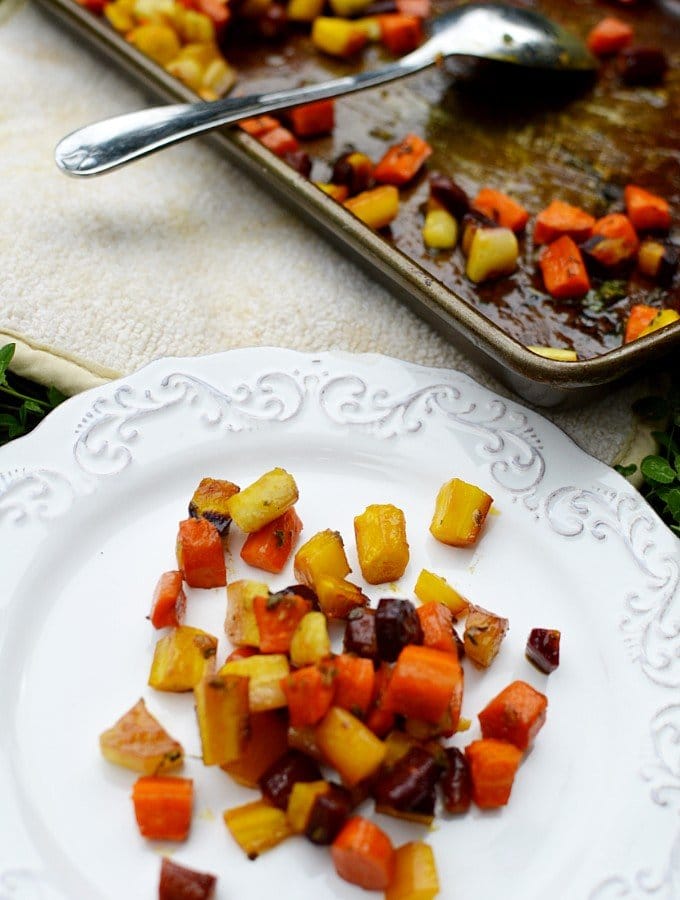 How to make oven roasted carrots:
Preheat your oven to 450 degrees Fahrenheit.
I like to large dice my carrots into bite sized 1 inch pieces. If you're using baby carrots you can skip this step it may just take a bit longer for them to roast. Dump them onto a half sheet pan.
Mince up your herbs and garlic. In a small bowl combine olive oil, maple syrup, mustard, kosher salt, sage, thyme, garlic, and apple cider vinegar. Stir well with a spoon or mini whisk. Spoon about half of the mixture onto the carrots and mix until all the carrots are evenly coated.
Roast for 22 minutes until edges are caramelized and carrots are easily pierced with a fork. Spoon a little bit more mixture onto the carrots immediately after they come out of the oven and mix until evenly coated. I had just a small amount left over. Serve immediately.
Another perk of carrots is how versatile they are. You could make oven roasted carrots and potatoes if you like. Carrots and potatoes go well together, as well as sweet potatoes. I always like to have a flexible plan. I buy produce for recipes and then any leftovers I try to get creative and work them into a dish.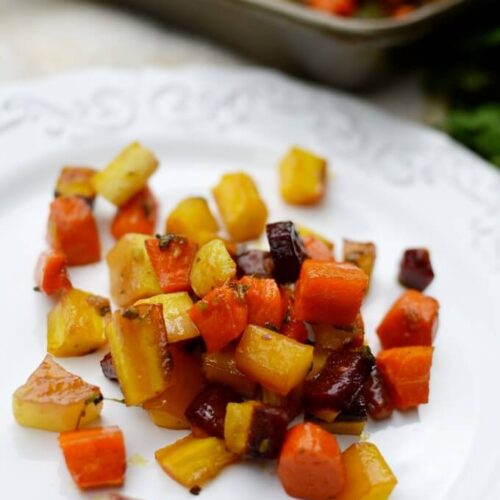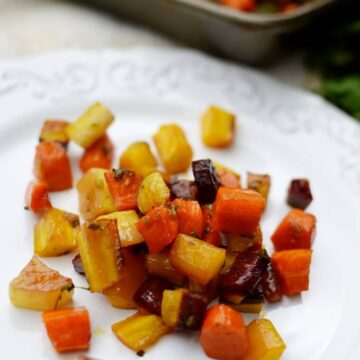 Oven Roasted Carrots with Mustard Maple Sauce
Ingredients
7

large rainbow carrots, large diced

About 3 cups worth

2

tbsp

Extra Virgin Olive Oil

2

tbsp

Maple Syrup

2

t.

Mustard

1

t.

Kosher Salt

1

t.

Fresh Sage, finely chopped and packed

4

sprigs

Thyme

1

Large Garlic Clove, minced

2

t.

Apple Cider Vinegar
Instructions
Preheat oven to 450 degrees Fahrenheit.

Large dice 7 large rainbow carrots and dump onto a half sheet pan. Mince garlic and finely chop herbs.

Combine olive oil, maple syrup, mustard, kosher salt, sage, thyme, garlic and apple cider vinegar in a small bowl or ramekin and stir with a spoon or whisk.

Spoon half of the mixture onto the carrots and mix until evenly coated. Roast for 22 minutes until the edges are caramelized and carrots can be easily pierced with a fork.

Immediately spoon a bit more of the mustard maple sauce onto the carrots and mix until evenly coated. Serve immediately.