One pan meals like shakshuka with feta are such mood boosters. It's easy and forgiving to make, delicious to eat and since it's a one skillet meal there is minimal cleanup.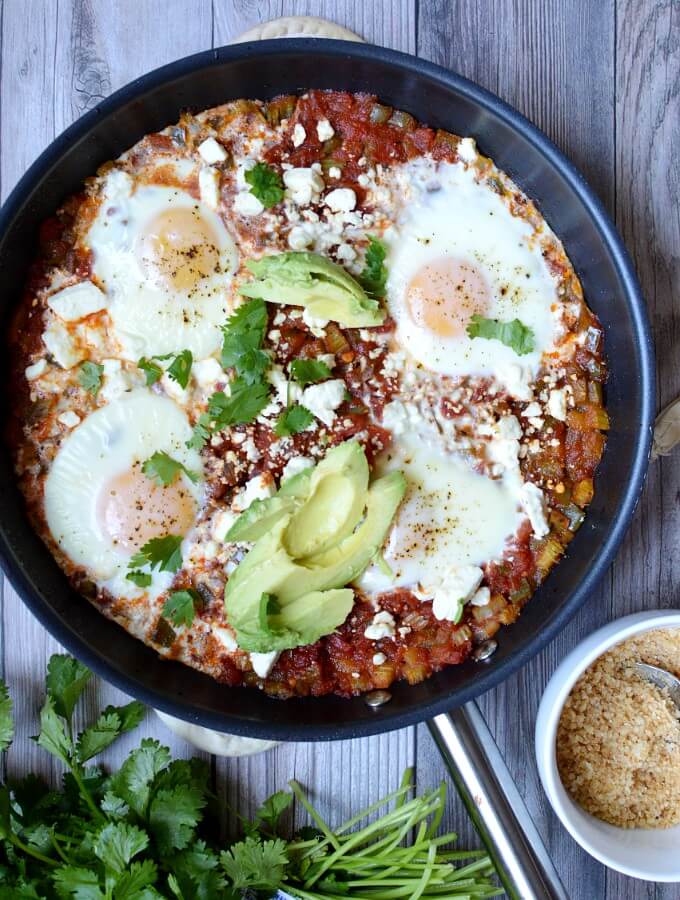 What is Shakshuka?
A traditional shakshuka recipe typically consists of eggs poached in a tomato sauce of tomatoes, olive oil, peppers and garlic. It's a popular dish in the Middle East as well as Africa. It's a one pan meal where the eggs are cracked directly into the tomato sauce and simmered or baked until set.
I love dishes where you can improvise. By this I mean you can flip the script and get crafty with what you have on hand. This is exactly what I did and it came out delicious! Plus I'm always digging recipes with feta cheese. If you like more greens in your recipes (I respect that!) you could also try a green shakshuka typically made with eggs, greens (think spinach or swiss chard), peppers and sometimes feta.
There is some debate over the origin of shakshuka, but no debate on how it tastes. Shakshuka is good – really good. And because eggs and tomatoes are the stars here it's easy on the wallet too. If you love simple, affordable egg dishes check out these zucchini and egg breakfast cakes.
Ingredients for this shakshuka recipe:
Olive oil
Green Pepper
Celery
Garlic
Diced Tomatoes
Vegetable Stock
Frank's Buffalo Sauce
Worcestershire Sauce
Thyme
Paprika
Onion Powder
Bay Leaf
Eggs
Feta
Avocado (for topping)
For me this list doesn't seem extensive because the only three ingredients that aren't staples for us are green peppers, celery and feta. I stock up on vegetable stock when it goes half off at Publix. Vegetable stock is a great one to have on hand because it means you can always make soup another great catch all.
Buffalo and Worcestershire Sauce keep in the fridge longer than my third child's been alive (He just turned one!) so once you have these ingredients you are set for a while. The avocado is optional but we're obsessed with avocado over here. Also if you want this to be a spicy shakshuka recipe add more buffalo sauce and taste as you go.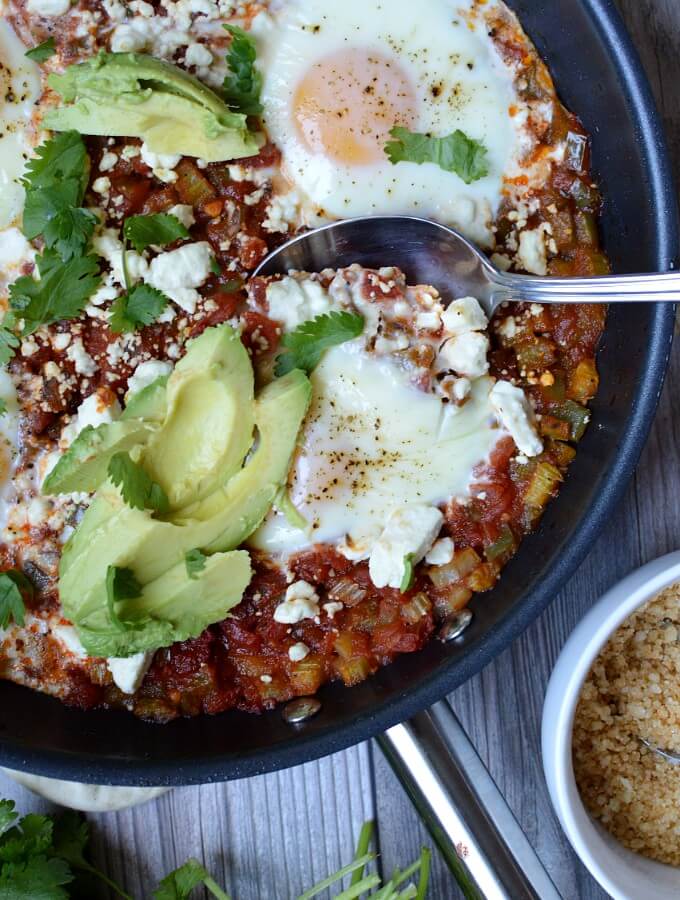 How to make Shakshuka with feta:
1. Cook your tomato sauce:
First sweat your peppers, celery and garlic in an oven safe skillet on medium high heat. Make sure your olive oil is hot hot hot. Never add anything to cold oil. Then you can add your tomatoes with juice, vegetable stock, buffalo sauce, Worcestershire sauce, spices, sugar and salt. Once it is boiling turn the heat down to medium low and let simmer for 12 to 15 minutes until the sauce has thickened. This step is super important. Never skip a step to simmer. This is what brings all those delicious flavors together to make something unforgettable.
2. Add the eggs to your shakshuka:
Take your skillet off the heat. Immediately cover the top with crumbled feta. Make four divots with your spatula where you want your eggs to be. Crack each egg into a divot. Sprinkle each egg with salt and freshly cracked pepper. Place the skillet in the oven at 375 until the egg whites are set. For me this was exactly 13 minutes. Some pull it out sooner but I like the whites to be completely cooked. Just remember the handle will be burning hot and it will stay that way for a while.
I can't tell you how many times I've forgotten a dish baked in the skillet and grabbed the handle with my bare hand. Ouch!
3. Top shakshuka with avocado and cilantro:
Once out of the oven let cool until warm enough to eat. Top with avocado and fresh cilantro. Shakshuka is also great for topping grains. I like to add it on top of cooked quinoa.
Is this recipe gluten free?
Yes, just make sure to use Gluten Free Worcestershire Sauce and Buffalo Sauce. I use Lea and Perrin's Worcestershire Sauce. I also used Frank's Buffalo Sauce. You can see on Frank's website that they always will tell you if gluten ingredients are in the product and would never disguise them under natural flavors or in other ingredients.
If you are anything like my brother whose always devising ways to add meat to a dish you can make this into a shakshuka with meat by adding chorizo.
Shakshuka with Feta
Equipment
Oven safe nonstick skillet
Ingredients
1

tbsp

Extra Virgin Olive Oil

1

Green Bell Pepper, small diced

2

Celery Ribs, ends cut off and small diced

1

t.

Minced Garlic

1 large clove

28

oz

Can Diced Tomatoes

1/2

Cup

Vegetable Stock

1

tbsp

Buffalo Sauce

I used Frank's

1/2

tbsp

Worcestershire Sauce

1

t.

Sugar

1/2

t.

Dried Thyme

3/4

t.

Paprika

1/2

t.

Onion Powder

1

Bay Leaf

3/4

t.

Kosher Salt

Freshly Ground Pepper

3

oz

Feta Cheese

4

Eggs

1

Avocado, sliced

Optional
Instructions
Preheat oven to 375 degrees Fahrenheit. In an oven safe nonstick skillet heat 1 Tbsp of Extra Virgin Olive Oil on medium high heat. Once hot sweat peppers, celery and garlic until fragrant and translucent about 3 minutes.

Add diced tomatoes with juice, vegetable stock, buffalo sauce, Worcestershire Sauce, sugar, thyme, paprika, onion powder, bay leaf, salt and freshly ground pepper. Stir to incorporate all the flavors. Once boiling turn down heat to medium low and let simmer for 12 to 15 minutes until the sauce has thickened.

Take pan off the heat. Add feta cheese all over the top and using your spatula make 4 divots in the sauce where you want your eggs to go.

Crack an egg into each divot. Salt and pepper each egg. Transfer the skillet to the preheated oven and bake until the whites are set and the yolks are not cooked. This is actually more of a preference thing. I do not like undercooked egg whites so I baked mine for 13 minutes.

Carefully use an oven mitt to remove pan from oven. Remember the handle will stay hot for a while. Once cool enough to eat top with avocado and cilantro then enjoy.