This shrimp and avocado salad is satisfying, healthy, and full of protein! Juicy shrimp, creamy avocado, salty feta, and pickled onions make a delicious combo.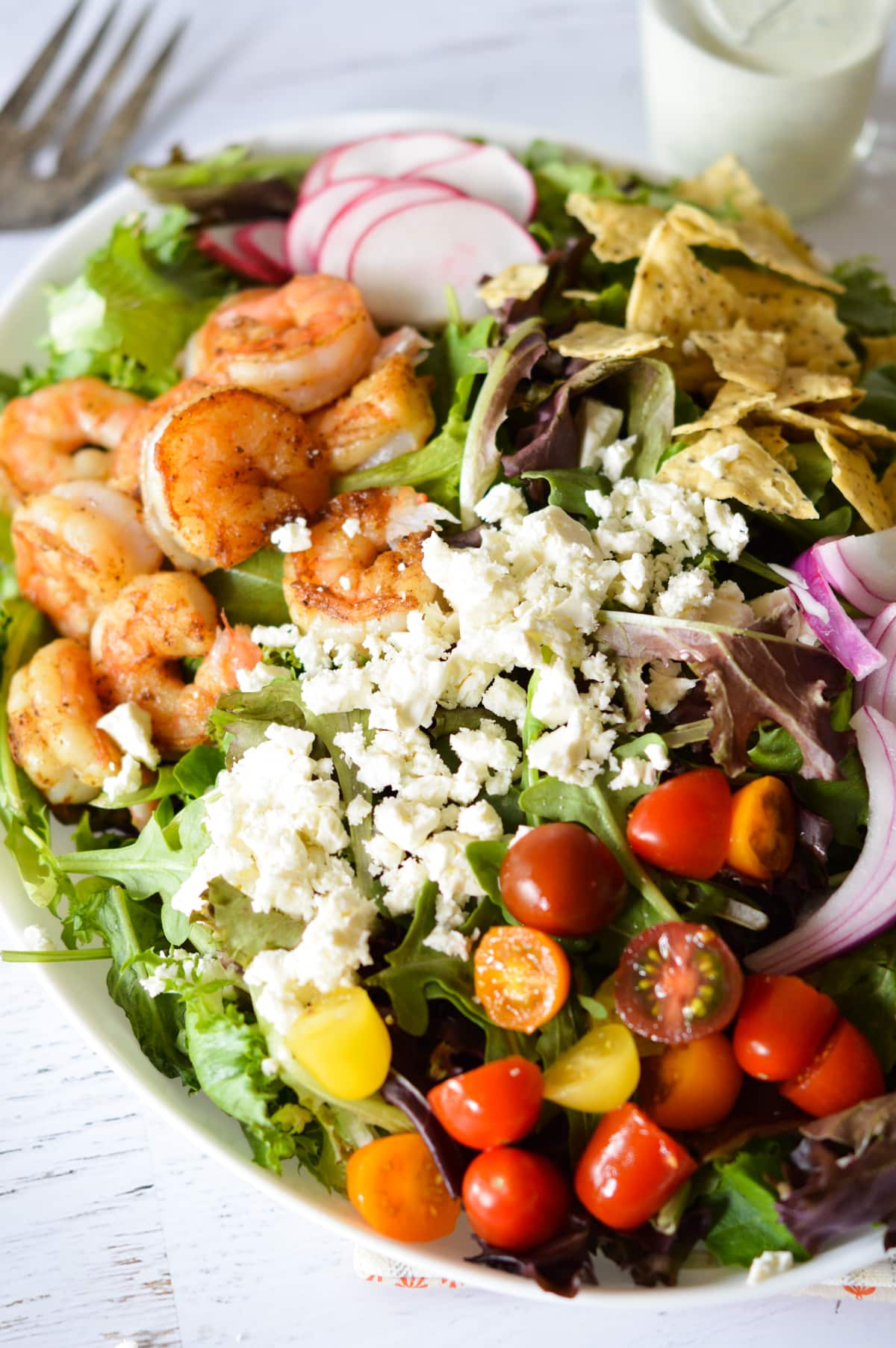 Why You'll Love it
This summer shrimp salad is anything but boring! It features juicy pan seared shrimp, quick-pickled onions, crunchy tortilla chips, creamy avocado, and sweet cherry tomatoes tossed in an herby green goddess dressing!
Healthy - Each serving boasts 30 grams of protein! And you get beneficial fats, important vitamins, and antioxidants like lycopene and beta carotene.
Filling - Shrimp and avocado are both very filling, which means less mindless snacking from being hungry.
Delicious - You get creamy, crunchy, sweet, and vinegary all in one bite!
I highly recommend this shrimp and avocado salad as-is, BUT the best part is how customizable it is. If you don't have the ingredients for green goddess, you can swap it with a citrus vinaigrette or your favorite salad dressing. Easy peasy!
Key Ingredients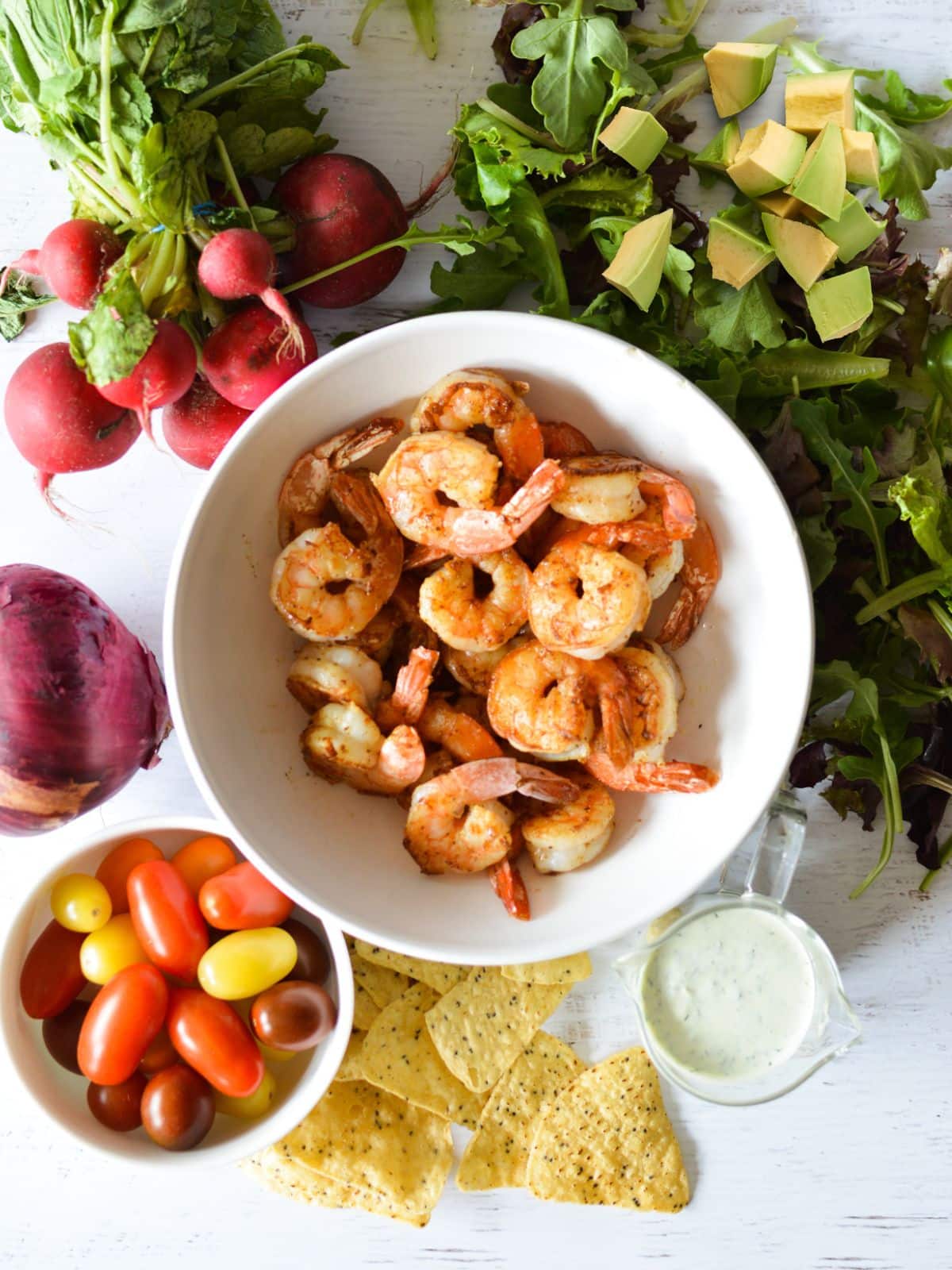 Pan seared shrimp - I used this shrimp recipe! It's easy to make and ready in 15 minutes. You can make them ahead of time and refrigerate so all you have to do is assemble. The more flavor your shrimp has, the better your salad will be!
Greens - I used mixed greens, but you can use a mixture of lettuces! Try baby kale, butter, baby spinach, leafy romaine, or a mixture.
Pickled red onion - You can pickle pickle red onions ahead of time, but I find I usually forget. Soaking them for 30 minutes still gives them a sweet vinegary bite!
Feta - Buy the best quality feta you can afford. I like to buy a block of feta and crumble it myself.
Tomatoes - Grape tomatoes work fine too, but I highly recommend cherry tomatoes! They're sweeter with thin skins and a juicy bite. I couldn't find cherry tomatoes this time, so I used grape in the pictures.
Tortilla chips - For added crunch! I used Late July's multigrain tortilla chips.
Green goddess dressing - I used my homemade green goddess dressing, but you can use store-bought too! Or change it up and use your favorite vinaigrette.
How to Make Shrimp and Avocado Salad
This shrimp and avocado salad is super simple to make! The key is to cook your shrimp ahead of time so all you have to do is assemble.
Quick pickle onion: In a small bowl, stir the water, vinegar, and honey until the honey is dissolved. Add the red onion and let sit for at least 20 minutes.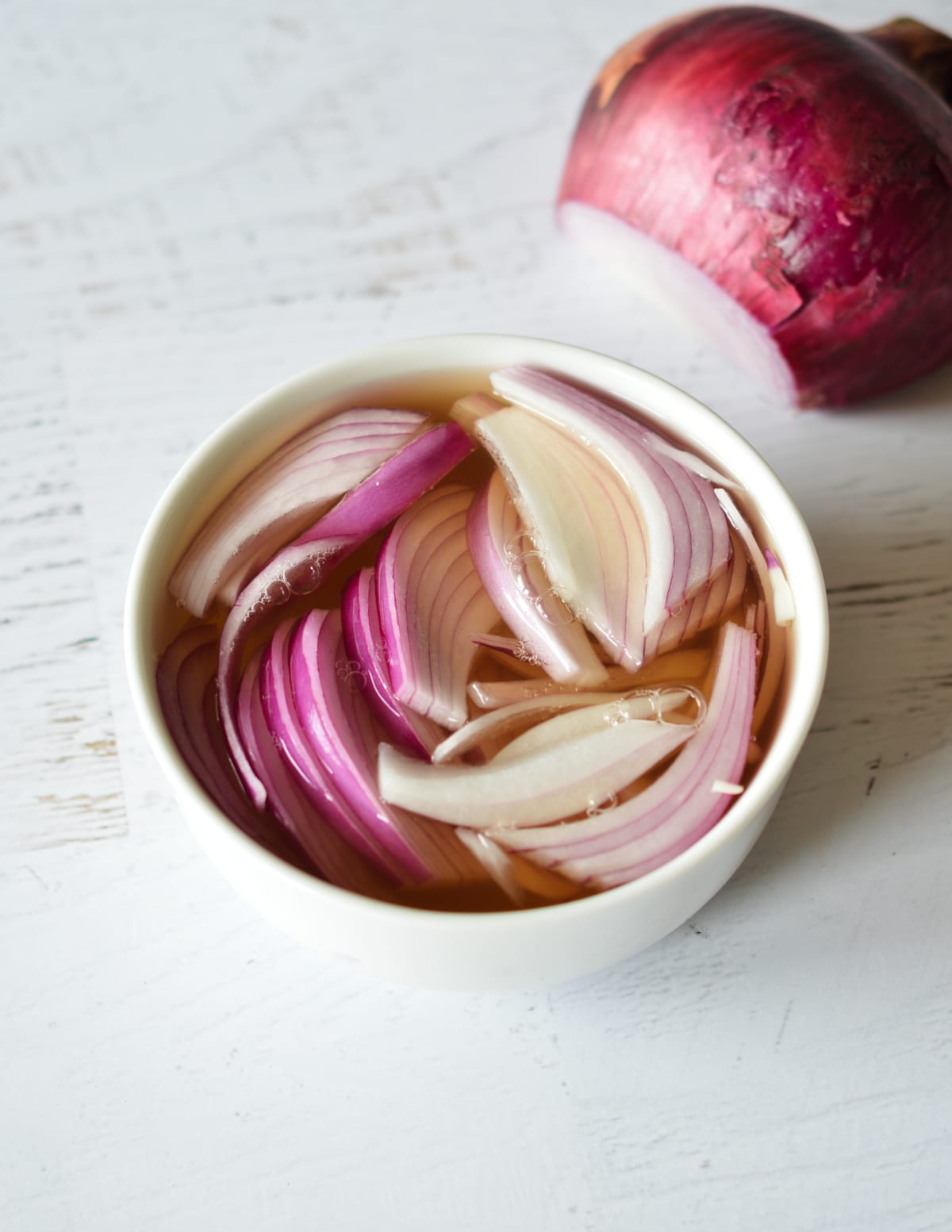 Assemble ingredients: In a large bowl, combine the mixed greens, shrimp, radish, tomatoes, feta, avocado, and tortilla chips. Drain the red onion and add it to the salad.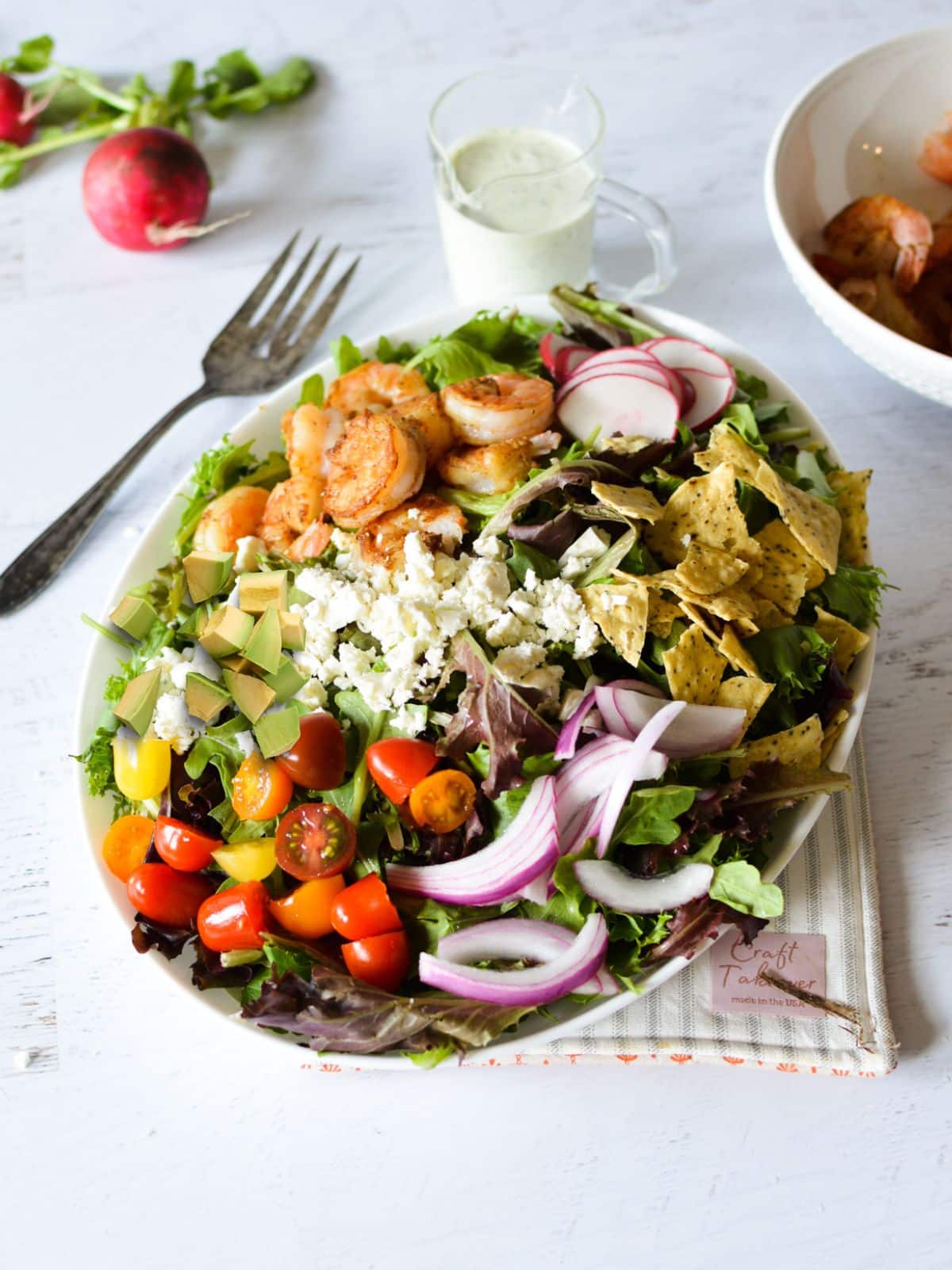 Add dressing and toss: Drizzle the green goddess on top and toss with a large fork. Enjoy immediately.
How to Sear Shrimp
You can buy precooked shrimp, but I highly recommend searing it yourself! It's a million times better and you can build layers of flavor.
Just be sure to purchase peeled and deveined shrimp, so all you have to do is cook it!
Here's how easy it is:
Dry the shrimp: Place the shrimp on a clean kitchen towel or paper towel and pat dry. Wet shrimp won't give you a good sear!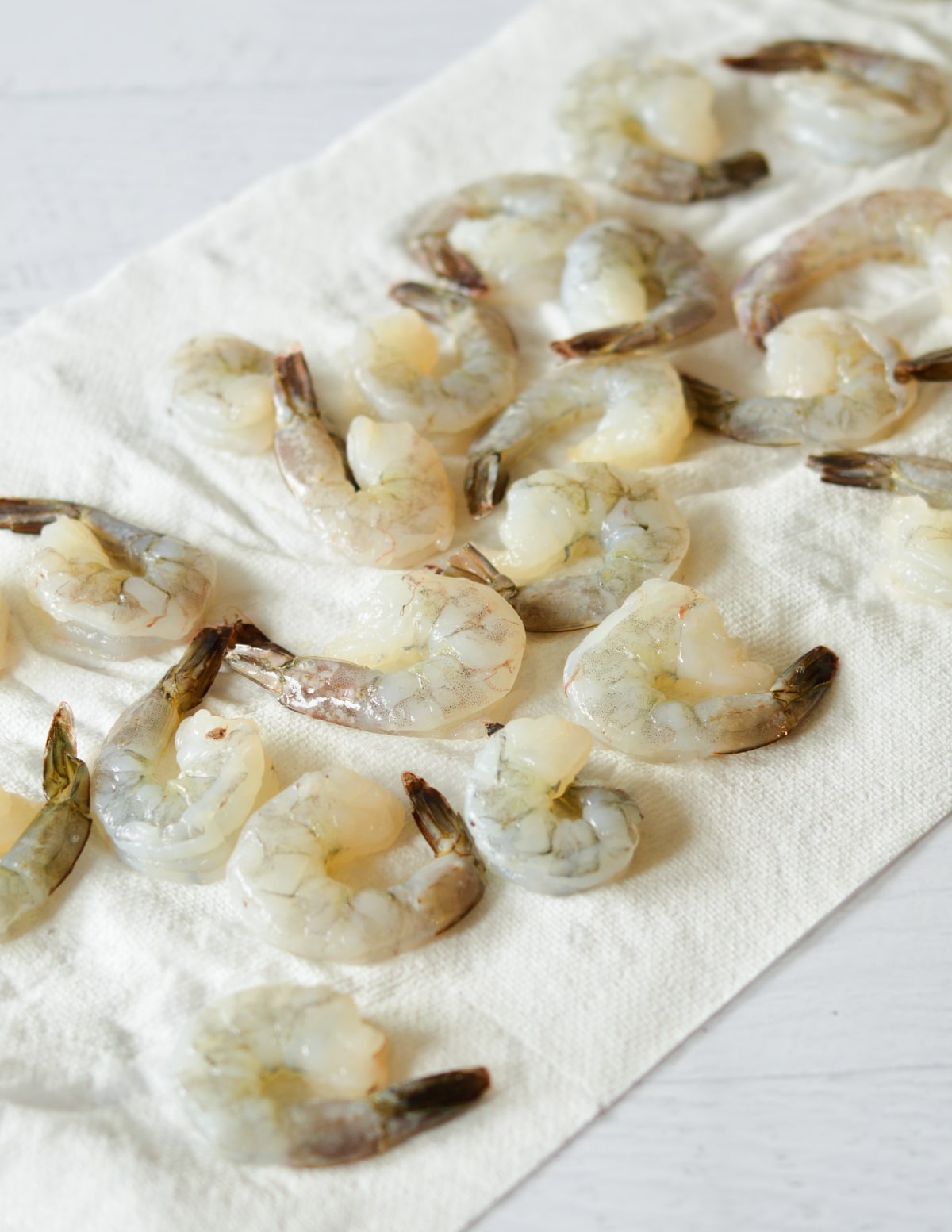 Season the shrimp: Transfer the shrimp to a large bowl and toss with a teaspoon and a half of old bay seasoning.
Sear the shrimp: In a large skillet over medium-high, add one tablespoon each of olive oil and butter. Once the pan is hot, add half of the shrimp in an even layer. Cook for 1 ½ minutes, then flip the shrimp and cook for another minute and a half.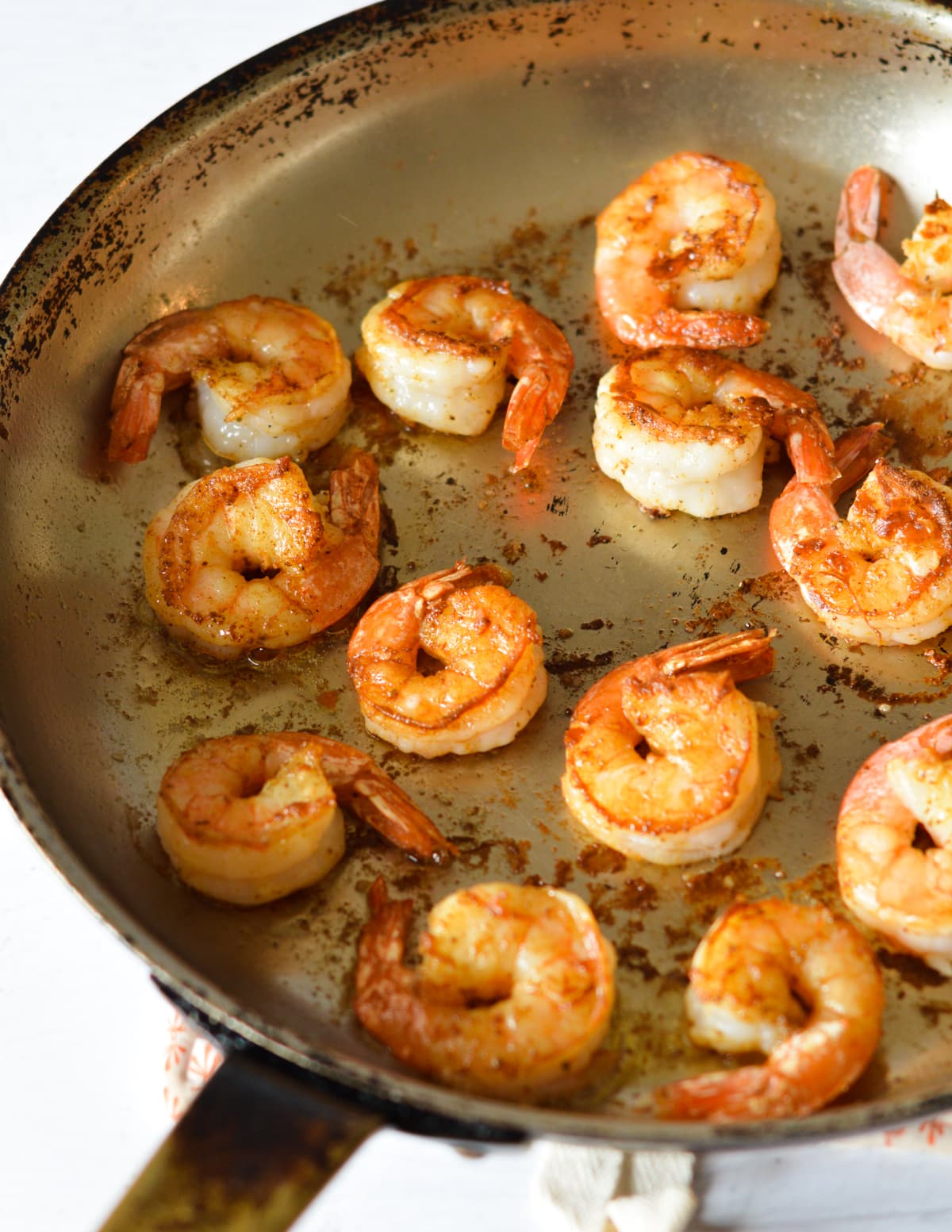 Repeat: Repeat with the remaining shrimp!
Recipe Tips
Cook the shrimp ahead of time and refrigerate. This way all you have to do is pull it out of the fridge and add it to the salad. Either way, it only takes 15 minutes to make the shrimp.
You can pickle the red onion ahead of time, but you don't have to. It will taste more pickled, the longer it sits. I try to remember to do it an hour or two before I make the salad.
Don't overdress the salad. You can always add more dressing, but you can't take it off!
Dress the salad right before you plan to serve it. Mixed greens are delicate and wilt quickly, so don't dress them ahead of time.
Variations
Protein - If you don't like shrimp, swap with strips of grilled chicken or steak! Shredded chicken works great too.
Greens - Use whatever greens you like the best. I prefer a mix for the best flavor and texture.
Dressing - Homemade is always best, but store-bought works great too! You can find green goddess dressings in the refrigerated section near the produce. A citrus vinaigrette would taste delicious too!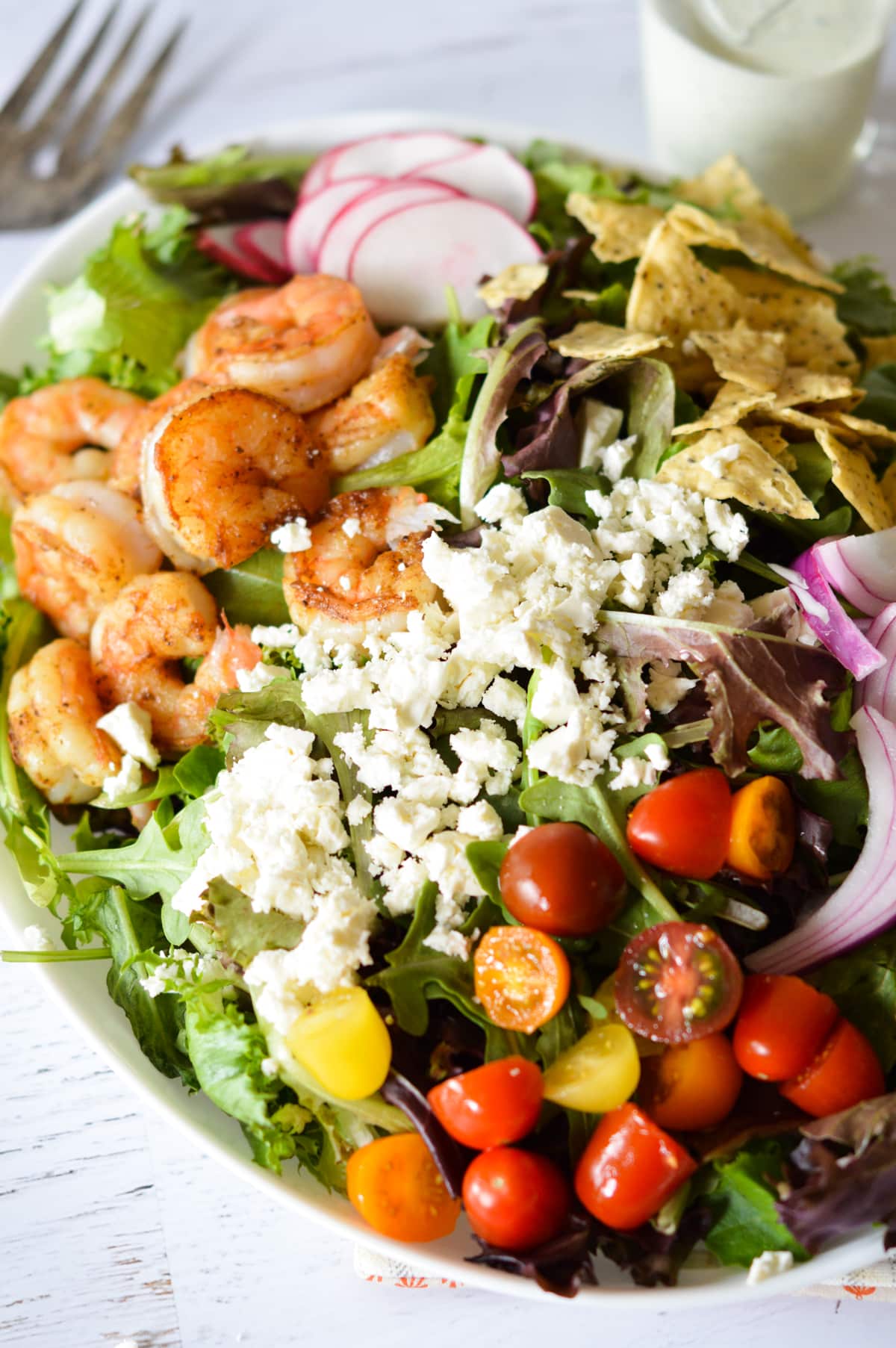 Storage
This shrimp avocado salad is best enjoyed fresh! Dressed salads wilt quickly in the refrigerator, so I don't recommend storing it for longer than 24 hours.
It's best to dress this salad right before you plan to serve it!
FAQs
More Summer Salad Recipes